9 Best Aura Sync Compatible Fans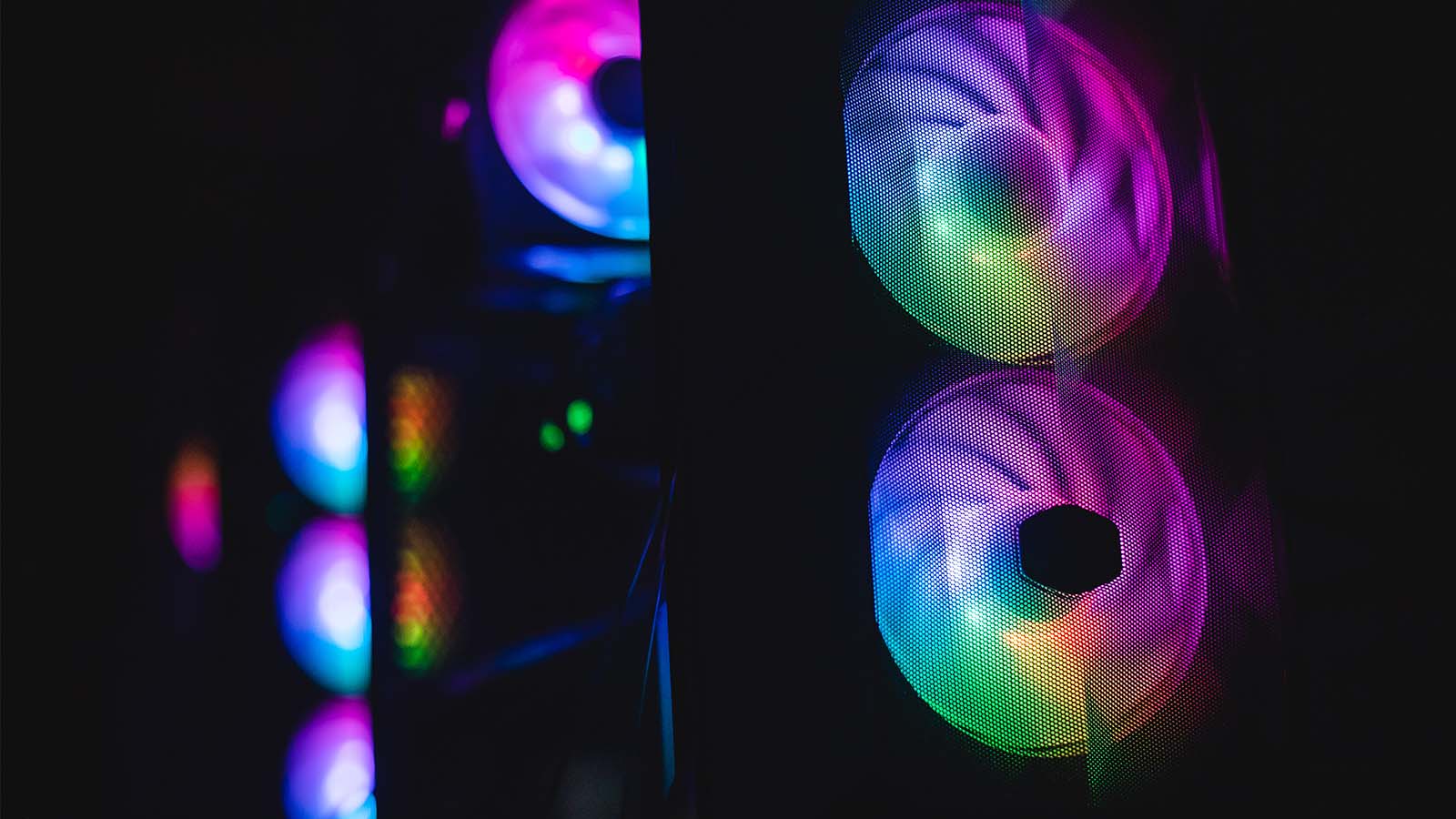 It wasn't long ago that we had to fiddle with all kinds of switches to get RGB fans to work, and they'd not necessarily play nice together even then. Technologies like Aura Sync have made connecting and coordinating fans so much easier, though. All you need are some cables, the correct motherboard headers, and the imagination to create lighting that speaks about who you are.
Over a hundred eligible products are in ASUS's partner program, so we've compiled a list of the best Aura Sync compatible fans to make choosing the right one easier. These are the cream of the crop, so even the "worst" fans on the list perform well and dazzle with their color displays. Whether large or small, case or radiator, there's a colorful fan or three in here for everyone.
Want lots of vivid fans for your entire case without spending much? Then a five-pack of DR12 Pros from Darkflash is the way to go. They're not as powerful as some of the models on the list, but they'll successfully help cool a mid-range PC while making it look spectacular.
Each fan has seven black blades at the center of a large ring with 12 ARB LEDs on either side. Corners on the edges reduce vibration and have holes for long mounting screws that make installing the fans on radiators easier. The RPM is a constant 1,200, but running the fans generates only 16dB of noise with a CFM of 39.
Two rows of LEDs make the DR12 Pro brighter than most models. You may leave color management to Aura Sync or change them on the fly through the included controller. It supports three more units than you get in the back, so there's room for later expansion.
A remote control is included and lets you adjust various aspects of the fans' operation without needing case access. Best of all, its range is around 12ft and unhindered by other electronics.
8. BitFenix Spectre Pro RGB LED 200mm
Do you have a case with room for 200mm fans like the H100 from Cooler Master and want to make it stand out even more? Then replace the stock fan with a colorful 200mm model from BitFenix! It's imposing, can supply your case with copious amounts of fresh air, and won't set you back much. You can get 120, 140, or even 230mm versions separately.
Unpacking the fan presents you with a lot of cables for connecting the power and lighting. The LEDs are clustered around the core and non-addressable, so you'll need to hook them up to a 4-pin connector on your ASUS motherboard. BitFenix emphasizes that the lights are of their TriBright variety, which means they're both brighter and more saturated than much of the competition.
The Spectre Pro RGB LED 200mm can stir up a storm thanks to its large size. It has can push out 149 CFM of air, which it reaches by rotating at 900 RPM. It's louder than smaller models in the line, clocking in at a still silent 27dB. The static pressure it can exert is so-so, sitting at 1.26 mmH2O, but the high airflow generation potential should mitigate this.
7. Scythe Kaze Flex 120 RGB
You might be familiar with the original Kaze Flex fans if you have Scythe's excellent Fuma or Ninja CPU coolers. The RGB variant doesn't disappoint either, especially if you go for the most powerful version. It's got a good if simple RGB glow and is ideally suited for users who want some color in their system without going overboard.
We've chosen the top-of-the-line model that comes with a higher asking price but also has better stats, like a 1,800 max RPM and a respectable airflow of 79 CFM. The motor has a 120,000-hour lifespan, and Scythe is so confident in the fan that it offers a two-year warranty instead of the standard 12 months.
Lighting on the Kaze Flex comes from the motor hub and is diffused evenly along the eleven opaque blades. You must connect its 4-pin cable to the correct RGB mobo header since the LEDs aren't addressable. Buying more fans lets you string them together and feed three through the same power & LED connections.
The fan performs well and is able to keep temperatures reasonably low even in a system with a demanding Core i9-9900K installed. It will generate noise in the 35-40dB range, which other components may drown out.
Deepcool offers 120 & 140mm fans that are silent, beautiful, and can effectively bring your PC's thermals down. They'll work well as either case or radiator fans due to being 25mm thick. You can get either variant as a single fan, but it's more economical to go for the three-pack if you need 120mm models or the two-pack for 140mm fans.
There are next to no differences between the two CF versions appearance-wise. Both are sleek-looking with translucent, grooved blades & shock-absorbing pads at their corners. The 120mm fan has an expectedly lower CFM of 59 and spins faster at 500-1,500 RPM. The bigger model's max RPM is lower by 300, but the CFM climbs to 64. Their static pressure readings are 1.6 & 1.1 mmH2O, respectively.
Twelve ARGB LEDs occupy a ring at the center. The translucent blades diffuse the light, making it rich and more eye-catching. This doesn't detract from the fans' thermal performance, though. You won't regret substituting the plain fans on your 240 or 280mm AIO with them, for example, since the difference in efficiency is minimal. Better yet, Deepcool's fans are among the more silent ones we've encountered and don't make too much noise even when running at 100%.
Antec joins the fray with the Prizm 120, a set of beautiful ARGB fans you can get as cheap as $14/unit if you opt for the five-pack. This gives you enough fans to cover the front & back of a roomy ATX case and still have one left over for a 120mm radiator.
You'll love the Prizm 120 ARGB if you're into the ring lighting effect since each fan has 18 LEDs arranged in two circles to shine in the front and back. The LEDs themselves sport a smooth, even glow with plenty of brightness and loads of effects at your disposal through the hub. Speaking of which, the hub has five PWM & ARGB headers that simplify installation. You can technically route another hub through it to equip your case with nine fans.
Versatility is another great thing about the Prism fans. High static pressure of 2.56mmH2O lets you use them as intake, exhaust, or AIO fans with equal efficiency. A decibel rating of 35 places them among the louder models on the list, but that's to be expected since they can rotate as fast as 2,000 RPM, putting out a standard 49 CFM in the process.
The advanced edition of Enermax's acclaimed T.B. RGB fan works nearly noiselessly yet can cool your rig down considerably. The T.B. stands for a proprietary twisted bearing design that promises longevity and quiet operation. The fans are rated for 160,000 hours and come with a 2-year warranty to back it up.
The build quality is top-notch as different fan assembly parts feel sturdy and don't bend under pressure. The ARGB lights are positioned in a ring, forming a halo. They mainly illuminate the ring but leave a faint trail inside the blade area as well for a unique effect. The controller that comes with them can switch among ten effects or adjust the color & brightness.
Expect silence whether your PC is idling or performing heavy-duty tasks since noise reaches a mere 22dB at 100% fan speed. 48 CFM is a bit on the low side but par for the course for RGB fans. They come with three-way ARGB and PWM splitters, meaning you can control three through a single header and adjust their speed from 500 to 1.500 RPM.
RGB fans that also have what it takes to cool the insides of a case housing an overclocked chip are hard to come by, let alone at a fantastic price. In Win decided to tone down the lighting element while delivering fans with excellent airflow for a pittance. You can get the three-pack for a little over $30 and never worry about airflow again.
Setting up several Jupiter AJ120s is straightforward. You get a simple controller but don't need to use it if you're depending on Aura Sync. Better yet, you need to plug only one fan into ARGB and PWM headers since you can daisy-chain the rest with included cables. The result is tidy and works like a charm.
One look at the stats shows why these fans are such a great value. Their CFM is a whopping 70, with 2.6mmH2O of static pressure. That's enough to pair them with dense radiators and still move lots of air into or out of the case, depending on radiator positioning.
Why aren't these fans on the top of our list then? There are only six LEDs in each, so their effects are more subdued when compared to the likes of Enermax and Arctic. They're also loud when pushed to the limit.
2. Cooler Master MasterFan MF120R ARGB
Cooler Master's premium fans are ideal for anyone looking to spruce their Aura Sync rig up with bright and vivid colors in the front and back. You can buy the MasterFan MF120R either separately or in packs of three. 140 and 200mm versions are available as well.
The fans have decent stats, considering the transparent blades. Their CFM is 59, with a static pressure of 2.14 mmH2O. RPM ranges from 650 to 2,000, and the LEDs are located in the center. You connect the fans through PWM and 3-pin addressable headers. Purchasing the three-pack also gets you the controller and a three-way splitter for the power & LEDs.
Installing the fans is a quick affair whether you connect them directly to your motherboard or use the controller. The latter comes in handy if you want to cycle through effects or their speed, and embedded sensors let you change color based on ambient case temps. You'll want to stick to Aura Sync if you're keen on having the fans glow a single color since that mode isn't supported otherwise.
1. ARCTIC BioniX P120 A-RGB
RGB fans usually perform worse than their dull counterparts, but the BioniX P120 A-RGB is the closest to bridging the gap. It's based on the original P120, a quiet and budget-friendly but potent fan, yet comes with an attractive RGB ring. The RPM goes from 400 to 2,300 with a max static pressure of 2.1 mmH2O and a CFM metric of 49.
A single fan is cool enough, but opting for the three-pack gives you more options. Aside from getting more fans, the purchase includes a controller and a remote control unit that lets users with motherboards that lack ARGB experience the improvement.
Most interesting are several unique cables. They plug into a single header on the fan and split into ARGB & power connections on the other side. You also get wires that let you daisy-chain power from fan to fan while needing to plug only one of them in.
The fans' unusual 30mm thickness might prevent you from mounting them on some heatsinks or radiators, but they should still function perfectly as case fans. They perform well despite being loud, even compared against ordinary models.
Frequently Asked Questions
What RGB fans are compatible with Aura Sync? Do Corsair RGB fans work with Aura?
Naming all the Aura Sync compatible fans is beyond the scope of this article as there are more than 150 products that fit the bill. You can find all of them by visiting ASUS's compatibility page. Corsair isn't one of the approved partners. iCUE is a rival RGB control utility, so it stands to reason that the two don't mesh well.
How do I connect RGB fans to Aura Sync?
Ease of use is one of the best things about Aura Sync. All you have to do is connect the fans to power and the appropriate RGB or ARGB headers on your motherboard. Usually, there are two of each type of RGB header, but cheaper or smaller mobos might only have one. You can use splitters to connect multiple fans through one header. Some models require the use of hubs as well.
Once connected, the fans become part of your synchronized light show automatically. They'll change colors and effects alongside other RGB sources according to your preferences and don't need to be set up separately.
What products work with aura sync?
Fans are just one category of products that support Aura Sync. Many ASUS electronics like graphics cards, peripherals, and motherboards come with native support. There's also an extensive list of partner companies that offer cases, LED strips, or even illuminated desks for the ultimate battle station experience. You can check them all out on the product page mentioned above.