6 Best Monitors for RTX 3080 in 2023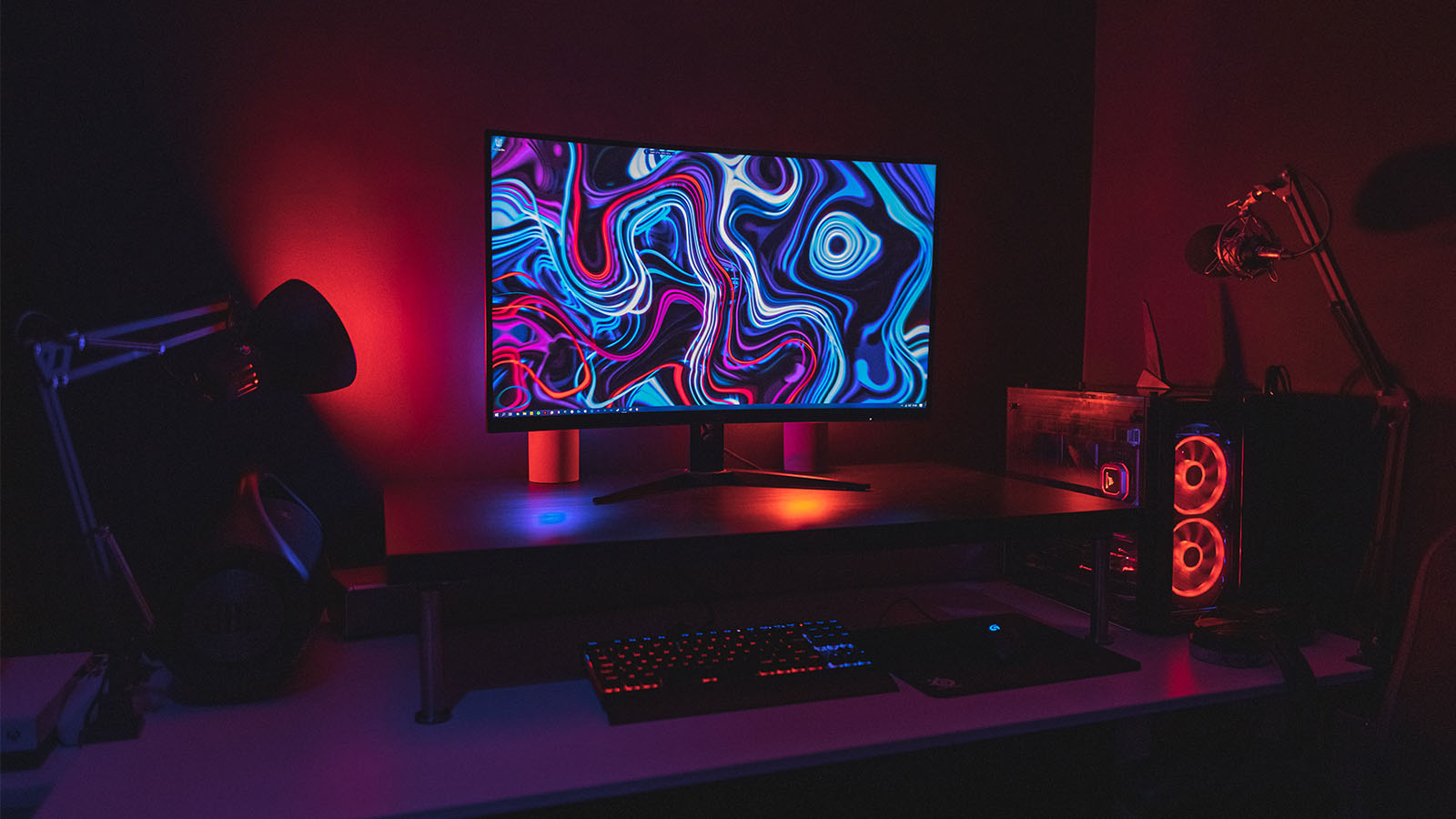 The RTX 3080 is NVIDIA's gaming mainstay for the Ampere generation. Now that the crypto dust has settled, it's become a fairly-priced GPU able to chew through everything from 4K video and complex rendering projects to breathtakingly beautiful games at triple-digit framerates. It's only natural that you wouldn't want that raw power to go to waste!. Our curated list of best monitors for RTX 3080 is here to ensure you get the right kind of display for your needs and budget.
Best 4K Monitor: MSI Optix MPG321UR QD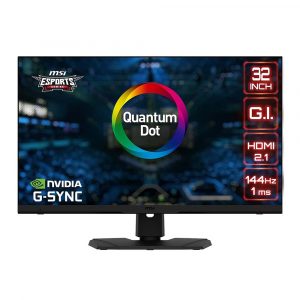 The RTX excels at AAA 4K gaming, so why not stretch its capabilities to the limit? The MPG321UR QD from MSI lets you do exactly that, as it sports a 144Hz refresh rate and some of the most deeply saturated colors on any panel to date. The price is a reflection of its excellence, but one look at some HDR content as displayed by this monitor makes it all worth it.
The Acer Predator XB323QK and ASUS ROG Swift PG32UQ are our favorite top-tier 4K gaming monitor alternatives.
One look at the MPG321UR QD's sharp lines and array of RGB lights in the back is enough to establish its gaming pedigree. The 32" IPS panel comes with a robust stand with a fair degree of rotation and tilt freedom. It's not curved like most stands today, so your peripherals might not fit directly in front of it. That's a minor and situational annoyance, though.
The side and top bezels are extremely thin, and the bottom one isn't distracting either. The MPG321UR QD features lots of versatile ports, starting with DisplayPort 1.4 and two HDMI 2.1 connections. Two 3.5mm jacks handle audio, while a total of nine USB ports let you connect the monitor to various devices as a passthrough. We appreciate the KVM switch that instantly lets you toggle between your gaming & streaming PCs or a console.
The OSD or on-screen display is comprehensive and a bit confusing for newcomers. Your best bet is to start with the GI or Gaming Intelligence panel, where you can automatically set the brightness & contrast as well as gain access to some unique features. There's an option that changes the built-in crosshair's color to change with the environment, so it's always visible.
The MPG321UR QD doesn't have a reputation as a monitor for professional color grading, but it might as well be one. Tinkering with the Pro settings allows you to unlock the full vibrancy potential of quantum dot technology. The panel covers almost the entire DCI-P3 and Adobe RGB gamuts while drastically oversaturating SD content unless you limit it to sRGB.
The contrast is restricted by IPS limitations but great for such a panel. It gets even better once you engage HDR and increase the native 400-nit brightness maximum to 600. The gains are particularly noticeable in bright scenes with minor dark areas. It's not the best HDR implementation out there, but for those you'll need to pay considerably more.
While anyone will find this monitor a significant upgrade, FPS gamers are likely to enjoy the benefits the most. It has a minuscule response time and a high refresh rate the RTX 3080 can easily keep up with in competitive titles. You also have access to three overdrive modes, Fast being the best balance of blur reduction and image quality. It's possible to bring the blurriness down even further by using MPRT at the cost of screen dimming.
Best Budget 4K Monitor: GIGABYTE M28U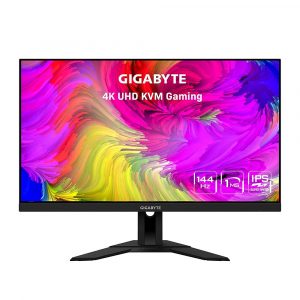 It's not farfetched to classify the M28U as a modern tech marvel. Buying it nets you a super sharp, reasonably vibrant 4K display you can hook up to three sources and enjoy seamless gameplay with minimal response times. You can find it on sales for as low as $500, which heralds the encroachment of 4K monitors in what was firmly 1440p territory not too long ago.
Unlike MSI's monitor, the M28U has a subdued construction with only a difference in smoothness and textures to signify stylishness. It's not as flexible since the base limits adjustments mainly to height. It's V-shaped, though, allowing you to place the keyboard and mouse closer to the screen.
There's no RGB in the back, and you'll find a noticeable reduction in the number of ports compared to the MPG321UR QD. Even so, everything from the 1xDP 1.4, 2x HDMI 2.1, & USB-C display combo to a 3.5mm jack and 3+1 regular USB ports are present. A KVM switch makes an appearence too.
You may navigate the M28U's menus through a built-in joystick or the companion app. They're more straightforward than MSI's but still centered on gaming. It's possible to choose different presets based on your favorite genre or calibrate the picture yourself by tinkering with color and contrast properties.
Not that you'd need to, as the M28U is perfectly precalibrated out of the box. It encompasses a little less than 90% of DCI-P3, which is still around 120% of the sRGB color gamut. You'll want to clamp the range down to sRGB levels when taking in regular content, and the M28U sticks to the limitation flawlessly. It displays about as much contrast as an IPS panel can, and the screen uniformity is excellent.
The M28U is even faster than MSI's monitor, as its input lag is a mere 4ms. Couple that with reasonable blur mitigation and 144Hz, and you've got one of the sharpest & most responsive gaming displays available. The caveat is that it performs best at the native refresh rate. Dropping down to 60Hz introduces overshoot in most of the five overdrive modes.
The screen's brightness tops out at 300 nits. You could increase it to 400 by turning HDR on, but the technology's implementation feels limited. Unsurprising given the brightness limitations and relative cost. Conversely, the M28U can dim to as low as 40 nits, which makes it an excellent choice for use in dark environments. Whichever brightness you go with, the high PPI means making out tiny characters and details is a snap.
Best High-End 1440p Monitor: SAMSUNG Odyssey G7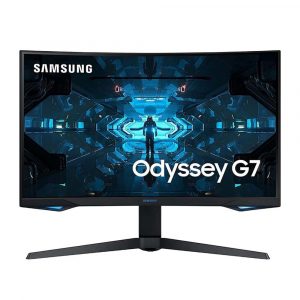 4K displays might be pushing boundaries, but the QHD competition isn't resting either. For example, the Samsung G7 brings unprecedented response times and refresh rates to 1440p, with a VA panel to boot. It's also curved without distorting the edges too much, especially if you choose the smaller variant. The monitor has been out for more than a year now, so expect to be able to snag it in a sale.
Not a fan of the curve? Then you ought to go with the ASUS ROG Swift PG279QM.
Samsung wants everyone who beholds the Odyssey G7 to witness its majesty! The display is truly a sight, and not just because of the aggressive curve. It's riddled with angular shapes and futuristic details like the RGB ring in the back. You can control that through the OSD or use Aura Sync to bring the effects in line with other ASUS products you own.
The stand deserves a special mention due to its versatility. Not only can you adjust the height to a great degree, but it's also possible to orient the screen to portrait mode. We don't know why someone would do this with a curved display, but more power to them! The port selection is similar to the M28U's, except you get two DisplayPort and only one HDMI connection.
We're fans of the unique and functional on-screen display. Bubbles display the status of the refresh rate, adaptive sync, and black equalizer on top regardless of menu. The settings let you adjust various screen parameters, set up picture-in-picture, etc. Game mode is an intriguing shortcut that maxes out the refresh rate and engages the best overdrive option for an optimal gaming experience.
It's safe to say this is a dream display for the competitive gamer. First, there's the 240Hz refresh rate that feels superbly smooth. The RTX 3080 has more than enough oomph to maintain such a framerate in games like Fortnite or Valorant without dipping into their settings. Then there are the G7's excellent response times, which easily contend with the best TN panels. In short, if you can think of it, this monitor is fast enough to react to it.
This is doubly impressive for VA, which ordinarily gets dinged for slow response times. Now you get to take advantage of double the contrast ratio of IPS panels and considerably deeper blacks without the drawbacks! The color range is comparable to the M28U's. However, you'll need to experiment with settings and reduce the black equalizer to get the calibration to a better state for sRGB.
While almost everything about the screen is fantastic, we do have to draw attention to low uniformity. You shouldn't notice it when working or playing bright games, but the edges are lighter than the screen's middle.
Best Budget 1440p Monitor: LG 27GL850-B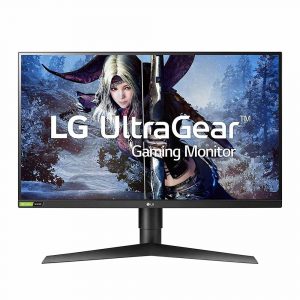 Back when it came out, the LG 27GL850-B was lauded as one of the best high-end displays due to hitherto unmatched response times on an IPS panel. Several years later, it has matured into a relatively affordable monitor that still impresses with its colors and overall performance.
The M27Q X from Gigabyte is slightly more expensive. It also has a higher refresh rate and similar color coverage, so you might want to consider it as well.
LG designed the 27GL850-B to be attractive to gamers without being over the top. Some might object to the red & black color scheme, but we don't mind. The wide stand is both supportive and adjustable, allowing for changes to portrait mode as well as a fair degree of height & angle tweaking.
You'll find all the ports inside a red ring on the back to the side of the base. As the 27GL850-B is getting on in years, the two HDMI inputs adopt the 2.0 standard. Two USB 3.0 ports and a headphone jack complete the sparse selection.
The OSD is similar to the G7's in that pertinent information on refresh rate, overdrive modes, etc., is always at hand. Many basic options are tucked inside Game Mode, allowing you to switch presets or set up stuff like crosshairs & fps counters. You get a fair degree of picture customization as gamma presets, color temperatures, and RGB sliders are all tweakable.
The monitor covers 98% of DCI-P3, placing it in the upper echelons in terms of vividness. Sadly, there's no sRGB clamp, so you're going to need to deviate from factory settings if you don't want sRGB content to look cartoonish. The pre-calibration is better than on the G7. You'll still want to at least tackle color temperature as the display skews towards blue.
LG initially advertised the 27GL850-B as the first IPS panel to hit 1ms gray-to-gray responses. While that's technically the case, the overdrive mode you have to implement to come close to this number causes far too much overshoot. Using the Fast overdrive preset yields the best results as response times reach a respectable 4ms.
Peak brightness reaches a fair 350 nits, with no significant differences when viewing HDR content. You can take advantage of both FreeSync and G-Sync for tear-free gaming, whether you're hitting fps caps or dipping into double digits in games like Cyberpunk 2077. The screen uniformity is excellent, and viewing angles are customarily wide.
Best Ultra-High Refresh Rate Monitor: Acer Predator X25 bmiiprzx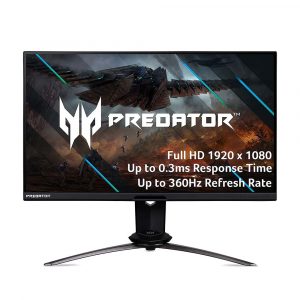 High refresh rates are crucial for high-stakes eSports gaming. After all, a split second you're not able to detect an enemy can be the difference between chicken dinner and a humiliating defeat. In their quest for ultimate fps excellence, some pros are willing to drop the resolution down to good ol' 1080p. The gain? A jaw-dropping 360Hz that may genuinely give you a leg up.
The X25 bmiiprzx is the best in its class, but Alienware and ASUS also have worthy contenders.
This is a monitor built purely for gaming enthusiasts, and you can tell from its design. The back features an RGB strip that glows in tune with the on-screen action, while a cool triangle pattern and thin side bezels hammer home the gaming aesthetic. The stand has a handy cable management hole and comprehensive height adjustment, but tilt and swivel are limited.
There's not much to say about the port selection other than it adopts a standard layout with HDMI 2.0b. That means you can only run it at 360Hz if you use DisplayPort. One of the upstream USB ports is marked in red, signifying it's the one to use with your mouse. The monitor has NVIDIA's Latency Analyzer built in, allowing you to test the latency of supported rodents in real-time.
The X25 bmiiprzx is the smallest display on the list at 24.5". That makes sense since anything wider would look too pixelated at 1080p. That's still a large enough screen to be able to discern small details or far-away enemies, doubly so due to a max brightness that exceeds 400 nits and above-average response times.
Acer cared more about achieving solid contrasts and good color accuracy than stretching the color space. That's why it maxes out at 100% sRGB. This makes sense since many competitive titles are old and don't take advantage of broader colors anyway. There's nothing to complain about, as most titles look as breathtaking as ever.
You won't need to fiddle with presets since Acer did a good job putting the blacks, colors, and temperatures in line. You could, though, as the OSD features a six-axis color adjustment system and other options that make minute customization possible. There's even a timer you can set to remind you to take a break from demon slaying every so often.
The X25 bmiiprzx is a joy to use for fast-paced gaming. There might be diminishing returns when transitioning from 240Hz for us regular folk. Still, the pros will appreciate every advantage this affords. Several blur reduction options are at your disposal. There are several overdrives, and Normal seems to deliver the best results. You can also use backlight strobing for an even more pronounced reduction. You'll need to disable any adaptive sync and lower the refresh rate to 240Hz to do this, though.
Best 4K Monitor for Content Creators: LG 32UL500-W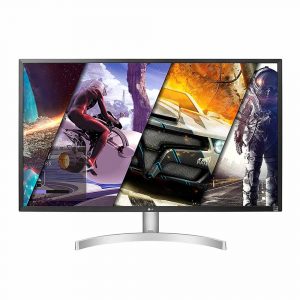 We've been focusing exclusively on gaming so far, but let's not forget the RTX 3080's excellent content creation potential! The good news is that you don't need an expensive panel with blistering frame speeds to achieve it. Another monitor from LG will be more than enough. The 32UL500-W ticks all the boxes – it's large, has excellent contrast, and boasts a vivid color selection. You can get it for around $300 when on sale, which is a genuine bargain considering the specs.
While absolutely viable as a gaming monitor, it's clear by the design that the 32UL500-W caters to a different crowd. It's a minimalistic, stylish, and surprisingly light 32" monitor with a hefty stand limited to pivoting. You can get it in black or a beautiful brushed silver color to better fit with your other creative components.
This is the second monitor on our list with a VA panel. LG didn't follow in Samsung's footsteps, so expect response times in line with more traditional VA displays. Add to that the 60Hz refresh rate, and it becomes clear that gaming on this monitor, while pleasant, is more of an afterthought.
That's alright, because the 32UL500-W masterfully leverages its panel's strengths. It has three times the contrast ratio of an IPS display, adding depth and richness to blacks overshadowed only by FALD and OLED monitors. Extensive color coverage reaching 95% of the DCI-P3 gamut accompanies this innate trait, ensuring that images are as natural as they are rich in detail.
Multimedia consumption and creation is this monitor's forte. Content creators and video editors will find it accurately represents what the audience will see while giving them a lot of desktop real estate. We're particularly fond of the split-screen feature but also appreciate the plethora of settings available inside the OSD's logical menu structure.
As this isn't a gaming monitor, the port selection is understandably meager. It doesn't need all the frills DisplayPort 1.4 brings, so the connection in question is version 1.2. We are a bit bummed that there are no USB passthroughs in the back for the sake of convenience, but you do get a 3.5mm jack for easier headphone attachment.
It's possible to tweak the 32UL500-W's gaming performance to a degree. It's not prone to blurring but does come with several reduction presets, Normal being the most effective at reducing the effect further. AMD's Freesync is the only officially supported form of adaptive sync and works between 40 & 60Hz. As you're the owner of an RTX 3080, you won't be seeing screen tears for a long time.
Frequently Asked Questions
Is a 4K monitor worth it for RTX 3080?
Absolutely! The RTX 3080, especially its newer 12GB version, can handle any decently optimized game at 4K while comfortably achieving more than 60fps. Even a demanding title like Red Dead Redemption 2 achieves a higher framerate, and that's with the highest presets. Turning some resource hogs off will significantly up the frame count without dramatically impacting the visuals.
It's even better if you mainly play eSports games. These were designed to work with much older and less refined hardware, so getting a 144Hz 4K monitor will only result in an increase in fidelity.
Is an RTX 3080 overkill for 1440p and 1080p?
That mostly depends on the games you play and at what level. It's safe to say that the card's potential would be wasted at 1080p since that's the resolution where your CPU pulls the most weight. That being said, a 360Hz monitor supplies the GPU with enough frames for it to become more relevant.
The situation is much more favorable for the RTX 3080 at 1440p. The card can run most AAA games at or close to 144Hz and doesn't struggle to maintain 240Hz when there's a need for it. More importantly, the RTX 3080 is an excellent investment in terms of futureproofing since it will be able to run upcoming games at a similar performance level.
How much better is 240Hz than 144Hz?
There's a tangible difference, but it's not that important for most users. Fluidity of motion is the main reason higher refresh rates are better. It's nice to have in single-player games for a more immersive experience but crucial when engaging in multiplayer battles.
You might not be able to see the frame-by-frame difference when shifting from 144 to 240Hz, but there are still advantages. Take the example of an enemy jumping you from around the corner. At 60fps, there might be nothing there in one instant and an enemy firing at you in the next. Upping the framerate gives you a bigger window of opportunity to spot the enemy as they emerge, allowing you to act faster.
The jump in quality was most noticeable when transitioning from 60 to 144Hz. The difference is less apparent at 240Hz and decreases again at 360Hz.