6 Best Aura Sync Compatible Mouse Picks in 2023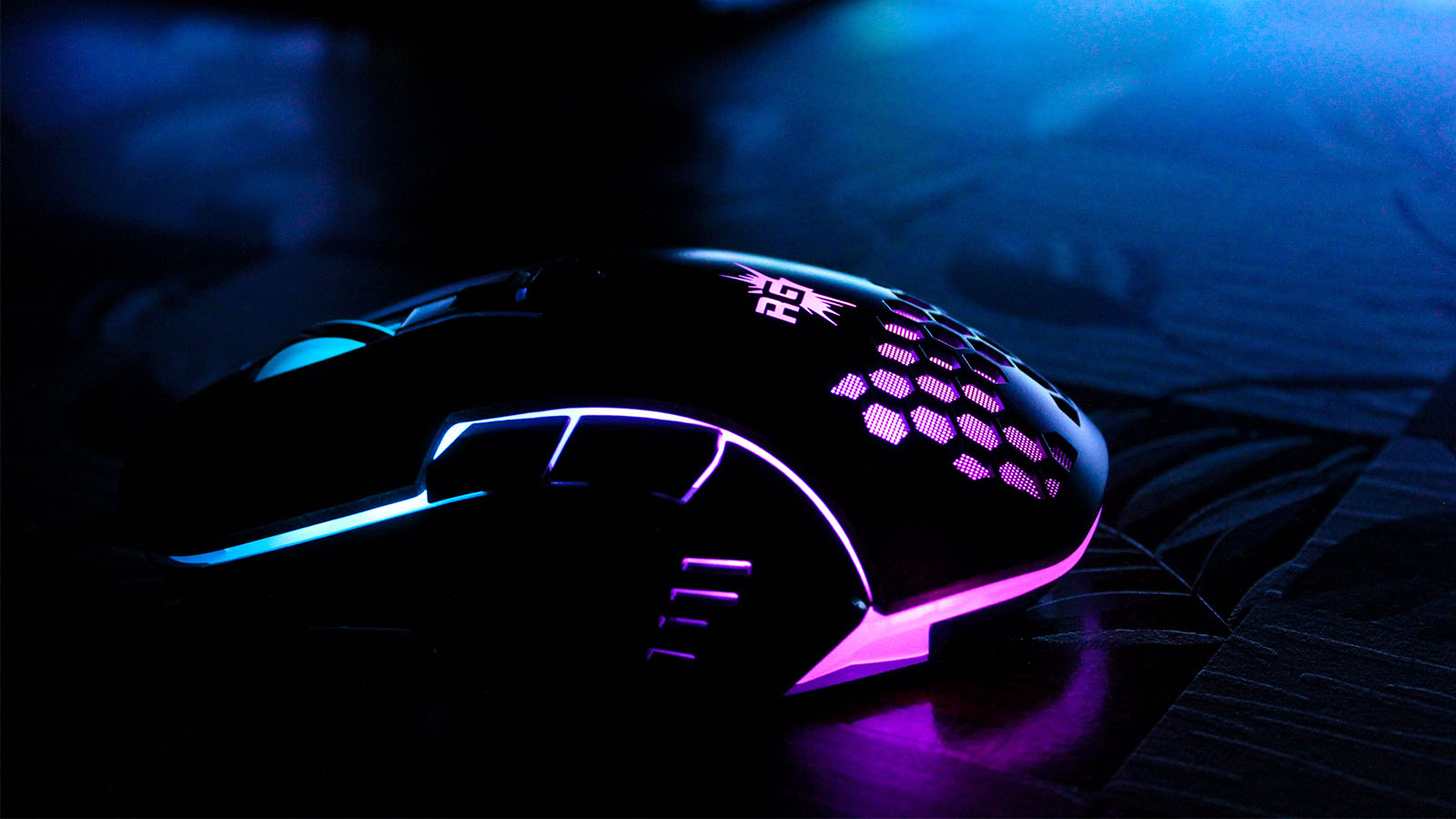 The great thing about Aura Sync is that it includes peripherals, so your mouse can change colors and effects in tune with the rest of your system. Official support for the feature is limited to ASUS rodents only, but the company seems to have one for any occasion and use case.
Our guide on the best Aura Sync compatible mouse brings detailed reports on picks all across ASUS's premium and budget-friendly ranges. Going through it will make the right choice much more straightforward, whether you need a lightweight FPS mouse or one with enough buttons to replace an entire hotbar. See what ASUS has to offer and start gaming in style!
Best High-end Aura Sync Mouse: ASUS ROG Chakram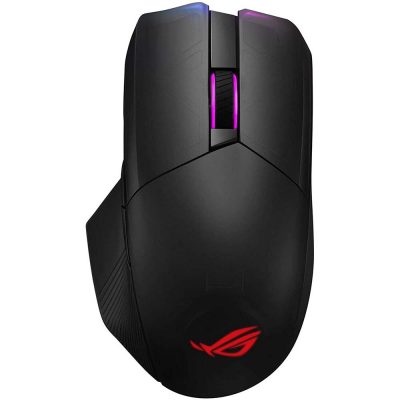 Controllers and mice are made for different things, but the Chakram successfully bridges the gap by including an analog stick on an already excellent mouse. Its battery has a long lifespan, and its responsiveness and overall behavior are top-notch. The software side allows for both lighting and in-depth control customization for a tailored gaming or productivity experience. It's an expensive rodent, but one you'll quickly come to appreciate.
Don't want to ditch the analog stick but can't justify the price? Then go with the Chakram Core instead, which is the considerably less expensive wired version.
There's not much to this mouse at first glance, other than it's clearly tailored to righties and made from quality plastic. Some ribbing on the left keeps your thumb from sliding, and a prominent hump suggests you'll have an easy time holding it in either palm or grip mode. You'll find RGB around the main buttons, in the logo, and under the scroll wheel.
The left and right buttons are slightly convex to offer a more natural grip. They react to commands instantly and require a comfortable amount of pressure to activate. You can't set the scroll wheel to spin freely, but it accurately registers each step and is silent to boot. Feeling out and pressing either of the two side buttons is effortless.
The analog stick is the Chakram's standout feature. It acts as the same kind of stick you'd encounter on a controller, allowing you to rotate the camera or move around without WASD. You may also assign a shortcut or macro to each cardinal direction, which should come in handy if you play MMOs and MOBAs, not to mention for office work. Getting the most out of the stick will take some getting used to, but it's a genuine asset once you do.
The Chakram is a wireless mouse that supports QI charging if you have a corresponding mouse pad. That will eliminate battery concerns, but you can get between 60 and 80 hours per charge without such a pad. Hooking the mouse up to a quick charge cable will get you a respectable twelve hours in fifteen minutes in an emergency.
The PixArt PAW3335 drives the mouse, offering a max of 16,000 CPI and minimal discrepancies in accuracy. The wireless tracking quality falls off towards the max CPI side. Otherwise, the mouse is both lag-free and consistent in its polling performance.
Best Mid-range Aura Sync Mouse: ASUS ROG Gladius III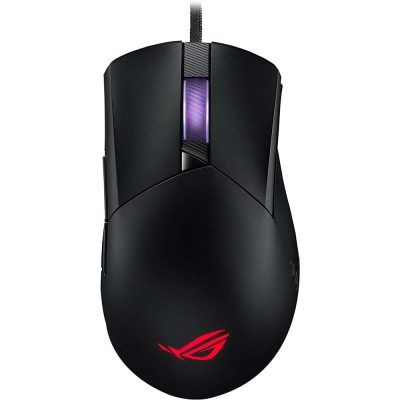 The first Gladius came out in 2014 as a direct rival to the iconic Razer Deathadder, reaping considerable success among ASUS fans. Two iterations later, the Roman short sword is better than ever. It offers a balanced set of controls for general use and FPS gamers, interchangeable buttons, and an attractive lighting scheme.
You can get the third Gladius in a wireless version as well, complete with three connection methods and a battery life exceeding 80 hours if you opt for Bluetooth.
Owners of the two former versions will note how the Gladius III is a departure in design. The mouse forges its own path since it is broader and taller, granting a fuller feel to users with large hands. Its shape is adequate for all three grip styles, and the matte finish makes sure you'll always grip it tightly without leaving fingerprints.
Only the ROG logo breaks up the uniformly black surface on the top shell. You'll find a random line pattern on the left for better thumb traction and parallel grooves on the right that serve the same purpose but aren't as eye-catching. The mouse stands on excellent Teflon feet and comes with replacements.
The buttons are responsive and mechanical, with short travel times and a satisfying click once released. ROG Micro Switches come preinstalled, but you also get a pair of Omron switches if those are more to your liking. There are only two side buttons, but these are tactile and easy to reach. The scroll wheel is silent and accurate. A button underneath it toggles between several CPI settings, and another one below is used for switching between profiles.
The PixArt PAW3370 is at the rodent's core, offering a max CPI of 19,000 you can push further to 26,000 in Armoury Crate. Whichever test you throw at it, the Gladius performs admirably. It has excellent lag mitigation given its mechanical switches, next to no deviation in reported vs. actual speed, and it responds admirably regardless of polling rate.
Best Budget Aura Sync Mouse: ASUS TUF M5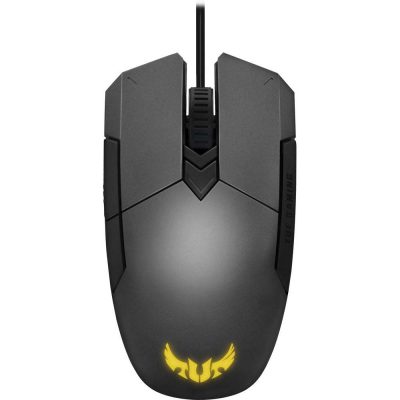 You can expect any product with the ROG designation to perform well at a premium price, but ASUS has a mouse for budget-conscious folks too. It's a member of the TUF line and designed to withstand wear & tear for years. The mouse isn't as feature-rich as more expensive alternatives. Still, its core feature set rivals anything else ASUS has on the market.
The M3 is also worth considering if you don't mind giving up some of that sturdiness for an even lower price.
Users familiar with the TUF aesthetic will instantly recognize the mouse's grey outer shell as belonging to it. ASUS says it's made from reinforced materials that make the M5 more resistant to abrasion, sweat, and friction than similarly-priced competitors. We're also fans of the separated main buttons, as this adds another aesthetic element to the design while improving the buttons' longevity.
You can technically grip the M5 equally comfortably with both hands. Only the left side has extra buttons, though, so southpaws don't get the full benefit unless they have impressive pinky dexterity. Getting used to the side buttons isn't problematic whichever side you approach them from because they're large and responsive. Please note that this is the smallest mouse on the list and might not be the best fit for large palms.
The M5 is a wired mouse, and its cable's flexibility could be better. On the other hand, it has three robust feet that ensure it won't slide off of any surface if the cable jerks abruptly. The winged shield TUF logo is the only RGB area, but that's not surprising considering the price. You can change its effects or sync it up with an ASUS motherboard & other components just as easily as other Aura peripherals.
Info on the PixArt PAW3327 sensor isn't readily available, but luckily the reviewers from Techpowerup put it through its paces. The sensor has a max CPI of 6,200, and the control you can exercise over the mouse is top-notch. The cable prevents any significant polling differences, and there's no angle straightening. On the other hand, the difference between reported and actual CPI can be considerable. That only happens towards the low end, so it's unlikely you'll experience the issue unless you're used to slow mouse movements.
Best Ambidextrous Aura Sync Mouse: ASUS ROG Pugio II Wireless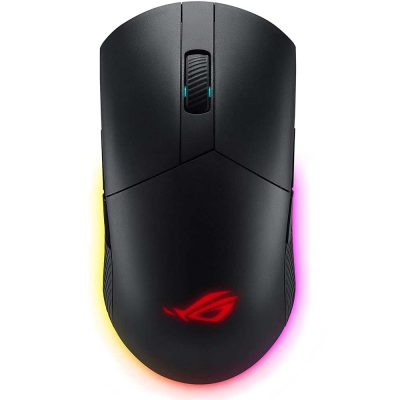 All the mice we've talked about so far were designed or optimized for right-handed use, leaving lefties without access to their cool features. ASUS already remedied that with the introduction of the first Pugio, but the new version is even better. It's completely symmetrical, offers several connection modes, and behaves well considering its price & wireless operation modes.
ASUS has another ambidextrous mouse on offer, the Impact II. It's more affordable, so consider it if our main recommendation doesn't fit your budget.
Having to account for both left- and right-handed users means that the design can't be as outlandish as on mice intended solely for righties. That's alright because what the Pugio II lacks in style, it makes up for in substance. It's equally comfortable in either hand, and the two buttons on either side are easy to reach. You can disable them in pairs, depending on which hand you're using.
Most ROG mice are on the larger side, and that's true for the Pugio II as well. Like the rest of the build, the hump is symmetrical and placed optimally for any grip. The two main buttons have replaceable switches with snappy response times and longer upward travel than most models. The scroll wheel turns smoothly, and there are two more buttons for CPI & profile toggling on the bottom.
Three RGB areas make for a colorful and vivid user experience, whether through Aura Sync or Armoury Crate settings in general. The gray shell is plastic and translucent, letting the lighting zones on the logo, wheel, and bottom shine through even more.
You can use the Pugio with the included wire or switch to wireless operation through a 2.4GHz connection or Bluetooth. Battery life is impressive, clocking in at 70 or 100 hours, depending on the mode you prefer. Both wireless modes are free from lag and offer a smooth experience.
ASUS outfitted the mouse with the same sensor as the Chakram. Its performance here is a bit worse, though. You can expect excellent response times, but polling consistency and wireless tracking at higher speeds should be better for a mouse at this price point.
Best Lightweight Aura Sync Mouse: ASUS ROG Keris Wireless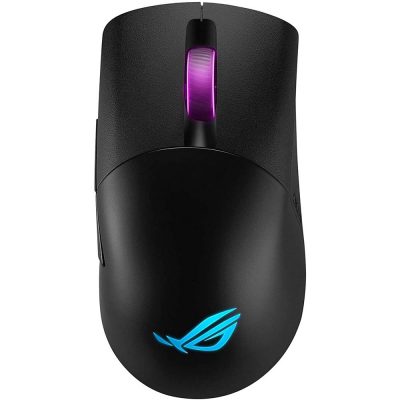 Do you travel a lot and need a smaller, lighter mouse that still benefits from Aura Sync? You'll want to go with the runt of the family then – the ROG Keris! It's not too small to poorly fit users with large hands while offering excellent grip to those with smaller hands. It works wirelessly and comes with local DPI & lighting adjustments that let you change things up without accessing Armoury Crate.
The Keris's wired version is even lighter and cheaper, so go with that if you're interested in lightweight gaming at the expense of some mobility.
Weight, or lack thereof, is this mouse's defining characteristic. It isn't that much smaller than others we've mentioned, but 79g for the wireless and 63g for the wired version almost places it in ultralight territory. The shape is clearly right-handed, with a moderately arching hump that makes it equally easy for palm and fingertip grippers to hold on tight.
The Keris is made from ABS plastic and polymers, with four triangle-shaped replaceable feet on the bottom. Its two side buttons are positioned so that even users with small hands can easily reach them. The left and right buttons come with the same mechanical switches as the Gladius and may be replaced for two kinds of quieter Omron switches too. The scroll wheel is on the loud side, but it shouldn't be distracting in the heat of battle.
Turning the mouse over reveals the connection mode switch and buttons for pairing & CPI control. You can toggle the CPI in increments of 100 by scrolling the wheel as you hold the button down. You may also cycle through the two RGB zones' onboard lighting presets if you don't want to fiddle with the companion program.
The PixArt PAW3335 makes yet another appearance, this time with excellent overall results. Expect rock-solid polling consistency whether you're in wired or wireless mode. The liftoff distance is tight, and there are actually fewer DPI discrepancies the higher the speed.
Best MMO Aura Sync Mouse: ASUS ROG Spatha X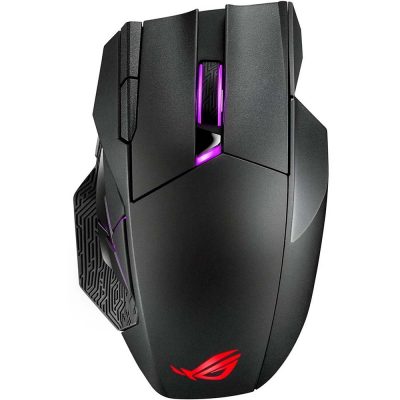 MMORPGs are experiencing a revival, which means that the few buttons our previous entries offer won't be enough. ASUS released the first Spatha several years ago, but its weight and awkward charging didn't sit well with everyone. Most of its kinks are now taken care of, putting an extensive array of commands at your fingertips.
Even though they've shaved ten grams off its weight, the Spatha X is still the most imposing rodent in the roundup. It's ideally suited for large-handed users who employ the palm grip, but the claw grip can work too. You'd think that all the bulk and angles would make it unwieldy, but the mouse is as comfortable as its smaller siblings.
There's no shortage of configurable buttons on the Spatha X. Six of them are on the side, just above the thumb rest's geometric pattern. They roughly follow the ROG eye shape, and each button has distinct tactile features that make it easy to press the right one every time. Two smaller ones are located on the left mouse button's side. Combined with the scroll wheel and a control for changing the DPI underneath, that makes for a total of 12.
You can use Armoury Crate to repurpose all the buttons or bind custom macros to them. That can be extremely useful for complex sets of controls the best MMO players need to succeed. That's also where you'll be making fine adjustments to the 19,000 CPI sensors and picking out colors for the three RGB areas when Aura Sync isn't doing its thing.
Overall impressions are favorable since the main removable switches are on point and the side buttons aren't too stiff. A working time of 60 or so hours in wireless mode if you turn the lighting off is commendable. You can also use the provided cord to hook the mouse up to a steady power stream and not worry about low batteries or a lag spike to fumble your next fireball.
Frequently Asked Questions
Aura Sync is ASUS's version of an all-encompassing RGB lighting ecosystem. Its main draw is the ability to synchronize various products, including mice, to display the same colors and lighting effects. Setting it up is straightforward, and the results look fantastic.
What products work with Asus Aura sync?
Almost all contemporary ASUS components work with Aura Sync. These include everything from motherboards and graphics cards to mice and keyboards. There's also a partner program that encompasses LED strips, case fans, and other accessories. It's best to consult ASUS's official page before putting a PC together to ensure that all components work with Aura Sync.
Are Corsair mice Aura Sync compatible?
Aura Sync doesn't officially support third-party peripherals, including those from Corsair. Plugins are available that circumvent this, but those aren't sanctioned by ASUS and don't necessarily let you control all aspects of the mouse's lighting or sync it smoothly with other parts. You can't count on such projects' creators to provide timely and consistent updates either, so your best bet is to stick with peripherals that have native support.