3 Best BFGD Monitors in 2023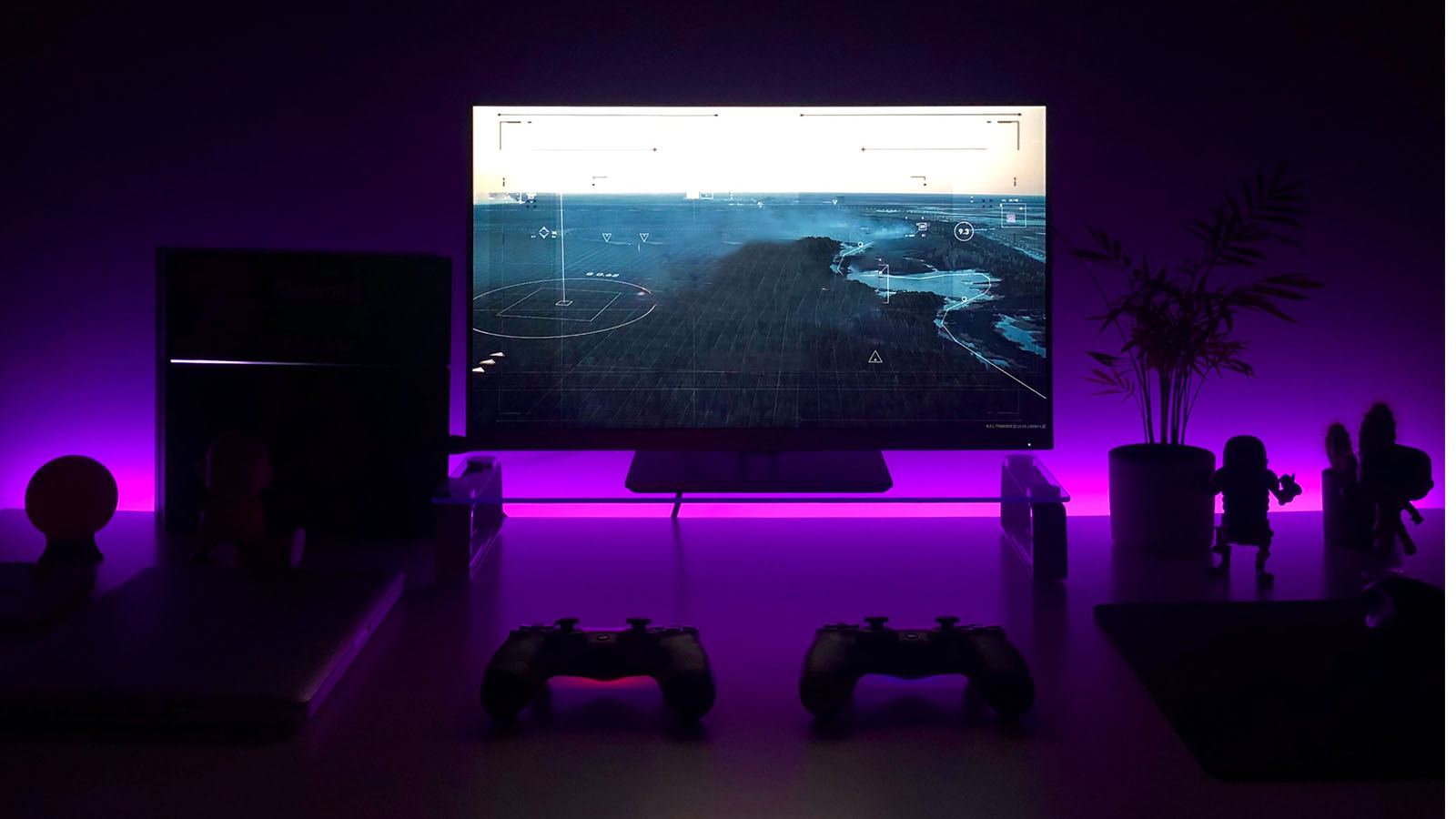 Connecting one's PC to a TV is nothing new. The problem is that by going with a larger display, you're trading in screen size for responsiveness and smoothness anyone who's halfway serious about gaming can't live without. The best BFGD monitors are a unique breed of displays that aim to bridge the TV and monitor gap, rolling up all of their advantages with as few shortcomings as possible.
In this article, we bring you a comprehensive rundown of what BFGDs are, why you might want to use one, and which ones are worth looking into today. Manufacturers aren't exactly bending over backward to produce BFGDs, hence why the list is shorter than usual. Still, the ones on offer are all outstanding choices for high fidelity and futureproofing.
The acronym stands for Big Format Gaming Display and refers to panels that are the size of modern TVs but have more PC-centric feature sets. Low input lag and G-Sync are the two features that sharply define a BFGD.
Ordinary TVs pack hardware that focuses on providing the best picture quality for visual media consumption. While there are more models out there than ever geared towards gaming, most don't account for the various delays during the interaction between your screen, PC, and mouse.
Many modern TVs have a response time that exceeds 30ms. This is the threshold at which the delay between inputting a command and observing the resulting action on screen becomes visible. BFGDs have much-improved response times and lower input lag, making this a non-issue.
G-Sync is NVIDIA's proprietary variable refresh rate technology. Unlike Freesync, which anyone can claim to implement, a G-Sync certified display has to pass numerous rigorous tests. More importantly, G-Sync ensures there's no screen tearing regardless of current fps. Its most advanced version, G-Sync Ultimate, guarantees that the display in question meets the highest standards in refresh rate variability, color accuracy, and high dynamic range.
How are BFGDs different from TVs?
G-Sync is becoming increasingly popular, so why not just get a comparably-sized TV instead of a BFGD? Apart from the crucially important lack of input lag, there are several other reasons.
BFGDs are monitors, so their onscreen displays contain far more settings related to gaming than a TV's would. PC gamers will be familiar with features like hardware crosshairs or picture profiles designed to work with game genres rather than ambiance or media type.
Conversely, most BFGDs are lacking in the smart TV department. NVIDIA Shield integration in the Emperium is an exception as other models don't have access to streaming services you'd expect from a TV.
There's also the matter of appearance & mounting. BFGDs adopt a more pronounced gaming aesthetic than TVs, either due to how their backsides look or by including RGB lighting. They have stands that accommodate mice & keyboards, not to mention designs that consider cable management needs.
Best BFGD for Pure Gaming: ASUS ROG Swift PG65UQ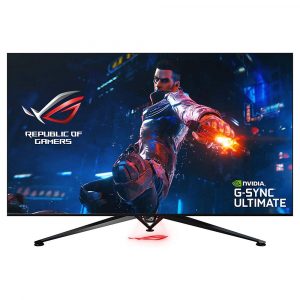 ASUS is the first brand many would associate with cutting-edge gaming tech. So, the fact that they came up with one of only a handful of BFGDs available today is not surprising. The ROG Swift PG65UQ is a gaming behemoth that looks like a fancy TV but is a monitor every bit as gaming-oriented as its smaller cousins. The HDR experience is outstanding, and the most advanced version of G-Sync ensures tear-free immersion regardless of resolution.
Getting the monitor out of its box and setting it up is a feat on its own. Fortunately, the massive three-legged stand is pre-installed, saving you a lot of trouble. The legs are wide and don't take up too much space compared to the monitor proper. They'll accommodate a keyboard if you don't mind looking only at the screen's central third. A sound bar may not fit, though. Interestingly, an RGB light above them projects the ROG logo onto your desk. Nifty!
The ROG Swift PG65UQ is understated as ASUS displays go. All but the bottom bezel are super thin, which is accentuated even more by the screen's overall size. A large eye on one part of the back is separated from a ROG texture by a diagonal line. There's no cable management on the stand, but you do get a bracket that goes in the back that helps minimize cable clutter.
All of the monitor's ports are on the right. You get three HDMI 2.0 ports and one DisplayPort 1.4 with 144Hz output at 4K. Other connections include an optical S/PDIF out for audio and two USB 3.0 ports. Rather than come with a power brick, the PG65UQ has a built-in power source that hardly contributes to its already massive weight.
You'll find the controls under the port section. They consist of a joystick and several long keys that slant to opposite sides, which minimizes accidental presses. A remote is also included, but it's flimsy and barebones, so you'll likely stick to the onscreen display.
The OSD is sluggish, and switching from one input type to another takes a while. It makes up for this with a serviceable selection of features. These range from simple game-type screen presets like RTS or FPS to more in-depth controls like variable backlighting or dark boosting.
The PG65UQ has a 65" VA panel with Quantum Dot technology. It uses a thin layer of particles between blue LEDs and the screen itself. These glow either green or red when hit by blue light, offering strikingly vivid colors. The resulting vibrancy covers 130% of the sRGB color gamut and 95% of DCI-P3. While this isn't a display for Photoshop pros, you could definitely use it as one.
The screen's surface is glossy, which doesn't matter once you turn HDR on or set it to the max brightness. It goes up to a blinding 1,000 nits, which is far too bright to be used in a dimly-lit room. On the other hand, the contrast between blazing whites and pitch-black shadows this creates is stunning. It's not an OLED panel, but this is as close as VA gets to achieving its benefits.
The monitor's PC-specific features include support for G-Sync Ultimate, which ensures a complete lack of screen tearing whether you're playing Fortnite at 144Hz or struggling to maintain 60 in Cyberpunk 2077. Low response times set monitors apart from TVs, and the PG65UQ's 4ms are much closer to the former.
The PG65UQ is a fantastic display, but we'd be remiss if we didn't mention a few drawbacks. The sound coming from its bottom-firing speakers is in line with those on quality TVs, but it gets muffled by the two internal fans you can't turn off. Then there's the matter of considerable expenses and the fact that you have to reach out to ASUS directly to obtain the monitor.
Best Multimedia BFGD: HP Omen X 65 Emperium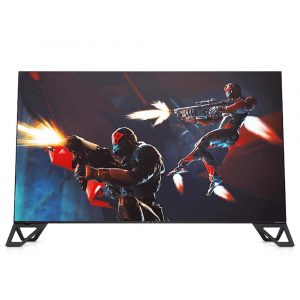 HP was the first company to make a BFGD commercially available, and their Omen X 65 Emperium remains a compelling choice to this day. It's every bit as sophisticated as ASUS' model yet brings a multitude of features that make enjoying movies, music, and other types of entertainment equally thrilling. While it's still considerably more expensive than equal-sized OLED TVs, at least HP gave up on the ridiculous $5,000 price tag.
Unlike the PG65UQ, HP's monitor doesn't come preassembled. That's because you can do so in two ways, depending on your setup preference. Putting it on a desk like an ordinary monitor requires you to screw the two triangular feet in and then slide the soundbar in the resulting gap. Another set of feet screws into both the monitor and soundbar if you want to wall mount everything. The display is around 5Kg lighter than the PG65UQ, but you'll need to rely on a willing helper more during setup.
There's not much in the back except several elaborate cooling vents and a glowing HP Omen logo you can set up to glow in tune with what's on screen. Most of the Emperium's ports are on the right, and it's easy to find your way around thanks to a handy motion-activated LED light. You get DisplayPort 1.4, 3x HDMI 2.0, 4x USB 3.0, an analog audio jack, and an Ethernet connection if you don't want to use the display's WiFi.
We like the Omen X 65 Emperium's remote. It's sturdier than the one from ASUS and allows for fast OSD navigation. The OSD has an excellent layout and structures features logically. For example, you'll find built-in crosshairs and an fps counter in the Gaming section, while Picture offers up several presets and allows for in-depth tweaking.
The two BFGDs we've discussed so far share much on the hardware level. They have the same-size panel, which is VA and Quantum Dot capable in both cases. The HDR mode on the Emperium has a peak brightness of 750 nits in SDR mode but boosts to 1,000 nits once you engage HDR. Both panels also have 384 local dimming zones, allowing for much more accurate transitions between sharply contrasting brightness levels.
DCI-P3 is the Emperium's default color space, but you can get sRGB-like results if you switch to the Film preset. The display is plug & play with respect to color accuracy since no calibration or white balance corrections are necessary.
The soundbar is a welcome high-grade addition for anyone not keen on using a headset. It draws 120W and contains two pairs of radiators & tweeters as well as four woofers. The soundbar delivers everything from clear highs to a deep, rumbling bass. It's as good at bringing to life the ambiance of a battlefield as letting you discern nuances during classical performances.
The Emperium is fully immersed in NVIDIA's entertainment ecosystem. On the one hand, there's the Ultimate version of G-Sync we've touched on in the PG65UQ segment. On the other, it also has seamless NVIDIA Shield integration. Shield is a versatile streaming platform that allows you to stream content from various channels or providers. It's akin to standard smart TV interfaces but more responsive.
There's enough advanced hardware inside the Emperium itself to play hundreds of Android games through Shield without even hooking it up to a PC. You can technically play games like the mobile version of Fortnite straight away, but you'll need to buy the Shield controller first as it's sold separately.
While much cheaper than at launch, the Emperium's price remains a tough pill to swallow. Other than that and some glow around bright objects surrounded by darkness, there's not much to complain about. The picture quality is fantastic, input lag is worse than on the PG65UQ but manageable, and the soundbar adds another level of immersion.
Best "Budget" BFGD: LG UltraGear 48GQ900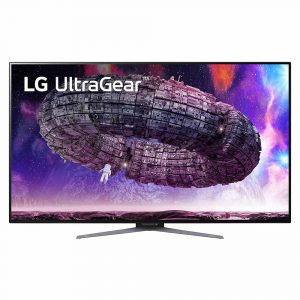 BFGD's haven't really caught on yet, partially due to the positive changes manufacturers like LG have introduced to their regular TVs. However, LG is also the manufacturer willing to try new things to make BFGDs a success. Their UltraGear 48GQ900 is the first LG monitor to feature OLED technology. It's "small" enough to allow for regular desktop gaming without necessarily having to sit six feet away. At around $1,300 as the launch price, it's also markedly cheaper than our other two recommendations.
While much less unwieldy than the 65" monsters, this 47.5" OLED panel can still be a handful during installation. Its stand arrives separately, so you have to screw it in yourself. The stand is sturdy and has a wide angle that's sure to accommodate your peripherals if you choose to place them near it. A sizeable hexagonal cutout in the stand's base serves as an excellent cable management tool.
Just like the display itself, LG made the 48GQ900's back into a pleasant mix of TV and gaming monitor. It's flat and mostly unadorned, not counting a sizeable vent and the UltraGear logo. RGB fans will appreciate the twin strips on each size that are sure to add ambiance. Rather than on the right, the display's I/O is located in the back's center. It consists of DisplayPort 1.4, three of the newest HDMI 2.1 inputs, an audio jack, and optical S/PDIF out. On the USB front, you get two upstream and one downstream USB 3.0 ports.
The larger displays came with petite remotes, so it's amusing to behold the chunky one you receive with the 48GQ900. It's a thick piece of gray plastic with comically oversized buttons and a massive volume wheel. It takes a bit to get used to but works to navigate the OSD surprisingly well.
Speaking of, the onscreen display is modern. It offers valuable info like the current refresh rate, HDR, and sync status at a glance. Its menus are straightforward, offering sweeping adjustments corresponding to game genre presets as well as minute calibration options for the color-obsessed.
Color is something the 48GQ900 has in droves as its stunning OLED panel covers 98% of the DCI-P3 gamut. That may make some sRGB sources look oversaturated, but most of the time, everything is just teaming with vibrancy firmly on the right side of tasteful.
OLED has the additional advantage of offering the best contrast since unused LEDs turn themselves off to provide the most authentic black experience since CRT monitors went extinct. Combine that with HDR, and you've got a contrast ratio & immersive experience lesser panels can't touch. OLED also makes for smooth transitioning between pixels with minimal motion blur and little overshoot if you go for a heavy-handed overdrive option. That makes the 48GQ900 an excellent choice for shooters and any other fast-paced game that relies on clear visual input despite fast-paced action.
4K at 120Hz is the 48GQ900's standard setting. Connecting it to your PC through DisplayPort allows for an overclock to 138Hz. While technically lower than the 144Hz this type of connection can provide, you're unlikely to feel the difference.
The 48GQ900's size is an advantage over our first two picks. Whereas they're best for couch gaming with wireless peripherals, LG's monitor borders on regular desktop usability. You'll have to step or move your chair back a bit to get the complete picture, but games like StarCraft or Age of Empires that regularly show small details will benefit from the extra pixel density and wide field of view.
Two 20W speakers handle onboard audio. They're serviceable and a significant step up from what you'd typically get on gaming monitors. Still, you'll want a headset or a quality set of external speakers for a better feel.
There's almost nothing to complain about, as the screen size and OLED implementation are on point. The stand is a bit wobbly due to how apart and thin the legs are. That shouldn't be an issue unless you're going to move the monitor a lot or place your keyboard too close to the base and bump up against it.