6 Best Keyboard and Mouse Combos for PS5 in 2023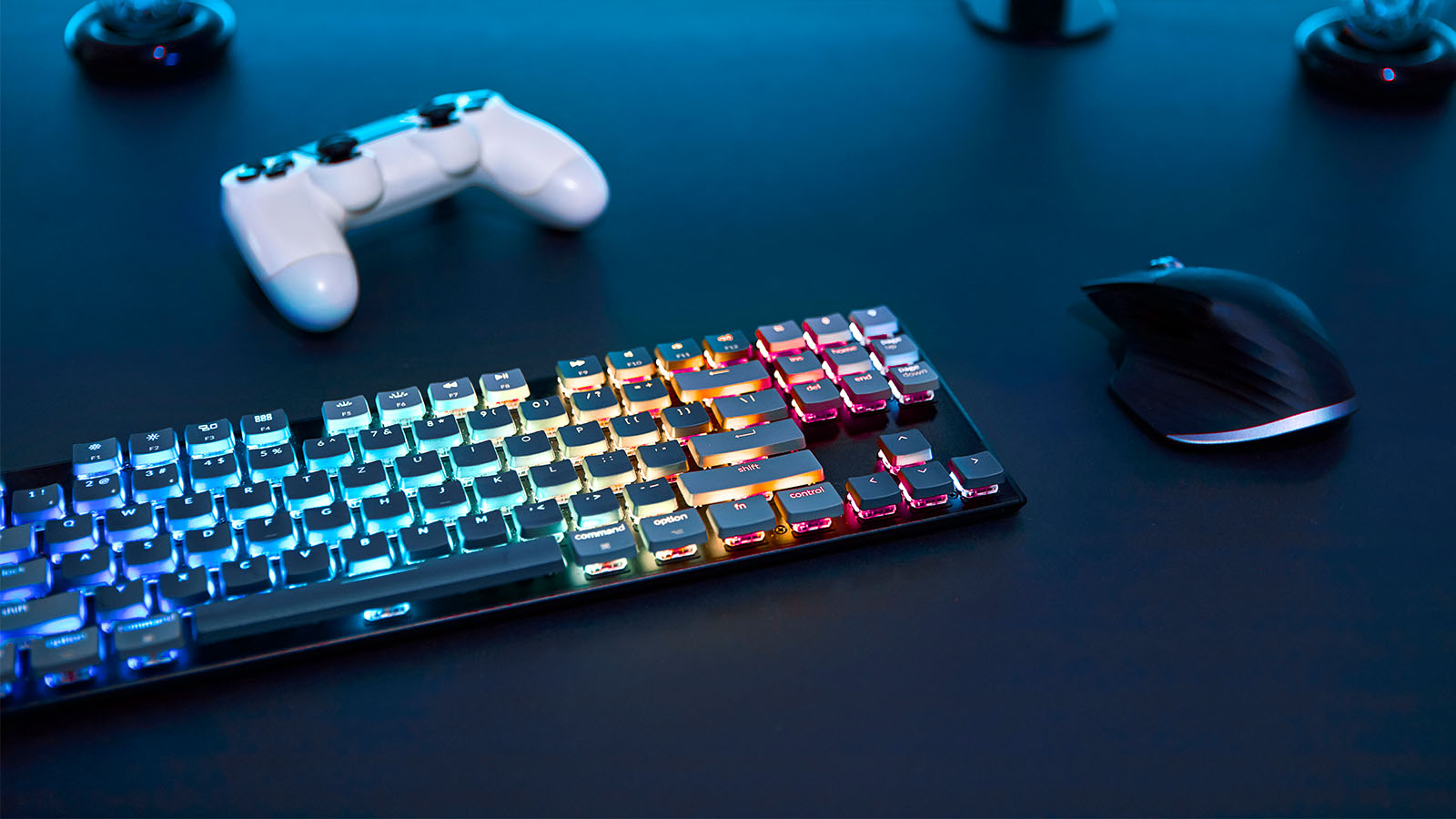 The iconic PlayStation controller has been the mainstay for Sony fans for almost three decades. It has spawned an entire game design philosophy, and it's safe to say that console gaming wouldn't exist in its current form without it. But as the PC and consoles are becoming more intertwined, the need for other means of input grows. Games like Fortnite, the Call of Duty franchise, or The Elder Scrolls online offer new challenges, ones you'll only overcome with the best keyboard and mouse combo for PS5 out there.
Best High-end Combo: Razer Turret for Xbox One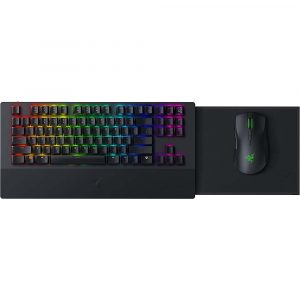 The combos that follow our high-end pick all work well for console gaming, even though they were designed primarily for PC use. On the other hand, Razer's Turret was explicitly made for couch gaming. Don't let the Xbox One reference in its title dissuade you – the mouse & keyboard work equally flawlessly with the PS5 or PC if you have one. They're comfortable, long-lasting, and convenient due to their console-centric design.
This Turret is a revised version of a similar product Razer released a few years prior. While more expensive, it fixes most of the original's issues, like a low-quality keyboard and a cramped mousepad.
The keyboard part now uses Green Razer switches for an excellent tactile feel that's responsive but not too loud. It weighs over four pounds and is a bit thicker than usual. That's because there needs to be room in the underside for a slide-out mousepad. This time, the pad is magnetic, providing just enough attraction for the mouse to glide along it unimpeded without fear of it landing on the floor.
The mouse is another custom-made part that's larger and more natural to hold than the original. It's reminiscent of the acclaimed Deathadder beloved by FPS enthusiasts everywhere. The ergonomics are superb, and you get four programmable buttons for more versatile control options. The mouse also stores the dongle when the combo isn't in use.
The dongle plugs into the PS5, where both peripherals are recognized without issue. The connection strength is superb, allowing you to game from anywhere inside a large room and not worry about interference even if other wireless sources are present. Battery life is more than acceptable too. Turning the lighting off nets you 50 hours per charge for the mouse and 40 for the keyboard. These numbers drop to 20 and 10 hours respectively when the lighting is engaged, which is still respectable.
Performance-wise, the Turret does precisely what it's built for. Its heft is substantial enough that you can sense its presence on your knees but small enough not to feel encumbered. While not as feature-rich as stand-alone Razer keyboards, the one you get is responsive and perfectly adequate to double as a PC keyboard for gaming and ordinary tasks. The mouse doesn't fall behind either.
Best Mid-range Combo: Roccat Vulcan TKL & Kone AIMO
Roccat has more than a decade of experience designing gaming peripherals, and the original Kone is what got the company on the map. The new AIMO version and the tenkeyless Vulcan are an excellent combo whether you're into shooters or the PS5 version of FFXIV. Both peripherals are built with high-grade materials, feel well in hand, and have lighting down to an art form.
If you don't mind spending a little extra, you could also upgrade to the Vulcan's PRO version. It's mostly identical to the keyboard featured here but has quieter optical switches.
The Vulcan is a tenkeyless keyboard with a beautiful gunmetal gray top plate and floating keys that showcase the breathtaking lighting below. The switches are mechanical and have an actuation distance of 1.8mm, which might take some getting used to for people more familiar with shorter distances. Roccat nailed the balance of tactility and responsiveness. You'll feel each keypress even though you don't have to put too much force into one.
The keyboard's compact nature prohibits many extra keys. Still, you get a handy volume adjustment wheel and several multimedia controls. The FN key is going to become your best friend since it opens up access to onboard lighting options, macros, and more.
The Kone successfully straddles the line between organic and angular looks. It's a broad mouse you'll enjoy using regardless of your preferred grip. There aren't that many extra buttons – only three on the side, not counting the DPI switches – but they're easy to reach. You can set the large bottom button to act as a switch between several mappings, exponentially increasing the rodent's functionality.
Components of Roccat's own design make up the core of both products. Responsive if a bit loud Titan switches in the keyboard and a nuanced Owl Eye sensor inside the mouse. Both also benefit from mesmerizing lighting. The Kone, in particular, has one of the best lighting implementations in the industry. It has three individually customizable zones that shine through slightly frosted plastic, so individual LEDs aren't visible.
If there's one thing to complain about in relation to console gaming, it's the Kone's weight. At 4.8 ounces, it's heavier than the average gaming mouse and has no weight adjustment system.
Best Budget Combo: SteelSeries Apex 3 TKL & Rival 310
All the keyboards we've talked about thus far are mechanical, which can significantly impact a combo's price. Only a few membrane models make the cut, like the Apex 3 TKL from SteelSeries. Together with the Rival 310, it makes for an affordable combination that lacks nothing in either performance or customization.
If you're left-handed, we encourage you to go for the Sensei 310 instead. There's no discernible difference in performance, but its ambidextrous design is a welcome addition.
There's something to be said about the Rival 310 simple design. It's been refined through several generations, leaving the user with a superbly ergonomic experience you'll especially enjoy if your palms are on the larger side. A silicone grip on the left affords purchase for the thumb even though it isn't indented. Two buttons above the grip are easy to reach, while effectively getting to the scroll wheel might be challenging for people with small hands.
The sensor is SteelSeries' take on the 3360 by PixArt Imaging already present in the company's other models. It ranges from 100 to 12,000 DPI, matching the distance precisely up to 3,500. You won't need it to get faster than that and can choose between five DPI settings for good measure.
While the Rival offers good bang for your buck, we were even more impressed with the Apex 3 TKL. It's slightly glossy where the mouse is matte, but they complement each other nevertheless. We were pleasantly surprised to see a volume roller and multi-function media button on a tenkeyless model. The keyboard is light at just 1.4 pounds and has rubber feet that keep it from moving or wobbling. The Apex 3 TKL has a degree of water resistance as well, handy for when you accidentally spill a drink on it.
Whisper-Quiet is both the name and an apt description of the keyboard's switches. They're membrane-based and not as durable as the mechanical variety. However, the switches won us over with their near-silent operation and surprisingly tactile feel. Many membrane keyboards are mushy to type on and offer little feedback. That's not the case here.
Best Lightweight Combo: HyperX Alloy Origins 60 & Pulsefire Haste
Some console gamers might find using a keyboard and mouse for gaming cumbersome. For a good reason, as these peripherals occupy more space and are much heavier when put together. There are solutions to this problem, like going with an ultra-compact team from HyperX! It's made up of one of the smallest keyboards and lightest mice in existence, so you're sure to feel at ease and effortlessly perform kill streaks in no time.
The 60 in the Alloy Origins' name refers to its size, or lack thereof. It has only 60% of a full-sized model's key complement since it ditches the Numpad, function row, and even the arrow keys. That means the function key is working extra hard to accommodate all the missing keys, macros, and lighting options. Fortunately, a smaller form factor doesn't equate to lesser build quality. The keyboard is inflexible and reinforced with a backplate for more durability.
HyperX is another company that uses switches created in-house to cut down on production costs. Their version of the gaming-focused Red switch is quiet and linear, albeit without the hair-trigger responsiveness you'd get from MX Reds. That's not a bad thing, as it means the Alloy Origins is as good for typing up documents as it is for gaming.
The Pulsefire Haste is a perfect companion to this small keyboard. It's a thoroughbred lightweight gaming mouse you'll instantly peg as such due to the hexagonal holes in its chassis. These reduce the overall weight, which is already low due to the rodent's sleek frame and slightly smaller than the usual size. It's by far the lightest model on our list at 2.05 ounces.
You'd think that such a light mouse would feel flimsy, but that's not the case. Its slender profile and small size make you naturally want to squeeze the sides, and doing so doesn't lead to bending. The sensor maxes out at 16,000 DPI. Conversely, it's accurate at low settings and ideal for shooters since you can glide it rapidly along a surface and retain accuracy even when performing expansive movements. There's only one RGB zone under the scroll wheel, and you may customize four buttons without restrictions. The Pulsefire Haste has an onboard profile, which will come in handy when connecting it to a console.
Best Value Combo: Corsair K60 RGB Pro SE & Harpoon PRO
Some of our combo picks cost close to half a PS5 at MSRP. You can spend much less and still see instant improvement in your CoD skills if you opt for something less extravagant, like Corsair's entry-level peripherals. They're low on extra features but don't skimp on quality. Pick them up to see what the keyboard + mouse commotion is about, and you'll never play shooters with a controller again.
Corsair also sells a bundle featuring the Harpoon PRO and the K55 RGB PRO. Get that one if you're looking for an even better deal and don't mind membrane switches.
Let's start with the mouse this time. The Harpoon PRO has a deceptively barebones design with a deep groove on the left for comfortable thumb placement. The groove is studded with protruding triangles that keep the thumb firmly in place. Such a design makes for a higher profile than usual, so palm and claw grippers should feel right at home.
The mouse is comparatively light at 3.14 ounces yet doesn't feel cheaply made. Interestingly, the scroll wheel is free to rotate and has a sizeable gap that makes cleaning the mouse easier. You get two side buttons but can also customize the DPI switch & mouse wheel for a total of four extra inputs. The DPI ranges between 250 and 6,000.
The K60 RGB Pro SE is among the most affordable mechanical gaming keyboards out there. You wouldn't guess it by the brushed aluminum top plate and thick, easily legible keycaps, though. There's even a wrist rest attachable through magnets you'll appreciate if you decide to use the K60 as a regular typing tool.
Signs of cost reduction are present, however. Multimedia and macro keys of any kind are absent, and you'll have to make do with the onboard lighting presets since iCUE is a PC exclusive. The switch choice is another cost-saving measure. The Red switches inside are original Cherry ones, but they're the slightly worse and cheaper Viola variant. It has similar actuation points and noise levels, so you should quickly come to grips with the keyboard if you've used MX Reds before.
While not on par with some of our more expensive alternatives, Corsair's combo still has a lot to offer. The full-sized keyboard is stable and picks up on your inputs instantly, while the mouse is both ergonomically sound and capable of executing precise maneuvers.
Best No-frills Wireless Combo: Logitech G613 Lightspeed & G603 Lightspeed
Are you interested in the Turret's wireless connectivity but don't want to pay as much? Then give Logitech a try instead! Their Lightspeed products run on the Unifying Receiver and use WiFi and Bluetooth. That means you can play on the PS5 and jump straight into mobile games. Best of all, both peripherals are affordable, work well, and have excellent battery life.
You might also like the G703 Lightspeed. Its performance is similar to the G603's, but you can recharge it and bask in the glow of its two LED zones.
The G613 might be an odd choice for a PS5 keyboard, especially if you don't have a desk for it. That's because it takes up more space than any other keyboard we've discussed. It's full-sized and benefits from a set of dedicated macro keys on the left. Add media keys & a non-removable wrist rest, and you've got a keyboard that requires a lot of real estate.
Still, you should consider the G613 for its excellent wireless connectivity and typing experience. Backlighting is absent, which will have no bearing on your K/D ratio. The Romer-G switches may, as there's an adjustment period for anyone who's used to Red switches. They most closely resemble MX Browns, offering a tactile and more intentional feel than Reds without the clatter of Blues. They make the keyboard an excellent hybrid of gamer and typist, allowing you to switch between the two seamlessly.
The G603 Lightspeed is simplicity itself as far as gaming mice go. It's meant for righties, but you'd hardly notice due to the lack of pronounced indents and curves. It does have a large bump in the back, so gripping with your palm won't be a problem. The elegant body is ergonomic to hold despite the lack of a proper thumb rest. You'll find six buttons on it, four of which can be altered on a PC.
The rodent's underside also holds a spot for the wireless receiver. The small yet mighty dongle establishes a connection to the peripherals that holds strong at ten feet or less. That means you'll experience no hiccups in small and medium-sized rooms. You can also switch to Bluetooth connectivity whenever you want to use a phone. The keyboard has a handy holder to that effect.
Battery life is another of this combo's strong suits. You have to use disposable ones, but the associated cost is low. A pair of AAs will last the keyboard a year, and that's if you use it every day for hours. The mouse has less space, so its battery life is understandably shorter. Still, you should get several months of fragging from it before having to pop in replacements.
Frequently Asked Questions
How to use a keyboard and mouse on a PS5?
Getting PC peripherals to work on your PlayStation console has never been easier! Basically, you just have to plug both into the USB ports on the back. They will be recognized automatically. After waiting a few seconds, the same should occur for wireless peripherals and their dongles.
Keep in mind that keyboard and mouse functionality outside of supported games is limited. You'll be able to navigate menus and search for content faster, but that's about it. Related options are also scarce, so you can only adjust basic stuff like which hand you use for the mouse and text delay rates for the keyboard.
Which PS5 games are compatible with keyboards and mice?
Not that many games on the PS5 take advantage of keyboards and mice, but their numbers are sure to grow. Gamesubstop made a comprehensive list of titles you should check out. Even though the list isn't extensive, it's nice to see that it includes versatile titles like action games, first-person shooters, and even MMORPGs.
Is a keyboard and mouse combo better than a controller?
In games that are optimized for them, absolutely! The vast majority of PS5 games are designed to work with controllers, so chaining commands or moving around feels most natural with a controller in hand. However, controllers have limited input capabilities and are terrible for quick and accurate aiming.
A keyboard is invaluable for MMOs like Final Fantasy 14 or ESO, where you have to balance dozens of skills, chat with players, and navigate different screens. A mouse is essential if you're serious about playing competitive shooters since its responsiveness and finesse are superior to any auto assist. Together, they're a duo that makes a night-and-day difference in select titles.