6 Best RGB CPU Coolers in 2023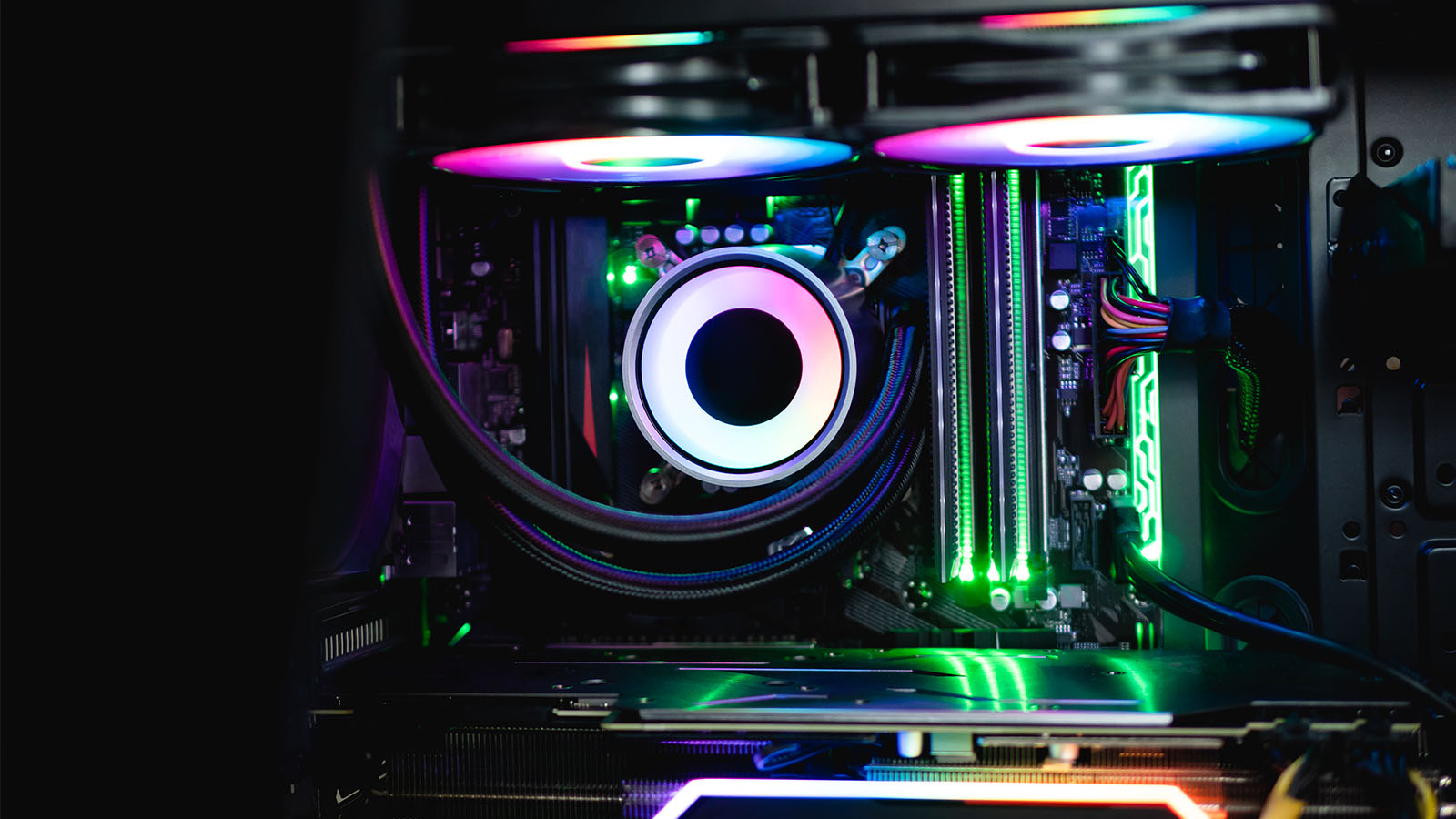 Love it or hate it, RGB has become a mainstay of custom PC building. It won't make the components perform better, but a tasteful approach to color and effect choice can turn your computer from an uninspired black box into the centerpiece of your gaming den. Even though most parts come with RGB nowadays, the fans on your CPU coolers remain among the most prominent.
Going with thinner transparent fans instead of regular ones can negatively impact cooling efficiency. Luckily, our picks for the best RGB CPU cooler don't suffer from such deficiencies. The roundup includes air and liquid cooling options & their alternatives for every budget and need. Have a look and drastically improve your PC's cool factor in more ways than one.
Best High-end RGB AIO Cooler: NZXT Kraken X63 RGB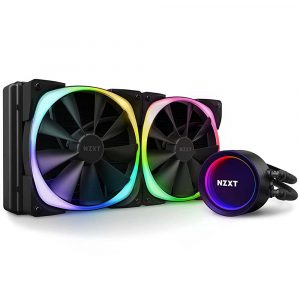 The original X63 was already a formidable AIO, but it lacked the flair most competitors have at its price point. Enter the stylishly and functionally enhanced RGB version with unique fan LEDs and the trademark NZXT infinity mirror. It fits in most builds, doesn't produce much noise, and cools down smoldering processors without a hitch.
Thermaltake's Floe DX coolers are even more colorful due to their transparent fans, so pick one up if you want an equal measure of bling and performance.
The modified AIO retains much of the original, like the well-designed 280mm radiator with holes for easy mounting inside cases of varying sizes. It has a standard fin density and comes with two 140mm fans featuring colorful LED edges. They have a max RPM of 2,800 and aren't the quietest, but it's likely you'll never need to push them. You can't control the fans directly through CAM anymore and connect them to the CPU fan header via a splitter cable instead.
The pump head is noticeably larger, offering a bigger area for NZXT's signature infinity mirror effect. Several LEDs let you light it up in different combinations. You can rotate the top so that the NZXT logo always takes center stage. Two swivel fittings ensure that the 400mm tubes don't bend at extreme angles once they reach the pump. Its underside is round, made from exposed copper, and ready to install since there's already some thermal compound on it.
Installing the Kraken X63 RGB is a ten-minute affair. Screwing the fans into the AIO is easy, as is using four thumbscrews to secure the pump once you align it with the backplate. The head unit is small enough not to cause clearance issues. Still, you'll want to be careful to avoid the RAM while you're connecting the AIO's many cables.
CAM is NZXT's control hub software. It offers extensive color and effect management for the fans & pump, as well as monitoring for your entire system. Keep in mind that you'll need to get a controller if you want to change the fan RPM with it too.
The X63 is as efficient as it is attractive. You shouldn't hesitate to overclock any of the hottest Intel CPUs since their thermal results at heavy loads are quite encouraging. Better yet, the AIO doesn't strain itself while maintaining such results, which means you get to enjoy silent operation regardless of system load.
Best High-end RGB Air Cooler: Cooler Master MasterAir MA620M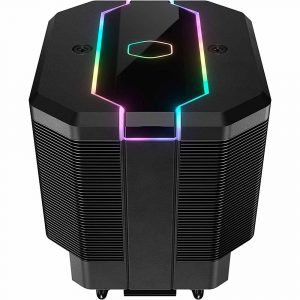 Cooler Master has attractive RGB air and water coolers at different price points, but their top-end air cooler is truly unique. It features one of the easiest installations in recent years, subdued but attractive RGB, and a beefy build that promises to tackle the hottest AMD & Intel can throw at it.
Want the RGB to be more visible without losing out on cooling capabilities? Then try the Aorus ATC800 from Gigabyte instead.
The design is like nothing else out there unless you count the Wraith Reaper that inspires it. For starters, there's a single fan placed in the middle with a cover on top that makes you think there's nothing there until you look at the heatsink from the front or back. The fan is designated as SF120R, spins between 600 and 2,000 rotations per minute, and has a CFM of 57.
Most coolers center the RGB around the fan blades to make them more prominent. The MasterAir MA620M takes a more refined approach. It limits lighting to an RGB strip that draws an angular shape around the Cooler Master logo. Included is an ARGB controller that lets you cycle through colors and various effects without software.
The heatsink has a sturdy two-part design, each with 55 black-coated aluminum fins. Their spacing is regular, and the fan's position is ideal for sustaining focused one-way airflow. Six symmetrical copper pipes run through each part and come together at the copper base. The base is attached to a small thick slab with cutouts that resemble a small radiator and improve heat dissipation.
The fan comes pre-installed and doesn't interfere with the setup. You get a universal backplate and brackets for Intel and AMD. Securing these leaves you free to apply some thermal paste and locking the cooler in place with two main screws. Plugging the fan and addressable RGB into their respective headers completes the process.
It's no top-tier Noctua, but the MasterAir MA620M manages to put on a good show even when tasked to cool notoriously hot chips like the i9-10980XE. The only drawback is the amount of generated noise once you're past 50% RPM.
Best Mid-range RGB AIO Cooler: Corsair iCUE H100i Elite Capellix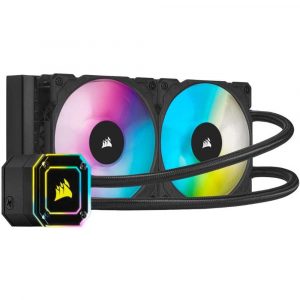 It's all about the lighting with Corsair's new Elite Capellix series. The Capellix in the name refers to improved LEDs that are smaller and brighter yet consume less power. You'll find plenty of them in the head unit and fans alike. Don't think that Corsair traded substance in for style either – the cooler has the potential to be exceptionally quiet while ensuring your CPU will remain comfortable.
The Lian Li Galahad 240 also does an excellent job, and you can get it at a slightly more attractive price.
Besides apparent attention to detail and solid construction, there's little that sets the H100i Elite Capellix apart while the lights are off. It has a cube-shaped pump with a copper base and minimal cable management. Its top has a Corsair logo you can swap out for a clear version if you want the LED effect to be more prominent.
The fans are a pair of 120mm high-performance models. Their max RPM approaches 2,400, and they can move a whopping 95 CFM of air. This means you may keep them running at lower speeds and keep the CPU running at significantly lower temps. You may choose from several modes that emphasize either silence or performance. There's even a fanless mode that will turn them off while the coolant is at 40° or less.
The first part of the installation is similar to that of other AIOs. It involves connecting the pump to the brackets secured by a backplate. You connect the fans to a command module that's part of the package after attaching them. The module acts as a hub for up to six fans. It allows for their monitoring through iCUE after using the provided SATA cable to plug it into one of the mobo's USB ports.
We're fond of iCUE since it has a clean interface and lets you do much without feeling intrusive. You can customize 21 zones on the pump and 16 LEDs on the fans or set the profile for each. There's also temperature and fan speed monitoring.
You'll love the H100i if you're into quiet PCs since the eponymous setting results in barely any noise generation. Higher demands will negate some of that, but what you lose in silence, you'll gain in thermal efficiency.
Best Mid-range RGB Air Cooler: ARCTIC Freezer 50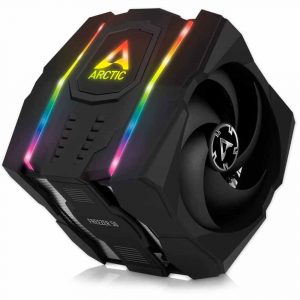 Arctic has impressed us with its innovative AOIs, but it looks like the air-cooling department isn't asleep either! The Freezer 50 draws attention with its large shroud. Still, it's the excellent cooling capability and classy RGB that will keep your attention. Considering the price and performance, this is one of the finest air coolers with RGB implementation made to date.
The MasterAir MA410M has better RAM clearance and a more open design, so if you have tall RAM, go with that. You can also get the Freezer 50 for Threadripper CPUs.
Armored and ready to rumble, that's this cooler in a nutshell. It's impossible not to admire the plastic shroud and its many sci-fi design elements. The cover houses two parallel ARGB strips and a light-up Arctic logo, not to mention the larger of the two fans. It's a 140mm unit with 1700 RPM. The one in the front is 20mm smaller and spins at 100 RPM more.
While large, the shroud does little to diminish the double heatsink's efficiency. The front part of each stack of 52 fins has a sawtooth pattern that introduces more turbulence into passing air. The back stack finishes with a taper, so it can hold the shroud but doesn't support a third fan. Six nickel-plated heatpipes make direct contact with the base, which is thin and comes with a crossbar housing two mounted spring-loaded screws.
RAM clearance is the only potential issue you may encounter during installation, as the rest is straightforward. Arctic puts the clearance at 37mm, and the shroud design makes it impossible to raise the front fan. Be sure to check your RAM's height before purchasing.
The cooler does well in temperature tests, keeping up with top-tier air coolers when paired with a 3600X from AMD. It's not the most silent when it comes to idle sound levels, but these don't increase by much as the fans ramp up.
Best Budget RGB AIO Cooler: Enermax Liqmax III 360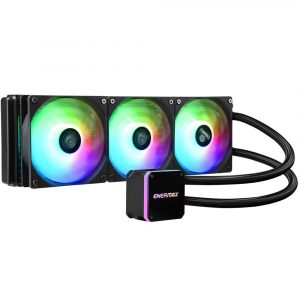 Excellent water cooling and a grand light show at less than $100? Ordinarily, we'd be wary of such promises. Enermax makes due on theirs with the largest of the Liqmax 3 AIOs, though. Its large radiator helps dissipate loads of heat, while the three illuminated fans make sure you're never bored while glancing at your PC's innards.
Cooler Master offers another worthwhile budget 360mm AIO, the MasterLiquid ML360.
It's no surprise that the Liqmax III 360's design is nothing special pre-RGB activation as Enermax had to keep the cost down somehow. Still, the white blades on the three 120mm fans add a welcome bit of contrast. Their speed ranges between 500 and 1,700 RPM, with max CFM hovering around 70. They screw into the radiator easily enough. It bears no discerning markings and has an approximate fin density of 20, which is par for the course.
The head unit is shaped like a cube and neither big nor tiny. Two flexible 400mm tubes exit one side, while a single cord comes out of the adjacent side to ensure tidy installation. You get an ARGB controller useful for cycling between colors and effects. However, you can sync these through various programs that come with your motherboard as well.
You'll love this AIO if value for the money is first on your mind. It's exceptional in terms of performance, regularly surpassing similarly-priced air coolers and more than a few expensive AIOs to boot. Overclocking something like the 10700K or 5600X with it as the cooling solution is more than feasible. The only drawback is that you'll hear the fans regardless of how fast they're spinning. The noise levels fall in line with other models past 50% RPM, but this is among the loudest AIOs out there when idling.
Best Budget RGB Air Cooler: Cooler Master Hyper 212 Black Edition RGB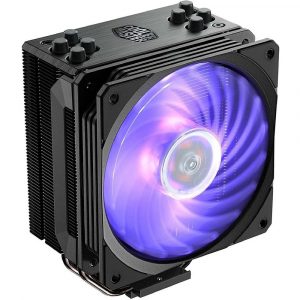 The Hyper 212 stands shoulder to shoulder with Noctua's NH-D15 when it comes to its impact on the PC building scene. It's been through some changes, and the blackened RGB version is one many gamers with mid-tier processors in need of good cooling will appreciate. It's sleek and has much simpler mounting hardware than the original EVO. More importantly, it performs as well as other coolers in the series while scratching that RGB itch.
The Hyper 212 Black Edition RGB looks much snazzier than any other cooler in the lineup. Of note is the all-black nickel plating on the base & heatpipes as well as the thick plastic fan mounting clips. The single SF120R fan sports nine transparent blades and four LEDs. The RPM ranges from 650 to 2,000, and an airflow of 57 CFM will be sufficient for all but the most expensive CPUs. Adding a second fan to shave a couple of degrees off is also an option.
The black nickel plating on the base & four copper pipes helps improve their appearance while the effectiveness stays the same. The heatsink's design is basic and only broken up by grooves that let you mount the fans. The heatpipes' layout is more sophisticated since each takes a different path to the fins, minimizing contact. The base has an array of cutouts and is thick enough to help with passive cooling.
The original EVO is notoriously tricky to install, so it's great to see Cooler Master took steps to simplify it. They did so by including a universal Intel / AMD backplate and getting rid of the unstable cross-shaped top bracket. Now you have to secure the appropriate brackets onto the base first and then secure them to studs protruding from the backplate. The assembled cooler is small enough for memory or GPU clearance not to be an issue.
RGB implementation is basic but fun. The LEDs aren't addressable, so you'll be controlling them all simultaneously. That still leaves you with the ability to change among different colors or apply effects. A handy control switch connects to the fan on one end and an RGB header on the other, making adjustments easy.
Performance-wise, the Hyper 212 delivers excellent results considering the price. PC Perspective paired it with an i7-7700K, which resulted in stable temperatures in the 50s. The cooler is reasonably quiet when idle but can make some noise if you push it to the limit.
Frequently Asked Questions
Where do I plug in RGB CPU cooler?
The basic operation of an RGB cooler is the same as that of a plain one, so almost all of them require that you plug the fans into the motherboard's CPU fan header. This will only power the fans and control their speed. You'll also need to plug the RGB cables they come with into the appropriate 4- or 3-pin slot. Make sure to plug fans with addressable RFB into the correct headers.
Additionally, some coolers come with fan control hubs. These have a SATA cable that fits into one of your motherboard's internal USB headers. Plugging that in allows you to tinker with fan speeds directly or from the manufacturer's software.
Can you turn off CPU cooler RGB?
Most modern fans come with separate cables for their lighting, so not plugging these in is enough to disable the RGB. Alternately, you can turn it off from your motherboard's RGB sync software or the manufacturer's equivalent if the cooler comes with a controller. Some cheaper RGB coolers have a single PWM cable that powers both the fan and the lights, so you might not be able to turn the LEDs off if you've got one of those.
Can you use RGB fans without controller?
Controllers are handy to have since they let you cycle through preset effects or adjust the color or brightness without booting into your OS. Many modern coolers support various motherboard manufacturers' syncing software and don't need controllers to work. Companies like Corsair and NZXT offer free software that handles lighting with much more depth than a controller could.