6 Best CPU Coolers for i9-13900K in 2023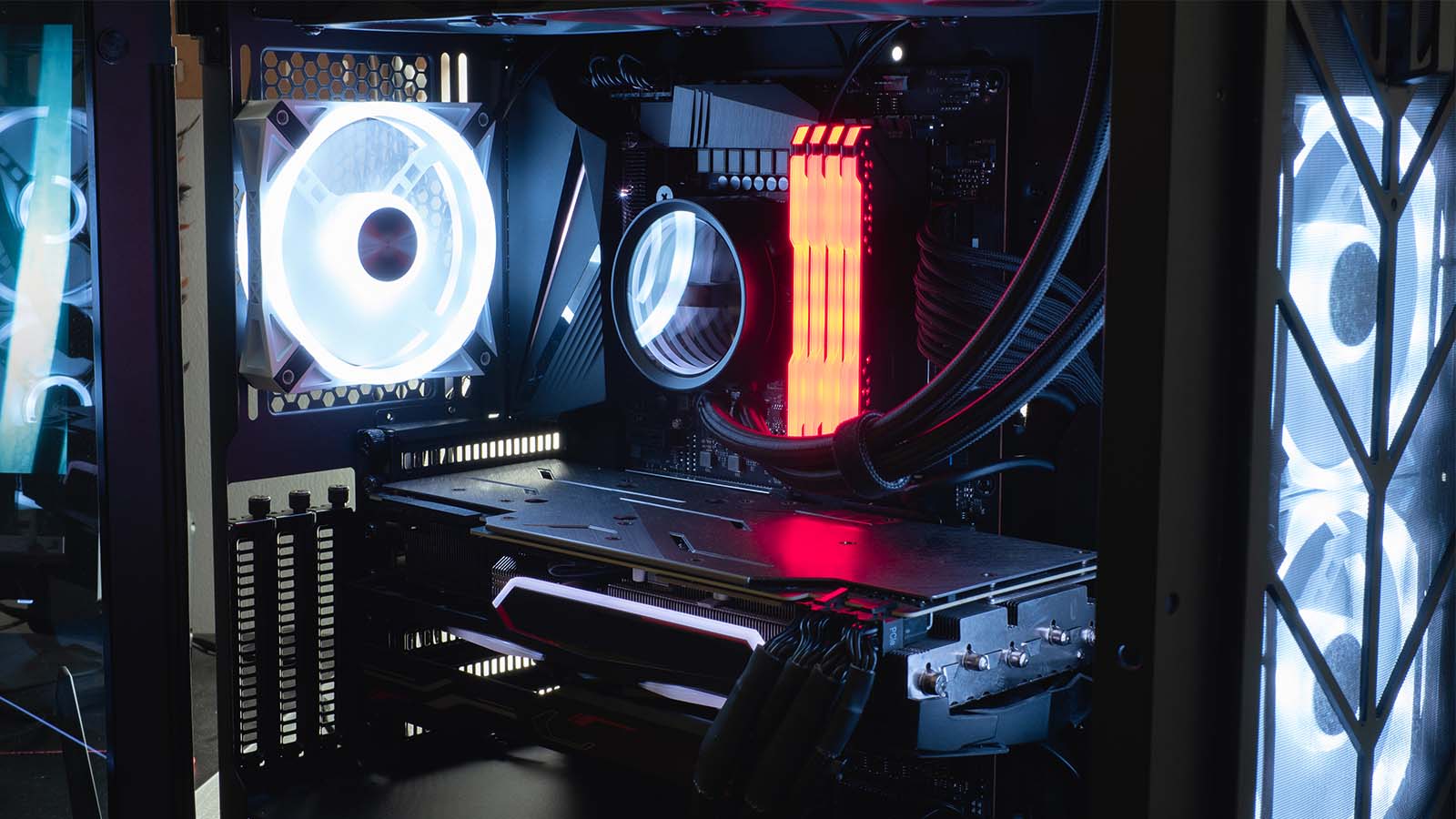 Chalk one more point up to Intel, because the 13900K exceeds expectations! It didn't take an oracle to predict it would beat the 7950X in gaming, but to do so in multi-threaded workloads on top of that is a major accomplishment. Unfortunately, the power and heat generated by doing so are off the scale. The best CPU coolers for i9-13900K have their work cut out for them, but they're more than capable of handling it!
Best CPU Coolers for i9-13900K - Quick Overview
Best 360mm AIO Cooler: Corsair iCUE H150i Elite Capellix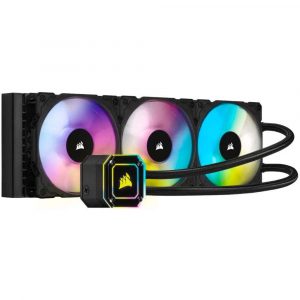 A stock 13900K is already thermally inefficient, to say nothing about overclocking. You'll either want a custom water loop for that or the cooling prowess of a champ like the H150i. It's not only one of the best AIO coolers out there, but it's also supremely adjustable both in terms of aesthetics and day-to-day operation. This flexibility comes at a financial cost, but it's worth it in the end.
Alternatives include the usual suspects – NZXT's Kraken X73 & Z73 if you're willing to spend extra on the fancy screen. There's also EK's excellent 360mm AIO that justifies its price with excellent cooling capabilities.
While it looks decent without the unique lighting, nothing about the H150i hints at its superior performance at first glance. The pump head adopts a cube-like look with flat edges and a removable top plate with the Corsair pirate ship. You get to choose between a dark one with a neon-like glow and n almost completely transparent alternative that lets more light shine through.
The pump head's copper bottom is finely machined and slightly convex for better adherence to the IHS. Flexible tubing connects it to the plain but potent 360mm radiator, while cables for the LEDs and PWM power dangle from the adjacent side.
The radiator might be ordinary, but the ML120 RGB fans it supports are among the most advanced in the business. They're transparent, which makes the 75 CFM each can shift more noteworthy. Additionally, the fans have a massive 4.2mmH2O of static pressure potential, meaning they'll pump air in or out efficiently in the most stifling PC cases.
Exceptional RGB is a core part of the H150i Elite Capellix's identity. We've praised their vivid glow & power-saving potential numerous times, and the competition has yet to respond. Much of their appeal comes down to the intricate adjustments you can perform on the AIO's 50+ color zones through iCUE. Apart from lighting, iCUE is a competent system monitoring and fan profile creation tool.
Corsair also throws in the Commander Core accessory. It's a controller hub for six Corsair fans and their lighting, allowing you to hook them up centrally and noticeably reduce cable clutter. Installing the H150i isn't hard, to begin with, but not needing to worry about at least three sets of cables helps a lot too.
Even a monster AIO like this has trouble with the 13900K when all cores are fully utilized. That should only happen during stress testing and the most advanced workloads, so if you're primarily using it for gaming, you should experience much lower temps. Still, the fact that the CPU can still hit 100°C with the H150i responsible for cooling is telling of the concerning direction modern processors are headed in.
Best 280mm AIO Cooler: NZXT Kraken X63 RGB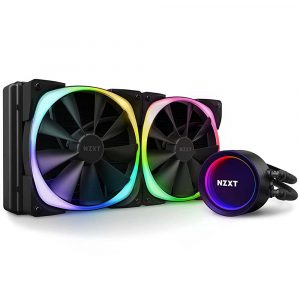 While it helps, a 360mm AIO isn't the only viable cooling solution for the 13600K. NZXT's Kraken X63 proves this while adding much-needed flair to the ordinary version's stale appearance. It's almost as adjustable as a Corsair model, easily keeps up with the 360mm competition, and even costs less. The X63 is by no means a bargain, but it's a better deal if you're after top-tier results.
DeepCool's Castle 280EX adopts a similar performance-focused philosophy. Its RGB is limited to the pump head, but this AIO hangs in there with the best of them.
NZXT already had a winner with the X62; all that model needed was a little tweaking. A bigger pump is the most noteworthy upgrade, bringing better heat exchange potential and a larger surface area. The company makes a big deal out of the funky infinity mirror design and the ability to line the logo up for the detail-obsessed.
The pump head is textbook Asetek, with a round copper bottom and pre-applied thermal paste. The X63 RGB has cables for PWM power, RGB, and USB that enable CAM control. A Commander Core alternative is sold separately, so you'll have to manage the wires carefully. Even so, installing the AIO is as straightforward as on most other models.
400mm tubing connects the pump head to the 30mm thick radiator. There you'll find two large Aer RGB 140mm fans. Their blades remain black and sturdy since the lighting is mounted inside a transparent frame. Not only does that make for a unique look, but the fans are as powerful as ever. They rotate between 500 and 1,500 RPM, producing up to an impressive 91 CFM each.
CAM is the only thing about the X63 RGB that could use a revamp. It's a worthwhile utility on paper, offering color & effect control, pump speed adjustment, and a comprehensive system overview. However, it's a memory hog and can sometimes crash. You'll need a hub to use fan profiles from CAM, but luckily setting a fan curve in the BIOS works fine without it.
The X63 RGB does well against a wide range of competitors. It's only slightly less efficient than the best 360mm AIOs and can maintain low idle temperatures. Ramping the fans up doesn't come at a high acoustic cost, either. Expect to utilize the AIO's max potential without exceeding the 40dB threshold.
Best 240mm AIO Cooler: Lian Li Galahad 240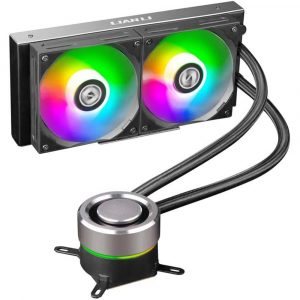 The AIOs we've talked about are great for standard cases, but what if you want to install the 13900K in a cramped one? Chances are they won't fit, and going with an air cooler might not work due to a lack of airflow or RAM clearance issues. Intel says that a 240mm AIO is the 13900K's minimum. Not all 240mm AIOs are made equal, as the Galahad's exemplary performance can attest to.
Not that many similarly-specced models can compete. The 240mm Gamdias is a recently released alternative that piqued our interest. It's a step down from the Galahad, but it's cheaper and performs better than the likes of the ML240 V2.
Lian Li's case manufacturing prowess shines through in the Galahad 240's attractive design. It's one of few models with a predominantly silver color, perfect for white and otherwise exotic builds. The pump head is particularly fetching due to its cylindrical shape and a unique pattern on the inside edges that lights up during use.
Like the X63, this AIO features a rotatable top for easy logo alignment. Don't like the logo's look? Then cover it up with an accompanying stylish metal disk. On the other end, there's a finely-milled copper contact plate with excellent uniformity and a penchant for optimum thermal paste spreading. Our other recommendations have wire connections and tubing on separate sides. They're placed one atop the other on the Galahad, making for a tidier look.
Apart from its striking color, the radiator is rather dull. Two transparent 120mm fans attach to it via screws. They're decent for a model that supports RGB – the RPM sits between 800 & 1,900, at which point they produce 66 CFM each.
The Galahad has no control units, and the mounting procedure is standard. It comes with a dedicated LGA 1700 bracket, so there's no need to worry about compatibility issues. You'll have to apply the accompanying thermal past yourself, which isn't challenging regardless of your experience.
Outstanding cooling potential sets the Galahad apart from other 240mm AIOs. The relatively high min fan speed ensures it's among the best at maintaining low idle temps. The good news is that performance holds once you crank the fans up, reaching 280mm levels without going all the way. You wouldn't want to push the fans to 100% anyway since they get quite loud then.
Best 420mm AIO Cooler: Arctic Liquid Freezer II 420 A-RGB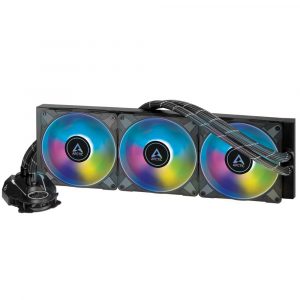 Some readers might not even be aware that 420mm AIO coolers exist since there are so few out there. We wouldn't normally encourage you to buy one, but drastic cooling requirements require drastic solutions! Luckily, one of our favorite AIOs ever has a 420mm variant. The Liquid Freezer II A-RGB is brimming with innovation and outperforms all its competitors. It's not expensive either, but you'll need a roomy case to accommodate it.
At the time of writing, there are only two alternatives – the H170i Elite Capellix from Corsair and Alphacool's Eisbaer Aurora. Rising CPU temperatures might prompt other manufacturers to develop their own 420mm models.
Apart from its gargantuan size, the Liquid Freezer II 420 A-RGB is everything you'd expect from this exceptional AIO line. Once you get over the size shock, the pump head will likely draw your eyes first. It's uniquely shaped and thinner than normal. The braided tubing also exits from its top rather than from the sides.
That's because the design incorporates a fourth fan. This 40mm blower pushes air through the pump's sides and helps to cool the VRM. A mobo that can handle the 13900K will see few benefits, but we appreciate Arctic's inventive spirit.
The massive radiator is next. Massive is the right word since it's both big enough to mount three 140mm fans and thicker than usual by a third. Arctic compensated by lowering the fin density to 15. This gives the fans an easier time while still letting the AIO benefit from the large bump-up in surface area.
The fans come pre-installed in the push configuration. They're RGB variants of Arctic's heavy-duty PW14 units, equipped with LEDs and transparent for better visibility. Such modifications only slightly impacted performance, as the fans can push 69 CFM of air out apiece instead of 72. The rotation speed is 200 to 1,900 RPM, while static pressure is down from 2.4 to 2.0mmH2O.
In terms of raw numbers, the Liquid Freezer II 420 is the best non-custom cooler you can get. LevelUp Gaming & Tech strapped it to a 12900K, which is slightly less thermally demanding than its successor. Not only did the AIO bring max temperatures down significantly, it also made for a 10-degree drop when gaming or doing other relatively tame tasks.
Sounds awesome, right? There are two caveats to consider, though. Noise is the first. The pump is silent, and the fans aren't loud at 50% use. However, they approach 50dB when cranked up. There's also the matter of finding a case that fits. Not many are built with such large AIOs in mind.
Best Air Cooler: DeepCool Assassin III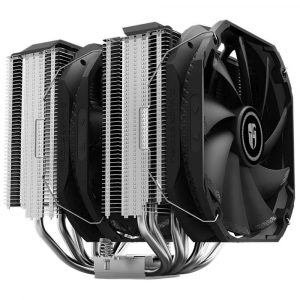 While an AIO is the way to go unless you're undervolting or mainly gaming, an air cooler that can keep up is an equally valid alternative. Only the best will do, though, and few come close to the Assassin III. It's huge, simple, and undoubtedly effective at keeping temperatures from escalating. It's also expensive for an air cooler, which still makes it a bargain compared to the liquid-cooled competition.
Users looking for an alternate recommendation won't find many surprises. Noctua's immensely popular NH-D15 is another top-tier cooler that can take the heat. So is the Dark Rock 4 Pro if you want to keep the noise down.
It might be called an Assassin, but this cooler reminds us more of a barbarian. It's one of the largest air coolers out there, eclipsing even the CPU areas on E-ATX motherboards. The fin stack also lacks the finesse we've come to expect from other manufacturers. You'll encounter no checker patterns or saw teeth here, just a lot of aluminum. The sides are partially sealed, so some air gets to escape into the ambient while most gets pushed out through the two symmetrical fin arrays.
Moving downward, you'll encounter a thick base and mounting area. There's enough heft in the base for it to become a contributing factor to heat dissipation. Spring-loaded screws and a crossbar are already part of the assembly, ensuring that the cooler's installation will be level from the get-go.
Much of the Assassin III's bulk comes down to its seven heatpipes. That's one more than usual, yet there's enough room between individual pipes for their proximity not to become an issue. They end with prominent caps on the array top, which is why DeepCool included a set of black decorative spoilers for a more refined look.
The spoilers fit aesthetically with the two 140mm fans. Labeled TF 140S, they're 25mm thick units with vibration-reducing rubber corners. Each can push 90 CFM at 100%, matching the X63. Their rotation ranges from 400 to 1,400 RPM, which you can curtail by applying a low-noise adapter. You can technically mount a third fan if the width won't interfere with your motherboard. An extra set of clips isn't included, though.
All that heft makes a difference when the Assassin is put to the test. It's fascinating to see it go up and prevail against 280 and even some weaker 360mm AIOs while matching or even slightly outcooling Noctua's long-standing champion.
Best Air Cooler for Undervolting: Noctua NH-U14S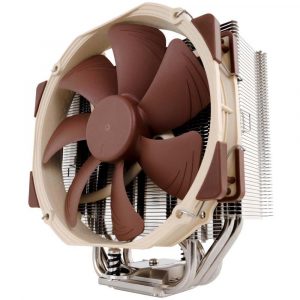 In a reversal of sorts, Intel designed the 13900K to hit peak performance and temperatures out of the gate rather than leaving some room for overclockers. That has led savvy users to try & optimize its performance by feeding it less power. The results are promising as the temperature drops eclipse the resulting meager performance drops. You can get away with an NH-U14S in such a setup, even if you're taking full advantage of the 13900K's potential.
Other candidates in the price range include the Scythe Fuma 2 and DeepCool's new and attractively-priced AK620.
While an imposing cooler in its own right, the NH-U14S looks downright lean compared to the Assassin. It supports a second fan but wouldn't be as wide or heavy even with it installed. Speaking of fans, one iconic NF-A15 in Noctua's unbeatable sand-themed combo ships by default. It shifts around 80 CFM of air to the tune of 1,500 RPM when maxed. A low noise adapter is included, too, cutting sound, rotation speeds, and peak performance.
The fan attaches via clips to an elaborate fin stack with covered sides and cut-off bottom fins to make room for three of the six heatpipes. Much thought has gone into the design, from the partial sawtooth pattern towards the ends and the indentation in the middle. They improve air turbulence and let it gain momentum before crashing into the fin array.
Coolers like the Assassin take inspiration from Noctua's models, so finding a similar base layout isn't surprising. The NH-D14's foundation isn't as thick, but elements like the sandwiched heatpipes and everything you need to screw it in securely make for quality and easy installation.
In fact, coolers like the NH-U14S established modern installation best practices and paved the way for the largely hassle-free experience DIY-ers enjoy today. The LGA 1700 bracket might be different, but the principles hold up almost ten years later. The fan is large and hangs relatively low, so ensure there's enough room for your RAM or shift it accordingly.
The NH-U14S is definitely not a pushover, yet it looks like a bargain bin find when paired with an overclocked 13900K. 100°C is the norm even at stock settings, albeit during stress testing. Temperatures during gaming are in the mid-80s, which is better but still a lot, considering the lighter workload. That's why we suggest you limit the 13900K's power intake if you want to use this cooler.
Frequently Asked Questions
Is an air cooler enough for the 13900K? Does it need liquid cooling?
This question has merit now more than ever since the 13900K is among the most power-hungry & hottest desktop CPUs ever released. You can use an air cooler, but several concessions beg the question of whether you need the 13900K if you're happy to make them.
You'll be fine if you undervolt and or don't tax all the cores for hours on end. You're losing a small performance chunk by undervolting, so why not invest in an AIO or step down to the 13700K instead? The 13600K is all you need for gaming these days, so rather than skimping on the AIO you can save $250 and experience no meaningful gaming setbacks.
Is an i9-13900K worth it?
Yes, for a specific user subset. It's currently the best desktop CPU regardless of the task, including multi-threaded applications it handles with equal efficiency as the Ryzen 9 7950X. You should treat it accordingly. Yes, it's a heck of a gaming CPU, but getting it just for that is pointless since the 13600K is so good.
The 13900K is perfect if you need consistent access to a lot of computing muscle. Anything from simulations, AI development, and virtualization to streaming and heavy multitasking will tangibly benefit from the CPU.
How hot is too hot for the 13900K?
Intel set the 13900K's temperature threshold at 105°C, but it begins to throttle at 100°C. Cooling is the decisive factor since the CPU can draw much more than its 253W target, Keep in mind that no AIO can keep the 13900K from reaching three digits eventually. However, restricting the power at its disposal can do much to keep temperatures in check.