6 Best CPU Coolers for Ryzen 9 7900X in 2023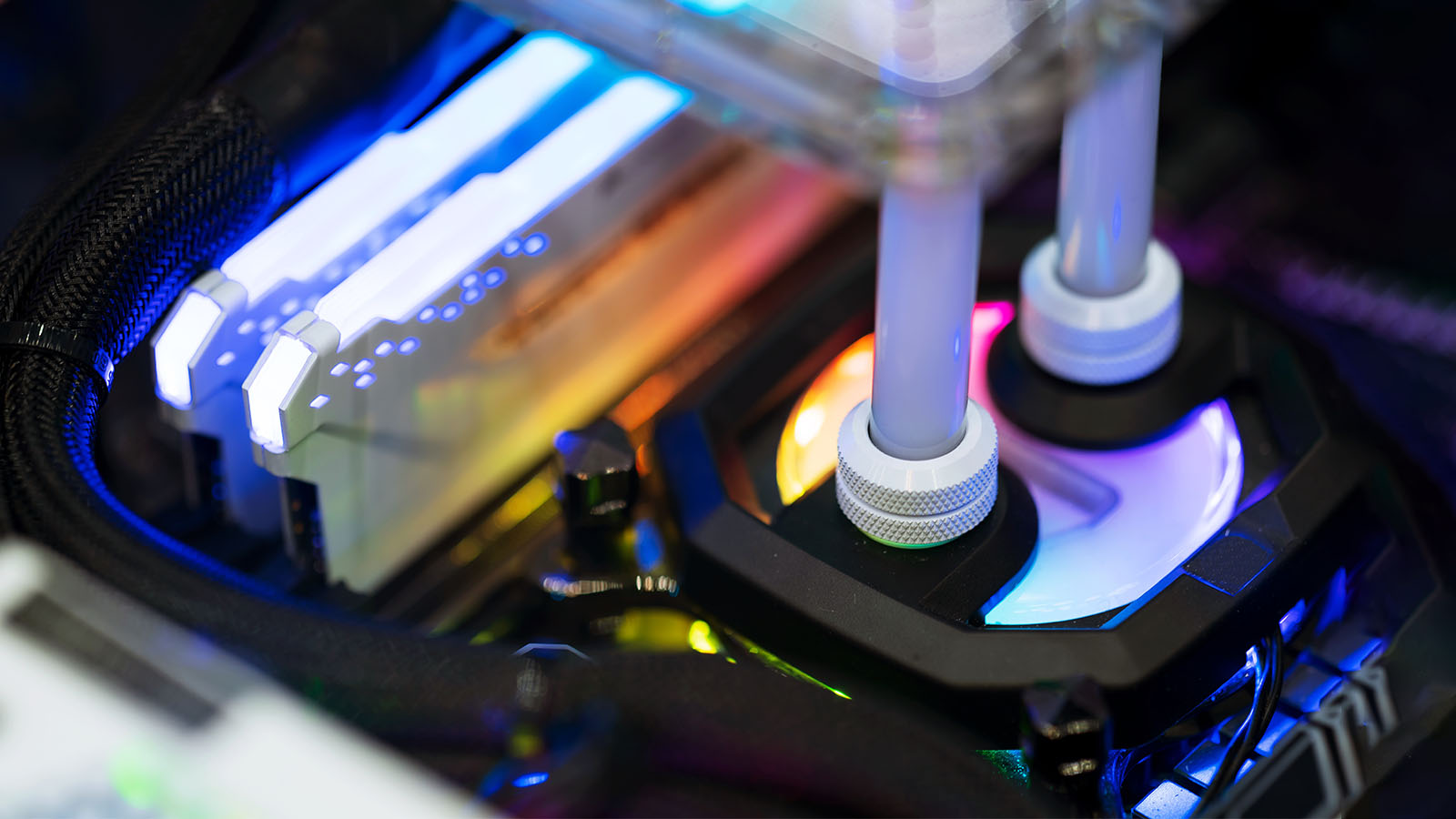 Out of all the new Zen4 chips, the 7900X looks like it's the most compelling for creators. It's cheaper than the flagship, delivers 5950X-like performance, and still lets you take advantage of every new technology AM5 offers. This isn't a gaming chip, but it will easily contend with any AAA game. Heat seems to be a polarizing issue this time around, so check out the best coolers for Ryzen 9 7900X before taking the plunge.
Best High-End AIO: Corsair iCUE H115i Elite Capellix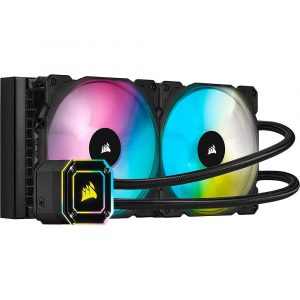 Want to keep the 7900X from throttling even when tackling heavy multi-threaded tasks? All the AIOs on our list can accomplish this, but none are as efficient and stylish as the H115i Elite Capellix while doing it! Corsair's 280mm cooler brings the bling to a new level without compromising on silence or efficiency. It costs a pretty penny but brings peace of mind few alternatives can match.
Speaking of alternatives, you could go with the NZXT Kraken X63 if you don't care as much about flashy lighting.
Everything about the H115i is designed to show off the LEDs Corsair is rightfully proud of. You'll find 33 of them on the otherwise unremarkable-looking rectangular pump head. It comes capped with a dark cover that gives the lighting a neon glow, but you can substitute that for a mostly transparent cap or even print your own.
Eight more Capellix lights adorn each ML140 fan, producing light that's more vivid and energy-efficient while taking up little space. You can control the effects using iCUE, while the provided Commander Core acts as a hub that lets you connect six fans and sync your case lighting. Sadly, iCUE is a self-contained system and doesn't work with built-in motherboard lighting solutions.
Don't think the lighting focus takes anything away from the H115i Elite Capellix's capabilities! The pump is silent & capacious, while pre-applied thermal paste on the milled copper plate helps you set everything up quickly. The tubing is braided and 380mm long, so managing it won't be challenging if you want to mount the AIO to the front.
There's not much to say about the radiator other than it's constructed well and has a standard 27mm thickness. The ML140 fans are far more interesting, even if you discount the lighting. Their larger diameters allow them to spin slower while maintaining great throughput. Even so, you can ramp them up to 2,000 rotations per minute, at which point each can push 97 cubic feet of hot air out into the open.
While it's handy for fiddling with lighting effects, iCUE's fan regulation features are why this combo works so well. You can put the AIO into 0 RPM mode when the CPU is idle, cutting off any noise and saving a few bucks on your yearly power bill. Three default profiles are available once it's time to get serious, though.
Most testing finds that the balanced preset provides enough cooling without taxing your ears. This setting is best for gaming and other moderately stressful operations. Using the extreme preset makes the AIO somewhat louder. It will also allow you to run an overclocked 7900X at the advertised stable 95°C without incurring performance penalties.
Best High-End Air Cooler: Deepcool Assassin III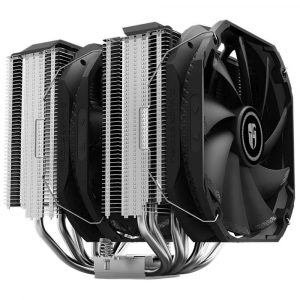 Some users don't prefer AIOs, and we're happy to note that the best air coolers are good enough to keep the 7900X ticking along without issues. Deepcool's Assassin III is one of the finest, sporting seven mighty heatpipes and two large fans. It focuses on stealth and perform its duty without waking the neighbors.
It wouldn't be a high-end air cooling segment if we didn't mention Noctua's NH-D15. You'll also get efficient and quiet cooling from the Dark Rock Pro 4.
Unlike our top AIO choice, the Assassin III lives up to its name and tries to remain inconspicuous. It's not an easy task due to the two nickel-plated heatsink towers and a large assembly that can carry three 140mm fans with ease. Spoilers adorn each fin stack, adding a black finish and some aesthetic flair to what would otherwise be a gleaming metal hulk.
Deepcool engineered every part of the Assassin to aid in silent, effective cooling. The fins have an indented central section that lets air ramp up before entering each. There's also a half-complete panel on each side that allows some air to escape while funneling most of it through the cooler toward the case's back.
The base is split into two and sandwiches seven heatpipes in the middle. It's thick enough to help with heat dissipation but doesn't have any specialized cutouts to aid with this. You do get a premounted crossbar to help with centering during installation. Thermal paste is also included and sure to spread over the IHS evenly since the contact plate is convex.
Both the fans are 140mm models with a standard thickness & all-black look broken up only by a central logo. They reach speeds between 400 and 1,400 RPM and almost match the ML140 fans at 90CFM. Like Noctua, Deepcool includes low-noise adapters that lower the rotation speed to 1,000 RPM and decrease the CFM to 67.
AM5 motherboards come with integrated backplates and use the same mounting hardware as AM4, so most coolers can transition over without retrofitting. However, due to subtle differences in IHS height, you'll need to get a newly-packaged Assassin or ask Deepcool to send you a free upgrade kit to be on the safe side. Other than that, the installation is straightforward and follows conventional steps.
The Assassin III holds its own against the Dark Rock Pro 4 and NH-D15, which places it in the realm of efficiency of most 240mm AIOs. It lives up to its name, too, as using the fans on 100% doesn't cross the 30dB threshold.
Best Mid-Range AIO: Arctic Liquid Freezer II 280 A-RGB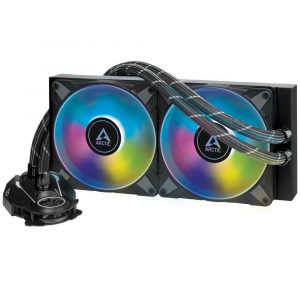 Pretty lights can be had for cheaper than what Corsair is asking. Our long-time favorite Arctic delivers with the ARGB version of its iconic Liquid Freezer II! It's aesthetically more pleasing than the original while keeping its innovations & outstanding cooling results. Going for that instead could save you another couple of bucks but would deprive you and your guests of a great light show.
Let's start with the Liquid Freezer II's pump head, its aesthetically most controversial part. We're not bothered by the unconventional assembly, but some people might take offense. It's like that due to an interesting addition – a pump-mounted 40mm fan that blows air onto your motherboard's VRM. It won't do much for the best boards around, but thermals on budget models are sure to improve.
Long braided heatpipes connect the pump head to an unusually thick radiator. Their endings are more rigid than most since they enter the pump from the top. On the other hand, such a solution means you can get ridiculously tall RAM and not worry about compatibility. The radiator mentioned above is almost a third thicker than usual but has a 25% lower fin density. That means there's more space to radiate heat off of without giving the fans a tougher time.
Speaking of fans, Arctic used their acclaimed P14 models outfitted with new RGB lighting. It's no Capellix, but the lights' uniformity and the effects on offer that sync with other hardware are an excellent addition. More importantly, the fans have an RPM range of 200 – 1,900, meaning they'll keep quiet while the 7900X has light duty.
Most users will find installing the Freezer to be easy. Arctic helps quite a bit by pre-mounting the fans & integrating their power/ARGB cables into the sleeved tubing. You'll still have to apply the excellent MX5 paste and screw the radiator in place, but that shouldn't take long.
The 280mm AIO tackles thermal challenges thrown at it with aplomb. Some more expensive and 360mm models cool better, but it does exceptionally well for the price. Switching to ARGB has had little impact on cooling proficiency and noise potential. The fans do get loud at 100% load, but adjusting their curve ensures that you can keep the 7900X at optimum efficiency without having to cover your ears.
Best Mid-Range Air Cooler: Noctua NH-U14S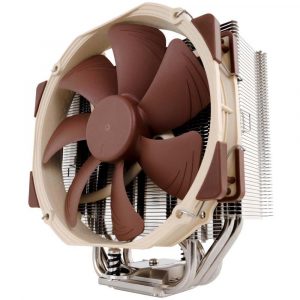 Unlike CPUs and graphics cards, good coolers can stay relevant for what amounts to eons in the PC-building world. Case in point, the NH-U14S. It's almost ten years old yet hangs in there with more expensive and recent additions. Some companies make you pay for the name. That's true to an extent for Noctua as well, but you know you're getting a winner with every purchase.
Some readers might not consider the NH-U14S's price to be mid-range anymore. They may like the Scythe Fuma 2 or the Mugen 5 better.
In an age where even Gigabyte and ASUS TUF motherboards adopt an almost all-black aesthetic, the NH-U14S's desert-themed ensemble seems out of place. While the NH-D15 now comes in a stealthy black version, the smaller cooler sticks to its original color scheme. It's zany & distinctive, and we'll let Noctua get away with this since thermal performance is so good.
You'll only find the "offending" colors on the fan. In fact, it's the same 150mm NF-A15 monster you get with the larger cooler. It rotates at speeds between 300 and 1,500 RPM, and you can limit its upper maximum to 1,200 if you want even less noise. The fan mounts snugly onto the heatsink using spring clips, and a spare pair lets you mount another in the rear.
The idea behind the NH-U14S was to design a more compact air cooler that wouldn't run into hardware or case conflicts. Noctua succeeded in making an assembly that's 165mm tall & 75 wide with the fan in place, so spatial constraints seem unlikely unless you're using a compact case.
Deceptive simplicity is the heatsink's design hallmark. It looks like any other aluminum fin array with the installed fan, except for the closed-off sides. Checking the front out reveals subtle sawtooth markings on the sides and a slight concave look ending in a small V-shaped cutout in the center. This clever design introduces turbulence and leaves some space for air to speed up before contacting the fins.
The base is thinner than the Assassin's and doesn't contribute much to thermal dissipation. Even so, it's sturdy and adheres to the CPU's heat spreader well after applying the supplied paste. Six heatpipes exit it, spreading out to keep contact to a minimum. They end with fancy-looking pointy caps on the heatsink's top.
The SecuFirm system used to mount Noctua coolers performs admirably here. The only things that needed to change for it to be compatible with AM4/5 are the standoffs & mounting brackets, which are as easy to mount as on any other cooler. The comparatively smaller heatsink makes setting everything up more convenient for builders with large hands.
The NH-U14S is also interesting since it's Techpowerup's go-to cooler for any & all CPU testing. That means we can provide concrete data for its performance on the 7900X. Having the processor deal with intense workloads sees the temperature rise close to the 95°C limit. We'll explain why that's not concerning in a bit. Conversely, gaming barely causes temps to budge over 70°C. Noise is tolerable at 100% and barely audible with more conservative fan utilization.
Best Budget AIO: Be quiet! Pure Loop 240mm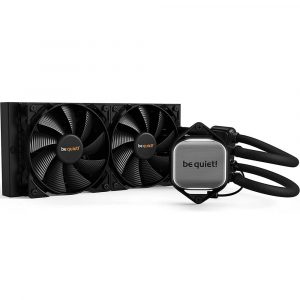 The Pure Loop is an innovative AIO that performs better than the acclaimed Noctua NH-D15s while costing the same. That's a reasonable price, considering how extravagant liquid cooling can get. Be quiet!'s commendable focus on maintenance & longevity also goes a long way in recommending the Pure Loop as an AIO sure to stand the test of time.
Two even cheaper liquid coolers to look into are the MasterLiquid ML240L RGB V2 and Deepcool Castle 240 EX.
Here we have another AIO with a non-standard cold plate design. Unlike the Liquid Freezer, the Pure Loop has one that takes up a minimal amount of space and is slimmer than most to boot. The latter is down to the pump's absence. Rather than make this part of the assembly bulkier, the pump is suspended by tubing closer to the radiator. That reduces vibration and noise without diminishing efficiency.
As for the contact plate, it's octagonal with interchanging side lengths. The milling is excellent, and a slight convex curve promises better adherence. The plate's top has a stylish white plastic cap with the company logo surrounded by a subtle white light. It helps the Pure Loop stand out without overwhelming your other color choices.
The radiator wouldn't have been worth mentioning without the refill cap. Fiddling with those usually voids the warranty, but be quiet! wants you to top the coolant off after the Pure Loop's been in service for more than a year. This prevents bubble formation due to evaporated fluid and keeps the system working at peak efficiency. The corresponding refill bottle holds plenty of liquid.
A newer version with RGB lighting is available, but that doesn't use the well-known Pure Wings 2 fans. These 120mm models achieve quiet operation by rotating more at a max of 1,500 RPM. Their CFM is comparatively low at 52, but the wavy design of each blade agitates air more than conventional alternatives.
Following along with the instructions should have the Pure Loop up and running in 15 minutes, less if you're experienced in conventional AIO mounting. Be sure to tighten each screw as much as it will handle without damaging it for the best results.
Performance-wise, the Pure Loop is an excellent investment. It surpasses not only the best air coolers but does better than some 280mm competitors too! You don't even have to pay a high noise premium since regular workloads see it firmly in the lower half of the 30s regardless of fan speed.
Best Budget Air Cooler: Thermalright Peerless Assassin 120 SE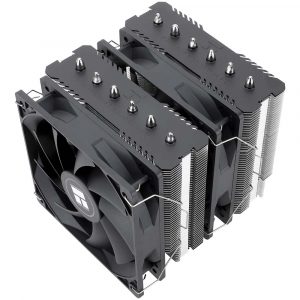 Our selection so far might prompt you to believe that nothing new has happened to the cooling market in several years. We've saved the best for last in that respect, an air cooler that has the potential to reach NH-D15 levels of long-term recognition. It's another would-be Assassin, this time by Taiwanese manufacturer Thermalright. While other manufacturers are steadily upping their prices, Thermalright is offering world-class cooling for less than $40!
The budget segment is crowded, yet only a few models stand out. Arctic's Freezer eSports and the AK620 from Deepcool come to mind first. Both are $10+ more expensive, though.
Several of the Assassin 120 SE's features prompt us to ask how Thermalright is making money off it. Two heatsink towers would have been unprecedented at this price long before the current situation, yet this air cooler is as bulky and hefty as pricier competitors. You can even get ARGB or white versions while barely paying more than $40.
The most affordable version isn't without style, which anyone who spots its black top covers and plated heatpipe caps can attest to. These cover two sets of fins, each shorter on the bottom to improve RAM accommodation. The fins feature an eye-catching sideways sawtooth design that cuts deeper into them than usual, improving the surface area.
The base looks like it was taken from a cooler that costs twice as much. It's thick, machined well, and entirely plated with nickel. You'd think that $40 would net you only four heatpipes, yet the Assassin 120 SE flaunts an entire complement of six. These funnel heat away from the contact plate into the fin stack arrays at a much greater rate.
All this metal hardware wouldn't be nearly as effective without a good set of fans. The two TL-C12C units attach to the sides using sets of clips and have rubberized corners which eliminate vibration. They get a little faster than Pure Wings 2 at 1,550 RPM yet still manage to achieve a CFM score of 66. The static pressure they can pull off is lower than on other models, so make sure there's enough breathing room in your case.
AM5 installation follows long-established guidelines, so anyone who has installed an air cooler before should be able to cope with ease. Newcomers won't find the process too daunting since clear instructions are part of the thought-out packaging.
Testing the Assassin 120 SE reveals how good of a value the processor is. Tom's Hardware paired it with an i9-12900K, the most notoriously hot desktop CPU in recent history. The results were nothing short of breathtaking. It couldn't cool the CPU sufficiently with all power limits removed, but the competition didn't fare better. With 200W as the max, this cooler kept pace with 360mm AIOs that cost three to four times more.
Frequently Asked Questions
Is the Ryzen 9 7900X hard to cool? Can an air cooler do the job?
Zen4 processors come with a generational change to their thermal behavior. You might have read that they'll reach 95°C and stay there even though the cooler one is using is up to snuff. While that's true, there's also more to it.
Basically, AMD designed Zen4 to operate comfortably at said temperature. So, a 7900X you keep pushing to 95°C isn't negatively affected and can last for years. That being said, better cooling allows you to get more at that temperature. It's even more important to note that it will get as hot only when working on sustained high-intensity tasks that push all cores to their limits.
Techpowerup has an excellent write-up on the subject. In a nutshell, the best air coolers or at least a 240mm AIO will be enough to keep the 7900X at the target temperature without imposing frequency limitations.
You shouldn't experience such temperatures when gaming or when CPU utilization isn't otherwise at 100%. Using Eco mode leaves a bit of performance on the table yet will also sharply decrease the chip's thermal output.
Is liquid cooling necessary for the Ryzen 9 7900X?
You don't technically need a liquid cooler for the 7900X. The above article reports that using something as basic as AMD's old Wraith Spire cooler with an even hotter R9 7950X won't cause it to exceed the target 95°C unless you're overclocking. However, such a weak cooler would run at 100% all the time while seriously impeding the frequency the processor runs at.
So, while a 240mm AIO is recommended, any air cooler that can keep up with one will do just as well. It will reach the same temperature threshold in certain situations but allow the 7900X to use all of its resources.
Does the 7900X come with a stock cooler?
No. AMD has entirely abandoned the practice of bundling stock coolers for this generation. It wouldn't have made sense for the two top chips despite AMD's better cooler designs. It's their rightful assumption that a user who needs the 7900X will know enough about PC building to familiarize themselves with its cooling requirements and buy a corresponding model themselves.