6 Best CPU Coolers for Ryzen 7 7700X in 2023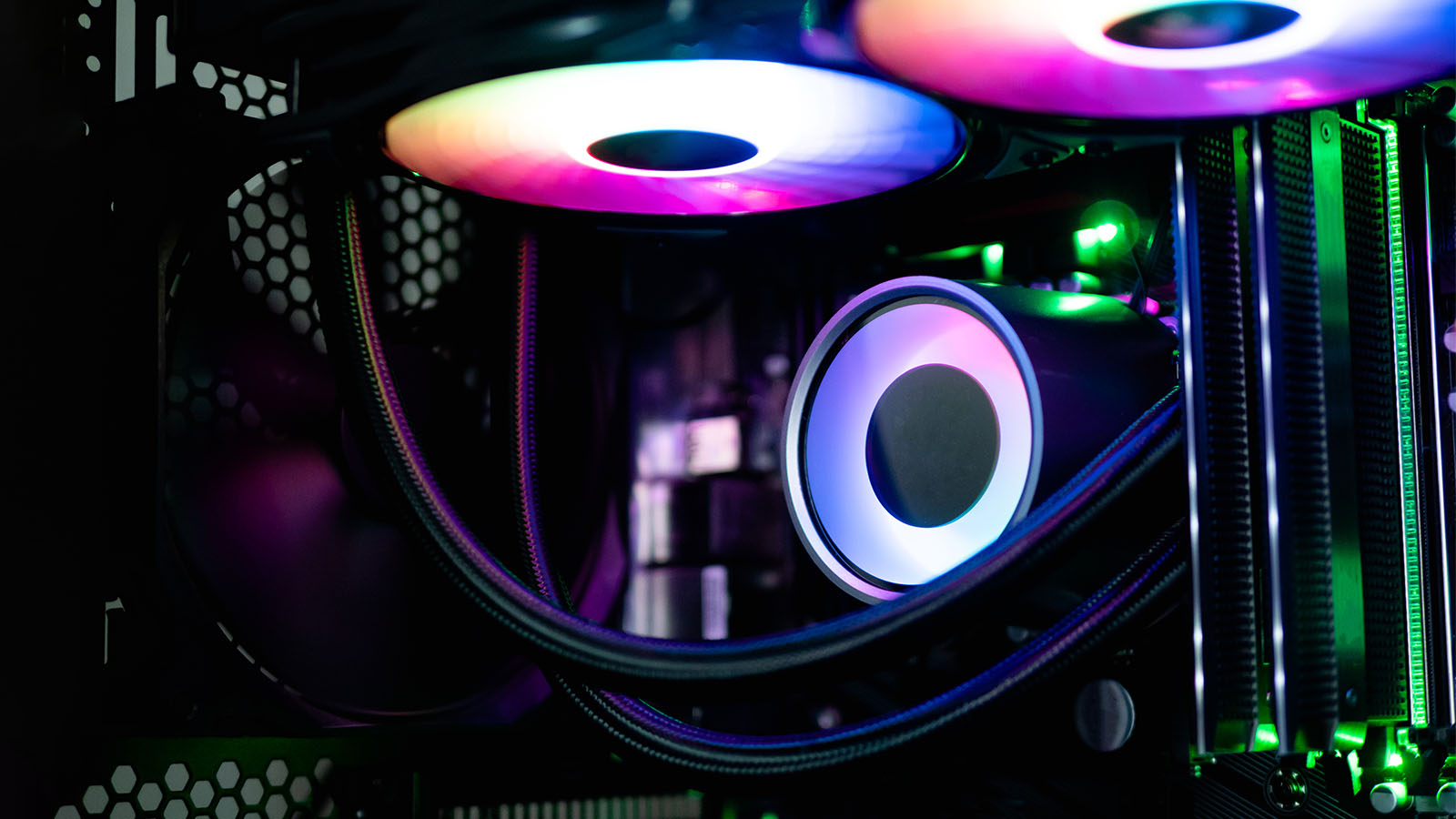 AM4 reigned supreme for five years and four generations, but it's time to go beyond. AMD's new AM5 platform brings exciting technological updates. It arrives with the most sophisticated desktop processors Team Red has released to date. The 7700X seems especially interesting due to its excellent gaming potential coupled with customarily competent multi-threading. Get yourself one of the best coolers for Ryzen 7 7700X and experience the uplift without fretting over thermals.
Best High-End AIO: Corsair iCUE H100i Elite Capellix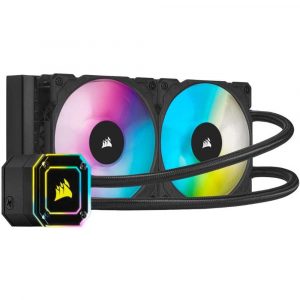 Corsair's H-series of premium coolers is often featured at the top of our lists and continues to provide exceptional cooling for AM5 CPUs. The H100i will be more than enough to tame a 7700X's high heat output and look fabulous while doing so. Add superb acoustics when using the appropriate preset, and you've got a well-rounded – if expensive – cooling solution worth every penny.
If you want to spend a similar amount of cash for even better performance and your case allows for it, check out the 280mm version of the Arctic Liquid Freezer II.
The H100i is one of the most stylish AIOs available! Not so much because of the cooler itself, since its radiator and pump head look unremarkable. Rather, it's the Capellix lights that adorn the fans & block top that turn heads. They take up a tenth of the area of conventional LEDs, glow 60% brighter, and use less than half the power. Fire them up, and your system will look better than ever!
Aesthetics are second to capability, and the H100i Elite Capellix doesn't disappoint in that department either. This latest H-series iteration improves upon the pump, which now has better capacity. The copper contact plate also has a pre-applied dose of thermal paste, so installation is easier.
The radiator is the most nondescript part of the cooler. It's as thick and dense as any other radiator, houseing two exceptional ML 120 fans. They're some of the best around despite being transparent and carrying eight Capellix lights apiece. Each can reach an outstanding 97 cubic feet per minute of airflow while maintaining high static pressure. You won't need to go anywhere near their max rotation speed to keep the 7700X temperate for gaming, so noise levels are low.
Even though there's one more component than on most AIOs, installing the H100i is straightforward. AM5 uses the same bracket type as AM4, so nothing has changed if you're coming from an older AMD CPU. The extra component in question is a Corsair Commander Core unit. Think of it as a fan & lighting hub – you plug the unit into a USB header and can plug six fans into it to control their colors and rotation speeds.
You do this through the well-known iCUE software. Each LED is individually addressable, so color and effect choices are practically limitless. As great as that is, we were more impressed with the H100i's cooling presets. There's even a zero RPM mode that turns the fans off entirely unless the coolant temperature exceeds 40°C.
The ability to tailor the H100i's output lets you get the best possible results regardless of load. When you're pushing an overclocked 7700X, it can take the heat much better than a slew of rivals. Conversely, the fans' high CFM allows for effective cooling while noise levels plummet into the low 30dB range.
Best High-End Air Cooler: be quiet! Dark Rock Pro 4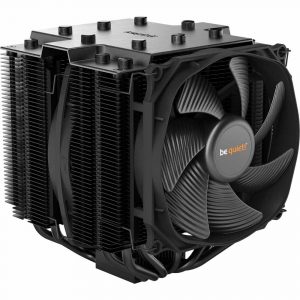 Our top air cooler pick this time is another model that focuses on silence without sacrificing efficiency. The Dark Rock 4 Pro is an imposing cooler that will dominate both your motherboard's top half and any charts that include other fans and smaller AIOs! Aesthetically pleasing and true to the company name, it's a cooler you won't mind spending a little extra on.
The never-obsolete Noctua NH-D15 is our first alternative thought. However, users with bigger budgets should also have a look at the newer MasterAir MA624 Stealth from CoolerMaster for the ultimate extravagant air-cooling experience.
The Dark Rock Pro 4 is proof that you don't need fancy RGB lighting to come up with one of the most attractive CPU coolers ever. A coat of matte black paint adds much to its charm, helping builders put together the perfect stealth look. Everything except the contact plate is black, and the thick top plate has a wicked brushed aluminum finish.
Ninety fins comprise each of the two heatsink stacks. Unlike less elaborate designs, they adopt a sawtooth pattern on one end and a terraced one on the other. This causes a lot of turbulence, helping the Silent Wings fans maintain good cooling results despite having noticeably less throughput and air pressure than their Corsair counterparts.
You don't get identical fans, either. The middle one has a diameter of 135mm, while the front one is 15mm smaller to better accommodate tall RAM kits. Both are of the Silent Wings variety known for their ribbed design and quiet operation.
The contact plate acts as a small heatsink in its own right since the part where you insert the crossbar has fins. The base is made of two parts that sandwich seven 6mm copper heatpipes between them. The angles at which they stick out are different, minimizing the pipes' proximity.
It shouldn't be too hard to install the Dark Rock Pro 4 even if you lack previous experience, as the instruction manual is exhaustive. The first part of its AM5 installation is simpler than on Intel since the backplate is already there. After the standoffs and brackets are in place, you have to apply thermal paste to the 7700X and place the cooler on top of it. Securing the crossbar is elegant since the heatsink's cover has two removable caps that allow you to use the included screwdriver to reach the mounting screws from the top.
How does the Dark Rock 4 Pro stack up? It's not the absolute best air cooler, but it's pretty close. Noctua's finest inches ahead, yet several 240mm AIOs perform similarly or worse. Regardless of shape, few coolers can match this one's quiet fans. Expect light breeze levels of sound even when stressed since a revved-up pair of Pure Wings fans doesn't even reach 30dB.
Best Mid-Range AIO: Lian Li Galahad 240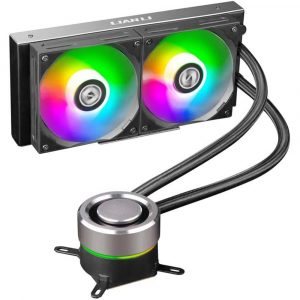 Our second AIO recommendation comes from Lian LI, a manufacturer revered for outstanding cases but new to the AIO world. The Galahad 240 might be their first take on liquid cooling, but it is a successful one. It is stylish, reasonably quiet, and can lower a hot-headed CPU's temperatures with the best of them. There's no software support like with Corsair's model, but that's hardly a drawback.
The older but still good H100i RGB Pro XT is a decent alternative if you aren't hung up on the most sophisticated lighting,.
Lian Li was playing it safe in the design department for their first try, so the recognizable Asetek pump head isn't surprising. It's cylindrical, with a square-shaped copper base plate on the bottom. You'll have to apply the supplied thermal paste manually. The slightly convex surface will help spread it evenly over the 7700X's integrated heat spreader.
The pump top houses the Galahad 240's most intriguing visual feature. There's a ring of little hole-like LEDs under the inner rim. These glow brightly in a mesmerizing pattern we haven't seen on other AIOs yet. You can rotate the entire pump head in 90-degree increments for more positioning freedom. The tubing is braided and 400mm long, so it's possible to mount the radiator to the front of most cases rather than being limited to their celling.
The radiator is unremarkable, save for a large Lian Li logo on the side. Its fans are another story. Each is opaque, has nine blades, and as many colorful LEDs. More importantly, their RPM is 1,900, and the fans achieve almost 68 CFM when pushed to their limit.
Setting the Galahad up takes no more skill than working with other coolers. You have to connect the fans to PWM and ARGB headers on the motherboard after mounting them to the radiator. Installing the pump head is the same as with Corsair's cooler. The long tubing gives you more leeway regarding installation location. As a finishing touch, you can also place a magnetic metal cap onto the pump for a more subdued look.
We were impressed with the Galahad's cooling capabilities, doubly so given Lian Li's lack of experience. It stands toe to toe with most 240mm AIOs, getting beaten only by more expensive rivals. It's not as quiet as most competitors since heavy multithreaded tasks can push it close to 40dB. That's still more than tolerable, even if you aren't using a headset.
Best Mid-Range Air Cooler: DeepCool AK620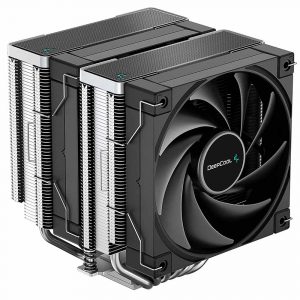 We've only stuck to tried & true coolers so far, but that's about to change! You likely know DeepCool for its excellent coolers at any price range. The AK620 is one of its newest coolers and comes with the chops needed to upset the somewhat stale mid-range of the market! It's priced more attractively than the Noctuas and be quiet's of the world yet delivers almost comparable performance.
The Scythe Fuma 2 or the non-Pro Dark Rock 4 are the first alternatives you should consider.
Even though it's fairly priced, the AK620 surprises with its heft and imposing figure. After all, there are two 160mm high towers and two 120mm fans to consider. The heatsinks lack most of the functional shaping you'd see on competitors but do have closed-off sides so that air travels through them with greater focus.
Conversely, there's a lot of great-looking industrial design going on. You get two removable covers, each with a DeepCool logo in teal and an interesting pixel pattern. DeepCool's obsession with squares continues with the towers since their backs feature clipped sections that form a unique checker pattern.
The fans that attach to the protruding mounting areas on the sides are labeled FK120. DeepCool developed them for the KA620 specifically. They feature a thick mounting housing complete with anti-shock rubber pads that do away with vibrations. Their max speed is set to 1,850 RPM, at which each fan can blow 69 CFM of air through the assembly and out of your case.
The cooler's bottom part lacks the top's flair but is designed well. The six heatpipes and base are nickel plated and shine with high luster. Rather than enter the heatsinks at odd angles, the pipes spread out in one direction. The base is too thin to pull double duty as another heatsink, and the crossbar is already a part of it. Two spring-loaded screws are already mounted to simplify the installation.
Speaking of the installation, it's conventional for air coolers and convenient as the backplate is already in place. DeepCool provides a nondescript tube of thermal paste you need to apply to the CPU before anything else. It should be smooth sailing from there, with a potential caveat. The AK620 is compatible with 43mm RAM or smaller, so plan accordingly. You could mount the front fan higher, but that would diminish the thermal efficiency.
Thermal efficiency is something a correctly installed AK620 does not lack! It's no NH-D15, but it's more than adequate for the asking price. Surprisingly, this is also one of the quietest recently released air coolers. Tom's Hardware coupled it with a thermally difficult i9-10850K and had nothing but praises to sing for its efficiency.
Best Budget AIO: Arctic Liquid Freezer II 240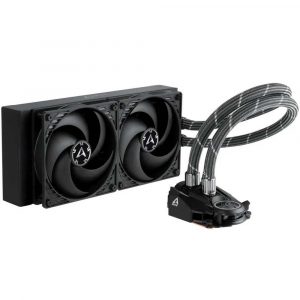 It's time once again to wax poetic about our favorite AIO, Arctic's Liquid Freezer II. Like the NH-D15, it's one of those designs that comes once in a generation and leaves a lasting impact. Since switching to CPUs like the 7700X requires no changes to the underlying mounting hardware, we're sure that it will remain relevant for years to come. There are even cheaper models out there, but the value on offer here is just incredible.
The worthiest of those cheaper models include the MasterLiquid ML240L RGB V2 from CoolerMaster and Thermaltake's TH240.
Arctic did the exact opposite of Lian Li, choosing to research new ways of improving almost every aspect of their AIO's design. The result is a weird-looking yet superbly efficient pump complete with an additional fan. This smaller spinner resides on its top and utilizes three channels to blow air into the surroundings. That positively affects VRM cooling, helping maintain stability even if you're overclocking.
Even the radiator got a makeover! It is noticeably thicker than normal, and its fin count has been tweaked to compensate. The resulting array offers plenty of surface area for heat accumulation without becoming too much of an obstacle for the fans. These are Arctic's P12 models, lauded for their quiet yet effective operation. The max RPM is just 1,200, which doesn't stop them from putting out almost 56 CFM while remaining barely audible.
The Liquid Freezer II 240 should be even higher on your CPU coolers list if you're putting the system together yourself for the first time. Everything about the installation is streamlined to the point that you barely need any instructions. The fans are already secured & oriented to push air outward. The sleeves that wrap around the braided tubing also carry wires for fan power with them. The entire AIO runs neatly on a single PWM connection that extends from the pump.
The default setup also entails no individual fan controls since adjusting the power input will cause all three fans to spin at the same percentage of their range. It's possible to untangle the PWM cables and plug them into individual headers, though.
GamersNexus conducted a convincing set of tests that measured how the Liquid Freezer II stacks up against some heavy hitters when cooling an R9 3950X. The CPU might be old, but heat is heat. It turns out that Arctic's cooler gobbles it up & scores better than other AIOs of the time. It even smoked the similarly-priced NH-D15! Noise is on par with other quiet performers, hovering in the mid-30s or below during most workloads.
Best Budget Air Cooler: Thermalright Peerless Assassin 120 SE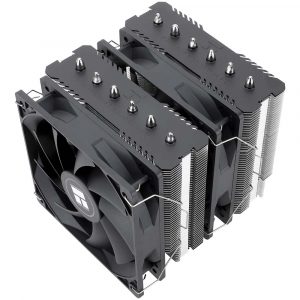 Remember how we said new coolers like the AK620 are making waves in a stagnant market? That's nothing compared to the tsunami the Peerless Assassin 120 SE unleashed on the budget segment. We're still having a tough time believing that an air cooler can have TWO heatsinks, be this good, and not even cost $40! Take note, CoolerMaster, as this is light years ahead of the iconic yet increasingly more expensive Hyper 212 Evo coolers.
Id-Cooling's SE-225-XT is another promising newcomer, or you could always turn to the trusty Arctic Freezer eSports Duo if our budget pick is hard to come by.
Nothing about the Peerless Assassin hints at its budget nature. It's carefully packaged inside protective foam to prevent shipment damage, and you get all the accessories needed for a successful installation. If anything got the short end of the stick, it's the design. The cooler is by no means ugly, but it lacks the spark be quiet or Noctua bring to the table.
Any thoughts of design slip away as soon as you feast your eyes on the magnificent heatsink. That's ordinarily not a term we'd use, but there are two of them… for less than $40. The towers aren't plain, as a sideways sawtooth pattern towards the front edges contributes to better air circulation. Like the AK620's, these heatsinks sport closed-off sides. They're topped with plastic covers complete with a Thermalright logo and caps for the heatpipes.
Six of those bad boys is another sight you don't often get to see at such a price point. They're of the standard 6mm nickel-plated variety with a spider-like spread that gives each pipe plenty of breathing room. The contact plate is an uninspired cube with just enough thickness for stability but lacking any cutouts that would improve its thermal dissipation potential.
On the fan side of things, we have two TL-C12 units. They're plain except for a Thermalright logo in the middle. The blades spin at a max of 1,550 RPM and can put out a respectable 66 CFM when they reach this speed.
The installation process follows more or less the same steps as other air coolers, so we won't repeat that. One noteworthy thing about it is the RAM clearance. Some of the heatsinks' lower fins are shorter to allow for a better fit, so even towering kits like Corsair's Dominator Platinum RGB should fit without a hitch.
In a rare show of admiration, Tom's Hardware gave the Peerless assassin a perfect score! It couldn't keep up with an unbridled and overclocked 12900K, but imposing a minimum of limitations sees it hang in there with coolers and AIOs that are two or even three times as expensive. Its acoustics are good as well – you shouldn't experience noise levels higher than the mid-30s at full blast.
Frequently Asked Questions
Does the 7700X come with a cooler? Is a stock cooler enough for it?
AM5 comes with lots of changes, and considerable thermal output is pretty high on the list. AMD has been downsizing their stock cooler offerings for several generations, and now you don't even get the wraith Stealth you used to with Zen3. That's just as well, as even the beefier Spire might not have been enough to get the 7700X through the most arduous tasks without throttling.
No new AMD CPUs have coolers, which forces you to add yet another purchase to what's proving to be an unexpectedly expensive transition. The good news is that cooler manufacturers are keeping up and producing outstanding models like the Peerless Assassin 120 SE to help mitigate this.
Is a 240mm AIO good enough for the 7700X?
If you've read our recommendation section, you already know that the answer is yes. Unless it's from the bottom of a bargain bin, a 240mm AIO or a decent air cooler will be enough to handle the 7700X's considerable heat output.
Keep in mind that AMD's newest chips are designed to work at absurdly high temperatures. They can maintain 95°C indefinitely without suffering damage. Luckily, you shouldn't experience such extremes on a 7700X unless you couple a poor cooler choice with long-term vigorous testing. There's no use in turning your PC into a space heater, especially since you can get away with excellent cooling and not even spend $50.
Is the Ryzen 7 7700X good for gaming?
It sure is! The Ryzen 7 5800X was last-gen's best Ryzen gaming CPU for a while, and the 7700X cumulatively scores 10% better in Techpowerup's test suite. The gains in some titles are small, while others benefit much more. It's good as far as generational improvements go but not worthy of upgrading if you're a Zen3 owner, especially if you've bought the outstanding 5800X3D recently.
That being said, the 7700X is the PCU to get if you want to remain loyal to AMD and are coming from an older processor. Owners of 1st and 2nd-generation Ryzen will be blown away by the performance increases. Switching to AM5 now will also guarantee compatibility for at least the next three years. That gives the platform a lot of time to mature while letting you make substantial upgrades by simply slotting in a new processor.