6 Best CPU Coolers for i5-13600K in 2023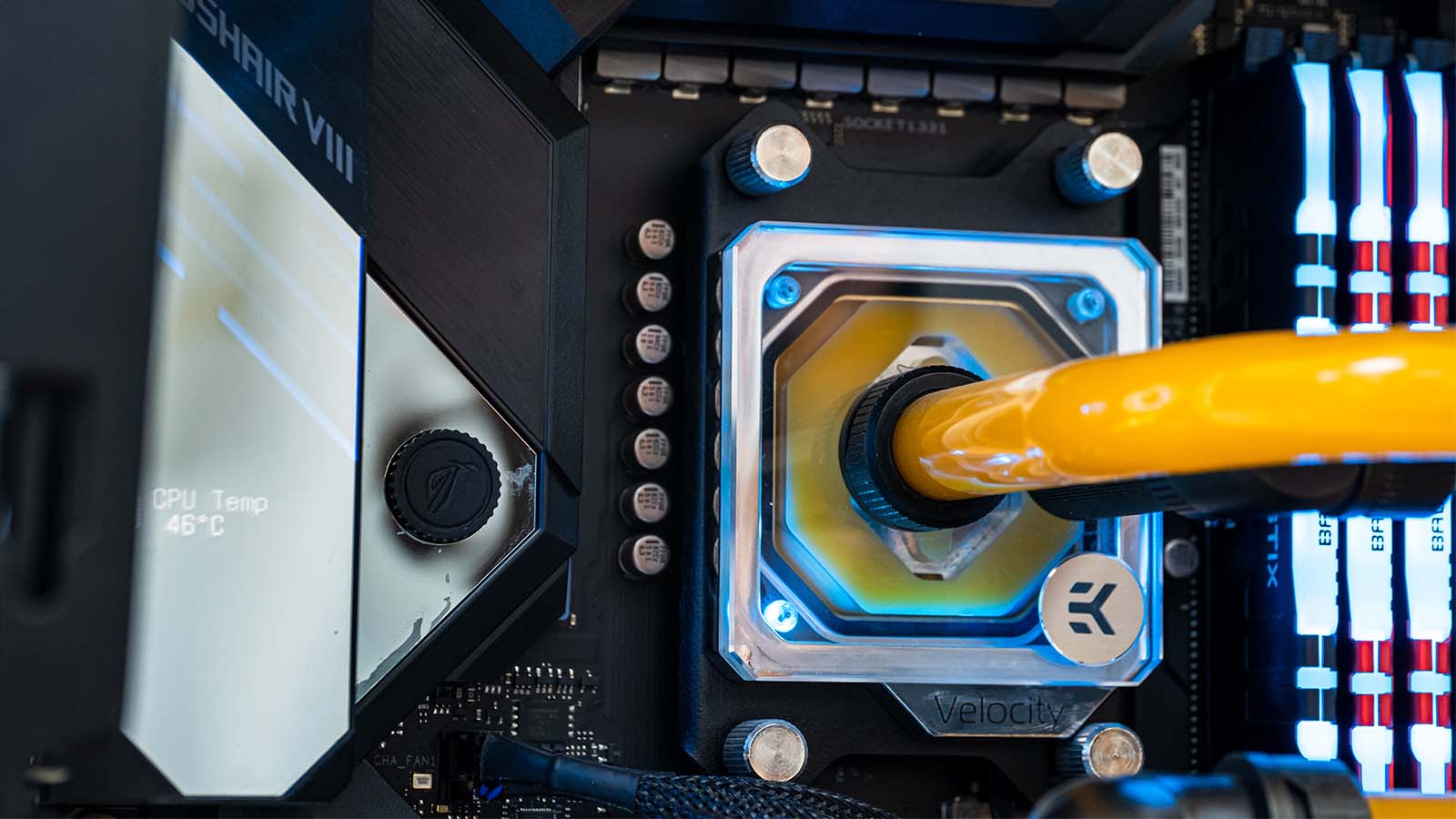 Raptor Lake turned out to be one of Intel's finest refreshes, bringing top-tier chips for everyone. The cheapest of the initial three is the best-value gaming chip we've seen in a long while, and a capable multitasker to boot. You'll need one of the best coolers for i5-13600K to tame it, though, and we'll help you choose by providing thoroughly researched air coolers & AIOs at three price points each.
Best CPU Coolers for i5-13600K - Quick Overview
Best High-End AIO: EK AIO 240 D-RGB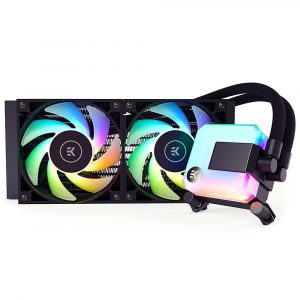 EKWB is a company that specializes in making custom water loops and associated components, but their AIOs are awesome as well! Now that they're more reasonably priced, it makes sense to feature one instead of the usual suspects. The 240 D-RGB places performance above everything else while being augmented by attractive lighting.
The NZXT Kraken X53 and Corsair's H100i Elite Capellix are the two obvious high-end alternatives. Go for the former if you don't care about bling, or pay extra for the latter to get performance and style in equal abundance.
Sturdiness and excellent build quality immediately stand out about EK's cooler. The pump head is especially imposing with its high opaque tower and stylish company logo. You'll find a milled copper base underneath with pre-applied thermal paste & an extra tube of it among the accessories fur subsequent applications.
The pump connects to the radiator via a pair of long and relatively rigid tubes. They end with 90-degree aluminum fittings that are sturdier than the plastic ones we've come to expect.
There's nothing special about the radiator. It's a normal-sized 28mm thick unit with enough room for two unique Vardar S RGB fans. These have seven translucent blades and range from 550 to 2,200 rotations per minute. The fans' airflow measures 67 CFM, and their static pressure is an excellent 2.9 mmH2O. The latter means you can expect strong thermal exhaust even if there's not much room inside the case.
While it's not as sophisticated as Capellix, the 240 D-RGB's lighting is uniform and pleasing to behold. It works with major motherboard manufacturers' lighting sync solutions, and hooking up the appropriate RGB headers is all it takes.
If there's anything to ding EKWB on, it's the need for extras. Specifically, the Loop Controller, a separate purchase that lets you control the fan speed and monitor temperatures. Corsair does this as a matter of course.
Such inconveniences fall to the wayside once you see the AIO's actual performance, which is extraordinary for the fan size. It shows up in Guru3D's H100i Elite Capellix review, beating or matching the often talked about AIO in almost every metric. EK's AIO isn't that loud at reasonable workloads and doesn't exceed 40dB, even if you're pushing your system's boundaries.
Best High-End Air Cooler: be quiet! Dark Rock Pro 4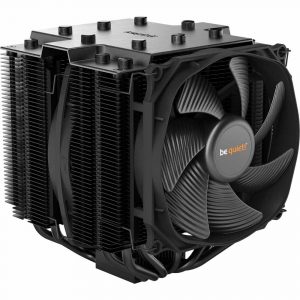 An air cooler is still enough to tame the 13600K, but it needs to be an excellent model. We can't think of many that would fit the bill better than the Dark Rock Pro 4! It's a massive cooler with impressive results whether you're focused on silent operation or the best cooling. Better yet, it matches our budget cooler's price tag.
The NH-D15 is the natural alternative here. We didn't want to feature two of Noctua's finest, especially since be quiet!'s cooler does equally well. Feel free to go with the legend if you don't mind spending $10 extra.
Beautiful, black, and hefty is an apt way of quickly describing the Dark Rock Pro 4. Its imposing frame will cover the entirety of the chipset area with lots of fins and a fetching brushed aluminum top. The fin stack is split into two arrays of 45 fins each. They adopt a wavy design in front while ending abruptly in groups in the back. This noteworthy departure from the conventional straight design helps agitate the air as it passes, augmenting the fans.
Speaking of, be quiet! isn't talkative about their specs. You get two Silent Wings fans of different sizes, though. The middle one has a diameter of 135mm and does much of the heavy lifting. The front one is a more conventional 120mm unit with an RPM of 1,500, 300 more than its larger sibling. Both have be quiet!'s telltale wavy design.
Only the nickel-plated base remains without a black powder coat to adhere to your 13600K more securely. A deep grove is carved into its top to accommodate the mounting crossbar. Some coolers would leave it at that, but this one has thick sides with deep cuts that let it act as a secondary heatsink.
Carrying heat away from the CPU are seven spread-out heatpipes. They pass through the fins and end in stylish caps. There are sixteen of these since two cover up holes. You use these to secure the screws on the crossbar with an included screwdriver without having to fiddle. Clever!
Testing shows how the Dark Rock Pro 4 is among the best air coolers in existence, trading blows with and even surpassing the NH-D15 in several workload types. The fan does its company's name proud since it's quiet regardless of usage. Others might be better when tasked less, but it's hard to beat this cooler if it needs to run on full blast for intensive CPU testing.
Best Mid-Range AIO: Arctic Liquid Freezer II 240 ARGB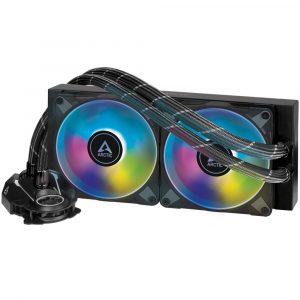 The newest CPU generation might be hotter than before, but that doesn't stop our favorite AIO from efficiently keeping them in check. The original Liquid Freezer II was already a smash hit. Now that it has A-RGB lighting that doesn't impact performance, it's bound to become even more influential. Excellent cooling, style, & loads of unique features, all at a palatable price. What's not to love?
We suggest you look into the original if you want to save another $10 – $15. It's every bit as functional and only loses out on the lighting, which some people don't care for anyway.
If you've ever dealt with AIOs before, you'll know something's strange about this one with a single glance. For better or worse, the oversized pump head immediately draws attention. Some users might scoff at its look, but the design was necessary for the Liquid Freezer II's most unique addition – a pump-mounted fan.
That little spinner bathes your motherboard's VRMs with cooling air. Advanced mobos won't benefit much, but a cheaper model whose VRMs get hot under pressure will work better. You'll have to apply the supplied thermal paste yourself.
Due to the unusual design, the flexible tubes enter the pump head from the top instead of the sides. They're long and easy to put into a position that won't hamper other components. More importantly, their sleeves also carry the main and RGB-related power wires from the fans toward the base, simplifying the installation while keeping your PC tidy.
Arctic even managed to make the radiator interesting. It's around 40% thicker than normal, with 25% less fin density to compensate. The net positive is significant since the added area can accumulate and expel more heat than usual.
The fans received a slight CFM downgrade compared to the P12 originals. Their design and 200 – 1,800 RPM remain the same, but the milky blades now put out around 48 CFM instead of 55. As we'll see shortly, the radiator's makeup mitigates what would have been a lackluster result on paper.
RGB enthusiasts should be pleased with the cooler's lighting. It's even, vivid, and easily controlled via RGB Fusion, Mystic Light, etc. Power and lighting cables for both fans merge into one each. Coupled with the premounted fans and tubing that's easy to work with, this makes the Liquid Freezer one of the most straightforward AIOs installation-wise.
Fan changes and RGB didn't affect the AIO's excellent performance. It's nothing special when the system is idle, but fire an intensive game up and watch as it beats the air-based competition and even some larger AIOs. A low minimum RPM helps maintain silent operation during everyday tasks. The max RPM isn't high either, generating comfortably low noise in the mid-30s.
Best Mid-Range Air Cooler: Noctua NH-U14S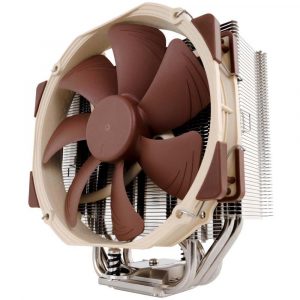 We love including the NH-U14S in our recommendations for two reasons. It's a formidable air cooler in its own right, delivering excellent performance at a price that's easier to stomach than the NH-D15's. Thanks to Techpowerup, we also have consistent data on how this particular cooler performs on any new CPU, which makes it easier to put things into perspective.
A comparatively smaller fin stack is the most noticeable difference from the more prominent Noctua cooler. The NH-U14S stands 165mm tall and features no fancy coating.
Viewed from above, what looks like a straight set of fins is revealed to be vaguely V-shaped, with a further noticeable indent in the middle. That and several rows of sawtooth accents towards the edges let air ramp up & rotate more before it hits the fins.
Six heatpipes are sandwiched between two parts of the nickel-plated base. They exit at steep angles, so parts of the bottom fins needed to be cut to accommodate them better. The base is sturdy, if not as thick or engineered to help with cooling as the Dark Rock's. It makes up for this by carrying much of the cooler's required mounting hardware.
The single fan needs little introduction since it's been the staple of high-end air cooling for almost a decade. That's right – it's the NF-A15 that's present twice on the NH-D15. A diameter of 150mm makes it one of the most imposing CPU cooling fans. It also helps with quiet operation since only 1,500 rotations per minute are required to maintain the respectable CFM of 82. You get two sets of clips, so attaching another is easy if you don't mind the added thickness.
The SecuFirm installation system puts Noctua at the forefront of DIY-friendly PC building. The NH-U14S's kit now includes an LGA 1700 mounting bracket, which you position under your motherboard and mount the appropriate standoffs & washers onto.
Then it's time for the Intel-specific top brackets you screw the heatsink's mounting assembly into before clipping on and plugging in the fan. The whole process is intuitive and shouldn't take longer than 15 minutes.
With direct results from the 13600K to observe, we see an intriguing – and worrying – trend. Even though it's the generation's weakest K-series chip, it still has a high enough thermal output to climb past 90°C during extreme stress testing. Gaming temps aren't as high, but the fact that the NH-U14S manages to keep the 12900K four degrees colder than the 13600K speaks volumes. It does so quietly, not budging from the upper mid-30s even when torture testing.
Best Budget AIO: Cooler Master MasterLiquid ML240L RGB V2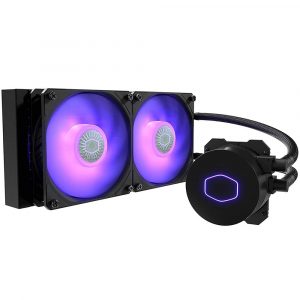 High temperatures are the worst thing that can happen if you get a cheap air cooler. However, poorly-made AIOs can leak and cause much more damage. Cooler Master knows this all too well, which is why the second version of its ML 240L RGB comes with a host of improvements that target performance as well as longevity. It's a potent and secure cooling solution you can get for less than $90.
Price-wise, the Pure Loop 240 is the closest thing. Its performance is comparable, and you can top the coolant off.
This is the most conventional-looking AIO on our list, with an Asetek-style pump head that sports a stylized glowing Cooler Master logo. However, several improvements lie underneath its cylindrical shell. The impellers got a redesign, and the chamber is expanded to fit more liquid. Both of these make the exchange of hot & cold coolant more efficient.
The older model's tubing was known to leak, so the ML240L RGB V2 received several reinforcements in that area. Cooler Master could have upped the length while they were at it, but we won't complain, given the price. Keep in mind that installing the AIO in the front or at the bottom of most cases is a no-go.
While not as different as the Liquid Freezer's, the radiator also benefited from a redesign. It boasts a higher-than-usual fin density, which is another way of increasing overall surface area. Such changes call for more powerful fans, which Cooler Master delivers.
The SickleFlow fan is built to pass light through yet delivers more air than the Liquid Freezer's P12. Its RPM range is 650 – 1,800, and the CFM stands at 62. Unsurprisingly, the static pressure these fans put out is a high 2.5 mmH2O needed to punch through the denser radiator.
The AIO's RGB implementation is basic but satisfactory for the price. The LEDs are ordinary RGB, meaning all will always glow the same color. The hue choices are almost endless, though. You can adjust the brightness or effects with a physical controller if you don't want to bother with your motherboard's solution.
So, what does a sub-$100 AIO offer? If it's as good as this one, the answer is much. It goes head-to-head with our high-end air cooler choice, keeping a 9900K-equipped test system comfortably cool through various workloads. Ramping the fans up to the max makes for a moderately loud experience you can successfully drown out with the right headphones.
Best Budget Air Cooler: DeepCool AK620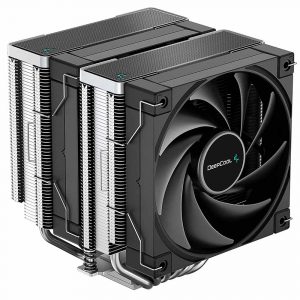 CPU cooling isn't subject to radical changes like the GPU or CPU markets, so it's common for years-old hardware to still be relevant. Still, there's room for improvement, which the recently-released AK620 from DeepCool embodies with aplomb. It's one of the most cost-effective air coolers out there, showcasing Noctua-like capabilities while costing less.
We realize that $60+ for an air cooler isn't cheap in the grand scheme of things, but it's the lowest we'd go for the 13600K's significant thermal demands. The Peerless Assassin 120 SE from Thermalright is the only possible exception if you don't want to overclock the CPU or run it at 100% load for extended periods.
The AK620 is shorter than the NH-U14S at 160mm and looks more compact than the Dark Rock. Still, a combined weight of 3lb when the fans are mounted raises an eyebrow in the positive sense. Much of that weight comes down to two tall heatsinks whose 49 fins are visibly thicker than usual. Deep diagonal cuts in front help stir the air up as it enters, while a checkerboard pattern in the back is there mostly for show.
Each fin stack ends with a plastic top sporting a similar square pattern and an unobtrusive DeepCool logo. They blend in perfectly with the FK120 fans' closed-off corners. The fans themselves have nine standard blades but can stir up 69 CFM of air. They need to rotate at 1.850 RPM to do so.
The base follows Noctua's design philosophy by being thinner yet offering a premounted crossbar. There's also little difference when it's time to install. All the relevant bits are in the box, and getting the AK620 mounted onto an Intel motherboard is just slightly more time-consuming since you have to use the included backplate.
Our positive surprise regarding the AK620's build quality and fair price extends to its performance as well. It's so good that testing with an overclocked i9 puts the AK620 only a couple of degrees behind the NH-D15. That's better than even some AIOs can manage and equates to amazing value considering the price difference.
Lots of noise is the only thing preventing the AK620 from becoming a dream cooler. It's noticeably louder than the models discussed so far, reaching more than 50dB at 100% speed. You probably won't need to ramp it up to that extent, but lower usage produces louder results too.
Frequently Asked Questions
Is an air cooler enough for the 13600K?
As CPUs from both camps continue to evolve, this has become a valid question. The answer is yes, you can air-cool the 13600K. However, a run-of-the-mill $25 cooler won't be enough. You're in for higher temperatures than with almost any CPU that came out before with this one, but quality air coolers can still take it.
That being said, you'll want to keep from overclocking the 13600K and may want to keep an eye on its temperature during the most stressful workloads. If you're building a gaming PC, the temperatures will be high but not dangerously so.
Is a 13600K good for multitasking? Can I use it without a GPU?
While the 13600K focuses on gaming, the improvements Intel made to its multitasking capabilities are impressive. It's a significantly more capable chip than the 12600K, no matter the task, even beating the 12700K in rendering, encoding, or various simulation types. Only AMD's best Zen4 chips and the two more expensive Raptor Lake models are better.
The 13600K has made huge strides in many areas, but integrated graphics isn't one of them. You can use its Xe graphics chip if it's to go inside an office PC or one that performs tasks that don't require a discrete GPU. You can forget about gaming since the integrated chip can't even handle older titles at 1080p low settings.
How much power does a 13600K need?
Intel stopped expressing its CPU power requirements through TDP as of the 12th generation. The 13600K now has a base power draw of 125W and a Turbo Boost draw that's 60W higher. That's a lot more than the competing Ryzen 5 7600X and likely contributes much to the chip's marked increase in thermal output.