6 Best Motherboards for Ryzen 7 5800X in 2023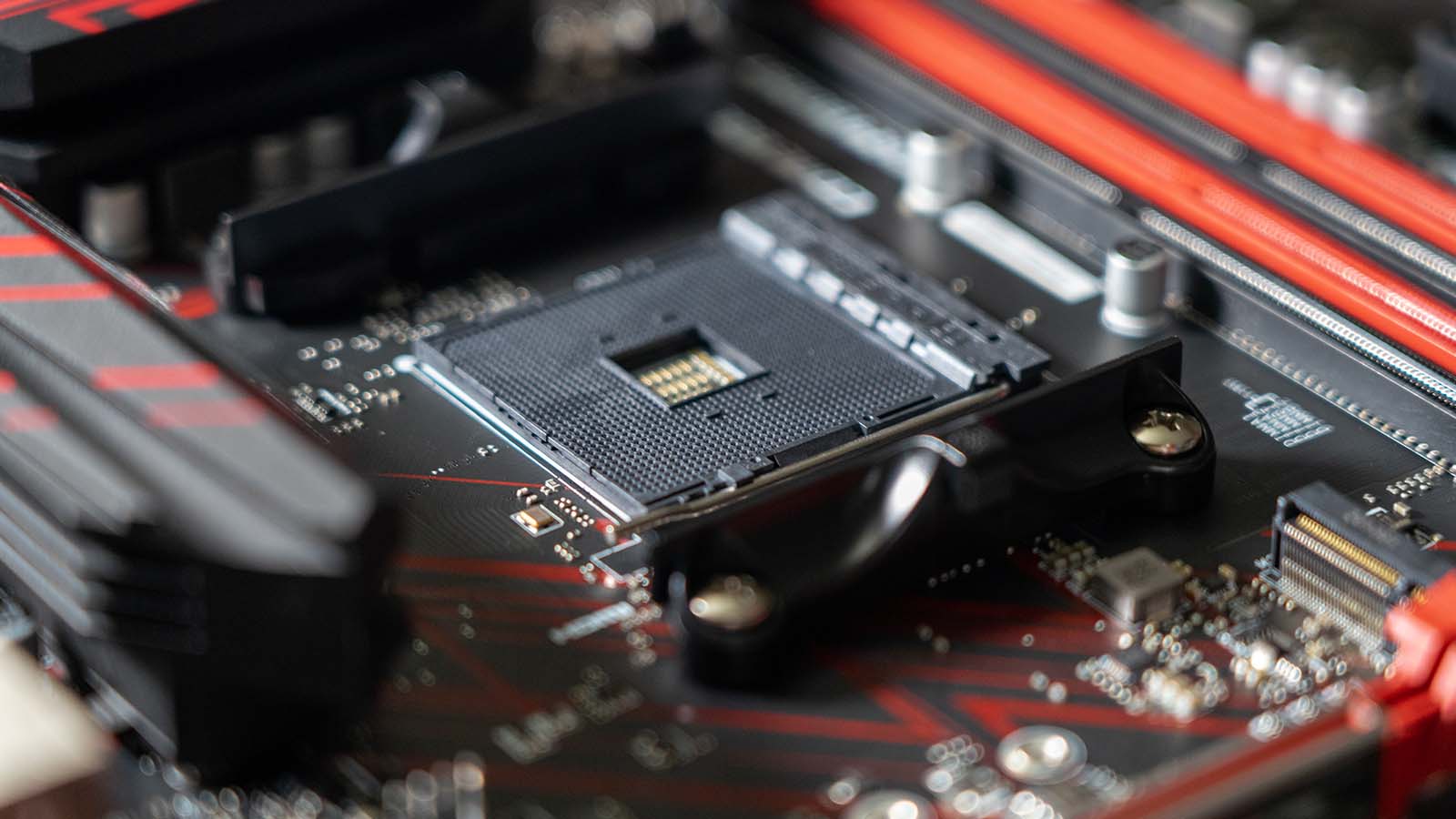 It took just three years for AMD to firmly establish that its processors are on equal footing, if not better than their Intel counterparts. The 5800X is a clear example of the latter, going up and consistently winning over the likes of the 10700K. We're used to seeing Team Red rip it up in heavily multithreaded applications, but the fact that games are also no match for this processor should make any PC buyer giddy.
You'll be even giddier once you find the best motherboard for Ryzen 7 5800X and can start building your next high-grade gaming or productivity ring around it. This guide is here to help as we look at the best-performing mobos in different categories and offer equally good alternatives.
Overview of Best Ryzen 7 5800X Motherboards
Best High-End Motherboard for Ryzen 7 5800X: GIGABYTE X570 AORUS Ultra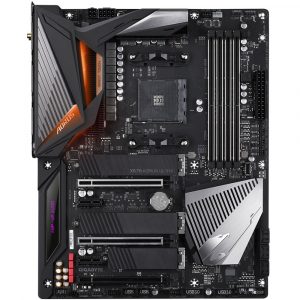 Our most expensive recommendation is also one of the most versatile and cost-effective boards of the generation despite being among the earliest to hit the shelves. Gigabyte has all the bases covered, from solid overclocking and plenty of high-speed storage options to a timeless yet customizable look.
The sky's the limit when it comes to expensive X570 motherboards. But if you can stretch your budget to boards that cost up to $100 more than this one, you might want to go with the X570 Phantom Gaming X or Gigabyte's own X570 AORUS Master.
While there's no mistaking the neutral AORUS style, this mobo breathes some new life into it with brushed aluminum accents on the I/O shroud and chipset heatsinks. These mesh well with the diagonal striped theme and mostly bare matte black PCB. You'll find LEDs casting a glow from the I/O shroud and audio component cover. A whopping five headers let you add more.
You'll love the X570 AORUS Ultra if you need vast amounts of the fastest storage since it has room for three PCIe 4.0 M.2 drives, all running cool thanks to padded heatsinks. Two of them accept 110mm drives, and using them doesn't cut into the SATA port availability. You may use up to three GPUs in CrossFire or SLI as well. The top two x16 and all the DIMM slots have armor, even though it serves a practical purpose only on the former.
It's no Master, but the board is a capable overclocker nevertheless. It has 12+2 doubled phases that deliver ample juice to the 5800X. More importantly, the VRMs receive the royal cooling treatment from finned heatsinks connected with a heatpipe. This reduces temperature buildup substantially even when stressing CPUs past their normal performance levels, making the board an excellent choice whether gaming or working.
Gigabyte left a lot of room for custom fan or AIO solutions by including seven hybrid headers. The audio hardware is exposed and beautiful to look at, consisting of several WIMA and Nichikon capacitors responsible for the 5+1 stack's impeccable sound delivery. Other back I/O connections include a sizeable USB port selection, Wi-Fi 6 inputs, and HDMI. There are ten USB ports in total, including two USB 3.2 Gen 2 A and one USB-C input. The LAN is the only underperforming connection since it's limited to gigabit speeds.
Best Mid-range Motherboard for Ryzen 7 5800X: MSI MAG X570 TOMAHAWK WIFI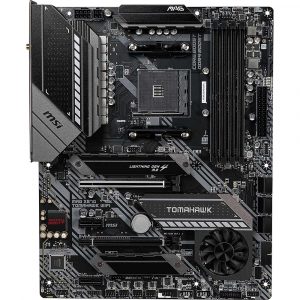 MSI fans who were also early X570 adopters were left frustrated by the company's initial boards since they ran ridiculously hot and contributed to system instability. Thankfully, the Unify and now the more affordable Tomahawk put this to right. You'll be hard-pressed to find a mobo as feature-rich as this at a comparable price and can use it for anything from productivity through heavy gaming to intense overclocking of the 5800X.
We're fans of the mobo's understated industrial design. It's primarily black, but the heatsinks and PCB are studded with numerous gray and white geometric shapes that make it far from boring. It's not a flashy board in the RGB sense either since it only has one strip by default. Four more are available through pairs of addressable and standard headers.
The MAG X570 TOMAHAWK WIFI's VRM is an apology-laden love letter to users and the best you can get at the board's asking price. It's made up of six doubled Vcore and two SOC phases for a total of 12+2 that feeds the CPU with more than 700A of current. Moreover, both heatsinks are thick and connect snugly to the MOSFETs and chokes alike through twin thermal pads. The result is the basis for a computer that runs at peak efficiency without any thermal abnormalities.
Other parts of the board are cooled equally well, starting with the chipset. Its 11W power draw means a formidable heatsink isn't enough, so a sizeable fan backs it up. Speaking of fans, you may connect six of them and a water pump through the appropriate headers. The board supports six SATA 3 and two M.2 drives, with the latter having thick heatsinks of their own.
The internals have you covered for connectivity since there are headers for USB 2.0, 3.2, and USB-C. There are two PCIe 4.0-capable x16 lanes on top of that, plus as many x1 slots for various expansion cards. The audio capacitors are isolated and use the Realtek ALC1200 codec for clean listening. You'll never run out of memory either since 128GB is supported in Dual-Channel mode.
The back I/O has a nice plate and enough options to satisfy most users. The BIOS flashback button will make installing the 5800X a breeze. PS/2 and two USB 2.0 inputs are next to it, followed by the Wi-Fi antenna connections, HDMI, and two USB 3.2 Gen 1 ports. Four USB 3.2 Gen 2 10Gbps ports are next and include one of the USB-C variety. 2.5 Gbps Ethernet is a considerable upgrade over X470 models. An S/PDIF out is always nice to see among the five 3.5mm audio jacks.
Best Budget Motherboard for Ryzen 7 5800X: ASUS TUF Gaming X570-Plus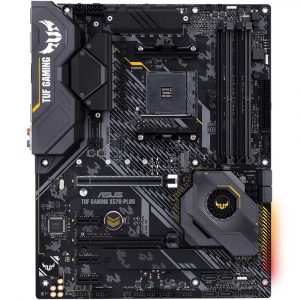 ASUS has successfully shaped the TUF brand into a recognizable choice for users interested in affordable hardware with cost-cutting measures that affect only unnecessary frills. That's why you won't find much RGB or the latest Wi-Fi chip on the TUF Gaming X570-Plus, but you do get a well-rounded board ready to tackle overclocking, advanced storage, and the latest GPUs.
Options in the $200 or less category abound, beginning with the board's non-wireless variant and models like the X570 AORUS Elite. It's also worth looking at high-end B550 alternatives like the MPG B550 GAMING EDGE WIFI.
You'll instantly recognize any TUF board due to the presence of yellow in its scheme. Still, the color is barely visible on this one. A central grey line pattern is the real eye-catcher, stretching from the chipset to the I/O shroud. There's not much RGB on the board, just a small strip to the chipset's right. You don't get many expansion opportunities either with only three RGB headers.
There are no storage compromises as the board supports two M.2 and a surprising eight SATA disks. The M.2 slots can handle 110mm long drives, but keep in mind that only the bottom one has a heatsink. That's where you'll want to place your boot drive since it will sit under the main GPU, unlike the top one that will experience the card's exhaust. The top GPU slot is strengthened with steel to prevent sag.
Overclocking your 5800X should present no issues on this mobo because of its robust heatsinks and serviceable VRM. The heatsinks are made from thick metal and have enough surface area to dissipate heat efficiently. The VRM has 12+2 50A phases in a tripled configuration that lets a cheaper PWM chip handle them. This setup is more than enough for stable and trouble-free performance way past stock levels.
There's no integrated back I/O, an omission you're likely not to miss much. Eight USB inputs and PS/2 take care of peripherals and external storage, USB-C included. DisplayPort and HDMI handle APUs while the high-grade audio stack puts out 8-channel sound thanks to the beefed-up Realtek ALC S1200A codec. You won't stay isolated either since the remaining connections handle Wi-Fi, Bluetooth, and Gigabit LAN.
Best Ryzen 7 5800X Motherboard for Productivity & Workstations: Gigabyte B550 Vision D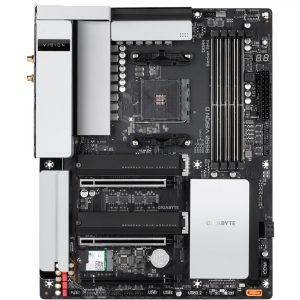 AMD's chips are renowned for their multi-core performance, a trait that makes the 5800X desirable for productivity and content creation. Suppose you need this or even higher-tier CPUs for work purposes or things like 3D modeling or photo editing. In that case, there's one board that will do the job better than the rest – Gigabyte's Vision D. It features two Thunderbolt 3 ports, support for Quadro cards, and lots of overclocking potential. Don't let its B550 designation fool you – this mobo performs notably better than many of its X570 cousins.
Let's first take a moment to gush over the aesthetics. It's among the cleanest, most mature-looking motherboards released in years, accumulating nods of approval with its plain black PCB & simple white heatsinks that combine into a sophisticated whole. You could activate the RGB and trick the board out with five more light sources, but would you really want to?
The B550 Vision D isn't focused on gaming, but that doesn't stop it from having commendable overclocking abilities. A 12+2 doubled VRM is at its heart, supplying the 5800x with stable voltages and an excessive 600A current. A pair of plain-looking but robust heatsinks support the VRM as they radiate heat away from the CPU efficiently. You might want to look into overclocking the RAM as well. The process is straightforward, and you can theoretically get one stick to 5,100MHz with 5000-series chips.
The B550 format brings both limitations and advantages. On the one hand, only one of two M.2 disks will benefit from PCIe 4.0. There are also four SATA ports instead of the usual six. On the other hand, the board and especially the chipset are more thermally efficient overall. You don't have to worry about future GPU throttling, though, since the two upper armored x16 slots run off the CPU and utilize PCIe 4.0. They're also certified for handling NVidia's pro-oriented Quadro cards.
One look at the plated I/O is enough to realize that this is no ordinary motherboard. Two Gigabit LAN ports and Wi-Fi 6 offer online access, and the 5+1 audio stack is compatible with DTS X Ultra. Two USB-C ports double as Thunderbolt 3, allowing you to daisy-chain twelve devices into a super-efficient file transfer system, recharge devices, or use the board with multiple monitors. There's also HDMI and DP in, the latter being a welcome addition for users with graphics tablets.
Best Micro-ATX Motherboard for Ryzen 7 5800X: ASRock X570M PRO4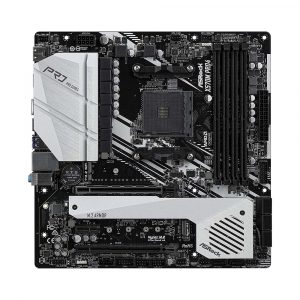 There's only one mATX X570 motherboard worth talking about, and ASRock makes it. It's among the company's more budget-friendly offerings, which you shouldn't take as a sign of inferior quality. In fact, the mobo draws positive attention with its reasonable power needs and solid gaming results.
You'll have to look at B550 motherboards if you don't like this one since the mATX selection is better. We recommend either the MSI B550M Mortar or Gigabyte's B550M AORUS PRO.
This is the second black & white mobo in the showcase, and while not as attractive as the Vision D, it has a charm of its own. The chipset fan's white exhaust is particularly fetching, as is the line pattern that extends from the PCB to the I/O shroud.
The 40mm fan is noiseless and keeps chipset temps in check. Additionally, it blows cold air onto the single M.2 heatsink. The other M.2 slot doesn't have one, but at least both use PCIe 4.0 and accept drives with the longest form factor. You can also hook up eight SATA disks, which is quite an achievement for such a small board.
The X570M PRO4's overclocking capabilities are solid when paired with the 5800X. The combination of power phases and a sizeable heatsink for most of them will serve their purpose well as long as you don't overboard. The same is true for the RAM. You can tweak the settings for both from inside the board's accessible BIOS.
That leaves the back connections, which are plentiful but also exposed. All eight USBs are 3.2 Gen 1 or better, with single USB 3.2 Gen A & C offering 10 Gbps speeds. PS/2 is present should you want to connect older keyboards or mice, and Gigabit LAN is still an adequate means of online access. You get only three analog audio jacks plus HDMI & DisplayPort should you ever switch to a processor with integrated graphics.
Best Mini-ITX Motherboard for Ryzen 7 5800X: GIGABYTE X570 I AORUS Pro WiFi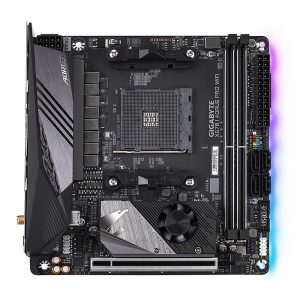 Gigabyte has an AORUS board for everyone, even for SFF enthusiasts. The ITX mobo might be the runt of the family, but it performs on par with the company's other mid-tier gear. Get it if you want dependable hassle-free performance even under load, a clever layout, and a healthy spread of connections.
ASRock and ASUS make slightly more expensive alternatives if gigabyte's mobo doesn't scratch your small form factor itch.
Black dominates the motherboard's PCB and imposing heatsinks and keeps company with just enough brushed aluminum silver to keep boredom at bay. Size is of little concern for RGB lovers since one side of the board sports a strip out of the box. One addressable and standard header each offer even more choices.
Optimum use of space is among the X570 I AORUS Pro WiFi's strong suits. For example, the chipset and front M.2 disk share a single heatsink that benefits the SSD by cooling it with fresh air. The board's back houses the other M.2 slot and is reinforced much like the GPU and DIMM slots. This gives it more structural stability for handling heavier graphics cards and CPU coolers but also improves heat management.
All of the 6+2 phases are to the left of the CPU socket, eliminating the need for a second heatsink. The primary one is solid and large enough to handle heat in conjunction with the armored back. Best of all, there's no doubling – you get eight physical phases for improved power efficiency and negligible voltage drops. Only two memory slots are present, but they're good for 64GB of RAM with clocks exceeding 5GHz.
There's not much room for user-defined cooling improvements since you only get two hybrid fan headers. Hard drive and SATA SSD storage is limited to four ports, but that's not irregular for ITX. USB 2.0 and 3.2 Gen 1 headers round up the noteworthy internals.
Gigabyte usually studs the I/O with lots of ports but had to rein it in due to space constraints this time. You'll see it in the halved audio stack and six USB ports. Surprisingly, you get two HDMI outs on top of DisplayPort. A flashback button is always welcome, as are the two antenna connections. Finally, there's Gigabit LAN for a physical internet hookup.
Frequently Asked Questions
Absolutely! The entire first batch of Zen3 processors has proven that AMD is back in the running and consistently outperforming Intel. Yes, that includes gaming as well as productivity. The chip is a bit more expensive this time but still manages to be the better value option.
What motherboard is compatible with Ryzen 5800X?
AMD currently has the edge over Intel as many aging motherboards still support the newest generation of CPUs. You can get the 5800X to work with the majority of X470 and B450 boards through BIOS updates if you've bought one for an older processor. The 5800X has been out since the end of 2020, so B550 and X570 boards sold today should have updated BIOS features that let them recognize the chip without needing an older one first.
Motherboards today are pretty standardized, and you'll find excellent examples across multiple price tiers. Yes, a highly-regarded B550 board will work fine with the 5800X, especially if you didn't keep it running at stock clocks.
While they cost more, X570 mobos also offer more for users interested in high-end features and futureproofing. Their chipset supports PCIe 4.0, so none of your SSDs and GPUs will be bound by the older standard's slower speeds. X570 boards also tend to have larger and better VRMs that give you more headroom to OC the 5800x without worrying about temperatures or voltages.