6 Best CPU Coolers for i5-11600K in 2023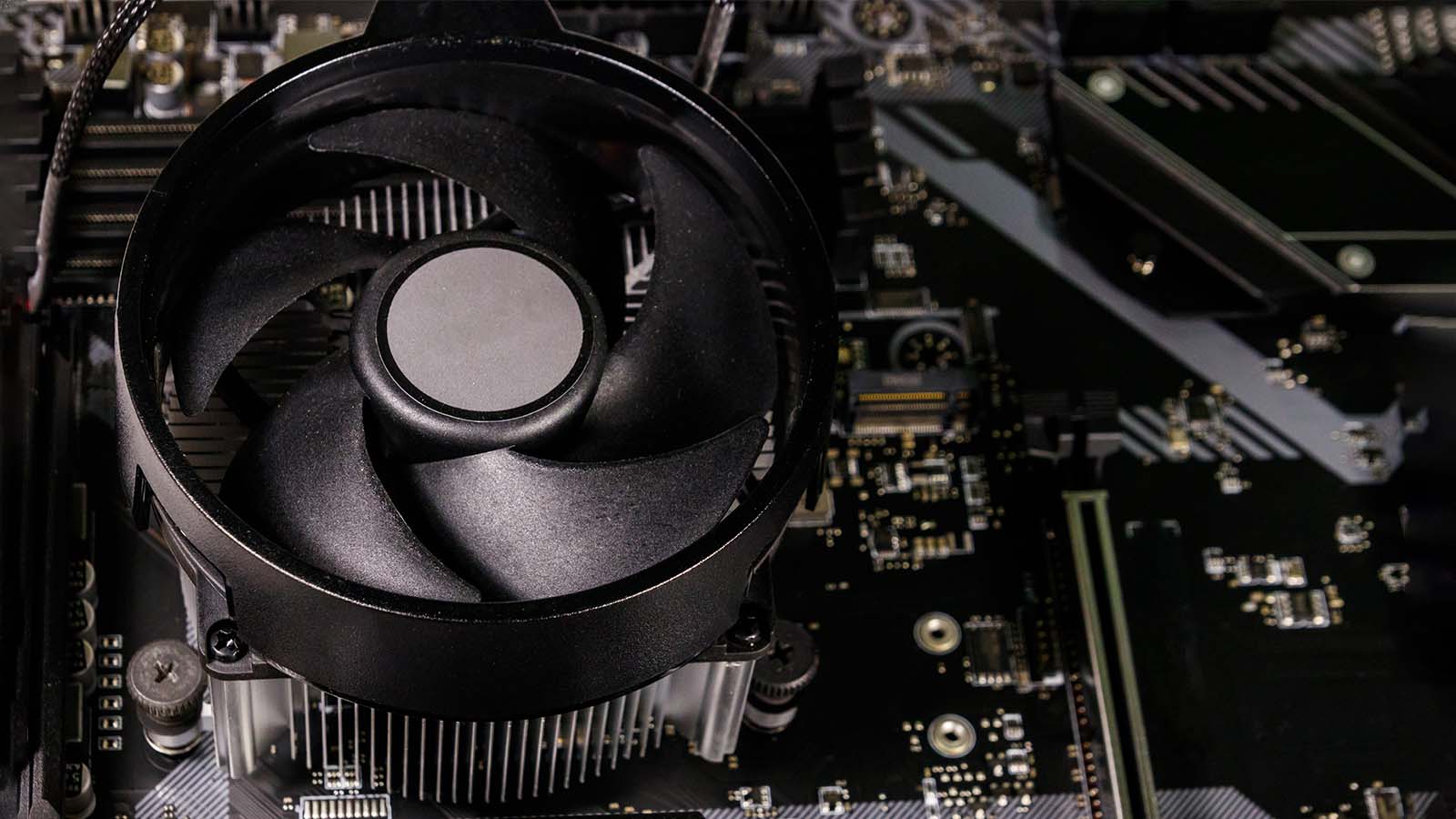 Intel's i9 and i7 Rocket Lake offerings turned out to be duds since the only tangible difference between them and their Comet Lake forbears was a price increase. It's up to mainstream i5 CPUs to defend Team Blue's honor, and the 11600K does an admirable job. It's considerably faster when it comes to number crunching or multi-threaded workloads while giving AMD a run for its money for gaming too.
This comes at the cost of increased power demands. The 11600K has a TDP of 125W, which puts it in the same category as older i9 chips. You'll need better cooling for it than for any other i5 processor to date, which is why our guide on the best CPU coolers for i5-11600K is just what the doctor ordered. Explore our recommendations across a broad category range and help your new chip run at optimum efficiency.
Best AIO Cooler for i5-11600K: ARCTIC Liquid Freezer II 280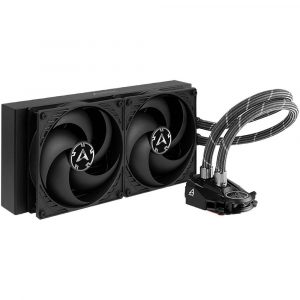 While it performs better than the 10600K, the 11600K is noticeably warmer due to a sizeable increase in TDP. That means you'll want some serious cooling potential if extreme overclocking is your game. Arctic is the company with a unique AIO solution to make it happen. This is the most expensive cooler on our list, but the chill way it handles the 11600K at its hottest makes it all worthwhile.
The Corsair Hydro H100x is also worth your time if you want to spend a little less or don't have room for a 120mm radiator.
Stating that the Liquid Freezer II 280 is unique was no exaggeration, as you'll discover as soon as you see its head unit. The part is large, plastic, and engineered to direct your attention to the 40mm fan on top. It blows air onto the VRM, lowering ambient as well as CPU temperatures with aplomb. The cold plate underneath is pure copper and looks sanded. It makes excellent contact with the processor once you apply the included thermal compound.
The radiator also sports a different if less novel design. Its thickness is 38mm, considerably more than the 27 and 30mm standard. That allows for more fins that aren't as densely packed and excel at releasing heat into the surroundings. There it's directed away by two powerful 140mm fans. Their CFM or Cubic Feet per Minute output exceeds 70, ensuring prompt and effective heat exchange.
The different head unit design has no bearing on the ease of installation. The process consists of securing brackets to the motherboard & pump, like installing an air cooler. Then you have to secure the 280mm radiator on the top of your case, and you're done since the tubes come preassembled. Keep in mind that the head unit and fans run off of the same PWM header.
Tests conducted by Guru3D show just how effective this cooler is at keeping power-hungry processors in check. They paired it with an i9-9900K, which is a much more demanding chip when overclocked. The results are impressive, both in terms of thermal performance at high clocks and the low amount of generated noise.
Best Air cooler for i5-11600K: Noctua NH-U12S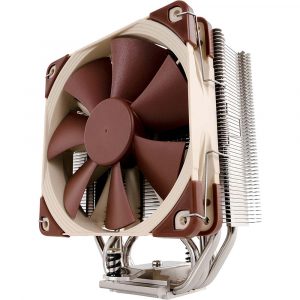 It's extremely rare in the PC world to recommend products that are more than a couple of years old, but we do so without hesitation when Noctua coolers are concerned. This one has already seen to the temperature management needs of several CPU generations and shows no signs of slowing down. It will handle an overclocked 11600K without trouble, barely makes a sound, and is reasonably priced to boot.
Users interested in constantly maintaining max clocks at even lower temps will want to go for the legendary NH-D15, provided they don't mind spending $15 extra.
Whether you're a in love with or loathe the combo, there's no denying that Noctua coolers stand out visually due to their tan and brown fans. Clashes with most modern aesthetics aside, the NF-F12 PWN fan is exemplary, with a CFM of more than 90 if you run it at full blast, that is to say, 1,500 RPM. An included limiter lets you lower that to 1,200 RPM if you want to trade more airflow for a quieter PC.
Examining the heatsink and nickel-plated pipes reveals how Noctua's specific small changes have a big impact on performance. For example, each of the four pipes enters the heatsink at a different angle, leaving itself more exposed and increasing heat transfer into its surroundings. The 50 fins are closed off on the sides, forcing air to pass through them directly. Additionally, a series of teeth marks on the front and back disturb the airflow, causing air to spin and whisk away even more heat.
There's not much to say about installing the NH-U12S other than it's straightforward and that the cooler's relatively small size won't disturb adjacent components.
Real-life testing is where the cooler shows its tremendous value. It was able to keep an i9-9900K at more than acceptable temperatures, not just in everyday use, but it persevered through grueling tests like ones offered by AIDA64. It is highly unlikely that your 11600K will ever be subjected to such torture while gaming or working, plus it is a less demanding chip in the first place.
Best Silent Cooler for i5-11600K: Scythe Ninja 5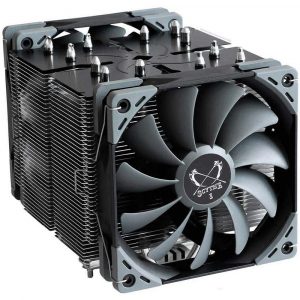 Rather than bringing out new designs year after year, Scythe is known for constantly improving their already excellent lineup. For example, we've chosen their fifth Ninja cooler because of noiseless operation and the improvements it has over its predecessors in terms of installation and efficiency. Chances are you won't even hear it over the rest of your system's fans, even when the 11600K is near its limit.
The Shadow Rock 3 is a great alternative from be quiet! if you want to save a few bucks.
The first thing you'll notice about the cooler is how massive it is! Even so, it has enough room to accommodate tall RAM sticks without issue. Decorations are scarce, save for the embossed shuriken design on the top of the heatsink. You get two 120mm Kaze Flex fans to put on each end. Their CFM score is in the 40s, and they turn relatively slowly, between 300 & 800 RPM. That ensures the fans are barely audible, which we'll cover in a moment.
The heatsink has an intriguing four-part design that converges in the middle. It's made up of 40 aluminum fins, the topmost being black. Six nickel-plated heatpipes reach out of the base at different angles and penetrate the fins in groups of three. This ensures even heat dispersion and gives the pipes more room to breathe. The base offers room for the crossbar and is thick enough to act as a pre-cooler.
Users who bought the Ninja 5's predecessor complained about the complicated installation process. Scythe streamlined it this time, bringing it in line with standard procedures. 11600K users are doubly in luck since the backplate is already configured to be mounted on an LGA 1200 mobos. You attach some spacers to it and isolate them, set up the brackets, and screw in the heatsink. Adding the fans isn't a hassle either since you get four metal clips for the job.
This is by far one of the quietest coolers we've ever seen. Even more impressively, its volume barely increases at 100% due to the low max RPM. One would think that this reflects poorly on its ability to radiate heat away from your CPU, but the Ninja 5 does well, even if compared with water cooling alternatives.
Best Low-profile Cooler for i5-11600K: Noctua NH-L12S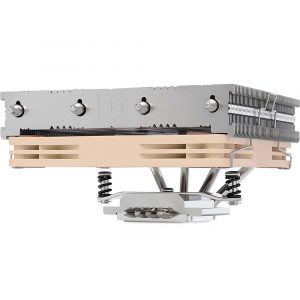 We've seen how well Noctua performs when space is not an issue, but the NH-L12S s proof that the company also knows how to design an outstanding fan for SFF builds. Its main draw is complete compatibility with any RAM kits, VRMs, or beefy GPUs your system might possess. Best of all, the cooler provides adequate heat reduction at more than tolerable noise levels.
If you want to overclock the 11600F and have concerns about your case's airflow, go with the more expensive Dark Rock TF 2 instead.
If you've seen one Noctua cooler, you've seen most of them. The iconic fan look is present here, albeit the fan is secure on the top of the thin heatsink. It's designated as NF-A12x15 and is 120mm tall with a thickness of just 15mm. The fan reaches speeds of 1,800 RPM, which makes sense given its size. We see the same attention to detail as with larger fans, like the dimples on each fan blade that agitate the air as it passes.
The heatsink might be small, but it's no less impressive than on other Noctua models. There are 58 aluminum blades in its construction, equally distant from one another and precision-engineered to capture and pass sizeable quantities of turbulent air. The copper pipes are clustered towards the base but spread out as they near the heatsink, taking a 90-degree turn before sliding in. They're plated in nickel, as is the base.
The installation is standardized and should pose no problem, especially since the heatsink gives way on the sides for easier access to the two mounting screws. The assembled cooler takes up more space than the stock one it replaces. Still, its elevation ensures that it will never come into contact with the RAM or other parts of the mobo.
Performance-wise, the NH-L12S is good enough to keep your 11600K running at reasonable temperatures if you don't plan on overclocking. Like most Noctua coolers, it will do so quietly even if the fan approaches its maximum RPM.
Best RGB Cooler for i5-11600K: Cooler Master MasterAir MA410M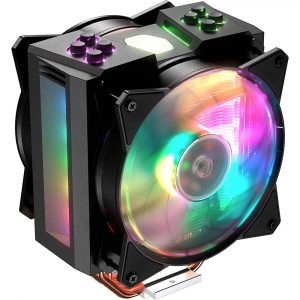 Want to show off the 11600K's power through a flashy cooler? Then Cooler Master has got you covered. Their dual-fan cooler is hefty and doesn't make a ruckus even when taxed to its limit. Best of all, it emits a diffuse glow that's sure to mesmerize anyone who stops to admire it.
You might also want to take a look at the Enermax ETS-T50 Axe, especially if you're building a white-themed PC.
The MasterAir MA410M looks imposing with its lighting off since it has two fans with large housings and is clad in plastic armor on the sides. The fans have transparent fins, run from 650 to 1,800 RPM, and can push out a decent 53CFM of air when your CPU is under serious load.
The mentioned plastic cage gives substance to the cooler, but its primary function is to house a multitude of LEDs. You get a regular PWM splitter cable to power the fans, as well as a 4-pin controller that plugs into the cooler on one side and one of your board's addressable RGB headers on the other. The cage also serves to better direct airflow through the push-pull configuration of the fans.
Arraying the RGB LEDs in the middle causes light to bounce off the blades and creates a pleasing effect. There's a cutout in the shape of the Cooler Master logo in the heatsink's middle that lets you look down and experience an infinite mirror light show. A temperature sensor sits at the bottom and informs the controller to display the proper color based on the CPU's current temperature as one of the lighting options.
The MasterAir MA410M isn't as effective at dissipating heat as similarly-priced coolers that lack RGB functionality. That being said, it can still maintain acceptable temperatures and never gets too loud. Keep in mind that installing it is trickier than with most coolers since cable management is more involving. Luckily, there are no clearance issues.
Best Budget Cooler for i5-11600K: Scythe Fuma 2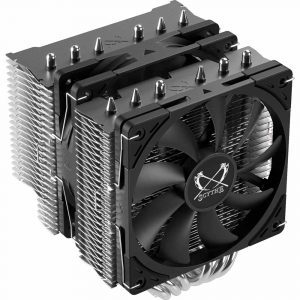 Scythe makes quiet coolers, but it also has affordable ones that can still come to grips with the 11600K's considerable power draw. The one on review is effortless to install. Sports more than enough room for different RAM types, and doesn't get much louder than the Ninja 5 to boot.
The Mugen 5 is another great recommendation from Scythe you can get if you don't want to overclock and need it to perform silently. Alternately, you can spend even less on the fantastic Freezer 34 eSports DUO.
There's no doubt that the Fuma 2 means business – just take a look at its massive twin heatsinks and accompanying fans! The latter are a pair of Kaze Flex 120mm PWM units that range in TDP from 300 to 1200. The middle one is thicker at 25mm, 27 if you take the rubber shock absorbers into account. The outer one is 10mm thinner. While the two will be enough for an 11600K, there's an additional set of clamps in the box for a third fan.
The dual heatsink design is as efficient as it is practical. Immediately noticeable is the thickness disparity since the front stack is much thinner. The 49 fins have saw-tooth indents on the sides for visual flair, and the bottom four back ones are shorter to ensure they don't obstruct the memory. Six pairs of pipes spread out evenly to punch through each stack in an orderly line. A sizeable base holds them in place and doubles as a pre-cooler, thanks to a lot of weight and cutouts, which increase its area.
You'll have no trouble installing the Fuma 2 if you've done the procedure before. First-timers might hesitate during the final screw-in since the crossbar tends to wobble while loose. That's easy to fix by giving each screw equal attention until you're at the end of their threads.
Hats off to Scythe for designing an affordable cooler that delivers respectable results even if you overclock the 11600K. Techpowerup tested it with an 8700K that has a slightly lower TDP. You can expect a few more degrees under load with the newer chip and equally satisfying acoustics.
Frequently Asked Questions
Does the i5-11600K come with a cooler?
The 11600K is an unlocked processor, as denoted by the K in its name. K processors don't come with coolers since Intel reasons you'll want to get an aftermarket part that does the job better than what it can produce. It's a good call since Intel's stock coolers are notoriously mediocre and not including one keeps prices low.
Does an i5 need liquid cooling?
The answer would have been a clear no a generation ago. However, the 11600K has increased power needs over its predecessors and runs warmer as a result. You can still use mid-range coolers if you keep it close to the base clock or more expensive ones if you want a stable system at high frequencies.
Liquid cooling is a valid alternative now. Especially since you can invest in an affordable AIO model and experience considerable temperature & noise drops as a result.
While high-end Rocket Lake processors turned out to be a disappointment, the mid-range is excellent this time around. The 11600K is cheaper than AMD's 5600X while delivering comparable results in gaming. More importantly, the generational IPC boost final translates into gains in multi-threaded applications, placing Intel's chip on equal footing with the competition.