6 Best CPU Coolers for Ryzen 7 5800X in 2023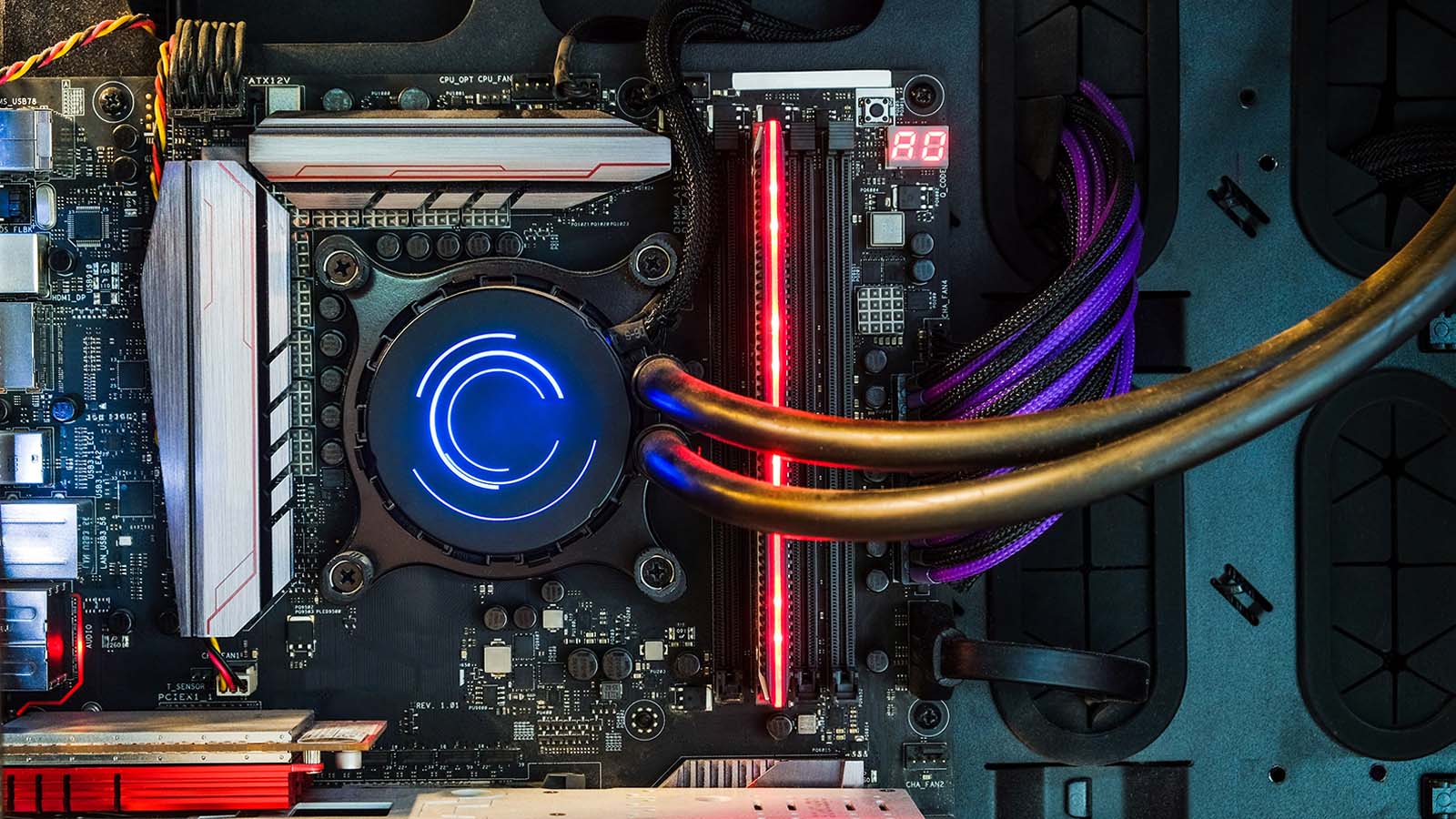 The Zen 3 processor line is the latest in AMD's streak of game-changing achievements. Take the 5800X, for example. It features improved IPC over the 3800X and performs noticeably better in multithreaded applications. More importantly for many, it gives the Core series a run for its money when asked to run demanding games at the highest settings. It also sports a lower TDP than Intel's closest competitors.
While a lower TDP makes the 5800X slightly easier to cool, it's still a powerful processor that demands careful consideration when it comes to cooler selection. This article aims to make your decision easier by showcasing what we believe are the best CPU coolers for Ryzen 7 5800X you can currently get. The recommendations range from liquid to air cooling and fulfill different criteria, so finding the perfect cooler for your new processor is as easy as reading about what makes each special.
Best AIO Cooler for Ryzen 7 5800X: Lian Li Galahad AIO 360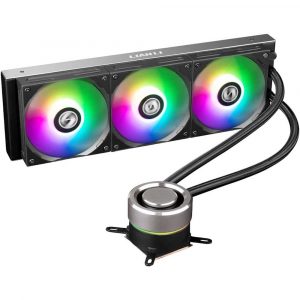 Like many areas of the PC building world, the best AIOs are made by a handful of companies. Therefore it's with great pleasure to see that another is making a big splash with its first-ever attempt at liquid cooling. You might have appreciated Lian Li for its excellent cases and fans, but the Galahad is good enough to secure it a place among the AIO greats as well.
The usual suspects offer excellent alternatives too. Try the NZXT Kraken X63 or Corsair's H115i RGB Pro instead if you can't find Lian Li's cooler or your case doesn't support 360mm radiators.
Lian Li's approach to aesthetics is simple yet charming. The head unit is cylinder-shaped and has a rotating aluminum top with the company's logo you can cover up with an aluminum lid. The pump is tall but doesn't have a large footprint. Two tubes that end in swivel fittings enter it on one side, along with wires for the pump power & ARGB. The cold plate is copper and slightly convex.
The Galahad AIO 360's radiator is clad in premium aluminum plating but would be heftier than most even without it. That's due to a thicker fin density of 22 fins per inch. Such a radiator requires fans able to reach greater static pressure, which the AIO has. The three 120mm units spin between 800 and 1,900 RPM and blow out 69 CFM of air. Each comes with an ARGB and a PWM header. Three-way splitter cables are provided for both, and you can run the ARGB through a controller.
Installing the AIO on your AM4 motherboard is straightforward since you can keep the original backplate and only need to replace the pump's premounted Intel brackets with AMD ones. Tightening these down, screwing the fans & radiator in, and connecting the various cables is all it takes. You can leave RGB up to your mobo's sync software or use the controller instead. Going for the latter lets you cycle through a basic set of effects and color choices without a hassle.
We've chosen the Galahad because of its stellar performance. It has no trouble maintaining pleasant temps when cooling overclocked AMD CPUs. Better yet, the low noise it produces in normal working conditions makes this one of the quietest AIOs out right now. Yes, cranking the fans up to 100% does result in a lot of noise, but the degree or two you'd gain by doing so isn't worth it.
Best Budget AIO Cooler for Ryzen 7 5800X: ARCTIC Liquid Freezer II 280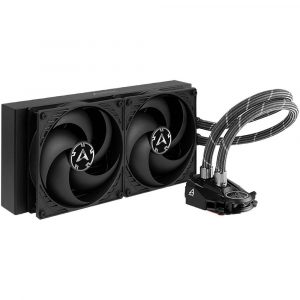 Most AIO manufacturers source their pumps from third parties like Asetek, which limits their choices and can even cause patent disputes. Ever a company known for innovation, Arctic decided to make a new AIO line based on a pump design developed in-house. The result is an exceptionally capable series of coolers that punch far above their weight class.
Want something less plain-looking? Then try the MasterLiquid ML280 and its RGB head unit.
It's evident that this isn't your run-of-the-mill AIO as soon as you spot its weird-looking pump. Its sci-fi design accommodates a 3,000 RPM 40mm fan that blasts cold air onto adjacent components. Orienting the pump at different angles isn't a problem, so you can choose to cool your GPU rather than the VRM or RAM.
While not as refined, the radiator isn't ordinary either. It is 38mm thick, which allows for more fins that don't need to be as densely packed to cool your 5800X adequately. A pair of preinstalled fans are up to the task since they're of the 140mm variety and capable of pushing air out at 72 CFM. Interestingly, their cabling travels down to the pump as part of the two braided tubes, making for a much cleaner look.
There's little you have to do to get the Liquid Freezer II 280 up and running since much of it is already put together. Your part boils down to securing the AMD top bracket to the head unit and screwing that onto the backplate. Cable management is excellent as well since you only need one PWM header to run the entire AIO.
The results speak for themselves. Expect an admirable performance whether you're running the 5800X at stock clocks or getting the last drop of power out of it. Better still, neither the pump nor radiator fans are loud when working at total capacity.
Best Air Cooler for Ryzen 7 5800X: DeepCool Assassin III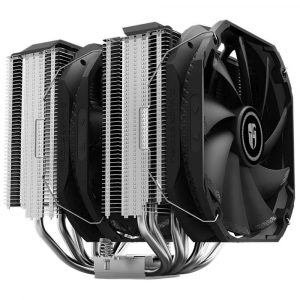 Most people will name Noctua when asked about premium air coolers, and rightfully so. However, DeepCool's newest Assassin has what it takes to be mentioned in the same breath as the beige-brown mainstay. It's almost as huge, performs negligibly worse, and is cheaper to boot. Quiet performance under the right circumstances is a welcome bonus too.
Noctua offers premium coolers, both cheaper and more expensive than this one. Go for the AM4 version of the classic NH-D15 if you have the RAM & GPU clearance, or check out the NH-U14S if you need something smaller.
There's no getting around the Assassin III's considerable bulk. Its heatsink stands 170mm tall, which shouldn't pose a problem in most cases. It's a dual-fan setup with two 140mm TF 140S fans in the front and middle. They each deliver an impressive 90 CFM of airflow and have an RPM rating between 400 and 1,400 due to their large size. You also get a limiter that can reduce the max RPM further.
Examining the heatsink reveals it's split into two stacks of dense aluminum fins with plates on either side. These increase structural stability and force air to flow in a single direction. The design is basic since the only protrusions are there to make mounting the fans easier. Still, a couple of spoilers on top make the cooler more appealing. Seven pipes plated with nickel efficiently disperse heat throughout the heatsink.
DeepCool made sure the Assassin III was easy to set up despite its bulk. It comes with a universal backplate to which you have to attach screws and spacers in the AMD layout. Next come the two retention brackets, and, finally, the cooler itself. While not as bad as the NH-D15, the cooler's clearance is only 54mm. That means taller RAM kits won't fit. There's also the matter of the first expansion slot. You'll likely lose nothing more than access to an M.2 slot on ATX boards, but using the cooler with smaller boards isn't advisable.
The comparisons with Noctua's finest weren't exaggerated – the performance is negligibly worse or on par in real-world and stress testing. There are certainly quieter coolers out there as noise levels reach 45dB when under heavy load. Still, you can set the limiter and a custom fan curve up to help with that.
Best Silent Air Cooler for Ryzen 7 5800X: be quiet! Dark Rock 4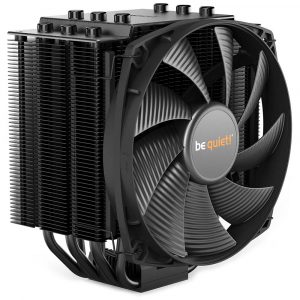 It might not be the hottest, but the 5800X can get toasty if pushed. Quite a few coolers can handle its heat, but not many are also whisper-quiet while doing so. Enter the Dark Rock 4, be quiet!'s penultimate solution to nearly noiseless cooling. It does the company name proud, performs well, and is among the most stylish models out there.
You might also want to step up to the PRO version if there's enough room for your RAM and your case's airflow is poor.
The Dark Rock 4 instantly attracts with its all-black stealthy aesthetic. The heatsink's lid is especially eye-catching since it's made from brushed aluminum and studded with heatpipe caps. This is a single tower design equipped with a SilentWings 135mm fan. The model has telltale be quiet! ribbed blades and maxes out at 1,400 RPM. It attaches to the heatsink via wire clips and has a rubberized casing that protects it from vibration.
You don't see heatsink designs as intricate as this one every day. The front is completely covered in a standard sawtooth pattern, while the back of the fins has indents and protrusions that break the already turbulent airflow up even more during exit. The blackened heatpipes are another highlight since they're thick and enter the base at odd angles, improving transfer efficiency. The base itself has a large groove that houses the crossbar and is thick enough to supplement heat dissipation.
Mounting the cooler starts by choosing the right set of holes for the 5800X and securing it to the mobo's back with screws and washers. Then you need to set up two brackets and insert the crossbar into the base's groove. Tightening that with two screws and attaching the fan completes the process.
Guru 3D's testing shows that the Dark Rock can cope with a power-hungry overclocked CPU and keep its temperatures well within reason. Its acoustic performance is superb! You might find coolers with lower idle noise levels, but the fact that these barely increase once the CPU starts pushing the cooler is impressive.
Best RGB Air Cooler for Ryzen 7 5800X: DeepCool GAMMAXX GT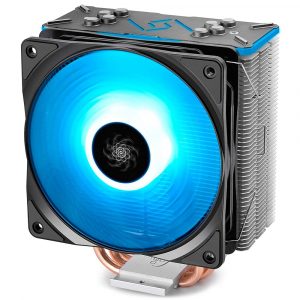 DeepCool also makes more affordable coolers like the Gammax GT. It's a bit less efficient than the Assassin series but makes up for that lack of noise and a striking appearance. Both the fan and heatsink lid have attractive lighting that RGB lovers will appreciate.
The GT's LEDs aren't addressable, so go with the Freezer 50 from Arctic or Cooler Master's MasterAir MA410M if individual LED customization is important to you.
Even though most of it is plain-looking, the cooler's top fin turns heads with its geometric cutouts, especially once you plug everything in and light from eight LEDs starts to shine through them. An RGB controller allows you to plug these and the six LEDs on the fan into an RGB header, or you can bypass the controller and let the motherboard do the synchronization. You'll be missing out on a handful of effects and color choices that way, though.
The 120mm fan features nine translucent blades, each with five grooves that help stir the air up as it passes. It delivers a respectable airflow of 70 CFM when rotating at 1,500 RPM. The fan can go as low as 500 while the CPU isn't in use.
There's little to say about the heatsink other than remark on the loose spacing of its 46 fins. That allows the already well-equipped fan to push a lot of air through the gaps. A V-shaped notch in the middle lets the fan build up more pressure before sending air inward. Only four bare heatpipes make direct contact with the processor and are set inside a thin aluminum base.
This is among the best coolers out there in terms of ease of installation. It follows a standard set of steps anyone who's built a PC before will know how to follow. Picking the set of AMD fitting holes on the backplate and applying some thermal paste before attaching the heatsink are the only two things to consider.
RGB coolers seldom do as well with thermals as similarly-priced standard models, and that's the case here as well. Still, you'll be able to run the 5800X at reasonable temperatures while enjoying the light show. Conversely, the cooler's quiet operation rivals that of our silent pick.
Best Budget Air Cooler for Ryzen 7 5800X: Scythe Mugen 5 Rev.B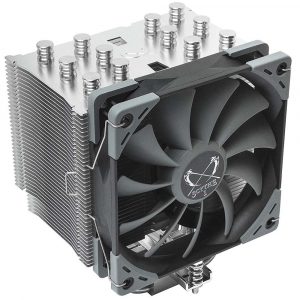 Recommending an affordable air cooler for the 5800X is more challenging than it looks, as there's no shortage of excellent contenders. Scythe's revised Mugen 5 won by a hair's breadth thanks to competent yet relatively quiet cooling at a sub-$50 price tag. It's effortless to install, fits various builds, and doesn't look too shabby either.
Two excellent dual-fan coolers come to mind as worthy replacements. Scythe's own Fuma 2 is a bit more expensive but delivers even better results. Alternatively, you could go with the fan-favorite Freezer 34 eSports DUO from arctic if there's room enough in your case.
You'd never guess that this is a budget-oriented model based on looks alone. The heatpipes and base are all nickel-plated. The fan has chunky rubber corners that mitigate vibration and extend its life. The blades are nothing special, but the Kaze Flex 120mm fan doesn't need speeds greater than 1,200 RPM to achieve an airflow rating of more than 50 CFM.
Looking at the heatsink's side shows how offset it is to accommodate the fan without impeding RAM. It has 39 fins, the bottom five of which are curtailed in the back to make room for additional memory on double-sided motherboards. Six heatpipes is a lot at this price, and they fan out to increase their exposure to the surroundings. The base comes with a fixed crossbar and doubles as a precooler, thanks to several deep cutouts.
Updated mounting hardware is the chief difference between the Mugen 5 Rev.B and the original. Now you get everything you need to mount the cooler onto an AM4 motherboard, except the backplate that you should already have. Clearance is excellent due to the offset, and you should experience no hiccups during installation.
What you will experience is admirable cooling efficiency whether you keep the 5800X at factory settings or decide to overclock it by a couple hundred MHz. The fan's low RPM translates into comfortably quiet operation under any circumstance, so that's a big plus too.
Frequently Asked Questions
Can you air cool a Ryzen 7 5800X?
Absolutely! The processor does get hot during stress tests and when performing hour-long, intensive multithreaded tasks like video encoding. However, the generated heat isn't so excessive that a quality air cooler couldn't handle it.
Techpowerup paired it with the Noctua NH-U14S, one of our alternative recommendations. The results suggest that it won't reach 80°C with this model during real-life usage, and that's not even the most capable air cooler on offer.
Is a 240mm radiator enough for 5800X?
Yes, several 240mm radiators have what it takes to sufficiently cool the 5800X. For example, the 240mm variants of the Galahad and Liquid Freezer II are up to the task, but so are models like the NZXT X53 or the H100i from Corsair. You'll generally get better results with larger radiators, and their fans won't have to spin as fast to keep up.
Does the 5800X come with a stock cooler?
Sadly, AMD decided to start copying Intel and isn't including coolers with their high-end processors anymore. It's a shame since the Wraith coolers that shipped with older models were great for users who didn't plan on overclocking. This generation of CPUs is pricier as well, so the notion of offering a better price as a result of the exclusion isn't true either. It's up to you to choose a good cooler, and we're here to help.