6 Best RAM for Ryzen 5 5600X in 2023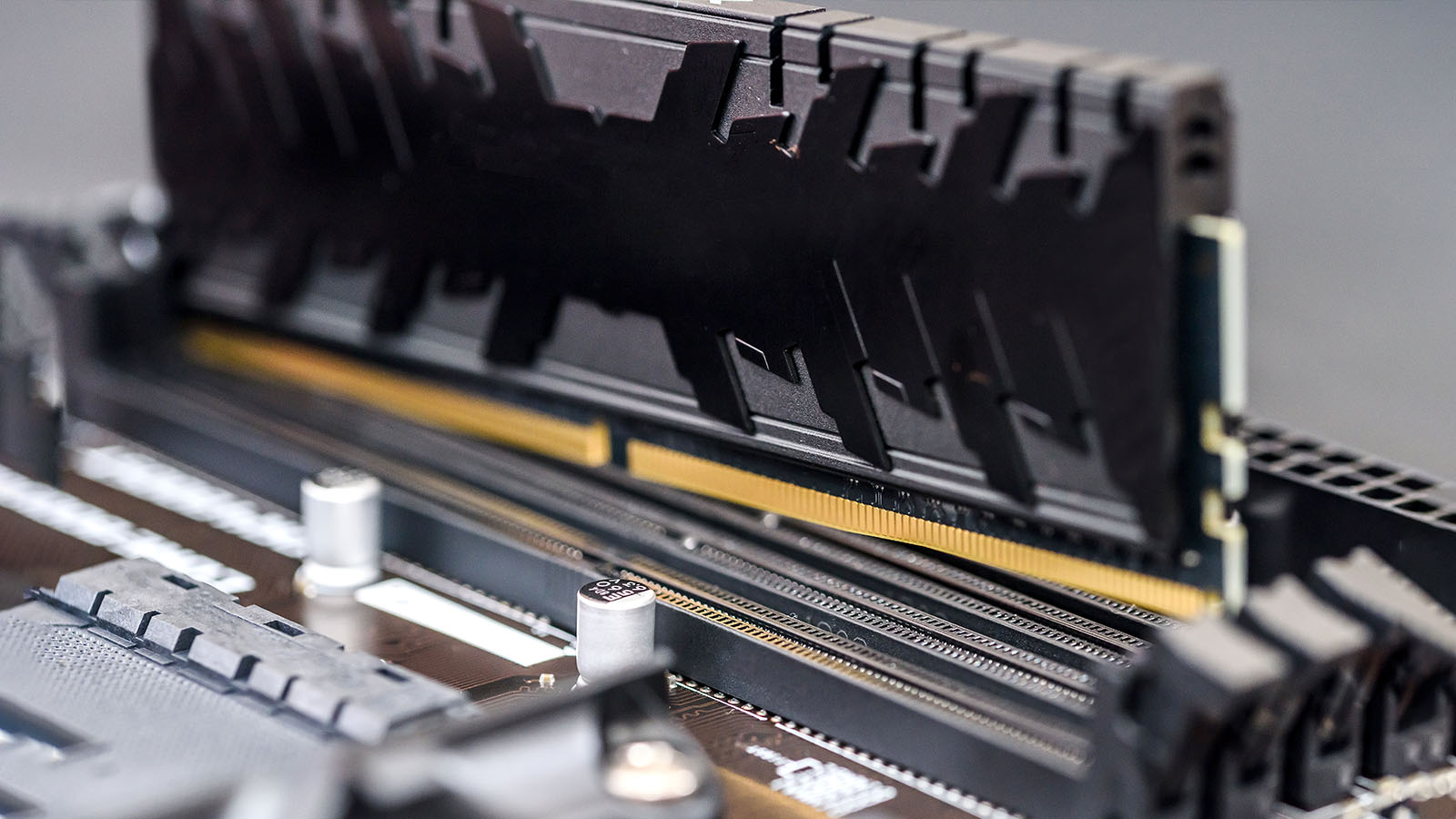 The least expensive among AMD's new X-series Ryzen chips is also the most compelling. It maintains the lead in applications that take full advantage of multi-core processors while also finally matching Intel's finest when it's time to relax with some games. Building the right PC around such a versatile chip is instrumental in tapping into its full potential, and the right RAM can make all the difference.
We've put together a list of the best RAM for Ryzen 5 5600X that's available today. Most users won't need more than 16GB. That kit category is in the focus of the first portion that breaks the recommendation down by price. You'll also find larger kits and slightly slower ones worth considering, so keep reading and discover the perfect memory accompaniment to your new processor.
Best High-end RAM for Ryzen 5 5600X: TEAMGROUP T-Force Xtreem ARGB 3600MHz 2x8GB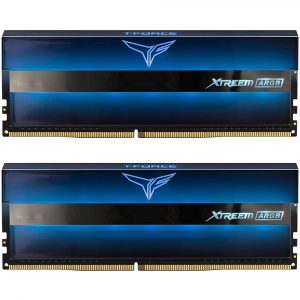 Want to bring out everything the 5600X has to offer? Then it's wise to go with first-class memory made specifically with Ryzen CPUs in mind. Team Group's new Xtreem kits hit the spot with impressively low latencies, excellent all-around performance, and breathtaking RGB lighting.
The memory is already beautiful out of the box with a black PCB and indigo plastic front cover that shines invitingly in the light. Turning your PC on causes the centrally-placed RGBs to kick in and produce a fountain of colors that diffuses towards the top and bottom thanks to an excellent mirror implementation.
Each module is single-rank and stands 49mm high. Looks aside, the Xtreem ARGB kit has one of the lowest stock latencies out there at 14-15-15-35 at 1.45V once your motherboard recognizes its XMP profile settings. Experienced users can tinker with the settings further and may reduce the CL to 13.
The high price quickly becomes palatable once you check out how this RAM performs. Some kits are better suited for one task or another, but the Xtreem ARGB is equally proficient at gaming and applications that require a lot of reading and writing to and from memory.
Best Mid-range RAM for Ryzen 5 5600X: G.Skill Trident Z NEO 3600MHz 2x8GB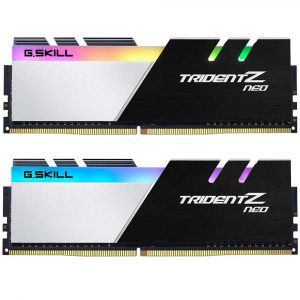 3600MHz with a CAS latency of 16 is the sweet spot for mid-range Ryzen CPUs, and the newest Trident Z modules from G.Skill offer just that. They're sleek, have cool-looking RGB, and you get some decent overclocking headroom if you know what you're doing.
Thermaltake's TOUGHRAM RGB DDR4 3600MHz 16GB kit is an intriguing alternative with a unique aesthetic and outside RGB management through Amazon Alexa.
The heat spreaders instantly draw attention with their two-toned black & silver color combo. The black part has a brushed aluminum look, while the silver is made from a copper alloy with a smooth finish. Two rows of five LEDs on top emit a diffuse glow that looks great but won't overshadow other components. You get G.Skill's lighting control software but can just as easily coordinate them with other light-emitting components through your motherboard.
The Trident Z NEO is 44mm tall and won't interfere with most coolers. Its XMP profile has one setting that tunes it to 3600MHz with a latency spread of 16-19-19-39. The incorporated Samsung B-die allows you to push the RAM either towards higher frequencies or CL as low as 14 at stock.
Gamers will love this kit since it scores high in framerate tests conducted in a variety of new and proven titles. There are better alternatives for productivity out there, but you'll be hard-pressed to find one that performs and looks as well in a gaming rig.
Best Budget RAM for Ryzen 5 5600X: Patriot Viper RGB 3600MHz 2x8GB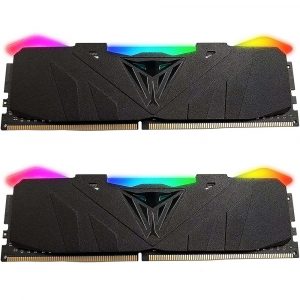 There's no need to spend large sums on premium RAM kits, even if you care about RGB. While not as accomplished as the best RAM on the list, The Viper RGB kit from Patriot performs much better than its sub-$100 price tag would have you believe. It's especially effective if overclocked but works well enough through its default XMP settings.
Don't need RGB? Then check out Crucial's Ballistics 16GB 3600MHz CL 16 kit instead.
Patriot adopts an aggressive appearance for its RAM with lots of sharp angles and a black & gray heat spreader. The RGB portion juts out in places with a Viper logo that breaks the otherwise solid bar up in the middle. You'll notice some color bleeding since the five configurable RGB zones overlap a bit.
At first glance, there's little to differentiate the Viper RGB kit from others in the stats department. Its default frequency is 2133MHz, which you can quickly upgrade by turning XMP on. A height of 45mm ensures optimum cooler clearance, and compatibility with major manufacturers' lighting software visually integrates the RAM into your system.
The memory's overclocking potential isn't as evident without some experimentation. Leaving it at stock delivers promising results in various games and applications like 7-Zip or Blender. You'll get even more if you overclock since doing so results in improved performance without sacrificing reliability.
Best 32GB RAM kit for Ryzen 5 5600X: Corsair Dominator Platinum RGB 3600MHz 4x8GB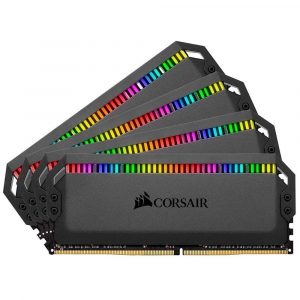 Having 16GB of RAM will set you up for the foreseeable future if all you do is play games. Still, content creators, 3D artists, or video editors need more. If you're one of them and want to have the most stylish kit around, Corsair's premium line of Dominator RAM is what your money would be spent on most wisely.
Corsair also makes a more affordable 32GB kit, the Vengeance RGB Pro. Its frequency is 400MHz lower, but the offset in performance isn't nearly as large as the price difference.
These sticks are a departure from today's primarily diffuse or armor-clad designs. They're slim and feature anodized heatsinks available either in black or white. Even more impressive are Corsair's innovative Capellix lights. They're brighter yet smaller than standard. That allows for more light to fit in a smaller area and eliminates the need for a diffuser.
The timing is a solid 16-18-18-36, considering you're getting a 4x8GB configuration. You'll want to ensure that the Dominator Platinum RGB modules fit inside your setup since their height is 55mm. Some large CPU air coolers might not support RAM as tall as this.
Pitting Corsair's top-shelf memory against the competition reveals it performs as well as you'd expect. Hexus conducted several tests with both lower and higher frequency kits. The results suggest Corsair's finest comes close to 1200MHz faster memory in most scenarios, regardless of whether raw stats like latency or framerates in games are at stake.
Best 64GB RAM Kit for Ryzen 5 5600X: Crucial Ballistix 3200MHz 2x32GB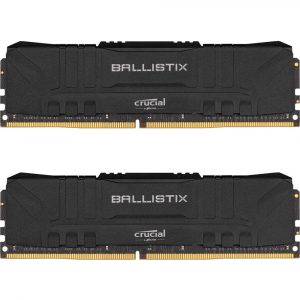 Most users won't need to think about investing in 32GB of RAM for a while, let alone 64. However, pairing the 5600X with as much memory will pay dividends for content creators who edit their own streams or anyone in need of readily accessible, fast memory to help run multiple virtual machines. Crucial delivers an affordable and effective solution catering to many more than just gamers.
Indeed, there's little to justify the "gaming" in the memory's name apart from tastefully machined black aluminum heatsinks on each stick. There's no trace of RGB, meaning you can incorporate the RAM into stealthy or work PCs with little effort. However, style-conscious buyers needn't fear since they can get white or red versions as well.
Stealth is also reflected in the Ballistix 3200 MHz DDR4's height of just 39mm. You can set it up inside small form factor PCs on mini-ITX boards and not worry about conflicting with a low-profile cooler. Height has no impact on heat dissipation or overclocking since the XMP settings it comes with let the memory achieve timings of 16-18-18-38.
This kit is a mixed bag if you only take results at stock values into account. It does very well in some games and applications but trails behind when stress testing or assessing read & write speeds. Micron equipped each stick with an E-die capable of more, though. It's possible to achieve a 200MHz clock speed increase as well as lower latencies without compromising system stability on AMD processors, with a corresponding increase in raw power.
Best 3200MHz RAM for Ryzen 5 5600X: G.Skill Trident Z RGB 3200MHz 2x8GB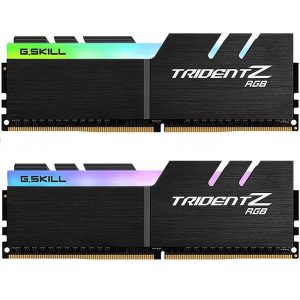 While It's mostly been superseded by faster RAM for top-tier configurations, there's still something to be said about well-engineered memory running at 3200MHz. Case in point, the older Trident Z series and its flagship CL14 16GB memory kit. It's on par with many nominally faster kits without breaking a sweat and comes with attention to detail you'd expect from G.Skill.
Users who want no-nonsense RAM that isn't flashy but performs exceptionally for less than $80 can't go wrong with Corsair's 3200MHz Vengeance LPX 16GB CL 16 kit.
One can clearly see the influence this memory had on the Neo since a black heat spreader dominates either side. It's made from brushed aluminum and has alternating protrusions that give the RGB underneath a zigzag pattern when viewed from above. The lighting itself has a diffuse glow and spreads evenly around the sticks.
The Trident Z RGB is as high as its successor, 44mm. Its stock latency is tighter, though, sitting at 14-14-14-34 with a voltage of 1.35V. That's excellent for anyone in need of quality RAM out of the box and can be tweaked further still.
Gamers Nexus did a comprehensive memory test a while back with this kit in the running. It scored very well in a series of trials designed to test how well the kits do in games as well as various artificial and productivity-based scenarios. The Trident Z found itself in the middle of the pack, besting some kits with lousier timings that were overclocked to as much as 4000MHz and showing that clock frequencies aren't everything.
Frequently Asked Questions
What RAM is best for Ryzen 5 5600X?
CPU performance isn't as closely tied to RAM speeds as it was when Zen was first released. Even so, the faster your RAM, the more use you'll get out of the 5600X. AMD processors are limited in terms of overclocking due to Infinity Fabric. It doesn't make sense to go with memory whose frequency exceeds 3600MHz if you're planning to populate the DIMM slots with more than two sticks. That being said, quality kits like the ones we're recommending allow you to push these limitations by a few hundred MHz.
Clock speed isn't everything, though. 3200MHz used to be the gold standard and is still a good choice for performance-oriented buyers, especially if you can get your hands on a reasonably-priced CL14 kit. Anything above 2400MHz will do if you're strapped for cash; just make sure you're buying at least two sticks to take advantage of dual-channel mode.
Is 16GB RAM enough for Ryzen 5 5600X?
Yes, 16GB is enough for all current games and the vast majority of programs. System requirements keep increasing slightly each year. it will be some time before 16GB won't be enough to run the latest games comfortably at their highest settings, though.
There are already some use cases where more RAM yields demonstrably better results. Video encoding comes to mind first, but running several virtual systems or rendering complex scenes are also common examples.
How much RAM does Ryzen 5 5600X support?
You can outfit the 5600X with as much as 128GB of RAM! That equates to four sticks of 32GB dual-channel memory. Normal-sized modern B- and Z-series motherboards can all handle as much. Mini-ITX models are excluded simply because they're physically limited to two RAM slots and thus to 64GB of it.