6 Best RAM for Ryzen 7 5800X in 2023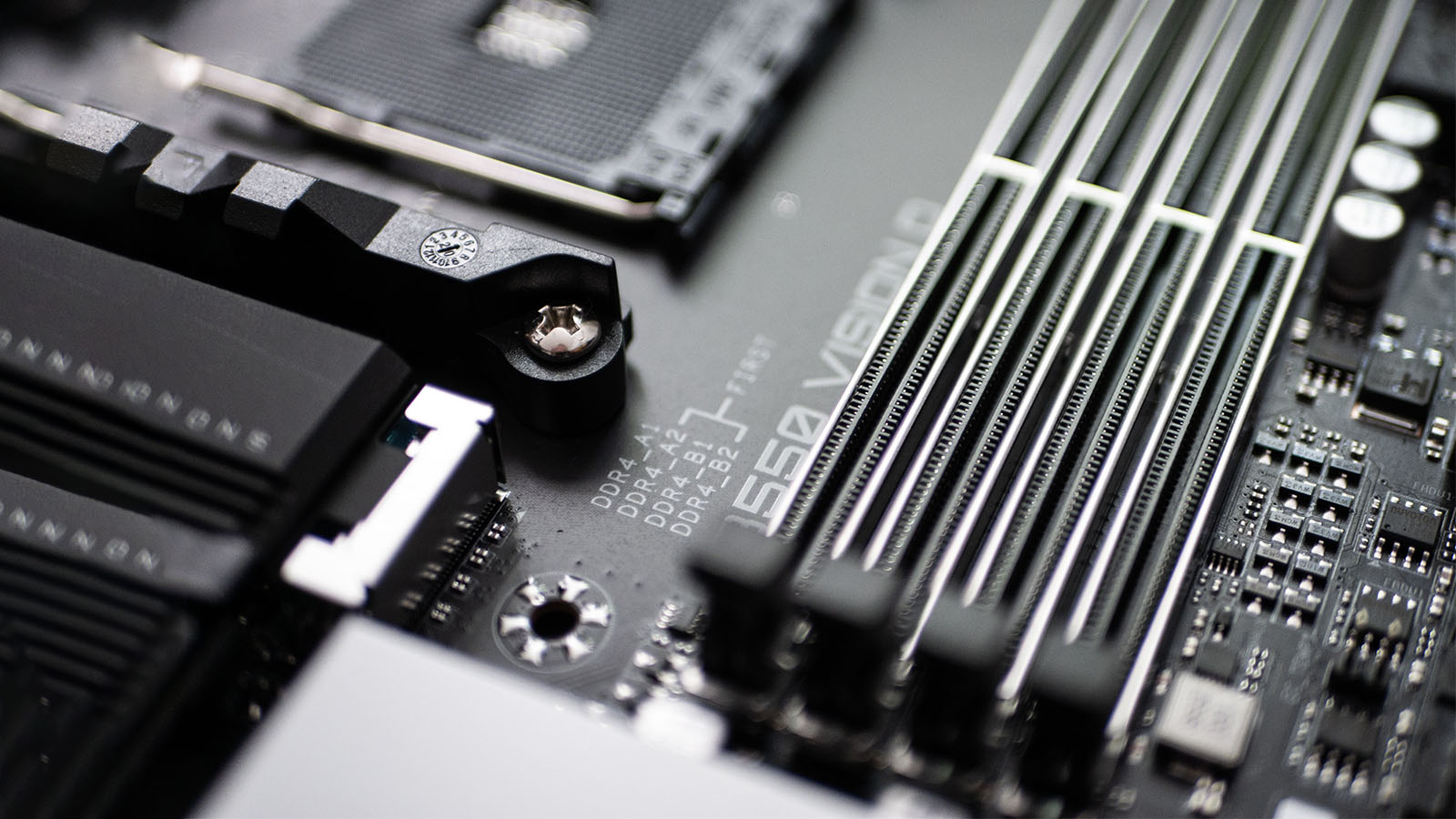 The first Zen launch proved to be among the most disruptive in recent PC history, paving the way for multithreaded processors to become mainstream. The platform has matured since then, and the 5800X serves as one of its finest examples. It's priced reasonably enough for hardcore gamers and creatives alike. More importantly, it delivers exceptional performance on both fronts while going easier on your power bill than Team Blue's alternatives.
There's also no sign of the initial versions' teething problems related to memory, so finding the best RAM for Ryzen 7 5800X won't be tedious. In fact, we've gathered all the pertinent info you'll need to make your decision here, so take a look and make the right choice regardless of your needs or budget.
Best High-end RAM for Ryzen 7 5800X: TEAMGROUP T-Force Xtreem ARGB 3600MHz 2x16GB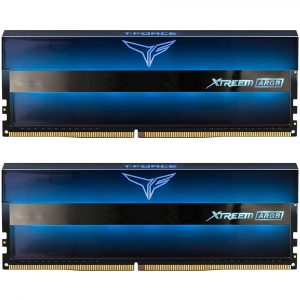 There's currently no better memory for 5000-series AMD processors than the Xtreem ARGB from Teamgroup. A bold claim backed up by fantastic results, stability, overclocking potential, and looks. It's true that a kit with looser timings and 16GB less won't set you back as much. However, nothing comes close in terms of raw numbers and futureproofing if you have the cash.
You'll realize that there's more to the Xtreem ARGB than meets the eye as soon as you unbox it. One entire side of the DIMM is clad in a plastic heat spreader colored dark blue and polished to a high sheen. It looks black in ordinary light and won't clash with the rest of your build, though.
A strip of aluminum on the same side houses 15 individually addressable LEDs that support lighting sync software from all major motherboard brands. The glow and produced effects are unique since the LEDs are split into two rows by the aluminum strip, casting light both upwards and downwards.
The DIMMs are 49mm tall, meaning that you should double-check your CPU cooler's clearance beforehand even though the majority should fit. Peeking under the hood reveals Samsung B-die ICs and a default CAS latency set to 14-15-15-35. The memory requires 1.45V of power to achieve these timings, which isn't concerning even though it's more than most competing kits require.
The ideal Ryzen frequency and tight timings translate into chart-topping performance figures no matter what you throw at the Xtreem ARGB. Expect low task completion times, blistering file-transfer speeds, and the most comfortable framerates in a wide array of games.
Best Mid-range RAM for Ryzen 7 5800X: G.Skill Trident Z NEO 3600MHz 2x8GB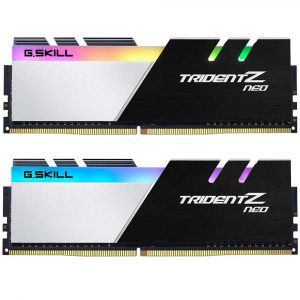 The 5800X is more than competent for gaming, and you won't need more than 16GB for that today or in the near future. Short of the 16GB version of the Xtreem, the newest Trident Z RAM from G.Skill is what you'll want to invest in if you're looking for a healthy mix of performance, aesthetics, and tweaking potential. It takes everything you've loved about previous Trident Z releases and cranks it up to 11, ensuring your CPU can reach its peak.
The NEO's appearance is an eye-catching mix of familiar staples and bold new ideas. The three telltale fins surrounding its diffuser instantly peg the RAM as a member of the Trident line. However, the contrasting black and silver heat spreader sets it apart from older models, contributing to an aesthetic that suits white or black builds equally well.
Let's not forget the RGB – it shines through the milky diffuser with excellent transitions and no bleed. You may integrate it with all the major motherboard lighting synchronization programs. G.Skill also provides its own easy-to-use software so you can do so independently. The diffuser barely interferes with the sticks' height, which is a reasonable 44mm.
The CAS latency you get from the Trident Z NEO's XMP settings is a solid if unremarkable 16-19-19-38 at 1.35V. This is already plenty for any application, but you can choose to augment the memory in two ways from there. You can overclock it to as much as 4200MHz with tiny gains on an AMD platform. On the other hand, increasing its power consumption by another 0.10 volts can significantly improve timing.
Techpowerup ran the RAM through its gauntlet of tests and found that the NEO performed commendably on AMD systems. It scored well during data transfer stress testing and was the fastest when it came to rendering. Gaming results weren't as conclusive, but it snagged several victories and wasn't that much slower than the competition when it didn't.
Best Budget RAM for Ryzen 7 5800X: Crucial Ballistix 3600MHz 2x8GB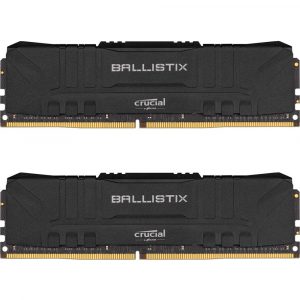 How many extra features would you be willing to sacrifice for cheap, highly effective memory? This Ballistix kit from Crucial is a compelling answer, offering comparable performance to more expensive RAM on the list at double-digit prices. It's not much to look at, but the memory does what it's supposed to whether you're into gaming or productivity.
RGB lovers who want an equally affordable alternative may want to go for a Patriot Viper kit with diffuse lighting.
Basic but beautiful describes Crucial's budget RAM well. It's stealthy enough to be put inside a work PC. Conversely, the stamped aluminum heat spreader has enough presence to look attractive inside the gaming rigs of users who don't care much for colorful lighting. Don't worry if you're not one of them because Crucial also makes an RGB version of this RAM backed by a simple configuration utility.
The ICs at the heart of each Ballistix module are Micron E-die, which makes sense since the American electronics company owns Crucial. These aren't as highly-regarded as Samsung's finest. Still, you're getting accomplished memory you can either push by a few hundred MHz or tighten up the timings with a modest voltage increase. These are 3600MHz and 16-18-18-38 at 1.35V otherwise.
The memory's real-world value becomes more apparent when you pit it against several rivals as Play3r did in a review of its RGB counterpart. The most important takeaway is that the difference in framerate across several games is trivial compared to costlier kits. The RAM scored well in artificial testing, too, meaning you can count on it for any task that requires shifting a lot of data around or number crunching.
Best RGB RAM for Ryzen 7 5800X: Corsair Dominator Platinum RGB 3200MHz 4x8GB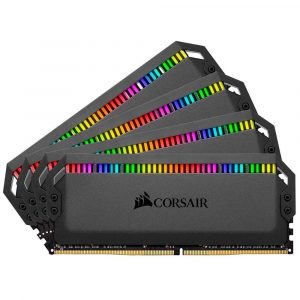 It was only a matter of time before RGB would make its way onto RAM, since it is one of the best places inside your case to add some lighting. However, there's RGB, and then there's the multicolored excellence of Corsair's newest Dominator Platinum memory. It features an updated design that incorporates world-class Capellix LEDs, offers intricate customization, and doesn't suffer performance-wise on account of all that bling.
With Teamgroup's Xtreem ARGB already covered, the only other RAM that comes close to the Dominator's RGB awesomeness is the Spectrix D60G from XPG.
Height is the first thing you'll notice about this memory as it exceeds 50mm and might not mesh well with some low-profile air coolers. Interestingly, only a tiny portion of each stick is reserved for the LEDs. A uniquely designed heat spreader covers the majority. It's reminiscent of older Dominator models but looks less cumbersome.
The Capellix LEDs located on top of the Dominator Platinum RGB are the real reason you'll want to get some. Corsair can cram 12 onto each DIMM thanks to their proprietary miniature design while getting a brighter output with reduced power costs! Best of all, you may customize each LED or sync the memory to work with your other Corsair products through iCUE.
Don't think that strong specifications don't back up all that shine. The model we're examining has a CL rating of 16 obtained at 1.35V and 3200MHz, with tighter timings and higher frequencies available at some extra cost. Even lower-tier models are worth your time since a bit of know-how goes a long way in overclocking them and further improving performance.
Speaking of which, Corsair's RAM proved itself capable of keeping up with the Trident Z NEO in a number of showdowns. Gamers will love the smooth framerates the kit contributes to, but it's even better suited for creatives who need reliable memory for rendering or video encoding.
Best 3200MHz RAM for Ryzen 7 5800X: G.SKILL Flare X 3200MHz 2x16GB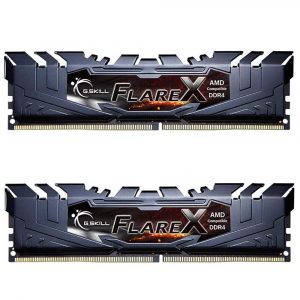 We've mainly focused on 3600MHz RAM kits so far, but that doesn't mean a slightly slower competitor can't give them a run for their money. G.Skill makes the finest 3200MHz memory available for Ryzen processors and tags it as the Flare X line. It has fast transfer times, a no-nonsense look, and the potential to reach higher clock speeds without sacrificing its excellent latency.
We appreciate the Flare X's design since it is clearly gamer-oriented but not too flashy. You'll get the most kick out of its precision-machined heat spreader riddled with cool-looking cutouts that serve the practical purpose of enlarging the surface area. A large sticker in the middle proudly displays the name and the fact that this RAM and a Ryzen processor like the 5800X are a match made in heaven.
Taking a look at the stat sheet reveals that the sticks possess a top-notch XMP profile. It can boost their standard speed of 2400MHz to 3200MHz while maintaining stability and a superb CAS latency of 14-14-14-34. However, the ICs are Samsung B-die and can be pushed further. You should be able to safely improve the frequency to 3466MHz on most sticks, while a lucky RAM & CPU combo will let you match its 3600MHz rivals.
Like the 5800X, the Flare X is a balanced memory kit. It has excellent read and write speeds and does well in artificial benchmarks that measure complex calculations. More importantly for gamers, turning the boost clock on leads to significant FPS gains and improves your overall experience.
Best 64GB RAM Kit for Ryzen 7 5800X: Patriot Viper Steel 3600MHz 2x32GB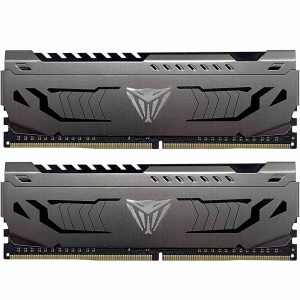 We've limited the list to 16 and 32GB kits so far since that's enough for most users. The 5800X is an excellent processor for content creation, rendering, and editing, so that might not be enough for some. Enter Patriot with its Viper Steel series, designed to bring a lot of RAM to anyone with little room to spare. Don't let its simple appearance fool you – this memory is almost as capable as our top-ranking picks while offering more value per gigabyte.
Corsair Vengeance LPX memory has a similarly attractive price and is available in a wide array of configurations, including 2x32GB.
Patriot came up with a style that looks cool inside any build while keeping costs down by removing unnecessary frills. The gray heat spreader has tasteful black accents and proudly displays a menacing Viper logo in the center. RGB isn't present, and there are no other color schemes to choose from. Each stick is mostly even, with several stamped details and top fins for better heat dissipation.
While appealing to anyone who needs as much memory, the Viper Steel will particularly interest small form factor PC builders. Its dual-rank DIMMs each contain 32GB of Hynix M-die ICs. They're limited compared to Samsung or Micron alternatives in terms of overclocking, but their timings stand at 18-20-20-40 at 1.35V and hold steady without issue.
It's reasonable to expect RAM with timings like these to perform a few percentage points worse than the more expensive kind. Testing confirms this, but it also points out a minimal real-world difference in gaming, file compression, and rendering.
Frequently Asked Questions
What RAM works best with Ryzen?
AMD has made great strides in getting the Zen platform to its current level of independence in terms of memory frequency. That being said, higher frequencies still have an impact on the 5800X's performance up to a certain point.
Infinity Fabric improvements mean that Zen3 works well with 4000MHz RAM. The price difference compared to 3600MHz alternatives isn't worth it, though, especially if you're willing to go with more lax latencies. So, 3600MHz at the best latencies you are ready to pay for is the optimum, with 3200MHz following close behind since it is less expensive.
Does having 32GB of RAM make a difference?
That depends heavily on your PC's primary purpose. The vast majority of games still use between 8 and 16GB, so you won't notice any difference there. It's better to invest in faster RAM with better latencies than more of it, considering the limitations touched on in the above answer.
Purchasing 32GB or more will have a tangible impact for some users. Video editing software is notoriously RAM-hungry, as is 3D modeling software as a scene's complexity grows. Investing in enough memory can speed up video encoding and prevent slowdowns or crashes in 3D software that occur once there's no more memory to draw on.
Do you need specific RAM for Ryzen?
As long as it's DDR4, RAM from any reputable manufacturer should play nicely with the 5800X. Models like the Flare X emphasize AMD compatibility; all this means is that they're guaranteed to work with AMD boards out of the box. However, you may need to make sure the BIOS on some boards is up to date when pairing them with select RAM.