6 Best Motherboards for i5-12600K in 2023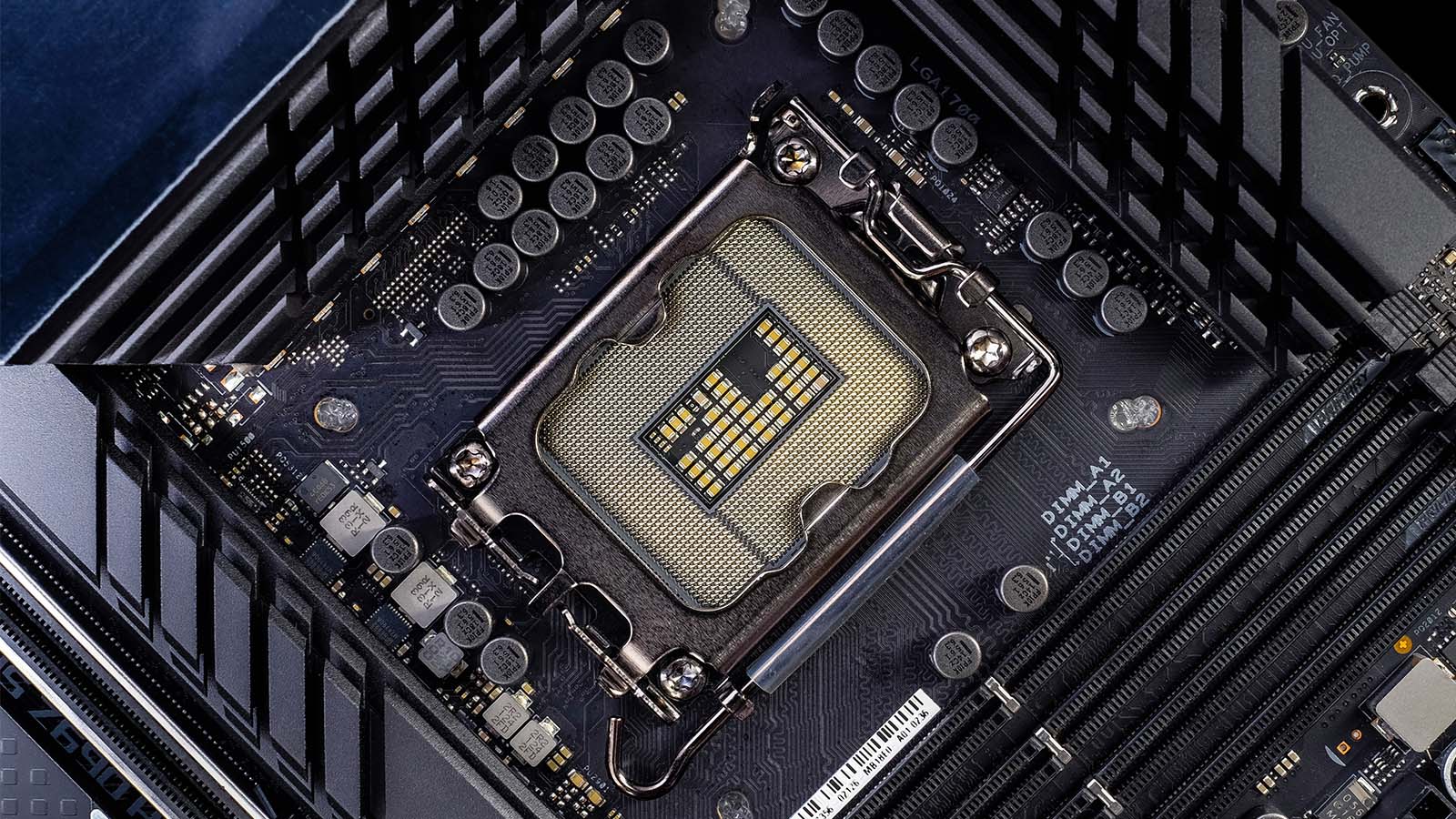 Alder Lake is here! And it's shaping up to be a monumental release for Intel as each of the three CPUs is an excellent purchase in its own right. The 12600K, for example, is the price to performance champion. It's better than the 5600X, whether you're gaming or multitasking. It's also the most affordable gateway into the world of PCIe 5.0 graphics cards and DDR5.
We've outlined the best motherboards for i5-12600K in the extensive list below, but this is only the beginning. Our favorites are sure to change with the arrival of more accessible B660 boards next year, so this is a list worth revisiting. In the meantime, you can build your 12600K rig around any of our choices and be confident that they'll handle anything your new CPU can muster.
Best High-end ATX Motherboard for i5-12600K: GIGABYTE Z690 AORUS PRO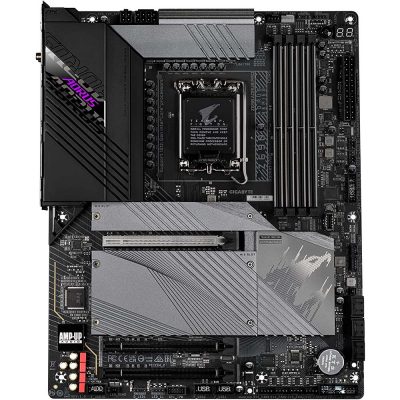 Gigabyte's Alder Lake lineup is among the strongest as it caters to everyone from pro content creators to hardcore gamers. The AORUS PRO finds itself in the middle of the road, offering everything you'll need to fully utilize the 12600K and more. We'd say it's a bit overkill for the processor but offers a balance of price and features that's hard to ignore.
Have a look at the Z690 AORUS Elite AX if you want a nearly identical board that costs less.
An almost single-minded focus on black is something we'll be mentioning a lot with Z690 boards. This one is different because it also has contrasting light-gray heatsinks across much of the PCB. Gigabyte didn't want to make the board too flashy, so any RGB you want displayed is on you and its four associated headers.
A massive increase in VRM strength is another Alder Lake feature. Even a mobo as accessible as the Z690 AORUS PRO packs a whopping 19 90A power stages that deliver more than 1,400A to the processor. Such overengineering is excellent for system stability as the 12600K uses only a fraction of the power. The robust heatsinks and numerous stages ensure that the CPU's area will never get too warm.
Reinforcement is a Gigabyte trademark, and you'll find lots of it around the RAM & PCIe x16 slots. There are three of the latter, the top sporting the new PCIe 5.0 standard while the other two still adhere to PCIe 3.0. The board does well in the storage department, offering four M.2 slots for PCIe 4.0 drives, one of them with SATA capability. Speaking of the older standard, six SATA plugs are also ready for input.
The PRO is also chock-full of useful connections, both internal & external. It has eight fan headers with two hybrids that can power water loop components, too. Two Thunderbolt headers stand ready for add-in cards, and your case will benefit from both 20Gbps USB-C and USB 3.2 Gen 2.
The I/O is home to a staggering 13 USB plugs. DisplayPort is suitable for iGPU users, while 2.5G Ethernet and WiFi 6 are responsible for networking. The paltry audio stack is the board's only glaring omission. It uses the WIMA & Nichikon-backed ALC4080 codec and has optical S/PDIF out. However, the 3.5mm jacks are limited to microphone and headphone input only.
Best Mid-range ATX Motherboard for i5-12600K: ASUS TUF Gaming Z690-Plus WiFi D4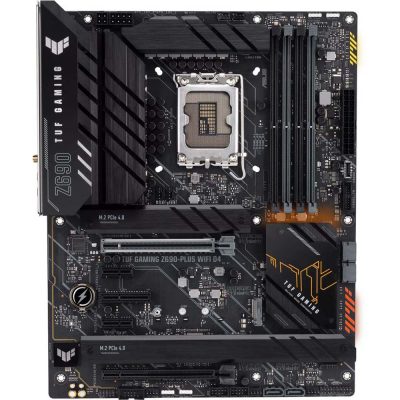 Gigabyte's board is fantastic for the 12600K, but you have to get your hands on some DDR5 memory to use it. The new standard is still hard to come by and finding its footing, so sticking to DDR4 may be a good idea. ASUS has one of the most compelling DDR4 boards for the generation in their TUF model. It looks great, performs well, and will end up saving you a lot of money if you already have good DDR4 memory.
Want to embrace DDR5 as soon as possible? Then go for the Prime Z690-A instead.
Not even the yellow TUF style could escape Z690's all-black theme. You'll find vestiges of it on the CPU slot cover and chipset heatsink but brushed black and dark gray accents dominate the board otherwise. Even the RGB is subdued, occupying limited space on the right side corners.
The TUF Gaming Z690-Plus WiFi D4 has a much more open PCB than Gigabyte's boards. Still, three of the four M.2 drives receive ample protection in the form of thick heatsinks. All of them are up to the PCIe 4.0 standard. You get four SATA ports, and all are available no matter how many M.2 SSDs you have.
The board's VRM will serve the 12600K's needs more than adequately. Its configuration is 14+1 phases with an individual power output of 80A. You may use the extra 4-pin EPS connector for cleaner power delivery. The two heatsink arrays do a commendable job, especially the broad one covering the VRM's left portion. Tests demonstrate that this is among the most thermally efficient boards of the generation in that regard.
DDR4 is a well-established format the board uses to its fullest. It supports 128GB of RAM with a maximum single stick clock of 5333MHz. Its internal connection spread is sensible. You get seven fan headers, four more for RGB, Thunderbolt, and enough USB headers to fully utilize a modern case I/O.
The board's own I/O isn't too busy but provides an adequate spread. Two USB-C ports are the highlights, and one possesses transfer speeds of 20Gbps. The others are all USB 3.2 Gen 1 or newer. The audio is fully stacked and realized through an older codec of high quality. You connect to the world through 2.5Gbps LAN or WiFi 6 and monitors using either HDMI or DisplayPort.
Best Budget ATX Motherboard for i5-12600K: MSI PRO Z690-A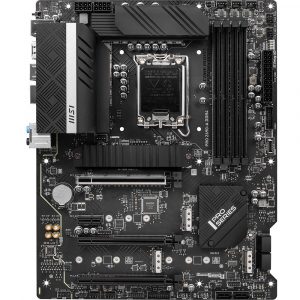 While Alder Lake did bring a motherboard price hike, you can still find both good and cheap boards. Such as the PRO Z690-A, a great example of how cost-cutting should look like. It doesn't skimp on storage space, offers plenty of cooling, and uses DDR4 for even more significant savings.
Props to MSI for making their budget board more than presentable. It's filled with parallel lines that form patterns on the heatsinks and deep cuts in the VRM area. You won't find RGB here, just brushed aluminum and enough headers to bring some color to the board if you'd like.
The PRO Z690-A's bare lower part is the first sign of its budget nature. The top PCIe 4.0 M.2 drive is the only one that gets a Frozr heatsink, and the PCIe 5.0 x16 rail is the single one with steel reinforcement. On the other hand, you're able to hook up four M.2 and six SATA drives. There's even an x1 slot for port expansion, capture cards, etc.
Even a mobo as affordable as this has VRM that can duke it out with many from the previous generation. The phases are arrayed in a 14+1+1 configuration and have an output of 55A each. MSI provides a second 8-pin EPS connector, which you don't see on several more expensive mobos. Despite the smaller output, the board will have no trouble providing stable power to the 12600K while maintaining reasonable VRM temps.
The board is light on internal headers, but all of them are useful. You may connect six system fans, a pump, and four RGB sources. There are also enough 5 and 10Gbps USB headers to satisfy most modern cases.
The lack of an I/O plate is another sign of the board's price, as is the relative connection sparseness. There are only seven USB ports at your disposal. Luckily, one is 20Gbps USB-C. You get a tiny BIOS flashback button and PS/2 for old keyboards & mice. WiFi and Ethernet are the same as on boards we've discussed so far, and there's also HDMI & DisplayPort. The audio stack has six 3.5mm jacks, meaning you'll have to make do without optical S/PDIF out.
Best DDR4 Motherboard for Gaming: MSI MAG Z690 Tomahawk WiFi DDR4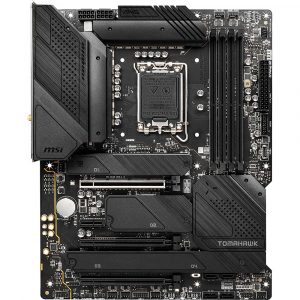 Tomahawk boards consistently draw the attention of gamers looking for the optimal middle-of-the-road solution. The Z690 variant continues the tradition, offering above-average specs, stealthy looks, and the chance to hold on to your old DDR4 kit a while longer.
The MAG Z690 Tomahawk WiFi is one of the best embodiments of the generation's styling. It has a stealthy appearance that harmoniously combines black and dark gray, almost carbon fiber-like parts. It's another mobo from which RGB is absent. Adding some yourself isn't a chore, though.
A solid VRM setup ensures your 12600K will get enough power at all times. The power stages are doubled and adopt a 16+1+1 layout. They supply 70A of power apiece, drawn through two 8-pin EPS connectors. The associated heatsinks deserve special mention since they're thick aluminum slabs that contribute highly towards the board's chilly disposition. In fact, it rivals our overall winner in terms of thermals, whether the CPU is overclocked or at stock.
An abundance of heatsinks is another area where the Tomahawk doesn't come up short. The topmost M.2 drive receives the most protection due to GPU exposure, but the others remain cool too. All but one are up to the PCIe 4.0 standard, while the GPU x16 slot is compatible with PCIe 5.0. A PCIe 3.0 x1 slot is another welcome addition.
The rest of the PCB is home to numerous useful connections and tools. For example, an EZ debugger makes diagnosing startup errors much more intuitive. You may upgrade the PC's cooling significantly through six associated headers and one for water pumps.
The I/O caters to a broad audience. You can use DisplayPort and HDMI to connect to the iGPU and ride out the graphics card shortage. Eight USB plugs hog the most space and include three 10Gbps as well as one 20Gbps unit. That leaves networking through WiFi 6 or 2.5G Ethernet and the 5+1 audio stack. Oh, and don't forget the small yet handy BIOS flash button.
Best i5-12600K Motherboard for Content Creators: GIGABYTE Z690 AERO G DDR4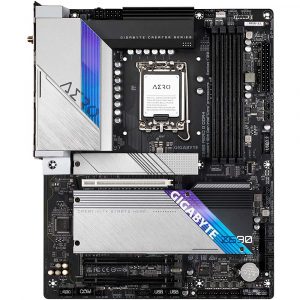 Gigabyte is the only prominent mobo manufacturer with a line dedicated to content creation. It used to be known as Vision, but the Aero G is just as sophisticated. It has a signature look, a DisplayPort in connection, and all the bits that need to come together to make an otherwise competent motherboard.
It's nice to see that Gigabyte didn't abandon the Z690 AERO G's aesthetic roots. All heatsinks except for the top VRM one are either silver or white, making for a welcome reprieve from mostly dour Alder Lake boards. You can let your creativity shine even brighter by outfitting it with RGB lighting.
The 12600K represents a significant jump in rendering and video encoding ability from Rocket Lake CPUs. Using it for such tasks will subject the VRM to long-term strain, so it's admirable that the Aero G's can handle it without issue. The stages come in a 16+1+1 configuration and have a multi-tiered heatsink that siphons heat away from them efficiently.
Access to ample storage is crucial for content creation, and the Aero G doesn't disappoint. Its sizeable shielding hides four M.2 slots, each able to house a PCIe 4.0-enabled drive or lower. Six SATA ports are there if you require more space or have older drives with data you'd like to transfer to the new system. The top slot takes PCIe 5.0 GPUs, so futureproofing in that respect isn't a problem.
The internal connection layout is similar to that of less specialized Gigabyte boards. This includes the addition of two hybrid fan & pump headers along with ones that enable USB-A and 20Gbps USB-C on your PC case.
We're usually not fans of too many video-related connectors on the I/O, but this board is unique. It features a DisplayPort in plug you can use for display tablets. The two USB-C ports will come in handy, as will the other eight. Networking options are equal to other boards we've reviewed. It's a bit of a shame since content creators could do with better Ethernet speeds. The three-port audio stack seen on the AORUS PRO makes a comeback too.
Best Mini-ITX Motherboard for i5-12600K: GIGABYTE Z690I AORUS ULTRA DDR4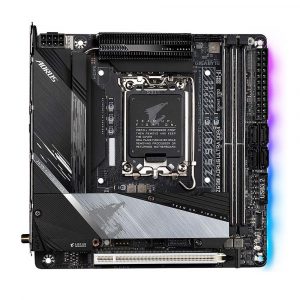 The pickings for mITX boards are still slim, but Gigabyte is representing in full force with the Z690I AORUS ULTRA! It almost fits inside your palm yet can take on a 12900K, let alone your much more sensible chip. Your wallet won't like the board's price tag. However, that's what you'll have to put up with if you're impatient to complete an SFF build before B660 comes out.
Not even Mini-ITX's constrictions deterred Gigabyte from making a beautiful board. It's entirely clad in black armor with a welcome gray area on the daughterboard heatsink. The unavoidable AORUS eagle and even a row of RGB LEDs on the right edge also help with the board's visual identity.
Why are you paying close to $300 for a mobo this small? It's likely because of the ridiculous VRM – 10+1 single 105A stages of it, to be exact. That's more than all but the most hardcore boards from the Rocket Lake days! Cooling the setup is a comparably massive heatsink to the left and one above. A heatpipe connects them, and peering under the shroud reveals fin arrays that are highly efficient at whisking heat away.
The board has a backplate for better stability and cooling. That's where the secondary M.2 slot usually resides on Gigabyte boards, but not here. In ASUS mITX fashion, both PCIe 4.0 M.2 slots are in the daughterboard area, sandwiched between luxurious and thermally efficient padding.
That's where you'll also find hardware needed for the ALC4080 audio codec and the first of several breakout PWM headers. These come with cables that make building in cramped quarters more manageable. The one armored x16 slot supports PCIe 5.0, and four SATA ports are close by for your classic storage needs.
Gigabyte is being super stingy with Alder Lake audio ports, and the mITX board is the worst offender with only two analog jacks. The rest of the I/O leaves a better impression. It sports the two regular networking alternatives, HDMI & DisplayPort, and a Q-flash button. Eight is a commendable number of USB plugs for a mobo of this size, especially when one of them is 20Gbps USB-C.
Frequently Asked Questions
Which motherboard is best for i5 12600K?
At the time of writing, Z690 boards are the only option available for 12600K owners. The Z series is always the top choice for Intel CPUs, so any board will have no trouble with this chip whatsoever. Which one you'll want to go with depends on your budget and willingness to stick to the board in the long term.
B660 boards will see the light of day during the first half of next year. High-end and mid-range offerings in that lineup will fit the 12600K perfectly.
How much RAM can an i5 handle?
As much as the motherboard you purchase can support. Z690 boards max out at 128GB, 64GB if they're Mini-ITX. The memory's version plays an important role this time, too. Alder Lake is the first CPU generation to support both DDR4 and DDR5. Being a transitional platform means you'll have to weigh the pros & cons of both types and go for an adequate board. Models that take DDR5 do not support DDR4 and vice versa.
Can i5 12600K be overclocked?
Yes! The K in its name will tip you off since that's the designation for Intel's unlocked or overclockable CPUs. The 12600K has a high 4.9GHz boost clock on its performance cores you can reach easily, even with air cooling. Going past that is possible but prohibitive due to excessive heat generation and power needs.