6 Best CPU Coolers for Ryzen 9 5950X in 2023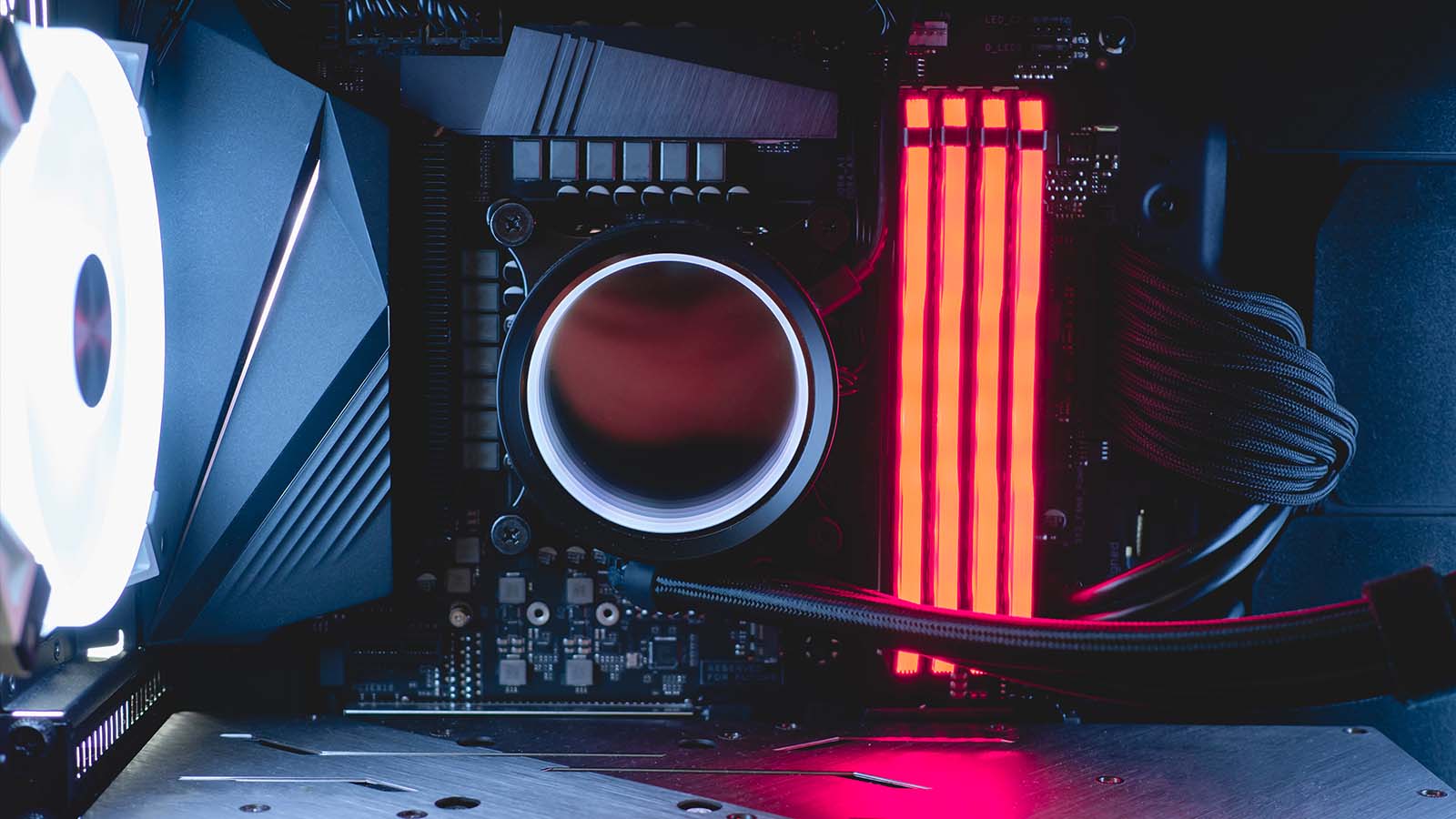 The 5950X was as close to a perfect next-gen release when it came out two years ago. It introduced improvements across the board ranging from IPC through single-core and multicore uplift that reaffirmed AMD's dominance. Alder Lake's i9-12900K might have technically surpassed it, but the 5950X remains a compelling purchase for enthusiast desktop owners to this day. Here are some of the best CPU coolers for Ryzen 9 5950X that can easily come to grips with its hot temper.
Best High-End AIO for Ryzen 9 5950X: Corsair iCUE H150i Elite Capellix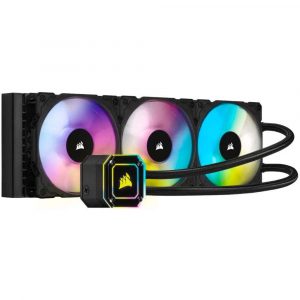 Corsair's continued quest to create the best AIO cooler around culminates in the H150i Elite Capellix. It's a comprehensive cooler that offers exceptional thermal performance, unmatched customization, and quiet operation. The latter is only available if you choose to run the AIO with some constraints, but you'll be glad you can while the 5950X isn't coping with heavy workloads. The cost might be an issue for some. We think of it as a long-term investment that should perform admirably across several builds.
Other popular high-end alternatives include the 360mm EK AIO as well as NZXT's Kraken X73 and flashier Z73 models. The latter is so much more expensive since it has a built-in LED screen.
The 150i's cube-shaped pump head convex copper on the bottom with a pre-applied thermal compound. On top, you'll find a removable acrylic plate secured by screws. It's interchangeable with a clearer one that's also included, allowing you to make the head's RGB display either more subdued or there for all to see. Swivel fittings for the tubes ensure flexibility, while wires set at a 90-degree angle from the fittings make for less clutter.
The radiator's only noteworthy trait is its size. There's enough room to house three ML120 RGB fans and enough surface area for efficient heat dissipation. The fans can ramp up to 2,400 RPM but may also lay dormant if there's no need for cooling while idle. Their air throughput is 75 cubic feet per minute. Coupled with high static pressure, this ensures uninterrupted air exhaust or intake even if the placement of other components isn't optimal.
Lighting is an integral part of the H150i experience. LEDs on the AIO are abundant since their unique design allows them to be small and energy-efficient without sacrificing brightness. The pump head holds 33, with eight more per fan. The fans plug into a supplied Commander Core accessory that allows you to control six fans and or RGB components while helping to provide system data.
You can peruse that data and extensively customize lighting through iCUE. Apart from lighting control, access to different performance modes is its most helpful feature. Choosing one of the profiles lets you instantly adapt the H150i to various circumstances. Its Extreme mode can tame even the most hot-headed overclocked CPUs during stress testing, albeit at the cost of making a ruckus. Quiet mode behaves like you would imagine, while Balanced offers a healthy mix of performance and tolerable noise.
Best Mid-Range AIO for Ryzen 9 5950X: Lian Li Galahad 360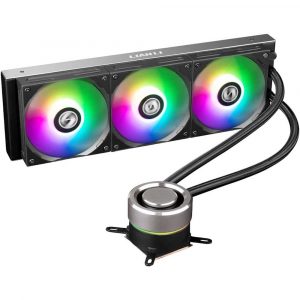 Our mid-range recommendation is a first-edition 360mm AIO from renowned case manufacturer Lian Li. Cases are apparently not the only thing they do right as the Galahad is one of the best AIOs on the market. It's stylish, colorful, and easy to install. More importantly, it offers superb cooling performance at noise levels that are more than acceptable.
Want a cheaper 360mm AIO that's almost as effective? Then you might want to look at MSI's MAG Coreliquid 360R.
The Galahad sports one of the most elegant pump heads on the market. It's aluminum and can either be capped with an aluminum top for a cleaner look or expose the Lian Li logo together with a cool-looking circular light array. The internal pump design features three chambers that separate liquid by temperature, ensuring maximum efficiency.
The radiator is a standard 27mm thick unit that sets the stage for three semi-transparent fans. They have a diameter of 120mm and rotate between 800 and 1,900 RPM. Their CFM is slightly smaller than the ML120's at 69, with a corresponding decrease in static pressure. The fans are quieter as a result while losing next to nothing in terms of effectiveness.
Installing the Galahad 360 shouldn't be a mystery if you consult the manual and have dealt with AIOs before. Putting all the cables in order might be a bother since there are so many of them. Luckily, you get splitters for the fans' power and RGB cables that help make the clutter more manageable. Your motherboard can handle the lighting, but Lian Li also thoughtfully included a SATA-powered controller for older boards that lack such support.
So, how does it perform? Guru3D used the Galahad 360 to cool down the comparably hot Intel Core i9-9900X with excellent results. Idle temps were standard, but having the CPU perform complex tasks propelled the AIO towards the top efficiency-wise. This persisted even when the CPU got an overclock. The Galahad's cooling excellence doesn't come with an acoustic penalty as it manages to stay below the 40dB mark when at full load.
Best Budget AIO for Ryzen 9 5950X: Arctic Liquid Freezer II 280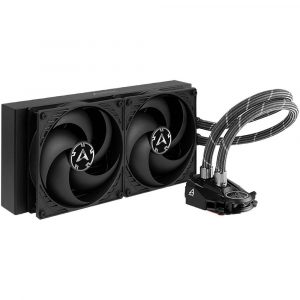 The Liquid Freezer II 280 or one of its siblings are favorites we keep coming back to. It's one of the most cost-effective components in PC building today, period. The cooler is also among the most innovative, spurning the pump design monopoly in favor of progress. We're still excited about this AIO even though we've written about it countless times before, and you should be too.
Nothing comes close to Arctic's AIO in the $100 range. However, add $20 – $30 more, and you can get your hands on a solid 360mm AIO, the TH360 ARGB from Thermaltake.
Innovation at a jaw-dropping price is the Liquid Freezer's standout feature. Take the radiator as an example. It's usually an aluminum slab that conforms to the same dimensions regardless of the manufacturer. Arctic's isn't revolutionary, but it's almost half again as thick as others at 38mm. That allows for improved heat transfer, while the corresponding changes to fin density mean airflow isn't impeded.
The fans aren't as innovative, yet they're integral to the Liquid Freezer II's success. The model P14 can turn at a slow 200 RPM when idling or ramp up to 1,700 RPM when stressed. Each fan delivers a CFM of around 73 along with a static pressure comparable to Lian Li's models.
Most of Arctic's R&D has gone into reimagining the pump. It's lower and broader than others. This unconventional change was needed to introduce a fan on the pump head itself. It's a 40mm unit with a PWM-controlled range of 1,000 to 3,000 RPM. You direct its airflow towards parts of the motherboard like the VRM or GPU to further cool them down.
Arctic makes the Liquid Freezer's installation among one of the easiest. Much of the work is already done for you since the fans are already secured to the radiator and connected to the pump head. Mounting the respective parts to the CPU & case and then providing power through a single PWM cable is all it takes.
Arctic's innovative spirit has paid off, as evidenced by the numerous accolades the cooler received after testing. TweakTown's review is just one among many examples. Their testing puts the AIO near the top, whether the CPU is idling or groaning under strain. The noise output is favorable, too, as the fans stay well within the 30s decibel-wise.
Best Silent AIO for Ryzen 9 5950X: be quiet! Pure Loop 280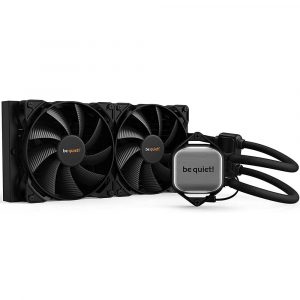 The three other AIOs on the list can all tackle an overclocked 5950X at varying sound levels. What if you care about running a silent PC more than topping benchmark charts? In that case, you'll want to feast your eyes on the Pure Loop 280 from be quiet! It faithfully represents the manufacturer's name without taking a performance hit. The AIO is also innovative in its own right and in it for the long haul.
A thin cold plate is the first thing you'll notice about the Pure Loop. We intentionally didn't use the word pump head since it isn't one! Instead, the pump assembly is part of the tubing, which cuts down on vibrations and further reduces noise. The cold plate exudes a unique charm due to its size and rounded top with the company logo. The top's edges light up with a white glow during use. It's not fully-realized RGB, but the lighting is discreet and tasteful.
The radiator is seemingly standard fare. It's 27mm thick and comes in at 20 fins per inch. However, unlike the vast majority of AIOs it has a cap the user can remove. This allows you to top the liquid inside up when its level inevitably drops off after prolonged use due to evaporation. A refill bottle is included to that end, with enough juice to tide you over for longer than the Pure Loop's five-year warranty.
Be quiet! outfitted the AIO with two of its 140mm Pure Wings 2 fans. They have the telltale wavy blades previously seen on the company's air coolers. They help agitate the air to blow it through the radiator with more force. Information on the CFM isn't readily available, but the fans operate at a max speed of 1,600 RPM while maintaining quiet operation.
As you'd expect, the Pure Loop's primary focus is keeping your PC quiet. It does this well regardless of the CPU's wattage or the percentage of the fan speed. Going for stealth instead of rotation speed didn't harm cooling efficiency. The Pure Loop isn't the absolute best 280mm AIO on the market. Still, it's close enough to the greats that silently reaching its results becomes a genuine point of distinction.
Best Air Cooler for Ryzen 9 5950X: Noctua NH-D15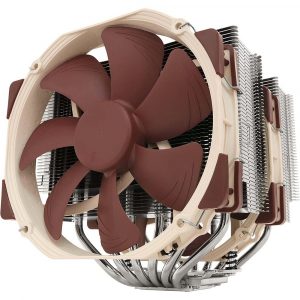 Most PC components stay competitive for several years, five being the cutoff point at which you should seriously consider upgrading even the most advanced ones. Noctua's most well-known air cooler flies in the face of convention as it's been the go-to enthusiast air cooling solution for the better part of a decade. Much about it is massive – the size, the performance, and the price compared to other air-based models. Even so, the NH-D15 continues to dominate the charts as a living legend in a space where today's components swiftly become yesterday's news.
Several worthy alternatives have stepped up in recent years. There's the excellent Assassin III from Deepcool as well as the stealthy Dark Rock Pro 4 from be quiet!
Imposing and meant to last are the first impressions the discerning user will likely experience when encountering the NH-D15. Everything about it feels solid, from the fins that are individually soldered to each heatpipe to the reinforced frames of the NF-A15 fans. Speaking of, the fans were only available in the trademark two-tone beige and brown Noctua style for five long years. The company finally relented in 2019 and graced us with an all-black version, albeit at a price premium.
Going back to the heatsink, it's a sizeable two-part design with two rows of sawtooth notches and an indent on each. These give air some room before entering the fans and stir it up for greater effectiveness. The fins' sides are shut to produce a more focused airflow.
The NA-F15 fans are the largest on our list with a 150mm diameter. Wire clips secure each to a fin stack, and rubberized corners combat vibration. Their CFM clocks in at 82 when at the maximum 1,500 RPM fan speed. A low noise adapter is included for both fans and does what its name implies by lowering the RPM to 1,200.
The base is comparatively thin but sturdy. It and the heatpipes are made from nickel-plated copper. The pipes fan out from the base in all directions, ensuring there' maximum space between them so as not to lower heat transfer efficiency.
Noctua owners get to use the SecuFirm 2 system for straightforward mounting. It's the usual affair of setting up backplates, fastening screws, and applying thermal paste, just more intuitive.
This is where we get to the NH-D15's potentially greatest stumbling block – its size. Depending on your motherboard, the top GPU slot might not be accessible once the cooler is installed. Noctua has an extensive compatibility list, so be sure to check that out before purchasing. Using the second fan normally sets RAM clearance to a little over 30mm. You'll either have to go with low-profile kits or impact the fan's effectiveness by lifting it up to combat this.
The hassle of making sure everything fits is worth it once you see the NH-D15 in action. The cooler is so old that most charts show how it performs on CPUs it has long since outlived. Luckily, Hexus made a more recent review using the Chromax Black version and the Ryzen 9 3950X. Noctua's air cooler went head to head against the H150i pro, our overall winner's predecessor. It had the upper hand, which is highly impressive for an air cooler.
Best Budget Air Cooler for Ryzen 9 5950X: Scythe Fuma 2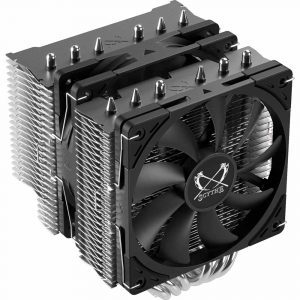 You won't find a $25 cooler that can handle the 5950X at full load without throttling. However, that doesn't mean that no affordable coolers are up to the task. Take the Fuma 2 from Scythe, for example. It costs a little over half of what you'd pay for the NH-D15 yet comes close to the top air cooler's capabilities. It has better clearance, performs well, and contributes to your PC's stealthy appearance.
We were pleasantly surprised by the attention to detail and heft present in the Fuma 2. It approaches Noctua standards of craftsmanship with its twin tower stack that sports alternating fins and a clever sawtooth pattern designed to bring the most out of its fans. The stack is made from pristine aluminum, with the top fins blackened for aesthetic effect.
Getting two fans with such a large cooler is the norm. However, not every model offers fans with different stats. The central fan is a standard 25mm thick unit with a CFM rating of 51. The front-mounted fan is 10mm thinner and can only move 34 CFM of air. The numbers aren't promising on their own, yet the elaborate fin configuration helps even the odds.
The base is much more substantial than the one seen on the NH-D15. So much so that it has grooves cut into the sides that effectively turn it into an auxiliary radiator. The base has a central gutter for a mounting bar to slide in and serves as a point of convergence for six nickel-plated copper heatpipes. Its bottom is plated as well, helping to prevent corrosion damage.
The Fuma 2 isn't substantially thinner than Noctua's cooler, but a few millimeters here and there make all the difference. It's also off-center towards the back to allow for maximum memory clearance. Even so, there's room for a third fan should you wish to install one. Installing the cooler involves the usual steps, plus alternate tightening of screws to secure the crossbar.
Techpowerup backs our claims of excellence with raw data. Compared to over a dozen coolers, the Fuma 2 finds itself in the top half and doesn't throttle an i7-8700K even during AIDA64 testing. Fan noise is impressively low as well, thanks to low max RPM and the cooler's innate efficiency.
Frequently Asked Questions
Do you need liquid cooling for Ryzen 9 5950X? Can I air-cool a 5950X?
No, but it helps. The 5950X is a power-hungry processor when taxed to its limits despite its 105W TDP rating. Overclocking decreases the power draw and thermal output even more. Many air coolers can't handle so much heat, which leads to performance loss due to thermal throttling. The best coolers like the NH-D15 or Assassin III will do fine, but a run-of-the-mill model will either struggle or cause the CPU to throttle.
If you have the money, it's a good idea to go with a 360 or 280mm AIO. They're undoubtedly more effective, and some are even more silent than air coolers.
Is a 240mm AIO good enough for 5950X?
Yes, but you'll have to do your research. Some of the best 240mm AIOs, like the Kraken X53 or the 240mm version of Lian Li's Galahad, have what it takes. Others may be sufficient for Ryzen CPUs with fewer cores but struggle to meet the 5950X's thermal demands. We went with larger models since they can sufficiently cool the CPU while not running at 100% themselves. That ensures longevity and fewer maintenance problems down the line.
Does the 5950X come with thermal paste?
No, CPUs never come with thermal paste unless it's part of the stock cooler kit that ships with them. The 5950X is one of the most sophisticated desktop processors out there and doesn't come with a stock cooler.
Most aftermarket coolers do arrive with some form of thermal compound either in a syringe or already applied to their contact plates. These compounds don't always reflect the quality of the cooler itself, so you might need to buy dedicated thermal paste if the cooler performs worse than it should.