6 Best CPU Coolers for Ryzen 9 5900X in 2023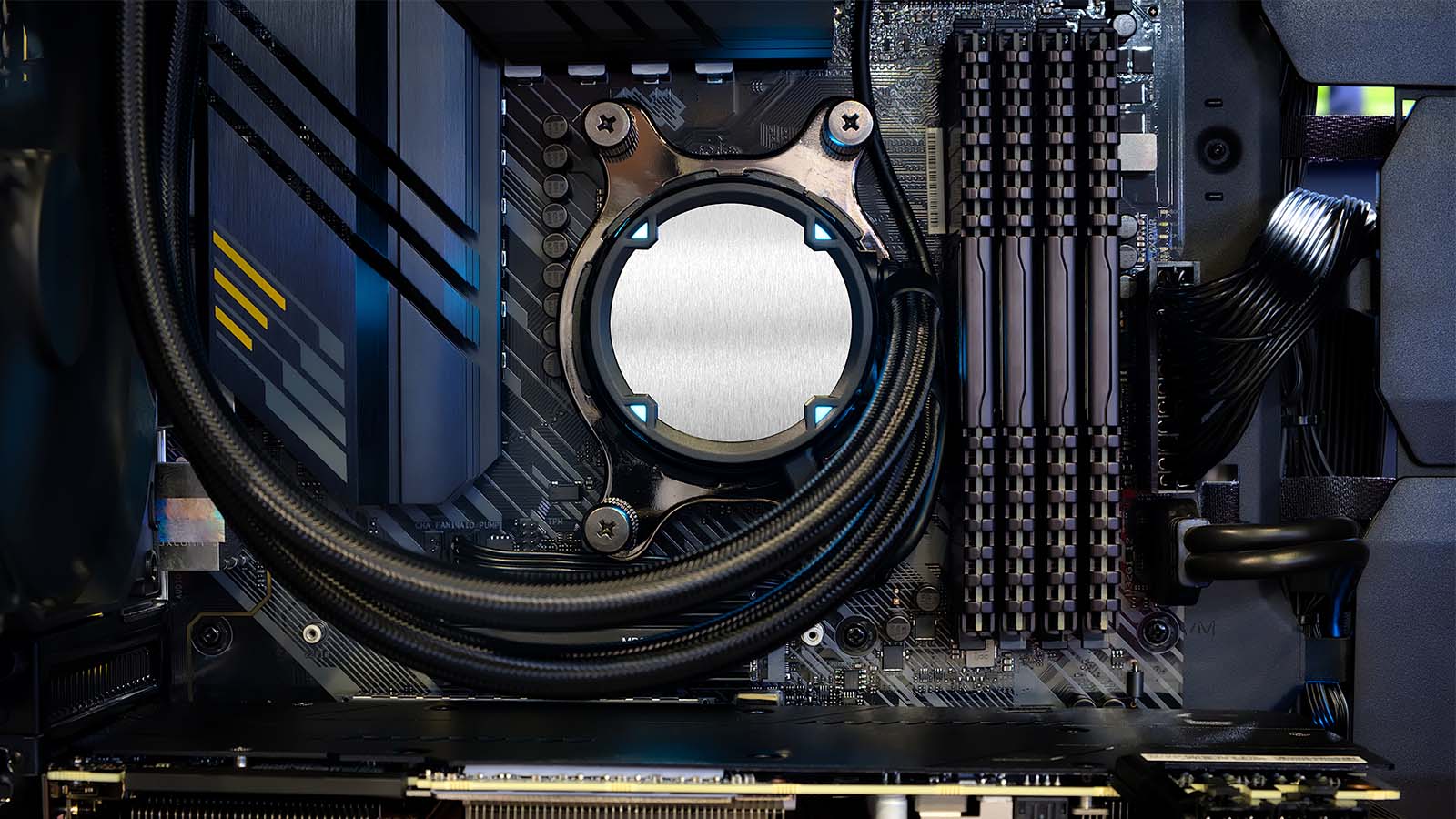 Since its launch, the 5900X has become one of AMD's most appealing processors. It has enough cores to rival Alder Lake's best chips in terms of multithreaded dominance. Additionally, the single-core IPC gains and fixes to lag implemented across the Zen3 lineup make it a compelling choice for users who play as hard as they work.
The chip has even experienced a significant price cut, making it even more accessible. But a CPU as versatile as this can get hot, which makes finding the best CPU cooler for Ryzen 9 5900X one of your top priorities. Take the guesswork out of the equation and let our guide point you in the right direction.
Best High-End AIO for Ryzen 9 5900X: Corsair iCUE H115i Elite Capellix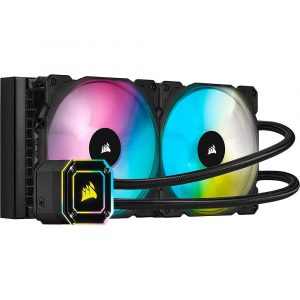 Corsair's righter and energy-efficient Capellix lights debuted in their Dominator Platinum RAM, so it was just a matter of time before they spread to other components. AIOs were the first to get the royal treatment, and the H115i is the 280mm result. It's one of the most effective coolers on the market but can also be among the quietest if you aren't pushing your CPU to its limits. There are less expensive options, but nothing comes close to the level of versatility on offer.
NZXT's Kraken X63 is a popular alternative. Or you could go for the Z63 and its LCD screen for the ultimate extravagance.
Unlit, Corsair's cooler doesn't look particularly inspiring. The pump head is square-shaped, courtesy of CoolIt, and it has four screws that hold an acrylic top in place. The default top is darker with sharp lines and a glowing Corsair logo. You may exchange it for a breezier variant that lets out more light from the 33 Capellix LEDs inside. The bottom is finely milled copper and comes with a pre-applied thermal compound.
The radiator is the H115i Elite Capellix's least engaging component. It's sturdy and functional but otherwise nondescript. More importantly, it's the home of two heavy-duty transparent ML-140 fans. They have a wide RPM range of 400-2,000. Each can push a whopping 97 cubic feet of air per minute at a respectable pressure of 3mmH2O, allowing for uninterrupted airflow even inside cluttered cases.
The package also contains the Commander Core, an accessory used to coordinate power and lighting for various Corsair components. It provides both for six units, meaning you can hook up four more case fans while the 115i is active. The Core itself draws power through a SATA cable, making for a much tidier presentation.
You control the H115i through Corsair's acclaimed iCUE software. It's the most advanced lighting program, allowing you to choose among numerous cool effects or implement your own. It also acts as temperature & status monitoring software and lets you set up several profiles for different cooling efficiency levels.
That's where the H115i comes into its own. Choosing Extreme turns it into the most effective cooler around, provided you aren't bothered by the excessive noise. Most users should get the best performance out of Balanced. It's possible to switch to Quiet and drastically reduce generated noise with relatively few concessions in terms of thermals.
Best Mid-Range AIO for Ryzen 9 5900X: Arctic Liquid Freezer II 280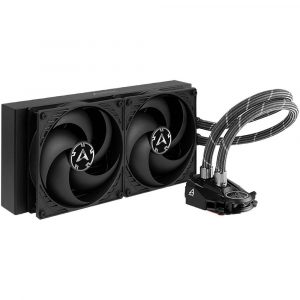 It's rare to see a PC component that excels at everything from performance to price. Arctic's Liquid Freezer II 280 is about as close as it gets. It offers innovative and efficient cooling and effortless installation but might not even cost you $100! Arctic even released an ARGB version for people who yearned for the feature to be included in the original. This is the cooler most 5900X users should find more than satisfactory.
MSI's Coreliquid 360R is a slightly pricier alternative. It's great if you're after a competent 360mm AIO instead but don't want to break the bank when buying one.
Outsourcing pump designs is a standard practice that allows manufacturers to skip the R&D part. It's also limiting since they need to adhere to Asetek and CoolIt's patents. Arctic would have none of it, choosing to start from scratch and build a unique design instead. The result is a weird-looking but effective pump head accommodating a 40mm fan. The air it moves around exits a three-sided duct and can help cool the RAM, GPU backplate, or VRM depending on placement.
The radiator has changed as well. Usually, radiators are around 27mm thick, but this one tops that by 11mm. That ensures a greater surface area and better heat transfer. Two P14 fans eject the thermal buildup into the surroundings at a respectable rate of 73 CFM. Their static pressure is slightly lower than that of ML140 fans but still strong enough to maintain excellent airflow.
The Liquid Freezer II 280 is a fantastic choice for first-time PC builders because of its intuitive installation. There's little you have to do since the fans are already mounted. Additionally, their PWM cables use the braided tubing to connect to the pump head. A single cable that extends from it is all you need to power the fans. That means it's possible to affect their speed independently. You can always hook each fan up individually if this is an issue.
All of these innovations wouldn't be worth much were it not for the Liquid Freezer's exceptional real-world performance. Techpowerup put the ARGB version through various tests on a 3900X. It performed very well, especially when the CPU was raked over the coals in AIDA64. Its noise levels were acceptable as well. It's not the quietest AIO, but it's certainly not loud enough to become bothersome either.
Best Budget AIO for Ryzen 9 5900X: Cooler Master MasterLiquid ML240L RGB V2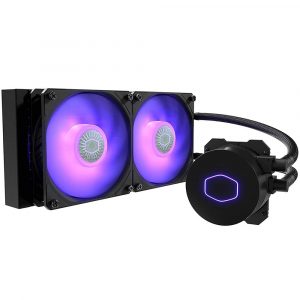 Do you want solid AIO cooling for your 5900X at air cooler-level prices? This might sound improbable, but the updated MasterLiquid ML240L RGB V2 makes it possible in style. The first version wasn't up to snuff, so Cooler Master took their time to redesign practically every component to a higher standard. The result is a good-looking, more efficient, and refreshingly cheap cooler that punches above its weight class.
Cooler Master's original AIO was inefficient and prone to leaking after prolonged use. Both are no longer problems. The pump head is visibly larger and has undergone internal restructuring that increased the chamber sizes and liquid exchange rate. It's still cylindrical and has a light-up Cooler Master logo on top. You get thermal paste but need to apply it yourself, so take care not to miss this crucial step during installation.
The radiator sees improvements to its fin length and construction of tube connections. The result is a better throughput and an increase in heat output. New fans were needed to compensate, so the V2 gets SickleFlow 120 fans. These are quieter and have slightly higher static pressure than the MF120R units they replace. Their opaqueness lets you enjoy vibrant colors without impacting effectiveness.
Speaking of colors, it's a marvel you get to experience RGB at this price point, to begin with. The LEDs aren't addressable, and there's no companion software other than your motherboard's, but that's plenty. If you don't want to bother fiddling with the lighting, you may even use a simple Molex-powered control unit.
We won't claim that the V2 is as good as other AIOs on the list. It's smaller and considerably cheaper, after all. Still, it deserves its spot and accomplishes better cooling results than anticipated. KitGuru's comprehensive testing on a 9900K reveals encouraging results. The V2 is in the middle of the pack. It keeps pace with more expensive air coolers while giving several larger AIOs a run for their money. Expect the V2 to breach the 40dB noise threshold at maximum RPM. Not great, but by no means terrible either.
Best High-End Air Cooler for Ryzen 9 5900X: Deepcool Assassin III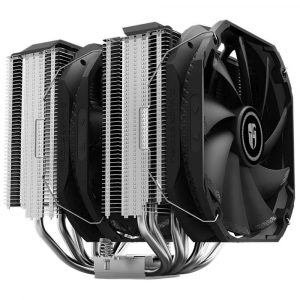 You'll want raw power to air-cool a 5900X, and that's what the Assassin III has plenty of. It's a no-nonsense cooler that trades frills & colors in for outstanding performance. It's on the expensive side, and there are quieter options out there. Still, very few air-coolers can match it in keeping a processor as advanced as this at low temperatures.
One of them is, of course, the Noctua NH-D15. It's eight years old now but remains one of the most well-made and efficient air coolers you can buy.
An imposing presence is the first thing you'll notice after removing the Assassin from its packaging. It has a straightforward design that nevertheless commands respect. On the one hand, it has a massive seven heatpipe array and fin stack, all nickel-plated to a smooth silvery finish. On the other, its two fans and decorative spoilers on top of the heatsinks are satin black for a striking contrast.
Examining the Assassin III more thoroughly reveals several design choices that impact performance. Its base is made up of two parts with the heatpipes sandwiched between them. This allows for precise milling during the production process and better adherence to the CPU's heat spreader. The base's top part has an integrated crossbar with two screw holes that holds the assembly in place.
The fin stack is constructed so that there's enough room between each fin for air to pass unobstructed. Still, the sides are partially closed off to steer the air towards the next fan or stack. The two fans are 140mm models with an RPM span of 400 – 1,400 and a formidable 90CFM. The static pressure is lower than on our highest-ranking AIOs, though. You attach the fans effortlessly using two spring clips and power them via PWM. Each also receives a noise-decreasing adapter. This drops the maximum RPM to 1,000 with a corresponding 30-percent decrease in CFM.
While installing the Assassin III isn't complicated, you'll need to keep clearances in mind. It is more than 160mm tall and wide, so you'll want to make sure your case and RAM are up to the task. More importantly, some motherboard layouts might cause the top x16 GPU slot to be blocked.
Once all of that checks out, you can look forward to stellar performance. Testing shows the Assassin III consistently taking its place in the top third among the best air coolers and AIOs. This applies to idle temps as well as normal workloads and subjecting the CPU to extreme duress. Noise generation is decent as is, but making use of the adapters gives credence to the cooler's name.
Best Mid-Range Air Cooler for Ryzen 9 5900X: Noctua NH-U14S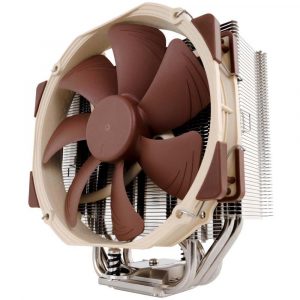 Everyone and their grandmother already knows about the NH-D15. Heck, your grandma might have used it in one of her PC builds back in the day. However, here we turn the spotlight on its slightly smaller and more compact sibling, the NH-U14s. It lacks a twin tower design but comes with the same capable fan as the NH-D15 and closely trails it in the charts.
Want something more silent and a bit cheaper? Then go for the Dark Rock 4 from be quiet! instead.
Several recognizable elements form the NH-U14S, the most iconic of which is its single NA15 fan. It's the same as the pair you'd get on an NH-D15, including the unmistakable color scheme. The fan has an RPM limit of 1,500 and can circulate more than 82 CFM when running at full blast. Like the Assassin III, Noctua's fan has a low noise adapter that cuts its max RPM by 200 and noise levels by several dB.
A smaller fin stack is this cooler's main difference as well as its greatest selling point over the NH-D15. It ensures better compatibility while still allowing you to attach a second fan to the rear. The fins are made of high-quality aluminum and combine a V-shape with several saw-toothed areas. This allows air that passes through the fans to gain momentum and turbulence before hitting the stack.
The bottom features a two-part base and six thick heatpipes. Everything is nickel-plated and looks attractive, including the contact plate. The pipes split off in threes to reduce proximity to each other. They terminate at the stack's top. The design requires fewer fins towards the edges to accommodate the pipes' more aggressive exit angles.
Techpowerup has been using the NH-U14S as their default cooler for CPU temperature testing for years. In the 5900X's case, the air cooler manages to keep it well below 70°C at stock and under 80°C if you decide to overclock. Those are more than decent results given the price and cooler type. The NH-U14S will do so while putting out between 40 and 45dB of noise, less if you use the adapter.
Best Budget Air Cooler for Ryzen 9 5900X: Scythe Fuma 2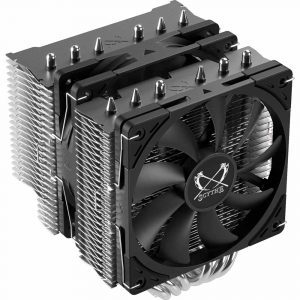 The cheapest cooler we'd entrust with a 5900X comes from Scythe. The second Fuma combines attractive aesthetics with some serious heft and cooling potential. It comes with two fans, is relatively easy to install, and ranks among the quietest air coolers around. You won't even have to shell out $60 for it, which makes the purchase all the more appealing.
The Fuma 2 has an intriguing asymmetric design with a front fin stack that's noticeably thinner than the one in the back. Combine that with a thin front fan, and you've got a setup that should encounter no compatibility issues despite it being on the large side. A lot is going on with the fins themselves. Each stack begins with a sawtooth pattern for more turbulent airflow, and the back one is curtailed.
The base is thick and made from nickel-plated copper. It accommodates six heatpipes that spread out towards the fins like a spider's legs. The pipes run parallel as they converge towards the base, theoretically decreasing their efficiency. However, it's one of the design's inevitabilities that has little bearing on performance in practice.
Scythe's Fuma 2 arrives with two fans you attach to their respective stacks via wire clips. Both are designated as Kaze Flex, have a diameter of 120mm, and range from 300 to 1,200 RPM. The front fan is slim at 17mm, which is reflected in its smaller 34 CFM output. The fan in the middle is 10mm thicker and can propel 51 CFM of air through the back fin stack.
Props to Scythe for making the installation process both accessible and tidy. You get all the brackets, screws, & washers you need for a tidy install, plus an instruction manual with easy-to-follow pictures. The whole affair shouldn't take more than 10-15 minutes and isn't too challenging for beginners.
Expect the Fuma 2 to adequately tackle the 5900X's heat output, whether you're running it normally or stressing an already overclocked chip. Its acoustic performance is even more impressive. Running at 50% speed causes noise to hover in the mid-30s while going full throttle comes at the cost of only 5dB.
Frequently Asked Questions
Does Ryzen 9 5900X come with a cooler?
No, AMD no longer provides coolers for its top-end chips. It's assumed that buyers interested in such CPUs are aware of their more considerable thermal needs and that they'll plan accordingly. It also makes sense as a cost-cutting measure since there's no price premium for a bundled cooler.
What gen is Ryzen 9 5900X? How much RAM do I need for it?
AMD might make excellent CPUs, but their terminology leaves a lot to be desired. The 5900X is part of the fourth generation of Ryzen desktop chips. Confusingly, the generation is designated as Zen3 since the 1000 and 2000-series were bundled together as just Ryzen, while 3000-series CPU were part of Zen2. The 4000-series comprises mobile processors.
As for RAM, the 5900X is a processor that excels both at gaming and multithreaded productivity tasks. You can stick to 16GB for the former for a year or two more. Resource-intensive tasks like video encoding or 3D rendering will take full advantage of however much RAM you can throw at them, so 32GB or more is preferred.
Is a 240mm AIO enough for the Ryzen 9 5900X?
Yes, a well-made 240mm AIO will be on par with or better than a good air cooler for the 5900X. We've mostly recommended 280mm models for the larger overclocking headroom they provide. If you don't overclock, you can achieve decent temperatures and continued system stability with a 240mm AIO if you don't overclock.