6 Best CPU Coolers for i9-11900K in 2023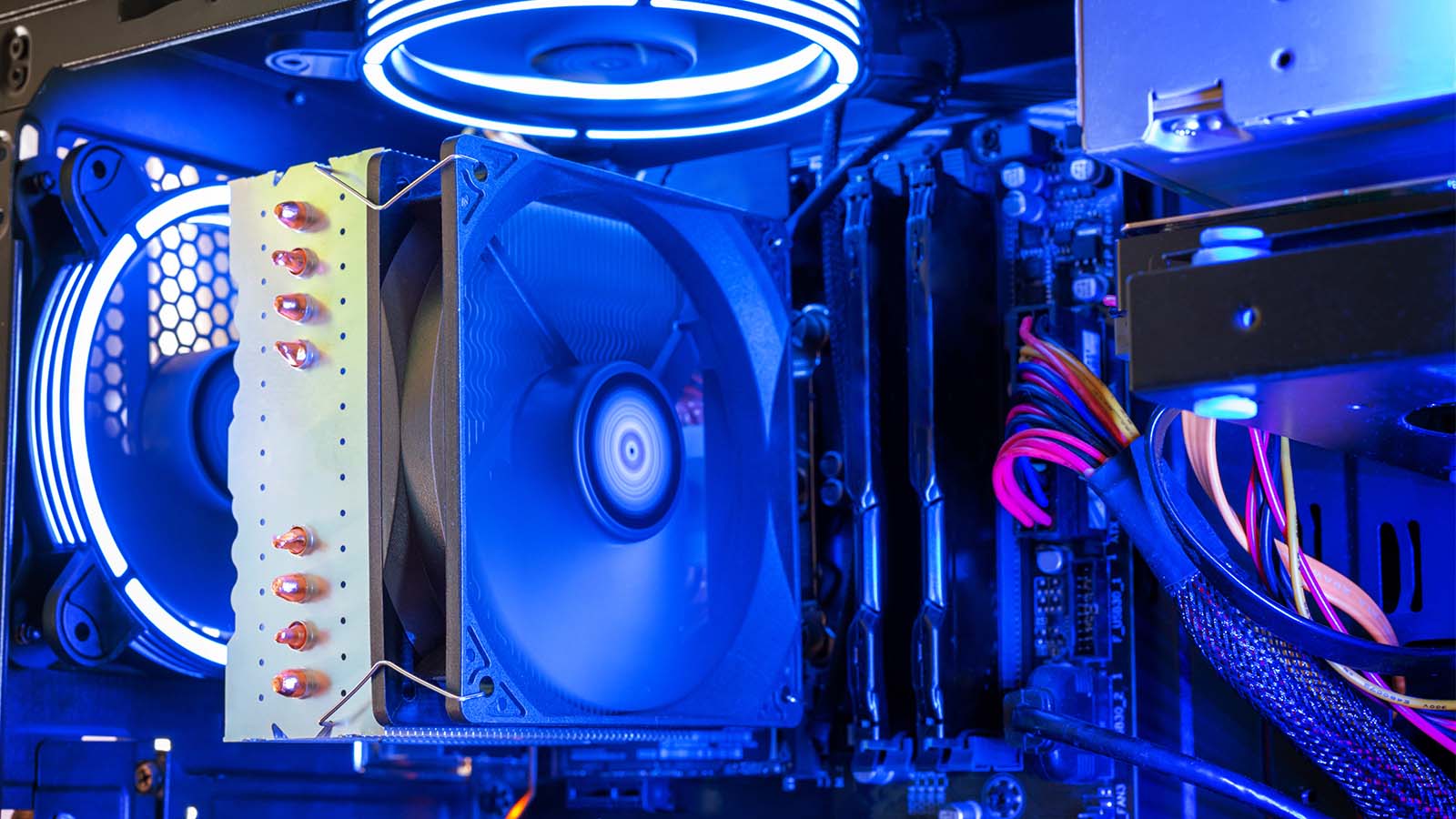 Intel's most powerful desktop CPU is also among the more controversial the company has launched over the years. Its IPC improvements and a substantial increase in multithreaded performance are undeniable and a boon for any Team Blue fan in need of a top-end, versatile processor. On the other hand, its release didn't bring anything new for gaming enthusiasts looking to max out the latest titles.
Another thing that hasn't changed is the chip's ability to fry an egg if not kept in check. That's why you'll want to read on and discover the best CPU coolers for i9-11900K. We've assembled the finest AIO and air cooling models at several price points. Thanks to this roundup, finding one that fits your case, budget, and aesthetic preferences will be a breeze.
Best High-end AIO for i9-11900K: Corsair iCUE H150i Elite Capellix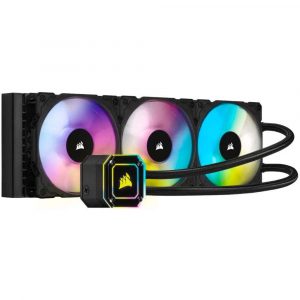 Corsair's premium addition to the H series of AIOs brings more than flashy RGBs to enthusiast PC builders. It's a complete system featuring nuanced control options, noiseless operation under the right circumstances, and exceptional cooling performance. It will tame the 11900K without batting an eye and let you enjoy a marvelous light show while doing so.
There are many high-grade AIOs to choose from in this price range. We like the NZXT Kraken X73 and Thermaltake Floe DX RGB 360 the most.
There's little to differentiate the 150i from other Corsair offerings before you turn on its many lights. However, astute observers will see that the head unit is taller than usual to accommodate the 33 Capellix LEDs on top. The unit is ready to snap into place since it comes with a pre-attached mounting bracket and expertly applied thermal paste. You can exchange its default lid for a clear one that shows the LEDs off more.
The radiator is a hefty 360mm unit with a fin density of 20 per inch. That means it can soak up more heat than most but requires powerful fans to eject it into the surroundings. Luckily, it comes with three 120mm ML120 fans sporting white transparent blades. They can reach 2,400 RPM or can remain dormant during low system loads.
Corsair includes the Commander Core module as a freebie. This gadget has six headers on each side that allow you to connect even more fans or Corsair-brand RGB strips to improve your rig's thermal efficiency and cool factor. The module takes up little space inside the case and doesn't complicate the installation, which follows standard procedure and is quick to complete.
The H150i Elite Capellix uses iCUE for in-depth RGB customization and control. You can choose between various patterns and set up each fan's 8 LEDs or the pump's 21 lighting areas individually. More importantly, iCUE serves as a system monitoring hub, allowing you to keep tabs on temperatures and fan rotation speeds or choose between several fan profiles.
Those profiles make the AIO one of the most flexible out there. Running it in Quiet mode produces almost no sound while switching to Extreme greatly enhances efficiency at the cost of a lot of noise. Expect the AIO to keep up with an overclocked 11900K, whichever profile you choose.
Best Mid-range AIO for i9-11900K: Fractal Design Celsius S36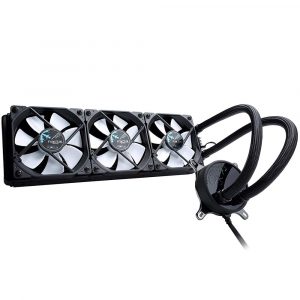 Fractal Design was out of the AIO game for a while due to patent-related issues, but the Celsius line makes a compelling argument for the company's strong comeback. Its largest member forgoes flash in favor of exceptional performance and an installation so easy first-time water cooling users can complete it quickly and with confidence. Add an innovative head unit, and you've got all the makings of an outstanding cooling solution.
The Arctic Freezer II 280 is another AIO with a unique pump that also includes a VRM fan. Check it out if you can't find our main recommendation.
Where Corsair's head unit was hard to miss due to its size and array of lights, the one on the Celsius S36 is small and barely noticeable. It sports a few unique features, like a plastic outer ring you can turn to switch from automated to PWM speed regulation via the BIOS. Its cold plate is round and comes with a pre-applied thermal compound. An Intel top bracket is already secured to the pump as well, which will speed up the installation.
Unusual design elements continue with the radiator and tubes. The radiator is thicker than usual at 30mm. It has an aluminum fin density that varies between 20 and 24, depending on the exact spot. That kind of density calls for powerful fans, and the three Dynamic X2 GP12 units deliver. They sport an RPM range of 500-2,000 and have a CFM of 67. Each comes with a separate PWM cable that plugs into the fan hub located on the radiator. A single cable then runs through the braided tubing down to the pump.
Having such a small head unit means that there's plenty of room to populate all four RAM slots and ensure optimum VRM cooling. Setting everything up is straightforward. You attach the Intel backplate and secure the pump to it with standoffs & screws. The fans need to be screwed in as well and connected to the radiator hub. That leaves plugging the main power cable into your motherboard's CPU fan header.
Tests that subject the CPU to simulated real-world usages or stress it way past that show that the Celsius C36 can maintain low temperatures and will not throttle hotter processors like the 11900K. That comes at the cost of heightened noise levels that persist throughout its RPM range and culminate in 45dB when the fans are spinning at 100%.
Best Budget AIO for i9-11900K: Lian Li Galahad AIO 240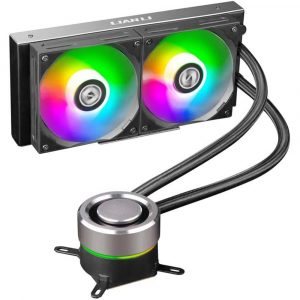 Most PC builders know Lian Li only as a manufacturer of exceptional cases. Judging by how well their first water cooling units perform, that is about to change. It's inspiring to see a 240mm AIO tackle the 11900K and come out on top where some larger models falter. It's not cheap for its size, but the Galahad is still an affordable purchase in the grand scheme of things.
Want a slightly cheaper, larger, and quieter AIO instead? Then go with the Enermax Liqmax III 360 instead.
The cooler's design is so professional and tidy that it's hard to believe this is Lian Li's first crack at an AIO. The pump is tall and features a ring of alluring addressable RGBs surrounding the company's logo. You may rotate the top so that the logo is always positioned correctly or cover it with a magnetic cap for a cleaner look. The tubes and cables are all on the same side for a tidier look. The square copper cold plate is bare, but you get a tube of paste to apply to it.
The radiator is no less attractive since it has aluminum sides. Its thickness and fin density are average at 27mm and 20, respectively. A small profile makes the radiator ideal for SFF builds and easy to position in regular cases. Two 120mm fans with white notched blades spin between 800-1,800 RPM and can pass 65 CFM of air to keep the fins from running too hot. A pair of nylon-sleeved tubes exit the radiator and enter the head unit through flexible 90-degree swivel fittings.
Cooler design growing pains often include complicated installation, and we're glad to see that the Galahad AIO 240 doesn't suffer from them. The positioning of your motherboard's ARGB headers might be the only issue if they're far away due to the cables' length. There's more than enough room for RAM or any modern GPU otherwise.
It's no exaggeration to call the Galahad a highly impressive AIO. Techpowerup lists it as one of the contenders in its Enki 360 AIO review, where it was tested with an i9-10900K. Lian Li's model is considerably cheaper and has one less fan yet trails the Enki by only a degree or two. The drawback is its mediocre acoustic performance once you crank the fans past 50%. Users more interested in cooling efficiency won't mind, though.
Best Air Cooler for i9-11900K: Noctua NH-D15S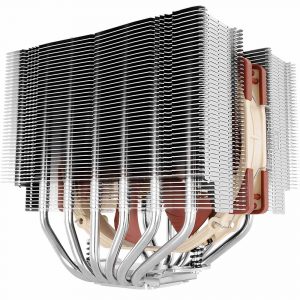 The NH-D15 continues to be almost uncontested even though it's seven years old. While it's still the best, the original has poor RAM clearance and a tendency to overlap with the first PCIe GPU slot. Noctua addressed this by releasing a slimmer version that offers much more room for other components while losing next to nothing in terms of cooling potential.
Apart from the NH-D15 you can get if your motherboard is large enough, you may also like the Assassin III from Deepcool.
Noctua's slimmer cooler is a monster to behold with its twin sets of aluminum heatsinks and a large fan that requires your case to have a depth of 165mm or more. While iconic, its cream & brown color scheme won't be to everyone's taste, but you can hand over $10 more for an all-black Chromax version. The fan at the cooler's heart is a 140mm NF-A15 PWM, the same as on the original. Its CFM rating is 68, while the rotation speed ranges from 300 to 1,500 RPM. You may use the included low noise adapter to lower that to 1,200 RPM for quieter operation.
An offset heatsink layout is the most significant improvement the NH-D15S brings. When installed, the assembly shifts visibly upward, leaving much more room for you to use the first x16 slot. The front fan's removal and a shortening of the bottom seven fins ensures all RAM that's 63mm tall or less will fit as well. The heatsink design is otherwise identical, complete with a partial sawtooth pattern and closed-off sides that promote the direct passage of air.
There's not much to the installation, thanks to Noctua's excellent mounting hardware. You need to follow the instructions and make sure you use the washers when mounting the backplate to not cause a short. The cooler comes with a tube of premium paste you shouldn't forget to apply to the milled base. Everything from securing the backplate to clipping the fan on is done in minutes.
The NH-D15S combines commendable performance with little to no noise generation. Testing with an i9-9900K shows that the slim version is only a degree or two behind the original while maintaining respectable noise levels even when pushed to the limit.
Best Silent Air Cooler for i9-11900K: be quiet! Dark Rock Pro 4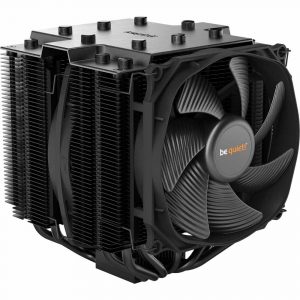 Whether air- or water-based, almost all the coolers in our showcase get loud once faced with an overclocked 11900K. However, one model can handle the heat without sounding like a leaf blower, and it is made by be quiet! to no one's surprise. The fourth iteration of the company's flagship CPU cooler is massive and comes close to the NH-D15 performance-wise while barely making any noise.
The Dark Rock Pro 4 is an imposing cooler that still manages to pull off the stealth look thanks to a coating of powdered black paint. The paint flakes off from the heatsink easily, so attach the fan clips gently. Speaking of fans, you get two SilentWings models in a push/pull configuration. The middle one is 135mm and has a top rotation speed of 1,200 RPM. A smaller 120mm fan sits in the front and turns 300 RPM faster. Both use ribbed blades for improved turbulence generation.
One look at the heatsinks makes one appreciate the effort put into the design. They are connected by a top plate but aren't offset like on the NH-D15S. Still, there should be no conflicts with your GPU. Each stack has a sawtooth pattern on the front end and fin clusters with alternating lengths in the back to maximize airflow. The base is chunky and serves not just as a hub for the seven heatpipes but a mini radiator too.
You'd think a cooler as large as this would be challenging to set up, but its design promotes quite the opposite. The procedure is the same as with any better cooler you'd use on an Intel chip until it's time to secure the base. You can remove two decorative caps from the top plate and use the provided magnetic screwdriver to position and secure the screws. You'll have to remove the middle fan for this but may mount the outer one on the heatsink beforehand.
The cooler is designed with more RAM clearance in mind than Noctua's flagship. However, some tall kits might not fit, so ensure yours does before purchasing.
Tasking the Dark Rock Pro 4 to keep the 11900K in check results in manageable temperatures and no throttling unless you've engaged all of the chip's overclocking options. More importantly, the cooler barely slips into 30dB territory when running as fast as possible, which makes it one of the most silent models in existence.
Best Budget Air Cooler for i9-11900K: Noctua NH-U14S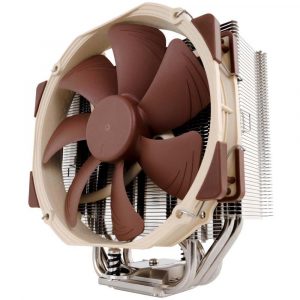 Eight years is an enormous amount of time in the computing world. It's also how long Noctua's NH-U14S has been delivering fantastic cooling performance, with no signs of slowing down. The cooler is smaller and cheaper than the NH-D15 that succeeded it but still perfectly viable for today's most thermally challenging processors.
Comparing the various Noctua models mentioned earlier with this one makes it clear what inspired them. You'll find the same signature color scheme, as well as the identical NF-A15 fan. It comes with metal clips that hug the heatsink's protruding sides tightly and can be repositioned if you encounter RAM compatibility issues.
A single, thicker aluminum heatsink and six nickel-plated heatpipes are responsible for drawing heat away from the CPU. They do this efficiently thanks to several design tricks. The fins have small sawtooth patterns on the front and back. They're held in place with two vertical fins that help keep the spacing uniform and force air to flow in a single direction. The base is copper and has a smooth finish. The pipes come out of it in three pairs, alternately exiting at different angles to minimize proximity.
We've already covered the installation for the NH-D15S, and not much has changed. The difference in width allows you to invest in a second fan down the road, though. This will bring temperatures down a couple of degrees without adversely impacting noise.
Techpowerup uses the NH-U14S as their default fan for establishing a CPU temperature baseline. It's clear from the 11900K's chart that you'll have no trouble at stock clocks or after applying some mild overclocking. Pushing the chip past 5GHz or turning on its various boost features isn't advisable since it gets toasty. The cooler's original review shows its noise generation could be better, but that's no real cause for complaint.
Frequently Asked Questions
What is the best CPU cooler for i9-11900K?
Before answering that question, you have to decide whether you want to go the air or water cooling route. We won't take custom water cooling into account for simplicity's sake since it requires more experience and can quickly become very expensive.
We've highlighted some of the best AIO solutions above, and even more expensive ones are on the market. The price difference has more to do with better RGB or features like a system monitor on the head unit than proportional performance increases.
You're more limited when it comes to air cooling. Only a handful of air coolers can do the job reliably, and these are the high-end models from be quiet!, Deepcool, and Noctua.
Does the Intel i9-11900K come with a cooler?
No. Processors like the 11700K and 11900K don't ship with coolers because it doesn't make sense for Intel to manufacture them. The coolers that ship with weaker Intel processors are sufficient if your PC runs at stock clocks. They don't have as big of a cooling potential as affordable aftermarket alternatives even then.
The 11900K gets really hot even if you don't overclock it, so a custom cooling solution is key. Bundling a cooler with it would increase the price without guaranteeing stability. Intel leaves it up to the customer to buy a cooler in hopes that they'll do their research and budget accordingly.
How many cores does i9-11900K have?
The 11900K has eight cores, two less than the 10900K it supersedes. The reduction was brought about by a change in the chip's architecture. Intel focused on IPC gains instead of its long-standing strategy of pushing ever-faster clock speeds. The 11900K does about as well as its predecessor despite the decreased core count.