6 Best CPU Coolers for i7-13700K in 2023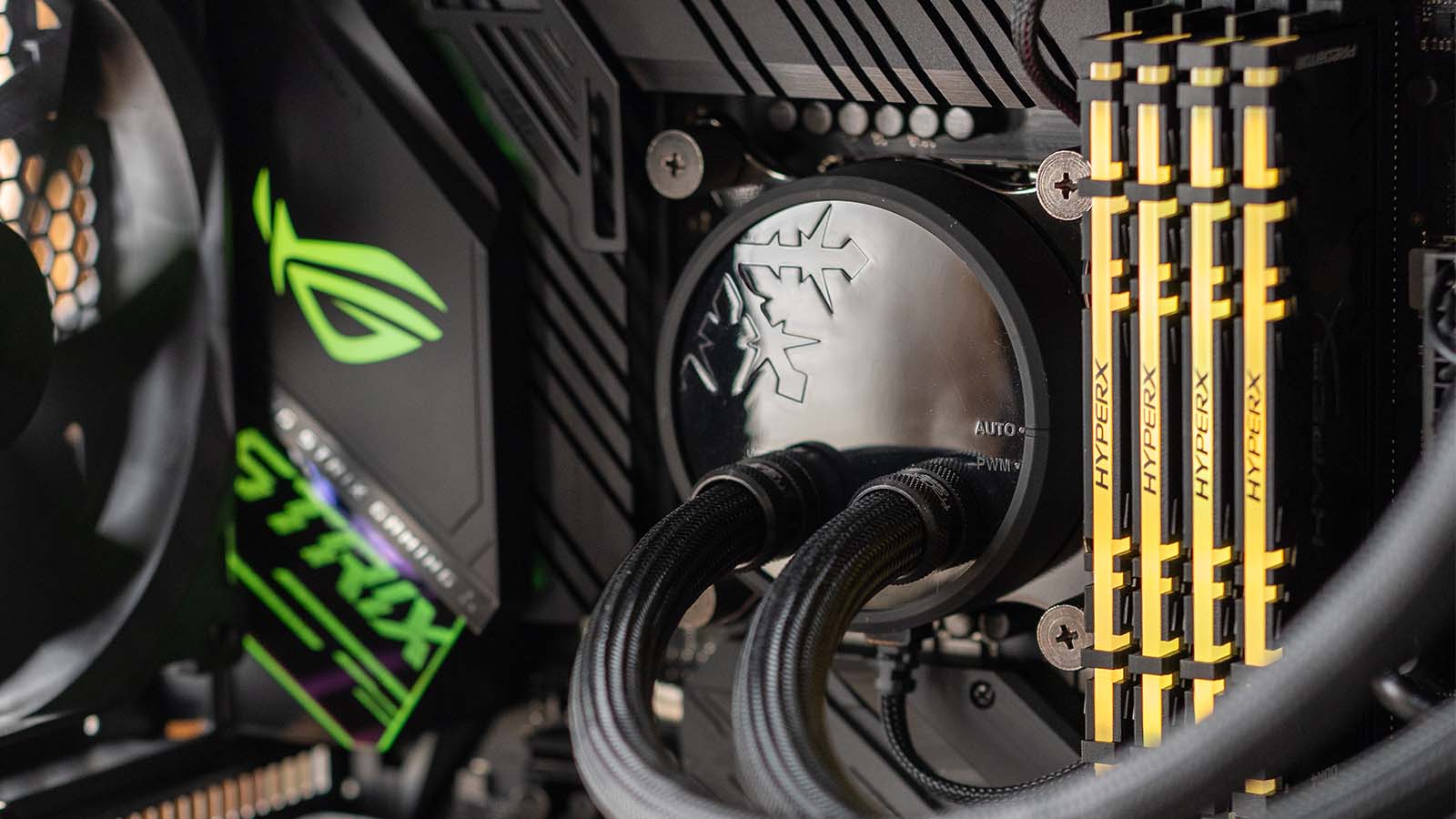 The 13700K is the Jack-of-all-trades for Raptor Lake enthusiasts. It can muster most of the 13900K's gaming and multi-threaded performance and is an excellent content creation or productivity CPU for those who don't want to pay 13900K-level prices. Get one of the best CPU coolers for i7-13700K along with it and supercharge your PC no matter what you use it for.
Best High-End AIO: NZXT Kraken X63 RGB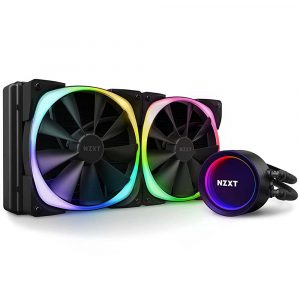 Despite Raptor Lake's increase in thermals, the correct cooler can still let you overclock the 13700K without dramatic temperature changes. NZXT's Kraken X63 is among the first to spring to mind for the task. We chose its RGB version. Even though it's a bit more expensive it's equally effective and much more interesting than the basic model.
Not an NZXT fan? Then Corsair's H115i Elite Capellix should do the trick. Alternatively, you could go all out & get the Z63 instead, complete with an LCD screen on the pump head you'll marvel at for a while and then forget about.
When off, the X63 doesn't look particularly inspiring. Its cylindrical pump head is a recognizable Asetek design, albeit bigger than on the previous iteration. You can now rotate it to have the NZXT logo aligned, no matter the installation angle. Peeking underneath reveals a circular copper base with a generous circle of thermal paste already in place.
The pump head is connected via 400mm of flexible tubing to the radiator. It's slightly thicker than usual at 30mm, but not enough to make a considerable difference. We're much more interested in the Aer RGB 2 fans. Usually, AIO manufacturers make the fans themselves transparent and need to use thinner blades for the LEDs to shine through better.
NZXT's implementation adds an LED ring around the fans. This makes the lighting look unique while keeping the fans' original characteristics. They're 140mm units with an RPM range of 500 to 1,500 and can whirr up a massive 91 cubic feet of air per minute. The static pressure is just alright, though.
Mounting the X63 RGB is more involved than usual due to the cable abundance. NZXT made things a bit easier by allowing you to daisy-chain the RGB cables, but that still leaves individual power. Even so, experienced users should have no trouble getting their coolers up and running.
We'd be remiss not to mention NZXT's comprehensive CAM software. It's a polarizing utility that offers a one-stop overview of your system specs and usage while letting you customize the effects & colors of the cooler's RGB aspect. It's also possible to set up several fan profiles and adjust their speed. You need a separate accessory for that, however.
None of this would be relevant if not for the X63's stellar performance. It's one of the most accomplished AIO solutions out there, easily keeping up with and outpacing some 360mm rivals. It isn't particularly loud either since the fans don't need to ramp all the way up to deliver excellent cooling. However, you'll have to endure some noise if you overclock since the fans get noticeably louder as they near 100%.
Best High-End Air Cooler: Deepcool Assassin III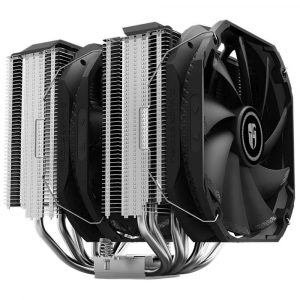 The 13700K has an imposing heat output not easily met by air coolers. You'll need some of the best if you want to overclock, and the Assassin III is the answer. You're going to need a large case to accommodate it, but this cooler is as good as it gets on air, both performance-wise and in terms of noise.
Alternative recommendations fall on the usual suspects. Noctua's NH-D15 is of a similar build and has large potent fans. Be quiet!'s Dark Rock Pro 4 is a bit smaller & cheaper while maintaining top-tier results.
An assassin is the last thing that comes to mind when looking at this cooler's gargantuan presence. There's little subtlety in its design as the sheer size and weight do much to bring temps down. Closed-off fin stacks are the tower's only advanced element, constraining the air to pass through in one direction more forcefully. Each stack has a large ornamental spoiler top that hides the pipe tips.
The base is thick and made of two parts. That allowed Deepcool to finely machine its nickel-plated contact area without affecting the pipes. The top part is chunky and has a series of tooth-like gaps that turn it into a secondary radiator. There are seven pipes in total. They spread out from the base in a symmetrical pattern and maintain optimal distance from one another.
The fans are huge as well, wrapping themselves around the fin stacks and hanging down far beneath them. A diameter of 140mm lets them rotate at a lower RPM range of 400 to 1.400. Each fan matches the X63's potential with a CFM of 90. They attach via two sets of clips and have rubberized corners that protect from vibration.
You'll want to go with low-profile RAM for the best compatibility. It's easy to adjust the front fan's positioning via the clips, but you'll lose out on a chunk of its might if the RAM is too tall.
The cooler might be unwieldy, but there's nothing complex about installing the Assassin III. You have to place the LGA 1700 bracket underneath the motherboard and screw it in with the provided hardware.
Then it's time to apply the included thermal compound & secure the top brackets. Spring-loaded screws are already part of the crossbar assembly, so you only need to tighten them with the accompanying screwdriver. Clip & power the fans on, and you're finished.
Kudos to Deepcool for developing an air cooler that holds its own against Noctua and AIOs alike. The Assassin III achieves much of its potential at 50% speed. That's when the name starts making sense, as sound levels barely exceed 20 dB.
Best Mid-Range AIO: Arctic Liquid Freezer II 280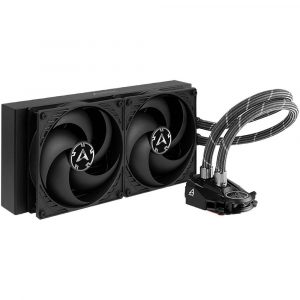 And now the cooler that needs no introduction, one we keep going back to as CPU generations advance. The Liquid Freezer II 280 is the ideal blend of innovation, efficiency, and value for money. Some models might be better by a little, but the price difference won't be worth it for most.
We went with the original version this time since it's $20 cheaper. If you can't live without bling but find the X63 RGB too expensive, you should check out the ARGB version of the Liquid Freezer.
Almost everything about this AIO is either unique or built from the ground up. Some of Arctic's decisions might not go over well with the aesthetic-obsessed, but they serve the cooler well. We're mainly talking about the elongated pump head, which looks nothing like the competition's.
That's due to integrating a 40mm fan that blows air onto the motherboard VRMs. A board that supports overclocking the 13700K shouldn't need such help. However, an entry-level B660 model's VRMs may go down from uncomfortably hot to manageable.
Innovation continues with the radiator, a component that usually sees the least change. This one is thicker by 11mm yet has a lower fin density, allowing for better thermal efficiency while still letting the fans blow all that hot air out with abandon.
Foregoing a light show nets you Arctic's well-regarded P14 140mm opaque black fans. Their larger area enables lower rotation speeds and less noise when the system is idle. They can still create a mini cyclone at 1,700 RPM and push air through the radiator at a voluminous 72 CFM.
The Liquid Freezer II 280's installation is noticeably more manageable than the X63's. There are fewer cables in the first place as there's no lighting to power. Moreover, the fans are already mounted onto the radiator, so you're good to go unless you want to mount the AIO in a way that requires the pull configuration. The PWM wires providing juice to the fans integrate into the tube sleeves, leaving a single, much cleaner connection from the pump head to your mobo.
All of this could have blown up in Arctic's face had the results been underwhelming. Luckily, they are anything but! The Liquid Freezer is among the best 280mm coolers, keeping demanding CPUs within comfortable limits as effectively as many 360mm competitors. It's barely audible when doing so, placing it among the most well-rounded cooling solutions we've ever come across.
Best Mid-Ranged Air Cooler: Noctua NH-U14S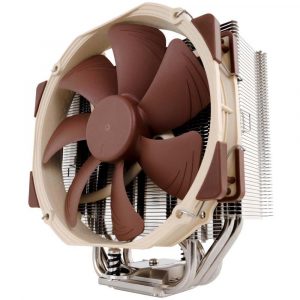 The Assassin is an awesome air cooler but takes up a lot of space. If you want another air-based solution that's almost as good but much more compact, the NH-U14S from Noctua is the model to get. It's not really mid-range in the budget sense, yet costs considerably less than our top recommendations. You can even upgrade it with another excellent fan later on and shave a few more degrees off.
The NH-U14S is proof that flawless execution can make a product last seemingly an eternity. Users have first marveled at its finely-crafted fin array and the individually soldered heatpipes that puncture it ten years ago. The bracket accessories are the only thing that has changed.
Of course, some long-time Noctua lovers hoped that the NH-U14S would get the Gammax Black treatment the NH-D15 has. Alas, you'll have to contend with the beige & brown NF-A15 original and its style-disruptive nature.
That's a first-world problem we'd gladly have, given the fan's world-class stats. It's a 150mm unit that manages 300 to 1,500 rotations per minute at 82 CFM. Using the low-noise adapter will cut the max RPM by 200 while ensuring more quiet operation.
Sparing a second glance at the stack uncovers several intriguing details. Several bottom fins are shorter to make room for two broadly-angled heatpipes. The tower's sides are welded shut to promote directional airflow, and the fins have protrusions that make clip mounting the fans more straightforward.
Switching to a bird's eye view makes it easier to see how the fins are indented in the middle, culminating with a sharp V shape. That design element adds space in front of the fan, allowing the air it blows to gather more speed before entering.
There's not much to say about the base other than it's thinner than the Assassin's while housing similar mounting hardware. Noctua perfected what we now consider standard mounting procedures with its SecuFirm system. Motherboards and GPUs might have changed, but mounting a Noctua cooler is as approachable now as it was in the early 2010s.
Techpowerup regularly uses the NH-U14s for CPU testing, so here's exactly what you can expect from it for the 13700K. Gaming sees temperatures climb to the mid-70s – not ideal, but not harmful either. Prolonged stress testing that utilizes every one of the chip's 16 cores is enough to push temperatures firmly into 90°C+ territory, more if you decide to remove thermal limits.
Best Budget AIO: Be Quiet! Pure Loop 240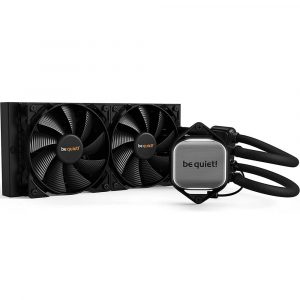 You don't need to spend more on a 280mm AIO when a 240mm one like the Pure Loop can do the job. It, too, implements several changes that contribute to the cooler's silence and longevity. Best of all, you get results that clearly surpass even the most accomplished air coolers for less than $100.
Be quiet! has since released a newer version with a revamped design and RGB fans. It's a decent alternative to look into if you like the original's design. However, it's more expensive without bringing anything new to the cooling aspect.
As with our midrange entry, a different take on the pump head is the first clue that the Pure Loop 240 is different. This time, the portion that comes into contact with your 13700K's IHS is flat and has an elongated side. Its sports a highly-polished hexagonal nickel-plated base, some discrete yet stylish white lighting, and not much else.
Where's the pump, then? You'll find it close to the radiator, suspended on the tubing. Locating it there makes sense if you want to build bigger while minimizing the noise impact. It's possible to decouple the pump and tubing to use them as part of a bigger custom water loop should you wish to expand.
A company logo is seemingly the only bit that distinguishes the mundane radiator. However, it also has a refill cap. Using it ordinarily voids your warranty, but be quiet! wants you to top the liquid inside off after years of use and provides a generous bottle for that purpose. This is especially important if you mount the cooler on your case's bottom since prolonged use can lead to bubbles in the pump that decrease efficiency.
You may have spotted the Pure Wings 2 fans on air-based be quiet! coolers. They're easy to distinguish due to the blades' wavy look. Their top speed is 1,500 RPM, with a decent CFM rating of 51. Their operating noise is a mere 20 dB.
Nothing about this novel design makes installing the Pure Loop 240 any harder. If anything, the flexible tubes help with positioning. Just make sure everything is screwed in tightly.
As you can see from eTeknix's large cooler roundup, the Pure Loop sits near the top of the charts. It's more efficient than that NH-D15 and even leaves several 280mm AIOs behind. The entire AIO isn't as silent as the fans. Still, scores in the low 30s while cooling a demanding CPU like the 13700K are excellent.
Best Budget Air Cooler: Scythe Fuma 2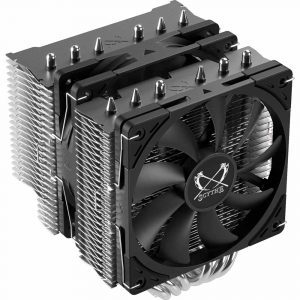 Our final air cooler recommendation adopts a twin-tower design more manageable than the Assassin's. The size, weight, and price might be smaller, but performance barely lags behind the greats. Scythe pulled it off thanks to precision engineering, overall quality design, and a few fine-tuned extras.
Two other affordable contenders come to mind. The first is the AK620, a similarly-priced and more recent entry from Deepcool. The second is another Assassin, this time the peerless kind from Thermalright.
A lot is going on with the Fuma 2's heatsinks array. It's split into two 49-fin towers, the first being thinner than the last for better memory compatibility. Both have alternating sawtooth fins that help with air agitation. Like our other recommendations, the Fuma 2 has sealed sides.
Peculiarities continue with the fan setup, as the two fans have different widths and maximum air outputs. The front one is thinner at only 17mm. It moves a mere 34 CFM of air at 100%. Its companion is 10mm thicker and manages to shift 15 CFM more. Both rotate from 300 to 1,200 RPM and connect to the motherboard's PWM headers.
Even though Scythe didn't give it special attention, the base is thick enough to help draw more heat out. The six heatpipes are crowded in the front due to the asymmetrical design and spread out more freely in the back. They and the polished contact plate are nickel-plated, which is great to see at this price point.
There's little about the installation we haven't touched on already since the steps closely resemble those for our first two choices. The Fuma 2 has a simpler fan mounting stage since it lets you install them before mounting the cooler. There's still enough room between the back fan and front fin stack for the supplied screwdriver to reach.
Despite costing around 35% less, the Fuma 2 falls only slightly behind the NH-D15 performance-wise. The gap widens as more thermal stress is placed on the CPU, so the results won't be as great if you're overclocking. Acoustics are the Fuma 2's only pain point, but its 40dB is still quieter than what many AIOs produce at max speed.
Frequently Asked Questions
What cooler is best for the i7-13700K? Do AIOs cool better than air coolers?
Several factors play a role in answering the first question. How large is the case, and how tall is the RAM? Will you be overclocking the CPU? How big is your budget? Depending on the answers, the best option for you could be anything from a solid air cooler to some of the more elaborate AIOs. We've covered both extremes and everything in between.
AIOs achieve lower temperatures than air. The cooling liquid inside them is mostly water, which conducts heat much better than air. Radiators have a greater surface area than most heatsinks as well, so the heat exchange is accelerated. Even so, the best air coolers can keep up, so it makes sense to get one if you have the room or are worried about potential leaks.
Does airflow matter with an AIO?
Yes! Not just the airflow, but what kind of air is circulating in your case too. If there are enough case fans to blow cold air in and eject hot air, the AIO's fans won't have to push as much hot air through the radiator when set to push. The GPU is the largest heat generator in your system. Using a blower-style card or mitigating the air it blows into the case will help keep CPU temps down significantly.
Unfortunately, it does. Intel upped the chip's E-core count, boost frequencies, and max boost power, so you're looking at a noticeable heat output increase compared to the 12700K. Not even the best AIOs can keep it from reaching high temperatures during stress testing. On the other hand, slight undervolting will greatly lower temperatures with a negligible performance impact.