6 Best CPU Coolers for i5-12600K in 2023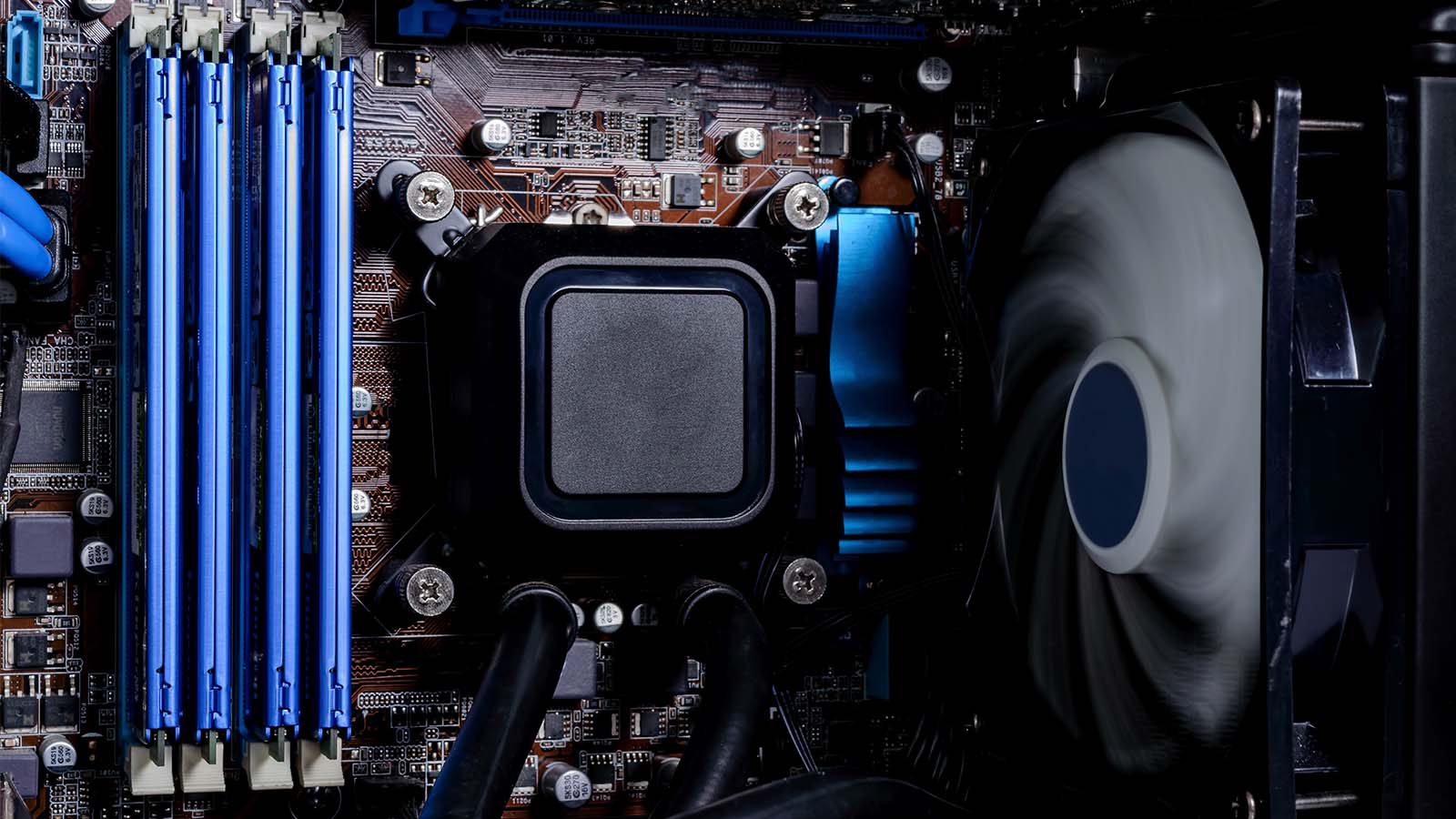 AMD managed to briefly attain the gaming crown with its series of 5000-series processors, helped along by the most disappointing release Intel has had in generations. However, Alder Lake brings with it yet another reversal scoring wins for Team Blue across the board.
The least expensive chip in the lineup also happens to be the most interesting. Armed with significant IPC improvements and aggressively priced, the 12600K is a force to be reckoned with. It's already causing price drops for the 5800X, a $100 more expensive chip it outperforms in gaming. Productivity is also on Intel's mind, so you're getting a much more rounded CPU than before.
You'll have to beef your cooling solution up, though, as many air coolers will struggle to keep the chip reasonably chill without throttling. To that end, we've created a guide on the best CPU coolers for i5-12600K to steer you in the right direction. Included are both air coolers & AIOs, so finding the right solution should be a breeze.
Note: LGA 1700 motherboards aren't compatible with most CPU coolers right off the bat. You'll have to order or ask for a new bracket instead. We've included info on how to obtain one with each of our picks.
Best High-end Air Cooler for i5-12600K: Noctua NH-D15S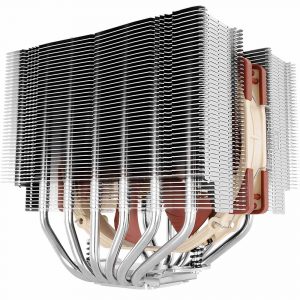 Noctua needs no introduction for temperature-obsessed PC fans looking for the best available air cooling. Its flagship NH-D15 fan is among the most well-known bits of hardware in history, but it's also cumbersome. That's why the sleeker NH-D15S version offers improved RAM compatibility and an asymmetrical design with a minimum performance impact.
You can get the original for $10 more if you don't expect any clearance issues. Alternatively, go for Deepcool's Assassin III if you want the cooler to better blend in with the rest of the system.
While it's based on the NH-D15, the cooler on our list is more than just a stripped-down version of it. You get only one fan instead of two, neatly sandwiched inside two enormous aluminum heatsinks. However, the entire construction has been pulled back towards your motherboard's top heatsink to avoid the original's unforgiving GPU clearance.
The fan at the NH-D15S is the same iconic beige & brown NH-A15 140mm unit that has been gracing PCs for close to a decade. It has an RPM range of 300 to 1.500, which you can reduce to 1,200 by using the included low-noise adapter. Max CFM drops accordingly, from an impressive 82.5 to 68. There's enough mounting hardware for a second fan in the packaging if you decide to add extra oomph afterward.
Every part of the cooler exudes quality, but it's most evident on the heatsink. The fins might be plain-looking, but they have strategically-placed sawtooth cuts that aid in generating more turbulence. The six 6mm thick heatpipes & thick base have a nickel-plated finish for aesthetics' sake that doesn't deter from their conductivity.
How does a high-end Noctua cooler perform with only one fan? Fantastic, to no one's surprise. It handles grueling tests like AIDA64 exceptionally well while keeping temperatures more than 10 degrees lower when your PC is performing more mundane tasks. Noise is on point as well. Low workloads generate noise in the mid-30s while taxing your 12600K will barely cause the cooler to exceed 40dB.
Best Mid-range Air Cooler for i5-12600K: be quiet! Dark Rock 4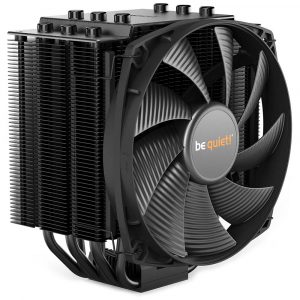 Even the 12600K runs hotter than its predecessor. That doesn't mean you can't get rid of the heat stealthily, if you have a cooler from be quiet! that is. The Dark Rock 4 is the company's second-best model, distinguishing itself with fantastic acoustics, sound thermal mitigation, and attractive looks. It's considerably cheaper than the PRO version, which introduces enough balance to get our mid-tier recommendation in a snap.
The Scythe Fuma 2 is another popular and efficient air cooler you can get for even less cash.
Noctua coolers demand to be seen; the Dark Rock 4 is the complete opposite as it blends into the shadows of your case. Even so, it's one of the best-looking coolers out there. It's completely black, with a thin coat of paint covering both the fins and heatpipes. A silent Wings fan rests on anti-vibration pads on the heatsink. It is a 135mm diameter unit with 1,400 max RPM and a wave-shaped fin design that aids in quiet operation.
The heatsink is one of the cooler's most intriguing aspects. It's one of the most elaborate out there, with rows upon rows of teeth on the fan end and alternating terraces on the other. Coupled with tiny dipping holes on each fin, this creates a much larger surface area and introduces air agitation that has a meaningful impact on cooling potential. The heatpipes are carefully constructed, branching out of the base to have minimal contact with each other.
The third Dark Rock received criticism on account of complicated installation, which this model addresses fully. You install its new bracket and associated standoffs like you would on any Intel board. The crossbar and long screwdriver are the most prominent innovations, allowing you to screw the heatsink in place from above with no fuss. That leaves mounting and plugging the fan in, which takes seconds.
Silence is this cooler's main selling point. It doesn't come at the cost of thermal efficiency since the Dark Rock 4 achieves good results when under load or idle. However, noise testing puts it into a class of its own. The fact that loudness barely goes up as the CPU is under load is awe-inspiring. Given the high likelihood of louder fans cooling the rest of your system, you probably won't even notice it.
Best Budget Air Cooler for i5-12600K: ARCTIC Freezer 34 eSports DUO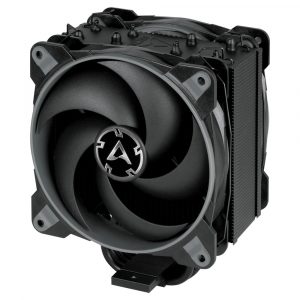 Arctic's coolers are renowned for punching above their weight class, and we've included two to back that up. The first is among the most popular accessible air coolers around, the eSports edition of the Freezer 34. It's an impressive model that combines two fans, several performance-improving tweaks, and a price that makes you think Arctic is losing money. This is the cooler to get if you're strapped for cash but do not want to compromise on quality.
You'd think that an air cooler this cheap wouldn't be so big or so well made, for that matter. The eSports Duo is an imposing sight, with its thick central heatsink and two fans. We love how you can get them in various color schemes that go with stealthy to black cases and anything in between. The fans aren't just for show either. They're BioniX 120mm units with a wide RPM range and fluid dynamic bearings that increase stability & reduce noise.
The cooler's predecessor had a shorter, thicker heatsink. Now the heatsink has 54 thinner fins that bend slightly at the edges to catch more air. The broader sides also have a full sawtooth pattern similar to the Dark Rock 4.
The heatpipe and base assembly have also received improvements. The four pipes no longer stick out in pairs from each side. Instead, two of them bend to get away from the others and give hot air enough room to dissipate. This area is the most telltale sign of the cooler's price. The pipes' bottoms are exposed, and they've been wedged inside an aluminum block with machining marks still visible on the bottom of the assembly.
None of this has any bearing on the cooler's efficiency, which is far & above what you'd expect for the price. On the one hand, the fans rotate between 200 and 2,100 times per minute. They are highly adaptive in delivering the right amount of air to keep the 12600 from becoming toasty. On the other, not even max RPM generates an undue amount of noise, so expect the cooler to be among your system's quieter components.
Best High-end AIO Cooler for i5-12600K: Corsair iCUE H100i RGB Pro XT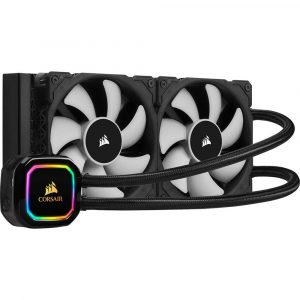 An AIO cooler is no longer overkill for a mid-range Intel processor. Luckily, you don't need more than a 240mm model to handle the 12600K, and Corsair's non-Capellix H100i is the one to spend some extra on. It has customizable RGB, is easy to install, and can achieve some impressive temperature drops compared to air cooling.
Want a little more bling at a greater cost? Then give the excellent Lian Li Galahad AIO240 RGB or the Kraken S53 RGB from NZXT a shot.
Corsair introduced a minimum amount of changes from the last version of this AIO. We're not complaining as it was already a comprehensive product. You'll see the most significant changes in the pump head, which doubles as a hub for the cooler's cable assortment. Gamers will get a kick out of its bright addressable RGB zones and many associated customization options available through iCUE.
While unremarkable, the H100i RGB Pro XT's 240mm radiator part is no less critical. Its fin density is average, and you get two 120mm PWM fans with rubberized corners to attach to it. The fans are white but don't have LEDs. What they do have is a respectable CFM output of 75 at their maximum speed of 2.400 RPM. Take care while mounting them as the screws the fans come with are smaller than usual.
Other parts of the installation process are much smoother. You just need to place the appropriate backplate under the motherboard's CPU area and swap out the pump head's premounted top brackets with their LGA 1700 counterparts. The final step is to connect the USB, SATA, and PWM cables that provide power and iCUE support.
Guru3D tested the AIO in combination with the notoriously hot i9-9900K. Kudos to Corsair for designing an AIO that can maintain temperatures in the mid-70 Celsius range on a demanding CPU. Better yet, keeping such results up doesn't cause the cooler's fans to generate more than 40dB of sound.
Best Mid-range AIO for i5-12600K: be quiet! Pure Loop 240mm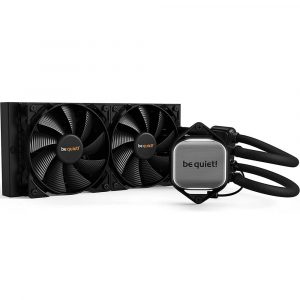 Be quiet! has a respectable reputation in the CPU air cooler department, and the Pure Loop is a grand entry into the world of water cooling. It's an inexpensive 240mm AIO that offers several interesting features like a refillable reservoir and separate pump. More importantly, it adheres to the company's philosophy of placing quiet operation at the forefront while performing better than the price would suggest.
The Pure Loop is an aesthetically well-balanced product with an attractive contrasting color scheme. Most of it is the company's customary stealthy black, but the head unit's top is covered in oblong white plastic and lights up when the PC is running. It has a sizeable octagonal cold plate and comes with thermal paste you apply during installation.
Examining the flexible braided cables reveals that the pump isn't part of the head unit. It's suspended between tunes instead, which you can detach and connect to other liquid cooling components to enlarge an existing setup. The pump's positioning might be odd but leads to less noise.
There's nothing except a company logo to distinguish the black 240mm radiator from others. However, you're in for a treat when the fans are concerned. They're genuine Pure Wings 2, some of the best & most silent units available today. They have the telltale wave-shaped fins and an RPM of 1.500 that's still capable of moving a lot of air through the dense radiator.
Any doubts about be quiet!'s first AIO fall to the wayside once you see how it performs out in the wild. Unsurprisingly, it's among the quietest units featured in eTeknix's roundup, hovering around 35dB whether idle or at load. While these results are commendable, we were more impressed with the AIO's low temperatures and ability to maintain comparatively lower thermals even when overclocking.
Best Budget AIO for i5-12600K: ARCTIC Liquid Freezer II 240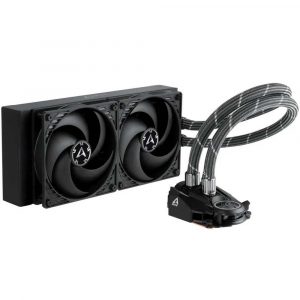 Arctic continues to knock it out of the park on the affordable AIO front too. So much so that the second Liquid Freezer is among the best cooling solutions you can get today, period. It's a compact model that's easier to install than most, has a handy secondary fan, and puts many more expensive competitors to shame. RGB is the only thing it does not bring to the table, which shouldn't bother users looking for performance above cosmetics.
The MasterLiquid ML240L RGB V2 is even less expensive and has enough lighting to scratch that RGB itch.
Lack of RGB doesn't necessarily make the Liquid Freezer II 240 dull. In fact, there's nothing like its rounded pump head out there. You can thank the small PWM fan on its top and the supporting vents for that. The fan is variable and blows air through three of the mounting block's four sides. Installation works with 90-degree angles, so the extra air can cause the most good by either hitting your GPU or the motherboard VRM.
The radiator is also interesting for a change. Its fin density is increased, which improves heat dissipation but also requires fans with more static pressure. The P12 units developed explicitly for this AIO deliver. They are 120mm fans with RPM ranging from 200 to 1.800. Each fan's throughput is 56 CFM backed up by high static pressure that ensures unimpaired efficiency.
Tidiness is among the Liquid Freezer's best yet underappreciated features. The fans are preinstalled, so there's no need to fiddle with them unless you want to change to a pull configuration. Their PWM cables are integrated into the tube sleeve and plug into the head unit. A single cable then connects from there to your motherboard, noticeably reducing clutter. In short, plugging a line in and securing the pump head is all you need to do to get the AIO up and running.
None of this would be relevant without backup by actual data, and that's where this AIO delivers its most pleasant surprises. Another i9 9900K test pits it against same-sized AIOs and the best air coolers around. The results speak for themselves as Arctic's liquid cooler firmly takes the lead and barely budges as the CPU's clock speed increases. It's in the top third in terms of quiet performance as well.
Frequently Asked Questions
Is air cooling better than liquid cooling? Do I need an AIO?
Both options are viable in the case of the 12600K. Which you want to pursue will depend on a handful of factors, though. The best air coolers are sufficiently advanced to maintain great working temperatures on this CPU. They're a good choice if you're looking for a less expensive solution that's generally more straightforward to install and doesn't present a risk to your other components in the event of a severe malfunction.
On the other hand, AIOs have several significant advantages. They're generally quieter & don't run into clearance issues since their head units take up much less space than bulky air coolers. Most importantly, AIOs can cool a CPU to a greater degree as water is a better heat conductor than air. Affordable AIOs cost as much as premium air coolers, though.
Do you need to refill water cooling? Can liquid cooling leak?
AIOs are built with ease of use and safety in mind and are much more suitable than custom water loops for beginner builders. That being said, they can occasionally run into some problems. The closed nature of an AIO means it can't physically be refilled in most cases. That's not really a problem since it takes years for enough water to evaporate and decrease efficiency. Even then, a properly installed unit where the pump is positioned lower than the radiator shouldn't encounter significant problems.
The water cooling niche has exploded in recent years, which brought more stringent safety standards. Modern AIOs leak exceedingly rarely. This usually happens after years of use with component wear. You can protect yourself from leaks by buying from trusted brands and checking up on the AIO a couple of times per year.
Can I overclock with AIO?
Absolutely! AIOs are made to drop a CPU's working temperature substantially. This allows you to increase its power draw & clock frequencies to gain extra performance. The 12600K is a relatively forgiving chip as far as thermals go, so you'd be able to overclock it with a high-end air cooler too.