6 Best CPU Coolers for i7-12700K in 2023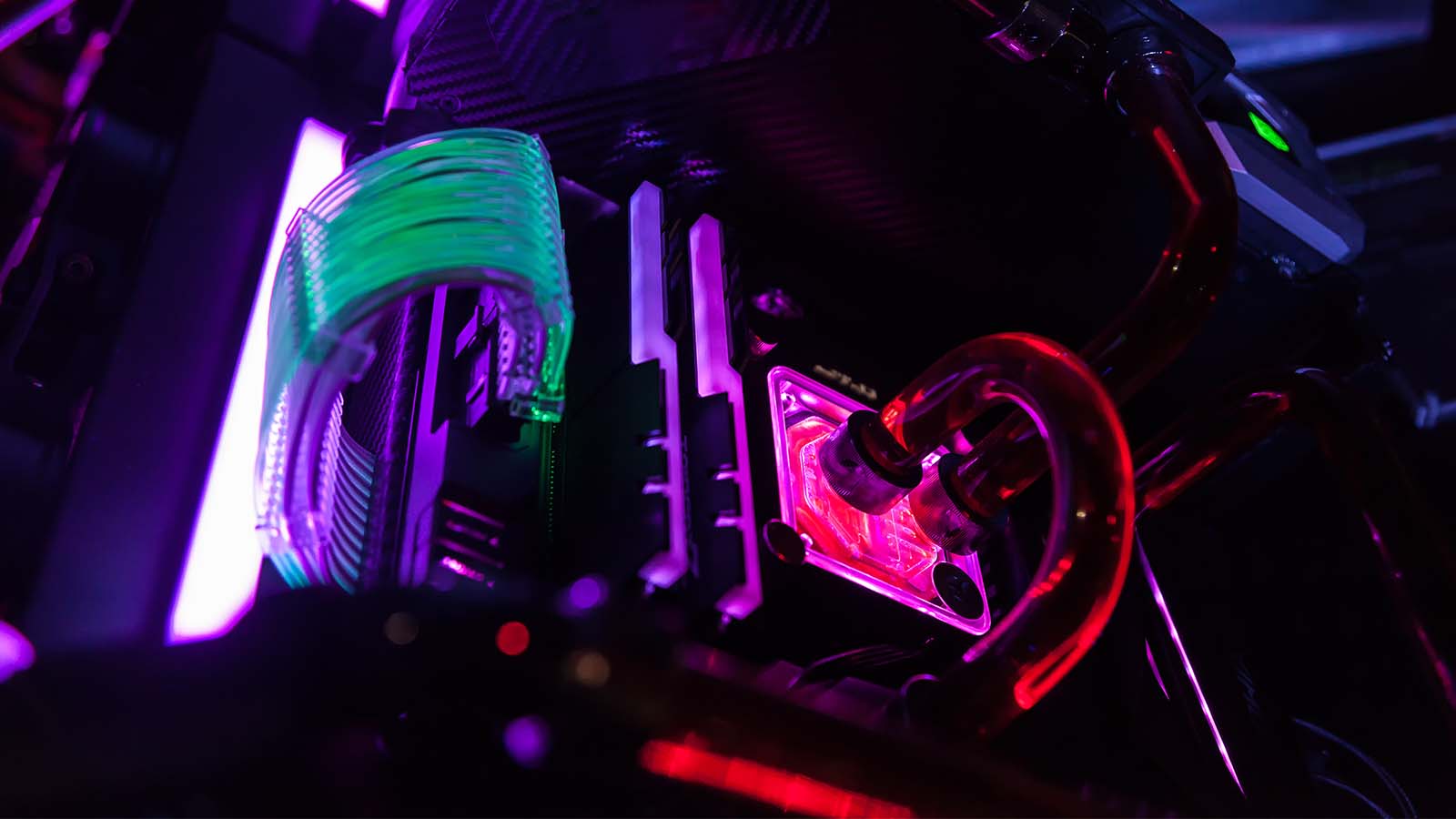 The most expensive and cheapest Alder Lake CPUs released to date are the new raw power & price-to-performance champs, respectively. Where does that leave the middle child, the 12700K, then? While it isn't getting as much attention, this might be the most interesting of the three chips. Why? Because it approaches 12900K performance levels while costing considerably less!
You'll need the best CPU cooler for i7-12700K you can get since its gaming & productivity improvements come at the cost of increased temps over the 11700K. Fortunately, many AIOs and even some air coolers are up for the task. Discover which ones made our list and use one of them to keep the CPU's temperatures well in hand.
Best Air Cooler for i7-12700K: Noctua NH-D15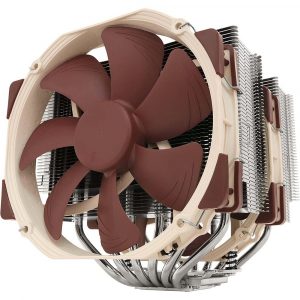 Noctua's most iconic cooler takes the lead in our air cooler segment, to no one's surprise. While a 12900K is too much even for it, the NH-D15 can still keep your 12700K cool. It's massive, quiet, and efficient. The cooler is also a testament to optimization as it's close to eight years old but still doesn't have decisively better opposition.
That being said, the Dark Rock Pro 4 and Deepcool Assassin III come close. It's also a good idea to check the NH-D15S out if you are experiencing clearance issues.
Our winner builds upon the D14, adding better memory support and improvements to the heatsink construction. The fans are more prominent as well. They're 150mm in diameter and sport the company's signature tan and brown color combo. That didn't sit well with some people, so now there's a slightly more expensive all-black version available too. The fans max out at an RPM of 1,500. Coupled with a cubic feet per minute output of 82.5 each, the amount of hot air the cooler can eliminate is impressive.
No less impressive is Noctua's attention to detail when it comes to the heatsink. Its bottom seven fins are curtailed to allow for two-sided RAM placement. Each fin is individually soldered onto the six nickel-plated copper heatpipes, ensuring maximum contact. A subtle dip and several rows of teeth introduce more turbulence as air passes and help optimize efficiency.
The installation process is straightforward even though the new bracket is slightly different to accommodate the rectangular shape of Alder Lake CPUs. Depending on your RAM's height, you might need to position the NH-D15's outer fan considerably higher than the inner one. That shouldn't impact performance significantly, though. Do make sure that your motherboard is large enough to accommodate the cooler as it can make the top PCIe x16 slot unavailable.
While it's expensive for an air cooler, the NH-D15 justifies the cost with its top-notch performance. It's better than other air coolers and goes toe to toe with many AIOs as well. The two fans are quiet out of the box, but you can decrease the noise by using an adapter that cuts their max RPM by 300.
Best Budget Air Cooler for i7-12700K: Scythe Fuma 2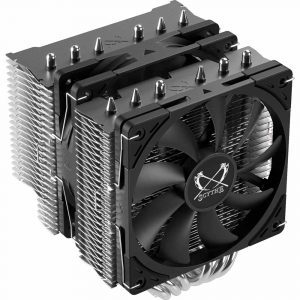 Alder Lake has undoubtedly upped the ante in terms of heat generation. However, you can keep the 12700K from throttling and save at the same time if you opt for Scythe's Fuma 2. It's another air cooler that embraces the dual tower design, this time with much better clearance than the NH-D15. It's cheap, works well if you keep the CPU at stock, and comes in at an attractive price.
A cursory look at the Fuma 2 would never suggest it's considerably cheaper than Noctua's model. It, too, has nickel-plated pipes and a dense aluminum heatsink. The top fin is even colored black to give the unit a stealthier appearance. Digging deeper reveals that the fins are laid out in an alternating pattern. Half are straight, while the other half sports a sawtooth pattern. That arrangement leads to more air agitation and better fan performance.
Speaking of fans, that's where the divide becomes more apparent. Scythe used regular and slim versions of the Kaze Flex 120. Both are 120mm models with 300-1,200 RPM, but the slimmer one has a CFM of 33.9 as opposed to 51.2 on the inner fan. It's a tradeoff that Scythe made consciously to ensure the front fan doesn't brush up against the RAM regardless of which slot you install it in.
We're pleasantly surprised by the amount of mounting hardware that ships with the cooler. You'll need to get the LGA 1700 bracket separately, but you already get a long screwdriver that makes screwing the heatsink in place a snap. Inserting the fans and connecting them to PWM headers individually or through a splitter is all that remains.
You shouldn't expect the cheapest cooler in our list to do as well as the others, and Techpowerup's tests confirm this. They paired it with an older member of the i7 lineup, so adding several degrees to the reported temperatures will give you a more realistic picture. In essence, the 12700K will remain reasonably temperate in normal conditions and won't throttle under extreme CPU duress if you don't overclock. Acoustic results are even more promising as the cooler is among the most silent in the showdown.
Best High-end AIO Cooler for i7-12700K: Corsair iCUE H115i Elite Capellix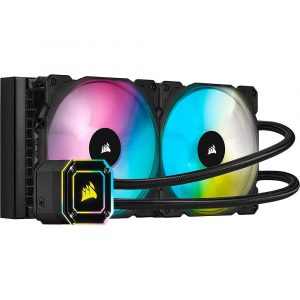 The 12700K is an adaptable processor, so why shouldn't its cooler be the same? That's the idea behind the Capellix-infused H115i, one of corsair's newest and most extravagant AIO coolers. Ii delivers quite a light show without losing out on performance. In fact, the accompanying iCUE software lets you get more hands-on with cooling than many other competitors.
Speaking of which, check out Thermaltake's Floe Riing RGB 280 TT Premium Edition for a similar approach to RGB-lit yet performance-driven design.
The H115i is among the least visually impressive AIOs on the list while off. The pump design is similar to previous ones, albeit with sharper edges. It's topped with an acrylic plate you can replace with one that lets more light through to accentuate the RGB glow. The radiator is a run-of-the-mill model, too, with unremarkable fin density and standard depth.
The AIO does a 180 the moment you turn on your PC. It greets you with a rainbow pattern of enhanced Capellix LEDs Corsair created themselves. They take up considerably less space yet somehow manage to consume less power and be brighter than others. This let Corsair place 33 in the CPU block and eight more into each of the ML 140 fans that drive air out at a whopping 97 CFM apiece.
You'd think that so much RGB would make a mess, but the Commander Core is there to help. It's a SATA-powered control module you plug the AIO's and four more Corsair fans into for better cable and color management. You'll want to install iCUE as it will let you customize each RGB zone individually or have the AIO change color in tune with system temps. Best of all, iCUE allows you to switch between several fan profiles, including one that cuts the fans completely if the CPU is idling.
Testing the AIO presents an interesting challenge since efficiency and performance vary based on profile selection. Choosing the most extreme preset leads to peerless cooling and a lot of noise. Conversely, going for silence will see your 12700K's temperatures rise. Most users will likely stick to more balanced settings, but having the option to switch priorities at any time is a huge plus.
Best Mid-range AIO Cooler for i7-12700K: NZXT Kraken X63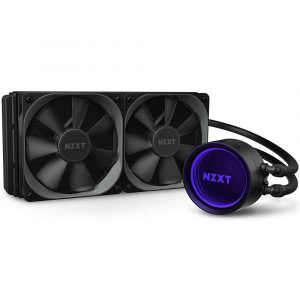 Users looking for a mix of reliable cooling with visual flair at a fair price will love the Kraken X63 from NZXT. It has a unique look without being too flashy and doesn't sacrifice performance as the fans aren't RGB. Setup is a cinch, and the accompanying CAM software has loads of valuable features if you don't mind it taking a percent or two of your system's resources.
The X63 is among our most stealthy entries. It sports an all-black color scheme that makes it hard to spot inside an unlit case. The effect largely persists when you light it up since RGB is concentrated on the otherwise unremarkable CPU block. It houses a 7th-gen Asetek pump and has a milled copper cold plate with thermal paste ready for use. The block's surface area is 10% larger than the x62's, allowing the infinity mirror effect to shine through even more brightly.
There's not much to write about the radiator since size and fin density conform to standard specs. The fans are more interesting, though. They can spin as fast as 1,800 RPM and have a CFM throughput rivaling the H115i's at 98. Each fan has a power cable you can connect either directly to your motherboard or a control unit that's sold separately.
Installation doesn't differ much from the norm. Cable management is the only thing you may have trouble with since there are many cables to plug in and route. NZXT offers its CAM software as a comprehensive monitoring tool and an easy way to change the pump head's lighting. It doesn't let you tinker with fan RPM unless you get the controller as well.
No surprises crop up during testing as the AIO performs as you'd expect for the price. It's in the top third for cooling efficiency whether the CPU is hard at work or idling. Noise results are slightly worse in comparison but still position the cooler as a reasonably quiet one.
Best Affordable AIO Cooler for i7-12700K: ARCTIC Liquid Freezer II 280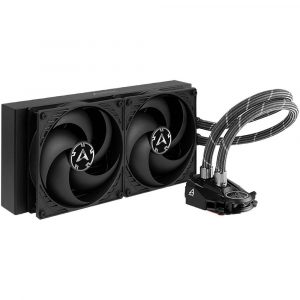 Arctic's AIOs are a perfect example of how outstanding products don't need to cost a fortune. Sure, there's no RGB to fawn over, but the Liquid Freezer II makes up for that with raw cooling power and innovation. It's the only cooler on the list capable of bringing the VRM temps down, comes almost fully assembled, and costs barely more than $100.
Two other cheap alternatives that come to mind are the Pure Loop 280 and MSI's MAG CORELIQUID 280R.
Most AIO manufacturers use pumps made to Asetek specs and have correspondingly similar head units. The one on this model is totally different, however, starting with the extra fan. The small fan has a variable RPM and blows air through a three-sided duct. The air then ends up cooling the VRM, but it can also blow onto your GPU's backplate and contribute to its stable temps.
Then there's the radiator, which is usually even more uniform. The Liquid Freezer II 280 has one that's 10mm thicker. That affects fin density and the amount of surface area from which heat radiates. It would help if you had excellent fans for moving so much heat around. Luckily, the radiator comes with two P14 fans already in place and ready to expel air in a push configuration.
While none of our picks are hard to install, this is the one we recommend for first-time AIO users. Much of what you need to assemble yourself otherwise is already put together. Moreover, the fans' cables connect to the head unit, requiring only one PWM connection to function. That might upset users hoping for individual PWM control, but it makes for a tidier and quicker build.
The exceptional price to performance ratio was the thing that impressed us about this AIO the most. It costs just a few dollars more than the NH-D15 yet takes up much less space while cooling the CPU and its surroundings more efficiently. Even better, the AIO is among the most silent you'll find in its class, so maintaining good 12700K temps under heavy load won't become a nuisance.
Best 240mm AIO Cooler for i7-12700K: Lian Li Galahad AIO 240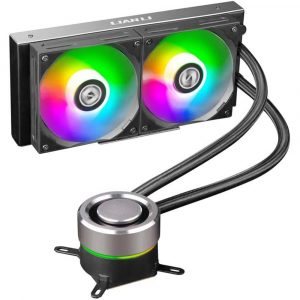 More companies should be like Lian Li and try their hand at something new. The well-known case manufacturer had a go at AIO cooling, and the first batch is already a resounding success! The smaller 240mm unit can handle the 12700K as well as larger models, looks great, and comes with enough tubing for a comfortable install. This is the solution you've been looking for if you're strapped for case space but still want an adequately cooled, powerful CPU.
The Galahad AIO 240's design is exemplary. On the one hand, you've got the 280mm radiator with two white nine-bladed fans. They let millions of colors through while maintaining airflow integrity since each clocks in at 65.5 CFM. On the other, the pump head and radiator are clad in aluminum and draw attention whether the AIO is on or not.
While not in focus, RGB is one of this AIO's more prominent selling points. The diffuse fans bathe the radiator in uniform, flicker-free light. The ARGB on the pump head is no less interesting due to a circular dot array pattern that surrounds the logo. You can adjust the cap so that the logo is upright at all times, regardless of how you install the cooler. There's no proprietary software for RGB control – your motherboard will have to do.
Ease of installation almost rivals the Liquid Freezer II. Brackets snap on and off the pump head in seconds, while long braided tubes and cabling found on the same side as the swivel fittings are orderly. You'll have to apply the thermal paste yourself, but a generous amount is included.
The Galahad does amazingly well for an AIO of its size. The two smaller fans and radiator are as efficient as many 280 and even some 360mm water coolers! You'll get the best results if you keep the CPU at stock but don't need to avoid overclocking with this small powerhouse. There is a tradeoff, though. The Galahad is among the noisiest coolers we've tested when performing at 100%.
Frequently Asked Questions
Do you need a CPU cooler for i7? Does the 12700K come with a stock cooler?
It's been Intel's practice for several generations not to supply its high-end processors with coolers. That's a sound decision since Intel was never renowned for stock cooler quality. Concentrating on the CPU itself lets them offer it at better prices, leaving you free to shop around for an adequate cooling solution.
The 12700K absolutely needs a cooler, and not just any at that. Its actual TDP can exceed 150W during heavy use, which requires either the beefiest air coolers or good-sized AIOs to handle.
Is AIO better than air cooler? Do I need an AIO cooler?
A good large AIO will consistently outperform the best air coolers. Water conducts heat more efficiently, and the radiator's eider surface area ensures fans can blow accumulated heat out into the open faster. There's also the footprint to consider. Some air coolers take up all the space around the CPU and even threaten to obstruct the GPU & RAM. AIOs rarely come with such concerns.
The 12700K is less forgiving than the 12600K, but you can still regulate its temperature through top-tier air cooling. Expense is the main advantage here since even elite air coolers like the NH-D15 are about as costly as the most affordable 280mm AIOs. Failure rates for both cooler types are low. Still, a malfunctioning air cooler is a much smaller risk to the rest of your system than a leaking AIO.
Is a 240mm AIO enough for the 12700K?
Yes, if you're willing to accept some caveats. First of all, not every 240mm AIO will be up to the task. We chose the Galahad on account of performance that exceeds expectations. A few others qualify, like the 240mm version of the Liquid Freezer II, but not many. You'll also want to make sure that there's enough room inside your case for unobstructed airflow to other components. Finally, refraining from overclocking is the best way to ensure reasonable temperatures a 240mm AIO can handle.