6 Best RAM for i5-11400F in 2023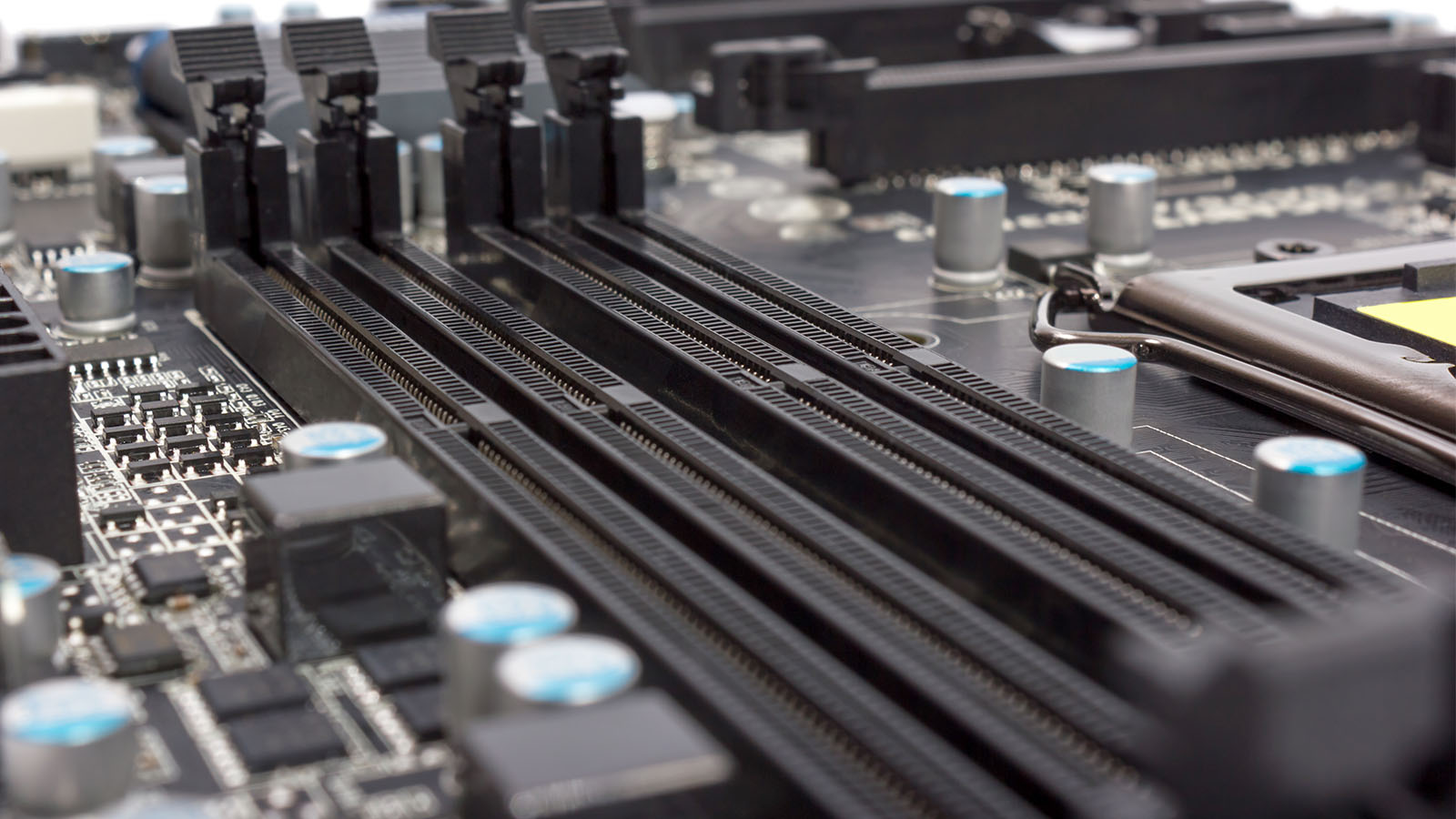 Rocket Lake is sure to go down as one of Intel's least memorable releases. It's true that top-tier 11th-gen CPUs didn't bring anything new to the table for gamers, but not all is lost! Team Blue's mid-range offerings are the true winners, most notably the affordable but powerful 11400F. It finally sees much-needed improvements in multithreaded applications yet is every bit as useful for games utilizing a low thread count.
The best RAM for i5-11400F complements the CPU's philosophy, seeking to offer the most gains at reasonable prices. Even then, there are differences, which we highlight in the guide below. Take a look at the kits on offer and outfit the generation's dark horse with worthy memory.
Best High-end RAM for i5-11400F: Patriot Viper Steel 4000MHz 2x8GB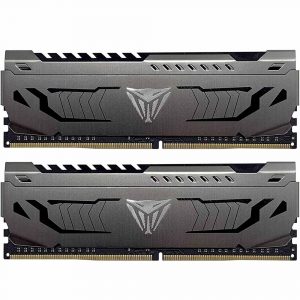 The 11400F might be a locked processor, but that doesn't mean it can't take advantage of fast memory. Enter Patriot's Viper Steel, a kit that reaches 4000MHz & even has room for a little more. It's the most expensive memory on the list but quite affordable in the grand scheme of things due to focusing on performance over unnecessary extras.
While it doesn't have RGB, Patriot's memory is far from unappealing. You can thank its gray heat spreader accented with glossy black bitts that help with visual interest. Then there's the viper's head mascot in the middle and a series of diagonal fins on top that help even out heat distribution. The design won't necessarily get rid of the heat altogether, but it does eliminate hotspots & associated problems.
Knowing that the Viper Steel uses Samsung B-die ICs already says much to those in the know. Gamers favor the die for its ability to handle overclocking with aplomb, as attested by the base 4000MHz XMP clock. You may squeeze an additional 133MHz out of it if you don't mind upping the voltage. Leaving the XMP settings alone sees the RAM purring along at 19-19-19-39 and 1.35V.
How big of a difference does the RAM's high frequency make? In short, enough to justify the price hike over our mid-range pick. It tops Guru3D's charts whether you're doing something productive like video encoding or taking a break by stealing cars or dismembering monsters in your favorite virtual worlds. The impact isn't significant, but sometimes that extra frame or three might prove necessary.
Best Mid-range RAM for i5-11400F: Crucial Ballistix RGB 3600 MHz 2x8GB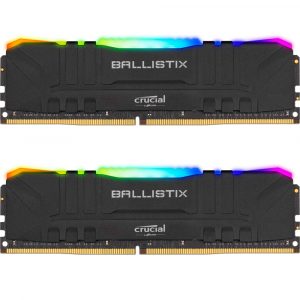 Cranking the frequency up doesn't have noticeable effects in some games. That's why a 3600MHz kit that also happens not to cost too much is the ideal choice for most 11400F users. The Ballistix RGB from Crucial ticks all the right boxes – it's plenty fast, comes with appealing RGB, and successfully combines performance with price.
A regular Trident Z RGB kit from G.Skill is an adequate alternative if you don't mind slightly slower timings. Want even more RGB? Then stepping down to 3200MHz will get you some Corsair Vengeance RGB Pro RAM.
Props to Crucial for coming up with a design that nicely integrates RGB without making the RAM sticks unduly tall. The lighting occupies a thin strip on top of an aluminum heatsink you can get in either black, white, or red. Several stamped details make the spreader more attractive while increasing its surface area.
The LEDs are bright and flicker-free. You can control them through software like Mystic light or Aura Sync, but Corsair's MOD tool does an adequate job if you don't want to coordinate the colors with the rest of the build.
Some Crucial kits had Samsung B-die in the past, but Micron's improved ICs no longer make this a necessity. The Ballistix RGB comes equipped with Micron E-die at a stock speed of 2666MHz. Turning XMP on boosts it to 3600MHz at 1.35V, the timings being a comfortable 16-18-18-38. You can't do much to improve this, but the memory should work at 3733MHz with a few adjustments to power requirements.
Putting the Ballistix through its paces establishes the kit as a competent all-rounder. It's responsive when running artificial benchmarks and asked to crunch a lot of numbers. Similarly, it lets the 11400F realize its potential for 1080p gaming where the CPU is the bottleneck.
Best Budget RAM for i5-11400F: TEAMGROUP T-Force Vulcan Z 3200MHz 2x8GB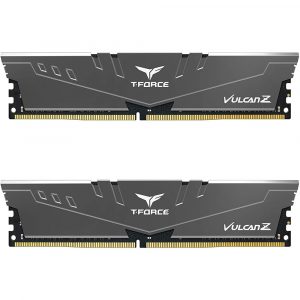 What do you get when you strip away the fancy RGB and tone down some of the ridiculously fast clock speeds RAM manufacturers love to advertise? Judging by the Vulcan Z from Teamgroup, the answer is a surprisingly capable kit that will save you a lot of money with a negligible performance impact. It's svelte, receptive to overclocking, and looks good to boot.
The Corsair Vengeance LPX is the next best thing if you're having trouble finding our main suggestion.
One look at this kit is proof enough that colorful lighting and tall heat spreaders aren't a prerequisite for outstanding memory aesthetics. The Vulcan Z features a gunmetal gray heat spreader carefully enhanced by lines angled lines and strategic cutouts that make the RAM literally and figuratively cooler. Best of all, each stick is only 32mm tall. This makes them some of the shortest that still feature aluminum heat spreaders and ideal for cramped SFF builds.
Hynix produces the ICs at the memory's core. They're the popular & accessible C-die, not as efficient as Samsung's offerings but definitely not low-quality either. Proof of this comes as soon as you examine the RAM's profile, which shows it working at 16-18-18-38 with a voltage of 1.35V. The single XMP profile sets the frequency to 3200MHz. However, you may tweak the frequency further and push it as high as 3600 or 3733MHz without having to adjust either the voltage or timings!
How does it perform, though? Given the price difference when compared to more expensive RAM – quite well. It doesn't take up the top spot on any of Techpowerup's tests, but neither does it lag behind. Several times there's no discernable performance difference between it and supposedly more powerful kits.
Best RGB RAM for i5-11400F: ADATA XPG Spectrix D60G RGB 3200MHz 2x8GB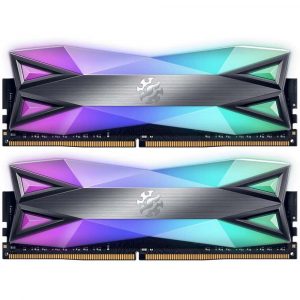 We've been focusing on memory that puts substance over style thus far, but what if you want some that's as flashy as it is potent? ADATA's Spectrix D60G is an answer that's impossible to miss as you'll see it from a mile away! It has exceptional LEDs & comes with competent companion software. More importantly, the high overclocking ceiling lets you improve the RAM's already decent stats further.
There are several outlandish, RGB-focused memory kits worth your attention. Chief among them are Teamgroup's T-force Xtreem and the Dominator Platinum RGB from Corsair.
Talk about a light diffuser! There's practically nothing else on the RAM to hold your interest once the lights turn on. ADATA proudly explains that the 60 in the Spectrix D60G's name refers to the percentage of its surface area covered in RGB. Indeed, the diamond-cut, x-shaped diffuser has only a few breaks in the form of a brushed aluminum strip that showcases the logo.
Unsurprisingly, the lighting looks stunning whether you're viewing a stick from the side or the top. You can play around with each RGB zone inside the provided software and experiment with a host of effects. The RAM works flawlessly with the likes of RGB Fusion and Polychrome as well if you're into unifying your build's visual theme. Best of all, the heavy focus on a large lighting area doesn't impact the height much. The kit is 46mm tall, offering enough clearance for most coolers.
While there's a lot of it, flash isn't this memory's only advantage. It has a good if unremarkable stat spread of 3200MHz at 1.35V with 16-18-18-36 timings. However, the D60G features Samsung B-die and is as receptive to overclocking as the Vulcan-Z. That means you can jump to 3600MHz without tampering with CAS latency or voltage.
It would be best if you went through with the manual overclock as the gains are visible whatever you have in store for the memory. Thinkcomputers only uses Sandra and AIDA64 for testing, so the picture remains incomplete. However, there's no reason not to expect comparable performance in gaming.
Best 32GB RAM Kit for i5-11400F: G.Skill Trident Z NEO 3600MHz 2x16GB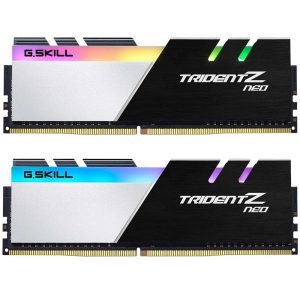 The 11400F might be ideal for mid-range gaming, but that doesn't mean you can't use a PC built around it for other things. You'll need more than 16GB of RAM if these include video editing or 3D work, which is where the newest addition to the Trident Z lineup comes in. It's attractive memory that has stats to back up the bling. Don't believe the marketing speak since it works just as well with Core as with Ryzen processors.
G.Skill is keeping it real with the Trident Z NEO while not being afraid of change. The tri-fin design leaves no doubt as to the memory's heritage, but its two-toned heat spreader is a welcome alteration. Half of it is smooth silver, while the other is brushed aluminum black. That means the RAM will look good in builds ranging from stealthy black to blindingly white.
There are no known issues with cooler clearance since each stick is 44mm high. G.Skill successfully implemented a series of Samsung B-die while managing to keep timings tight. These are 16-19-19-39 and stable at 1.35V. A little tweaking may yield even better results on Z-series Intel motherboards.
Benchmarks consistently place the NEO at the top of its class or near enough. This applies to all manner of activities, so a versatile PC with such memory needs should come into its own. That being said, gaming is where the RAM achieves its most noteworthy results.
Best 3000MHz RAM for i5-11400F: Patriot Viper 4 3000MHz 2x8GB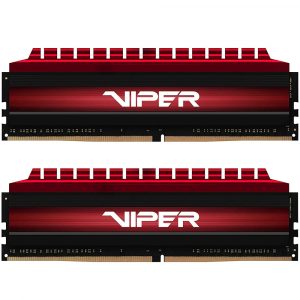 Need an even cheaper kit than our budget pick? A lower frequency is the way to go, and Another Viper is the perfect kit to pick out. This time, it's the Viper 4. The no-nonsense RAM focuses on good out-of-the-box results with little room for improvement but at a price that's more than attractive.
With this memory, Patriot went for a heavy-duty design that focuses entirely on the heat spreader. The results are mixed as going for a black instead of the traditional green PCB would have made more aesthetic sense. Still, the heat spreader makes up for the oversight with its three-part design.
The spreader itself is thick with a visually interesting black to red gradient. The top portion is a separate heatsink held tight by screws. It's the heaviest portion of each stick and clearly meant to draw heat away efficiently.
There's no use running the Viper 4 without XMP since it defaults to a puny 2133MHz. Enabling the technology causes clock speeds to soar to 3000MHz with a minimal negative impact on timings. These go from CL15 to 16-18-18-38 while maintaining a standard 1.35V. The memory's only apparent weakness is the inability to introduce a stable overclock past XMP values either by raising the frequency or lowering the timings.
Thinkcomputers reviewed the quad-channel version of this kit. Still, the results are practically identical. Thrifty buyers will be pleased with its results. You can put the bucks you save on the RAM towards a faster NVMe M.2 drive. The perceived difference in performance will be more significant than if you went with a more expensive high-frequency kit.
Frequently Asked Questions
Can you use 3200MHz RAM with i5 11400F?
Yes, even if you have a B-series board! Adding XMP support is one of the best things about the B560 lineup. Now you can get a moderately-priced CPU like the 11400F & pair it with an adequate board without losing out on memory overclocking capabilities. Since the process boils down to turning XMP on in the BIOS, you don't even need advanced knowledge or the time to lock in the correct settings through trial & error. Older locked Intel CPUs would max out at 2999 or 2666MHz, but the 11400F has no such limitations. These depend more on the motherboard you choose, but they far exceed 3200MHz even then.
Which motherboard is best for i5 11400F?
Reasonable pricing is one of the 11400F's strong suits, so it's appropriate to use it with a motherboard with a similar philosophy. You don't need overkill VRM since the chip is locked, which means a B560 board will be sufficient. Among them, we feel that the MSI MAG B560 Tomahawk WiFi is the best choice.
The Tomahawk sports numerous improvements over its predecessor, most notably to cooling through improved heatsink design and VRM potential. It supports three M.2 drives, one of which can utilize PCIe 4.0 speeds. You'll find enough headers to accommodate lots of fans or a water cooling loop, and the back I/O offers a diverse port selection.
Does Intel 11th-gen need a new motherboard?
That depends on what generation of mobo you're currently using. Rocket Lake was released with B560 and Z590 mobos but can be used with their 400-series predecessors since both come with the same LGA 1200 socket. Older motherboards aren't compatible, and neither are LGA 1700 models releasing alongside Alder Lake.
There's no need to upgrade from a 400-series board if you're already using a 10th-gen CPU. However, it's better to get a 500-series motherboard if you have to purchase a new one due to their wider availability and support for newer standards like PCIe 4.0.