6 Best Inverted PC Cases in 2023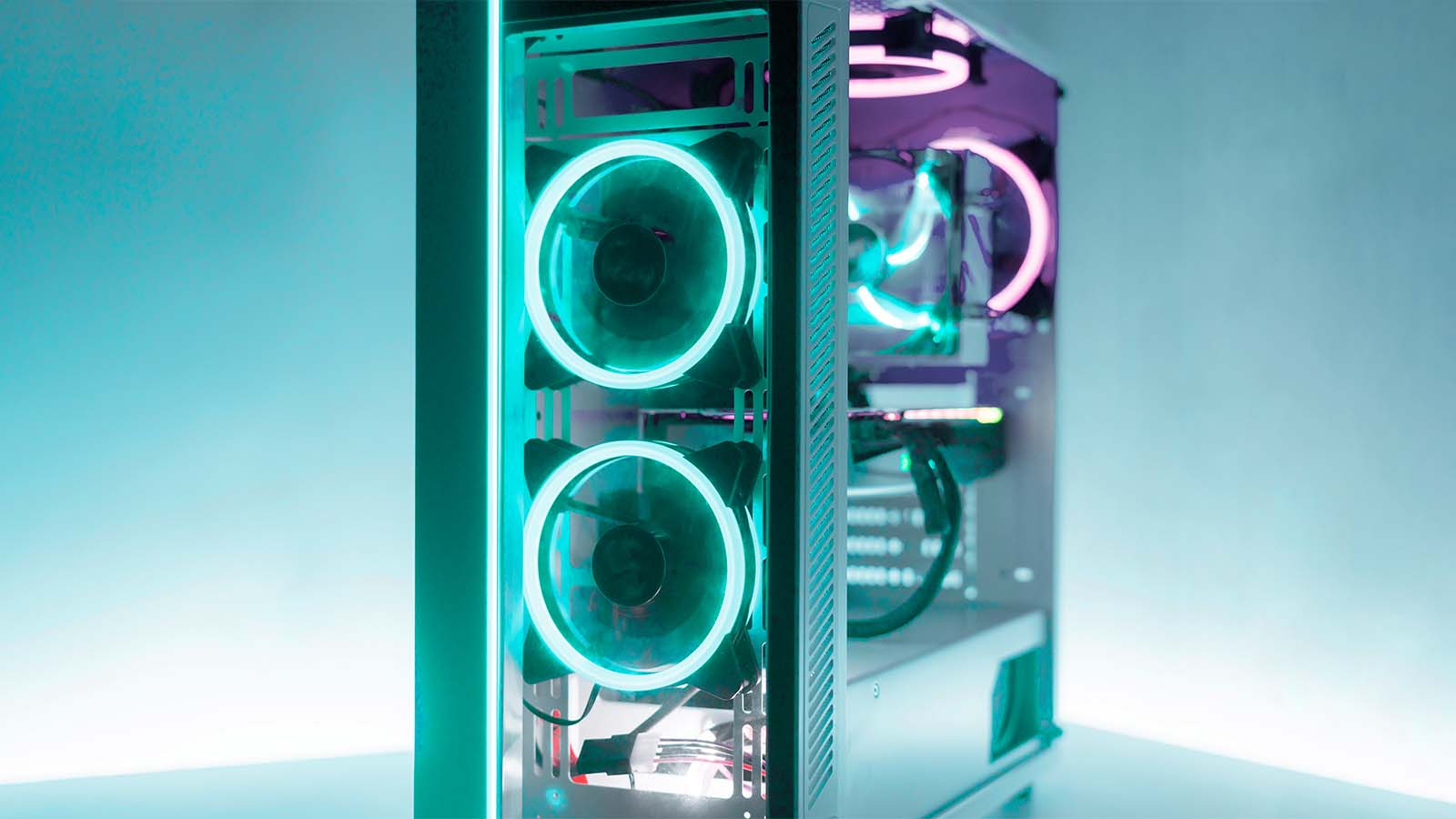 Case and desk manufacturers take it for granted that the vast majority of users will position their PC to the right of their monitors and peripherals, whether on the desk or the ground. You're not left with many options if yours needs to be to the left for whatever reason, especially if you want to show your mighty components off too.
Luckily, a handful of modern cases defy the norm, bringing with them other benefits besides. These are the best inverted PC cases available today. There are far fewer of them than their mainstream counterparts, but our selection still varies by budget and areas of performance you wish to focus on. Whether you're looking for maximum modularity, impeccable cable management, or whisper-quiet operation, there's an inverted case among our suggestions that will suit you ideally.
Best High-end Inverted Case: be quiet! Dark Base PRO 900 Rev. 2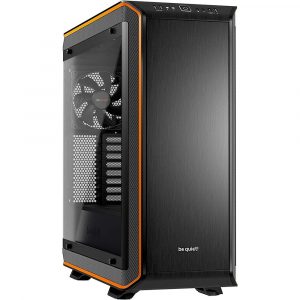 Want a fantastic-looking invertible case that takes modularity to the extreme? Then you'll find nothing better than the second Dark Base PRO 900 from be quiet! You can completely rebuild it from the ground up to accommodate all kinds of custom water pump setups or switch between a regular and inverted configuration whenever the need arises. It's considerably more expensive than other cases on the list, but the flexibility and freedom of tinkering it brings are unmatched.
If the modular aspect of this case appeals to you but you need something for an m-ATX build, try the Level 20 VT from Thermaltake.
The second Dark Base PRO 900 is massive! On the one hand, it's a full tower capable of supporting eATX boards. On the other, it is heavy even for this size due to the ample use of steel and tempered glass in its construction. You can get one that's wholly black or versions with orange or silver accents.
The side panel is made from thick, barely tinted glass to better show off the inside. The front panel is a solid door that swings on hinges and hides two Silent Wings 3 fans as well as old-fashioned optical drive bays. You'll find a modern I/O on top with a USB-C and two USB 3.2 Gen 1 ports. There's even a QI charging area to top up your phone wirelessly.
You'll love this case if you're into custom water cooling. It accommodates 420mm radiators in the front and comes with pump mounting accessories. There's plenty of room inside as well, so hose management isn't problematic.
Complete modularity is the case's best and most intriguing feature. You can invert the motherboard, exchange the side panels, remove the PSU shroud, or reposition the drive bays. There are varying degrees of skill required for each alteration, but the results are amazing.
One weird thing about the interior is the PSU's positioning. You place it into a sliding tray, several inches away from the back. An extension cable reaches from the power supply towards the back panel, which lacks a PSU cutout. The shroud hides plenty of room for all kinds of disks, five 3.5" or twice as many 2.5″ models. Two more plates on the cover itself let you install as many excess SSDs.
Considering the manufacturer, it's no surprise that the Dark Base PRO 900 performs brilliantly when it comes to thermals and noise. It has several strategic areas of sound dampening material. The bottom and front are solid, but vents running along the left and right sides allow for a steady stream of fresh air that improves system temps.
Best Mid-range Inverted Case: Segotep Phoenix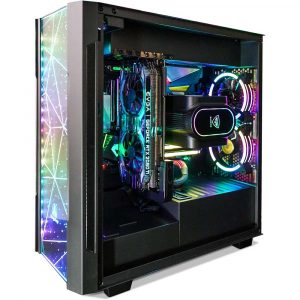 Segotep isn't as well known as most manufacturers on the list, but that has no bearing on their case's excellent quality. The Phoenix is striking to look at and easy to build inside of. It gives you plenty of options for whichever type of cooling you wish to pursue. Combine that with an accessible price, and you've got a genuinely well-rounded basis for your next build.
An abundance of glass is one of the case's main selling points. The right panel is made almost entirely out of tempered glass, and there's etched glass in the front as well. That front panel is particularly vivid since the etchings form a star-like pattern that's beautiful to behold once you engage the addressable LED strips underneath.
There are dust filters in the front and bottom. The top of the Phoenix houses the I/O with two USB 2.0 and single USB 3 A & C ports. It also holds a cover for the motherboard's I/O. You plug everything in as usual and then rout the cables through a grommet in the back that keeps the wiring clutter-free. The wires it arrives with are all black to help with the tidiness factor. Clearance for the CPU cooler and GPU isn't an issue since it stands at 167 & 323mm, respectively.
Disk space inside the case covers the basics. You get two removable caddies with room for a 3.5" drive each. The max total is four since each caddy also has a mounting space reserved for a 2.5" SSD. Installing these or any other part inside the case isn't hard. Make sure that the SSDs are facing the right way first, or else you won't be able to use the provided thumbscrews to secure them.
The back panel is standard other than that and has room for 240mm radiators. Given that you can mount an additional 360mm part in the front, the case is a great candidate for water cooling. Keep in mind that it does not ship with fans, so you'll want to budget for those accordingly.
Best Budget Inverted Case: darkFlash V22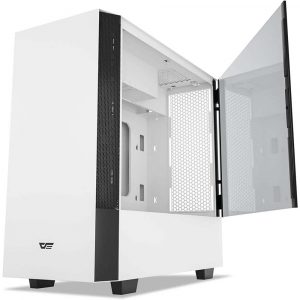 The least expensive case we recommend is also among the most underrated contemporary models whether you're into inverted setups or not. Despite its price, the V22 is well-rounded, has ample interior room for its size, and doesn't cut corners regarding ease of use or overall efficiency. Spread the word if you decide to get one since it deserves more attention.
The H510 from NZXT had an evident influence on the case's appearance, but darkFlash brings several innovations to its design. We were particularly impressed with the glass panel since it's secured to the front by magnets and opens when you pull a tab. Removing the glass from the hinges is easy since it slides right in. The panel only partially covers the side since a steel skirt hides the motherboard and HDD area. Surprisingly, the case is available in white, mint green, and even pastel pink.
A lot of thought went into designing the V22's interior. It doesn't have a full PSU shroud so that you can mount the power supply more quickly. The bottom is home to a dust filter under the PSU and a single 3.5″ disk tray that houses one drive and has mounting hardware for another on top. Two more SSD installation locations on the mobo tray. Most CPU coolers should fit since the clearance is 165mm. You can't squeeze a 3090 in there, but any GPU smaller than 318mm will work nicely.
Cable management is excellent since the motherboard panel has several holes you can pass the cables through. Neatness continues on top as there's a narrow pathway from the motherboard I/O to a grommet in the back with two more cable routing holes close to the rear fan area.
This is another case that arrives without fans. Two 140 or three 120mm units will fit in front with two more in the back. There isn't enough space between the front fans and motherboard PCIe slot area for a 360mm radiator, but a 280mm model may fit. The back takes 240mm radiators, but going with an exhaust fan and a 120mm radiator instead might be a better idea.
The V22's lack of fame limits the availability of online reviews. One Youtuber praised its overall layout and thermal performance with fans installed, but the data shown in the video is inconclusive. Anecdotal evidence by satisfied customers suggests it would fare well if compared to other cases too.
Best Silent Inverted Case: be quiet! Silent Base 802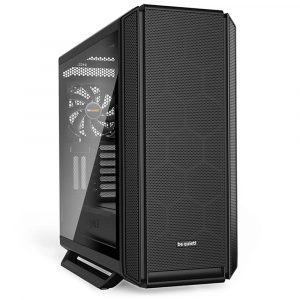 There's no reason why an inverted case should make more noise than normal ones. If it's made by be quiet!, you can expect it to be among the most silent in any category. The Silent Base is almost as modular as our high-end pick but focuses even more on performing noiselessly. Better yet, it has two front & top panel alternatives that let you swap silence for efficiency once temperatures in your home start to rise.
In need of a similarly quiet case that's more suited for m-ATX mobos? Then the Redline RL08 will be right up your alley.
The Silent Base 802 is every bit as imposing as its more expensive cousin, especially if you get the tempered glass version. You might not want to do that, though, since the metal version has 10mm thick sound damping on both sides. The case also comes with detachable legs that elevate it above the floor and further decrease generated noise.
You're in for cool and quiet running straight out of the box since three 140mm Pure Wings 2 fans come preinstalled. You may add one more 140mm model in the front or use 120mm ones instead. A built-in fan controller lets you adjust their speed on the fly and has controls on the I/O. There's also USB-C, two USB 3.2 Gen 1 ports, and analog audio.
The case arrives in a standard layout, but you can swap the internals out for an inverted look. This has little bearing on its presentation since there's enough space to hide the cables behind the motherboard tray either way. HDD storage is handled by a cool-looking 3.5″ tray that looks like it's floating once installed. It's a shame you only get one, but you can buy four more separately. That brings the HDD total to an impressive seven since two are stored more conventionally inside the shroud. Three more SSDs fit there as well.
Unsurprisingly, the Silent Base 802 is in its element when acoustics are concerned. Testing against several highly-regarded models shows that the case is exceptionally quiet when idling and under load, barely increasing in loudness once GPU fans enter the equation. Conversely, its thermal scores aren't the best. Remember that the solid top and front panels can be substituted for included mesh alternatives with an acceptable rise in decibel levels if temperatures ever become a problem.
Best Innovative Inverted Case: Seasonic Syncro Q704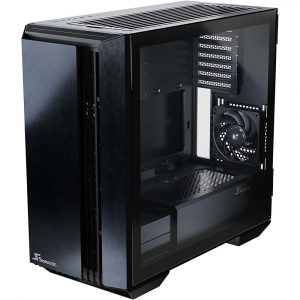 You probably know Seasonic as a premium power supply manufacturer, which is the only niche the company has thrived in before trying for something new. The result was their first-ever PC case, a unique design that's not only inverted but also comes with convenient cable management if you choose to invest in a Seasonic PSU. There are no major penalties if you don't, but going for the combo is the best way of experiencing this case.
Props to Seasonic for nailing the design on their first try, as the Syncro Q704 is a beauty in black steel, aluminum, and slightly tinted glass. Its right panel offers a complete view of the internals and has hinges for easy access. The other one is all-metal with a cutout that helps display the Control module. You'll find only USB 3.2 Gen 1 and USB-C ports on the top, along with the audio I/O and power buttons. Each port has a protective cap to prevent dust buildup.
Expect the case to keep system temps in check while noise remains tolerable once you get its fans' PWN curves in order. You get four of them by Nidec, each 120mm and with an RPM rate of 2,100. Three are in front and one is in the back, with room for three more 120 or 140mm units on top as well as two more in the PSU shroud area.
Exceptional cable management is the case's main draw. This works if you pair it with one of Seasonic's three compatible power supplies. These come with a single thick cable that plugs into the Control unit located at a dedicated spot in the back. Short cables then extend from the unit, essentially eliminating clutter. You get everything from a 24-pin ATX connection through PWM & ARGB headers to PCIe power for various storage drives.
Speaking of storage, the Q704 has tidy options for SSDs and HDDs alike. 2.5" drives fit neatly into removable plates you screw into the back, while two 3.5" ones slide into a removable set of trays that covers them completely, eliminating the need for a large shroud. Assembling a system inside the case is straightforward, and dust buildup shouldn't be a problem thanks to a full-size bottom and a large top cover.
Best RGB Inverted Case: Sharkoon Rev200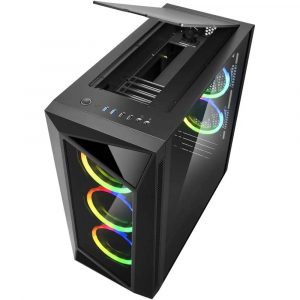 Being able to show your GPU off vertically is a compelling reason to get an inverted case. Add to that five RGB fans the Rev200 from Sharkoon brings, and you've got the makings of a truly eye-catching setup. However, it's not just for show, as the case is stable, quiet, and has excellent cable management.
We're fans of the case's geometric design, especially the large triangles in the front that break up what would otherwise be a monotonous rectangle. The three front 120mm fans take center stage, glowing in various colors in tandem with the two additional ones in the back. You can cycle through several patterns and color options with the color/reset button, or let your motherboard's sync software bring them in line with the rest of your setup.
The right side panel is clear glass and easy to remove or mount. You secure it with thumbscrews, a method that's also present on the removable drive bays. The top opens up to reveal access to your mobo's I/O, and the glass door in front has a fine mesh that helps keep dust at bay. You'll find a standard I/O on top with two USB 2.0 and as many USB 3.2 Gen 1 ports, two audio jacks, and power / LED controls.
The interior is laid out differently than most cases since the motherboard goes in at a 90-degree angle. A large cutout in the motherboard tray allows for easy CPU cooler backplate mounting, and you can tuck most cables behind the tray for a clean-looking build. Cable management can be tricky, as the PSU shroud is secured with rivets instead of screws.
The Rev200 is an excellent case if you're going for AIO or custom water cooling. A 360mm radiator will fit in the front, while another 240mm one goes in the back. There's no room for more on top due to motherboard orientation, but you have ample space to mount pumps and route tubes.
Expect solid results from the case even without installing elaborate cooling. Stress tests & gaming benchmarks reveal that its performance is average in terms of acoustics and thermals alike. Investing in a good cooling setup will lead to even better numbers.
Frequently Asked Questions
Why are some PC cases inverted?
While rare, inverted cases offer several tangible benefits over standard models. Their inverted layout allows you to place one to the left of your monitor(s), which is a big help if the design of the room or desk prohibits conventional placement.
Since there are no inverted motherboards, those in an inverted case need to be installed at a 90-degree angle with their I/O facing upward. That also means the GPU is in a vertical position, which eliminates sag.
Finally, motherboards in inverted cases are placed towards the front instead of the back. They're closer to the front intake fans or water cooling radiator and take advantage of the fresh air these bring into the case. The GPU gets the most benefits since cool air blows on it directly and helps with temperature regulation.
Why are PC case windows on the left?
Conventional cases have windows on the left to showcase tge components inside. The windows can take up the entire side or come down to the area occupied by the PSU shroud. It wouldn't make sense to place windows on the right side in such cases. That would reveal the back of the motherboard tray and the cluster of cables usually kept there.
Is it bad to not have a PC case?
It's certainly possible to build a PC without a case. The practice makes sense if you're frequently swapping out many of its components or using the PC as a test bench. Not having a case is more trouble than it's worth in other scenarios, especially if you have children or pets. A case provides an environment that protects your components from the environment, accidental impact, and liquid spills. Even if your budget doesn't allow for a good one, buying a case will go a long way towards keeping the expensive components inside in working order.