6 Best Dual System PC Cases in 2023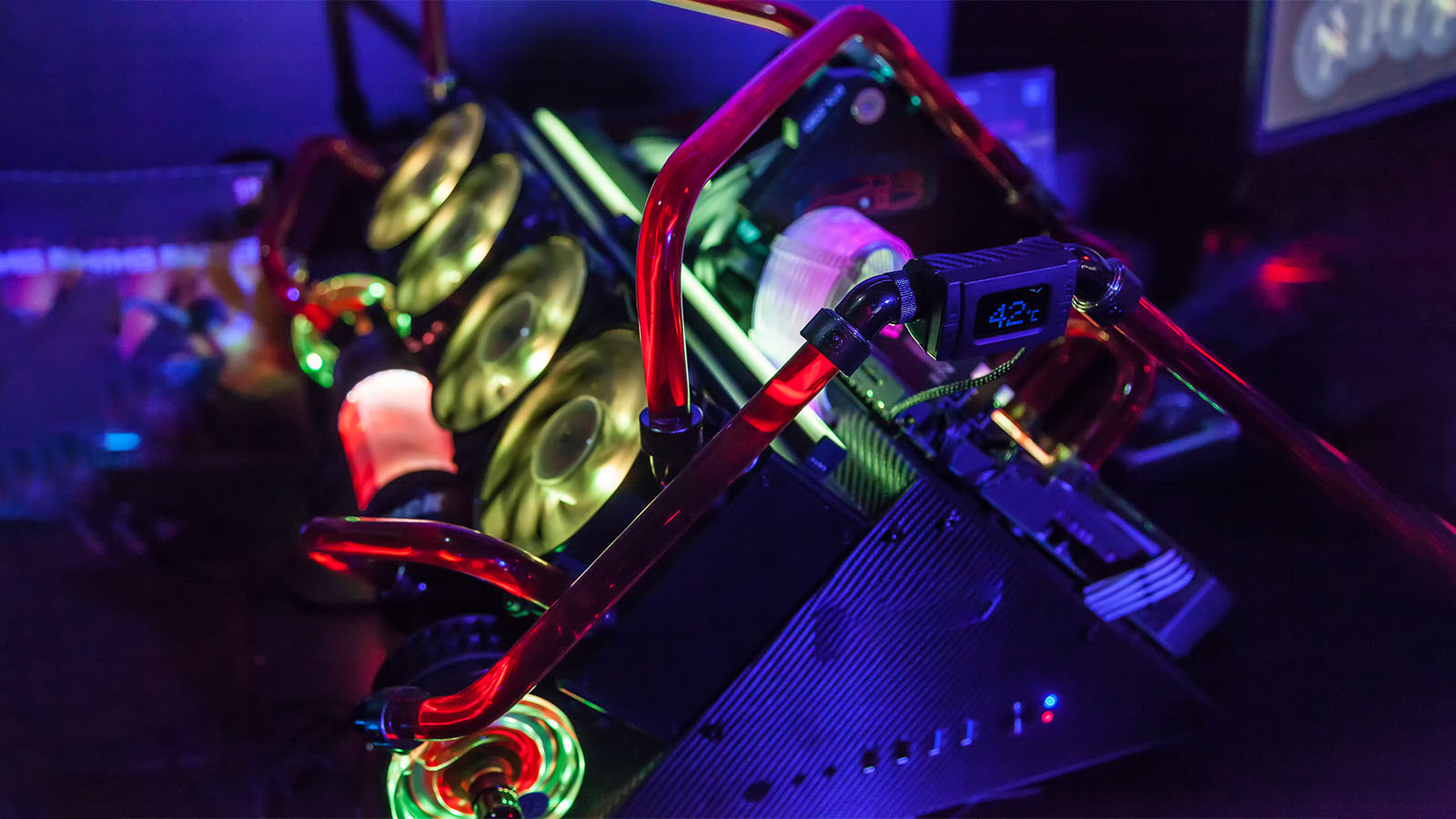 Two PCs are better than one, but what if you have nowhere to put the second case or don't want a separate build just for streaming? That's where cases designed to fit two PCs come in!
We've put together a list of the best dual system PC cases on offer and their alternatives to help narrow down your choices. It covers everything from roomy but tame models to behemoths that push the boundaries of desktop case design. Get acquainted with each and start having twice the fun!
Best High-end Dual System Case: Thermaltake Core W200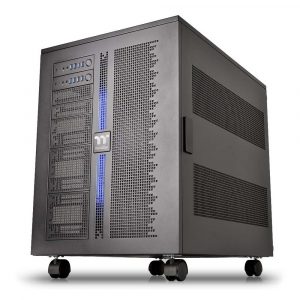 Most dual-system cases allow for a regular and an ITX-sized build to live side by side. The Core W200 laughs at such limitations as it's an enormous case where space will never be a concern, even if you need to install two E-ATX systems inside. It's heavy and offers countless customization options for both cooling and storage. The case is insanely expensive, but the possibilities it brings are truly liberating.
For a smaller and more modern take on massive case design, you may want to check out Corsair's 1000D as well.
Unlike lesser cases, the Core W200 doesn't come preassembled, so you'll have to consult the intuitive manual and put it together first. The finished case weighs a staggering 63 pounds empty and thankfully comes with caster wheels for more accessible transportation. It's made from high-quality steel with only a bit of ABS plastic.
The front panel houses two separate I/Os, each with four USB 3.0 ports and audio jacks. Both are on the left above a segment reserve for up to three optical drives. Each half has meshes and removable dust covers. The case's left side sports a large piece of tempered glass, while most of the right is a mesh.
It would take up too much space to list every possible radiator and fan position. Suffice it to say that you can place more than thirty 140mm fans all over or substitute them for radiators as large as 600mm on the top and right. Even the most elaborate custom water cooling setups feel tiny inside the cavernous interior. Several rails are included and let you pepper the right or top sides with radiators. You won't be able to install radiators on the front right half as only fans are supported there.
The interior layout is mirrored, with no size restrictions on the right side. The back is inverted to accommodate the different motherboard positioning, but that's about it. Each side has rails to which you can attach five mounting racks that hold ten 3.5" drives. Four more SSDs fit behind the motherboard tray, as does the array of cables you're bound to encounter. Lots of strategically placed hooks and grommets make this more manageable.
Best Mid-range Dual System Case: Phanteks Enthoo Evolv X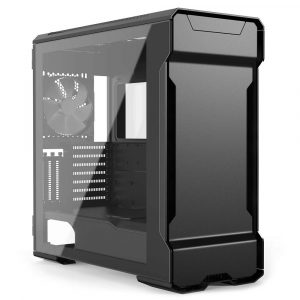 Phanteks has a knack for dual-system cases, and the second version of the Evolv is the best one to date. It's large without being too cumbersome, spacious enough for two builds, and chock-full of small features that make building and tidying up afterward a breeze.
You'll have to purchase the official ITX upgrade kit if you want to install a second mini-ITX board into either this case or the Eclipse P600s mentioned below. The kit consists of a frame for the mobo, mounting screws, and a riser cable for optimum GPU placement. The frame comes with a separate power button for the secondary system.
We're impressed with the Evolv X's solid and sparse aesthetic. Nothing breaks the front slab up other than two side ARGB strips and a small cover for the I/O. It holds two USB 3.0 and one USB-C port along with buttons to cycle through the RGB's colors and patterns. You get two tempered glass panels with subtle tinting, and the top panel has vents running along the sides for better airflow. You can buy the case in either black, grey, or silver.
Removing the side panels is a bit tricky since you have to uncover the front first to get to the thumbscrews that hold them in place. It's smooth sailing from there, though, especially since hinges in the back prevent them from falling.
You'll find two 140mm Phanteks Premium fans in the front and one in the back. You can substitute them either for 120mm models or 420 & 140mm radiators, respectively. There's also space on top for another 360mm radiator, along with a cutout that makes pouring coolant inside your custom water loop easier. A controller in the back lets you hook up seven fans and tinker with their speeds individually.
All of your storage needs are covered since the roomy interior supports up to ten 3.5″ and nine 2.5″ drives. Only four HDD drive bays arrive with the case, though, located inside the PSU shroud. The SSD locations are mostly on the motherboard panel's back, along with space for cables. Three small sliding panels let you route any number of wires while gracefully obscuring the clutter.
In practice, the case has proven itself to be both quiet and thermally sound. It's almost as silent as the P600S, even though two tempered glass panels make for lousier soundproofing. Its support for many large fans or several radiators translates into excellent thermals regardless of how much you push your other components.
Best Budget Dual System Case: MetallicGear NEO Qube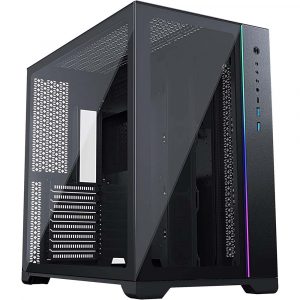 Most dual-system cases aren't cheap, but that doesn't mean there aren't affordable yet competent alternatives. MetallicGear has come up with a budget-friendly case that will house your main and streaming rigs without trouble. It has good cable management and fits plenty of fans or a robust water cooling solution.
Let's address the elephant in the room first. Yes, the NEO Qube does look a lot like Lian Li's PC 011 Dynamic, especially from the front. However, the more expensive case lacks dual-system compatibility. The Qube's form factor is true to its name, with large transparent panels showcasing much of the front and left sides.
The top and right panels are a mix of metal and mesh, with the right one having mesh openings for a potential 360mm radiator in the front and the PSU in the back. Unlike other cases, this one has a deep back area reserved for the mITX motherboard and a unique PSU that can power both systems at once. MetallicGear suggests you go with the Revolt X from Phanteks.
You may place 360mm radiators on the top, front, and right of the NEO Qube. Mesh covers protect the right and top plates from dust ingress, and perforations on the bottom and back ensure air circulation. You can install several drives in a removable bay area in the back that also doubles as a helpful cable management hotspot.
The smaller system takes up residence above the PSU, with its I/O cutout next to the main board's. There are no separate controls or additional USB ports for it, but you can hook the reset button up to the mITX board to turn it into its on/off switch. Luckily, the front I/O has two USB 3.0 and one USB-C port, and several RGB controls. Keep the smaller board's air cooler clearance in mind since only low-profile models shorter than 55mm will work.
As one Youtuber demonstrates, you need to invest in some fans when buying this case. Relying on CPU & GPU cooling alone isn't enough to keep your build thermally stable. On the other hand, the acoustics are pretty good if you don't crank all the fans up to 100% in search of the lowest temps.
Best Silent Dual System Case: Phanteks Eclipse P600s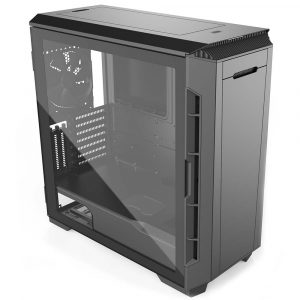 It seems that Phanteks has a dual-system case for any scenario, this time for people with silence as their top priority. It can switch between quiet and performance modes if temps get too high, fits a secondary mITX mobo with ease, and supports some serious storage. Better yet, the case is cheaper than the Evolv X without compromising on quality.
The solid side version of the Enthoo Pro 2 is another alternative to look into if you can't find this case or want to spend a few bucks less.
The Eclipse P600s has an understated look with geometric accents on the front. You can get it in black, silver, or white, and the black version comes with either tempered glass like the other two or a solid left panel. You might want to go with the latter for maximum soundproofing since the glass variant isn't padded.
AIO and custom water loop enthusiasts will love this case's friendly approach to such cooling. You can place three radiators simultaneously – a 420mm unit in front, 360mm on top, and 140mm in the back. Fans work just as well, but then you won't get to appreciate the reservoir refill cutouts and several pump mounting locations.
The insides are roomy and built to satisfy even the pickiest storage needs. On the one hand, there are three 2.5″ drive mounting brackets in the back. On the other, you get four 3.5″ drive bays inside the PSU shroud and can purchase six more for a total of ten if you don't plan on getting the secondary system upgrade kit. So much storage calls for many cables, but the case comes with several Velcro strips and has a spacious compartment behind the motherboard tray to store everything out of sight.
The primary motherboard can be anything from E-ATX to mITX with lots of room for CPU fans and graphics cards – 190 and 420mm, respectively. There's no limit on your PSU's length unless you use up all of the shroud's HDD bays. The back features seven horizontal and three vertical slots, so going with either two GPUs in SLI/CrossFire or placing a three-slot card vertically with a riser are enticing possibilities.
The Eclipse P600s comes with lots of soundproofing and a front panel from which you can remove to expose the fans. This switches it from quiet to performance mode. The difference is only 2-3 degrees. Still, you'll be glad you have the option in summer. The soundproofing works admirably even in performance mode, but replacing that front panel positions the case among the quietest on the market.
Best Micro-ATX Dual System Case: Phanteks Enthoo Mini XL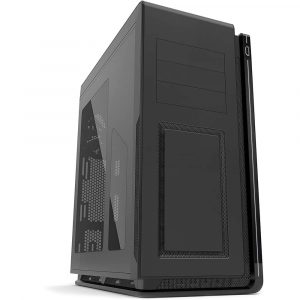 All the models we've reviewed so far have been larger than average, but what if you need two systems in a comparatively space-saving case? Phanteks comes to the rescue once again with a model capable of housing m-ATX and m-ITX systems simultaneously. It's not cramped either, allowing you to maintain order despite brimming with components when used to its fullest.
You'll need to get a different kind of upgrade kit for this case. It's more substantial than the one for the Evolv X. Included is an alteration to the back and an m-ITX motherboard tray that installs beside the main PSU. Mounting hardware for a secondary SFX power supply and even a 5.25″ I/O with controls and USB 3.0 ports for the second system are also on hand.
Style meets functionality in the case's busy frame. The front is its most appealing part since it has a thick vented border running along two sides, making the panel stand out more. The left panel has two transparent segments that let you showcase the motherboard area and some drives. The primary I/O is on top and offers the same options like the one in the upgrade kit.
The Mini XL is among the most modular units on our list. It has a built-in HDD and optical bay rack you can remove to make room for a 240mm radiator that blows air out through a dedicated mesh on the right panel. Another accessory lets you set up more pumps and reservoirs, making this a great water cooling case despite the size.
The main power supply installs on top, with the primary motherboard underneath. Another mesh cutout on the right panel lets it suck fresh air up for better efficiency. There's 30mm of room behind the mobo tray, not to mention two mounting positions for SSDs underneath the CPU installation cutout. Coupled with several grommets and strip positions, this makes wire routing a cinch.
The case comes with three preinstalled 140mm fans but supports more on the top. You may install radiators instead, just remember that only a single 140mm unit will fit in front if you keep the drive bays since they interfere with radiator clearance. There are no such constraints for CPU air coolers as they can be 200mm tall and still fit. GPUs will need to be 290mm or shorter, but that's to be expected.
Best Open-air Dual System Case: FSP T-WINGS CMT710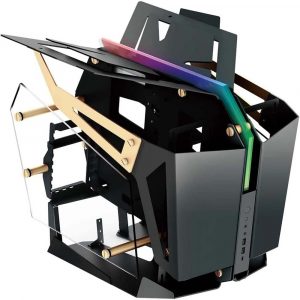 Are you tired of the same old case designs year in and year out? FSP took the term thinking outside the box to the extreme and designed a unique open-air case that holds an E-ATX build on one side and a mini-ITX one on the other. It's by far the most unusual case on the list, and there's nothing quite like it even if you don't consider having two systems a priority. Your wallet will feel considerably lighter after buying it, but the unmatched aesthetics are worth it.
It's hard to describe the T-WINGS CMT710 since there's little to compare it to. It reminds us of a robot's head with large, flashy accents and a crest in the middle that glows with addressable RGB light. It comes mostly preassembled; your only task is securing the two tempered glass panels once you're done setting up the system(s).
The two halves look almost symmetrical, but there are practical differences. The left houses the larger motherboard, while the right has less space since it's where you'll find five drive racks. Three of these take 3.5″ units, while two more are reserved for smaller SSDs. Strangely, the regular PSU used to power the ATX side goes on the right, while only an SFX model fits on the left.
Two identical I/Os occupy the front and the back. The front is also home to two aluminum panels that offer placement opportunities for a 360mm radiator each. The case doesn't come with any fans or GPU risers, leaving you to sort those out separately.
The glass panels are held in place by thick pillars to either side. They form an enclosure together with the colored side bits and the wing-shaped top without impeding airflow. The back is wide-open, too, offering only half of the supported PCIe slot covers.
Cable management is one thing the T-WINGS CMT710 does admirably. There's 40mm of breathing room between the two halves, more than enough to hide two PC's worth of wiring from sight. It's a shame that you can't utilize this compartment for additional SSD storage, though.
How well the case will perform in terms of acoustics and temperatures will depend heavily on the cooling you get alongside it. Techpowerup built two systems inside of it and outfitted them with competent air coolers. The ITX side clearly struggled with thermals, while the noise results for both sides were average.
Frequently Asked Questions
What is dual-system PC case?
As the name implies, a dual-system case allows you to build two completely separate PCs without spending money on two cases. They're practical because they save space while giving you access to each PC from one desk. Most are designed with streamers in mind, with the second PC being limited to a micro-ITX motherboard. However, bigger and more expensive models let you build around two regular or even E-ATX-sized mobos and outfit each with water cooling.
What is the point of a dual-system build?
There are two main uses for a dual-system build. One is for people who need a second PC either for work or gaming but don't have the desk or floor space for two cases. The other, more common option is to build a decent gaming PC as the main one and supplement it with a dedicated streaming PC.
Is it worth getting a second PC for streaming?
Absolutely! Modern rigs can handle simultaneously playing a game and streaming it, but even the most powerful are prone to occasional hiccups. A dedicated streaming PC with a capture card takes on the processing and storage responsibilities of the main one. That leaves games free to take full advantage of your main processor and graphics card.