6 Best Motherboards for i5-9600K in 2022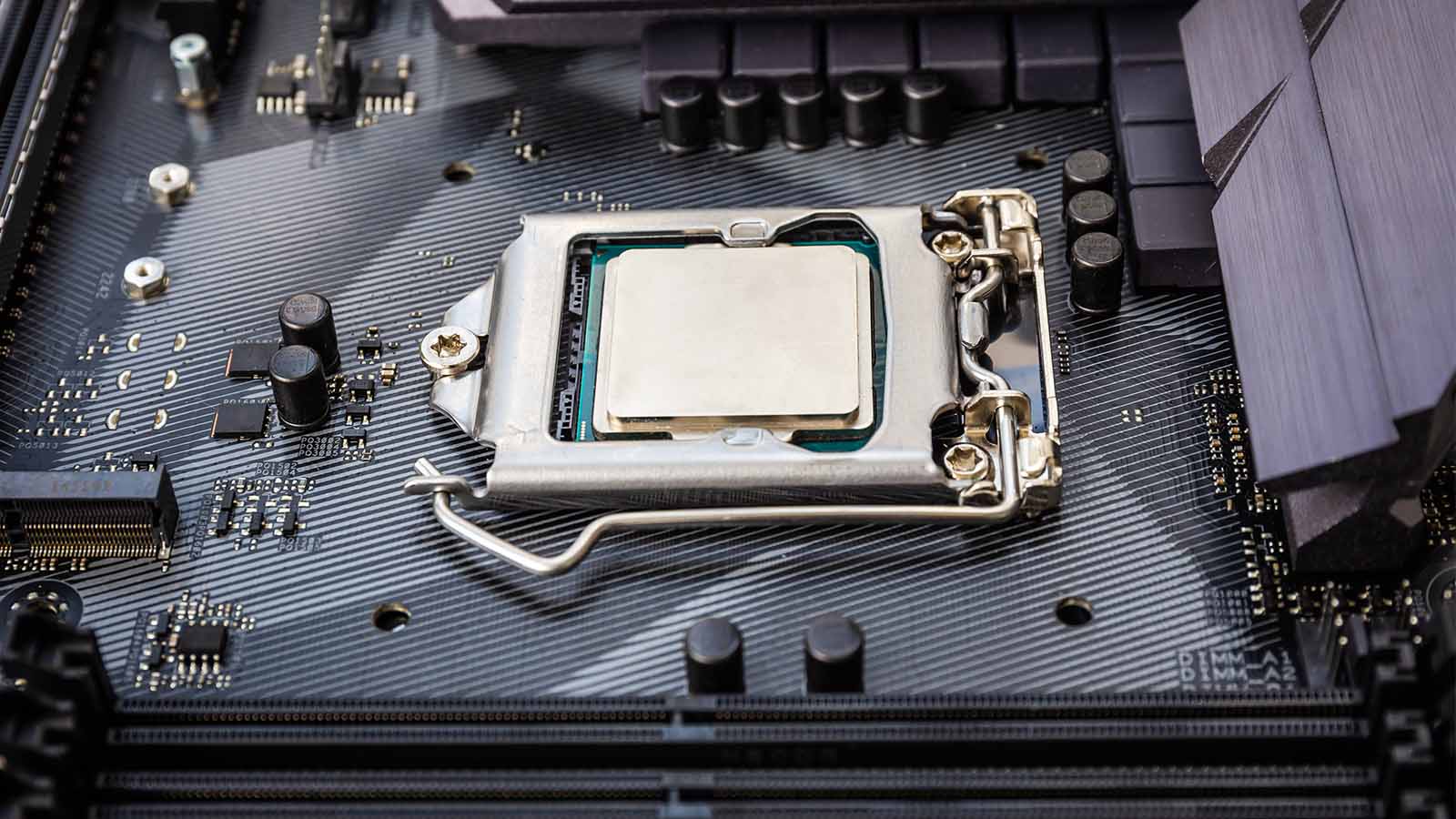 It's now been almost three years since the release of Intel's i5-9600K. Still, it remains a relevant CPU for gamers looking to extract every bit of performance while keeping costs reasonable. The performance is on par with its Comet Lake successor, yet LGA 1511's support for older hardware makes transitioning to the 9600K even more tempting if you're not looking to upgrade other components.
The 9600K received a modest core clock update over the 8th-gen version but shows noteworthy gains in productivity and gaming once overclocked. That's why you'll want to pair it with a Z-series motherboard that can keep the CPU running at peak performance without jeopardizing it or other parts of your computer.
Below you'll find our recommendations on the best motherboards for i5-9600K. They encompass all form factors and several budget tiers, so picking out a motherboard that suits your needs is a snap.
Best High-end ATX Motherboard for i5-9600K - GIGABYTE Z390 AORUS PRO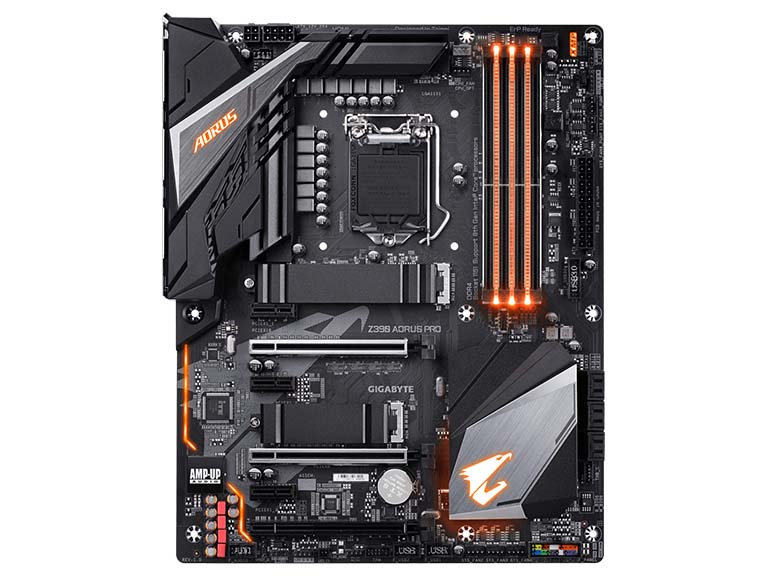 The Z390 AORUS PRO is an instant recommendation due to its excellent build quality and overclocking potential. It's available with or without Wi-Fi, the latter being only a couple of bucks more expensive. You can find even more advanced models like the MSI MEG Z390 GODLIKE or GIGABYTE's own Z390 AORUS MASTER. However, pairing the 9600k with motherboards that cost almost twice as much is overkill.
The motherboard impresses with a dark color scheme hiding six RGB sources and connections for four more. The Aorus logo adorns the I/O shroud and chipset heatsink. A stylish I/O protective panel is a nice touch, too. It's an intuitive board for newbie builders since information on CPU compatibility and XMP profile activity is available on the PCB.
The board will allow you to push the i5-9600K to its limits, thanks to a robust VRM made up of 12+1 power controllers. A beefy L-shaped heatsink encases them and siphons excess heat away from the CPU thanks to a clever tube design. You can also overclock a whopping 128GB of RAM to 4,266MHz. The BIOS makes enabling XMP or performing CPU clocks straightforward. You'll want to tinker with the settings if you're an advanced user, but the built-in automated overclocking feature works well on its own.
There's support for six SATA and two M.2 drives. Each of the latter gets a removable heat protector you can screw down for optimum heat transfer. The board's Wi-Fi version has two antennae for connection purposes, while you only get standard Ethernet with the cheaper model.
Gigabyte stepped up their game when it comes to the Z390 AORUS PRO's audio. You'll find 7.1 channel inputs on the I/O and several high-quality capacitors to the left of the bottommost PCIe slot. WIMA and Nichicon capacitors combine to deliver an excellent auditory experience without interference.
The I/O is both pleasing to look at and diverse enough for most users. There's a total of ten USB inputs, with four USB 2.0 and 2x three USB 3.1 Gen1 and Gen2 ports, respectively. There's a single HDMI 1.4 input, PS/2, Ethernet, and the aforementioned audio stack.
Best Mid-range ATX Motherboard for i5-9600K - ASUS Prime Z390-A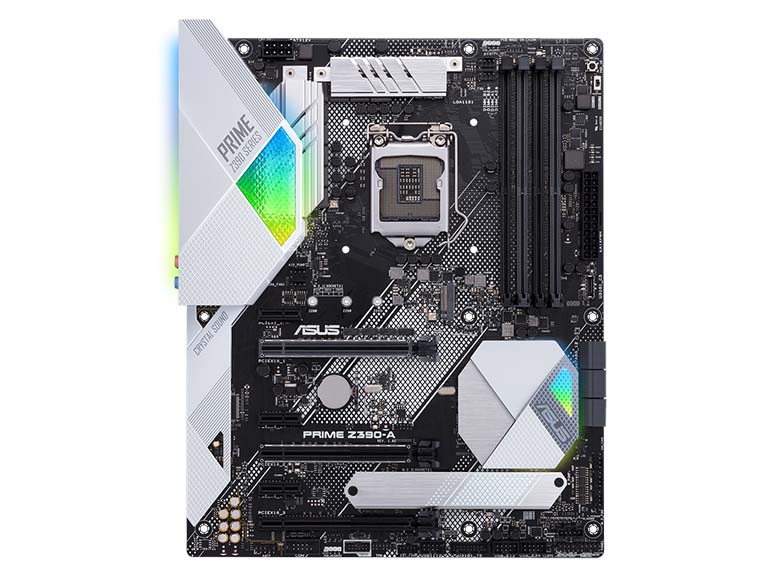 Gamers looking for a capable motherboard with tasteful RGB and compatibility with SLI & CrossFire won't find a better deal than the Prime Z390-A from ASUS. It features several notable improvements over the Z370 series, including better heat management and support for the second generation of USB 3.1.
The board turns heads with its sleek combo of white & silver accents on a black PCB. The I/O shroud and chipset heatsink also feature RGB lighting you can customize from the BIOS. Speaking of the heatsink, it is now separate from the adjacent M.2 cover, affording better cooling.
Two VRM heatsinks cover nine MOSFETs and a DIGI+ VRM controller. It doesn't have the greatest overclocking potential, but it will let you push the i5-9600K past its factory settings.
Storage won't be a problem since the board simultaneously supports six SATA and two M.2 drives. You can optimize cooling by using up to seven fan connectors for either system fans or water cooling.
The Prime Z390-A sports three PCIe 3.0 x16 lanes, two of which are armored. You'll want to use the top one if you're running a single-GPU setup since it's the only one that runs at x16 when used alone. Placing two NVIDIA cards into SLI will halve that to x8/x8 while taking advantage of three AMD GPUs in CrossFire adjusts the values to x8/x4/4x. Three more PCIe 3.0×1 connectors support miscellaneous cards.
The back I/O is varied and contains your standard set of audio jacks and a PS/2 legacy port. HDMI & DisplayPort handle video, while Intel's Gigabit Ethernet jack covers your online connection. There are also plenty of USB ports, one of which is USB-C. You get seven more USB ports split between pairs of USB 2.0 & 3.0 Gen1 and three USB 3.0 Gen2 units.
Best Budget ATX Motherboard for i5-9600K - MSI Z390-A PRO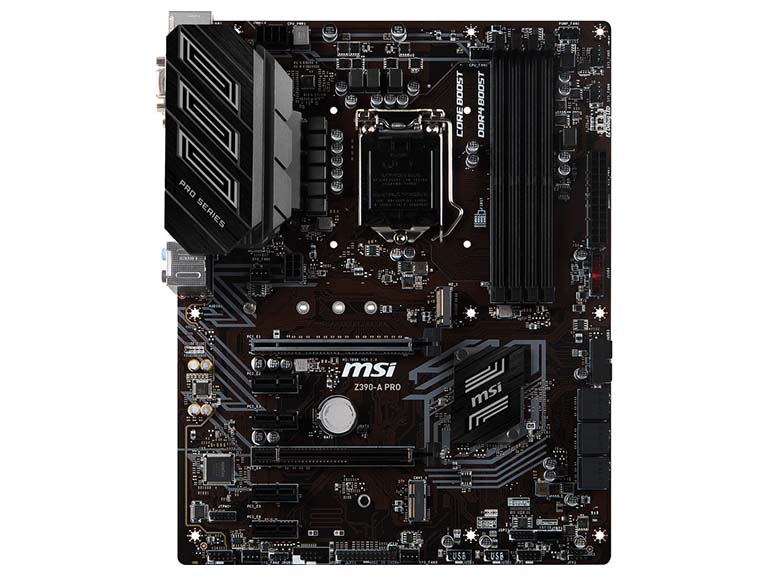 Our most affordable suggestion comes from MSI and prioritizes solid all-around performance over standing out in any particular area. The motherboard has a modest overclocking potential, and the audio is nothing special. Still, it makes up for that with an excellent BIOS and lots of connection options.
You'll love the Z390-A PRO if you aren't into the RGB craze since not a single colorful light is to be found on it. Nevertheless, the dark brown PCB and grey accents look appealing, and there's a single RGB header if you can't go without it. The VRM heatsink is massive and made from machined aluminum. It doesn't extend to cover the auxiliary VRMs, though.
The board will recognize two AMD cards in CrossFire but does not have SLI. You can take advantage of four PCIe x1 slots and expand its input base or add a Wi-Fi card since the board only has Ethernet. The front and bottom sides sport several USB headers convenient for connecting internal devices and the case's front I/O.
Speaking of I/Os, the back one offers some interesting connections. You'll appreciate PS/2 and VGA inputs if you're building an office PC and need to interact with legacy hardware. DVI-D and DisplayPort take care of modern monitors, and a six-port audio bay allows for surround sound. You can hook peripherals and other devices up through six USB inputs – two USB 2.0 & 3.0 along with one USB 3.1 type-A & C each.
It's a shame that there's only one M.2 slot. There was room for a second one, but MSI chose to go with another expansion card slot instead. Luckily, you can still connect six SATA drives.
MSI's EZ features deserve a special mention since they make working with the Z390-A PRO easier. On the hardware front, you've got a series of diagnostic lights that blink in different patterns to signal various problems with the system. The BIOS complements this with a simplified overview that shows basic info about the memory, CPU, disks, and fans at a glance.
Best i5-9600K Motherboard for Gaming - MSI MPG Z390 Gaming PRO Carbon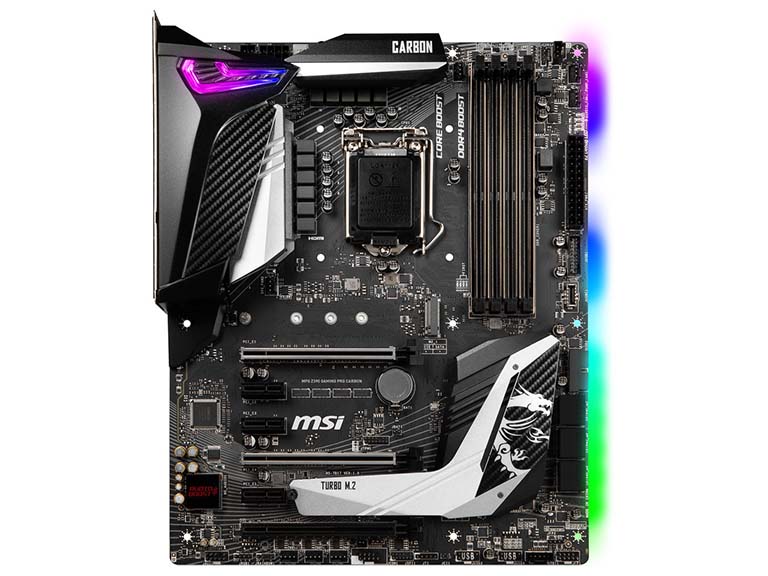 MSI's MPG Z390 Gaming PRO Carbon is a well-rounded board that complements the i5-9600K with good OC potential, built-in Wi-Fi, and an intuitive BIOS. It's easy on the eye thanks to cleverly positioned RGBs and delivers a solid performance for its asking price.
The board's aggressive black design with silver accents will look good in any gaming build. A row of LEDs on the right and another area on top allow you to customize the appearance even further. You can see a touch of carbon fiber on the massive I/O shroud and chipset heatsink. One of the two M.2 slots is covered by a bright heat protector while the other is bare.
Eleven phases distribute power to the CPU evenly and let you increase its clock on all cores past factory boost settings without system failures or overheating. A thick heatsink protects the transistors and dissipates heat efficiently. MSI did a great job with its BIOS since it lets you make changes to the core clock. It gives advanced builders lots of tweaking options while helping newcomers by locking settings that might disrupt system stability.
The board can handle six SATA 6G drives and supplement them with two more M.2 Units. Keep in mind that this will disable two of the SATA slots. On the other hand, the potential speed increase is worth it. You can slot a maximum of 64GB of RAM into a dual-channel configuration and boost their frequency rate to as much as 4,400MHz.
The port selection on the I/O isn't the broadest, but it covers most current and future needs. A single USB-C and two USB 3.1 Gen2 inputs are the highlights of Z390 improvement, but audio powered by a Realtek ALC1220 chip makes a welcome appearance. The beautiful preinstalled panel is rounded out by clearly labeled DisplayPort & HDMI connections, a PS/2 input, and two more USB 2.0 ports.
Best Micro-ATX Motherboard for i5-9600K - Gigabyte Z390 M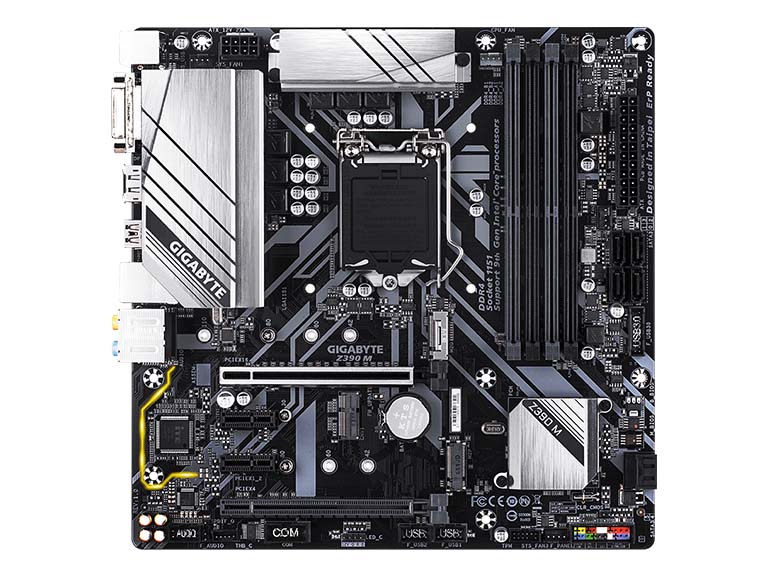 This motherboard is proof that you don't have to give up reaching the peak of your CPU's performance if you go for a smaller case. Two PCIe slots less are an acceptable sacrifice that makes the board smaller and more accessible. On the other hand, overclocking potential, cooling options, and connections remain superb.
This is another gamer-oriented mobo, as evidenced by an abstract PCB and two individually controlled RGB areas. The reduced size has little effect on the I/O shroud, while the chipset heatsink looks smaller than on boards mentioned above. You don't get M.2 covers either.
There's enough room for a dual-channel DIMM slot configuration that accepts 64GB of RAM or less. The number of connectable disk drives is also unchanged from bigger boards, totaling 6 SATA and 2 M.2. You can connect either M.2 or SATA drives to the latter for the best transfer speeds.
The Z390 M stands out thanks to its plentiful and diverse fan controls. Several fan headers are hybrids, meaning they support air and water cooling. There's also a stop feature that prevents unnecessary fan wear while your computer runs at low temperatures.
Unsurprisingly, the I/O is less busy than on larger boards. You get two USB 3.0 & 2.0 ports along with single USB-A & USB-C 3.1 inputs. DVI-D and HDMI are there if you're using integrated graphics, and sound goes through six 3.5mm jacks. Ethernet, Wi-Fi, and PS/2 are the remaining connections.
The board doesn't offer SLI support, but its two PCIe 3.0 x16 lanes handle two AMD GPUs in CrossFire. The second slot will run at x4 if you do, though. Two more PCIe 1x connections are available if you want to enhance port selection or add a capture card to your PC.
Best Mini-ITX Motherboard for i5-9600K - GIGABYTE Z390 I AORUS PRO WiFi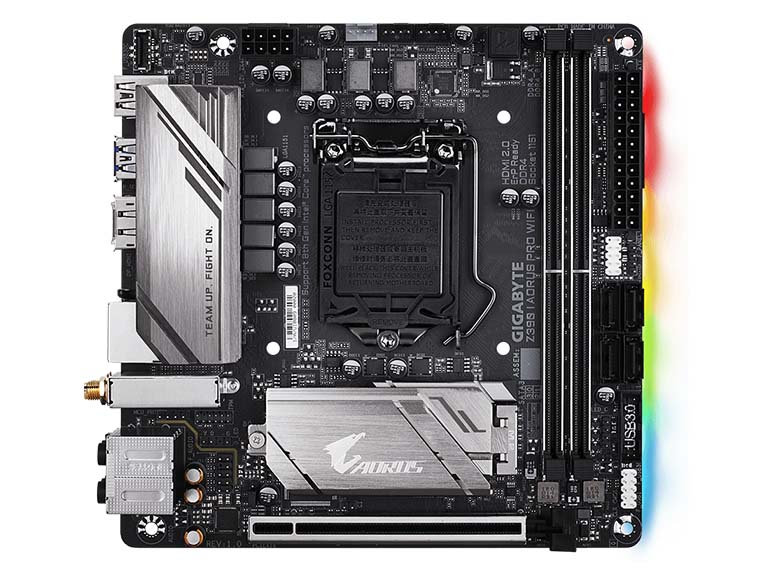 The Z390 I AORUS PRO WiFi is our smallest recommendation, yet it can stand up to the big boys in terms of features. It outshines more affordable competitors like the ASRock Z390 Phantom Gaming-ITX when it comes to overclocking stability and nice-to-haves like RGB lighting & additional heatsinks.
Gigabyte has given its Mini-ITX board a design revamp. It's an attractive blend of silver & black with prominent heatsinks and a clean, efficient layout. The M.2 heatsink is particularly noteworthy since you won't find one on lesser models. The impact it has on keeping disk temperatures down is considerable. You even get to customize a series of RGB LEDs and can add two more through appropriate headers.
Spatial constraints allow for only two DIMM slots, but these can run 64GB of RAM in dual-channel. You can't expect SLI from a motherboard this small, but the reinforced PCIe 3.0 x16 slot handles most modern GPUs. You may connect four storage devices through SATA and two more via M.2.
You'll find a sensible selection of essential connections on the back I/O, including HDMI and Gigabit Ethernet. Gen2 USB 3.1 comes in the form of one USB-C & USB-A input, while four more ports are 1st-gen. The Realtek ALC 1220 audio chip takes care of sound, while two antennas provide internet access.
You'd think that the board would be a poor choice for overclocking. However, it has little impact on how well your Mini-ITX case can handle the excess heat. Efficient heatsinks surround its six phases and draw heat away from the processor. Expect to be able to reach the upper limits of the 9600K's capabilities without compromising the system.
Frequently Asked Questions
What is the best motherboard for the i5-9600K?
That depends on what you hope to get out of the processor. Specifically, you'll want to invest in a more expensive model like the GIGABYTE Z390 AORUS PRO if you aim to overclock the CPU and use it frequently for gaming or intense productivity tasks like 3D rendering. Its base clock is already high, letting you buy a cheaper alternative instead.
Whatever your preference, going with a Z390 board is your best bet. It will allow you to invest in a second-hand i7 or i9 processor down the line if you want to get a performance bump without going through the tedium of switching out the motherboard.
Is the i5-9600K good for gaming?
The i5-9600K is perfectly capable of running modern games on high settings without bottlenecking your PC. It's especially good for games that need more raw single-threaded performance. It also has lower power consumption than Intel's newer chips in the same line and is more freely available. You'll likely want to upgrade it in a couple of years to maintain the same performance level, though.
Will the i5-9600K work with Z490 motherboards?
Unfortunately, no. Z490 motherboards use LGA 1200, a newer socket that isn't compatible with the 9600K's 1,151 pins. These motherboards are built with Intel's 10th and 11th-generation processors in mind.