6 Best Motherboards for i5-11600K in 2022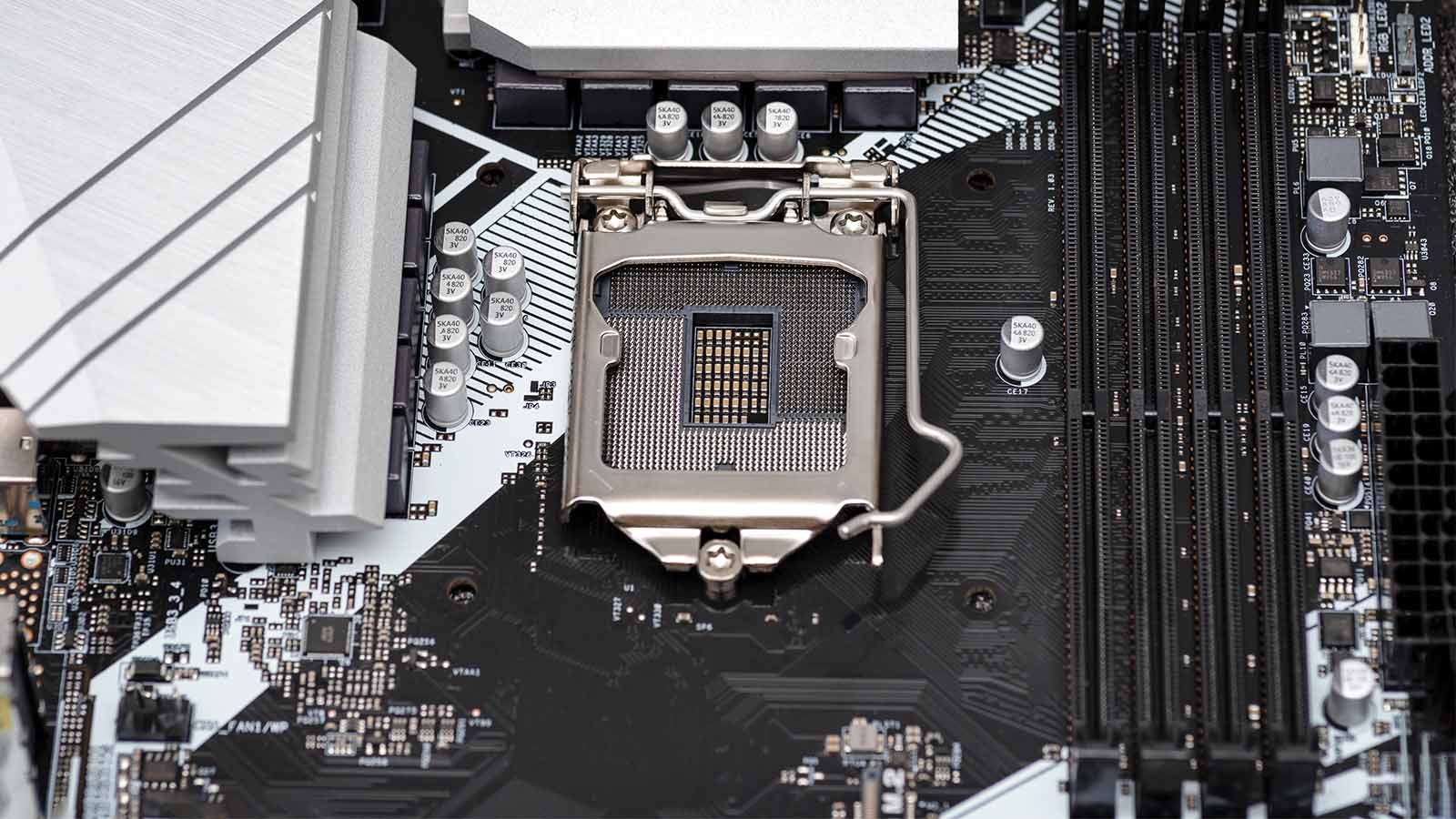 Rocket Lake marks the last generation of Intel's venerable 14nm process. As such, it pushes the architecture as far as it will go and still manages to give AMD a run for its money. Take Intel's new mainstream favorite, the i5-11600K. It has a lower base clock than its predecessor and still manages to keep up with the excellent R5 5600X.
The release of 11th-gen processors is accompanied by improved 500-series motherboards, bringing innovations like twice as many DVI and four more CPU lanes than the previous generation. You'll want one of the best motherboards for i5-11600K if you hope to harness the power of these new technologies, and Z590 is the way to go.
Best High-End ATX Motherboard for i5-11600K - ASUS TUF Gaming Z590-Plus WiFi
TUF boards were already showing their premium potential with the Z490 chipset. However, the latest motherboard in the line firmly cements it as a fairly-priced yet advanced solution for users with different needs and experience levels. It features exemplary cooling, has a healthy spread of connections, and comes with some simple but welcome quality of life changes for securing your M.2 drives.
You can save a bit of cash by getting the non-WiFi version. Alternately, you'll want to take a look at the MSI Z590 PRO WiFi.
Fans of the TUF aesthetic won't be disappointed as the mobo keeps true to the black & grey scheme brightened up by a few tinges of yellow. The VRM heatsinks are both imposing and cool-looking since strips run along them diagonally for better cooling. You don't get much RGB from the get-go since it's concentrated on the PCB's edges, but four dedicated headers expand your choices.
There's enough clean energy running through the TUF Gaming Z590-Plus WiFi's 14+2 phases to keep the 11600K running at high levels of efficiency and stability. Overheating isn't a concern either since the heatsinks effectively draw the heat away. There's a lot of overhead for RAM overclocking as well. The four Dual-Channel DIMM slots support speeds up to 5,133MHz, depending on how many sticks you use and their build quality.
NVMe drives get hot, so it's great to see all three are protected with long padded covers. ASUS has also done away with the small screws you usually need to secure the drives, going for an ingenious rotating latch instead that speeds up installation. Two M.2 slots and the top GPU lane are PCIe 4.0 compliant, while the two x1 ports and other lanes use PCIe 3.0.
Several connectivity headers allow you to use a Thunderbolt 3 input and up to seven USB slots, including one 2×2 USB-C. You get one more of these and three pairs of other USB inputs on the I/O. They share it with a PS/2 connection, WiFi antennas, and an Ethernet port. You also get DP 1.4 & HDMI 2.0 to make use of the new UHD 750 graphics chip, and a standard audio stack with an S/PDIF out.
Best Mid-Range ATX Motherboard for i5-11600K - ASRock Z590 Steel Legend
You don't need to spend absurd money on a motherboard to get the most out of your 11600K. Case in point, the newest Steel Legend from ASRock. It's an attractive board you'll quickly get to grips with that offers reasonable cooling & connectivity while keeping the price low, especially if you don't care for WiFi.
The mobo's aesthetics are divisive, but we think that combining urban digital camouflage on the PCB with bright silver shrouds hits home. RGB enthusiasts will have a field day since there are lights on the I/O shroud, chipset heatsink, and two PCB edges. If that's not enough, pairs of RGB & addressable headers allow for more.
ASRock has done a great job with the board's cooling, supplying heatsinks for the chipset as well as two of its three M.2 slots. The VRM's cooling isn't there for show either, relieving the 12+2 power stages from Vishay free to feed the 11600K with 600A of current. A total of seven fan headers improves your cooling options considerably since five of them are of the hybrid variety.
RAM overclocking isn't as extreme as on our high-end pick, but maxing out at 128GB and being able to bring part of it to 4,800MHz is still impressive. Storage is divided between six SATA and three M.2 connections. The former are placed in an unusual way – four follow a line along the PCB's right edge, while the other two are positioned vertically. One of the two x16 lanes is compatible with PCIe 4.0, and you get three PCIe 3.0 x1 slots for more expansion possibilities.
Realtek ALC897 sounds like a lackluster codec on paper. Still, the audio is good nevertheless and accessible through an array of five analog and one optical out. The rest of the fun-looking I/O is lightly populated with pairs of USB 2.0 and USB 3.2 Gen 1 inputs, not to mention one Gen 2 USB-A & C port each. That leaves HDMI & DP for video out, PS/2, and 2.5Gbps LAN.
Best Budget ATX Motherboard for i5-11600K - MSI Z590-A PRO
MSI's least expensive motherboard is all you need to run an overclocked i5-11600K if you don't care about frills. Expect a system with conservatively boosted RAM & CPU to chug along nicely without stability or heat issues.
GIGABYTE Z590 UD and ASUS Prime Z590-P are good alternatives at similar prices. Keep in mind that the ASUS board is slightly smaller than the regular ATX format when installing it.
The board's appearance is all about rectangular shapes coming together from lines. The dark theme blends in perfectly with any build theme. Including no RGB was a prudent cost-cutting measure, and it's nice of MSI to give you the option of connecting three LED strips via headers.
The top x16 lane connects to the CPU and utilizes PCIe 4.0 x16, while the second x16 and two x1 ports use PCIe 3.0 from the chipset. A similar split happens between the M.2 inputs, with only the top-most one running at PCIe 4.0 transfer speeds. Keep in mind that connecting a SATA SSD to the middle or bottom slots will disable one or two of the 6Gbps SATA connections, respectively.
Cooling is developed well for a board at this price. The VRM heatsinks have some heft and are augmented by cutouts. They're enough to keep the 6+1 twinned VRM phases from becoming toasty. You'll also see a clever implementation of the geometric theme on the single M.2 shield and chipset heatsink, where surface unevenness creates more area for heat dissipation.
You'll have to mount the I/O panel yourself but get a decent port selection and a BIOS flash button in return. Six of eight USB ports are split into sets of four USB 2.0 and two USB 3.2 Gen 1 connections. The other two are USB-A & C with transfer speeds of 10 and 20Gbps. You can connect monitors through either HDMI or DisplayPort. The audio section doesn't have optical out, and you can fall back on PS/2 for older keyboards or mice.
Best i5-11600K Motherboard for Connectivity - GIGABYTE Z590 AORUS PRO AX
Rarely is a board as balanced and feature-rich as the newest model in Gigabyte's AORUS Elite series without costing an arm and a leg. Overclockers, file hoarders, and people who have more peripherals than they can count will come into their own with this board. It has more connections than most motherboards out today, many of them up to the latest standards. Add excellent power delivery & monitoring, and you've got a value that's hard to beat.
Gigabyte has taken a subtle approach to the board's design, going for a black PCB enhanced with brushed aluminum heatsinks & shrouds. The built-in lighting is equally minimalistic, limiting itself to a strip on the I/O shroud and some text on the audio cover. Two pairs of RGB headers allow for deeper customization, though.
The GIGABYTE Z590 AORUS PRO AX has a finely-tuned VRM consisting of 12+1 90A phases. It makes overclocking effortless since the CPU always has enough power to draw on while being adequately cooled even under stress. Other parts of the mobo have the potential for equally robust cooling. Eight headers are allocated for the task, all of which support 3- and 4-pin connectors for a comprehensive air or water cooling setup.
You won't be running out of drive space with this motherboard since it supports four M.2 drives, only one of which is PCIe 3.0. Two fourth-gen drives can be 110mm long, and one is limited to 80mm. Using a PCIe-based solution will disable a SATA port, but that still leaves you with nine connections in total. You might miss PCIe 3.0 x1 options, but two Thunderbolt 3 and one USB-C header are adequate compensations.
Speaking of connections, you'll find more of them than most can handle on the I/O. It houses a staggering 13 USB ports – four each of USB 2.0 and both USB 3.2 generations plus a 20Gbit 2×2 USB-C. Your ears will perk up since the 5+1 audio stack runs on the SupremeFX ALC4080 codec. DisplayPort, WiFi, and a 2.5Gbps Ethernet port complete the crowded but tidy panel.
Best Micro-ATX Motherboard for i5-11600K - ASUS Prime Z590M-PLUS
There's little interest among mobo manufacturers for mATX this generation, but the few available boards aren't underwhelming. For example, ASUS's offering is equipped with most features exclusive to Rocket Lake while coming in at a fantastic price. It even has a Thunderbolt 4 header, which places the board among the most futureproof in the overview.
Understated yet sophisticated describes the Prime Z590M-PLUS perfectly. Its black PCB is crisscrossed with grey lines that form a geometric pattern, and the heatsinks join in either with similar stripes or cutouts that resemble them. This is an affordable board as Z590 models go, so you'll have to supply your own RGB through the appropriate headers.
Built-in cooling management is a mixed bag, but it's executed well for the simple 8+1 MOSFET layout. Both VRM heatsinks are thick and occupy a large area. Fan options aren't as well thought out since you can connect only three fans and a pump. None of the three M.2 slots have thermal shields, so you'll want to go with disks and a graphics card that don't heat up much.
The size decrease compared to ATX has a small impact on internal port selection. You'll be able to connect five SATA disks instead of the usual six, but there's still room for one PCIe 4.0 and two PCIe 3.0 storage devices. Two PCIe 3.0 x1 ports are handy for upgrades like TV cards, and four USB headers ensure that all front ports will be at your disposal.
You wouldn't guess the motherboard's enticing price on the back I/O alone. Seven USB inputs are enough for most users and include a state-of-the-art USB-C 2X2 port. The audio portion includes S/PDI out while DP or HDMI takes care of your integrated graphics needs. A WiFi assembly, Ethernet port, and PS/2 complete the selection.
Best Mini-ITX Motherboard for i5-11600K - GIGABYTE Z590I AORUS Ultra
We'll wrap the showcase up with one of Gigabyte's finest Z590 boards. This pocket powerhouse outperforms much larger models. Its build quality is superb, overclocking is encouraged, and various performance charts indicate that busing the board for an SFF PC is money well spent.
You might also want to look into the Z590I Valkyrie from Biostar if you need less oomph at a lower price.
There's little breathing room on the Z590I AORUS Ultra since it's precision-engineered to balance power and heat with a slew of cooling solutions. Abstract lines on the heatsinks mesh well with the plain black PCB, and the lit-up side is icing on the cake.
Two DIMM slots are hardly an obstacle since each maxes out at 32GB and can push its boundaries with the right XMP profile. The slots are armored, as is the single GPU lane. Interestingly, the board's back also has a thick aluminum sheet that radiates heat better and ensures that the mobo can bear heavier coolers & graphics cards.
You shouldn't run into any issues while overclocking the 11600K as 10+1 90A MOSFETs convert enough stable current for speeds approaching the processor's maximum. The board's armor and VRMs allow it to perform admirably n synthetic benchmarks as well as games.
You can hook four SATA disks up vertically and place one PCIe 4.0 M.2 drive above the single graphics card slot inside a broad heatsink. There's room for one more PCIe 3.0 model on the board's backside. Two USB 3.2 Gen 1 Type-A and one USB-C header connect to your case.
You don't need to mount the 11600K to flash the BIOS as there's a button for that on the I/O. That's where you'll find eight more USB inputs, including USB-C. The board sports LAN, WiFi 6, and Bluetooth 5.1. Its three audio jacks run on the Realtek ALC1220-VB codec. DisplayPort and HDMI facilitate video output.
Frequently Asked Questions
What motherboards work with i5-11600K?
The 11600K belongs to the second generation of processors designed to operate with the LGA 1200 chipset. You'll want to pair it with a Z590 board since that enables both overclocking and the latest features like PCIe 4.0.
Z490 motherboards are the next best thing.
You could use the CPU with other 400 and 500 series boards. That would disable overclocking, though, which is the main reason for purchasing the 11600K over a lesser model in the first place.
Is Z490 compatible with 11th Gen?
Yes, Z490 mobos work just fine with Rocket Lake processors. Some even take advantage of PCIe 4.0 that way. A Z490 board will be an adequate replacement if you don't care about extra PCIe lanes or are having trouble finding newer models at suggested prices.
As stated above, the 11600K is built for the LGA 1200 socket and will run on any motherboard made to support it. There have been two generations of such boards so far, the 400 and 500 series.
Is i5 11600K good for gaming?
While it's true that AMD's 5xxx chips are worthy adversaries, the i5-11600K holds its own in most scenarios. On the one hand, it's superior when you consider single-core performance and peak clocks. These metrics are still relevant for getting the best framerates in many games today. On the other, its integrated graphics have received a hefty boost. This allows you to play undemanding titles like CS: GO or DOTA 2 smoothly without a discrete graphics card and save money while waiting for the market to stabilize.