6 Best CPU Coolers for Ryzen 5 7600X in 2023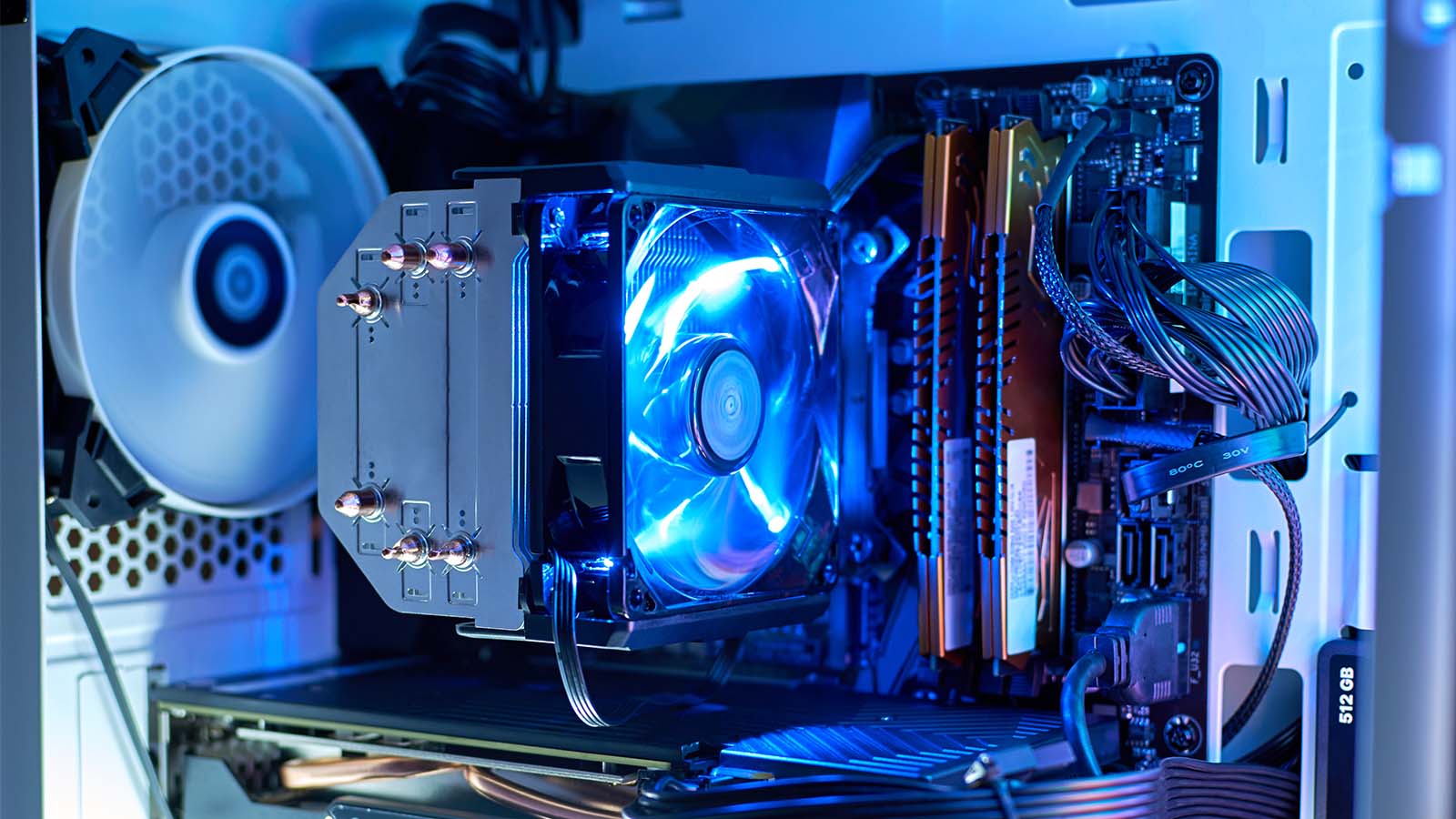 AMD finally closed the book on AM4 and is embracing new technologies as well as facing new challenges with the AM5 platform and 7000-series processors. They're quite an impressive lot, but the fact that three of our best CPU coolers for Ryzen 5 7600X are AIOs speaks volumes about the generation's thermal outlook. See which ones we picked & secure a throttle-free user experience.
Best High-end AIO: ARCTIC Liquid Freezer II 240 A-RGB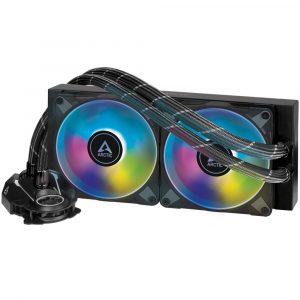 Another CPU cooler roundup, another Liquid Freezer recommendation! We can't help it, as Arctic keeps making innovative AIOs. This time, they decided to spruce the now-iconic Liquid Freezer II up with a pair of ARGB fans. These don't impact performance yet give the assembly some much-needed flair. The AIO is silent, efficient, and performs on par with more expensive alternatives.
The barebones Liquid Freezer II 240 would be our first recommendation if you don't mind losing out on the bling yet saving money in return. Alternatively, you'll get the same level of performance from a more expensive Kraken X53.
PC enthusiasts familiar with the original's peculiar design will find that almost nothing has changed about the Liquid Freezer's core concepts. It has an identical, if controversial, pump head design that's much broader than usual. This is to accommodate a third fan used to help ventilate the VRMs. Judging by the boards AM5 launched with, the additional cooling power won't be misspent.
The radiator is among the thickest in the business, 10mm thicker than standard. That lets it accumulate more heat, while an adjusted fin density ensures the two 120mm fans don't have a harder time pushing the air out. They're transparent for ARGB purposes yet still have admirable stats. An RPM range of 200 to 1,800 gives you fine control over the noise. Each achieves a respectable 48 CFM at max speed, which you won't need to utilize anyway.
Unsurprisingly, colorful lighting is the Liquid Freezer II 240 A-RGB's most notable addition. The lighting itself isn't overpowering, and connecting the ARGB header ensures compatibility with top manufacturers' lighting control software. There's also a version that comes with a remote if you want to cycle through the effects manually.
The original was perhaps the easiest AIO on the market to install, and this has barely changed with this version. You don't need to mount the fans, and all the cables are braided inside the tubing sleeves for maximum convenience. The only difference is that now you have two wires to plug in inside of one. The first drives the pump and all three fans, while the second provides illumination power.
We wouldn't be placing the Liquid Freezer on the very top if it didn't offer excellent value for the money. Guru3D tested it on an older Intel CPU that's similarly thermally demanding to the 7600X. As expected, the results were excellent. Arctic's 240mm AIO takes up residence in the top third & hangs out with high-end coolers from the same class as well as some larger rivals. It's also a quiet performer, barely emitting more than 30dB of sound during stress testing.
Best High-end Air Cooler: Noctua NH-U14S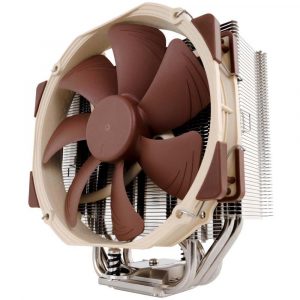 Price-wise, our air-based solutions continue right where the AIOs left off. You could get away with a mid-tier cooler on the 5600X, but its successor requires something more substantial if you don't want it hitting those thermal thresholds. A trusty Noctua NH-U14S will do, thanks to the Austrian company's impeccable reputation for efficient and quiet cooling.
This price point is very competitive, so compelling choices abound. We'd go with the Dark Rock Pro 4 if you can spend $10 more or take Scythe's Fuma 2 if you want to save a couple of bucks but still get excellent cooling.
Unlike our two alternative recommendations, the NH-U14S adopts a single-tower design. Even so, the craftsmanship and quality materials used mean it doesn't fall behind in terms of cooling effectiveness. Take the heatsink, for example. It's a deceptively simple design where several small elements come together to make a difference.
On the one hand, the sides of the fins are sealed so that air only flows in one direction. On the other, subtle indents and sawtooth patterns on the front & back help agitate the air and direct it into the heatsink with more force. Six nickel-plated pipes are welded to each fin, which dramatically increases their thermal conductivity potential. The base is nickel plated and polished to a mirror finish that optimizes contact with the CPU.
Noctua decided to outfit the NH-U14S with the 150mm fan used on the legendary NH-D15. The fan's larger area lets it rotate more slowly & quietly while still maintaining excellent air throughput. Its RPM ranges from 300 to 1,500, 1,200 if you decide to activate the low noise adapter. Not using it leaves the fan free to route 82CFM of air through the heatsink. Let's not forget Noctua's unique color choice either. It's as contrasting with modern PC aesthetics as ever, but those in the know won't mind.
Installing the NH-U14S on any AM5 motherboard is as straightforward as it was with last gen's CPUs since AMD made no changes to their backplate layout. You just screw in the appropriate standoffs, secure the AMD mounting arms, and screw the cooler in place after making sure you've applied the accompanying thermal paste. The single-tower design means RAM clearance isn't an issue. You can also mount another fan in the rear in the future.
While it's an excellent cooler in its own right, we also frequently recommend the NH-U14S as it's Techpowerup's default testing cooler for all CPUs. That gives you an exact idea of its capabilities. As you can see, putting the 7600X through its paces makes even Noctua's cooler sweat. Fortunately, temperatures drop considerably when only using the processor for gaming purposes. Still, 70°C using this cooler is telling for the weakest AM5 CPU.
Best Mid-Range AIO: Be Quiet! Pure Loop 240mm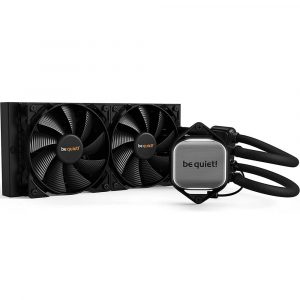 Our second AIO recommendation is another model that seeks to push the boundaries of conventional design. The Pure Loop diverges from the Liquid Freezer's philosophy focusing more on longevity and noise reduction while still striving for cooling excellence. Be quiet! has managed to do both, and at a great price to boot. Only RGB lovers may rumble, but there's a solution for them as well.
We're talking about the Pure Loop 2 FX, a new, more colorful version of this AIO. It's slightly more expensive and has two Light Wings RGB fans and a new ARGB strip around the CPU block to show for it.
The Pure Loop's various components range from mundane to extraordinary. Even the radiator – its most standard and dull-looking part – has a trick up its sleeve in the form of the refill cap. That's right – you get a sizeable bottle of cooling liquid you can refill the AIO with after it's been running for a couple of years and some of the original has evaporated.
Attached to the radiator are two 120mm Silent Wings fans seen on many of Be Quiet!'s air coolers. They're known for the ribbed design of the fins and operate quietly despite reaching more rotations per minute than both our top picks.
Unlike most AIOs, the pump on this one isn't part of the CPU mounting hardware. It dangles from the tubing next to the radiator instead. That allows for a larger design and shifts any vibrations use might cause away from the processor. The tubes connecting it are flexible and long, so ensuring a comfortable fit during installation isn't a problem.
The installation process is logical and goes by uneventfully if you follow the detailed instructions. The base is shiny & nickel-plated, while the top part is a brushed silvery color with the company logo in its middle. A white light surrounds it, giving your PC a touch of class once everything is ready. You'll want to make sure the screws are thoroughly screwed in for maximum contact.
The AIO's advantages become apparent as soon as you glance at its performance charts. Even the mighty Noctua NH-D15 can't keep up with the Pure Loop, and many competing AIOs are left in the dust too. Acoustics results present a more even playing field, but the Pure Loop's lower to mid-30dB result is still more than acceptable.
Best Mid-Range Air Cooler: DeepCool AK620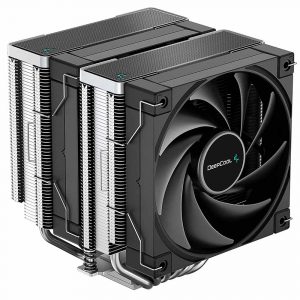 The three coolers we've discussed so far appeared on sevral of our lists over the years. It's finally time for some fresh blood, and DeepCool's AK620 is just the model to liven things up! This recently released air cooler offers impressive performance at a jaw-dropping price. It hovers around the mid-$60 mark, yet the AK620 can even give the big boys from Noctua or Be Quiet! a run for their money.
Massive size is the first thing you'll notice about the AK620. It weighs almost 1.5kg with both fans mounted, and most of that weight is concentrated in the imposing heatsinks. Both towers are identical and 160mm high, so double-check whether your case is large enough. They have a cool-looking checker pattern that's there mainly for show. Side-folded fins are the heatsink's only real cooling trick as they help steer the air out of each tower.
DeepCool made the FK120 fans, especially for this air cooler. They range in RPM from 500 to 1,850 and can put out a nice 69 CFM when running at full blast. There's not much to say about the design other than it has nine blades and vibration-reducing corners. It also fits well with the easily removable black covers adorning the heatsink's tops.
The underside holds few surprises. Everything is nickel-plated, and there are six heatpipes to draw heat away at different angles. They're connected to a thick base with a preinstalled mounting plate. Its surface is highly polished and convex to maximize contact with the 7600X's IHS.
The installation procedure is practically identical to Noctua's, so there's no need to repeat the steps. Everything slots into place neatly, and the mounting hardware is robust enough to hold the hefty assembly securely. GPU clearance is good. However, there's only 43mm of RAM clearance, so sticks with higher heat spreaders might prove problematic. You can attach the front fan to a higher position in that case, but this comes at the cost of reduced efficiency.
If the AK620 is any indication, the future of affordable fan cooling is looking bright despite increasing thermal demands. It can keep a hotheaded Ryzen 9 3900X from throttling even during extreme torture tests! Loudness is the only inconvenient tradeoff. Using the AK620at 50% already generates 40dB of sound, which only goes up as the demands on it increase.
Best Budget AIO: Cooler Master MasterLiquid ML240L RGB V2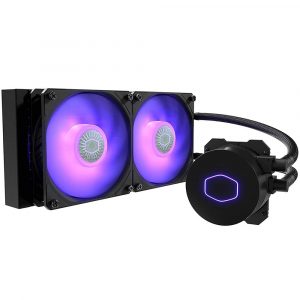 Want to reap the water cooling benefits without going overboard on price? The MasterLiquid ML240L RGB V2 proves time & again how shoring up deficiencies while keeping costs low leads to a win-win for everyone. Your 7600X will enjoy low temperatures even when running demanding workloads for extended periods, while you get to save some cash & enjoy the light show.
Thermaltake's TH240 is an even less expensive & more colorful alternative.
It might look like a standard entry-level AIO, yet the V2 is anything but cheap. It took a while to get there, as previous iterations weren't as successful. CoolerMaster acknowledged the complaints and focused on improving almost everything about the new design.
The pump's design received the brunt of the changes. It can now hold more liquid, and the transfer from one chamber to another is more efficient. A new motor is responsible for quieter operation at no cost to efficiency. You wouldn't pick any of this up just by looking at the pump head since it's one of those standard puck-shaped designs. The CoolerMaster logo in the middle is the only indication of the maker.
The fans are also new. CoolerMaster went with milky-white SickleFlow 120mm models that have better CFM and more static pressure than the original. That means they can push air out of your system equally efficiently, even if the conditions are cramped. The radiator and plastic tubing received the fewest changes. Still, the entire assembly is now more coherent and likely to last for years without developing issues.
You'll have to mount the fans as well as connect the power & RGB cables to their respective headers. All the mounting hardware & instructions needed to securely fit the AIO are present, so installing it shouldn't give first-timers a headache.
How have all these improvements affected real-world performance? For that, we consult KitGuru's review and interesting pairing. They chose the Intel Core-i9 9900K, one of the hottest desktop CPUs from the pre-Alder Lake days. The V2 does well when faced with this challenge, going toe to toe with elite air coolers and most 240mm AIOs. It doesn't get as loud as the AK620, but you'll still want to have some headphones on when it reaches that 40dB max.
Best Budget Air Cooler: ID-Cooling SE-225-XT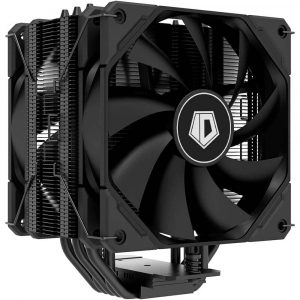 Our final cooler recommendation for the 7600X is another new addition, this time from ID-Cooling. Even though the name doesn't roll off the tongue, PC builders looking for an affordable yet noticeable upgrade from the Wraith Stealth will surely take note of the SE-225-XT. It can be yours for as little as $40 yet packs enough thermal-reducing potential to rival costlier competitors.
The ever-popular Freezer 34 eSports Duo remains a compelling alternative. Its price has risen in the last couple of months, giving new arrivals like ID-Cooling's model room to shine.
The SE-225-XT completes the triumvirate of most popular cooler designs since it has a single stout heatsink in the center and comes with two fans to pull heat from it. Fifty-five fins comprise the tower and have a combined height of around 154mm. They, like the rest of the cooler, are a matte-black color that works well in stealthy builds.
The fins' layout is another example of manufacturers not being afraid to experiment with new designs. The sides feature thin walls towards the edges and "flaps" that protrude from the middle. The front and back are almost completely straight. A V-shaped indent is in the middle, while two u-shaped ones flank it & terminate ten fins below the top. We're not sure how much this contributes to turbulence, but it looks attractive either way.
ID-Cooling experimented much less with the base. It's a slab of black-coated aluminum with grooves in the middle for the five heatpipes. Together, they form the surface that contacts the IHS. Even though the pipes are exposed and easy to distinguish, the surface remains flat. The pipes point outward at alternating angles and come into contact with each other only slightly.
This is another cooler that presents no major mounting challenges. Much of that is due to AM5's unchanged and already preinstalled backplate, whereas you'd have to attach one manually on Intel systems. A couple of glances on the mostly diagram-based instruction manual and ten minutes of your time should be enough for a proper install. Just pay attention that the fan isn't bumping into the closest stick of RAM.
Speaking of fans, the SE-225-XT comes with two. They have no commercial name, only a string identifying the model number. Anonymity doesn't stop them from performing well since each has a max CFM of 76. They rotate between 700 and 1800 times per minute, have nine blades, and don't rattle due to the padded corners.
TweakTown put the SE-225-XT to the test on a Ryzen 5 3600X. You should expect higher temperatures overall, but even the results achieved on the older processor are indicative of its performance. There's not much room on that list for air-based competition other than the greats, which is phenomenal news considering the price. It's not a noisy cooler either, which cements the SE-225-XT as one of the best reasonably-priced coolers to have come out in a while.
Frequently Asked Questions
What cooler does the Ryzen 5 7600X come with?
It doesn't. Looks like AMD learned something from the previous generation and decided to ditch the Wraith Stealth in favor of giving users a choice while keeping costs lower. Unlike now, the Stealth still made sense for the 5600X as you could get high yet stable temperatures without needing to invest in aftermarket solutions.
However, as Paul from Paul's Hardware conclusively demonstrates, the Wraith Stealth isn't sufficient for Zen anymore. We're not just talking about high temperatures but downright throttling due to lack of cooling strength. AMD is basically making aftermarket cooling mandatory for anyone who expects to run CPU-intensive games or tasks on this processor.
Luckily, even coolers cheaper than our budget pick can get rid of the throttling issue & significantly improve your user experience.
Does the Ryzen 5 7600X need liquid cooling? Is an air cooler enough for it?
You don't need liquid cooling for the 7600X, but it helps. The CPU was designed to hit and stay stable at temperatures as high as 95°C without risk of damage or long-term performance loss. However, that doesn't mean it will be able to maintain optimum efficiency and still hit those targets in certain scenarios.
Most games won't max out your CPU potential, hence the much lower temp scores during gaming benchmarks. Still, letting the 7600X reach its upper thermal limits can negatively impact the temperature inside the case & cause other components to run hotter. That's why getting it into the 60s or 70s is preferable.
Many air coolers can do this – they're just not as efficient at it as water coolers. Our top recommendations for the 5600X were all air-based and would do a better job than the Stealth if mounted onto its successor. Even so, the new CPU's design makes investing in an AIO justifiable.
Is a 120mm radiator enough for the 7600X?
Yes, but better options exist. We'd recommend a 120mm AIO only if you're building a compact computer inside an ITX case with poor airflow. Such an AIO would then be small enough to fit inside the case while not obstructing the airflow further. If you have the space for it, go with a reasonably-priced air cooler or switch to a 240mm AIO for peace of mind instead.