6 Best White Motherboards in 2022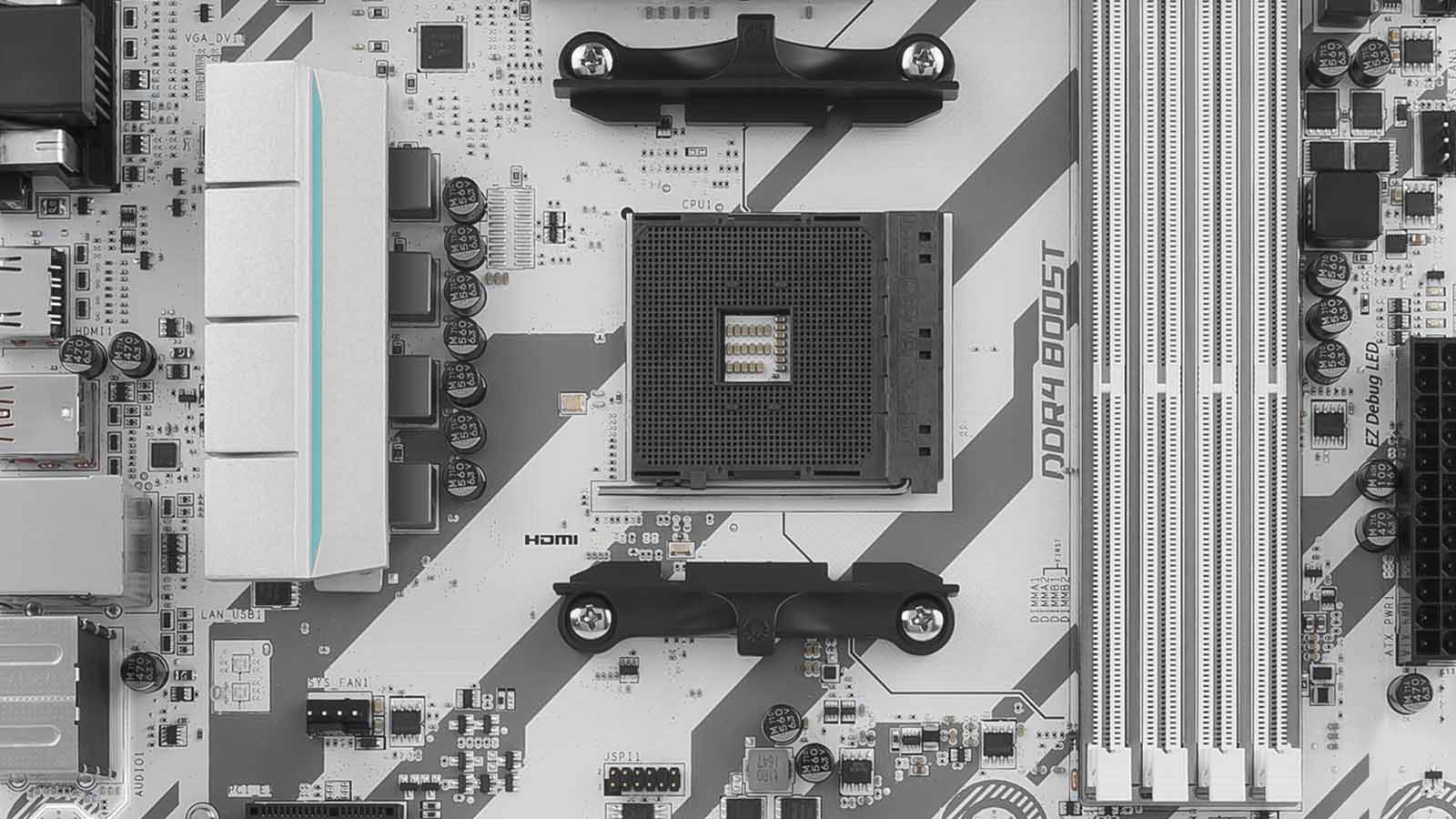 PC component styles aren't immune to fads. While we've thankfully moved on from the 90s and their combination of green PCB & beige everything else, today's parts feel like they're stuck in a rut too. Motherboards are a poignant example since the majority are black with either dark gray or no other color at all, not counting RGB, of course.
A few mobos break the norm, and this article is all about the best white motherboards for AMD & Intel users alike. Their color schemes might not follow convention, but these boards are capable nevertheless. Discover more about them and pick one to serve as the hub for your next white-themed computer.
Best White AMD Motherboard - NZXT N7 B550
PC users know NZXT as a manufacturer of quality cases. It has a bright future in motherboard design, too, if this beauty is any indication. It's a B550 board and the first AMD one the company has released. Even though its look is subdued, you can expect good overclocking and gain access to PCIe 4.0 for a GPU and M.2 slot. Add a boatload of USB ports, and you've got an exemplary basis for a modern AMD PC of any kind.
Intel users who love the look can get the Z590 version since it is identical in appearance.
A breath of clean air in the stifling RGB landscape is an apt description for NZXT's first AMD motherboard. It's heavily shrouded, hiding most of the PCB in an inviting white. The look is refreshingly simple and even helps first-time builders get their bearings. They'll be able to identify parts like the GPU slots or 24-pin power connector more easily. Unsurprisingly, the mobo goes together perfectly with NZXT's H-series white cases.
There's no onboard RGB, which anyone sick of the trend will welcome. However, no one is left out since four headers let you hook up strips made by either NZXT or other manufacturers.
The N7 B550's plain appearance hides some capable components, starting with the VRM. It's made up of doubled 12+2 50A phases controlled through a 6+2 PWM chip. That's not as much current potential as you'd see on boards dedicated to overclocking, but it's still enough to push flagship Ryzen CPUs past the 5GHz mark while remaining reasonably cool. This is thanks to a substantial heatsink riddled with holes that increase its surface area.
The B550 chipset runs on 6W and doesn't require active cooling, so holes that make up a grille in the shroud are all it takes to cool it efficiently. The massive shroud provides thermal relief for two M.2 drives, one of which will run at peak speeds due to PCIe 4.0. The other slot uses PCIe 3.0 and is SATA-based. Installing an SSD in it will disable two of the six SATA 6 Gbps slots. You also get two x16 slots for graphics cards and three x1 ones for other expansion or capture hardware.
There's no shortage of ports, whether internal or on the I/O. You'll find seven fan headers as well as five USB internal headers, one of which is the only USB-C the mobo supports. There are a whopping ten USB ports on the I/O, along with Wi-Fi 6 and 2.5 Gbps LAN. You can connect a monitor through HDMI if you're using an APU and enjoy crystal-clear audio through the 5+1 stack. Tinkerers will appreciate the BIOS flashback and clear CMOS buttons since they simplify updates and troubleshooting.
Best White Intel Motherboard - GIGABYTE Z590 Vision G
Gigabyte's only white board distinguishes itself from the pack by also being focused on content creation. Graphics artists and audiophiles will be impressed with its port selection & latest audio codec, while everyone can appreciate the solid VRMs and support for four M.2 disks.
Users looking for a premium white gaming-focused board will have to spend a little more on the ASUS ROG Strix Z590-A Gaming.
The unique style Gigabyte was going for is easy on the eyes as the board successfully combines a black PCB with silver & white heatsinks. The white I/O shroud is particularly impressive. It sports a cutout that showcases the VRM heatsink's finned design and the word VISION made up of stripes. It's also home to the board's only softly glowing RGB strip. Another white shroud covers the audio hardware that uses the new Realtek ALC4080 codec to provide a premium listening experience.
While not a gaming board, the Z590 Vision G does have adequate overclocking hardware. On the one hand, there's the 12+1-phase VRM. On the other, it's cooled by two heatsinks with different approaches. One is finned, and the other a thick aluminum slab. You'll have no trouble maintaining stock clocks on any Intel CPU but might want to skip overclocking ones like the 11900K due to its notorious heat generation.
There's plenty of room for all sorts of creative projects since the board has four M.2 drive slots. All come with thick heatsinks, and three are compatible with PCIe 4.0. Best of all, utilizing all four won't cut down on the available SATA ports. The three x16 PCIe lanes work with CrossFire. The top one has steep plating for shearing protection.
A closer look at the mobo's internal connections reveals a dedication to speed and thermal efficiency. It has several USB headers, including one for 20 Gbps USB-C. Equally impressive are the six hybrid PWM headers that allow for sophisticated air or water cooling upgrades.
The I/O is home to a few surprises too. The VisionLINK DisplayPort in is the most intriguing. It provides power and video for a connected device, allowing you to charge and use graphics tablets. You also get ten USB ports, two of which are USB-C capable of 10 and 20 Gbps transfer speeds, respectively. The audio stack lacks an optical out, but you can still use one through a header. That leaves HDMI and PS/2.
Best Mid-range White AMD Motherboard - ASRock X570 Steel Legend Wi-Fi AX
Our mid-range AMD pick is proof that manufacturers still sometimes go out of their way to offer advanced features without charging an arm and a leg. It's the first AMD mobo to feature a Thunderbolt 3 header, has great cooling management, and won't let you down when it comes to storage.
ASRock also makes a B550 mATX motherboard in the same range, which you should check out as well.
The aptly named Steel Legend draws attention with its massive silver heatsinks that extend to the I/O shroud and both M.2 slots. A grille on top of the chipset shroud helps with airflow and adds more charm to the board, as does the white & gray urban camo pattern on the PCB. LEDs light up a strip beneath the chipset heatsink and the logo on the shroud. You may add three more through two standard and an addressable header.
We were pleasantly surprised to find a Thunderbolt 3 header among the X570 Steel Legend WiFi AX's many internal connections. You also get sets of two USB 2.0 and 3.2 Gen 1 headers. Six more are reserved for air cooling and a water pump. Eight SATA 3 angled connections make connecting a host of storage devices easy.
The M.2 slots are positioned underneath the two x16 PCIe lanes. Only one lane is armored and uses the entire bandwidth while the other is locked at x4. Three x1 ports add value for content creators who need capture cards or anyone who uses RAID controllers.
The board can run any recent Ryzen processor at stock settings and has a good enough VRM solution to overclock R5 and R7 chips. It's composed of 8+2 phases in a twinned setup that provides 400A to the CPU. The accompanying heatsinks are rugged and solid, ensuring a good amount of heat can escape unhindered. RAM overclocking is also possible. Depending on your processor, you can OC one stick to 4,666 MHz or hold 128GB at more modest speeds.
The cool geometric pattern spreads onto the I/O, where you'll find a useful spread of connections. There are eight USB ports, none older than USB 3.2 Gen 1, with one USB-C. Wi-Fi 6 and Gigabit LAN offer online connectivity, while PS/2 can handle old mice and keyboards. On the audiovisual side, you have HDMI, DVI, and an audio stack complete with optical S/PDIF out that runs on the ALC1220 codec from Realtek.
Best Mid-range White Intel Motherboard - ASUS Prime Z590-A
ASUS fans know that Prime straddles the line between enthusiast and beginner level, but this Z590 model leans much more towards the premium end of the spectrum. It comes with a robust VRM, a plethora of connections, and excellent future-proofing if you pair it with one of Intel's Rocket Lake processors.
You might also like the ASUS Prime Z590M-Plus if you need an mATX board for a smaller case.
The bright parts of the board are limited to its heatsinks, but they stand out so much that you can easily place it at the heart of any white build. The I/O shroud and secondary VRM heatsink draw attention with diagonal lines, some of which form cutouts that let more hot air escape. RGB LEDs grace the shroud and chipset heatsink, illuminating board branding and intricate geometric patterns.
Examining the board's bottom and right sides reveals several clever port choices. You have USB-C & USB 3.2 Gen 2 headers along with Thunderbolt 4 for improved charging and transfer speeds. Eight fan headers let you design an elaborate cooling system, while four RGB headers allow for an even bigger light display.
You get ample storage potential on the Prime Z590-A, most notably three M.2 slots. The top one will transfer data at PCIe 4.0 speeds if you use a Rocket Lake processor. It and the bottom slot have thick heatsinks that help deal with thermals. The drives alternate with three x16 reinforced lanes and one x1 slot. The bottom two M.2 drives, x16 slots, and the x1 slot are all PCIe 3.0 since they're connected to the chipset.
Overclockers can look forward to a lot of tinkering with this board since its VRM is solid enough to let any Intel CPU run free. It has a twinned 16+2 setup that enables the CPU to draw on 800A of current. Not even the i9 5950X will need as much, which means the VRM will not run hot. The heatsinks make sure of that since they're large and have extended coverage over the chokes.
The I/O is among the best we've seen at this price point. You'll immediately spot two USB-C ports. One of them is USB 3.2 Gen 2×2, meaning it reaches speeds of 20 Gbps. The LAN is also speedy at 2.5 Gbps, and the audio stack features an optical S/PDIF out. HDMI and DP let you experience Intel's improved Xe graphics, and seven more USB ports make the varied selection complete.
Best Budget White AMD Motherboard - ASUS ROG Strix B550-A Gaming
You'd think that a ROG motherboard would be flashy and expensive, but even ASUS can surprise us with offerings as balanced as the ROG Strix B550-A Gaming. It's the perfect board for mid-range PC builds yet comes with some advanced features like a Thunderbolt 3 header or ASUS' high-quality audio.
White on the motherboard is centered on the I/O shroud and preinstalled backplate. However, the VRM, chipset, and M.2 heatsinks are silver and help the board blend into a white case. There's no built-in RGB, which is astounding for a ROG board. Luckily, you get to trick it out yourself through addressable and ordinary headers.
Pairing this motherboard with an R5 or R7 chip will let you experiment with overclocking since it has a 12+2-phase VRM. The heatsinks are substantial and extend over the chokes, providing better thermal dissipation. Four DIMM slots to the CPU's right accommodate 128GB RAM in dual-channel mode and will let you overclock the memory to a varying degree, dependent on your CPU and stick count.
We're glad to see that each M.2 disk gets a hefty heatsink that's easy to unscrew. That's especially convenient for the top drive since it will run at 64 Gbps if it's PCIe 4.0 compliant and sits directly above the GPU, so it's bound to get warm. There's room for one more x16 and three x1 cards, six fans, a Thunderbolt 3 card, three USB connectors, and six SATA drives.
The board punches above its weight class when the I/O is concerned. It's preinstalled and has a 5+1 audio stack with gold-plated jacks powered by the 8-channel SupremeFX S1220A codec. Eight USB ports follow, one of them being USB-C. That leaves HDMI, DP, and 2.5 Gbps LAN. A BIOS flashback button is present as well.
Best Budget White Intel Motherboard - ASRock Z590 Steel Legend WiFi 6E
There's a Steel Legend for lovers of both Intel and white builds that's as capable as the AMD version. It features room for three M.2 drives, copious amounts of RGB, and a hardy VRM solution that won't buckle under pressure.
ASRock also makes the Z590M-ITX/AX, a mini-ITX motherboard with enough bright bits on it to blend in with a white SFF PC.
It's clear the two Steel Legend motherboards were cut from the same cloth. Still, there are enough differences to make each uniquely interesting. For example, this one has attractive silver shrouds & heatsinks with large and small white areas. It has more RGB, with lights coming from the logo, from under the chipset heatsink, and right edge. All the lights are bright and diffuse nicely, creating an attractive ambiance.
Being able to use three M.2 disks is one of the Z590 Steel Legend WiFi 6E's main draws. The top and bottom slots have heatsinks. Using the top one with an 11th-gen CPU enables PCIe 4.0 without sacrificing a SATA connection. Speaking of which, ASRock provides a GPU riser for its reinforced X16 lane that forced a redesign in the SATA layout. Four ports are angled as usual, while two more are to the left and facing vertically.
Overclocking on this mobo isn't out of the question, thanks to doubled 12+2 50A phases and two efficient heatsinks. They're of the type that covers not only the MOSFETs but the chokes as well. You may overclock the memory, too, all with the help of a logically laid out BIOS that addresses RAM, voltages, and CPU overclocking separately.
Six USB ports are the I/O's only shortcoming since one could always use more. You do get USB-C among them, though. DP & HDMI both work well for CPUs with integrated graphics cards, and PS/2 will take care of any legacy peripherals you might be attached to. The Wi-Fi antenna and Ethernet jack are neck and neck since they support Wi-Fi 6 and 2.5 Gbps LAN, respectively. Audiophiles might scoff at Realtek's budget-oriented ALC897 codec behind the audio stack, but the vast majority of users won't mind.
Frequently Asked Questions
Should I get a white motherboard?
If you're dead set on a white aesthetic, then getting a white motherboard is a no-brainer. There aren't many of them around, so that might limit your build options. However, there's at least a board or two for every platform and budget that more or less fits the criteria.
Is there an all white motherboard?
There are no purely white motherboards on the market. The whiteness of the ones you can get is concentrated mainly on the heatsinks, shrouds, and I/O panel. Some boards might have a white pattern on their PCB as well. The closest thing to a pure white mobo in recent time would be MSI's H310M GAMING ARCTIC. Its PCB is technically light grey & glossy, not to mention that the board itself is entry-level and more or less obsolete.
What is the best white motherboard for Ryzen 7 3700X?
The 3700x has the distinction of being a value-focused processor with a minuscule TDP and great performance for the price. This and the fact that you get access to competent auto overclocking means that the motherboard's VRM won't be overly taxed. Any of our three AMD recommendations will work flawlessly with the chip. But you should go for the N7 B550 if you want to overclock due to its many power phases.