6 Best Motherboards for i3-12100F in 2023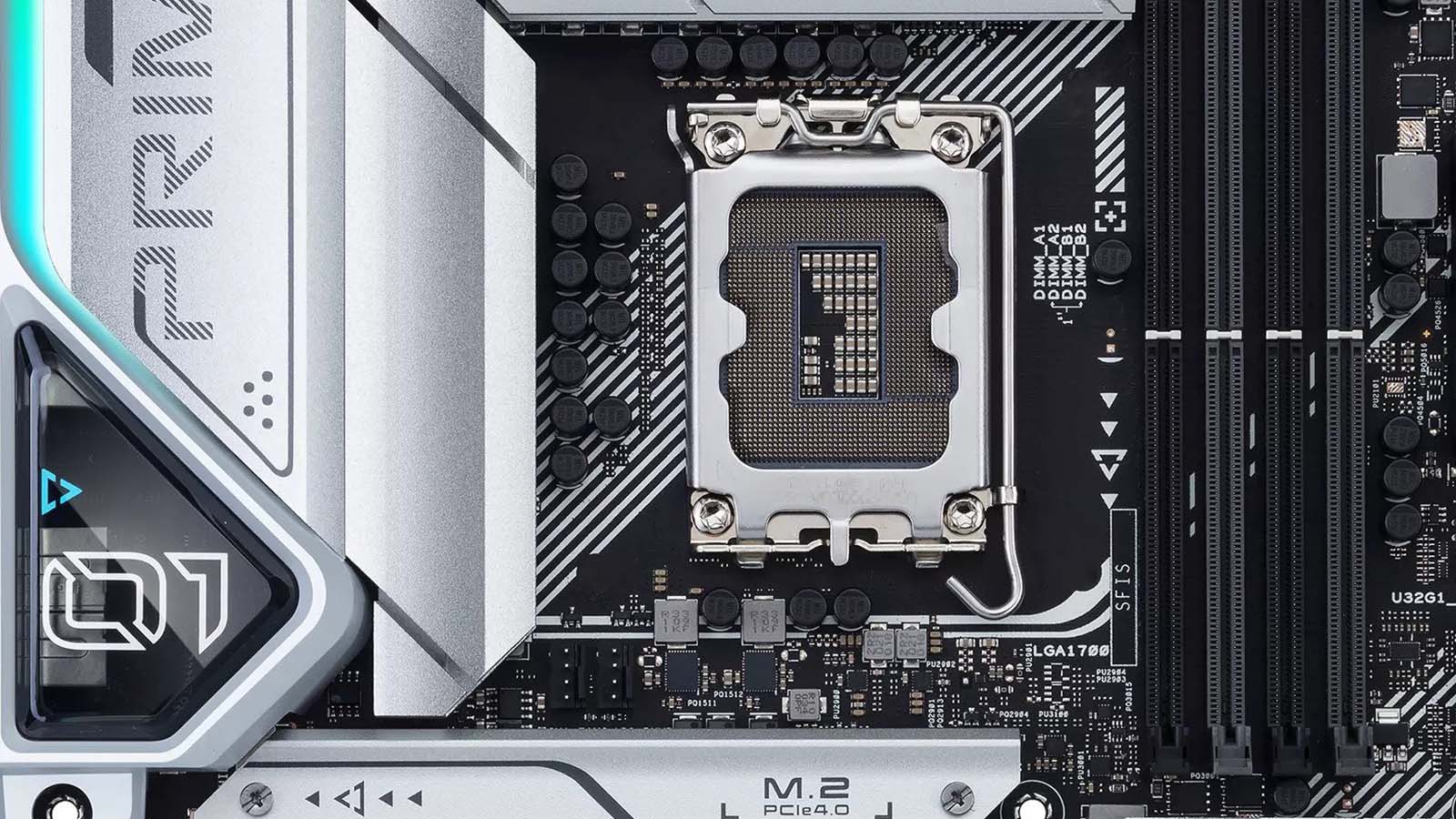 Alder Lake has undoubtedly caused the pendulum of processor dominance to swing back into Intel's favor. A Team Blue CPU reigns supreme again, but it's the runt of the litter that gets our hearts pumping even more! There's nothing like the 12100F out there now, from either company. It's excellent for 1080p gaming, brings all of its more powerful siblings' technological advancements, and its MSRP barely reaches three digits. Which board should you pair it with? Stick around & discover the best motherboards for i3-12100F in our rundown.
Best Motherboards for i3-12100F - Quick Overview
Here's a quick overview of the motherboards that we recommend. All of them are great to pair with i3-12100F, each in their own way. We'll take a better look at each of them below.
Best High-End Motherboard for i3-12100F: ASUS TUF Gaming H670-PRO WiFi D4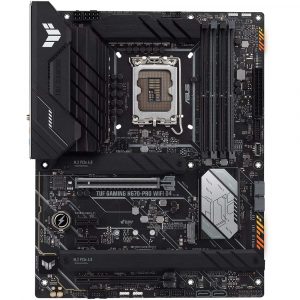 The 12100F was released alongside B660 and H670 boards, proving that putting an Alder Lake PC together doesn't need to be insanely expensive. Case in point on the motherboard front, our high-end pick. While inexpensive in 12th-gen mobo terms, the TUF Gaming H670-PRO WiFi D4 from ASUS has everything you could want to accompany the entry-level processor and then some more. Four M.2 slots, great VRM, WiFi, a state-of-the-art I/O… The list goes on and on, making our choice and yours effortless.
ASUS's accessible motherboard loses what little vestiges the Z690 version had of the TUF aesthetic, save for a white logo on the I/O shroud. Gone is the series' trademark yellow, replaced with an all-black design with a few tasteful white accents and a metallic chipset heatsink. The board looks austere yet menacing, perfect for a stealthy build about to expose its claws!
A lot of bang for your buck is this board's major selling point. Let's start with its best feature – four PCIe 4.0 M.2 slots, three of which get effective heat spreaders! We've seen considerably more expensive mobos where the last slot was PCIe 3.0. The only potential storage limitation comes in the form of four SATA ports instead of six, but that's not a biggie considering changing trends.
The board is an excellent investment, even if you plan on upgrading from the 12100F to an overclockable processor. That's thanks to exceptional VRM for the price, comprised of 14+1 power stages. You get both an 8-pin and an additional 4-pin EPS power connector for an unhindered power supply to the CPU. The 12100F's meager heat output will be no match for the pair of heatsinks positioned in an L-shape near the LGA 1700 socket.
It doesn't stop there. The TUF board has a PCIe 5.0 x16 slot for outstanding GPU futureproofing, as well as another full-length and two x1 PCIe 3.0 slots for a bevy of expansion options. Internal port selection is akin to a Z690 board as well. You get six fan headers and a dedicated header for water pumps. There are only two small RGB strips on the side, so the three ARGB and one AURA header will come in handy. You may also connect USB ports from your case through a USB-C and a USB 3.2 Gen 1 header near the main power connector.
The TUF doesn't let up in the I/O department either. Seven USB plugs are yours to play with. One is 20Gb USB-C, and all others are either first or second-gen USB 3.2. A premium 7.1 Surround Sound audio codec drives the 5+1 stack. There's HDMI & DisplayPort if you ever get a chip with integrated graphics. WiFi 6 and a 2.5G LAN connection competently handle networking.
Best Mid-Range Motherboard for i3-12100F: GIGABYTE B660 Gaming X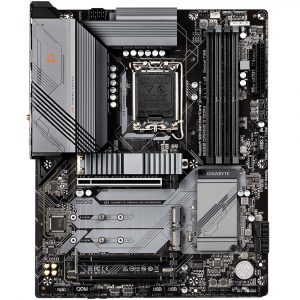 Don't need WiFi and don't plan on upgrading your CPU any time soon? In that case, you can save some more cash without compromising on quality if you go for a B660 motherboard. Gigabyte's B660 Gaming X should cover your storage, connection, and performance needs with room to spare. It's among the more attractive boards on the list, but it's definitely not just for show.
Most manufacturers stick to almost entirely black color schemes for their Alder Lake Boards. We're glad that Gigabyte went against the grain with the B660 Gaming X, introducing swathes of silvery gray on the board's heatsinks & storage spaces. All of them also have diagonal streaks and subtle geometric patterns that keep the eye occupied. The board doesn't light up natively, but headers make it possible to connect a pair of standard and addressable LED strips each.
While not as heavily armored as advanced Z690 Gigabyte models, the Gaming X is still among the better-protected boards for the price. The I/O shroud is massive, and the heatsinks sitting atop the 8+1+1 power stages are imposing as well. Fewer stages than on the TUF board mean little in your case, since the 12100F's power requirements are modest.
The board offers space for three high-speed storage drives, two of which can reach PCIe 4.0 speeds. The top-most slot has a sizeable ribbed heatsink to contend with your GPU's heat output. Speaking of GPUs, the top x16 slot is limited to PCIe 4.0 instead of PCIe 5.0. That shouldn't be a problem for the time being since even cutting-edge GPUs barely make use of the existing standard.
Cooling is a staple Gigabyte strength that extends to encompass even this affordably specimen. Apart from dedicated CPU cooling, you can also use a pump header, three system fan headers, and a hybrid connection that will accept either another fan or a water cooling loop component. Interestingly, the internals include overclocking tools like a reset button and a clear CMOS jumper.
Gigabyte graces us with an I/O backplate home to a middling variety of ports. DisplayPort 1.2 & HDMI 2.1 are there, as is a Realtek-backed audio stack that lacks optical S/PDIF out. LAN with 2.5Gbps speeds is your only means of online communication. That leaves eight USB plugs. Four of them are USB 2.0, and USB-C isn't present. However, you can use one of them to update the BIOS without having a CPU.
Best Budget Motherboard for i3-12100F: ASRock H670 Steel Legend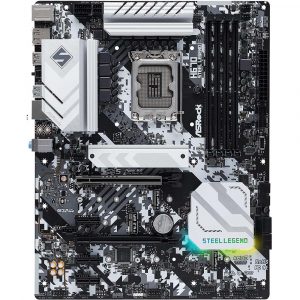 While Z690 boards experience price creep, there are still affordable models to be had in the B660 and H670 segments. ASRock's H670 Steel Legend costs barely more than the 12100F yet can serve as its worthy home. It sports a unique style, has a healthy port spread, and can be upgraded with WiFi. It's not the best motherboard for audiophiles. Still, everyone else should find it a perfect match for Alder Lake's entry-level CPU.
Steel Legend boards attract with their focus on silver & black, so it's nice to see that ASRock stayed true to the line. The H670 variant is ideal if you own a white case or find current trends drab. TA diagonal white stripe is the main visual difference between this mobo and its B560 predecessor. It's also the first model on our list with proper RGB implementation, since the chipset heatsink's underside has a soft, colorful glow.
You'd think that a motherboard as cheap as this would have terrible VRM, but that's not the case. The H670 Steel Legend uses 8+1 50A power stages for 400A of power fed to the CPU and another 50A to the SOC. Their heatsinks aren't as beefy as we'd like for a stronger processor since there's no real I/O shroud, and the MOSFETs on the left are exposed. Still, the ones you do get are thick and have diagonal cuts, useful for improving thermal efficiency.
The Steel Legend comes with four M.2 slots. One of them is reserved for a WiFi card if you wish to add it down the line, so you're left with three slots for speedy drives. Luckily, all of them achieve PCIe 4.0 transfer speeds. Four more SATA drives complete your data storage options. We were pleasantly surprised by the main GPU slot's support for future PCIe 5.0 graphics cards. The second full-length slot is PCIe 4.0 compatible, and a whopping three PCIe 3.0 x1 slots improve expansion versatility.
Diverse cooling options are another unexpected bonus. All four chassis fans also work with water pumps, making the Steel Legend a viable option for custom cooling enthusiasts. Other aspects of ASRock's internal offerings are intriguing as well, like a slot for a Thunderbolt add-in card lacking from the more expensive boards we've talked about so far.
The I/O exposes the Steel Legend's weakest link – audio. It only has three basic 3.5mm jacks, driven by the outdated & mediocre Realtek ALC897 codec. Going with PS/2 was ASRock's second questionable decision. Other aspects of the I/O are fine, though. There's DisplayPort 1.4 & HDMI 2.1, 2.5Gigabit LAN, and even a BIOS flashback button. The USB complement isn't shabby either, sporting 10Gbps USB-C & A as well as two USB 3.2 Gen 1 and four USB 2.0 ports.
Best Z690 Motherboard for i3-12100F: ASUS Prime Z690-A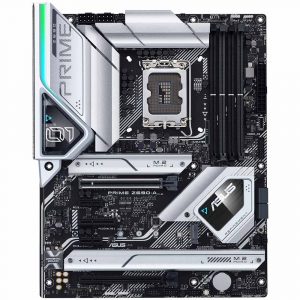 You might be thinking that pairing the 12100F with a Z690 board is overkill. We agree in principle, but it's hard not to recommend a stellar board like the Prime Z690-A. Top-tier LGA 1700 motherboards cost an arm & a leg, yet this one will set you back only around $50 more than our high-end or Mini-ITX picks. You get superb futureproofing in all areas from VRM through storage & graphics to cooling for that meager difference.
Other affordable Z690 boards to check out are the AORUS Elite from Gigabyte and MSI's PRO Z690-A WiFi.
Here we have another non-conventional board with a strong emphasis on the contrast between light and dark. Rather than be content with a mere color change, ASUS also introduced a wavy design to the heatsinks and I/O shroud, making the board even more unique. We're fans of the angled RGB strip tucked inside the cover as well. It's atmospheric and a departure from less inspired designs.
Taking a peek at the army of power stages is enough to realize that looks aren't the only aspect this motherboard excels at. It boasts 16+1 phases in a twinned configuration that provides 960A to the CPU. That would be more than enough for an i9-12900K, let alone your new CPU. You'll be glad that so much power and the Prime Z690-A's sizeable heatsinks are at your disposal should you invest in a more powerful 13th-gen processor in the future.
This is the only motherboard in the review, that supports DDR5 RAM. You can get up to 128GB of it with a core clock cap of 6000MHz. While it's another investment, you can already find reasonably-priced DDR5 kits out there.
The board is stacked for storage, as evidenced by four PCIe 4.0-ready M.2 slots. Three of them have chunky heat spreaders to boot. They all have quick-release screws that have become a mainstay of ASUS motherboards. Interestingly, the Prime only has four SATA slots, signaling their decreasing relevance even for high-end computing. Expansion slots are varied, both in size and generation. Only the GPU slot is PCIe 5.0, with an x16, an x4, and two x1 slots all being PCIe 3.0 compliant.
An overview of other internal connections yields few surprises. There are eight cooling and four lighting-related headers at your disposal. An ET debugger features four lights that aid in problem detection. USB connectivity consists of the standard 2x USB 2.0, 1x USB 3.0, & 1X USB-C headers with the addition of Thunderbolt.
The I/O is where things get even nicer. Its backplate is integrated and holds eight USB ports. You'll find no USB 2.0, but you will encounter two USB-C plugs at 10 and 20Gbps, respectively. The 5+1 audio stack runs on the trusty S1220 7.1 codec that's still highly regarded despite its age. Finally, there's 2.5Gbps LAN and two video-out ports. WiFi is the only omission we'd like to see remedied in future releases.
Best Micro-ATX Motherboard for i3-12100F: MSI MAG B660M Mortar WiFi DDR4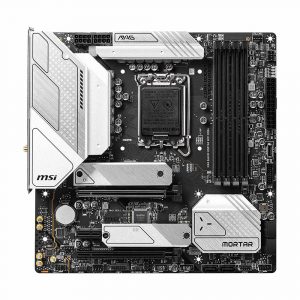 Motherboard manufacturers have neglected Micro-ATX for the last couple of generations, even though it's a popular space-saving choice. We're glad that the format is making a comeback, with contenders as strong as the MAG B660M Mortar WiFi DDR4! It comes with minimal concessions yet lets you make more efficient use of case and desktop space. Better yet, it's among the cheaper boards on the list if and when available.
MSI's military-themed motherboards strike a chord with the gaming audience, and the mATX board resonates with its predecessors. There's no digital camo pattern on the PCB. However, there are still enough small details on the heatsinks to satisfy the curious. Headers on the top and bottom parts of the PCB take care of RGB, as none is present on the board proper.
Two 8-pin EPS connectors are a good indicator of the Mortar's over-engineered VRM solution. It rivals larger competitors with a 12+1+1 60A phase configuration. The twelve CPU phases feed the PCU with 720A of power, which would be enough for any Alder Lake chip at stock. Not that you could push one further, given B660's inherent limitations.
Speaking of limitations, we have to address the Mortar's lack of advanced storage space. It has only two PCIe 4.0 M.2 drive slots. There are six SATA plugs to compensate, but these are getting long in the tooth. Being restricted to PCIe 4.0 for your graphics card won't matter as much. Neither will the presence of only one additional x16 and x1 slot.
Size reduction didn't do much to hinder the Mortar's internal structure. You can still use four sticks of DDR4 memory and even overclock a single one to 4,800MHz. Front panel & case USB connections remain the same as on regular-sized boards. However, a total of four fan headers means you only have two to spare on case fans.
The clean, three-toned I/O is the best-designed, if not the best-equipped on our list. WiFi 6 and 2.5G LAN comprehensively cover networking. The same can be said for video and associated HDMI & DisplayPort connections. Sound comes in clearly through 5+1 audio inputs, thanks to the ALC1200 assembly nestled in the PCB's bottom left corner. Eight USB ports are a welcome sight, especially since three of them have a bandwidth of 10Gbps and the USB-C has double that.
Best Mini-ITX Motherboard for i3-12100F: ASUS ROG Strix B660-I Gaming WiFi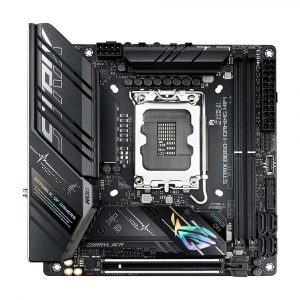 Our last i3-12100F board recommendation might be the smallest, but it's far from puny. ASUS succeeded in cramming a lot into the B660-I Gaming, like two M.2 drives, DDR5, and a VRM that goes toe to toe with last gen's full-size models. It's pricey as B660 boards go, and DDR5 might be a limiting factor given the processor you're using. Still, only Z690 mITX boards can do better.
ASUS decided to go with a mix of black and gamer aesthetics. On the one hand, you've got a matte-black PCB with no accents. On the other, the board is riddled with references to gaming, shiny stickers, and bold lettering. There's no RGB, like on the Z690 variant. You do get the same two headers to implement your own, though.
Unlike on the Mortar, it's entirely normal for ASUS's even smaller board to only have room for two M.2 SSDs. The design differs from the flagship because you don't get a mezzanine. The primary drive gets padding on both sides and sits above the single armored PCIe 5.0 x16 GPU slot. The second drive goes on the board's reinforced back, but can be 110mm long as a result.
ASUS mITX boards go above and beyond when it comes to VRM implementation. This one is no different, as evidenced by its 8+1 power stages, equally distributed on the top and left. Manufacturers don't always bother to outfit their smallest mobos with a second VRM heatsink, but that's not the case here. Both it and the I/O shroud radiate heat away with aplomb.
Four SATA plugs accompany the M.2 slots for more storage capabilities. ASUS also thoughtfully packages longer SATA and front panel cables, simplifying installation in cramped SFF case conditions. Understandably, there aren't that many internal headers. Three serve to connect CPU & case fans, two are for RGB, and three more deal with USB. Interestingly, the USB 3.2 Type-A header has a bandwidth of 10Gbps, while the one responsible for USB-C is capped at 5Gbps.
The I/O's configuration is a study in balance and space management. For example, three of the eight ports are USB 2.0, and one is perpendicular to the others. Similarly, ASUS abandoned the optical S/PDIF out in favor of a second USB 3.2 Gen USB-C plug. They didn't cheap out on the audio codec, though. The two video-out ports and the wired & wireless networking solutions are current as well.
Frequently Asked Questions
Is the Core i3-12100F good for gaming?
Very much so! The architecture rework and considerable IPC improvements have caused the 12100F to reach and even surpass older i5 chips. Best of all, you don't need DDR5 or the most expensive DDR4 kits to get nearly everything the CPU can offer. It's more than capable of running any modern game in 1080p and sure to remain relevant in that respect for several more years.
What socket is i3-12100F?
All Alder Lake CPUs use the new LGA 1700 socket. It has 500 more pins than its predecessors and is rectangular rather than square-shaped. Ordinarily, this would mean you'd need to get a special bracket for the cooler, but the 12100F already comes with a serviceable stock cooler. LGA 1700 motherboards will also be compatible with the next generation of Intel chips.
Does Intel i3-12100F need a graphics card?
Yes, all Intel CPUs whose name ends with an F lack an integrated graphics card. That means you'll have to already own or buy a discrete GPU to be able to use your computer. Motherboard manufacturers need to consider chips with integrated graphics, so they include video out ports on their I/Os. These are useless for 12100F owners, so make sure to plug your monitor(s) into the ports on your GPU instead.