6 Best 120mm AIO CPU Coolers in 2023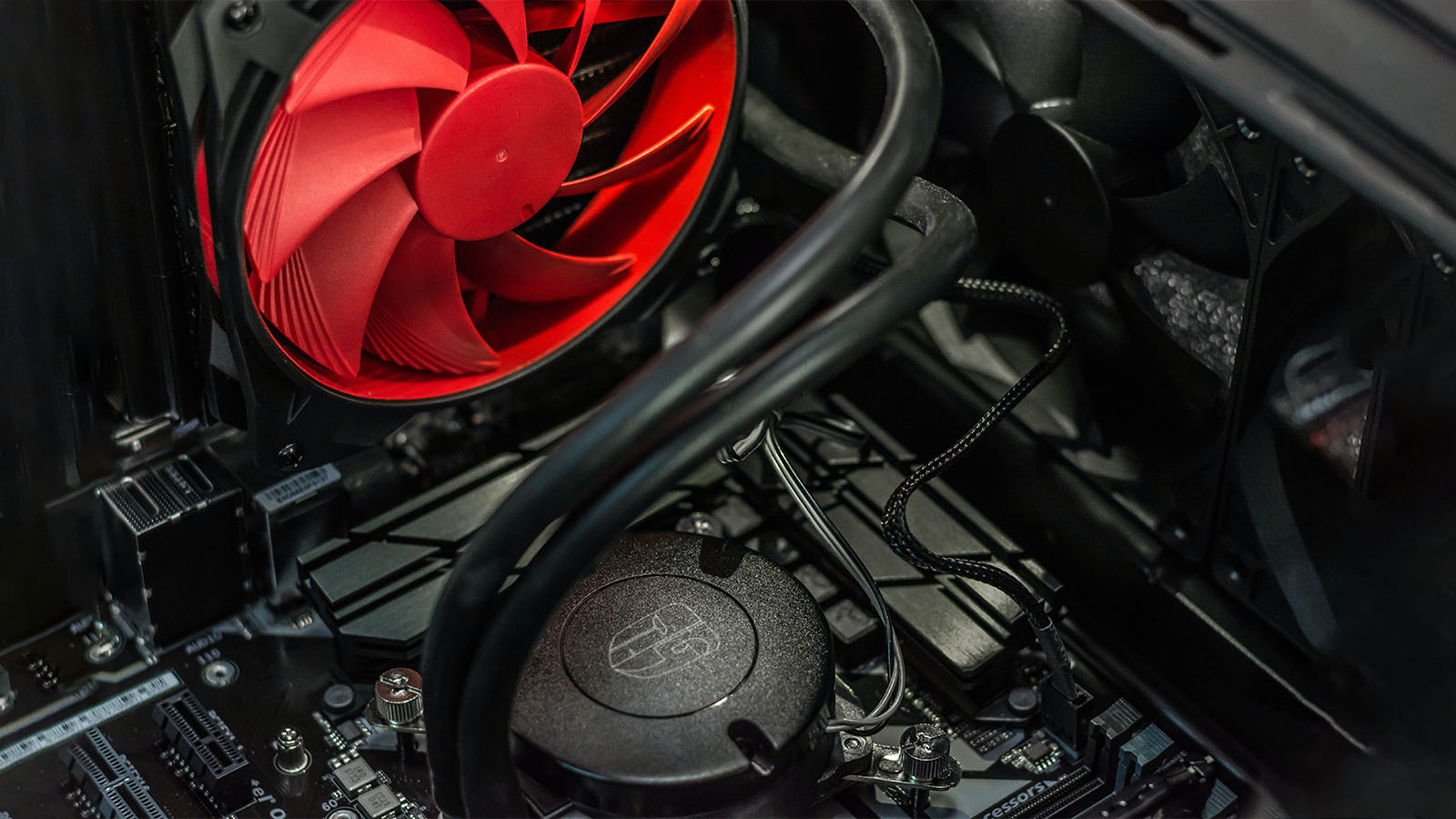 120mm AIOs are the tykes of the liquid cooling world. None of them will outperform your trusty Noctua NH-D15 in a showdown, even though they can cost as much or more. However, an AIO this small will fit inside cases the Noctua can only dream of while still providing a substantial thermal improvement over whichever stock cooler you currently have.
Finding the right one for your particular circumstances can be tricky. That's why this roundup of the best 120mm AIO CPU coolers showcases six different models, each with unique strengths. You'll find the perfect cooler whether you're assembling a silent SFF build or need to put the finishing touches on an RGB masterpiece. Take a look at each of our picks and find yours today.
Best High-end 120mm AIO Cooler: Asus ROG RYUO 120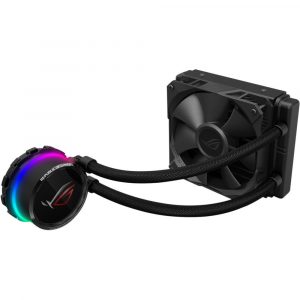 Asus is among the most highly-regarded PC part manufacturers, and anything with the ROG logo on it is usually above average in terms of price and performance alike. Their premium 120mm AIO costs the same as most mid-range 360 models. Still, it brings with it an innovation you could previously only get with NZXT's Z-series – a customizable and informative LCD. It works well, too, so you're not only paying for the bling.
Starting from the ordinary, the ROG RYUO 120 has a nondescript 120mm radiator with no special markings and a slightly higher fin density of 21. The radiator is covered by a competent 120mm fan with high static pressure and an airflow exceeding 80CFM once you crank it up to the 2,000 RPM limit.
The head unit looks stylish if ordinary when off. Its body is made from aluminum that terminates in a machined copper cold plate that arrives with a circle of pre-applied TIM. You have to plug the fan and pump leads into their respective headers. A SATA cable also goes into one of your mobo's USB headers that allows for customization and control through Armoury Crate. The head unit comes with an Intel top mounting bracket, but you get hardware to easily install it on AMD motherboards too.
The 1.8″ OLED screen is the main reason you're paying so much for this AIO. You can configure it through Armoury Crate to display any custom image with the appropriate resolution or choose among several presets.
Overclockers and diligent users will find its info modes more useful. These can display stats like current temperatures. CPU load, fan speed, and others. Armoury Crate also lets you set up the ARGB ring and switch between several fan modes to prioritize either noise reduction or cooling efficiency.
Going with the balanced preset results in low temperatures and tolerable noise levels. Shifting to either extreme doesn't make the AIO perform much worse in the other area. We've seen cheaper models do better, but the results are by no means unworthy of a premium-grade cooling solution of this size.
Best Mid-range 120mm AIO Cooler: EK 120 AIO D-RGB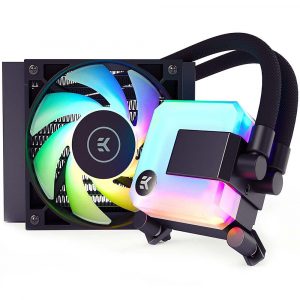 EK gets our award for producing the most balanced AIO on the list. Their 120mm offering is efficient, straightforward to install, and even comes with appealing RGB that's anything but tasteless. The price is just right for what you're getting as well, so this unit should be appealing to anyone who doesn't mind a bit of noise.
If you do mind, check out the Pure Loop 120 from be quiet! instead.
The head unit is the first thing you'll notice about EK's AIO. It's large and on the heavy side but looks attractive due to its rounded edges. The top is made from translucent plastic that lets the D-RGB lights shine through diffusely when in use. Inside is a high-capacity pump that's virtually silent during operation. A standard copper cold plate on the bottom is ready for installation due to a generous application of TIM.
Like the Ryuo, the 120mm AIO D-RGB doesn't have a noteworthy radiator. It's 28mm thick instead of the usual 27 and has a coolant refill cap that voids the warranty if you unscrew it, but that's all. The 120mm Vardar 5 fan is more interesting since it has seven industrial-looking blades and can spin between 800 and 2,500 RPM. Its maximum CFM is 66.
Getting the AIO to work with modern AMD or Intel systems isn't complicated. You get an Intel backplate, while Team Red fans can use their motherboard's stock one. The process is straightforward, but you'll have to keep the various PWM and ARGB cables in mind to ensure the fans and lighting are working correctly.
While it can get as loud as an AMD stock cooler, EK's AIO is much more efficient. A YouTube reviewer paired it with the Ryzen 7 3700X and achieved noticeably better results. That alone is worth the upgrade, especially if your case already suffers from airflow issues.
Best Budget 120mm AIO Cooler: EVGA CLC 120 CL11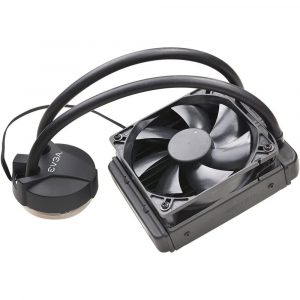 Do you have a mid-range or lower Intel CPU you want to cool effectively inside a cramped SFF case without breaking the bank? EVGA has the answer in form of the CL11. It's a toned-down version of their regular 120mm AIO released a year earlier. The new version's focus is on streamlining and price reduction. It's among the cheapest liquid cooling solutions worthy of your consideration that also frequently gets discounted.
Keep in mind that this AIO works exclusively with Intel motherboards. If you don't want to purchase the mounting hardware separately, you'll have to step up to something a bit costlier, like Corsair's H60.
Users familiar with EVGA's original 120mm AIO will notice a change in the head unit. The newer one is smaller and puck-shaped, ensuring that it will fit on a mini-ITX board without any clearance trouble. The top part is plastic and serves as an entry point for two sturdy tubes, albeit without swivel fittings. Turning it over reveals a highly-polished cold plate complete with thermal paste.
EVGA claims that the new pump has an improved flow rate and can expel hot liquid more effectively. That's why the radiator has increased in size and is 30mm thick now. The fan that ejects that heat out of your case is slower as a result. Its top speed reaches 1,800 instead of 2.500 RPM, and the airflow is reduced to 58 CFM.
Focusing on a single CPU manufacturer lets EVGA make the CLC 120mm CL11's setup as straightforward as possible. The top bracket and thermal paste are already in place, so you only need to mount the backplate and secure the pump to it. There's no RGB, so cable management should be a breeze even in confined spaces.
There's not much tangible info on the AIO's performance. One YouTube reviewer claims it is quiet and doesn't reach temperatures past the mid-60s inside his PC but doesn't substantiate that with actual graphs. Tech Nexus did a more thorough review of the original, so you can expect comparable results.
Most Innovative 120mm AIO Cooler: ARCTIC Liquid Freezer II 120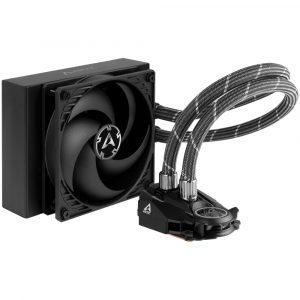 Regardless of their price, performance, and noise, all the AIOs we've showcased so far work on the same principle and have similar radiators. The second iteration of Arctic's Liquid Freezer II introduces improvements to both the pump and radiator designs. These translate to excellent real-life results at a great price to boot. It's our favorite model of the whole bunch and a worthy alternative to NZXT or EK's models.
Let's start with the radiator and fan since they have undergone the least changes. You get one of Arctic's acclaimed P12 120mm fans. It spins at a leisurely 200-1,800 RPM, rarely reaching the max and remaining cool even if it does so. The radiator you attach it to is 38mm thick, meaning you'll want to watch your case's height if you're using the AIO in an SFF computer. The added thickness allows for better heat dissipation while keeping the fin count low.
The head unit is where most of the innovation happens. It has a central fan surrounded by ducts that blast air into the surroundings. Depending on your needs, you can orient the head unit at 90-degree angles without running into clearance problems. The 40mm fan may then cool the VRM, RAM, or GPU. An Intel bracket is already in place.
Installing the Liquid Freezer II 120 can be tricky if you're an AMD user. Previously, the cooler came with unstable brackets that positioned the head unit off to one side. Arctic has acknowledged this and has since started shipping it with different ones that should remedy this. The installation is easy with the correct brackets in hand, especially since you only have one PWM cable to plug in. That's because the fan cable runs down the thick tubing's braided sleeve.
Even though its price puts it into the budget tier, the Liquid Freezer II is among the best-performing AIOs on the list. It can keep relatively demanding CPUs like the 3700X in check at more than comfortable temperatures while being quieter than various fans in your PC.
Best Silent 120mm AIO Cooler: NZXT Kraken M22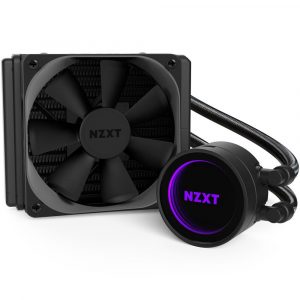 AIO coolers can get pretty loud, even more so if you expect a 120mm one to handle the heat from a toasty processor in a small case. NZXT managed to combine above-average cooling with whisper-quiet radiator and pump fans in this excellent cooler. The unit fits in any case, has unobtrusive but eye-catching bling, and can be installed quickly if you know what you're doing.
The Kraken M22 is among our more understated AIO suggestions since its fan lacks any RGB. Luckily, that's not the case for the head unit since it comes with NZXT's iconic infinity mirror technology. Two sets of LEDs form an infinite concentric circle pattern that looks fantastic in the dark but might not be as apparent in daylight due to the cap's high reflectiveness. The head unit comes with an easily detachable mounting bracket. It has a USB port that allows LED control through the CAM software.
We haven't mentioned the pump yet because it's not in the head unit but nestled at the center of the radiator instead. While that does decrease its effective area, the pump has little bearing on the radiator's performance. That's partly due to the AER P 120mm fan with high static pressure and a max RPM of 2,000. The tubing reaches out from fixed connections on the radiator and ends in 90-degree swivel joints on the head unit.
Installing the M22 isn't difficult, but the process is trickier than with the X and Z series since the backplate is different. It's smooth sailing after you identify the proper holes and fit them with washers & standoffs, though.
CAM is as effective as it is controversial. On the one hand, it offers an excellent overview of your whole system and allows for in-depth control of the lights. Our favorite is the ability to change color as the coolant gets warmer. On the other hand, you have to sign in with social media to maintain multiple profiles, and NZXT collects data on your PC. Installing CAM is entirely optional.
Pairing the M22 with a Core i7 CPU reveals that it successfully rivals top-tier air coolers and many similar AIOs despite its attractive price, even when overclocking. Its noise levels are acceptable but unremarkable while idling. However, there's barely any increase in loudness when the AIO is hard at work, so other system fans will likely drown it out.
Best RGB 120mm AIO Cooler: Cooler Master MasterLiquid ML120R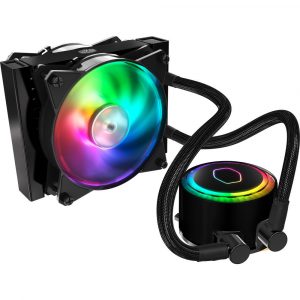 Many AIOs on our list have a traditional appearance and lack lighting to keep the price down. However, Cooler Master proves that a small AIO can be as blinged-out as larger ones. The ML120R puts on quite a light show with three sources of ARGB goodness. Best of all, its performance barely suffers because of it, so feel free to use the cooler with a mid-range CPU.
Thermaltake's Water 3.0 is another colorful option you may like if you find the lights on our main recommendation a bit too much.
This is one of the more imposing coolers in the 120mm range, mainly due to the twin fans that hug the radiator in a push-pull setup. Their specs suggest competent cooling since the RPM ranges from 650 to 2,000, while the CFM for each is a solid 66. The radiator itself is nothing special since it has an average fin density and is 27mm thick.
The MasterLiquid ML120R's head unit houses the pump and has a cylindrical shape. It features a dual-chamber that separates hot coolant that's made contact with the CPU from the cold portion that arrives from the radiators, which improves efficiency.
The copper cold plate is machined and slightly convex for better contact with your CPU. There's no pre-applied TIM, but you do get a syringe with several applications' worth of thermal paste. A transparent ring on the lid shows off the unit's 14 addressable LEDs and lights up the outline of Cooler Master's logo.
Eight additional LEDs per fan make for a beautiful display of light and color. You can leave this up to your motherboard's software or use the included controller for basic operation. Setting the AIO up is simple and doesn't differ from the standard process by much. However, you might run into trouble with cable management since both fans and the head unit have ARGB as well as PWM cables. Cooler Master provides splitters, but that still leaves you with at least three cables to connect and a lot of potential clutter.
Hexus paired the AIO with an i7-8700K and then overclocked the processor. That's a scenario any small AIO would struggle with, and the ML120R holds its own. The fans reach 40dB territory at such a high thermal load, which isn't surprising. Keep in mind that this kind of cooler isn't designed to take as much stress. Pairing it with a less demanding CPU or refraining from overclocking will produce even more favorable results.
Frequently Asked Questions
Is 120mm liquid cooling enough for overclocking?
An AIO's radiator size is but one of several factors that contribute to its efficiency. The pump, fan(s), and fin density all play a part. That's not taking into account external factors like your case's fan composition and airflow.
The answer to the original question is yes, 120mm liquid cooling can be sufficient for CPU overclocking, provided the circumstances are right. You'll get the best results by pairing the cooler with a processor that doesn't put out a lot of heat to begin with. Going with a Ryzen 5 3600 or Intel Core i5-10600K, for example, will let you experiment with overclocking without thermal or throttling issues.
Are 120mm liquid coolers worth it?
While there are caveats to consider, there are many scenarios in which 120mm AIOs are the superior option. They're great for cooling mid-tier processors in smaller cases where dual heatsink air coolers could never fit. AIOs are also more aesthetically pleasing since they're more streamlined and can come with excellent RGB implementation. That being said, similarly-priced air cooling alternatives generally do better.
Is 240mm liquid cooling better than 120mm?
It should be. The radiator in a 240mm AIO has twice the surface area and comes with two fans. Together, they draw more heat away and contribute to better overall temperatures. This only works if everything else is equal, though. A 240mm AIO with the same pump, fans, and radiator fin density as a 120mm model from the same manufacturer will perform better.
However, an optimized 120mm cooler like the one from Arctic can outclass some 240mm competitors. You'll want to check reviews and test results for individual products before purchasing.