6 Best RAM for Ryzen 9 5950X in 2023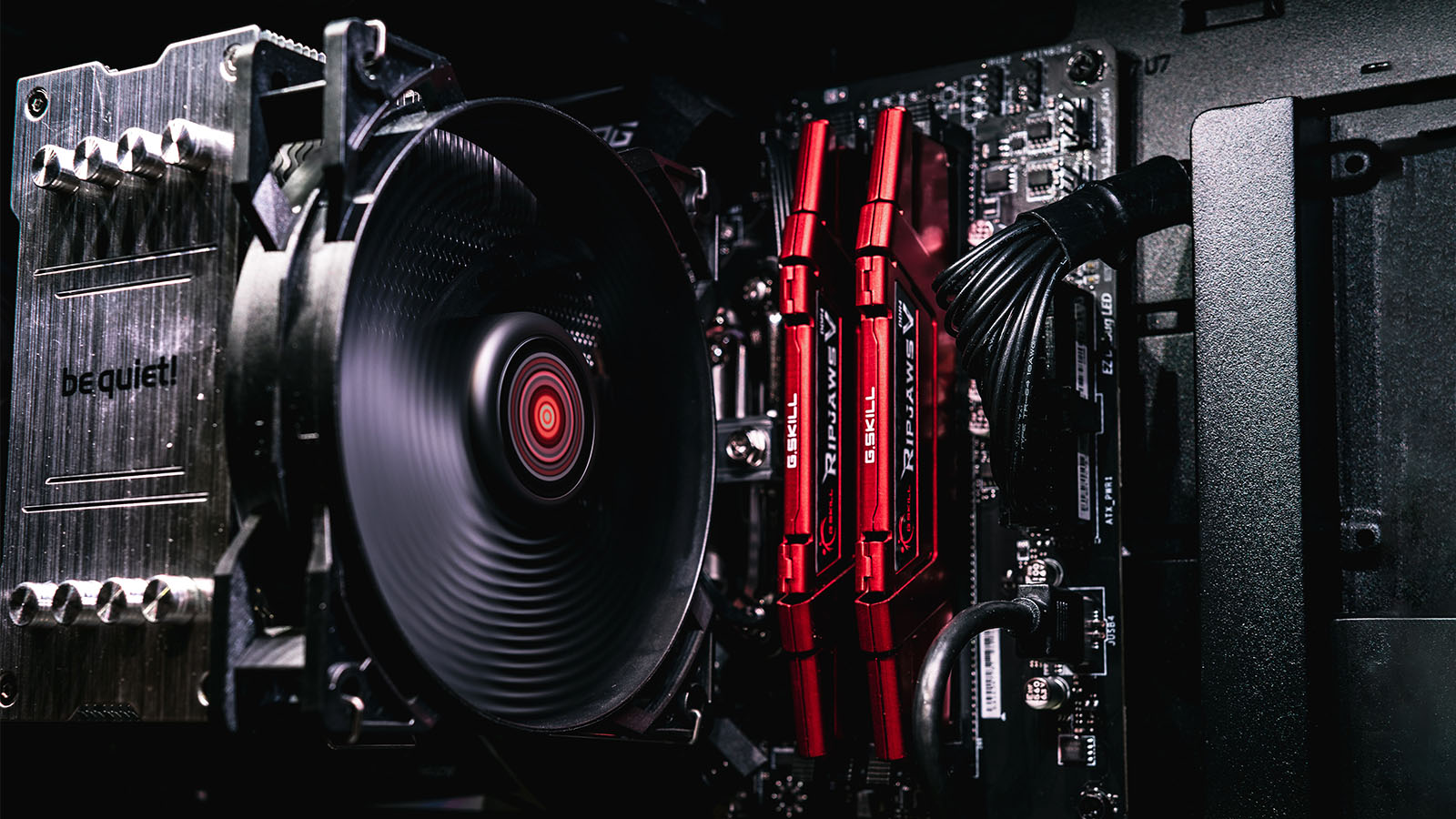 The 5950X is AMD's finest commercial desktop processor to date. It's not cheap but offers unparalleled multithreaded performance coupled with ridiculously low power consumption. You wouldn't want to buy one for gaming alone, but expect to run any current or upcoming title with high-end Intel chip levels of speed and consistency.
AMD's reliance on fast memory continues to decrease even as compatibility with ever-higher frequencies becomes possible with each generation. No wonder that finding a kit with the right mix of stats and price has therefore become a chore. That's why our guide on the best RAM for Ryzen 9 5950X is here to answer your questions and help guide you towards a suitable kit for your needs.
Best High-end RAM for Ryzen 9 5950X: TEAMGROUP T-Force Xtreem ARGB 3600MHz 2x16GB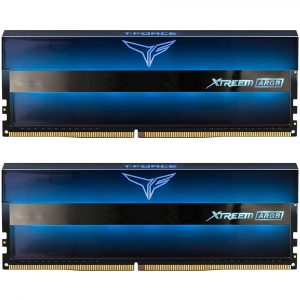 Optimizing memory for Ryzen is simple on paper – bring its clock to 3600MHz, add as tight a latency as possible, and you're done. It's harder to pull the perfect kit off in practice, unless you're Teamgroup, that is. Their Xtreem RAM lives up to the name, both performance-wise and in terms of pushing the boundaries of memory aesthetics. It's fast, reliable, and by no means cheap. Still, this is the kit to get if you want peak 5950X performance.
The CL14 version of the Trident Z Neo is slightly less expensive while offering comparable real-world results.
The ARGB version of T-Force Xtreem has little in common with the original since the all-aluminum heat spreader has been replaced with one made mainly of plastic. It's dark with only a sliver of aluminum in the center to hold the LEDs and fits black builds perfectly despite the striking indigo that dominates each stick.
The fun starts once you tune the LEDs through your motherboard's lighting sync software. They're placed centrally, and the light passes through a mirrored surface to create an infinity mirror effect. This results in a subdued but striking RGB look that warrants emulation.
Other manufacturers should also replicate the memory's specs since 14-15-15-35 at 1.45V are the best you can expect from stock settings for 3600MHz Ryzen RAM. This is primarily thanks to the coveted Samsung B-die ICs. These let you push for even more speed, albeit on Intel systems, as that's where the effects are most prominent.
A glance at Techpowerup's well-organized test results tells you all you need to know about the memory's performance across various scenarios. The kit is regularly at the top, whether you need it to speed up video conversion or achieve top fps in your favorite game.
Best Mid-range RAM for Ryzen 9 5950X: G.Skill Trident Z Neo 3600MHz 2x16GB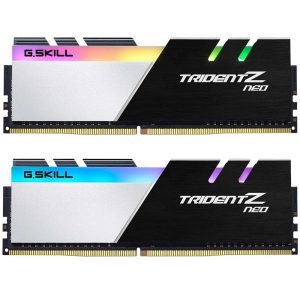 The Trident line is synonymous with excellence at a fair price, and the newest RAM in its long lineup doesn't disappoint in that respect. It's visually appealing, fast out of the box, and built well enough to be pushed past the limits by experienced users. There's currently no better memory for the 5950X if balance is your primary concern.
Need something a bit flashier? Then check out the Royal version of the regular Trident Z. It's slightly more expensive, but you're getting a unique ice-shaped diffuser to make up for the difference.
You'll instantly recognize this kit if you've ever had Trident memory before. Still, there are enough visual changes to make the new memory stand out. Its dual design is the most prominent since each stick is clad in silver and brushed black aluminum halves, not to mention the signature three fins on top. There's also the large diffuser that ensures light coming from the eight LEDs is distributed equally. You can use G.Skill's own lighting software to configure it or leave this up to your motherboard.
While they have the same base frequency, the Trident Z Neo is less expensive than the Xtreem due to less stringent CAS timings. Here they're 16-19-19-39 at 1.35V. Luckily, there's some headroom for tweaking. Intel users can improve the frequency, while experienced 5950X owners may be able to tune it to reach a stable CAS latency of 13 at the cost of increased voltage.
Versatility is the best thing about this kit. Like the CPU you'll pair it with, the Neo doesn't care if it's rendering a scene in Blender, encoding videos, or contributing to a smooth Doom Eternal experience since it does everything equally well. Some testing in the field shows that it's slightly weaker than some pricier competitors when compressing data or running artificial CPU benchmarks. The differences are so small that they might as well not exist.
Best Budget RAM for Ryzen 9 5950X: G.Skill Ripjaws V Series 3200MHz 2x16GB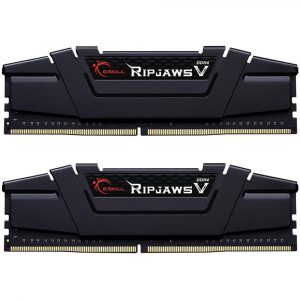 Going for RAM with an optimized clock frequency and low timings ensures that your 5950X will perform at its best. However, even much less expensive kits lead to a drop of only a couple of percentage points at worst. That's great news for frugal buyers since it means you can get a kit like the Ripjaws V from G.Skill at half the price of our high-end pick and sacrifice little, unless you're into RGB, of course.
The 32GB HyperX Fury kit is another viable candidate for value RAM. The timings aren't as tight at CL18, but its XMP frequency is 3600MHz.
G.Skill wisely cut down on the fashionable but unnecessary bits we're forced to pay for when getting many other memory modules. You won't find RGB on the Ripjaws V. Still, the heatsink has a rugged geometric look reminiscent of industrial or military hardware that's inexpensive to pull off with some creative design & stamping. A red and white logo identifies the part and breaks up the otherwise black surface.
Rising accents on each side do little to hamper the memory's compatibility as it's only 42mm tall. The 3200MHz XMP clock is accompanied by a latency of 16-18-18-38 at a comfortable 1.35V. Unlike some of our more expensive picks, this kit doesn't benefit much from overclocking since it becomes unstable past 3466MHz. That shouldn't matter much, given Ryzen's inherent limitations.
Pitting the Ripjaws against RAM with similar clock frequencies and the same or lower latencies reveals it does well at various tasks. Faltering at file compression seems to be a common theme with Ryzen-optimized RAM, but it completed other assignments equally competently or better than the competition in most cases.
Best 64GB RAM Kit for Ryzen 9 5950X: Crucial Ballistix 3600MHz 2x32GB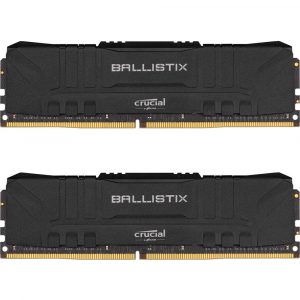 The 5950X comes into its own when tasked to tackle complex multithreaded processes. It can only do so optimally if there's enough RAM to back it up, and even 32GB sometimes isn't enough. There's a 64GB version of most RAM we've covered so far. Still, Crucial's Ballistix deserves a spot in the limelight due to being effective and accessible.
The Viper Steel from Patriot is another value-oriented 64GB kit worth looking at due to solid performance and undeniable cool factor.
Throwing out the bells & whistles is a surefire way of keeping costs down, and Crucial has this down to an exact science. While not ugly, their Ballistix kits possess the bare minimum of style to follow current trends. Chief among them is an all-black PCB & heat spreader combo. The latter is double-sided and sports stamped indents that give the spreader more surface area to work with.
This kit is all about being compact. On the one hand, the sticks are less than 40mm tall and won't impact any modern CPU cooler. On the other, the DIMM configuration is 2x32GB instead of 4×16, letting you slot the RAM into a mini-ITX mobo and augment an SFF PC. The timings and voltage aren't shoddy either, clocking in at 16-19-19-38 and 1.35V with the help of Micron ICs.
While this kit isn't the best one around, its performance is above what you'd expect, given the low price. It's in the middle of the pack in terms of gaming and productivity compared with large versions of other kits on review, which makes this purchase all the more enticing.
Best RGB RAM for Ryzen 9 5950X: Corsair Dominator Platinum RGB 3600MHz 4x8GB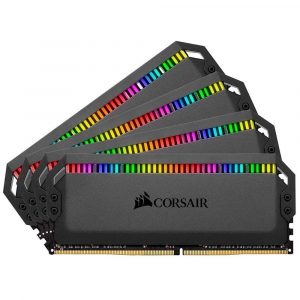 AMD's best desktop processor deserves fitting surroundings, and what better way to bring them to life than some RGB RAM! Ordinary lighting won't do, which is why you ought to turn to Corsair and their proprietary LEDs for the best possible visual experience. Best of all, performance doesn't take a backseat to appearance.
Unique in a different way, the Spectrix D60G from XPG is the only other kit that can hold a candle to the Dominator in terms of pure aesthetic excellence.
Manufacturers usually resort to large diffusers to get as much out of their memory's RGB lighting as possible. Corsair doesn't need such tricks since the Capellix LEDs it developed are smaller than expected yet bright enough to make excess diffusion unnecessary. More of them fit onto a stick to boot, giving you more in-depth customization options through iCUE or your motherboard software.
Cooler clearance might be an issue with the Dominator Platinum RGB. It's tall at 55mm, so check that there's enough space under your CPU cooler before investing in the RAM. Its tech specs are more in line with other items on the list. The memory achieves an XMP-boosted clock speed of 3600MHz at 1.35V with somewhat slow but acceptable timings of 18-19-19-39.
As tests made by Hexus demonstrate, though, CAS latency may or may not play a part in a kit's overall results. Frequency is a better predictor, but even then, some tests put Corsair's memory on an even playing field with much faster competitors.
Best 3200MHz RAM for Ryzen 9 5950X: G.SKILL Flare X 3200MHz 2x16GB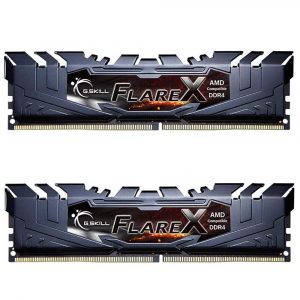 Modern Ryzen CPUs might run best on tightly-timed 3600MHz RAM, but slightly slower sticks shouldn't be taken lightly. Case in point – the Flare X series from G.Skill, precision-engineered for flawless compatibility with AMD's finest. Best of all, its exceptional overclocking potential allows the memory to perform on par with high-frequency competition.
Corsair's Vengeance RGB Pro is an intriguing alternative worth taking a look at if you want to pay less and get RGB on top of solid performance in a multitude of tasks.
There's not much to say about the RAM's appearance other than it's black and reminds us of the V-series talked about above. The main differences are a more aggressive approach to heat spreader design with deeper cutouts and a central area proclaiming the memory's name. You can get the sticks in either red or black, and both will fit inside any system since the height is only 40mm.
Flare X is the designation G.Skill gibes to their Ryzen-optimized RAM, and one look at the specs is enough to see why. Enabling the onboard XMP profile shifts the memory from 2133MHz to 3200, with excellent timings and voltage. These are 14-14-14-32 and 1.35V, respectively. Those are solid numbers already, but getting lucky at the silicone lottery will allow you to push the clock to 3600MHz without sacrificing CAS latency or increasing the voltage!
Several tests conducted by Vortez show off the RAM's versatility. It achieves high read & write speeds while keeping latency reasonably low. They also tested the kit for rendering and gaming purposes, with results that were no less pleasing.
Frequently Asked Questions
What does CAS latency mean for RAM? Is CL16 better than CL18?
CAS stands for Column Address signal and refers to the number of cycles needed for the RAM to access specific data in a column. So, memory with a CAS latency of 14 requires 14 cycles to retrieve some data. Keeping that in mind, CL16 is indeed better than CL18, but only if the clock frequency is the same.
Frequency has a part to play as well since increasing it speeds up the data retrieval process. Memory running at 3600MHz with a latency of CL14 performs better than its 3200MHz equivalent. However, it's also slightly faster than 4000MHz memory at CL18.
Is 4000MHz RAM good for Ryzen? Does Ryzen 5000 support 4000MHz RAM?
The answer to the above question would make you think that the best frequency and latency combo is always the way to go. There are diminishing returns specifically for AMD CPUs, though.
AMD has been steadily improving its Infinity Fabric technology, which now supports 4000MHz RAM. There are some caveats, like your motherboard's ability to maintain the frequency with all DIMM slots populated.
Even when all criteria are met, going for 4000MHz RAM in a Ryzen build isn't a good idea. Yes, such memory will get you around one percent better results, but it's considerably more expensive. In other words, 3600MHz RAM remains the Ryzen sweet spot even though using faster kits is now possible.
There's no single right answer to this question, and advancements in both software & hardware keep moving the goalposts. The 5950X is heavily geared towards multitasking and multithreaded productive work, which requires more memory. That's why this guide takes 32GB as the baseline. You could use the CPU with 16 GB for gaming, but that's not its primary purpose.
32GB is enough for most 5950X users' needs. Having said this, systems with 64 or even 128GB of RAM aren't a rarity anymore. You'll need as much if you're a content creator that puts out videos at the highest possible fidelity or a professional 3D artist that regularly works with high resolution textures and eight-digit polygon counts.