6 Best CPU Coolers for Ryzen 7 5800X3D in 2023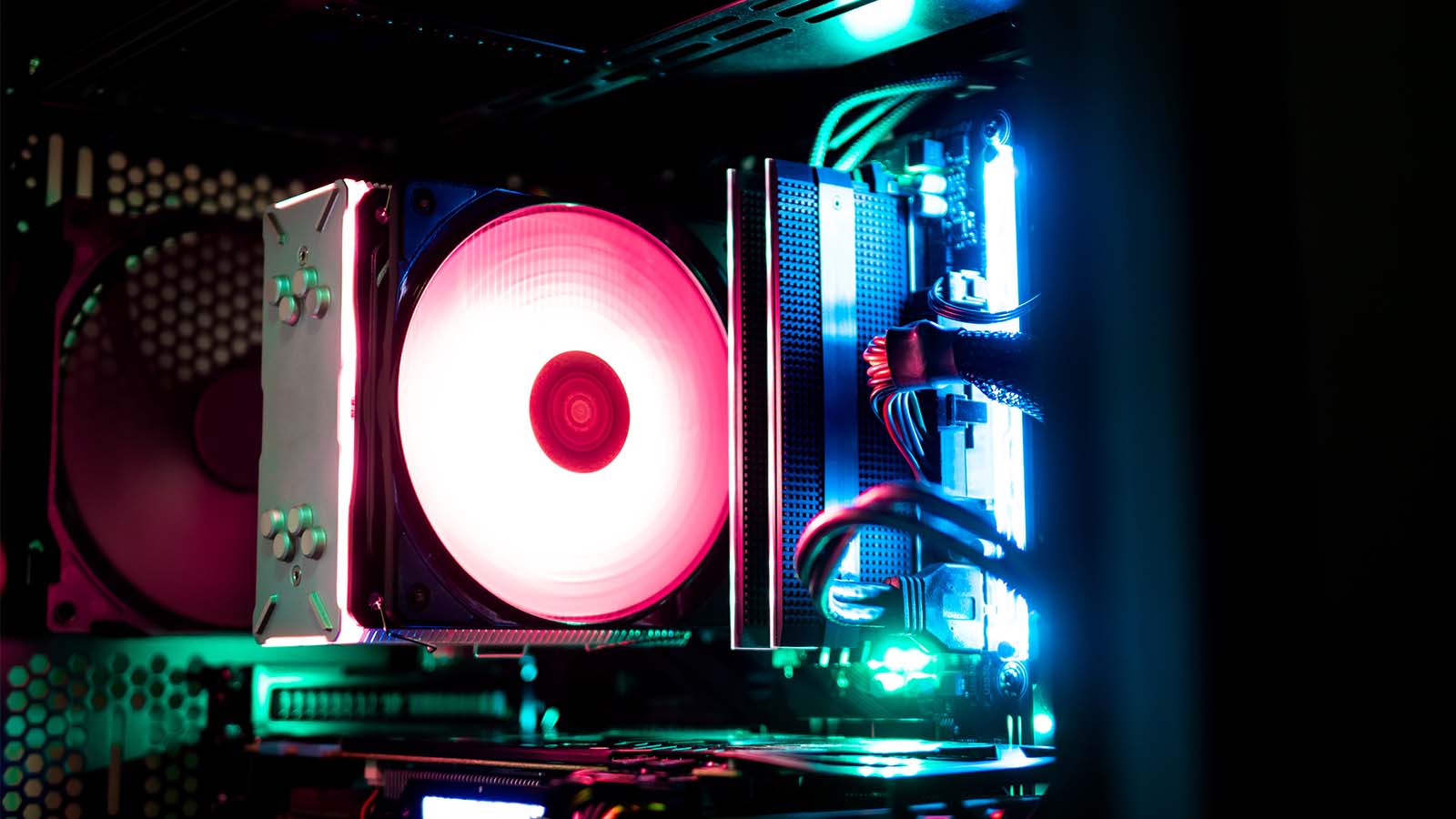 AM5 and Zen4 are set to release later this year, so most PC enthusiasts were taken aback by AMD's last batch of AM4 CPUs in April. Some might have arrived too little too late, but the 5800X3D is a compelling buy. Its innovative 3D cache helps the 8-core chip keep up with the larger and more thermally challenged 12900K in games. You'll still need a decent cooler to keep it in check, so our piece on the best CPU coolers for Ryzen 7 5800X3D is exactly what the doctor ordered!
Best High-End AIO for Ryzen 7 5800X3D: Corsair iCUE H115i Elite Capellix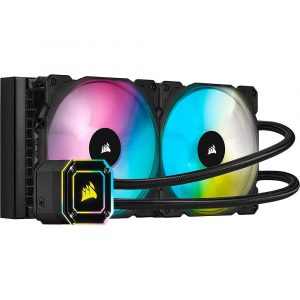 Corsair's love of light shines most brightly in their most exclusive AIOs, and we've set our sights on the middle child in the Capellix line, the H115i. It provides outstanding cooling while having one of the most deeply customizable and satisfying support programs out there. Versatility is the AIO's greatest strength as it can either be super quiet or super effective depending on your workload.
If you can stretch your budget by another $20, consider the 360mm H150i Elite Capellix as well. NZXT's Kraken X63 is another worthy alternative if you value cooling excellence over flash.
Although it's one of the best-looking AIOs when lit, the H115i Elite Capellix looks ordinary otherwise. Some might even object to the four screws on the pump head's top. These serve an important role since they secure an interchangeable cap. You get a black one with a Corsair logo outline through which light gets through discretely, along with a more open design.
There's not much to say about the radiator other than it has standard dimensions and density. The ML140 fans it houses are more interesting. They're white and translucent, each housing eight bright yet economical Capellix LEDs. More importantly, each fan spins between 400 and 2,000 RPM, moving 97 cubic feet of air per minute at a static pressure exceeding 3mmH2O. Expect the cooler to effortlessly push a steady stream of air out of the case regardless of other internal conditions.
Connecting the H115i's fans and lighting is a cinch thanks to a handy accessory, the Commander Core. It serves as a hub that provides power for six Corsair fans and their LEDs. Since these aren't always compatible with motherboard lighting controls, it's an excellent basis for a perfectly color-coordinated system. There's less clutter to deal with, making for a tidier installation.
The cooler would be much less impressive without iCUE support. Lighting lovers will have a field day playing with all the relevant customization options. At the same time, enthusiasts can marvel at its intuitive control and monitoring aspects. Presets are the best thing about this segment since they let you go from exceptionally quiet but weaker cooling to rock-bottom temperatures at the expense of noise.
Hexus paired the H115i with the then flagship Ryzen 9 3950X. It's a thermally demanding CPU the cooler had no trouble with, regularly scoring near the top of the efficiency charts. It's possible to accomplish the same feat with noise, but you'll have to settle for noticeably higher temperatures.
Best High-End Air Cooler for Ryzen 7 5800X3D: Deepcool Assassin III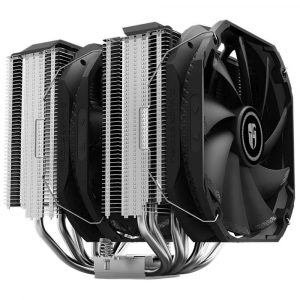 Some people prefer air over water-based cooling yet want a cooler that can make up much of the difference. If saving on cooling is of little concern, you would be hard-pressed to find a better option than the Assassin III from Deepcool. It's as efficient as it is massive, among the quietest on the list, and straightforward to set up.
Of course, no list like this would be complete without mentioning Noctua's venerable NH-D15.
Much of the Assassin's cooling prowess comes from its sheer size, which you'll appreciate as soon as it arrives. The twin aluminum fin stack needs no fancy finishing to be effective. There's only a valley behind each fan that lets airspeed build before crashing into the fins. The sides are partially covered but have open segments that allow some air to escape laterally. A pair of plastic spoilers top the stack and contribute to its visual appeal.
The base plate is nickel-plated and made from two sturdy segments. Sandwiched between them are seven thick heatpipes that spread out from it to cover both stacks. The top of the base includes a torsion bar and screws that attach to the mounting bracket. Being part of the base means it's much easier to align the bar and bracket during installation.
Everything about the Assassin III is larger than usual, including the fans. They're 140mm in diameter and come with thick sides that mitigate vibration. The size allows them to spin slowly – from 400 to 1,400RPM – and push 90CFM of air towards the back of the case. Deepcool includes a noise-decreasing adapter that lowers max rotation speed by 400RPM. Not that you'll need it since the cooler is quiet as is.
Installing the Assassin is a matter of using common sense and following instructions. You'll want to remove the motherboard first due to the cooler's bulk, but otherwise, the principle is the same. Keep in mind that the front fan might conflict with RAM boasting high heat spreaders. You can adjust the wire clips to compensate at the cost of performance.
Performance is something the Assassin III has aplenty. It easily keeps up with mid-range AIOs and outclasses most air-based coolers whether the CPU is idling or overclocked. Low rotation speeds translate into excellent noise levels as the cooler doesn't exceed 30dB even if you aren't using the adapter.
Best Mid-Range AIO for Ryzen 7 5800X3D: ARCTIC Liquid Freezer II 280 A-RGB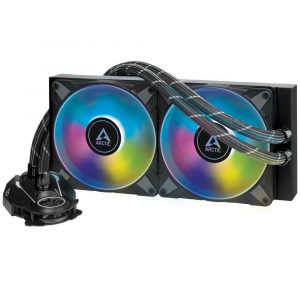 We've written extensively about the vanilla version of our favorite mid-range AIO before, so let's spice things up by adding RGB! Yes, even Arctic succumbed to popular demand and made a lighted version of its remarkably innovative AIO. It's still every bit as efficient and easy to install as the original, with the benefit of adding color to your case. Or you can save yourself around $10 and go with the black version instead.
The Pure Loop 240mm from be quiet! is another innovative AIO worth your consideration.
Let's start with the most divisive component, the pump head. No one doubts its efficiency, especially since a small fan on its top cools the VRMs. On the other hand, the blocky plastic look won't be for everyone. Its low verticality means that tubes lead into the top. They're less flexible than usual but 450mm long to compensate.
The radiator is different as well. Arctic made it thicker than standard by 11cm while dropping its fin density from 20 to 15 FPI. This led to a sizeable increase in surface area without putting excessive strain on the fans. Speaking of, the Liquid Freezer II 280 A-RGB comes with a slightly modified version of the acclaimed P14, made transparent to diffuse light. These fans don't have as much power as Corsair's, but we'll soon see how this isn't relevant.
As for the lighting, its implementation is nothing special. To sync it with other components, you can use RGB Fusion, Aura Sync, and other motherboard software. The lighting is uniform and bright enough to enhance your case's interior considerably.
Installation is another aspect Arctic perfected. Much of the work is complete since the fans are attached to the radiator, and their cabling fits neatly inside the tube sleeves. Some thermal compound is already in place on the copper contact plate, so you only need to ensure that you're using the correct screw holes when mounting for better contact with the 5800X3D.
We turn to Techpowerup's detailed cooler comparison for hard data on the Liquid Freezer's noteworthy performance. Its fans have a minimum rotation speed of 200RPM, so higher idle temperatures aren't surprising. However, the more you tax your CPU, the better it does. Running the cooler at a high RPM won't drown out other noises either since sound output hovers in the mid-30 dB range.
Best Mid-Range Air Cooler for Ryzen 7 5800X3D: Noctua NH-U14S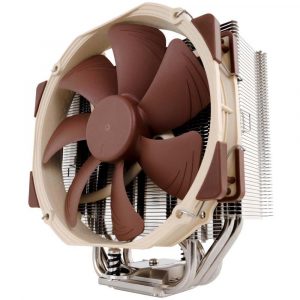 You didn't think we'd make a list like this without a closer look at a Noctua cooler, did you? The one we chose this time is the NH-U14S. It's cheaper and more compatible than the NH-D15 yet loses little of its bigger cousin's legendary ability. Both are close to a decade old by now yet set the golden standard for excellence in their respective categories.
Want a stealthier alternative? The Dark Rock 4 is similarly-priced and even less noisy than Noctua's cooler.
No-compromise construction has been Noctua's priority since it stepped onto the scene, and the NH-U14S embodies that vision perfectly. Everything from the fit & finish to the now standardly easy installation process serves the knowledgeable PC builder and their requirements.
The cooler has a single hefty heatsink with precision-crafted aluminum fins that come into contact with six nickel-plated copper heatpipes. The fins are closed off from each side, providing a single direction for air to blow through. That won't be so straightforward since it has to pass through notches and turbulence-inducing saw teeth first.
The NH-U14S uses its larger cousin's fan, the 140x150mm NF-A15. There's no mistaking its desert-themed blades and fan enclosure, which are either a mark of distinction or an aesthetic sore spot, depending on who you ask. These are secondary to raw stats. The fan is large and doesn't need to spin quickly to achieve 82CFM. It's another model with an included noise adapter that brings the top speed from 1,500 to 1,200 RPM.
The base is made from two solid parts and thick enough to help with heat radiation, even though there are no unique patterns to facilitate it. Like the Assassin III, Noctua's cooler comes with a preinstalled crossbar.
Noctua's legacy is perhaps most clearly felt in the coolers' mounting system. SecurFirm 2 remains the blueprint for hassle-free installation on Intel and AMD boards alike. Securing the cooler is quick and intuitive, and you don't have to poke it with a screwdriver at odd angles. The fan snaps into place just as quickly. You may even attach another as clips are included.
The folks over at Techpowerup love the NH-U14s so much it has been their go-to fan for CPU testing for years. That's great for our purposes since it lets us see exactly how well it performs with the 5800X3D. Stress testing sees the temperature reaching into the mid to high 70s. Not perfect, but by no means dangerous or disappointing.
Noise levels are the only area where the NH-U14S is less than excellent. It approaches the 40dB mark at 50% speed, so you'll be aware of the fan in most use cases. However, ramping the speed up past that doesn't make the fan much louder.
Best Budget AIO for Ryzen 7 5800X3D: Cooler Master MasterLiquid ML240L RGB V2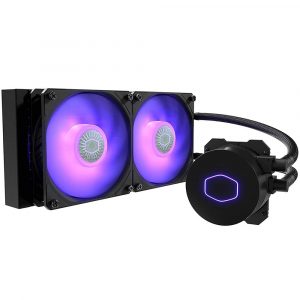 Searching for AIOs under the $100 mark returns slim pickings, but there's one gem among them. You might have heard of and dismissed Cooler Master's cheap AIOs before, especially the leakage-prone ML240L RGB. Luckily, the company has redeemed itself with its successor, providing a cost-effective, better-designed, and efficient cooler for everyone.
Cooler Master had to revisit several components and improve their quality. Everything seems sturdier this time around, making leaks highly unlikely. The pump has undergone the most structural changes. It's still a large black puck with a light-up Cooler Master logo from the outside. Its innards received a substantial rework and now contain bigger chambers for hot and cold liquid.
The radiator received some love too, resulting in better coolant delivery and wider channels that help expose more of it to the fins. Lastly, the MasterLiquid ML240L RGB V2 ditched the original's fans in favor of new SickleFlow 120 units. Their rotation range is a common 650 – 1,800 RPM, and the CFM per fan at max speed is 62. The static pressure is somewhat lower than with ML140 fans yet still potent enough to push air through the radiator unimpeded.
Installing this I/O is a 15-minute job since it follows a clearly laid out and straightforward path common to most coolers. You get splitter cables for the fans' PWM power and LEDs you attach to the CPU FAN and a 4-pin standard RGB header. There's an alternative in the form of a Molex-powered RGB controller with several buttons that allow for a physical approach to color changing.
The fact that RGB is included at all on an AIO that costs around $80 is already a luxury. True, the lighting isn't Capellix bright or addressable, but what you do get is vivid and easily adjustable.
Performance is another aspect where this AIO proves it's worth more than the asking price. Kitguru torture tested it on a Core i9-9900K, Intel's notoriously hot flagship from a few years back. The V2 held up admirably, securing a position in the middle of the testing lineup no matter the challenge. It could even keep up when they overclocked the CPU without throttling. It produced just over 40dB of noise to achieve this. Not great, but certainly not uncomfortable either.
Best Budget Air Cooler for Ryzen 7 5800X3D: Scythe Fuma 2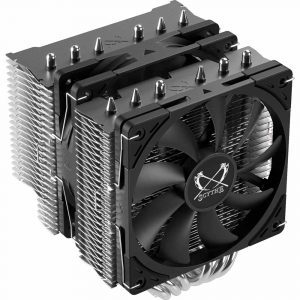 The cooling market isn't immune to the general PC component price hike, so some budget air coolers now creep dangerously close towards mid-range territory. On the other hand, this means initially more expensive models with unchanging prices are now fair game for the "budget" category. Such is the case of Scythe's Fuma II, a formidable two-tower cooler with plenty to offer at a reasonable cost.
The Arctic Freezer 34 eSports Pro Duo isn't as cheap as it once was, yet it remains a compelling alternative.
Props to Scythe for offering a dual-tower cooler that costs less than $60. It's not shoddily made either! For example, RAM clearance won't be a stumbling block since the front pipes are designed to closely hug the base and offer more room.
You get two Kaze Flex fans and may add a third in the back. The two that come with the cooler are both 120mm models, yet the front one is 10mm thinner than the middle one. It makes sense to improve memory compatibility further, but it takes its toll on throughput. The slimmer fan moves just 34CFM of air out, while the regular one comes in at a more reasonable 51CFM. Both rotate between 300 and 1,200RPM.
Such fan stats meant Scythe had to get creative with the heatsink design. Two arrays of 48 fins are the result, each featuring alternating fin designs. Half of them are regular, while the other half employ a sawtooth pattern. These irregularities contribute to air turbulence and pick up some of the fans' slack.
The base's design is similar to Noctua's and includes the fixed torsion bar. Some bits on the top sides have been removed to emphasize the base's auxiliary radiator role. The bottom face is slightly convex to adhere to the chip's IHS better. Both it and the staggered heatpipes have mirror-finish nickel plating.
While installing it isn't complicated, the process for the Fuma 2 is a bit different. Manufacturers usually ship separate brackets for AMD and Intel. Scythe designed a universal bracket with two sets of screw holes that attach equally securely. You'll have to mount the fans after fastening the heatsink, which shouldn't be demanding as you get an extra-long screwdriver.
Techpowerup tested the Fuma 2 with an older gaming-focused CPU, the Core i7-8700K. It's an OK reference point, but expect temps on the 5800X3D to be a few degrees higher. We can infer from the test that the cooler does very well when the system is idle and doesn't let up with increased processing demand. It's a relatively quiet performer as well, which contributes to the cooler's well-roundedness.
Frequently Asked Questions
Can you aircool a 5800X3D?
Yes, you can. Bargain bin options are out, but moderately-priced coolers like the Fuma 2 can handle it without issue. The added L3 cache had no discernible impact on temperature, so any air cooler that has what it takes to tame AMD's older CPU will also work here.
Is a 240mm radiator enough for 5800X3D?
The ML240L RGB V2 is an affordable 240mm cooler and will work well with the 5800X3D. You could also invest in more expensive coolers like the H100i Elite Capellix or the LIan Li Galahad 240 and get even better results. As long as you're going for quality, a 240mm AIO is all you need.
Do you need thermal paste for the 5800X3D? How about water cooling?
Thermal paste is an essential component in any cooling setup. It's a compound with excellent thermoconductive properties that fills in any gaps between a processor and a cooler's contact plate for optimum transference. The exact amount and pattern in applying the paste are a matter of amusingly fierce debate. However, no one questions how essential it is not to forget to apply some when putting your PC together.
While their heat-conductive medium is different, the parts of air coolers and AIOs that come into contact with the CPU are functionally the same. Both rely on copper plates as the initial contact point, so both require the same kind of substance to make the process run smoothly. There's no need to go with the pre-applied compound either. You can buy aftermarket thermal paste and use it with either kind of cooler.