6 Best Budget CPU Coolers in 2023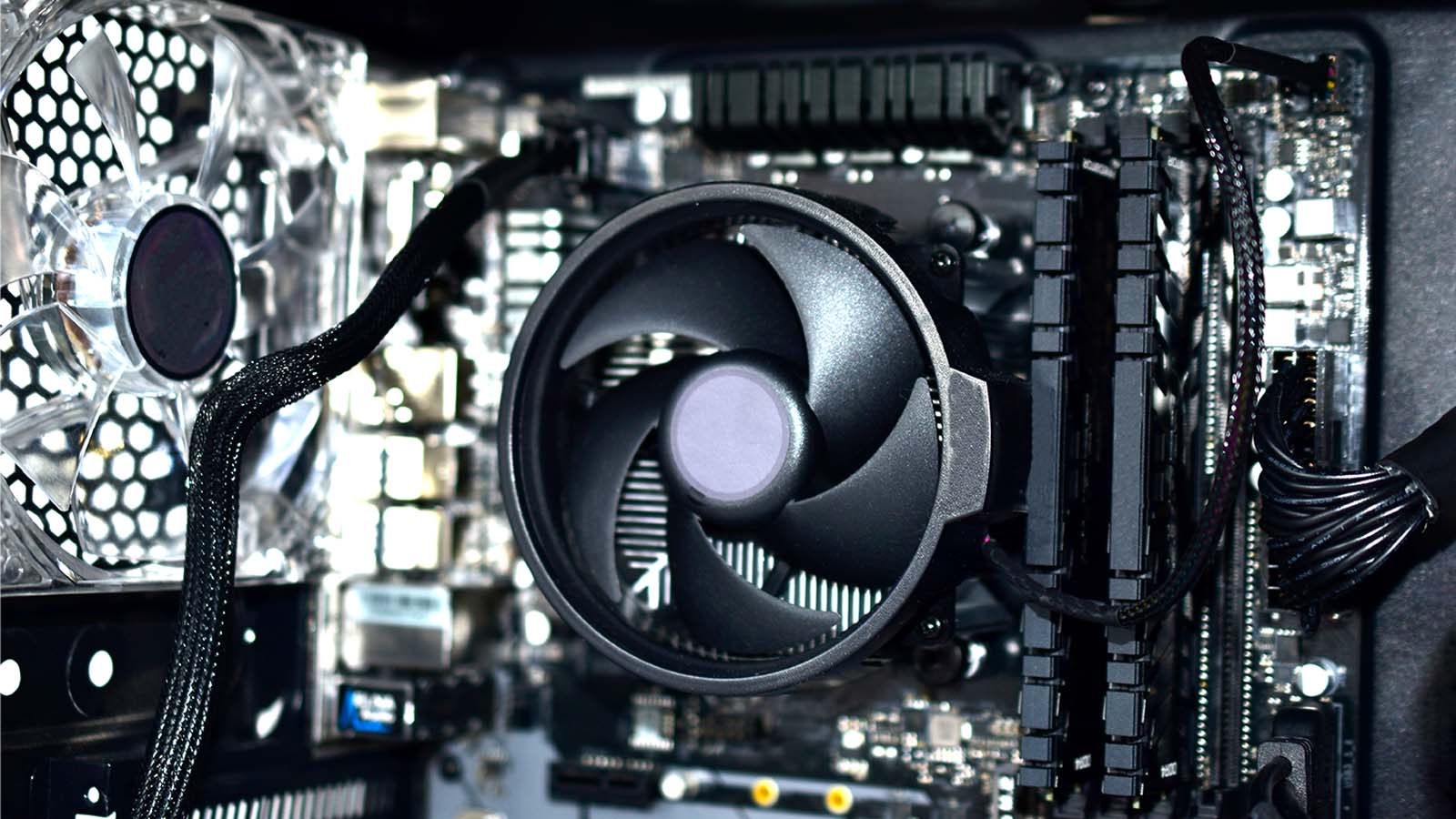 CPUs execute countless instructions in the blink of an eye. While that translates to rendered 3D worlds, encoded movies, or spreadsheet reports, it also generates a lot of heat. Some processors ship with stock coolers, but these aren't always sufficient. Manufacturers don't even bother to ship coolers with more powerful ones, assuming you'll want to pick an aftermarket model yourself. We're here to help by covering the best budget CPU cooler choices on the market today.
Best Budget Air Cooler: Arctic Freezer 34 Esports Duo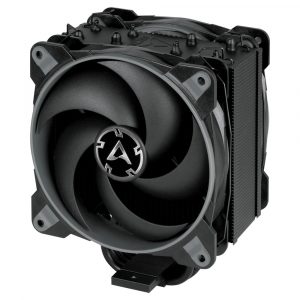 Arctic specializes in delivering effective cooling at more than acceptable prices, so it's no wonder that their products take up our two top slots. The Esports Duo edition of the Freezer 34 might not compete against high-end Noctua coolers. Still, it's almost as respected due to its fantastic value. The cooler is attractive, not too noisy, easy to set up, and it's sure to lower temperatures considerably more than any stock cooler.
The Cooler Master Hyper 212 EVO V2 is our winner's closest competitor in terms of price and cooling efficiency. Pick it up instead if you don't have as much space or if Arctic's model isn't available.
Even though it costs less than $50, Arctic's cooler exudes a high-quality feel. The fin array and heatpipes are powder-coated in a lovely matte black. You can also get fans with anti-vibration pads in several colors to match your build better. There are few accessories, and you don't get a physical manual, but that's a feature worth skipping if it means you get more for your money.
And you do, which you'll realize when inspecting the Esports Duo more thoroughly. For example, both ends of its fin stack have a sawtooth pattern that improves air turbulence. The sides are also interlocked, forcing air to create a wind tunnel that whisks heat away more forcefully. The two fans can run off the same PWM cable and have a wide RPM range of 200 to 2,100. Even so, they don't generate a lot of noise when running near their limit.
The base isn't as interesting since it's relatively small and doesn't have enough heft to help as a heatsink of its own significantly. Fortunately, the four heatpipes do a great job transferring heat away from your CPU and onto the fin stack. Their bare bottoms are exposed and integrated into the base through smooth machining. Thermal paste is included, but you have to apply it during installation.
Putting the cooler together is straightforward. You apply the paste, mount it onto the CPU, and secure the base through two screws. The two fans then easily attach to the sides through handy wire clips. Even though there are two of them, the cooler assembly doesn't extend far enough to cause RAM clearance issues.
Best of all, the Esports Duo does well regardless of metric. Don't expect to cool a 12700K with it, but the Duo is otherwise a competent cooler that can drop temperatures much more effectively than a stock model. It does so quietly as well without exceeding 30dB even when the fans are spinning at 100%.
Best Budget AIO Cooler: ARCTIC Liquid Freezer II 240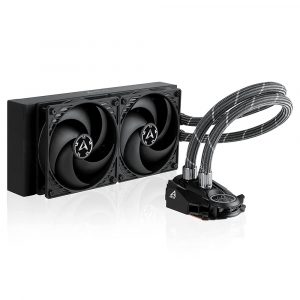 Alder Lake has ushered in an age where air cooling of any kind isn't good enough to keep some CPUs in check anymore. While depressing, that doesn't mean your liquid cooling solution needs to be overly expensive. Case in point, another Arctic product – the Liquid Freezer II 240! We're seriously impressed with this AIO since it's innovative, quiet, and can be ready to go in minutes. This isn't strictly the cheapest AIO you can get, but it far surpasses many more expensive rivals in terms of value.
Another AIO to consider is the MasterLiquid ML240L RGB V2 from CoolerMaster. While not as efficient as our main pick, it's slightly cheaper and comes with an important addition – RGB lighting.
The Liquid Freezer II has a distinct look due to Arctic's own endeavors to create a great pump. Its head unit is elongated and has an intriguing sci-fi spaceship design since it accommodates a 40mm fan. This little addition is among the AIO's main features since it blows cool air onto your motherboard's VRMs. This contributes to your system's overall cooling efficiency, especially since ducts that expel the air cover three sides. You may position the cooler at 90-degree angles to help lower either GPU or RAM temps too.
Manufacturers usually don't bother straying from established radiator design, but Arctic tinkered with theirs. The result is a thicker slab of aluminum with correspondingly lower fin density. Such a design lets more heat accumulate while not having a bearing on the fans' efficiency. They have a CFM or Cubic Feet per Minute output of 59, which is on the lower end but works well with the radiator.
You'll love this model if you've never installed AIOs or air coolers. The fans are already screwed onto the radiator. Both of their PWM cables are integrated into the tubing sleeves. That means you only need to secure the base to your CPU, screw in the radiator, and hook a single PWM cable up to an appropriate header.
Most importantly, the Liquid Freezer is an exceptionally good AIO even when compared to pricier competitors. KitGuru paired it with a thermally demanding Core i9-9900K when the AIO launched. It performed admirably and managed to keep the chip's temperatures in check whether it was running at stock or overclocked. Some rivals were quieter, but not by much.
Best Budget Low Profile Cooler: Noctua NH-L9i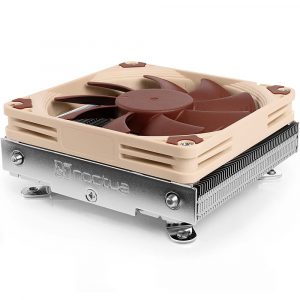 Small form factor cases represent a distinct cooling challenge as they're cramped and offer little opportunity for airflow. You'll need a competent cooler for such an environment and, surprisingly, the cheapest one we'd recommend happens to be from Noctua. Yes, the same company that sells the effective if pricy NH-D15 also has a leaner air cooler that's just as eager to prove its worth.
PC builders used to Noctua's massive coolers will be surprised at the NH-L9i's diminutive size. At just 37mm with the fan included, it's tailor-made for SFF builds and short enough not to conflict with the first PCIe x16 slot. Noctua has made separate versions for AM4 as well as for the new LGA 1700 bracket needed for Alder Lake. We've included links to both, so be sure to get the appropriate one.
The cooler arrives with an iconic brown and beige fan, whichever version you need. It's understandably smaller at 95mm in diameter and has a corresponding CFM of 34. The fan's blades rotate between 300 and 2,500 RPM. Like its bigger siblings, this cooler comes with a low noise adapter you can engage to lower max RPM to 1.800. Do this only with CPUs whose TDP doesn't exceed 65W, though.
Keeping a low profile means adapting the fins as well. There are 55 of them, and they're laid out vertically instead of horizontally due to fan placement. Size makes no difference for Noctua as the fins are all individually soldered onto the two U-shaped heatpipes. Both the pipes and the base are nickel-plated. The base is reasonably polished and almost entirely flat for even HIS coverage.
The NH-L9i doesn't come with mounting hardware. Rather, the corresponding bracket is already part of the heatsink assembly. That's good news for builders since it makes mounting more accessible. You even get two sets of screws that let you exchange the 14mm fan for a thicker one down the road.
It's not an exaggeration to claim that Noctua's fan is a tiny titan performance-wise. It achieves excellent idle temperatures and does better than most at full loads. It's quiet too, so it's unlikely you'll need the low noise adapter.
Best Silent Budget CPU Cooler: be quiet! Pure Rock 2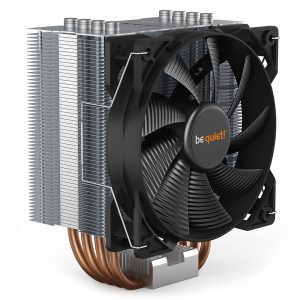 No one wants a noisy PC, but you can usually only pick two between silence, affordability, and performance. The Pure Rock 2 successfully balances all three, delivering a more enjoyable experience for budget-conscious buyers. You might need to ramp it up to keep up with thermal demands, but that won't matter due to excellent acoustics.
You can get the cooler in a stealthy black version or without a powder coat if you want to save even more money. We went with the cheaper option but don't feel its looks are diminished. The Pure Rock 2 is not just for show, as examining its heatsink will reveal. It has a sawtooth pattern with a bowl-shaped indent on both sides that allows air to gather and swirl before entering the fins. Unlike Arctic's model, the sides are open to allow for better heat dissipation into the immediate surroundings.
The base is interesting in that it fulfills several functions. It has a highly regular contact surface already covered with a layer of thermal paste that establishes even contact with the CPU's heat spreader. The top of the base has thick fins that turn it into a radiator. That's also where you'll spot a large groove intended for the bar used during installation.
The Pure Rock 2 uses one of be quiet!'s acclaimed Pure Wings 2 fans. You'll recognize it by the logo and wave-like patterns in each fin that agitate the air more. This allows the fan to perform better even though it can't run faster than 1,500 RPM. It can move 51 CFM of air, which is an OK result.
There's not much to installing the cooler regardless of platform. The bar mentioned above plays an integral part since it allows you to alternately tighten each side for a snug and secure fit. The fan is a cinch to set up since it comes with handy clamps and an attached PWM cable you can easily tuck under the fin stack for a tidier presentation.
The cooler undoubtedly lives up to its manufacturer's name since it's among the quietest on the market. It stays under 30dB when stressed, which is excellent news since it will likely be running at close to its limit if you plan on cooling a hotheaded CPU. Expect acceptable if high temperatures in such situations.
Best Budget RGB Cooler: Montech AIR Cooler 210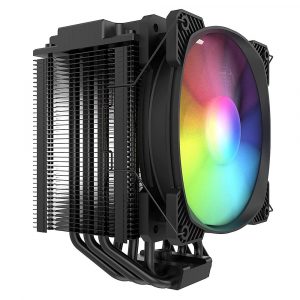 Shopping for a good RGB cooler is challenging, especially if you're on a budget. The fans are usually thinner and don't perform as well, and the RGB implementation can also be wonky. One cooler from Montech ticks all the right boxes, though. Don't let its uninspired name fool you – this cooler looks great, performs surprisingly well, and won't cost much either.
No LGA 1700 bracket info is available at this time, but AMD and older Intel CPUs have no difficulties. Need a similarly vivid cooler at an even better price? Then consider the Vetroo V5 instead.
Excellent build quality is the first pleasant surprise we've come across. The Air Cooler 210 is the most massive model on the list! It has a sizeable fin array with gentle wave patterns that stir air up as it enters and exits. Unlike most coolers with a plain top, this one is capped with an attractive plastic fin complete with a fancy triangle logo pattern.
The fan is the second highlight as it's more capable than expected. It has eleven translucent white blades that let the light shine through brightly. The fan's performance specs are more impressive – it can achieve a CFM of 73 without exceeding 1.500 RPM. Montech promises that noise won't exceed 30dB. While that claim is a little far-fetched, the cooler does operate quietly.
We were pleased to see six copper heatpipes leaving the base at various angles. Both they and the base are coated in black for added effect, but the point of contact is pure exposed copper and generously sized. The installation is straightforward and includes a beam similar to the Pure Rock 2's. Here you also get a screwdriver that slides through the heatsink's top to tighten down the bar.
RGB is implemented well on the cooler. You can connect it to your motherboard and sync it with other hardware or use the supplied controller to set lighting up manually. The controller includes a good number of presets, and the transitions between them are smooth.
We're happy to say that the cooler's performance exceeds expectations. The temperatures achieved during core i7-7700K tests are reasonable, and the cooler doesn't cause a ruckus while working. Montech certainly didn't cheap out on any of their cooler's components, which is why its showing is so balanced.
The Cheapest CPU Cooler Worth Considering: DeepCool Gammax GTE v2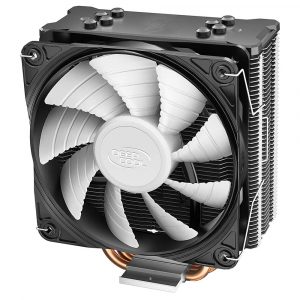 Intel might make fantastic processors, but stock cookers are not their forte. You'll want to replace such a cooler as soon as you get the CPU, and the Gammax GTE v2 is a solid option if you want to spend as little as possible without getting junk. It's sturdy, as easy to install as other models on the list, and good enough for daily use without overclocking.
The cooler's high stack and reassuringly thick frame make a positive first impression. The fins themselves aren't as sophisticated as some we've seen, but there's a dip in the middle that allows air to whirl and build momentum before entering the array. There's even a plastic top with large caps and a nice DeepCool logo illuminated by the RGB.
The Gammax GTE v2 is another example of a cooler that comes with an above-average RGB fan. This time, the 120mm unit has nine white blades with deep grooves in each for better air agitation. Its RPM range is 500 to 1,650, at which point the fan achieves a 64.5 CFM. You don't get a separate RGB controller like with Montech's cooler, but your motherboard should be able to take care of syncing.
The base is made from aluminum and relatively thin, so don't expect much in the way of cooling support. It houses four copper heatpipes, which are machined to a reasonable degree. Setting the cooler up involves choosing the appropriate set of brackets & screws and then screwing everything in. You shouldn't have any trouble whether you're an experienced system builder or not.
While it's not hard to exceed the low standards set by Intel stock cooling, the Gammax GTE v2 goes a step further. Satisfied users claim as much as a 20-degree decrease compared to stock, and noise isn't an issue either.
Frequently Asked Questions
What is the best kind of CPU cooler? Is AIO better than air?
From a perspective of raw efficiency, AIO is indeed the better solution. However, it comes with several caveats that might make you think twice about abandoning your air cooler. The price difference is an obvious air cooler advantage since even the most expensive air coolers are in budget AIO territory. They're good enough for the vast majority of CPUs anyway, so you'll need an AIO only for overclocking or if you're building an enthusiast-level rig and need the lowest temperatures.
AIO has other advantages. The base unit that draws heat away from the CPU is considerably smaller than all but low-profile cooler assemblies. AIO radiator fans can be as large as 140mm. They spin slower & quieter than air cooler fans.
Is a stock CPU cooler enough for gaming?
Yes, if you go for a Ryzen processor or Intel's entry-level chips. AMD clearly has the upper hand here since their coolers have consistently been good enough for gaming and even a bit of overclocking since Ryzen's debut in 2017. That being said, some CPUs in AMD's latest generation have received cooler downgrades compared to their predecessors.
Intel redesigned their stock cooler for the release of Alder Lake. The new model has a solid heatsink, and some blue LED lighting. It's better than what was on offer before, but you'd still benefit from an upgrade.
Keep in mind that most gaming-oriented processors don't ship with coolers nowadays. While that gives you more choices, it also means that your budget has to account for yet another component.
Will a cooler CPU increase FPS?
Not directly, but a CPU with a low working temperature has the potential for an FPS increase. Having a lot of thermal headroom means you can overclock the chip and still have it work normally. Overclocking increases FPS as well as temperature output, and the gains aren't equally good for each processor.
Conversely, ensuring that the CPU has sufficient cooling protects you from FPS decreases. When the cooler is insufficient, the CPU's only other recourse is to throttle, i.e., lower its clock speed, to lower heat generation. The resulting frequency loss translates into fewer processed instructions and frames.