6 Best Server Motherboards in 2022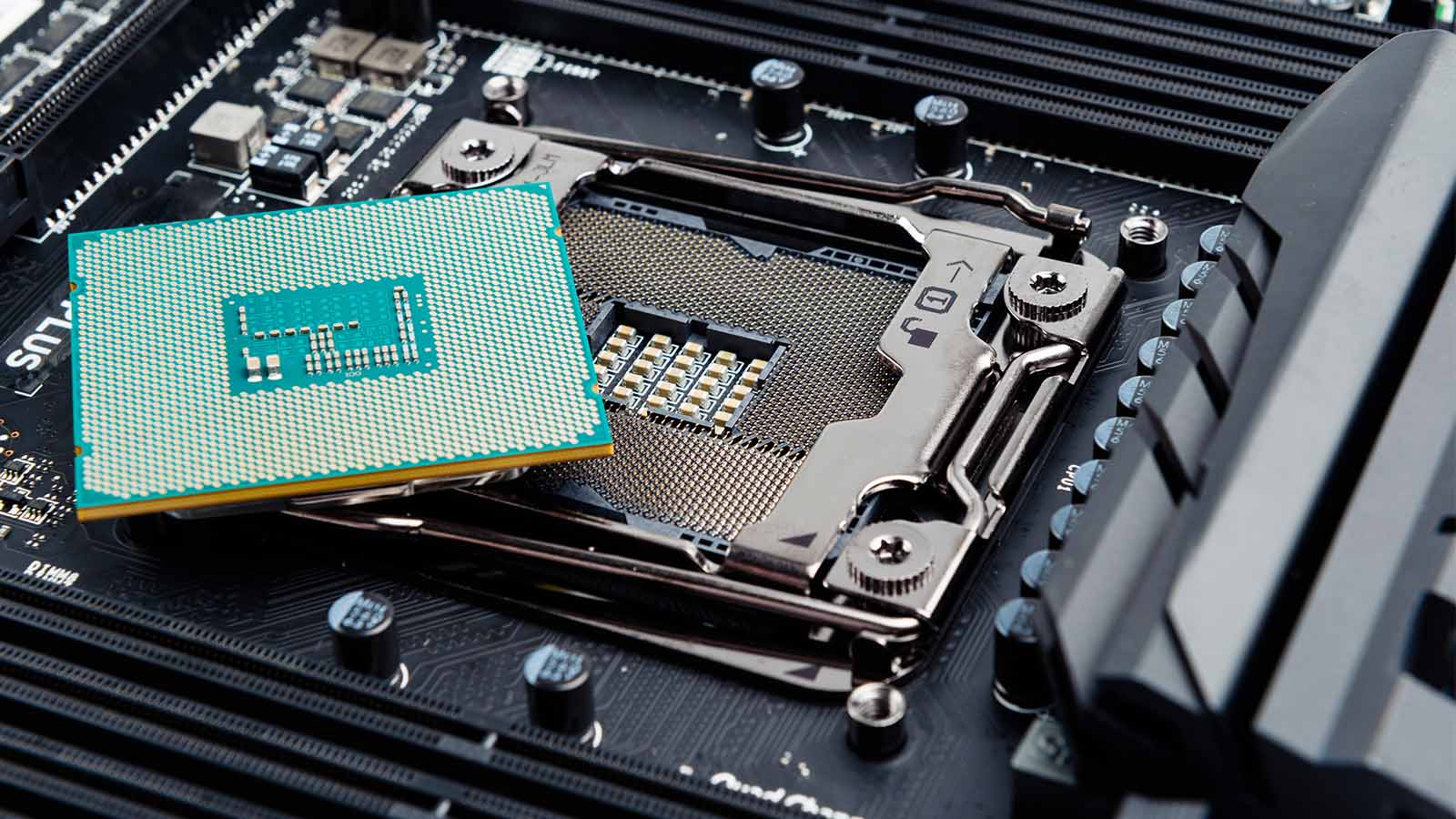 Building your own server has numerous benefits, from having terabytes of data at your fingertips to running the Minecraft world of your dreams. Your journey starts with picking the right motherboard! Keep reading to discover what makes server motherboards different, what you can use them for, and which one to buy for your particular needs.
What Separates Server Motherboards from Regular Ones?
Servers are designed to run all day, every day, so components built for them need to be tougher than usual. Errors are bound to crop up after months or years of constant uptime, so server motherboards need to offer measures like redundant storage and ECC memory that can detect and correct inconsistencies.
Servers boards accept specialized CPUs like Intel Xeon or AMD EPYC & Threadripper. These have more cores and PCIe lanes than regular processors, which they need to communicate with more graphics cards or disks than standard motherboards can handle.
Manufacturers have different priorities when designing server motherboards as opposed to regular ones. For example, there's no need for audio hardware. All such mobos offer legacy VGA ports to connect monitors to their integrated graphics chips without needing dedicated GPUs. Most also feature OOBM or out-of-bound management ports that allow remote access whether you're in the next room or half the world away.
There are no massive heatsinks or VRMs with insane power delivery on server motherboards, so overclocking the CPU is impossible. They don't support RAM overclocking either. A server motherboard commonly has at least two Ethernet ports, with some featuring eight or more. Other I/O elements aren't as prevalent, so it's common to see less than four USB ports, LAN connectors, and not much else.
Why Build a Server Anyway?
There are countless ways a server can enrich and simplify a user's life. Here are just some of the most intriguing ones.
Storing vast amounts of data in a central location while offering access to it from multiple devices is the number one reason why people invest in servers. This lets you free up disk space on your primary PC without losing access to crucial documents, projects, or family memories. Connecting computers, tablets, or mobile devices to your home network turns the server into a local cloud from which it's easy to retrieve anything you need.
It's impossible to overstate the importance of backing up crucial data like stable restore points for your operating system. While you can and should do so locally, sending a copy over to a file server provides an added layer of security.
Home theater PCs have been a thing for a while, but you haven't lived until you've used PLEX to stream five different movies to as many devices in your home network simultaneously. PLEX is a free media management software that organizes the movies, TV shows, etc., you own and presents them in an accessible format. Whether you're up for watching a documentary on your phone or taking in a family movie on a smart TV, having them stored on a server and managing them through PLEX makes for a streamlined experience.
Web & game server hosting
Some users find it appealing to host their own sites without having to pay others. Doing so might be preferable since it gives you complete control of the site even though keeping it online costs more. Such servers offer a suitable testing environment to simulate how a site will behave before bringing it online.
Others run always-online game servers for their friends. These often feature custom content or rules which make the game in question even more fun to play.
A server may act as a network router for other connected devices. Savvy users can outfit it with superior features like a firewall or VPN for enhanced security & privacy for everyone involved.
Virtualization
Most processes use hardly any of a server's potential, even if it's put together from old parts. That's where virtualization comes in. It allows you to turn a single physical server into multiple virtual machines. These can have different operating systems and run several tasks simultaneously without being aware of each other. Virtual machines are safe environments for experimenting with unsavory programs like viruses. They're also great for retro gaming since they faithfully emulate older operating systems games of the time were designed to run on the best.
Home automation & monitoring
There are hundreds of smart home gadgets that do anything from controlling your lights and ambient temperature to watering your garden. Servers are ideal for smart home management since they provide an overview of all your devices and how they interact with each other. They can also serve as storage for your security camera or baby monitor footage.
Learning & experimentation
Putting together a server and keeping it operational will teach you much about IT infrastructure. You can apply the knowledge gained this way to server administration and maintenance in a more professional setting. You're also far more likely to develop your skills and retain learned information as you're trying out new possibilities in an unstructured way.
Best High-end AMD Server Motherboard: ASRock Rack TRX40D8-2N2T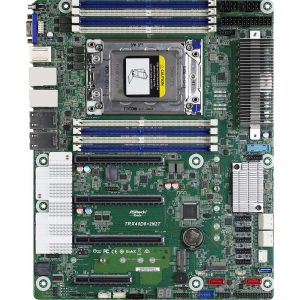 Home users who want a capable workstation, render farm, or a server that runs dozens of tasks without breaking a sweat no longer need to spend thousands on Ryzen EPYC CPUs. You have ASRock to thank for that since one of their newest Rack motherboards audaciously provides a server environment for powerful but comparably affordable Threadripper processors.
The TRX40 Taichi is a slightly cheaper alternative with features geared more towards local productivity and gaming that still supports ECC RAM.
We have to give ASRock credit for stuffing as many premium features as the TRX40D8-2N2T brings into the confines of ATX. The caveat is that you may need to remove some of your case's standoffs to mount it due to a non-standard arrangement.
The Threadripper socket is sandwiched between two stacks of four DIMMS that support 256GB of RAM overclockable to an impressive 4,666MHz. The main ATX and two 8-pin CPU power connectors occupy the upper right corner. You'll find two large heatsinks under them designed to take advantage of server cooling practices. Six more PWM headers offer improved airflow potential and recognize both six- and four-pin fans.
While diverse, storage isn't as prominent here as on boards intended for file servers. You get two PCIe 4.0 M key slots for M.2 drives up to 110mm in length you need to screw in for stability. There are also six SATA ports. Two are orange and provide SATA DOM power. Finally, there's an x4 Oculink header running at PCIe 3.0 speeds you can use with another SSD.
The PCIe expansion lanes all feature gen4 support. You get three x16 and a single x8 lane. More importantly, they're double-spaced and allow you to connect thicker graphics or expansion cards without issue.
The I/O reveals how network-focused this board is. It features four Ethernet ports, with pairs providing either 2.5 or 10 Gbps speeds that ensure its relevance for many years to come. There's even a pair of 10 Gbps USB 3.2 Gen2 A & C ports next to two of the gen1 variety. You're also covered if you need to connect older hardware, thanks to VGA and PS/2 inputs.
Best High-End Intel Server Motherboard: Supermicro A2SDi-TP8F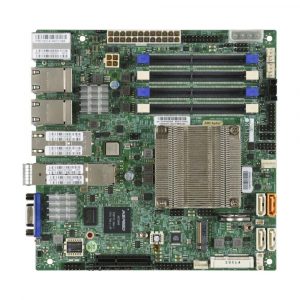 You've heard the one about good things & small packages, and the A2SDi-TP8F is the embodiment of this saying in the server mobo world. It's tiny yet offers everything you'll need to run a high-traffic file server. There's no room for a dedicated GPU, but the board more than makes up for this with a plethora of internet connections.
Supermicro lives up to its name since the board will fit inside the smallest cases yet packs a punch. Specific rearrangements needed to be made to fit everything in, like the RAM slots, for example. There are four of them, but they're of the smaller SODIMM format. Fortunately, finding ECC memory compatible with it isn't a chore. There's room for 64GB of it running at 2,400MHz.
The socket at the motherboard's core accepts Intel Atom C3858 chips. These use barely any power with their 25W TDP yet provide 12 cores and 20 lanes for full PCIe and SATA utilization. You may connect a 42 or 80mm long M.2 PCIe 3.0 or NVMe disk as the boot drive along with four more SATA III disks. The single PCIe 3.0 x1 slot can accommodate one more drive or connect various expansion cards.
Why are you paying a premium for a small board with such relatively unimpressive stats? One look at the I/O provides the answer as it's swarming with Ethernet ports. The left-most one sits on top of two USB 3.2 Gen 1 inputs and is responsible for remote administration conducted by the ASPEED AST2400 baseboard management controller. There are eight more next to it. Four are high-grade but top out at gigabit speeds. The other four are ten times as fast and divided into pairs of 10Gbase-T and SFP+ ports.
So many Ethernet connections make sense if you plan on using the board as a server hub. Connecting it to the router through one of the 10Gbps inputs will easily provide enough bandwidth to sustain a network of several other machines. It also allows the server to act as an effective firewall since an internet connection has to pass through it to reach other devices in the network.
Best File Server Motherboard: ASRock Rack X470D4U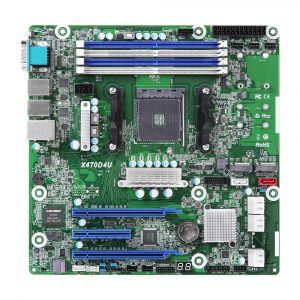 There aren't many server motherboards out there that support regular Ryzen. That's a shame since the CPUs are cost-effective, have low TDPs, and offer a wide spread of core & thread counts for a wide variety of uses. ASRock wisely created a small yet capable X470 board with enough connections to act as a perfect low-cost home file server solution.
This version has more SATA ports but only Gigabit LAN. Consider the X470D4U2-2T if futureproofing the board's internet connection is more important as it has 10GbE instead.
ASRock made excellent use of space on this mATX board and even managed to orient the four dual-channel DIMMS to benefit from front-to-back server airflow. They'll take up to 128GB of RAM running at either 3,200 or 2.666 MHz if you're going for the ECC variant. Ryzen CPUs come with excellent stock coolers, but you may need a slimmer yet taller one to avoid obstructing the first DIMM. You can't overclock the CPU or RAM on this board, but they're capable of achieving great results nevertheless.
The X470D4U is an excellent choice as the basis for a low-cost file server, thanks to robust disk support. Being X470 means you don't get the benefits of PCIe 4.0, but two M.2 drives can transfer data quickly even so. Eight more SATA ports are available, six being handled by the CPU and two more via an Asmedia 1061 controller. One of the CPU-driven ports is red, signifying it has SATA DOM capabilities.
Other internal connections are serviceable for a board this small. You get a USB 3.2 header along with six 4-pin fan headers. Three PCIe lanes will be enough for most home or small business users, especially since two are x16 and the last is x8.
The rear I/O holds two USB 3.2 Gen 1 and as many Gigabit Ethernet ports. COM & VGA stand by to connect old peripherals or monitors, and a dedicated IPMI jack makes remote access possible.
The baseboard management controller and user interface deserve a special mention. ASRock went with the industry-standard ASPEED AST2500, which allows for easier remote handling and even lets you mount virtual drives onto the server from anywhere. You may do this through a comprehensive web-based interface and use iKVM to make BIOS or BMC alterations.
Best General Use Home Server Motherboard: ASRock B550 Steel Legend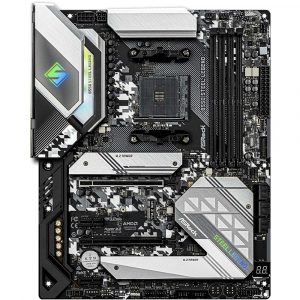 The motherboards mentioned so far were made specifically for use in server builds. However, there is a case to be made for using a consumer motherboard like this one by ASRock. It lets you create a capable gaming or productivity PC with overclocking options for the CPU and RAM yet still use it as a home server. More importantly. ASRock's motherboards are compatible with ECC RAM, so you can keep it running for days without worrying about data corruption.
Intel is inferior to AMD in this respect since Pentium and Core i3 are the only classes of non-Xeon processors to support ECC memory. Consider the X570 Phantom Gaming 4 WiFi AX or X570 Taichi, but only if you want better overclocking and to futureproof the PC with PCIe 4.0.
This ATX mobo has a different layout and look than our other recommendation since it's designed to fit inside a desktop case. There's no need to worry that this will impact airflow since it has seven fan connectors, most of which are also compatible with water cooling. You can install a modest Ryzen chip or even overclock the most powerful ones since the board has a robust VRM comprised of 12+2 phases cooled by two large heatsinks.
The two M.2 slots get padded heatsinks as well, and the top one runs at 64 Gbps through PCIe 4.0 if you buy a 3000- or 5000-series Ryzen CPU. Keep in mind that using the bottom one will disable two of the six SATA III ports. The top PCIe x16 slot will benefit from gen4 in the future since no GPUs can currently utilize its bandwidth. It maintains PCIe 3.0, as do the x1 and other x16 slot.
The I/O features a premounted adjustable plate that makes installing the B550 Steel Legend a simple affair. Wi-Fi antenna sockets and 2.5 Gbps LAN are its most interesting offerings for server users. Its assorted eight USB ports are interesting too and include USB-C. The rest are a full audio stack, HDMI, DisplayPort, and P/S 2.
Best PLEX Server Motherboard: Supermicro X11SCL-iF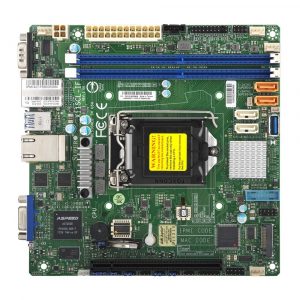 Media storage & management is one of the most common home server uses. PLEX supplies the intuitive and versatile software side of things. Supermicro's affordable mATX motherboard completes the equation, providing a simplified hardware environment that still comes with all the features you'd associate with the basis for a modern server.
You may also want to take a look at Gigabyte's C246-WU4 if you want more M.2 support and will physically administrate the server as the board lacks IPMI.
This mobo's small size drastically expands your case options and means the PLEX server it's built around can take up minimal space in your home. It works with Xeon E-2100 and E-2200-series processors as well as 8th & 9th-gen Core i3 & Gold home CPUs. This means you can get a cheap CPU with little power draw that will still handle high-quality streaming effortlessly.
Understandably, there are only two full-size DIMM slots, but they accommodate 64GB of ECC RAM, which is overkill for a build like this. A single x16 slot is another obvious size compromise. Again, not that important since even one moderately powerful GPU can stream stored video to multiple sources.
The storage situation is more interesting as well as diverse. The X11SCL-iF has one M.2 slot that accepts PCIe 3.0 or NVMe SSDs 80mm or shorter. It's the perfect location for a boot drive, or one you'll use for storing the large amount of metadata PLEX collects on your media. Speaking of which, there's room for terabytes of it, thanks to four SATA 6 Gbps connectors. Two of them can be used without cables through SATA DOM.
You'll also appreciate the abundance of USB options. One USB 3.2 and two USB 2.0 ports are internal, while two more pairs of each are part of the I/O. Back there, you'll also find two Gigabit LAN inputs, VGA & COM. An OOBM port completes the selection. It's powered by the ASPEED AST2500 BMC and essential for remote management.
Best Dual CPU Server Motherboard: Supermicro H11DSi-NT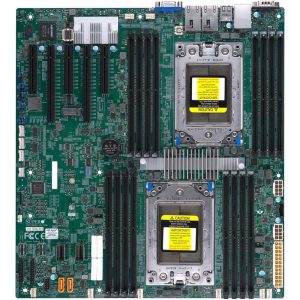 Dual CPU mobos are rare nowadays but indispensable if you're looking to stuff as much raw power as possible into a relatively compact format. Supermicro offers one designed to fit two EPYC processors, provide 10Gbit LAN, and fulfill all your storage needs. It's not cheap, and the CPUs are even less so, but there are few better options if you require an insane amount of threads, drive space, or computing power in one case.
The massive EPYC sockets and eight DIMM lanes connected to each occupy two-thirds of the E-ATX board. You may outfit it with 2TB of ECC RAM at 2,666GHz or a staggering 4TB if you opt for the second revision. Five PCIe 3.0 lanes offer enough headroom for expansion or graphics cards. Two are x16, and the rest are x8. Keeping all of these components cool can be a challenge, which is why the eight PWN headers will come in handy.
Access to diverse storage and lots of it is one of the H11DSi-NT's headline features. It supports one PCIe 3.0 x2 M.2 disk that can be either NVMe or SATA. There are also two Oculink ports for additional fast storage and two conspicuous connectors providing SATA DOM power. Need more? Then use a pair of SFF-8087 connectors to attach as many as eight SATA III disks.
Ample storage is one thing, but pairing it with blazing-fast internet opens up more possibilities. The board's I/O has dual 10 Gbps LAN ports for copious data transfer on your network. There are also two USB 2.0 and USB 3.2 Gen 1 inputs along with COM & VGA ports if you need to hook up old server carts or monitors.
The I/O also contains the OOBM port through which you can access it remotely. Supermicro has updated the interface to resemble a modern webpage, making it easier to monitor the mobo's various vitals and react to notifications. iKVM is another welcome addition other vendors would charge for that grants access without needing a Java console.
Frequently Asked Questions
What should I look for in a server motherboard?
There are several factors to choosing the right server motherboard. You should determine what you'll be using it for and go from there. After all, it doesn't make sense to go with a board built for an EPYC processor if you intend to use the server for light tasks like media streaming even an i3 could do effortlessly.
You should examine a motherboard's spec sheet to get a better overview of its components. Go for ones that can accommodate many SATA or M.2 disks if you're building a file server or media repository. Check the board's LAN port number and speeds. Gigabit Ethernet is still enough for many users, but it's better to invest in 2.5 or 10 Gbps LAN if you can spare the extra cash.
Are server motherboards good for gaming?
Servers are purpose-built computers, and while they aren't as good as gaming rigs, some of them will still be able to play the most demanding games. The problem is that server CPUs are either too weak to run games enjoyably like Intel's Core i3 chips or would be vastly underutilized in the case of AMD+s Threadripper. In a nutshell – never put together a server PC just to game on it.
The boards themselves aren't the best fit for gaming due to several design choices that make sense for servers. It's almost impossible to imagine enjoying games without audio, and some boards don't even have PCIe lanes capable of supporting dedicated GPUs.
How many processors can a server motherboard support?
While most server mobos are built with one CPU in mind, some support two or even four. Placing so many chips on the same board drives its cost up. Still, the practice makes sense since it provides double the PCIe lanes and lets you connect noticeably more SSDs or expansion cards while taking up less space than two separate motherboards.