6 Best Motherboards for i7-9700K in 2022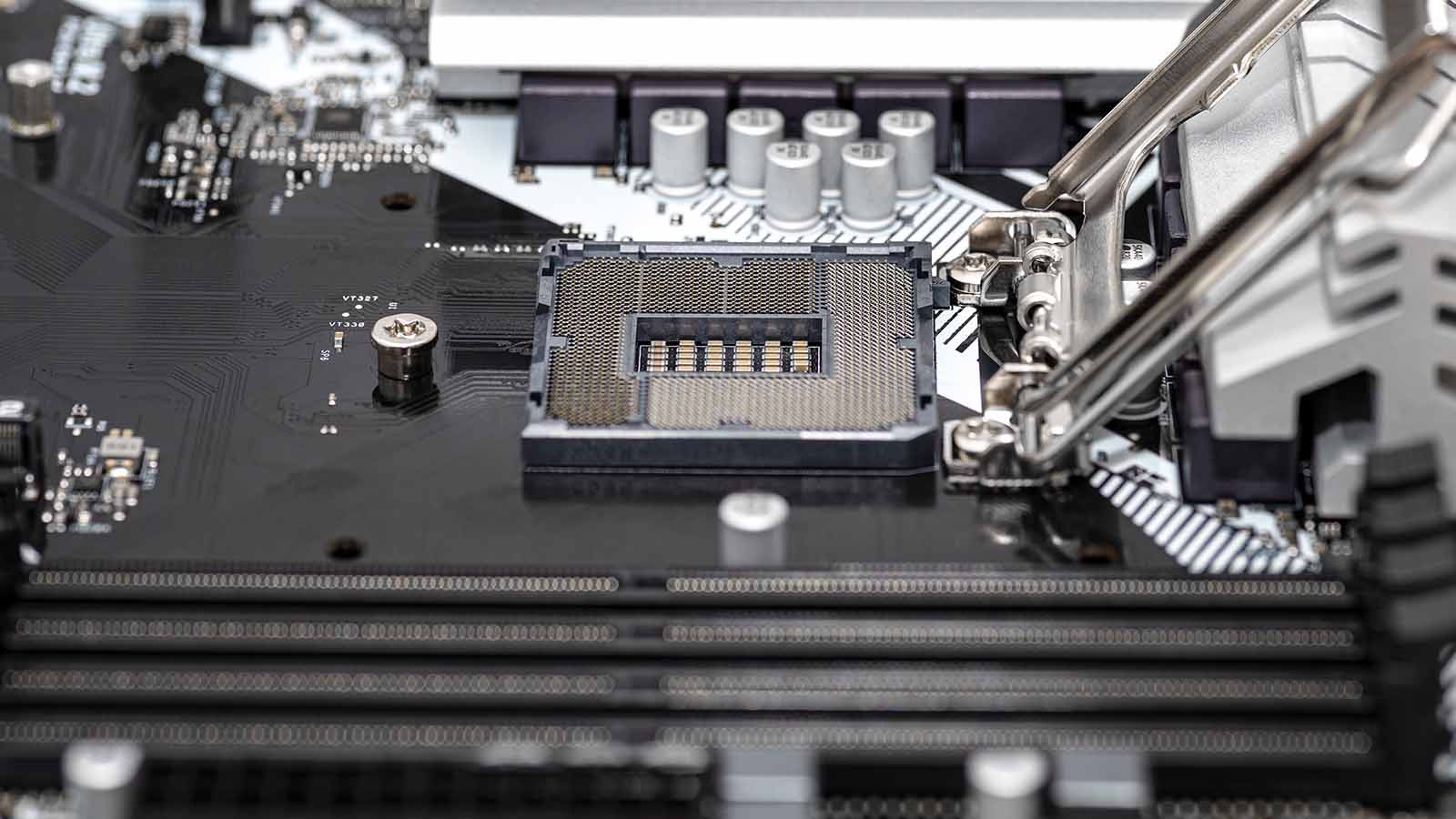 The 9700K is another in Intel's long line of boundary-pushing CPUs. It was the first to bring eight cores to Team Blue's enthusiast gamer segment. The chip successfully took on AMD's challenge and reasserted dominance in gaming, which the i7 and its predecessors were designed for in the first place. Best of all, it continues to be relevant today as a reasonably-priced alternative to Intel's newer offerings.
You'll want a solid mobo to go along with the CPU, so here are our recommendations for the best i7-9700K motherboards you can still get today. Check out what each board has to offer and pair your favorite with the gaming CPU that keeps on giving.
Best High-End ATX Motherboard for i7-9700K - ASRock Z390 Taichi
ASRock strives to make each Taichi board a high-quality offering that distinguishes itself both with performance and looks. The Z390 entry certainly delivers with its gear aesthetic, excellent build quality, and a slew of top-tier features for the generation. You'll have to pay more for it than for our other recommendations, but the board's versatility makes up for this.
The first thing you'll notice about the ASRock Z390 Taichi is its unique appearance. The PCB has a steel-gray gear stencil, and the chipset heatsink is shaped like a large gear, giving the board an industrial and edgy look. A cleverly-placed LED provides the heat sink with an attractive underglow, while two more illuminate the I/O shroud & audio cover.
ASRock designed the board to be spacious and accommodating, despite conforming to ATX standards. There's plenty of room for large CPU fans or complex water cooling that draw power from eight headers. The mobo's overclocking potential is great, if not world-class, mainly due to the 60A limitation of its 12+2 phases. Even so, expect the VRMs to run comfortably cool while the overclock noticeably boosts performance.
The board is an excellent choice if you're planning on using multiple GPUs. It supports CrossFire and SLI alike, even arriving with a bridge for the latter. Additionally, all three slots have steel plating for protection against shearing. You can build up a sizeable game library since there's room for three M.2 and six SATA disks in different RAID configurations. There's a heatsink for only one M.2 drive, though.
A look at the I/O gives further proof of the mobo's adaptability. HDMI & DP cover graphics, while pairs of two Wi-Fi antennas and Ethernet ports provide online connectivity. A button for clearing the CMOS is a valuable bonus, and you'll get clear audio from the Realtek ALC1220-powered 5+1 stack. All eight USBs are 3.2 or higher, with three being USB 3.2 Gen 2 Type-A and one Type-C. You may also connect older mice and keyboards through PS/2.
Best Mid-range ATX Motherboard for i7-9700K - Gigabyte Z390 AORUS Elite
Elite is the designation for entry-level AORUS boards in Gigabyte's Z390 lineup, catering to users who don't need all the bells & whistles while more than covering the basics. The Gigabyte Z390 AORUS Elite has a robust VRM solution for mild overclocking. It has a serviceable selection of internal ports & I/O inputs. Add lots of RGB, and you've got a board that's sure to appeal to a large audience.
There are several other motherboards in its price range, most notably the ASUS Prime Z390-A.
Users familiar with the AORUS look will spot its telltale signs all over the board. The iconic falcon appears twice, as a gray stencil on the black PCB and an LED area on the chipset heatsink. More LEDs light up the DIMM slots and audio area, making for an eye-catching display. Pairs of LED strip headers provide opportunities for even more expansion.
Overclocking is achievable on the RAM and CPU alike. The RAM slots house a maximum of 64GB. It's possible to speed a single stick of it up to 4,133MHz. Eight- and four-pin EPS connectors secure enough power for the 9700K, while a 12+1 phase layout regulates it into a steady and reliable flow. The heatsinks on the VRM act and look cool, since striped cutouts let them release heat into the case more quickly.
Storage is on par with most other Z390 boards – you have room for six SATA and two M.2 drives. One of the SSD slots is shielded by a heat spreader and won't suffer from the heat generated by your GPU. Speaking of which, it's best to plug it into the steel-reinforced top lane, as the second one runs only at 4x speeds. That's not enough for SLI, but you can link two AMD cards with CrossFire. Three more PCIe 3.0 x1 ports provide ample room for internal expansion.
The preinstalled back panel offers plenty of relevant connections. You don't get USB-C except through an internal header, but ten other ports are nothing to scoff at. Two are USB 3.2 Gen 1, with the rest being split into USB 3.2 Gen 1 and USB 2.0 x4. Gigabit LAN should serve well until you upgrade. Several WIMA and Nichicon capacitors back up the audio solution comprised of five 3.5mm jacks and an S/PDIF out. There's also HDMI should you need the 9700K's onboard graphics.
Best Budget ATX Motherboard for i7-9700K - MSI MPG Z390 Gaming Plus
Did you spend most of your budget already and need an affordable motherboard for your 9700K? In that case, MSI's entry-level boards are a great choice, whether you go with this one or the MSI Z390-A PRO. The board we're looking at is well-rounded and has the basics covered, providing an excellent price to performance ratio.
The mobo's looks are a welcome reprieve from the black & gray most other models adopt. Its dark-gray PCB is streaked with red lines. The redness extends to two RAM slots and the top GPU's lock, drawing your attention to parts of the board people usually gloss over. A single LED strip provides a soft glow to the right edge, and you can connect two more through four-pin headers.
We're pleasantly surprised by the number and diversity of internal connections, given the MPG Z390 Gaming Plus's price. Five fan headers are there in addition to single CPU & pump connections for comprehensive cooling. Two M.2 slots handle high-speed storage drives 110 and 80mm long, respectively, while a third is reserved for Wi-Fi. Two USB 3.2 Gen 1 headers accommodate two devices each, and four PCIe x1 slots broaden your options for TV and capture cards-
The chipset and VRM heatsinks are both sturdy and made from thick aluminum. The latter covers only one part of the MOSFETs, though. Don't expect to push the 9700K to insane overclocks since the 8+1 phases have a 60A limit per phase. Still, a modest frequency boost isn't out of the board's comfort range. You may also use an XMP profile to OC the RAM up to a respectable 4,400MHz.
You'll have to install the steel I/O yourself. It meshes well with the ports' black & red theme. Six USBs might cause you to pick & choose what to connect, but at least one of them is USB-C while only two are USB 2.0. The motherboard will work with old monitors in a pinch thanks to DVI, or newer ones through HDMI. Gigabit LAN will get you online, and PS/2 is there in case you misplace your newer peripherals. The audio stack is wholly analog and works through Realtek's ALC 892/897 codec.
Best i7-9700K Motherboard for Gaming & Content Creation - GIGABYTE Z390 AORUS PRO Wi-Fi
Gigabyte outdid themselves with the Z390's PRO model. It's among the most adaptable motherboards of the generation, offering plenty of headroom for overclockers while supporting productive users with considerable memory upgrades and high-end audio. Best of all, it comes in at a price that's hard to beat, especially in today's turbulent tech landscape.
There's nothing quite like it in this price range. The AORUS Master is better for overclocking, and the MPG Z390 Gaming PRO Carbon has a slightly better feature set. However, you'll have to hand over considerably more cash for them.
Gigabyte's boards for advanced users have a similar aesthetic, so it isn't surprising that this board bears a lot of resemblance to our mid-range pick. There are subtle differences, however, like more RGB sources and slight changes to the heatsinks.
Performance is more important, and that's where the GIGABYTE Z390 AORUS PRO Wi-Fi proves its worth. It recognizes 128GB of RAM in a dual-channel setup, rare for Z390 motherboards regardless of price. You may overclock it to a max of 4,266MHz and can easily tell whether XMP is on, thanks to a tiny LCD.
The board's overclocking potential is also formidable. Its VRM is divided into 10 Vcore and 2 SOC phases, each providing 50A of evenly distributed current. That's enough for serious overclocking scenarios where CPU and system cooling will be the limiting factors. Speaking of cooling, a two-part, heatpipe-equipped heatsink keeps the VRMs cozy. You may also upgrade the system-wide cooling with either fans or pumps thanks to an assortment of headers.
Optimal thermal management doesn't stop there. The chipset has a large heatsink, and both M.2 slots come with heat-absorbing pads. Your drives will need them since they'll be located near the GPU lanes, two of which have armor. Gaming on max details is easy to achieve since the mobo can run two RTX cards in SLI or up to three GPUs from AMD in CrossFire. Lastly, three more PCIe x1 ports are a godsend for streamers.
The board's top-notch 7.1 audio runs on the ALC1220-VB codec from Realtek. The 5+1 stack puts out crystal-clear sound thanks to good isolation and a handful of WIMA capacitors. It shares the I/O with Gigabit LAN, Wi-Fi antennas, and HDMI 1.4. Connection options abound as well since the backplate sports ten USB slots. One of them is 10Gbps USB-C. Four USB 2.0, three USB 3.2 Gen 1, and two Gen 2 inputs form the rest.
Best Micro-ATX Motherboard for i7-9700K - MSI MPG Z390M Gaming Edge AC
Going with an mATX board means trading in unnecessary ports for extra space. These smaller boards often come with a reduction in VRM efficiency. Not so with the MPG Z390M Gaming Edge AC. It will boost your 9700K and paired memory without trouble while providing enough room for the latest GPU and storage options.
Two more mATX motherboards are worthy of your time. The GIGABYTE Z390 M Gaming and Asus ROG Maximus XI Gene if you need even more stable power delivery.
Tidy yet ready to rumble is the first thing that comes to mind when admiring the board's aesthetics. The somewhat dull nature of its monochrome look is offset by aggressively geometric heatsinks & shrouds, not to mention the RGB strip to the right. Even though space is at a premium, the board still offers pairs of headers for regular and addressable RGB strips.
You'll want to consider which GPU will go with the board before committing, since there's not enough room for beefy ones that take up three slots. On the other hand, you may use either SLI or CrossFire with two cards that do fit. Two M-key M.2 and four SATA drives provide enough storage for the majority of users. USB 2.0 and 3.2 internal headers add more expansion options, especially since one header is USB-C.
MSI successfully outfitted the mobo with suitable overclocking and cooling solutions. The VRM heatsinks cover a large part of the top half, allowing the 11 MOSFETs to run the 9700K continuously at higher clocks. The setup might not be able to push a 9900K to its limit, but the 9700K is far less demanding. This is the second board in the overview that you can fill up with 128GB of RAM. Better yet, you can achieve stable overclocks past 4GHz with as much as 64GB if you populate only two slots.
The AC in the motherboard's name refers to its advanced Wi-Fi capabilities. The M.2-mounted chip allows for 1.7Gbps, which should suffice for now, coupled with the Gigabit LAN port. The rest of the I/O is varied but filled with questionable choices. More USB 2.0 ports instead of two dedicated PS/2 connections make more sense. On the plus side, all six ports are USB 3.2, with one being USB-C. That leaves the full-size 5+1 audio, DisplayPort, and HDMI.
Best Mini-ITX Motherboard for i7-9700K - ASUS ROG Strix Z390-I Gaming
Our physically smallest recommendation comes from ASUS and fulfills SSF enthusiasts' dreams of building pocket-sized PCs as powerful as something you'd put in a high tower. It's one of the best-engineered boards of the generation, enabling meaningful overclocking despite a lackluster-sounding VRM. The board is compact yet organized and ready to make your i9700K the best it can be.
Users who don't appreciate the ROG premium could also go for either the GIGABYTE Z390 I AORUS Pro WIFI or ASRock Z390 Phantom Gaming-ITX/ac.
Asus had little space to work with yet managed to design their mini-ITX board with efficiency and style. A barely visible pattern graces the PCB and contrasts with the comparatively massive heatsinks surrounding the CPU. One RGB light source is present on the right, and you may connect two more through 5V standard or 12V addressable RGB headers.
Attaching all components and connections to the ROG Strix Z390-I Gaming can be tricky since every square inch of space has a use. Asus is aware of this and provides extension cables for hooking the front panel up more easily. It's advisable to install the M.2 drives first since one of the 80mm disks fits on the motherboard's back while the other sits directly on top of the only GPU lane. Thankfully, the front drive has a large heatsink that also encompasses the chipset.
Overclocking is where the mobo shows that it's innovative as well as capable. It has a unique VRM made up of six virtual Vcore and two more phases. This unorthodox configuration isn't doubled, which the manufacturer claims improved performance. Hands-on testing results agree, placing the motherboard near the top of the charts when it comes to overclocking stability. You don't need to know much about overclocking to get tangible improvements over stock settings, since the BIOS is home to a capable AI OC tool.
The I/O panel is mounted beforehand, which will simplify board installation. It has seven USB ports divided into pairs ranging from USB 2.0 to USB 3.2 Gen 2 plus one USB-C. LAN and Wi-Fi combine with an internal Bluetooth antenna for a well-rounded online connection offering. You can hook monitors up for UHD graphics through DP or HDMI 2.0 and even get the superior audio experience the complete Realtek ALC1220 7.1 Channel stack provides.
Frequently Asked Questions
What motherboard works with i7 9700K?
You can run the 9700K only on motherboards with the LGA 1151 chipset. These include all the models from Intel's 300-series. We strongly recommend that you stick to Z390 mobos since they offer the most robust feature set and are the best for overclocking. You can go with a Z370 alternative if your Z390 board of choice isn't available. Still, its port selection, support for newer technologies, and overclocking potential won't be as developed.
Is the i7 9700K still good for gaming?
The 9700K was a high-end gaming chip when it was released in 2018 and continues to be a viable option today. The difference between it and newer chips in the i7 lineup is negligible, and you're likely not even to notice if 60fps is your target. We don't know how many improvements Alder Lake will bring, but the 9700K is definitely still worth it if you can get one at a reasonable price.
Is i7 9700K future proof?
The chip should be good for another year or two, regardless of what you use it for most frequently. It may hold up well for gaming at medium to low past that point, but it's impossible to tell. What's more certain is that you'll want to upgrade sooner than the two-year mark if you want a processor that's better at handling multithreaded tasks like rendering or video encoding.