6 Best Motherboards for i9-11900K in 2022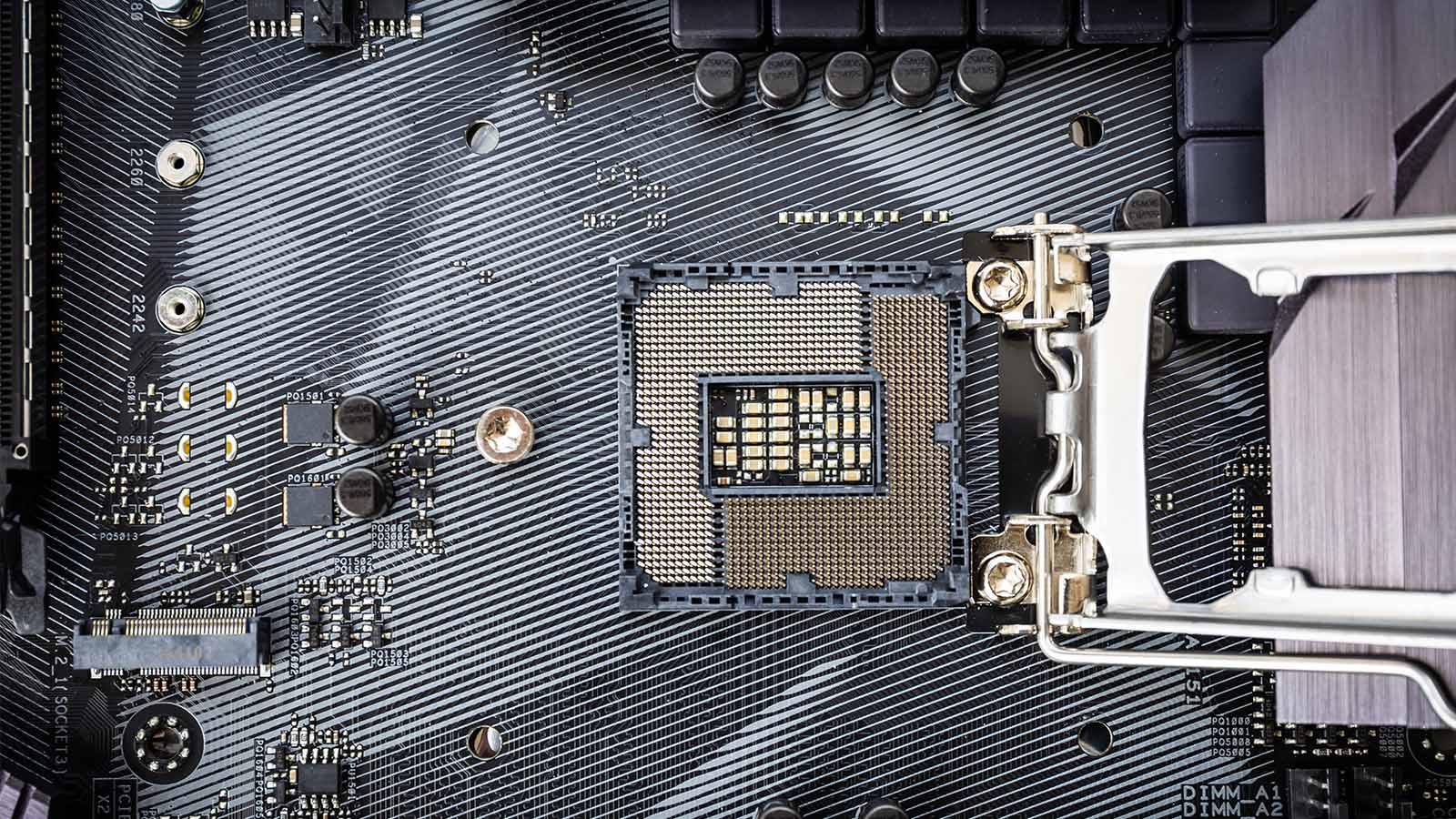 Intel's 14nm manufacturing process is six years old already, with the i9-11900K as its pinnacle and swansong. It's evident from the decisions that went into engineering the CPU that Intel is moving on to greener pastures – the 11900K shares the same architecture with less capable mobile CPUs that test the 10nm waters. Its overall position isn't as strong as its predecessors' thanks to herculean efforts by AMD, but the chip's gaming chops remain in no need of doubt.
Here are the best motherboards for i9-11900K for gamers, extreme overclockers, and anyone else craving the most Intel has to give. They're the cream of the crop performance-wise, but a few are also examples of superb efficiency. Take a look at what's on offer and provide a worthy seat of power for your high-performing processor.
Best High-end ATX Motherboard for i9-11900K - ASUS ROG Maximus XIII Hero
Even expensive boards can have an outstanding price to performance ratio, as evidenced by the thirteenth entry in the Maximus Hero line. It's built to keep the 11900K purring smoothly at high clocks without breaking a sweat. You may also look forward to a new premium audio solution, lots of space for the latest SSDs, and an enticing number of up-to-date ports.
The high-end segment is full of excellent motherboards, so you're spoiled for choice if there's something about our pick you don't like. For example, you'd be better off with the MSI MPG Z590 Carbon EK X if you need more extensive water cooling. Alternatively, you could go for the ASROCK Z590 Taichi or MSI MEG Z590 ACE.
The board's aesthetics are all about a subtle show of dominance since it's primarily black with a few shades of gray to break up the monotony. Diagonal lines are an important theme and present everywhere, from the I/O shroud to the PCB. The ones on the shroud even have RGB lighting, as does the chipset heatsink.
It's impossible to miss the large, multi-storied heatsinks that keep your 11900K in check. They're connected with a heatpipe and hide numerous fins that whisk air away from the CPU more rapidly. The power stage configuration is 14+1, with the Vcore ones putting out a max of 90A each. That supplies the chip with 1,260A, which not even your flagship processor will need.
The BIOS is worth a special mention because of its excellent layout and user-friendliness for newcomers to overclocking. It has a capable AI OC tool and an overclocking guide that will prevent you from making serious mistakes.
ASUS didn't add more than six SATA 3 ports like other manufacturers do to their high-class boards, opting for more advanced options instead. You can connect four M.2 M-key drives to the mobo, and two of them will harness the added speed benefits of PCIe 4.0. They're all covered by efficient heat spreaders and a shroud, so not even the one placed closest to your GPU will run hot.
Positive surprises continue with the internal headers and improved audio. Eight headers allow for air- and water-based cooling, while four expand your lighting options. ASUS upgraded the audio codec to Realtek ALC4082, increasing the bit and sample rate for the 5+1 connections in the back.
The I/O is preinstalled and filled to the brim. The two USB-C ports take center stage as they also double as Thunderbolt connections. Six more USB 3.2 Gen 2 and two USB 2.0 ports complete this portion. That leaves the two Ethernet jacks & as many WiFi antennas, the audio stack, HDMI, and buttons that flash the BIOS or clear the CMOS.
Best Mid-Range ATX Motherboard for i9-11900K - ASUS ROG Strix Z590-E Gaming
The sub-$400 category of motherboards is fiercely competitive, yet ASUS comes out on top with a board suited for everyone but extreme enthusiasts. It packs everything you need, from robust overclocking and plenty of storage options to excellent cooling and premium looks.
Don't worry if you're not a ROG fan since you can also get the MSI MPG Z590 Gaming Carbon WiFi for similar specs at a comparable price.
The ROG Strix Z590-E Gaming WiFi masterfully pulls off an all-black look that quietly speaks of its high-caliber specs to those in the know. You can leave it as-is for a stealth build or engage three RGB areas for the board to glow with vivid light.
Overclocking the 11900K won't be a problem since this board is equipped with two imposing heatsinks connected with a heatpipe. There's also space to mount an included fan for improved results. The VRM is more than up to the task since its 14+2 70A power stages will never reach their maximum and can stay cooler than lesser components.
You'll be able to amass a large media & game collection since the mobo accommodates four M.2 and six SATA drives. Filling all four slots will disable some of the SATA inputs. Still, the compromise of having two high-speed PCIe 4.0 drives at your disposal is favorable. The SSDs receive greater thermal protection from three broad heatsinks.
Two of the three x16 slots also support PCIe 4.0 when paired with the 11900K, which will come in handy down the line. PCIe x1 connections are absent, which you should consider if you're a streamer. Internal connections include four RGB and eight fan headers as well as four USB headers split between USB 2.0, 3.2 Gen 1, and 2×2 USB-C Gen 2.
There are plenty of diverse ports and buttons for the most demanding users on the padded I/O. New on this version are two 2.5Gbps LAN jacks and the Realtek ALC4080 codec that powers the 5+1 audio stack. The number of USB-C ports has also doubled, bringing 20Gbps speeds on one input. There are now ten USB ports, most of them USB 3.2 Gen 1 and 2. WiFi 6, DP, and HDMI remain unchanged, as do the flashback and clear CMOS buttons.
Best Budget ATX Motherboard for i9-11900K - GIGABYTE Z590 AORUS PRO AX
The ongoing silicon shortage is a prime opportunity for hardware price hikes. It then comes as a positive surprise that Gigabyte offers an enthusiast-grade motherboard for next to nothing, considering everything it brings. The Z590 AORUS PRO AX provides capable CPU & RAM overclocking, lets you install up to ten storage devices, and sports more USBs than most of us will ever need.
Creative types might want to check out Gigabyte's Vision G board as well, and you won't go wrong with the ASUS Prime Z590-A either.
Gigabyte decided to discard part of the Z490's design in favor of an edgier, geometric look made more attractive by brushed aluminum accents. The lighting is arranged tastefully into three areas and won't blind onlookers unless you use some of the four RGB headers to bling it out.
A closer look at the VRM reveals part of the board's amazing value. It's made up of 13 phases in a 12+1 setup. The Vcore phases are rated at 90 amps, feeding the 11900K with a serious 1,060A. Your cooler will give out long before the MOSFETs since a set of hefty heatsinks surrounds them. Gigabyte claims you can also overclock the memory in the board's reinforced DIMM slots to 5,400MHz, on paper anyway.
You can keep a sizeable part of your game or media collection on the latest SSDs since this board lets you connect four of them. Three are tied directly to the 11900K and will run at PCIe 4.0 speeds, while all drives are shrouded to ward off heat better. The lack of a PCIe x1 slot and x4 limitations on the bottom two full-sized lanes are disappointing. On the other hand, there are eight fan and two USB-C 2×2 headers.
You'll adore this board's I/O if you can never seem to find enough USB ports as it has thirteen of them. One is another 2×2 20Gbps USB-C, while the others are sorted into three stacks of four USB 2.0, USB 3.2 Gen 1, & Gen 2. The analog and optical audio connections run on the same new Realtek codec as our high-end recommendation. Finally, two WiFi 6 antennas and a 2.5GBps Ethernet port handle online connection.
Best i9-11900K Motherboard for Overclocking - GIGABYTE Z590 AORUS Master
Gigabyte's Master boards are renowned for their overclocking prowess, and the most recent one does not disappoint. It's equipped with enough VRMs and associated cooling to unleash your 11900K's full potential while keeping temps as low as some mobos do on stock settings. Lots of ports, advanced audio, and improved networking add even more value to it.
You'll realize the Z590 AORUS Master is a first-class board the moment you spot its understated dark color scheme and brushed aluminum heatsinks. Several shrouds close off much of the PCB, giving the board a clean and armored look. The eagle logo on the chipset heatsink and some stripes underneath the board's name on the I/O shroud light up in millions of colors. So can four more strips if you connect them to the 3- and 4-pin RGB headers.
The board's VRM is on par with the generation's most expensive models, offering more than 1,600A of current distributed through 18+1 high-quality MOSFETs. They're cooled by a small and seemingly scrawny pair of finned heatsinks. These are backed by a small fan and engineered to maximize area coverage and get rid of heat much more efficiently than regular heatsinks. An 8mm heatpipe supports the design. Together, they allow for impressive and stable overclocking of the 11900K while keeping temperatures in the 50s!
Gigabyte hasn't neglected the board's overall thermals either. Ten fan and pump headers present an excellent cooling opportunity, and the lower area is almost completely covered in a shroud. Your SSDs will reap the most benefit from the design since the three M.2 slots all have double-sided heatsinks.
All three PCIe x16 lanes are reinforced, and two take advantage of PCIe 4.0. You don't get any x1 slots, but this is offset by two Thunderbolt and five USB headers, one of which supports USB-C 3.2 Gen 2. The audio section is shrouded too. It hides both WIMA and Nichikon capacitors that use the Realtek ALC1220-VB codec.
The I/O features cool-looking vent holes and a slew of connections. Ten USB ports take up most space, followed by the gold-plated audio stack. There's also DP if you need to use the CPU's integrated graphics. A premium 10Gbps LAN port by Aquanta and two WiFi 6e antennas handle online communication, while the clear CMOS and Qflash buttons speed up bios updates & troubleshooting.
Best Micro-ATX Motherboard for i9-11900K - ASUS ROG Strix Z490-G Gaming
Intel's partners have been neglecting the mATX format. So much so that there are no medium to high-tier boards in the category catering to Rocket Lake processors. We're turning to an older favorite instead, an ASUS mobo with the specs to handle your 11900K, even if it might not be able to make use of all its advanced capabilities.
You could go with an ASUS Prime Z590M-PLUS or MSI MPG Z590M Gaming Edge WiFi if having PCIe 4.0 is paramount. Waiting for Alder Lake to see if next generation's mATX offerings fare better is also an option.
The board retains a classy look we've come to expect from ASUS's top end, combining a mirror surface and few but excellent RGB lights with black brushed aluminum accents on an equally dark PCB. Parallel lines run from the bottom right to the top left corner, leaving slits in the VRM heatsinks and enhancing the board's minimalistic appearance.
None of the Z590 mATX boards look like they have an adequate solution for their VRMs, so the ROG Strix Z490-G Gaming is currently the best choice if you want to do some mild overclocking. It has 12+1 phases and an 8+4-pin EPS connector for adequate power delivery. Two tough-looking heatsinks loom over the MOSFETs and help with even heat distribution. The memory is overclockable as well, but to a lesser extent than on Z590 boards.
PCIe 4.0 has no impact on graphics performance yet, so the armored PCIe 3.0 x16 slot will do nicely for your main GPU. You may connect two cards through CrossFire and run them both at x8 as well. The absence of PCIe 4.0 is a bigger issue for storage as both M-key M.2 slots use the older standard. Shielding that blocks excess heat from reaching one of the drive slots is a welcome addition.
Back panel inputs are generous for a board of this size. There's a full complement of six audio connections, WiFi, 2.5Gbps LAN, and video out through either DP or HDMI. A flashback button brings back the previous stable BIOS version and pairs with one of two USB 2.0 ports for seamless updates. The remaining five consist of four USB 3.2 Gen 1 and one Gen 2 USB-C input.
Best Mini-ITX Motherboard for i9-11900K - ASUS ROG Strix Z590-I Gaming WiFi
ASUS is our winner in the mini-ITX category as well, thankfully because of the board's performance & build quality, not a lack of alternatives. It's compact yet feature-rich, introduces an innovative approach to M.2 storage, and has the latest in audio & PCIe solutions.
The other high-end choice is MSI's MEG Z590I Unify. There's also the Z590I AORUS Ultra from Gigabyte to consider if you'd like to spend a little less.
ROG boards have a uniform appearance, so there's not much to distinguish the smaller model from the bigger black ones we've already discussed. However, the nature of mini-ITX gives the mobo a closed-off and arguably even more attractive appearance. ROG's eye symbol and adjacent STRIX lettering add a welcome touch of color, one you can expand upon through one standard and one addressable Aura RGB header.
A large part of the board's upper half is devoted to heatsinks, signaling that overclocking isn't out of reach. In fact, the temperatures while overclocking are extremely low for a board this small. The heatsinks help tremendously, but part of it has to do with the 860A of current the 8+2 VRM config can deliver. We wish there were more fan and pump headers, though, since only three are present.
Speaking of cooling, the M.2 drives get a special daughterboard with double-sided heat spreaders. The drives slide into two slots in the PCB next to an array of audio capacitors, creating a thermally efficient sandwich. Take care to place your speedier SSDs on top since that's the only location with PCIe 4.0 support other than the steel-enforced GPU lane. Four vertical SATA connectors sit next to two DIMM slots with a maximum capacity of 64GB.
The preinstalled I/O is heavy on USB 2.0 and light on 3.5mm jacks. Luckily, the latter run on Realtek's ALC4080 codec. Two USB-C 2×2 ports balance things out, and one even comes with Thunderbolt 4. Connections for WiFi antennas, HDMI 2.0, and two more USB inputs round out the selection. Like other ROG boards, this one comes with a flashback button.
Frequently Asked Questions
What is the best motherboard for Intel i9 11900k?
The leading players in motherboard manufacturing are consistent in putting out quality solutions for Intel's flagship processors, and the same is true for this generation. Coming up with a single definitive answer is complicated as choosing any board over another at different price points boils down to nuances.
All the boards we've highlighted in this article, as well as their alternatives, will work well with the 11900K. mATX may be the only exception, but only because the board in question isn't as futureproof as the others.
What motherboards support i9 11900k?
The 11900K can only fit onto motherboards with an LGA 1200 socket. Any 400 or 500 series model will recognize and work with the chip, but pairing it with anything less than a Z590 or Z490 motherboard isn't advisable since you'll be losing out on overclocking. Alder Lake processors are scheduled to release this year and will be accompanied by 600 series boards that will also have LGA 1200.
Is 11900K better than 10900K?
Many users were uneasy about the 11900K's smaller core & thread count, and initial testing didn't show significant differences when compared to its Coffee Lake counterpart. Things crystallized a few months later with the arrival of BIOS updates that gave the newer CPU a much-needed boost.
As things stand now, the 11900K is about 10% more powerful than its predecessor, both for content creation and gaming.