6 Best Motherboards for Ryzen 9 5950X in 2023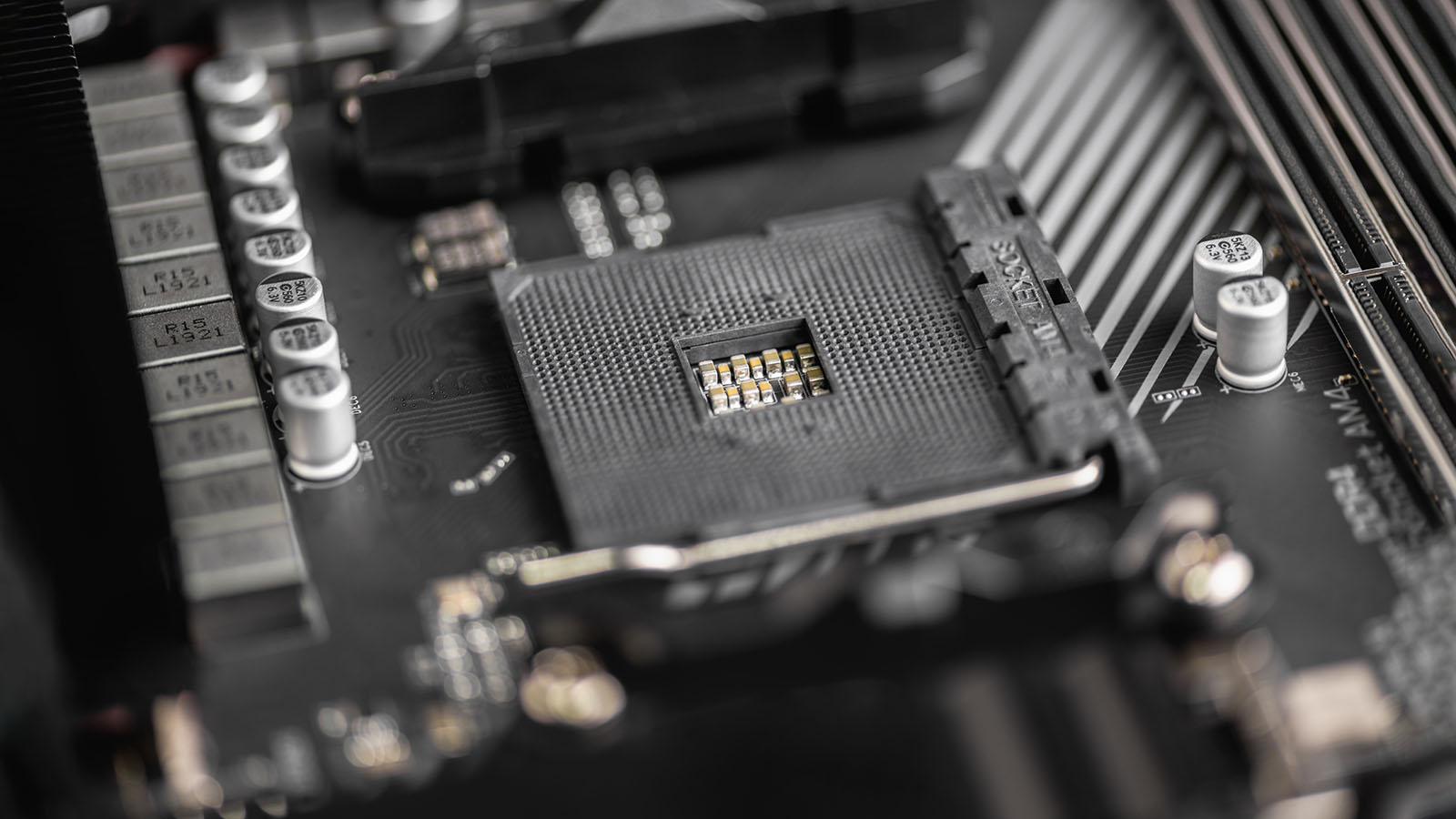 The 5950X is a monster of a CPU, tearing through heavy workloads and current games with equal ease while still letting you have several programs running in the background. Pick the best motherboard for Ryzen 9 5950X from our recommendations and see its power in action.
The 5950X was the world's foremost desktop processor for a whole year before being replaced by the 12900K. The latter is only slightly better anyway and caused AMD's flagship to become even more attractive by introducing competition and a welcome price drop.
Best High-End Motherboard for Ryzen 9 5950X: GIGABYTE X570 AORUS Xtreme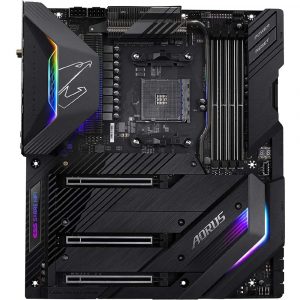 The 5950X pulls out all the stops, so why not pair it with an equally lofty motherboard? Gigabyte's most Xtreme model is a testament to AM4's capabilities, arriving with loads of storage, ridiculously over-engineered VRM, and more armor than your friendly neighborhood tank. The price is as mind-boggling as the board itself, but users who want the absolute best will get their money's worth.
Gigabyte isn't the only manufacturer with an awe-inspiring flagship. Let's not forget MSI's X570 Godlike and the ROG Crosshair VIII Extreme from ASUS.
AORUS boards are known for their imposing shielding, but the Xtreme is a titan among them even so. There's scarcely any area on its PCB that's not covered by one thick black brushed aluminum cover or another. This adds to the board's heft while allowing it to forgo a chipset fan. That's not as impressive nowadays with the advent of X570S boards, but it was a real achievement upon release.
We're in awe of the X570 AORUS Xtreme's VRM and the cooling that surrounds it. Sixteen single, non-teamed phases supply the 5950X with 70A of power each through two 8-pin EPS connectors. That's a solid basis not just for day-to-day operation but for attempting world record overclocks using liquid nitrogen! Two sets of dense fin arrays surround the VRM, providing exceptional cooling due to their many times larger surface area compared to conventional models.
Cooling is among the Xtreme's top priorities, evidenced by a second heatpipe that travels from the VRM heatsink down towards the chipset. The board also excels at cooling connectivity, offering a total of eight associated headers for everything from garden-variety case fans to custom water loops.
Few boards provide as many monitoring and diagnostic tools. There are several voltage read points, temperature sensors, a two-digit debugger, and easy access to power & reset to consider. More mundane connections include four RGB ones on top of the board's three RGB zones, several headers for the case I/O, and a thunderbolt connector.
Panels completely wall off the board's bottom half, leaving only room for three full-sized reinforced PCIe 4.0 slots. We'd have liked to see at least one x1 slot, but that's by no means deal-breaking. Removing some of the panels reveals them to be thick heatsinks for three PCIe 4.0 M.2 drives. Add six old-fashioned SATA ports, and you've got enough storage options even for demanding users.
We'll start the I/O breakdown with Xtreme's generation-leading audio. It has a 5+1 gold-plated stack supported by the Realtek ALC 1220-VB codec and an ESS SABRE9218 DAC, not to mention a host of Nichicon & WIMA capacitors. You get WiFi 6 and two Ethernet jacks, including a 10Gbps one from Aquanta. BIOS flashback and clear CMOS buttons are present, as are twelve USB ports. Four of them are USB 2.0. The rest occupy several generations of USB 3.2, culminating in a USB-C connection.
Best Mid-Range Motherboard for Ryzen 9 5950X: ASUS ROG X570 Crosshair VIII Hero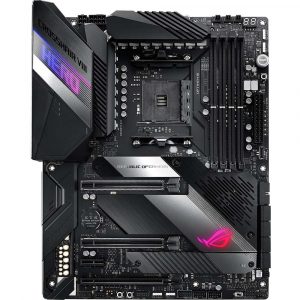 ASUS's Hero boards prove that you don't need to bleed your wallet dry to get the absolute most out of your high-end chip. It's considerably cheaper than the Xtreme yet matches its dedication to cooling, diverse storage, and effortless overclocking. It's the go-to board for the vast majority of 5950X users and our heartfelt recommendation.
Also on offer in this price range are the excellent X570 AORUS Master from Gigabyte and ASRock's X570 Taichi.
Stealthy and appropriate for any kind of build are words we'd use to describe the Hero's looks. It's a chunky board with domineering black brushed aluminum broken up by a single silver diagonal streak. Two RGB areas infuse the board with the colorful ROG eye near the chipset heatsink and HERO spelled out on the I/O shroud. You'll find four more headers in pairs of two to augment lighting further.
Even though it's cheaper, the ROG X570 Crosshair VIII Hero readily keeps up with the Xtreme VRM-wise. ASUS employs teaming for an eight-phase controller to be able to handle a 14+2 60A power stage configuration. This is overkill again, even for the 5950X. The heatsinks to the left of and above the VRM are conventional but massive, so cooling the phases isn't a problem.
Neither is keeping your entire system chilly, thanks to eight headers responsible for fans and water cooling loop components. Similarities with the Xtreme continue in regards to monitoring options. The Hero has several voltage read points, an advanced debugging tool, and temperature sensors of its own.
The bottom half of the PCB is more exposed than on Gigabyte's board. Still, there's a fair bit of armor plating protecting the chipset fan and two slots for two M.2 disks. Users who possess many SATA drives will surely find the eight associated ports useful. All three x16 slots are PCIe 4.0 ready, and the top two are protected from shearing as well as electromagnetic interference. Unlike the Xtreme, the Hero has a single PCIe 4.0 x1 expansion slot perfect for capture cards.
The I/O is packed, logical, and organized well. Good job, ASUS! You'll find no superfluous video-out here. However, you will encounter twelve USB ports, most of which transfer data at USB 3.2 speeds. This is another board with two Ethernet ports, albeit the second one's speed is set to 2.5Gbps. WiFi 6 is there, as is a full 5+1 audio stack with gold plating and support from ASUS's SupremeFX version of the ALC 1220 codec. Lastly, clear CMOS and BIOS flash buttons also make an appearance.
Best Budget Motherboard for Ryzen 9 5950X: MSI MAG X570S Tomahawk Max WiFi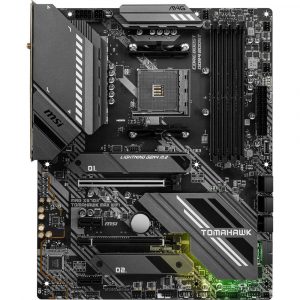 Our top two boards are fantastic, but both have been out since Zen2. Such was also the case with the excellent original X570 Tomahawk, which has now received a welcome facelift. The new version doesn't need a chipset fan anymore and comes with improved sound & networking capabilities. While you shouldn't trade your old Tomahawk in for this one, it's an excellent choice for first-time buyers.
Don't want to spend more than $200 on your motherboard? Then go for the TUF Gaming X570 Plus from ASUS.
Less expensive boards tend to be visually more interesting, and that's also the case here. Black is still the dominant color, but the MAG X570S Tomahawk Max WiFi supplements it with large gray heatsinks and lots of black and gray stenciled geometric motifs. You'll find its single light source emitting a glow from under the chipset heatsink and can add four more to it through headers.
VRM was among the original's best features, which is why MSI saw no need to change things up. You're still getting a solid 14+2 60A setup coupled with beefy heatsinks copied over from the higher-up Unify. Your 5950X will be sitting pretty and shouldn't cause thermal issues, especially if you put the mobo's six related headers to good use.
It's unfortunate that ditching the chipset fan came so late in the X570 lifecycle. Still, we're glad the Tomahawk's heatsink replaces it without issue. Heatsinks for two PCIe 4.0 M.2 drives are adjacent and support 110mm & 80mm models, respectively. Other PCIe-related connections include two fourth-gen x16 GPU slots with CrossFire and a small third-gen expansion slot.
Changes to the X570S version are most evident on the I/O. The HDMI port was updated to the latest 2.1 standard, while the audio jacks and optical S/PDIF out now take advantage of ALC 4080. Eight USB ports ranging from USB 2.0 to 10Gbps USB-C ought to do for most. Same goes for 2.5G LAN and the new WiFi 6E antenna on the networking front. A BIOS flash button and legacy PS/2 port complete the ensemble.
Best Ryzen 9 5950X Motherboard for Creatives: GIGABYTE X570S AERO G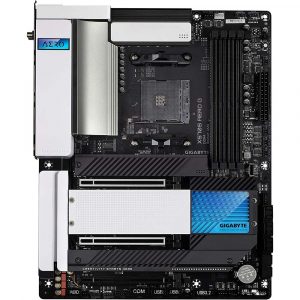 Gigabyte is the only manufacturer that offers desktop motherboards aimed explicitly at content creators, 3D artists, video editors, and other creatives. Its X570S AERO G is the pinnacle of AM4 for such users, providing lots of high-speed storage and several unique ports that will streamline your workflow. Add VRM that easily keeps up with an overclocked 5950X, and you've got a fully-realized motherboard worth investing in.
Creativity focus used to be reserved for the Vision line. Gigabyte is phasing it out and merging new content-oriented products with its Aero series. To that end, the Aero G has the line's signature logo and another blue patch on the chipset heatsink. Viewing the board from different angles causes their colors to change. A nice touch, given there's no RGB. Many of the heatsinks and pads are white or silver, which may or may not appeal to you.
People who use their PCs for creative endeavors need quick access to many files. The AERO G offers the perfect solution – support for four M.2 drives, all working at PCIe 4.0 transfer speeds. Of course, there's also SATA for more capacious yet cheaper legacy drives. Using up all four M.2 slots disables only two, leaving you with a respectable total of eight.
The AERO G's VRM rivals any in its price range. Its power stages are twinned, which translates into a 12+2 configuration that feeds 600A of power to the CPU via the required and secondary EPS connectors. While your 5950X may get a few degrees warmer than it would on the Hero or Xtreme, it will still operate without throttling even if overclocked.
There's much to examine on the internal header front. Three generations of USB for the case I/O, temperature sensors, an included microphone you can hook up, and a Thunderbolt header are just the start. You also get restart & CMOS clear functions on the PCB as well as eight cooling-related headers that include two hybrid ones.
This is the second board on the list with an intriguing I/O. Ten USB ports are a welcome sight, especially since one is the latest-generation 20Gbps USB-C. The other is a proprietary VisionLink port you can use as a video out and charging point on top of data transfer. There's HDMI and a DisplayPort video-in connection. The audio stack is fully realized and uses the same top-tier codec as the Xtreme. That leaves 2.5G Ethernet and non-E WiFi 6 to take care of networking.
Best Micro-ATX Motherboard for Ryzen 9 5950X: MSI MAG B550M Mortar WiFi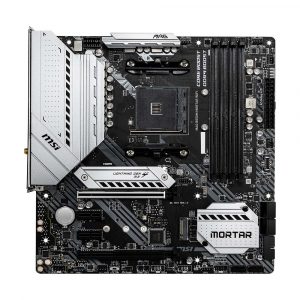 Micro-ATX is a format that lets you build inside smaller cases without sacrificing ATX-level commodities. Too bad the standard has been neglected for Zen3 as only B550 boards conform to it. The MAG B550M Mortar WiFi is the most accomplished among them, offering pretty much everything you'd get in a full-sized board at an OK price. You'll have to give up some luxuries, but the shift to mATX will be painless otherwise.
It's clear that the Tomahawk and Mortar come from the same family as they share much of their visual identity. You'll encounter gunmetal gray, white squares, and other staples of the color scheme on the smaller board in a busy layout. RGB is something you won't see natively but can implement yourself through headers.
The Mortar is adequate in terms of storage, as much as a B550 board can be. It has room for two M.2 drives. The top one gets its lane allotment from the CPU and works with PCIe 4.0 drives. You'll have to make do with PCIe 3.0 for the bottom one, which lacks a heatsink. The x16 GPU slots are also a generation apart and don't allow for SLI or CrossFire.
The board's VRM configuration provides further evidence of its tier. It uses 8+2+1 phases and two lopsided heatsinks, the main one being much larger than the one on top. Your 5950X will get adequate cooling and ample power. Still, we'd leave overclocking to boards with more developed solutions.
All the mobos mentioned so far can accommodate 128GB of RAM whose OC speeds approach or even exceed 5000MHz. The Mortar is slightly weaker as 4400MHz is the max you can hope for from a single stick. It's still more than enough to bring high-grade kits in sync with Memory Fabric. The slight surface area decrease did lead to fewer connections. Internal USB headers remain unaffected, but you only get three RGB and five cooling headers.
The I/O is the only bit of the Tomahawk we'd like MSI to rework for a potential AM5 release. It has a mere six USB ports while retaining relics like PS/2. DisplayPort and HDMI are there for CPUs with integrated graphics. The audio is solid since there's optical S/PDIF out. You can go online via 2.5G Ethernet or WiFi 6 and use the Flash BIOS button to bring it up to speed before inserting the CPU.
Best Mini-ITX Motherboard for Ryzen 9 5950X: GIGABYTE X570 I AORUS Pro Wi-Fi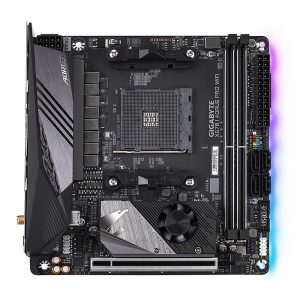 Want your high-end PC to take up even less space? Then an SFF case and a Mini-ITX board are in order. Manufacturers seem to be holding the format in higher esteem than mATX since several advanced mobos go well with the 5950X. Gigabyte's X570 AORUS Pro is the best of the lot. It packs a multitude of premium features into its tiny frame while retaining an attractive price.
Alternatives include the ASUS ROG Strix X570-I Gaming and ASRock X570 Phantom Gaming-ITX/TB3.
Gigabyte's diminutive mobo gives little up in terms of visual identity. You'll still encounter the telltale AORUS eagle and as much brushed aluminum armoring as the limited real estate permits. Not even RGB is off the table. Rather, it's on the right side of the PCB. Two more headers located next to the ATX power connector expand your options.
The X570 I AORUS Pro Wi-Fi strikes a good balance between size, sacrifice, and savings. You'll have to give two x16 slots up, not to mention two more for RAM for a limit of 64GB. On the other hand, the miniature board retains two slots for PCIe 4.0 M.2 drives! One shares the chipset fan's sizeable heatsink, while the other takes up residence on the board's back.
ASUS's board has the upper hand cooling-wise since it has three fan headers compared to the AORUS's two. You'll want to make sure the case you're using has good airflow. No such concerns are warranted when examining the VRM, though. Gigabyte came through with a genuine 8-phase solution with a single large heatsink on the left. Coupled with a decent CPU cooler, the assembly should keep a 5950X running at stock from throttling.
We hope Gigabyte considers an upgrade to the I/O for any future iterations. As it is now, the I/O is a mixed bag of superb and puzzling decisions. We love the thick integrated backplate. All six data transfer plugs are USB 3.2, two being 10Gbps A & C. You get WiFi 6 and 2.5G Ethernet too. As for the questionable decisions, insisting on three video-out ports seems like a waste. We're also not keen on using only three audio jacks, but at least they offer high-quality 7.1 sound thanks to ALC 1220.
Frequently Asked Questions
Is B550 enough for Ryzen 9 5950X?
While it makes more sense to pair the 5950X with an X570 board, there's no reason why you couldn't do the same with a quality B550 model instead. Emphasis on the word quality since B550 is less expensive and has weaker VRM by nature. That being said, the loss of PCIe 4.0 lanes, more meager I/O layouts, and possibly fewer storage options are all things you should consider.
There's also the matter of mATX. The best AM4 boards in the format run on the B550 chipset, so going with it is practically unavoidable in that case.
What gen is Ryzen 9 5950X?
This gets asked a lot due to AMD's confusing naming scheme. The 5950X is part of the fourth generation of desktop CPUs, starting with 2017's original Ryzen lineup. Its generation is also referred to as Zen3. The 4000-series used to be made up of mobile processors with integrated graphics chips, which may change with the introduction of further CPUs in the line.
How do I upgrade my motherboard without a CPU?
By using the board's BIOS flash feature. Sometimes a mobo will be sent out without the required firmware to support a newer processor generation. If that's your case, you'll want to visit the manufacturer's website and download the latest BIOS version onto a formatted FAT32 USB drive.
You then have to plug the drive into a USB port labeled for performing the flashback. There should be a button close to it you need to press and hold for a few seconds for the process to initialize. Your PC needs to be off but plugged in and with the PSU switched on for this to work.
There's usually a light net to the button that indicates the flash is underway. It will change or stop glowing after 10-15 minutes, meaning the process is complete. If the light stays the same, you might need to install one or several intermediate versions of the BIOS before upgrading to the latest one.