6 Best Motherboards for i5-12400F in 2023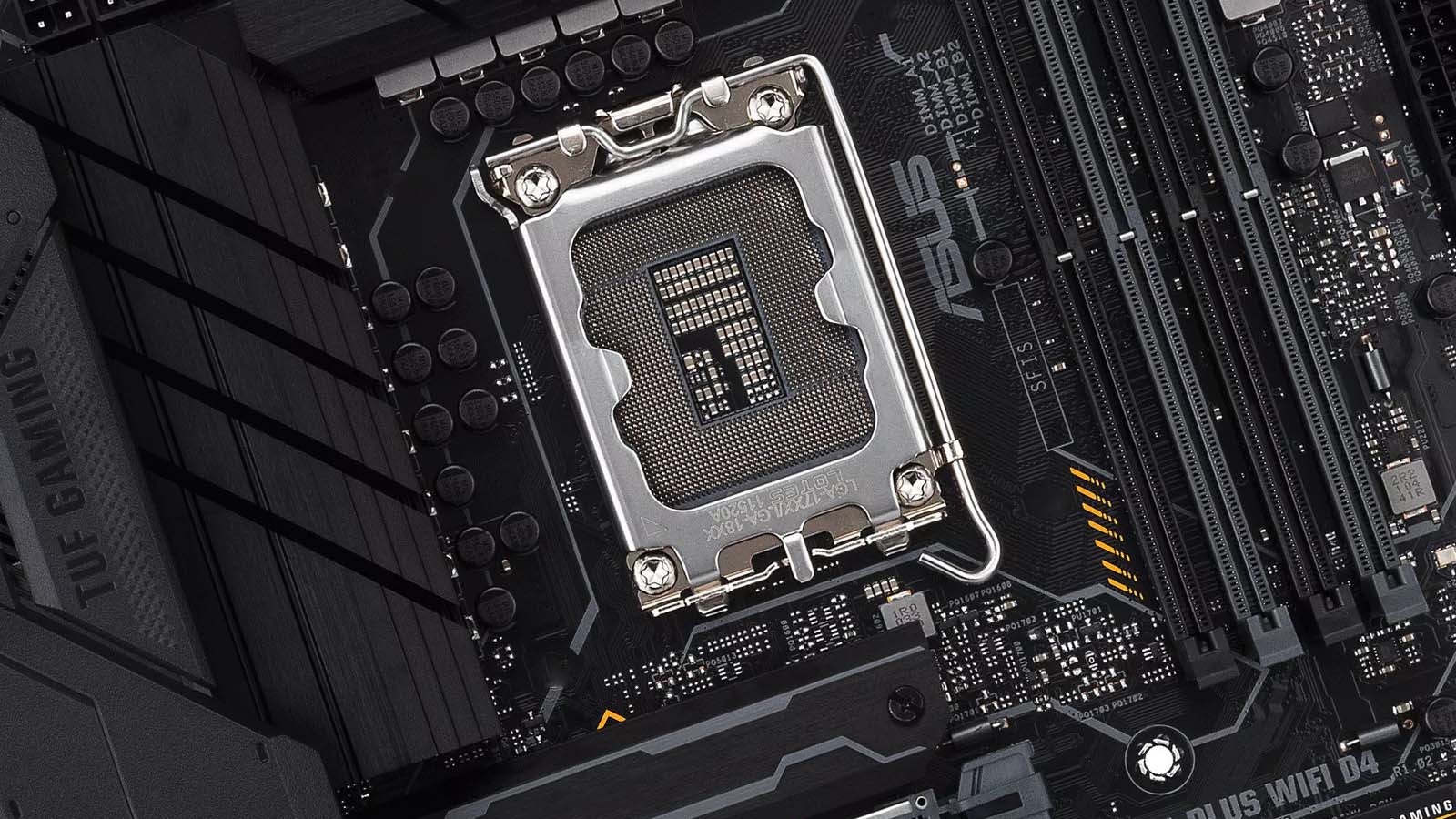 While the most expensive Alder Lake chips are pushing boundaries, let's not forget that the mid-range is disruptive too. Take the 12400F, a conventional yet highly-improved mainstream CPU that gives the 5600X a run for its money. It's more energy efficient, doesn't get as hot, and has better futureproofing thanks to the LGA 1700 platform. Let us help you pick one of the best motherboards for i5-12400F and start building an exceptional PC around this impressive chip.
Best High-End B660 Motherboard for i5-12400F: MSI MAG B660 Tomahawk WiFi DDR4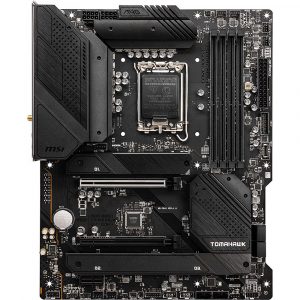 The Tomahawk is one of MSI's best-selling motherboards, and its B660 iteration is another feather in the company's cap. From ample connectivity and storage to solid VRM, it has everything a user not looking to overclock their CPU could hope for. That makes it one of the more expensive B660 options, but its sub-$200 price tag and reliance on DDR4 make the entry price reasonable.
The B660 AORUS Master is the closest thing to the Tomahawk. It boasts Gigabyte's customary armoring and pays much attention to cooling.
Stealthy yet sophisticated is an apt description of this all-black motherboard. A brushed texture and some vaguely military motifs are all that break up the dark PCB. There's no built-in RGB either, so you'll have to use some of the four related headers to light the board up. Not that many would want to since there are other, flashier variants that become more eye-catching with less effort.
While you can't overclock the 12400F, it doesn't mean its surroundings shouldn't remain cool. The Tomohawk's 14-phase VRM and two related heatsinks are more than up to the challenge. Its VRM is split into 12+2 phases, where the majority supply the Vcore with 720A drawn from two 8-pin EPS power connectors.
Four single-sided RAM slots beside the CPU accept 128GB and will easily run all four sticks at 4000+MHz. The expansion and M.2 slots are underneath. The top expansion slot is reinforced with metal that prevents the GPU from shearing. It runs at PCIe 4.0 x16 speeds, meaning that any current or next-gen GPU won't run into a bottleneck. The second full-length slot runs at PCIe 3×0 x4, with the smaller one left over for expansion cards.
Storage is split between thee high-speed M.2 slots and six SATA plugs. Each M.2 slot has a heatsink, the one above the GPU being the most prominent. Only the top slot takes 110mm drives, while the other two are limited to 80mm. One of them also works with SATA-based drives. Four SATA drives get their lanes from the chipset and support several RAID configurations. Two more work through an add-in chip.
The B660 Tomahawk WiFi comes with seven cooling-related headers. One is for the CPU fans, and one is for water pumps. The rest default to DC and are strewn around the PCB's edges, allowing you to connect various case fans. The board also has a 10GBps USB-C header and a 5Gbps USB-A header for the case I/O. It's possible to add Thunderbolt connectivity through an add-in card. An EZ debugger next to the 24-pin ATX connector provides basic boot-up troubleshooting.
The Tomahawk has one of the most elaborate I/Os in the B660 space. Its black backplate is finished with easy-to-read lettering and is mainly populated by USB ports. These are split into quartets of USB 2.0 and 5Gbps USB 3.2 Gen 1 connections. A 20GBps USB-C jack is also present, as are HDMI 2.1 & DisplayPort 1.4. You get networking through WiFi 6E or 2.5G Ethernet. Lastly, the audio stack features an optical SPDIF out and runs on the ALC1220P codec.
Best Mid-Range B660 Motherboard for i5-12400F: GIGABYTE B660 Gaming X AX DDR4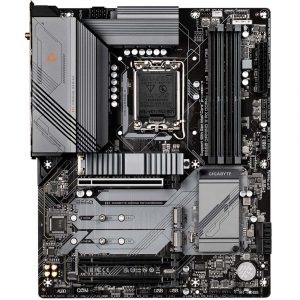 Want to save a bit more cash and don't mind giving up several more features? Then Gigabyte's mid-tier B660 Gaming X AX fits the bill perfectly. It maintains excellent connectivity thanks to WiFi 6E and 2.5G Ethernet but cuts corners when the VRM and sound are concerned. As you're going for one of the tamest CPUs of the generation, this should not be a hindrance.
Users familiar with Gigabyte's design will immediately recognize the two-toned black and gunmetal-gray PCB. They'll also note the absence of armoring since what's left is concentrated on the chipset heatsink and I/O shroud. Like the Tomahawk, the Gaming X AX doesn't have native RGB. Four headers are there to remedy that if you so wish.
Gigabyte reckoned that a motherboard at this price point didn't need elaborate VRM. That's why it has 8+1 phases and a single 8-pin power connector to supply the power. That's still plenty for a 12400F, especially since the thick-tiered heatsinks surrounding the VRM easily remove the little heat that gets generated.
You can connect four sticks of RAM but will need to pay attention to their frequency. The board can handle one at 4600MHz, meaning it should also manage four at 3600MHz. The top GPU slot is the same PCIe 4.0 x16 kind as seen on the Tomahawk. Strangely, the other two are full-length but only accept x1 cards at PCIe 3.0 standards.
There's also a reduction in storage capabilities, mostly down to B660's limitations. Gigabyte didn't expand the SATA offering, so four is all you get. The M.2 slots cover three more drives, and only the top one gets a heatsink. All three drives can be 110mm long, and only one is limited to PCIe 3.0 x4.
Despite the constraints, Gigabyte outfitted the board with a fair number of cooling headers. Along with CPU and water cooling, you get four system fans. One of them features a hybrid connection that works with either fans or water loop components.
The only USB-C on the board is present in the form of a 10Gbps internal header. One more header covers USB 3.2 Gen 1 for the case, while two more support a total of four USB 2.0 connections. Besides the four-LED debugger, Jumpers for clearing the CMOS and a Q-flash button are the only other noteworthy internals.
The I/O houses eight USB plugs. Four are USB 2.0, while the other pairs are different generations of USB 3.2. The AX version of this board comes with WiFi 6E antennas on top of 2.5G Ethernet. Two video-outs are there, as is an entirely analog audio stack. Gigabyte labels the supporting codec as Realtek HD audio, so we assume it's one of the cheaper variants.
Best Budget B660 Motherboard for i5-12400F: MSI PRO B660M-A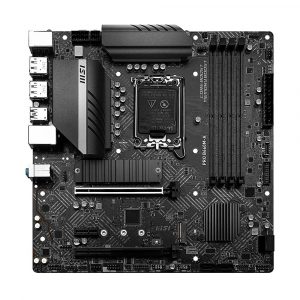 Our budget mobo pick is one of the generation's most well-kept secrets. One wouldn't think that MSI's entry-level mATX model would have as much to offer, but here we are. The PRO B660M-A has fantastic VRM for its size and offers a solid feature set, given the limitations. There are still cheaper B660 models out there, but none bring nearly as much value to the table.
If you can't find this board, go with the B660M Bazooka instead. They're basically identical, but the Bazooka is slightly more expensive due to the built-in I/O shroud.
The PRO B660M-A is a basic-looking yet stylish mATX motherboard with a black PCB decorated with clusters of small diagonal lines. It's much less elaborate than the Tomahawk and shares the larger board's lack of native RGB. The I/O shroud is absent, and you'll have to screw the cover in manually.
All of that falls to the wayside when you examine the PRO B660M-A's VRM. It consists of twelve phases, considerably more than the competition offers at this price point. The phases get power through the 8-pin and an optional 4-pin header that improves power stability. With a setup like this and its matching heatsinks, you could run a non-K version of the 12700 and still not experience temperatures past the mid-50s.
There's less storage than on regular-sized boards to balance things out. You still get two M.2 slots and four SATA plugs, though. Both high-speed slots take 80mm drives and will run them at PCIe 4.0 x4 speeds. Only the main GPU slot is full-length and tops out at PCIe 4.0 x16 speeds. The two other expansion slots are both PCIe 3.0 x1.
Internal USB connections are limited to 5Gbps USB-C and an equally fast USB-A header with support for two ports. The LED debugger is absent, so diagnosing startup issues will be more challenging. There are only two case fan headers on top of CPU and pump support, so you'll want to either invest in a breezy case or a fan hub. Four headers allow for regular and addressable RGB expansion.
The I/O is minimalistic and filled with peculiar choices. On the one hand, you only get three pairs of USB ports culminating in 10Gbps USB-A. On the other, there are four HDMI and DisplayPort connectors for multi-monitor lovers. That leaves the ancient PS/2 connector, 2.5G Ethernet, and three basic analog audio jacks. The board uses the ALC897 codec – not current, but not bad if you're not an audiophile.
Best Micro-ATX B660 Motherboard for i5-12400F: ASUS TUF Gaming B660M-PLUS WiFi D4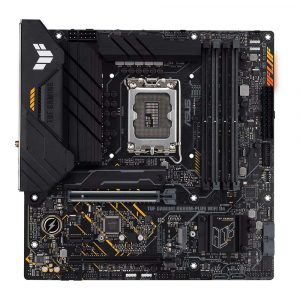 While we've already examined an mATX board as our budget pick, it doesn't show the format's full extent. For that, we turn to the TUF Gaming B660M-PLUS WiFi D4 from ASUS. It's around $30 more expensive but justifies the increase with a much better I/O, better build quality, and a healthier spread of internal connections.
ASUS put together a compact and attractive board that's firmly connected to its TUF roots. It's primarily black with a smattering of distinctly TUF yellow lines on the PCB and a white logo on the prominent I/O shroud. This is the first motherboard on the list with some built-in RGB on a diffuse strip located in the upper right. Three more addressable and an AURA RGB header serve as the basis for a potential light show.
This is another motherboard whose size did not impede VRM stability. Its phases are laid out in an 11+1 configuration and feed 50A each to the CPU & SOC from the 4- and 8-pin EPS power connectors. Each of the two VRM segments is covered by a thick heatsink sporting diagonal cutouts that improve their surface area.
The TUF board is one of only a handful of B660 models that take advantage of the theoretical PCIe 5.0 maximum. The top GPU slot complies with the standard, ensuring that you can get a current graphics card 5+ years from now and not worry about compatibility. The other full-length slot runs at PCIe 3.0 x4, while the smallest one uses PCIe 4.0 x1.
A smaller footprint means less room for storage, so you're limited to only two M.2 drives. Only the top one gets a cover, while both benefit from a latch locking system that makes small screws obsolete. Additional storage comes in the form of four SATA ports on the side. These can use several RAID configurations and don't suffer penalties if you use both speedier drives.
ASUS didn't have trouble making room for a total of six cooling headers. Three of them pertain to chassis fans. The front I/O is covered through USB 3.2 Gen 1 Type-A and Type-C ports. You could also install a Thunderbolt card if you wanted to. Unlike MSI's mATX board, this one comes with a Q-LED debugger.
The I/O is miles ahead, sporting a beautiful preinstalled panel and a more logical port selection. You only get one set of video-outs, and the audio stack is fully realized. It still uses the ALC897 codec, though. WiFi 6 and 2.5G Ethernet connect you to the world. The USB selection is modern, with 20Gbps USB-C taking the lead. Only two of the seven remaining connections are USB 2.0, while four reach 10Gbps speeds.
Best Mini-ITX B660 Motherboard for i5-12400F: Asus ROG Strix B660-I Gaming WIFI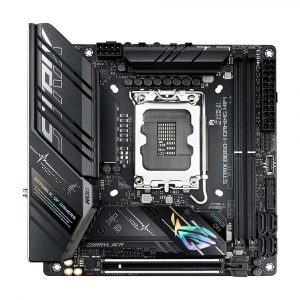 The smaller the format, the more expensive these boards seem to get. That's certainly the case for our mITX recommendation and its close to $200 price tag. Still, the board's solid VRM, premium audio, and excellent futureproofing guarantee that your investment will bear fruit.
Our mITX alternative is actually a Z690 board, Gigabyte's Z690I AORUS Ultra LITE. It's substantially cheaper since the x16 slot is only PCIe 3.0. Go with it if you have a 3000 / 6000-series GPU you don't plan to upgrade soon.
ASUS knows how to present an attractive motherboard, even when said mobo fits into the palm of one's hand. It has a structurally stable black 8-layer PCB barely visible due to the large heatsinks on the left and top. The little you see has several gaming-related decorations, a ROG eye, and large STRIX lettering on the I/O shroud. RGB didn't fit, but two headers stand ready to fix this.
There's no denying that the Strix B660-I Gaming WIFI's substantial size reduction took its toll on the VRM. Even so, you get 8+1 teamed 60A phases and chunky heatsinks that handle their heat output. This wouldn't be enough for an i7 or i9 CPU, but the 12400F gets only a couple of degrees hotter than usual.
Storage was the least compromised since you can cram as many dries onto this board as on our two mATX recommendations. It did require some creative repositioning, so the second M.2 slot is now in the back. You can also use only 80mm variants and up to four SATA drives.
Unsurprisingly a single x16 reinforced slot is all you get. It's PCIe 5.0 to compensate and is likely to stay relevant for the next decade. ASUS also gave the board two DDR5 RAM slots with a maximum overclocking potential of 6200MHz. Most users won't need more than 64GB anyway, so the compromise seems fitting.
The lack of cooling-related headers is the only aspect that deserves serious criticism. We've seen similar ASUS boards with two or even three fan headers, so the fact that this model only has ones for the CPU and a water pump should give you pause. Other headers include optical SPDIF out, 10Gbps USB-C, and 5Gbps USB-A. Luckily, the four diagnostic LEDs didn't get cut.
The I/O is relatively simple but stacked well for an mITX board. Interestingly, it has two USB-C connections, one of which is part of the audio stack. Three more second and third-generation plugs bring the count up to an impressive eight. The rest is a standard fare of WiFi6, 2.5G Ethernet, DisplayPort 1.4, and HDMI 2.1. The audio stack deserves a special mention as it's backed by several golden capacitors and uses the acclaimed ALC1220 codec.
Best H610 Motherboard for i5-12400F: ASUS Prime H610M-A D4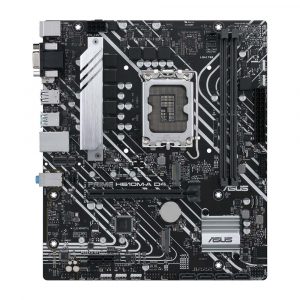 Our final recommendation will appeal to users looking to save money over everything else. For that, they'll have to descend towards Alder Lake's entry-level platform – H610. It's stripped down compared to B660, so make sure you aren't going to miss stuff like overclocking RAM or PCIe 4.0 compatibility for your NVMe drives.
The Prime H610M-A D4 is a barebones mATX board with a black PCB made more interesting by white meandering lines. It's much more exposed compared to more expensive models, with only a thin VRM heatsink and chipset cover amidst otherwise exposed components. Conversely, you'll find no shortage of opportunities to bling the board up since it has no less than five RGB headers.
Even though it can technically work with an i9-12900K, we wouldn't pair this board with a CPU that draws more than 65W. The VRM adopts a 7+1 phase setup with 25A MOSFETs on the low side and twice as powerful ones on the high side. That's a substandard configuration for more demanding processors but should still work fine for the 12400F.
Lack of RAM overclocking is another of H610's limitations. RAM speed is limited to 3200MHz, so get the best timings possible. Being stuck with 64GB is less concerning but still noteworthy. On the other hand, the GPU slot is a solid PCIe 4.0 x16, meaning you could technically run a high-end current-gen GPU on the board, not that you'd want to.
Storage is a bit stunted as both M.2 sockets max out at PCIe 3.0. The second drive can only reach x2 speeds, so take stock of whether yours are better. There's also room for four SATA drives, which won't cause any conflicts or throttling.
Copious RGB aside, there aren't that many internal headers at your disposal. One CPU and two chassis fan headers handle cooling, while one more header powers two USB 3.2 Gen 1 ports on the case. Any kind of debugging is absent, and the board uses the old ALC897 codec for audio.
Speaking of old, the naked I/O is full of legacy connections. You get two PS/2 ports for your keyboard & mouse and can even connect an ancient monitor using D-Sub. A Gigabit LAN jack handles online connectivity, and it's also possible to activate WiFi if you purchase a separate card. The audio stack is of the basic mic, speaker, and line-in kind. The six USB ports are split into a pair of USB 3.2 Gen 2 and a quartet of USB 2.0 connections.
Frequently Asked Questions
Which motherboard is compatible with 12400F? Are H610 motherboards good for it?
There are currently four chipsets with the LGA 1700 socket. All of them are compatible with the entire range of Alder Lake processors, which includes the 12400F. As this processor isn't overclockable, it doesn't make sense to pair it with an expensive Z690 motherboard. H670 boards aren't too cheap either and are hard to come by, so they're mostly out too.
That leaves B660 and H610. The former offers the best ratio of price and features without imposing severe restrictions. H610 is a good choice if you're looking to save the most money and plan on purchasing entry-level components to complete your PC build.
What socket is the i5-12400F?
Like all other Alder Lake CPUs, the 12400F is an LGA 1700 chip. It's part of the first generation that adopted this standard. Other than performance improvements across the board, LGA 1700 brings support for the PCIe 5.0 standard and DDR5 memory. The generation that comes after it, Raptor Lake, will also be compatible with the socket and presumably most of Intel's current motherboard offerings.
It's still hard to tell at this point. The start has been rocky, but that was true for DDR3 and DDR4 as well. High prices and few noticeable gains mean there's little sense investing in DDR5 for now, especially with mid-range processors like the 12400F. That being said, it's reasonable to expect that DDR5 will replicate DDR4's generational leap as it matures.