6 Best 360mm AIO CPU Coolers in 2023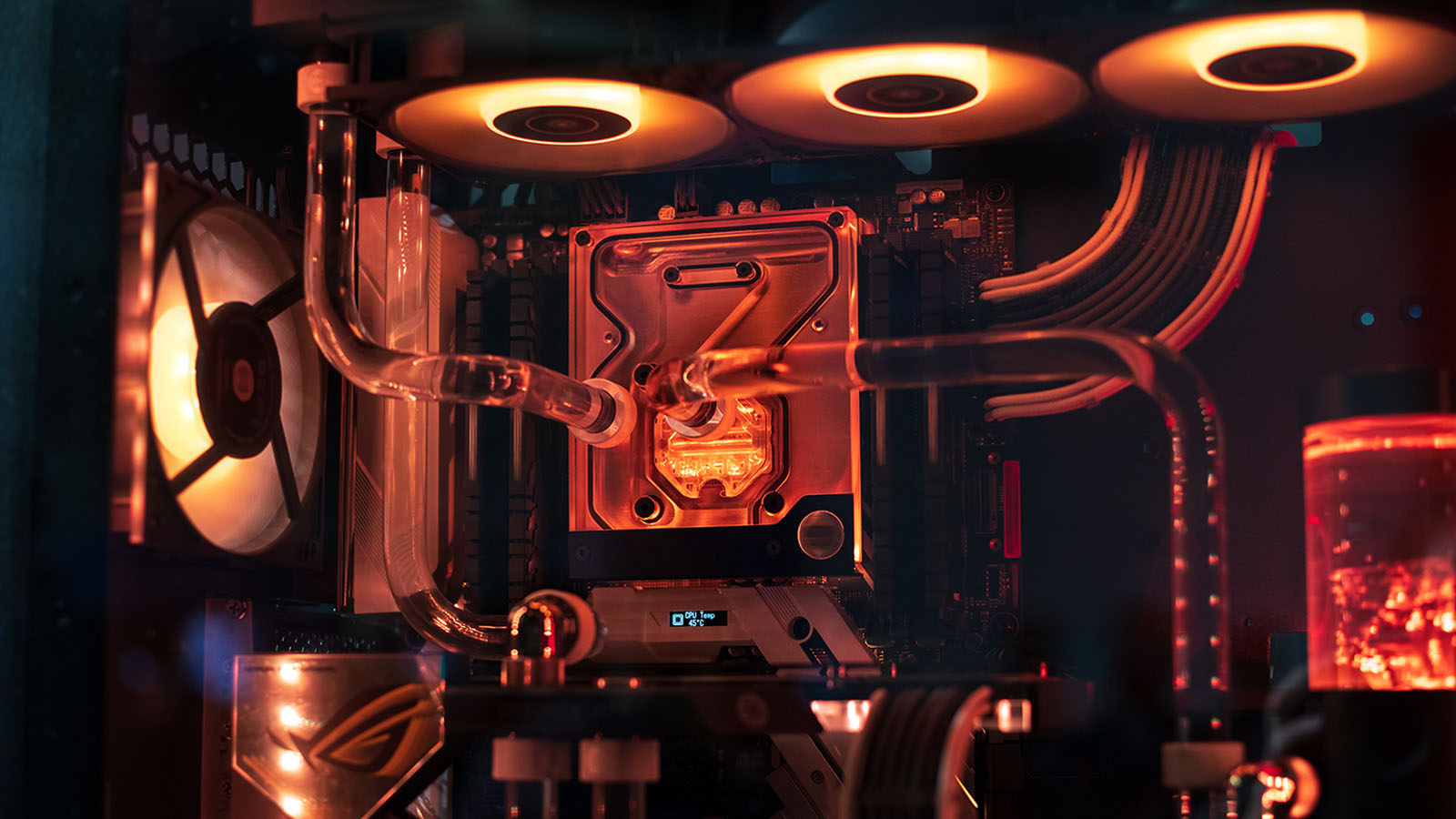 While no longer the largest, 360mm AIOs remain one of PC enthusiasts' most popular ready-made cooling choices. They're only a step down from custom water cooling setups yet much more accessible. They're more capable than even the most acclaimed air coolers and don't come with the associated clearance issues, provided your case is big enough to house one.
AIO production standards are high, so it can be challenging to pick the suitable model among many that perform similarly. That's where this guide on the best 360mm AIO CPU coolers comes in! We've done the research for you and have come up with six excellent choices and several alternatives that cover every aspect from aesthetics and noise generation to price. Get acquainted with our picks and never have your overclocked CPU throttle again.
Best High-end 360mm AIO Cooler: EK AIO Elite 360 D-RGB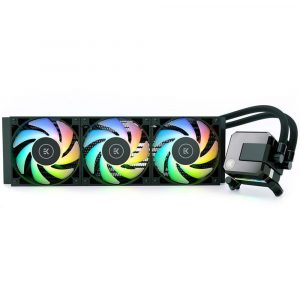 The vast majority of AIOs are equipped with a single set of fans that push air through the radiator. EK takes their design to the extreme by adding three more quality fans to pull air out of the case, significantly decreasing temperatures. You'll have to pay a pretty penny and find enough room to enjoy its benefits, but the results speak for themselves.
Don't have enough room for six fans in your rig? Then you might want to check out NZXT's Kraken X73.
The attention to detail and material quality is evident whichever part of the Elite 360 D-RGB you examine. Its head unit is clad in polished nickel, and the pump inside is a custom model. The braided cables end in swivel fittings that help during installation. The power and ARGB cable powering the logo in the middle are located on the opposite side, further decreasing clutter.
The radiator is thick and dense, with a fin per inch count of 22. That's nothing six EK-Vardar S fans can't handle. They spin between 550 and 2,200 RPM, providing 66 CFM of air apiece. Each has cables for the ARGBs and PWM control, which you can conveniently plug into an included hub. It makes controlling individual fans and their lighting more manageable. You can sync the lights with your other components through the motherboard.
While not challenging, the AIO's installation can take a while. The head unit is easy to mount as it has a bracket you can swap out in seconds. Thermal paste is already applied. Screwing the six fans in is time-consuming, and you'll want to find room for the hub in the back to hide all the cables. We suggest you measure your case before purchasing this AIO to ensure there's enough room to account for two sets of fans.
All of this is worth it once you fire the cooler up and get to witness it in action. Techpowerup's battery of brutal tests demonstrates that its performance keeps improving relative to the competition the heavier the CPU load. This is the AIO to get if you're interested in seriously overclocking top-tier chips. High noise levels are a drawback as the fans approach their top speed, but this isn't unexpected given their range and number.
Best Mid-range 360mm AIO Cooler: Lian Li Galahad 360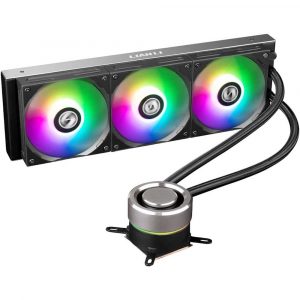 Computer tech companies rarely get a product right on their first try, but Lian Li's foray into the world of liquid cooling is a welcome exception. The 360mm version of the Galahad is an attractive and powerful AIO you can get at a great price if you know where to look. It's among the quietest models on the list if you set the fan curve up correctly and comes with well-implemented RGB.
While not as colorful as the Capellix version, Corsair's iCUE H150i RGB Pro XT is a worthy mid-range alternative.
Everything about the Galahad 360 feels like part of a premium product, starting with the radiator you can get in either black or white. It's made from thick aluminum and feels heavier than most since its sides have panels that simplify mounting and enhance the aesthetics. Density is a hallmark of the fin array as well since its concentration is 22 fins per inch. Three of Lian Li's 120mm fans generate enough static pressure and a max CFM of 60 to effortlessly deal with the resulting airflow requirements.
The head unit is simple and attractive. It's a tall cylinder with a textured aluminum lid you can leave bare or add a cap to if you want to emphasize your system's lighting. ARGB & power cables exit from one side, along with swivel fittings for the flexible hoses. The cold plate shows signs of quality machining and will adhere to your CPU nicely.
Mounting the Galahad is no trouble, doubly so for AMD users who won't need to replace their motherboard's existing backplate & screws. Connecting all the cables is a bigger hassle because there are so many of them. Luckily, you get several three-way splitters for better organization. An RGB controller is included too. It has several basic operations like brightness, color, and effect shifting. Use it if you don't want to bother with light syncing through the motherboard.
The cooler's performance is exceptional. Tests conducted on a Ryzen 5 3600X place it at or near the top of the charts both when idling and under load. It has the potential to work soundlessly depending on how much you stress the CPU. Reaching the fans' max 1,900 RPM produces much worse results. A degree or two more are an acceptable tradeoff for considerably quieter operation, though.
Best Budget 360mm AIO Cooler: Enermax Liqmax III 360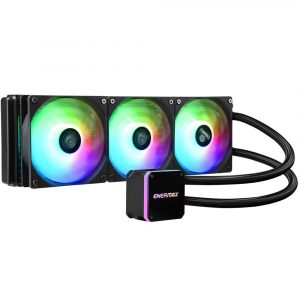 Can you get decent cooling from a 360mm AIO that frequently costs less than $100? Sure, if you get one from Enermax! Their largest Liqmax III model brings no-nonsense cooling at a rock-bottom price. It even has addressable RGB to spice up your case. Add straightforward installation & tolerable noise levels, and you've got the recipe for the best value liquid cooler in its class.
Enermax had to save money somewhere, and it looks like they chose the design department. The Liqmax III 360 isn't ugly when the lights are off, but it's built with function over form in mind. Case in point, the square-shaped head unit. RGBs surround the otherwise nondescript block and break up the monotony, while the underside has a thick copper plate waiting for you to apply the paste.
The radiator ends with smooth edges and has a standard thickness of 27mm. Its fin density is 20 per inch – another expected result. The tubing connecting it to the pump has a sleeve and is 400mm long, so fitting the AIO towards the case's front won't complicate things. Three white-bladed fans contrast with the black radiator nicely, even with no RGB lighting. They rotate between 500 and 1.600 RPM, achieving a max CFM of 71.
The packaging contains everything you need to install the AIO on all modern platforms, except for Threadripper. Its head unit is barely wider than the processor it hugs, so your tall memory kit is in no danger of conflicting with it. The finished cooler looks great, especially the uniform lighting on its fans.
Nothing about the Liqmax seems extraordinary until you set it up and start running tests. Techpowerup did so with an Intel system with an i7-8700K at its core. The AIO handled itself exceptionally well, performing better in relation to competitors the more the processor was stressed. It's a bit loud at minimum RPM but quickly falls in line with similar coolers once the CPU starts to sweat.
Best Silent 360mm AIO Cooler: Arctic Liquid Freezer II 360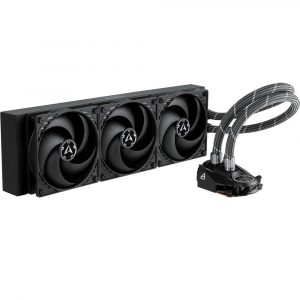 Arctic's second attempt at creating a comprehensive IO is a smashing success whichever size you need. The 360mm is distinguished by being barely audible under load while performing exceptionally well. Lack of RGB means you can get it at a lower price. Couple that with Arctic's user-friendly approach to installation, and you've got possibly the most accomplished AIO of the generation.
Most manufacturers rely on licensed pump patents from Asetek or Coolit, but Arctic decided to design its head unit from the ground up. It's centered on a 40mm fan, a welcome addition that blows air into its surroundings. Depending on which part of your build needs more air, you can reorient the cooler in four ways. While audible, the small fan won't overpower the rest of the AIO.
The secret to the Liquid Freezer II 360's stealth lies in its radiator and fan combo. The radiator's design is different because it combines a thicker 38mm frame with a lower fin density. That lets the fans operate at lower RPM without losing effectiveness. These happen to be three acclaimed P12 units, each with 200-1,800 RPM, high static pressure, and the potential to move 97 CFM of air away from your PC.
The Liquid Freezer II 360 got off to a rocky start with AMD users. The mounting hardware it first came with made the installation more complicated than it needed to be. This has since been remedied, and the process is now equally easy on both platforms. In fact, it's among the most straightforward out there as the fans are already mounted on the radiator. You have to plug one PWM cable into your motherboard to power and control the entire assembly, which is sure to cut down on install time and cable clutter.
One look at a graph that pits the Freezer against several other competitive liquid & air coolers demonstrates why its place on our list is deserved. It produces less noise at every step of the way. The thermal results you get from it are even more impressive. Temperatures are lower than the rest when idling and only get better as the fans ramp up. Since the noise is minimal, you can safely overclock your CPU while enjoying lower working temps.
Best RGB 360mm AIO Cooler: Corsair iCUE H150i Elite Capellix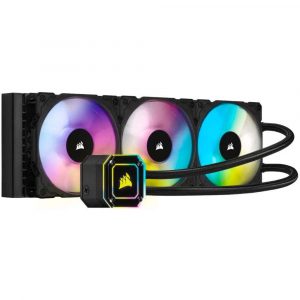 Want a stunning liquid cooler that doesn't compromise on efficiency? Then Corsair's latest 360mm AIO has your name on it. Complete with RGB LEDs developed in-house, it's as eye-catching as it is competent. At the same time, you're getting several tweaking & management options in the form of a free Commander Core and iCUE.
We're also fans of the Thermaltake Floe and its colorful addressable RGBs.
Numerous design details make it evident that lighting is a top priority for the H150i. You'll see it most clearly when examining the pump head. It's taller than previous models, which it needs to be to make room for the 33 Capellix LEDs that adorn the top. You also get an interchangeable cap that increases the area that's bathed in light. Production quality is top-notch, with excellent machining on the cold plate and robust 90-degree swivel fittings.
The RGB goodness continues with three ML 120 fans. They'll spin as fast as 2.400 RPM and not wear out due to magnetic bearings, but you can also turn them off entirely if the CPU's current temperature is low enough. Each fan has two cables that might have created quite the jumble if not for the Commander Core, a hub for all your Corsair fans. It can power & light up twelve of them along with the pump through a SATA connection and control everything with iCUE once you connect it to a USB header.
iCUE is among the more intuitive and comprehensive AIO companion programs. There's a lot to experiment with in the lighting section since you may tweak each fan and pump light individually. More importantly, the fan settings section lets you choose among several presets or define your own curves on a per-fan basis.
TweakTown's testing gives an excellent overview of what you can expect from the H150i's various fan presets. The "extreme" setting turns it into one of the most competent AIOs on the list and can easily cool the 3600X test CPU. It makes the AIO sound like a jet engine, but that goes with the territory. Conversely, the "quiet" preset lives up to its name and delivers noiseless operation with a moderate performance hit. You'll want to stick with "balanced" to get the best of both worlds, but it's great that the choice is so easy to make or reverse.
Best Refillable 360mm AIO Cooler: be quiet! Pure Loop 360mm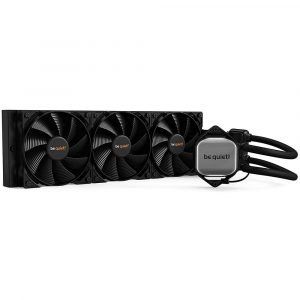 A small amount of coolant evaporates with long-term use, even in closed AIO systems. This can impact efficiency, and most manufacturers don't give users any means to address the issue. Be quiet! saw an opportunity in this and designed the Pure Loop 360mm in a way that encourages you to pay more attention and top it off when needed. The AIO is also sleek, attractively priced, and competitive.
The refill cap is located on the radiator, which is blocky and standard otherwise. You get 100ml of pre-mixed coolant you can top the AIO up with every 1-2 years. There's enough for multiple uses, and refills don't void the warranty. The radiator is home to three silent Pure Wings 2 fans with a max RPM of 1,500.
Rather than being housed in the head unit, the pump is separate and located towards the radiator. This allows for the head unit to be smaller and take up less room on cramped motherboards. The head unit is also the most beautiful part of the AIO, with its metallic top and a rim of tasteful white LEDs. The copper plate underneath is even and needs thermal paste before installation.
Like several AIOs we've discussed, the Pure Loop uses the stock AMD backplate and comes with comprehensive Intel mounting hardware. There are only three cables to connect, so neither RAM clearance nor cable management is problematic.
Testing on an i9-9900K confirms that you can couple the cooler with the most demanding desktop CPUs and not run into thermal issues. Some competitors perform better, but the margins are slim. It's not the quietest model either, which is surprising given the manufacturer's reputation. Even so, the AIO's results are balanced and by no means mediocre.
Frequently Asked Questions
Which 360mm AIO is the best?
The best-known manufacturers have a lot to lose by delivering inferior products, so the current AIO landscape is competitive. All of our featured and alternate recommendations will have a significant positive impact on your processor's thermals over air coolers. What you consider best will depend on which aspects of AIO cooling you value most. EK's model can achieve the lowest temperatures, while the one from Enermax does slightly worse than models at almost twice its asking price. If you aren't sure, go with the Liquid Freezer II 360 since it's user-friendly, reasonably priced, and a great performer.
Unless you're putting together a budget build around an i3 or Ryzen 3 processor, a 360mm radiator won't be overkill. Yes, most processors will let you get away with a 240mm radiator. Still, there are advantages to going big, even if you don't plan on overclocking an i9. AIOs with larger radiators can maintain the same target temperature as smaller ones at lower fan RPM. This can bring the noise down considerably and help with the fans' longevity.
You should also consider other components in the system. Powerful GPUs with immense power draws and an open construction release a lot of heat into their surroundings. Having a 360mm cooler will help drain some of it away and improve your system's overall stability.
Do bigger radiators cool better? Are thick radiators worth it?
The answer to both questions is yes – in theory. The larger or thicker a radiator is, the more surface area it has. This lets the coolant inside spread out more, causing a greater part of it to come into direct contact with the radiator. Aluminum is a great heat conductor and can exhaust more of it into the surroundings the bigger it is.
However, the fans the AIO comes with also play a crucial role. Depending on where you mounted them, they either blow the accumulated heat out of the PC or direct fresh air towards the radiator. Both setups help cool the radiator; what matters more is the fans' ability to transfer it and maintain pressure.