6 Best White CPU Coolers in 2022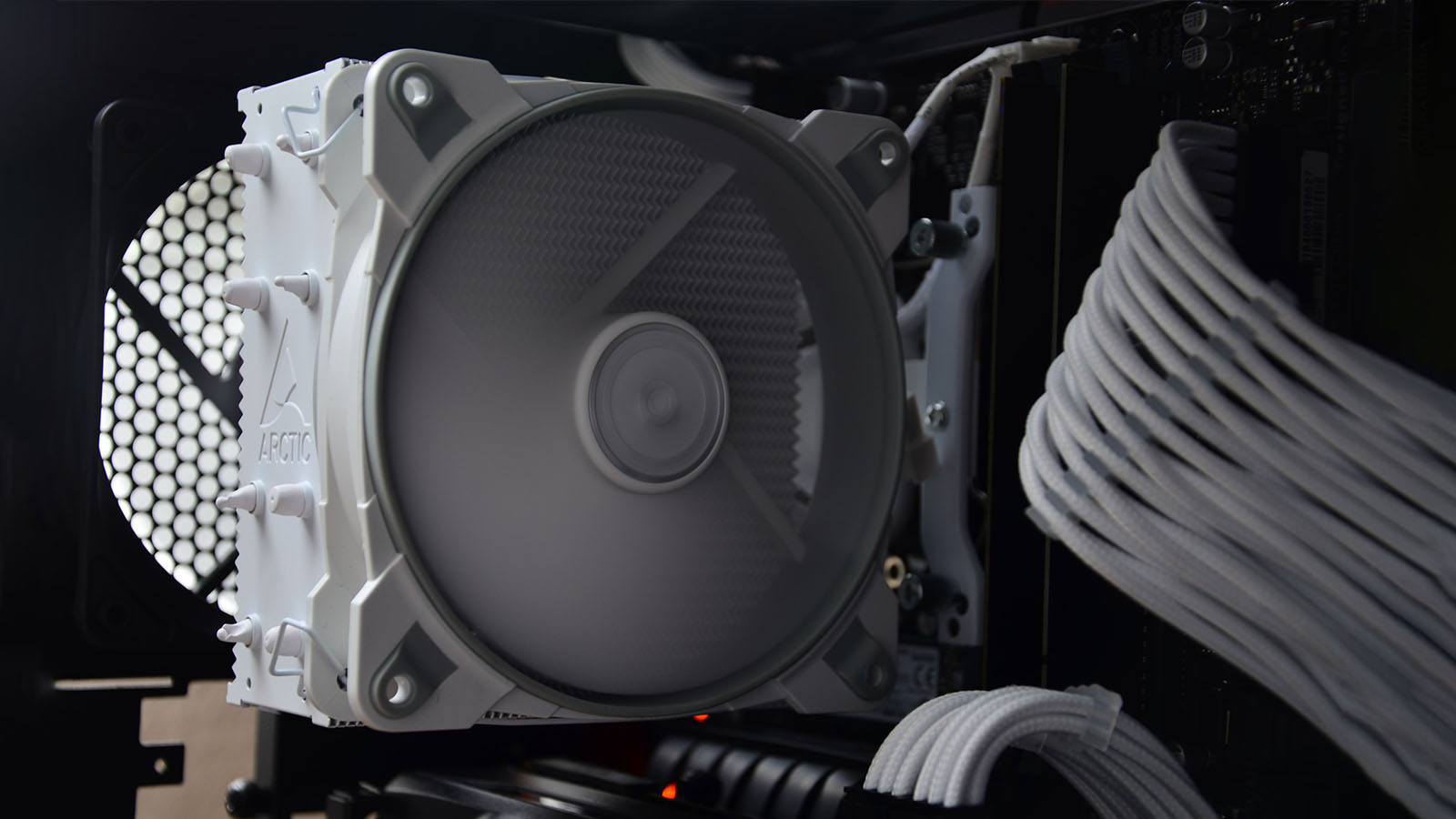 PC enthusiasts never had as much stylistic freedom as today when putting together their computers. The days of beige everything are long gone, and all-black is giving way to a host of expressive alternatives as well. White is one of them, allowing you to show your components off with or without the help of RGB lighting. CPU coolers are a cornerstone of how a PC functions and looks, so here are the best white CPU coolers you can get today.
Best High-end White AIO - Corsair iCUE H150i Elite Capellix (LGA 1700 Bracket Info)
Elegance meets fantastic heat reduction in the white version of Corsair's most advanced AIO to date. The 360mm unit sports breathtaking lighting and has several performance modes suitable for different situations. It also comes with the best lighting configuration software around. The entry price is high, but the investment really is worth it since the competition doesn't come close.
Not extravagant enough for you? How about the white edition of NZXT's Kraken Z73? Not only does it look great, but the pump head has an integrated LED screen that can display pictures or helpful info.
Corsair went all-in on the white aesthetic for the H150i, giving a fresh coat of paint to the radiator fins and even the tubing. The regular version's head unit comes with a black top. Here you get the transparent one by default, so more of the dazzling Capellix light can shine through. The head unit terminates in a rounded square copper base plate with pre-applied thermal paste.
The radiator and fans are sturdy and made from quality materials. Counting the fins puts the radiator at a standard 20 FPI. Three white ML 120 fans intrigue with their ability to rotate from zero to 2,400RPM. The 4.2 mmH2O of pressure they can exert is even more impressive, ensuring the air keeps flowing even inside cramped cases.
RGB is one of the H150i Elite Capellix's main selling points. It's all in the name, as Capellix points to Corsair's newest proprietary LEDs. They have a high degree of energy and space efficiency, which allows for more of them on each product. Additionally, these LEDs are brighter than usual. Corsair includes the Commander Core, an interface hub that links the fans to the motherboard and iCUE. It supports the power and lighting for three other fans, allowing you to further invest in the Corsair ecosystem.
iCUE is the most comprehensive and well-designed lighting program around. The amount of options and subtle tweaks at your disposal is overwhelming. More importantly, a tab in the software allows you to configure the H150i's cooling profile. You can switch between four of them by default. This can be either the quietest or the best-performing AIO you've had to date, or you can opt for balance to get good results for both metrics.
Best Mid-range White AIO – Lian Li Galahad 240 (LGA 1700 Bracket Info)
Lian Li makes some of the best high-end white PC cases, so it isn't surprising that their first AIO cooler also has a white version. What is surprising is how a company with no prior experience in the cooling space managed to design such a successful AIO on the first try. It's very effective at lowering temps on even the most stubborn CPUs while coming in at a reasonable price. The lighting is nowhere near as involved as Corsair's, but it looks nice too.
Speaking of lighting, check out the Cooler Master MasterLiquid ML240 Illusion White Edition if you want a more RGB- focused 240mm AIO at a comparable price.
Clean and presentable are the first adjectives that come to mind when looking at the Galahad's aesthetics. For example, the pump looks functional and straightforward with its cylindrical shape, but it also hides several clever design elements. Like a mesh that causes the RGB within to glow with a cool pattern or the cap you can rotate freely so that the Lian Li logo is always upright. The cables needed to power the pump and lighting are on the same side as the tubing's swivel fittings, contributing to the AIO's orderly appearance.
The radiator is plain-looking but hefty and capped with aluminum. It, too, has a Lian Li logo and is slightly thicker than usual at 28mm while maintaining a 20 FPI density. A long string of numbers and letters serves as the fans' name, hiding the fact that they're capable models with an RPM range of 800 to 1,800 and a maximum air volume throughput of 65.5 CFM.
Unlike Corsair's AIO, the Galahad 240 doesn't have dedicated lighting software. That means you'll have to sync it with other components through your motherboard. All major mobo brands are supported, so this shouldn't be problematic. Neither should the installation, as the cooler comes with thorough instructions and all necessary bits. It's easier to mount the radiators in front due to 400mm of tubing. The rotating cap ensures the pump looks stylish while maintaining a relaxed connection to the radiator.
Cooling efficiency on the Galahad is excellent. Expect to be able to overclock all but the hottest Alder Lake CPUs and get impressive results even when stress testing. If there's anything to complain about, it's the noise generated while maintaining these results.
Best Budget White AIO - Cooler Master MasterLiquid ML240L V2 RGB (LGA 1700 Bracket Info)
The ML240L's original version promised to put liquid cooling into the hands of many due to its low price. However, it was prone to leaking and didn't cool as well as comparatively-priced alternatives. Cooler Master didn't throw the towel in, though. They took a serious look at the flawed design and came up with an upgrade that took care of the issues and is now easy to recommend.
The white edition of the ML240L V2 RGB brightens up everything except the pump head's bottom part, which remains black. A thin Cooler Master logo resides on top and is more challenging to see than on the black version. Most important here are the new braided pipes and swivel fittings that allow the wires to rotate while successfully preventing leakage.
The pump's inner workings have been revamped. It now has a new impeller system and can transfer a larger coolant volume more efficiently while generating less noise. The radiator hasn't undergone many changes. The fans that attach to it have, as they're now the newest seven-bladed SickleFlow model. Their specs rival the Galahad's, with 650-1,800 RPM and 62 CFM of air throughput.
While not an afterthought, RGB isn't as developed as on more expensive AIOs. You get a physical lighting controller with several practical presets like color and effects changes. The RGB isn't addressable, so you're limited to a single color from all LEDs. Luckily, the lights themselves are vibrant and help highlight the inside of your case.
The AIO performs in accordance with its affordable price tag. The folks at Kitguru used it to tame the hotheaded Intel Core i9-9900K with decent results. Pairing the cooler with a less thermally demanding CPU will yield even better ones. The loudness is acceptable at max fan speed, but you might hear a whine that makes it stand out from other fan noises.
Best White Air Cooler - Arctic Freezer 34 eSports Duo (LGA 1700 Bracket Info)
Arctic's dual-fan model has been topping affordable air cooler charts since it came out, and we're glad there's also a white version we can wholeheartedly recommend. The snowy coat of paint comes with a bit of a premium, but the cooler's performance makes that an easy pill to swallow. It's silent, efficient, and able to tackle almost any desktop processor on the market today.
Want an even cheaper and slimmer cooler that's as pristine as the Duo? Then go for the regular Arctic Freezer 34 eSports instead.
Some manufacturers would be content just to slap some white accents onto their existing models and call it done. Still, the Duo's paint job does the company name justice. Everything from the aluminum fins to the fans' plastic and rubber enclosure is blindingly white. Only the exposed parts of the four heat pipes that come into contact with your CPU omit color for obvious reasons.
All that sparkle makes it harder to identify the subtle design specifics that push the Freezer 34 eSports Duo past similarly-priced competitors. For instance, the fin stack sides close to the fans' back employ a sawtooth pattern. The space between fins is also closed off on the sides, so the air becomes increasingly turbulent as it enters and is forced to travel through the fins in one way. This concentrated blast directs heat away from the cooler.
The fans aren't pushovers either. Arctic used two white BioniX P12 fans with fluid dynamic bearings. They're surrounded by vibration-absorbing rubber pads and quiet on their own, to begin with. A look at the spec sheet reveals that the fans have a wide RPM range, 200 – 2,100, and a respectable CFM of 67.5. Moreover, the static pressure they generate can reach 2.75mmH2O, allowing you to place the cooler inside a crowded case and still experience excellent results.
Speaking of results, the Duo behaves well under pressure. It's understandably not the best air cooler in the world. Still, the drop in temperatures is noticeable when compared to stock. This is also one of the quietest competent air coolers out there. Doing strenuous tasks or gaming will likely cause your GPU's fan to overshadow the Duo's even if the latter needs to run at max RPM.
Best Mid-Range White Air Cooler - Thermalright Peerless Assassin 120 (LGA 1700 Bracket Info)
There aren't that many white fan-based CPU coolers unless you're willing to dive into the bargain bin. Thermalright tried their hand at one, and out came the Peerless Assassin 120. It's a competent model that rivals more expensive dual-fan alternatives while bringing its all-white aesthetic as a unique selling point. It's easy to install, doesn't have clearance issues, and won't even cost you $50.
Thermalright covered the cooler in white completely, ensuring it would be hard to find one in a patch of snow. Even the six copper heatpipes have a coat of white paint on them. Understandably, the base remains clear. It's nickel-plated, though, and evenly polished to a high sheen.
The fin stack consists of two arrays of 53 fins each. Some of the bottom-most ones are curtailed to fit RAM on either side. There's plenty of overhead, so clearance won't cause issues unless you have exceedingly tall memory. Several cuts noticeably improve the fins' surface area and help generate turbulence as the air enters and exits the stack.
Two clips each hold a pair of TL-C12 fans in place. These 120mm models have nine plain-looking blades with a max RPM of 1,550 and 66CFM. There's no difference in performance between the regular and RGB versions, so you don't need to give up on style if you're chasing performance. You will want to have a reasonably unobstructed case due to their static pressure of just 1.5mmH2O, though.
Installing the Peerless Assassin 120 is as straightforward as with any other contemporary air cooler. You get Intel and AMD brackets as well as a syringe with quality thermal paste you need to apply to the CPU beforehand. The base attaches to the bracket via two screws you can reach through the gap in the middle where the central fan goes. You don't get a screwdriver for this, but a special one isn't needed anyway.
No major computer hardware sites have covered this cooler at the time of writing. However, users are satisfied, citing improved thermals over stock coolers from both CPU manufacturers. Some find issue with the noise, which exceeds 40dB when the fans are running at max speed.
Best Low-Profile White Cooler – Thermalright AXP90-X47 (LGA 1700 Bracket Info)
White looks awesome on SFF cases, and manufacturers like Inwin, Cooler Master, and Silverstone are happy to oblige. What about white CPU coolers, though? Thermalright is our go-to choice once more, partly because there are no other low-profile models of the same color worth mentioning. Even so, the cooler puts up a good fight and is sure to work better in cramped conditions than any stock alternative.
Size is crucial in a cooler like this, and the AXP90-X47 strikes an excellent balance between being compact and performing well. It stands 47 mm tall once you mount the fan, which is shorter than some RAM and shouldn't interfere even with the smallest cases. The abundance of white is the same as on the Peerless Assassin, although you can't augment it with RGB.
Severely reducing a cooler's height like this results in tiny fins that sit directly on top of the CPU. There are 54 in total, and their design is much more straightforward than on the full-size model. Two fewer copper heatpipes are present as well. The base is nickel-plated again, only this time it's more rectangular and tied directly to four mounting screws.
Only one fan fits on the AXP90-X47, the TL-9015. It's smaller than regular fans at 92mm and has to spin faster to compensate. The blades ramp up to 2,700RPM, enough to move 42.5CFM away from the CPU. Considering how little volume SFF cases occupy, its efficiency should be better than the comparatively low value indicates.
Installation should proceed smoothly since the AXP90-X47 has a universal backplate as well as a complement of screws & washers needed to secure everything.
Frequently Asked Questions
What is the best white CPU air cooler?
White components are a niche market not many manufacturers invest in. As such, the Freezer 34 eSports Duo is the best right now. That would swiftly change if Noctua, Deepcool, or be Quiet! decided to create white versions of their most powerful coolers.
Does it matter what CPU cooler I get?
Generally yes, but the complete answer to this question is dependent on several factors, your CPU being the main one. Lower-tier processors like the i3-12100F or some older Ryzen models generate minuscule amounts of heat. They come with stock coolers that perform well enough, so you don't need to invest additional money in an upgrade.
Most other CPUs will benefit from an aftermarket cooling solution, whether to decrease temperatures or noise. Air coolers are sufficient for each desktop processor except the new i9-12900K and perhaps the i7-12700K as well. You'll need liquid cooling to keep them in peak form. Generally speaking, investing in a more expensive cooler leads to better temperatures overall. That puts less physical stress on the CPU while also enabling overclocking at safe thermal levels.
What liquid is used in CPU coolers?
Distilled water is the basis for all liquid CPU cooling, with added ingredients depending on the manufacturer. Most will add some glycol to combat corrosion. Sometimes you'll also encounter cooling liquids with biocides that kill off algae that can form if you've been using the coolant for a long while. Dyes are another trend that makes custom water cooling loops more presentable. These aren't usually present in AIOs.