6 Best Motherboards for i9-10850K in 2023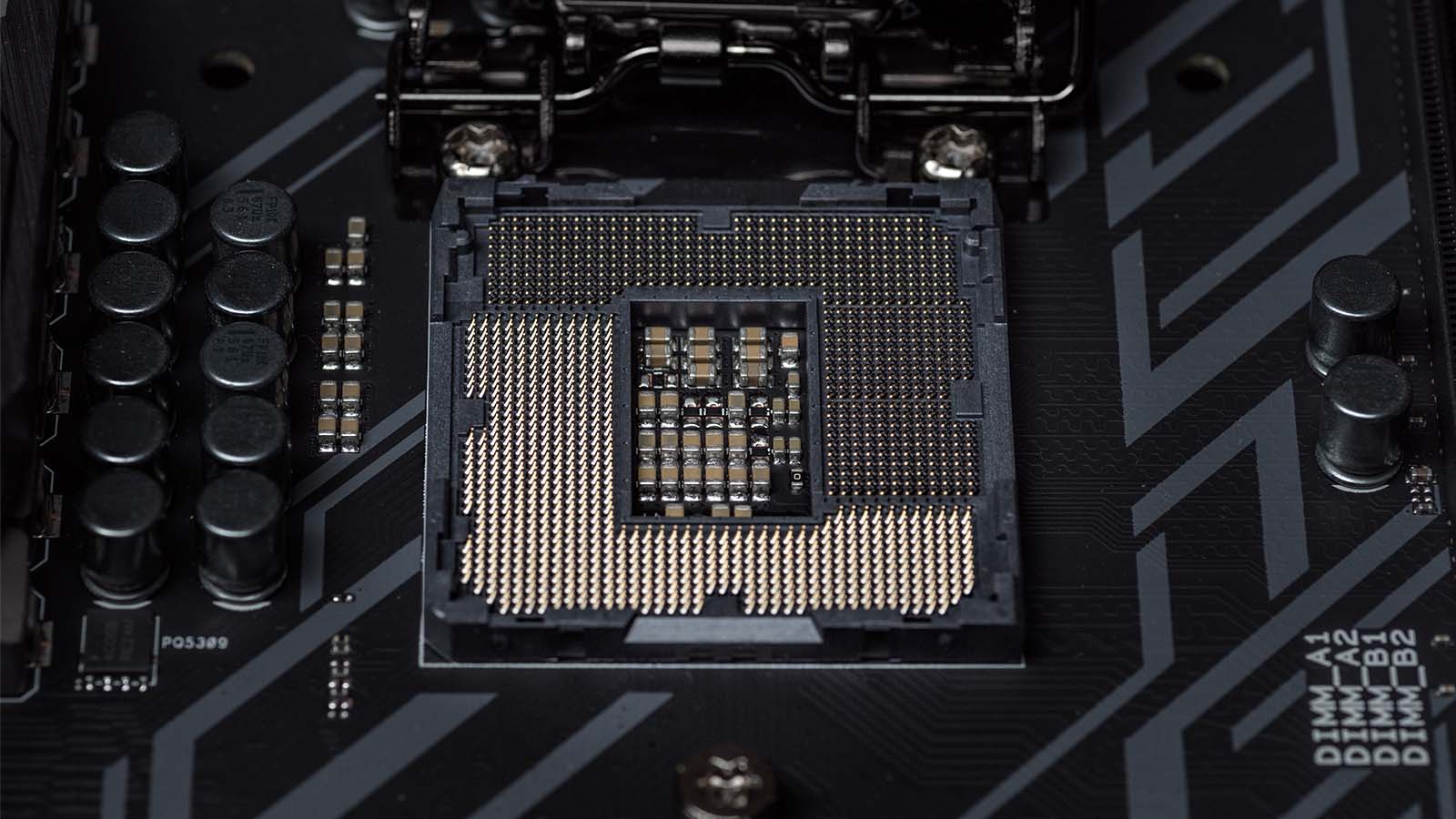 The Core i9-10850K is Intel's best-kept secret. In essence, it's a 10900K with a tiny 100MHz clock downgrade you won't feel while gaming or performing work-related tasks. The processor is miles better than the lackluster i9-11900K and, more importantly, much cheaper than the 10900K since not many people are aware of its existence.
Being so close in specs to Intel's top chip means you've got similar power consumption and heat generation problems to contend with and need a mobo that's up to the challenge. We're here to help with an overview of the best motherboards for i9-10850K on the market. We've narrowed them down to our top picks for various size and price categories to make choosing the right one easier. See what they offer and make one of them the foundation for your high-powered gaming rig.
Best High-end ATX Motherboard for i9-10850K: ASUS ROG MAXIMUS XII HERO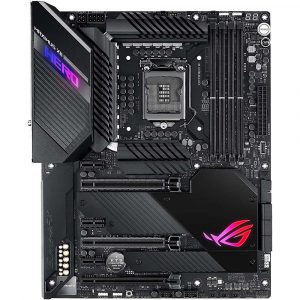 ASUS is the first name many enthusiast builders think of when choosing their motherboard. With good reason, since the MAXIMUS HERO line has been a mainstay when it comes to premium features and durability at high but not unreasonable prices. The twelfth iteration brings excellent thermal management, an abundance of varied connections, and everything you need for a futureproof build with the 10850K at its heart.
The board's visuals aren't that exciting since they boil down to a matte black base with lots of diagonal lines. The integrated RGB helps only somewhat since it's dimmer than most. However. The board commands attention with its large heatsinks and shrouds that hide the unsightly bits and give it a tough, armored look.
Drive space won't be an issue since the ROG MAXIMUS XII HERO accommodates six SATA disks and three M.2 drives. The latter have thick thermal pads that prevent them from getting too hot. Note that you'll have to remove the chipset heatsink to get to their slots and should do so before installing a GPU since you'll need to remove the card otherwise.
Your 10850K can spread its wings since the board offers plenty of power coupled with excellent thermal management. It has a twinned VRM configured in 14+2 phases. These supply the chip with 840A of current not even the 10850K will use fully. Spreading the VRM over such a large area makes for better cooling, as does the massive heatsink. It's made from three linked slabs with cutouts for more area coverage, keeping temperatures at more than acceptable levels.
You might also want to OC the memory, which you can theoretically boost to 4.8GHz. That works for just one stick, though – it's more realistic to expect values approaching 4GHz if you use up all four slots.
There's no shortage of internal connections either. You can hook up four RGB strips and beef the cooling up through eight fan headers, two of which work with water pumps. You'll enjoy high-speed file transfer, too, if you have a case with USB-C ports or make use of the Thunderbolt header.
External connections on the integrated I/O are every bit as enticing. There's a regular Gigabit internet jack along with a 5Gbps one from Aquanta and a Wi-Fi module. Ten USB ports are split between four USB 3.2 Gen 1 & 2 and two USB 2.0. One of the Gen 2 connections is USB-C. HDMI, five gold-plated jacks, and an optical S/PDIF out take care of video and audio. BIOS flash and clear CMOS buttons complete the selection and speed up BIOS updates or memory OC troubleshooting.
Best Mid-range ATX Motherboard for i9-10850K: ASUS ROG STRIX Z590-E Gaming WiFi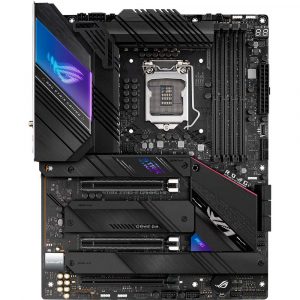 Not ready to drop the cash for the HERO but want something as compelling? ASUS makes a more accessible model with a perfect balance between features and price. It has excellent cooling & power management, offers lots of storage & connection options, and looks cool to boot.
We've chosen the newer version since you can get it at a better price than the Z590 variant. If ASUS doesn't suit you, you may also want to look into the GIGABYTE Z490 AORUS PRO AX.
The board's premium build is evident from its subdued black color scheme and abundance of subtle yet intricate details on the PCB & heatsinks. The I/O shroud has an iridescent strip that glows with an inviting purple and violet and is also home to the RGB STRIX logo. You get two more RGB areas on the chipset and M.2 heatsinks and can add your own through a standard and three addressable headers.
Pushing the 10850K to 5GHz+ speeds won't melt your PC since the ROG STRIX Z590-E Gaming WiFi has a robust VRM solution consisting of 14+2 twinned 70A phases. These are more efficient than the doubled variant as there's less lag and heat generation between them. The phases are covered by two heavy aluminum heatsinks connected through a heatpipe. An additional fan can blow cool air directly on the VRM, but you likely won't need it.
Comet Lake's limitations won't let you take full advantage of the board's storage capabilities since one of the four M.2 slots works only with PCIe 4.0 compliant chips. That still leaves you with three M.2 drives, all with heatsinks. There are six SATA connections on top of that, one of which gets disabled if you use a SATA SSD in the last M.2 slot. There are enough internal headers for four USB 2.0 and two USB 3.2 ports, plus a Thunderbolt 4 and a USB 3.2 Gen 2×2 connection.
Three full-sized PCIe slots accommodate GPUs either in SLI or Crossfire. The top two are armored and resistant to electromagnetic discharge. The board supports 128GB of RAM, albeit at slightly slower clock speeds when paired with the 10850K. Seven fan and one pump header ensure you have all the necessary prerequisites for an excellent cooling setup.
That leaves the I/O, which is generous and varied. Clear CMOS & BIOS flashback buttons will help with updates and overclocking tests. DisplayPort and HDMI offer integrated graphics connections, while the gold-plated audio stack runs on the newest Realtek ALC4080 codec. You have access to 6E Wi-Fi as well as two 2.5 Gbps Ethernet jacks. Finally, there are 10 USB ports to choose from, including a single 20 Gbps USB-C, three USB 3.2 Gen 2, and four USB 3.2 Gen 1 inputs.
Best Budget ATX Motherboard for i9-10850K: MSI MPG Z490 Gaming Carbon WiFi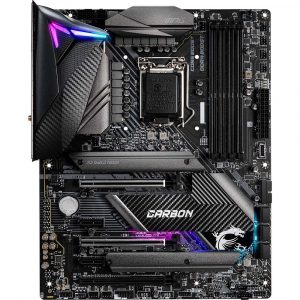 The Carbon line of MSI's mobos is renowned for blending style with excellent performance at approachable prices. That holds true for the Z490 version as it will provide a stable home for your 10850K while offering enough amenities for demanding buyers.
This segment is ripe with competition. We're fans of similarly priced Gigabyte boards, so take a look at the GIGABYTE Z490 AORUS Elite AC for general use or the Vision G if you're more interested in content creation.
Props to MSI for putting together a board with a prominent carbon fiber theme that remains on the right side of tasteful. It's accented by gunmetal gray heatsinks & chokes, while RGB on the I/O shroud and under the chipset heatsink adds a welcome splash of color.
You might want to avoid going for record-breaking overclocking attempts on this board, but its VRM is more than adequate for the 10850K at stock settings and beyond. The phases are twinned and laid out in a 6+1+1 configuration, each supplying the processor with 60A of clean current. The heatsinks have large horizontal fins that increase their area and efficiency.
You can connect two M.2 SSDs to the MPG Z490 Gaming Carbon WiFi and not worry about overheating since each gets a Frozr heatsink. These eliminate heat efficiently even if you use the primary input directly above the first PCIe x16 slot. Six more SATA drives can be connected into various RAID configurations.
The board has a healthy selection of internal headers. Four handle different kinds of additional RGB lighting, while eight are there for improved air- or water-based cooling. Owners of newer cases get to use a USB 3.2 Gen 2 10 Gbps port, and everyone else also has access to a USB 3.2 Gen 1 connector that supports two ports.
The I/O is home to a wide selection of USB connections, ranging from one USB 3.2 Gen 2×2 USB-C and four USB 3.2 Gen 1 to two USB 2.0 ports. The audio solution features optical S/PDIF out. You can hook your monitor up to the integrated graphics chip through DP or HDMI. You may go online either through 6E Wi-Fi or use the 2.5 Gbps LAN. Lovers of old peripherals will appreciate the inclusion of PS/2.
Best i9-10850K Motherboard for Overclocking: GIGABYTE Z590 AORUS Master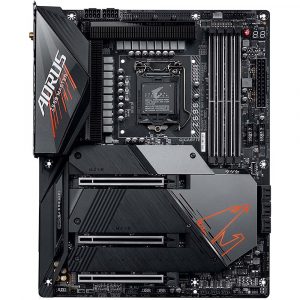 Even though it has slightly lower clock speeds than the 10900K, the 10850K remains a hot and power-hungry CPU. Want to unlock its full potential while your system remains comfortably cool? Then there's no better board than the Z590 AORUS Master, short of paying $200 more for a ridiculously expensive water-cooled option.
Gigabyte is another company that adopted the modern dark aesthetic. The design skillfully combines areas of smooth dark gray with brushed black aluminum, creating a pleasant contrast. You'll find RGB on the AORUS eagle covering the chipset heatsink and under the writing on the I/O shroud. There's also the option of adding four more strips through headers if the original lighting isn't flashy enough for you.
The Z490 version was already a formidable overclocker, but its successor knocks it out of the park. On the one hand, you get an increase from 15 to 19 phases, 18 of which deliver a staggering 1620A to the CPU. On the other, the heatsink has a finned design that increases its surface area by three times. Combined with a backplate that efficiently radiates heat, these ensure the 10850K will work flawlessly and as cool as you can make it with the nine fan headers the board provides.
Attention to thermals continues with the three M.2 slots and their double-sided heatsinks. You'll only be able to use the bottom two since the 10850K lacks the necessary lanes for the top PCIe 4.0 one. Six more SATA ports are at your disposal. The board lacks PCIe x1 connections but makes up for this by including a Thunderbolt header.
You'll find armor on two of the three PCIe x16 and all DIMM slots. The board allows for Crossfire and seamless memory overclocking through the BIOS. If you encounter trouble, you may consult its two-digit error code LED and use the clear CMOS or BIOS flash buttons on the back I/O.
The selection of rear connections is comprehensive, especially if you need a lot of USB ports. There are ten in total, none of which are older than USB 3.2 Gen 1. An advanced 10 Gbps Ethernet connection is another highlight, courtesy of Aquanta. DisplayPort, two Wi-Fi antenna slots, and a quality 5+1 audio stack are present as well.
Best Micro-ATX Motherboard for i9-10850K: ASUS ROG Strix Z490-G Gaming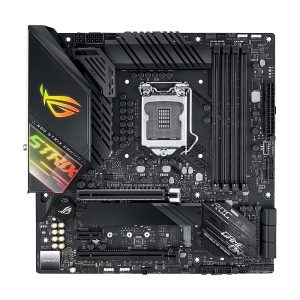 Micro-ATX has become an underrepresented format, so it's heartening to see ASUS making a viable motherboard for it. You get a compact yet robust board with a decent port selection, few size compromises, and a solid foundation for keeping your 10850K happy.
Don't want to spend as much? Then check the GIGABYTE Z490M Gaming X out too.
A smaller profile doesn't diminish the motherboard's appeal. It's another black board with an eye for the diagonal, this time with a single RGB source and room for two more. The VRM heatsinks have large cutouts that make them part of the aesthetic, but they're just as effective at drawing heat away from the 12+2 VRM phases feeding clean current to the processor.
Choosing the Z490-G Gaming over bigger boards has little impact since all you're losing is a third PCIe x16 slot. There's room for two M.2 and six SATA disks. A PCIe x1 slot is there for expansion cards. You could even run two AMD GPUs in CrossFire. A full DIMM complement lets you use 128GB of RAM and overclock it well past 3GHz.
You may augment the board's cooling and looks by using the five fan or four RGB headers, respectively. Headers are also present for USB 2.0 and both generations of USB 3.2.
The connections on the I/O are basic but functional. You get HDMI & DP 1.4 as well as a 5+1 audio stack featuring gold plating and the high-end Realtek S1220A codec. A 2.5 Gbps Ethernet jack is there, as are connection points for a Wi-Fi 6E antenna. There are eight USB ports, including one USB-C. Four USB 3.2 Gen 1, one USB 3.2 Gen 2, and two USB 2.0 inputs make up the rest. Lastly, there's a BIOS flashback button.
Best Mini-ITX Motherboard for i9-10850K: GIGABYTE Z490I AORUS Ultra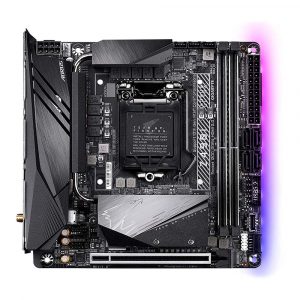 A processor as powerful as the 10850K inside an SFF build? Why not, if you pair it with a tiny yet robust motherboard from Gigabyte. Its power delivery and heat management are excellent for the size. You aren't giving up on much compared to standard mobos, and you get a well-stocked I/O to boot.
It's also worth taking a look at the board's Z590 version. It's cheaper and has two more VRM phases, so go with it if you're into overclocking. However, using the newer board with the 10850k means you're getting only one M.2 slot, which may be a deal-breaker.
The Z490I AORUS Ultra has a black PCB and hides most of its components under black & gray shrouds. This gives it a clean and sturdy appearance while hiding the inevitable business of such a small board's layout. A strip on the right is its only source of color, but you can employ two headers to brighten it up more.
Everything about the board is engineered to radiate heat away from it. You've got the thick VRM heatsink, on the one hand, connected to the chipset heatsink with a heatpipe to lighten the thermal load. On the other, the mobo has plating in the back that reinforces it while pulling heat away from the MOSFETs from the underside. There's no doubling going on in the VRM – you get eight 90A phases for the Vcore and a 50A one for the SOC. That's enough for 720A and a well-supplied 10850K.
You lose out on two PCIe x16 and DIMM slots due to size constraints. There's still room for two M.2 drives since one is mounted on the backplate. There are only four SATA ports, but connecting SATA drives through M.2 doesn't disable them. Two memory slots mean you can connect a maximum of 64GB of RAM and overclock it a bit if the case is big enough and you make use of all four fan headers.
Despite being cramped, the I/O offers a reasonable selection of ports. You'll only notice a difference if you're an audiophile since the audio stack is reduced to three 3.5mm jacks. Eight USB connections take center stage. Two of them are USB 3.2 Gen 2 A&C, while four are USB 3.2 Gen 1. Wi-Fi 6 antennas and Gigabit Ethernet link you to the world, while DP & HDMI make sure you can troubleshoot your GPU. A BIOS Q-flash button rounds out the I/O.
Frequently Asked Questions
What motherboard is compatible with the i9-10850K?
The 10850K is a Comet Lake CPU that fits the LGA 1200 socket. Currently, that means you can pair it with any 400-or 500-series desktop motherboard. Since it is part of the first generation of LGA 1200-compatible chips, the 10850K works best with Z490 boards. You could use it with B460, B560, or Z590 boards too. Going with the cheaper 400-series motherboards means fewer ports and weaker VRMs. Going with newer models doesn't bring many tangible benefits since the chip doesn't support PCIe 4.0.
What is the difference between the i9-10900K and the i9-10850K?
Both processors share the same core count, TDP, architecture, and cache size. Only the clock speeds are different. The 10900K has a base clock speed of 3.7GHz you can boost to 5.3GHz with beefy cooling. Both speeds are 100MHz lower for the 10850K.
Is i9-10850K worth buying?
If you were planning on getting the 11900K or 10900K – absolutely! There's no discernible performance difference between it and the 10900K. At the same time, the money you'll save can go towards a better motherboard or graphics card. However, you may want to go with the 10700K instead if gaming takes top priority since it's even less expensive while scoring within a margin of error on game tests.