6 Best 240mm AIO CPU Coolers in 2022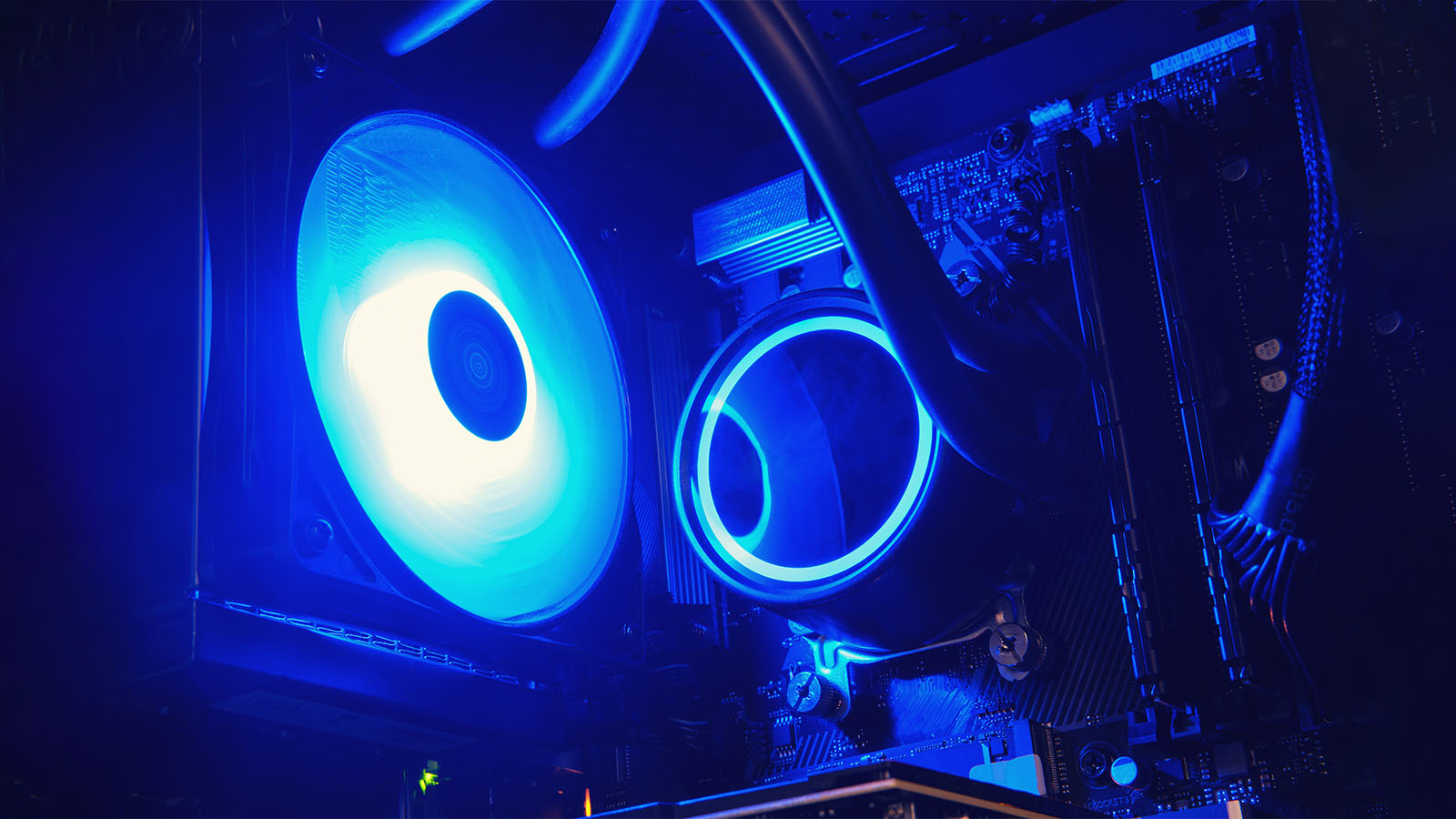 Liquid coolers with 240mm radiators represent the sweet spot between maximum compatibility and top performance. They're a definite step up from your stock cooler, and some even have what it takes to manage today's hottest chips. Best of all, the 240mm format is small enough to be compatible with the vast majority of cases without cluttering them, so getting one to fit won't be a problem.
Not all AIOs are the same, even though their radiator size might be. That's why reading up on the best 240mm AIO CPU coolers before committing to one should be high on your priorities list. We've included distinguished models for any budget as well as ones for users looking for either a silent or a colorful build. Discover more about each and make an informed decision more quickly.
Best High-end 240mm AIO Cooler: LIAN LI Galahad AIO240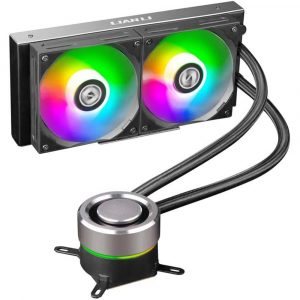 Most manufacturers have to go through at least a couple of iterations to work out the kinks in their AIOs, but Lian Li hit a home run on their first try. The smaller Galahad is still powerful enough to cool any CPU while overclocked, including the hottest chips from Intel. It's reasonably quiet when not at full load, comes with attractive lighting, and is built to last.
240mm coolers more expensive than $150 won't perform much better than this one, but they come with nice perks. For example, the Kraken Z53 has an LED screen instead of the infinity mirror. The ROG RYUJIN 240 from ASUS has a square OLED panel.
Even without diving into the specs, premium build quality is the first thing you'll notice about the Galahad AIO240. It's impossible to ignore the brushed aluminum plating on its radiator or the thick tubes that connect it to the head unit. While 27mm is a standard thickness for an AIO radiator, fourteen tube channels and two exceptional 69 CFM fans help whisk heat away much more efficiently.
The head unit has its share of stand-out features as well. Its internals are built around separating newly-arrived liquid from the hot one already exposed to the copper cold plate. This ensures better results and decreases the likelihood of leaks. An LED ring illuminates its middle, while an aluminum top enhances the ambient glow by providing a reflective surface in the middle of your build.
Lian LI nailed the mounting hardware too. The included spacers keep the backplate from wobbling while you're attaching the top brackets, and these are easy to interchange. There are several cables to connect since each fan uses up a PWM and addressable RGB input. You can leave lighting management up to your motherboard's sync options or use the included controller and one of its seventeen presets.
As its name suggests, the Galahad performs valiantly for a 240mm cooler. PC Perspective set it to cool an i9-10900K, which is about the most thermally challenging high-performance CPU you can get. Cooling wasn't noiseless since sound levels shot into the mid 40dB range. Still, the Galahad's performance is undeniable as it kept up with and even surpassed several 280mm models.
Best Mid-range 240mm AIO Cooler: Corsair iCUE H100i RGB Pro XT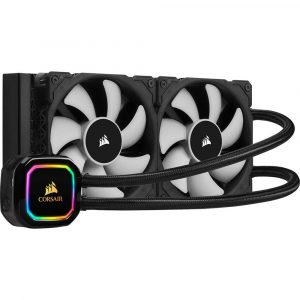 A balanced design with minimal intervention and reliable results – that's the newest H100i from Corsair in a nutshell. The addition of RGB to its head unit is welcome as it's tastefully implemented, and the wide variety of compatible CPUs makes this AIO even more tempting. Add the intuitive companion program iCUE, and you've got a robust cooling system without many flaws.
The Kraken X53 is a similarly-priced alternative from NZXT you might also like.
Corsair wisely keeps most of the AIO's aesthetics at a barebones level to bring the price down. Hence the rather ordinary-looking radiator and fans. Don't underestimate the latter since they're a pair of 120mm hotshots with a considerable max CFM of 71 achievable by rotating at 2,400 RPM. Each has four thick rubberized corners that reduce vibration and expand their lifespan.
The head unit is where the H100i RGB Pro XT starts to get more interesting. It's shaped like a rounded cube and polished to a high sheen. The top houses several addressable LEDs that bathe the rim and Corsair logo in millions of colors. The bottom is home to brackets that snap on and come off easily. It already has some thermal paste and Intel brackets, but you can replace them with standard AMD or even TR4 ones if you have a Threadripper CPU.
You have to do much less work with that kind of preparation come installation time, especially if you're an AMD user with a pre-installed backplate. Finding a screwdriver to fasten the fans to the radiator might prove to be the only challenge since they're smaller than usual. There are several cables to connect after that's done. Don't forget the SATA cable; else you won't be able to use iCUE.
Speaking of which, iCUE is one of the better support programs out there. In-depth color & effect customization are the primary draws, but you can also use it to monitor fan speeds & temperatures or switch between fan speed presets.
Performance-wise, the H100I fares well. It's neither the most effective nor the quietest cooler on the list, but it gets the job done competently at a price we can find little fault with. Pairing it with anything other than Intel's latest i9 processors will produce good results.
Best Budget 240mm AIO: Cooler Master MasterLiquid ML240L RGB V2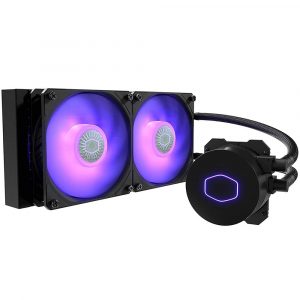 The first iteration of Cooler Master's budget AIO was successful among PC builders looking to save a buck. It was also prone to leaking after a while. This is far less likely to happen with the newer model since several safeguards are now in place. Best of all, the price remains low while installation continues to be easy. Oh, and you get RGB too. What else could you want?
While it looks almost the same as its predecessor, the MasterLiquid ML240L RGB V2 has received several improvements to the head unit and tubes. Due to dual chamber technology, a new impeller design allows it to pump cold liquid through one tube and hot through the other with minimal contact between them. The tubes are on the short side but come with fittings better resistant to degradation over time.
The radiator has received the most negligible changes, which is alright since there were no complaints the first time around. We welcome the addition of thumbscrews that make securing the two fans a breeze. These are now Sickleflow 120mm units with reasonable static pressure, an airflow of 62 CFM, and an operating range between 650 and 1,800 RPM.
Installation remains pleasantly simple as the fans' RGB cables are the only potential source of clutter. No thermal compound is applied, so make sure not to forget it yourself. The completed AIO glows brightly and evenly, illuminating the space between its transparent fans and the Cooler Master logo on the pump. You get a controller you can hook up to the lights and use to change their brightness, color, and pattern. The LEDs aren't addressable, so you're limited to one color at a time. That's still excellent given the price.
Another excellent thing about the new ML240L is its ability to keep processors like the Ryzen 5 3600X comfortably cool, whether it's idling or performing strenuous tasks. It does so with a hum at lower RPM and more than 40dB when the fans are at 100%, but that's acceptable given the cooler's price to performance ratio.
Best RGB 240mm AIO Cooler: Deepcool Gamerstorm Captain 240pro V2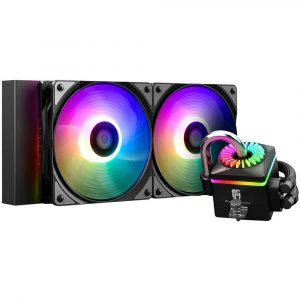 Want an AIO whose badass looks match its great cooling results? Deepcool's Captain fills the role perfectly, adding style and several unique features to what is essentially a competent AIO at a good price. It's a shame there's no dedicated companion software for RGB configuration, but most motherboards will be able to help with that.
The Elite Capellix version of Corsair's H100i is a tempting alternative if you want more in-depth control over the lighting, albeit at a higher cost.
Intriguing details abound whichever of the Captain 240pro V2's parts you examine first. For example, the tall head unit features a thick bent pipe leading from the top to one side. It's transparent to show off the liquid inside, creating a beautiful effect in tandem with the addressable pump LEDs. The copper plate is large enough to accommodate Threadripper processors. It isn't covered in paste, but you get a syringe full of it for multiple applications.
The radiator isn't ordinary either. On the aesthetic side, it draws the eye with mirror-finished metal plates on the sides. There's also a practical hexagonal filter that lessens pressure caused by the liquid inside heating up during operation. Coupled with 300mm of thick tubing, this significantly decreases the likelihood of a leak. The fans aren't shabby either, with a broad RPM range of 500 to 1.800 and a respectable max airflow of 69 CFM.
Setting the AIO up takes a short while and is easiest on AMD motherboards. There are no control cables to plug in, so the fan & pump power is everything you need to connect once you assemble the rest. The head unit is small, and the flexible tubes end in swivel fittings, so there's no chance that the finished cooler will conflict with RAM.
Fans on RGB coolers are transparent and not as effective as more solid alternatives, but this is not the case here. The Captain is able to keep an i7 CPU in check with ease, only achieving high temperatures after long-running AIDA64 tests. You'd never experience a load as intense as this during gaming or while encoding multimedia. The sound levels are alright if high at load, but you should achieve these rarely and only under high stress.
Best Silent 240mm AIO Cooler: be quiet! Pure Loop 240mm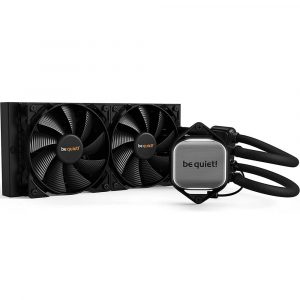 You probably know be quiet! as a top-tier power supply and fan cooler manufacturer, but much like Lian Li, their first attempt at water cooling is also a winner. It's stylish, relatively easy to install, and comes with enough accessories to ensure it runs at optimum efficiency for years. Best of all, it can cool even demanding processors competently while being barely audible under load.
Despite the many RGB models we've mentioned, the Pure Loop 240mm is the most stylish AIO on the list. Its main draw is the unusually shaped head unit and the slab of silver metal on its top. These contrast well with the AIO's otherwise black aesthetic, especially once you turn the white LEDs on for a subdued and pleasant bit of light.
The radiator itself is an unremarkable 240mm unit with commonplace features, but the bits surrounding it are interesting. Firstly, there are the two excellent Pure Wings 2 fans, the likes of which you'll find on the company's premium air coolers. They're practical and incredibly quiet. There's also the pair of robust tubes you can separate from the AIO to incorporate it into a custom water cooling setup.
You shouldn't encounter any problems during installation, and the head unit doesn't obstruct adjacent components despite its odd geometric shape. Make sure to tighten the brackets firmly, as not doing so might make for poor contact between the cold plate and your CPU. There's a cap you can unscrew to pour more cooling liquid inside since that evaporates slowly with use. You're given a generous bottle of it, too.
Performance and noise charts leave no doubt that the Pure Loop is a success. It successfully tackles overclocked high-end processors with enough headroom to push them further. More importantly for its position in our roundup, the AIO is exceptionally quiet regardless of load, only becoming noticeable at 100% fan speed. It doesn't reach the 40dB threshold even then, however.
Best Innovative 240mm AIO Cooler: ARCTIC Liquid Freezer II 240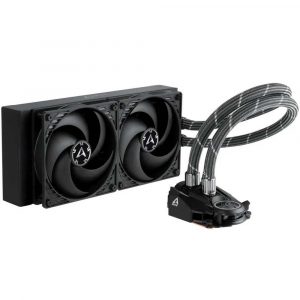 The second Liquid Freezer from Arctic is a prime example of the whole being greater than the sum of its parts. None of its components are revolutionary on their own, but they form a comprehensive AIO that performs exceptionally well. It's quiet, built to last, and among the most straightforward liquid cooling systems to install. Add a top-notch price, and you've got a product destined to be among the generation's hallmarks.
Let's start with ordinarily the most boring part of an AIO – the radiator. This one is 11mm thicker than usual, with a correspondingly lower fin density of 14 per inch. Such construction allows the fans to utilize a lower RPM to push more air through the cooler effectively. Two 120mm fans come pre-installed in the push configuration, but you can change that if need be. They can turn as slowly as 200 or as fast as 1,800 RPM and perform well despite a middling CFM of 59.
The Liquid Freezer II 240's pump design is bound to turn some heads. It's broader than most and has an angular sci-fi aesthetic that draws attention to the 40mm fan in the center. The fan spins at 2,000 RPM and provides air to surrounding components, often starved in AIO builds. The unit's top has two crimped connectors that take in the braided hoses. These are thick and durable, if a bit on the stiff side.
AIO newcomers may want to choose the Freezer as part of their first build since it's among the most straightforward to install. The fans are already in place, and a single PWM cable governs the power and rotation of the entire unit. You'll have to replace the stock backplate on AMD mobos and add the thermal paste yourself. Other than that, it should only take minutes to get everything up and running.
Any doubts about the cooler's performance should be dispelled as soon as you look at the data provided by Kit Guru. They used it to cool an i9-9900K, one of the most notorious heat-generating CPUs in recent times. Arctic's cooler outperformed the competition, scoring top marks for raw ability while being in the middle for acoustics.
Frequently Asked Questions
Is a 240mm AIO enough for 10850K?
Two 240mm AIO immediately come to mind when answering this question in the affirmative. The Galahad AIO240 and Liquid Freezer II 240 both have what it takes to keep such a demanding processor from overheating and throttling, even if you overclock it. The same holds true for high-performance AMD chips like the 5900X. Do keep in mind that a larger cooler might be a better idea since it could cool such processors more efficiently while producing less noise.
How reliable are AIO water coolers? How long does a 240mm AIO last?
Outfitting your PC with water cooling used to be much less predictable. Few manufacturers offered the required parts, and a lack of competition stifled development. The mainstream acceptance of AIOs has helped them become better equipped to deal with the rigors of daily operation. Leaking isn't unheard of, but it's among the rarest reasons today's AIOs fail.
Pump or radiator fan failure is more common. Even then, it usually takes 5-7 years for the components to give out. You can help them reach such a lifespan by keeping the PC in general and radiator in particular free from dust. No other maintenance is required or possible in closed-loop systems, but you might need to top ones like the Pure Loop off after a year or so if some of the coolant inside evaporates.
When should I replace my AIO?
Unless you've purchased a cheap AIO that corrodes and starts to leak over time, you should replace your AIO only once it stops working. The cooler should maintain efficiency throughout its lifespan, provided you keep the radiator and fans free from dust. That being said, you should also consider replacing the AIO if you're getting a more demanding processor or are switching to a case where your current one won't fit.