6 Best Motherboards for Ryzen 5 5600X in 2023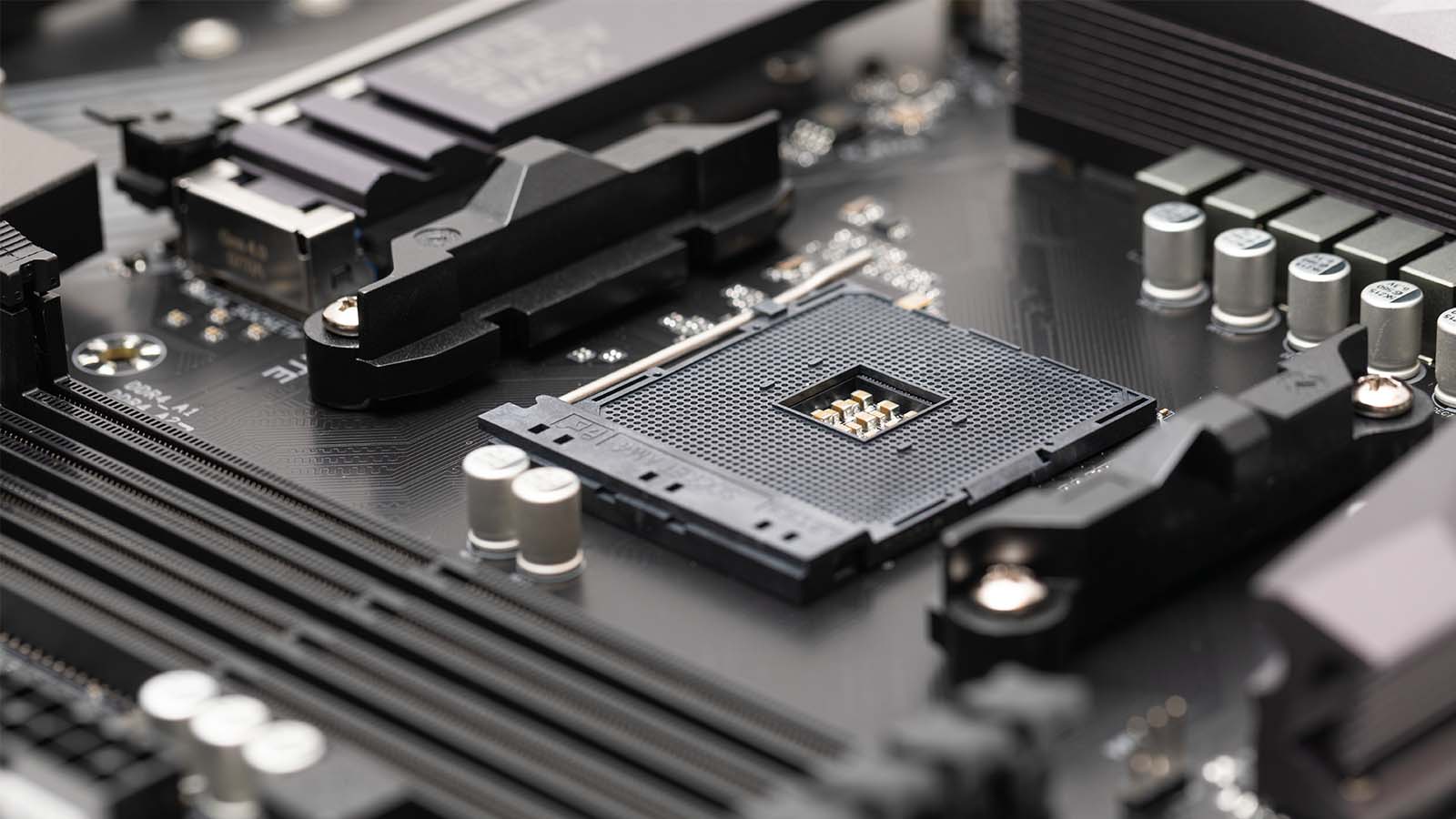 The stir AMD caused in a long-dormant CPU market by releasing the original Ryzen chips is now unquestionably a wave with the 5600X as one of its top surfers. Users building mid-tier PCs can rejoice since its gaming performance has finally caught up to Intel's while exceeding previous AMD processors' customarily dominant productivity chops. Best of all? You don't need an expensive mobo or water cooling to harness the chip's power.
These are the best motherboards for Ryzen 5 5600X available today. They're all of the B550 variety, which promises the most bang for your buck without unreasonable compromises. Check out what's special about each board and choose one of them as the basis for your 5600X-powered computer.
Best High-end ATX Motherboard for Ryzen 5 5600X: GIGABYTE B550 AORUS PRO AC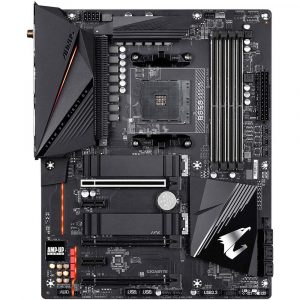 It's a testament to B550 boards that even the most expensive ones are reasonably priced while offering comparable features to their x570 cousins. The flagship B550 mobo from Gigabyte is the best example due to its excellent OC potential and a plethora of expansion options. No less importantly, it is robustly built to withstand any thermal challenge the 5600X or the components you'll pair it with can muster.
X570 motherboards are overkill for the 5600X, but if you're willing to pay the PRO's asking price, you might also want to look at the ASRock X570 Phantom Gaming 4. The best similarly-priced B550 alternative would be the MSI MPG B550 Gaming Carbon WiFi.
There's nothing revolutionary about the B550 AORUS PRO AC's look; once you've seen one black & gray AORUS board, you've seen most of them. Even so, this one draws attention with its pointy heatsinks and two massive M.2 heat spreaders. RGB enthusiasts won't be amused by the board's single uninspired diagonal stripe found on the I/O shroud. Nevertheless, the two pairs of addressable and standard RGB headers plus one for the CPU cooler help a lot.
The top PCIe slot is reinforced and compatible with 4.0 standards through the 5600X. The DIMM slots are also clad in steel for cosmetics more than anything. They can house 128GB of RAM in dual-channel mode. The maximum OC for one stick is a whopping 5,200MHz. with the potential getting lower with each additional stick.
Gigabyte offers masterful overclocking capabilities at almost every tier, and this board's 14 phases are a testament to that. The Vcore phases have a twinned design, while the last two are dedicated to the SOC. Your 5600X will never tax the VRM to its 600A CPU current limit. Add a finned heatsink design, and you can look forward to a stable system & barely any heat generation.
A closer look at the internals reveals eight fan headers clustered on the board's top, right, and bottom sides. The audio sports high-grade WIMA capacitors and six 90-degree SATA inputs handle demanding storage needs.
Gigabyte was extra generous with their back I/O USB ports, providing a total of twelve. Half of them are USB 2.0, but the rest include USB-C and two USB 3.2 Gen 2 ports. Two WiFi antenna inputs and 2.5Gbps LAN facilitate online connection, and HDMI stands ready to support integrated graphics. The audio has five analog jacks and one S/PDIF optical out.
Best Mid-range ATX Motherboard for Ryzen 5 5600X: ASUS TUF Gaming B550-PLUS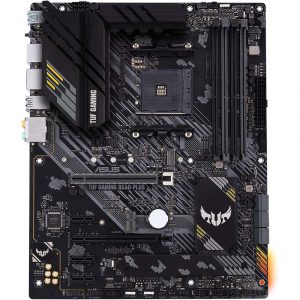 TUF is an ASUS line that struggles to find its identity at times. However, for this Ryzen generation, it is firmly cemented as an excellent choice if you're going for an all-out mid-range build. It does not compromise on build quality, has a trustworthy VRM that keeps the board cool, and the I/O is packed with ports you'd expect from a more expensive offering.
You're in luck if your heart is set on a TUF build since the board closely follows the line's aesthetics. Smidges of yellow enhance its black PCB & dark gray accents without being gaudy. The branding is limited to TUF GAMING on the VRM heatsink and an emblem on the chipset. You can also play with a subtle strip of LED lights on the right edge and hook three more up on your own,
The quality of the mobo's VRM solution dwarfs expectation. It's billed as an 8+2 setup with twinned phases, meaning that it has five actual phases with backup sets of MOSFETs and chokes. The combined current output equals a respectable 400A, more than enough to keep your 5600X running at clocks close to the 4.6 GHz mark without even venturing into the 60s.
The TUF Gaming B550 PLUS's overall cooling and its upgrade potential are above average. You've got sturdy primary and secondary VRM heatsinks complete with cutouts for improved airflow as well as thermal pads for the two M.2 drives. The chipset draws only 6W of power and only needs a heatsink to prevent overheating. Finally, you may expand the cooling through six headers, one of which is dedicated to running a water pump.
The board's internals display an adequate level of versatility. You get two full-sized PCIe x16 lanes and will want to use the upper one for full 4.0 support. The top M.2 drive supports PCIe 4.0 speeds as well. Three x1 slots are more than enough for expansion or capture cards, but the internal header selection is relatively modest – two USB 2.0 and one USB 3.2 Gen 1, to be precise.
You'll need to install the I/O shield yourself, but at least the selection is more than acceptable. The highlights include 2.5GBps LAN, HDMI 2.1, and a 5+1 stack powered by the Realtek ALC S1200A codec that delivers crisp sound even though the PCB only has four layers. Eight total USB slots are split between two 2.0, four 3.2 Gen 1, and a pair of 3.2 Gen 2 A&C inputs. That leaves DisplayPort 1.4 and a BIOS flashback button.
Best Budget ATX Motherboard for Ryzen 5 5600X: ASRock B550 Steel Legend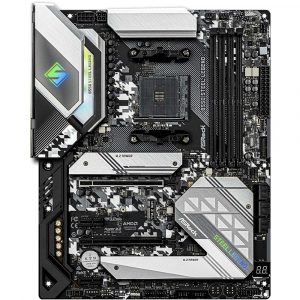 Its MSRP places the ASRock B550 Steel Legend at the core of a sound budget build, but its performance is considerably better than the price tag would suggest. ASRock didn't need to compromise much to deliver such a well-rounded board, and you'll be especially pleased if you intend to overclock while saving money in the process.
Recommending a motherboard with a similar price to performance ratio is challenging since most other affordable B550 offerings aren't as comprehensive. Consider the MSI B550-A PRO if you're having trouble getting ahold of the Steel Legend, though.
The mobo's design is a breath of fresh air admittedly not everyone will enjoy. It places striking white heatsinks with steel accents on a black PCB with white and gray geometric patterns. The look adds character to your build and works especially well with white cases. LEDs light up the chipset & VRM heatsinks, and there's room for four more strips.
Both the 80 and 110mm M-key M.2 drives have adequate heat protection, as do the 12+2 VRM phases. The VRM heatsinks are thick, made out of aluminum, and sport gutters that feed hot air away from the CPU. You'll be able to moderately overclock a much more power-hungry CPU than the 5600X with this kind of setup, so neither temperatures nor stability is an issue.
Kudos to ASRock for designing a BIOS that's easy to get around in and lets you tinker with CPU & RAM overclocking separately.
Pairing the mobo with a sophisticated GPU plugged into its top PCIe x16 lane sees it performing well in game tests even though no cards make use of PCIe 4.0 yet. Conversely, placing a PCIe 4.0-compliant SSD into the first M.2 slot is bound to improve boot and game loading times.
The I/O is preinstalled, a thoughtful touch considering the price. Its layout isn't shabby either since you get eight USB ports and a modern audio stack with an S/PDIF out. DisplayPort and HDMI provide video, and a pair of antenna sockets are there for WiFi. You even get 2.5GBps LAN and an antiquated PS/2 input.
Best Ryzen 5 5600X Motherboard for Gaming: MSI MPG B550 GAMING EDGE WIFI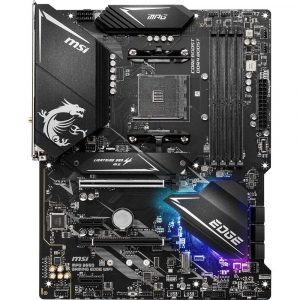 MSI got a slap on the wrist last year for releasing the X570 version of this board as it had mediocre VMR and was overpriced. Thankfully, they went back to the drawing board and came up with one of the most well-rounded B550 mobos out there. It's any mid-range gamer's dream since neither overclocking nor copious amounts of RGB are out of the question. The board is cheap, runs cool, and has a comprehensive feature set.
There's little difference between this motherboard and the B550 Tomahawk, so get whichever one is cheaper or available.
Even though it follows the worn-out black & silver color scheme fad, the board manages to look unique and sharp. Much of that has to do with its massive heatsinks and an attractive glow emanating from around the chipset. You'd think a board with Gaming in its name would have more than one onboard RGB strip, but bringing that up to five isn't a problem.
Where are the chokes? An excellent question to which the MPG B550 GAMING EDGE WIFI has an even better answer. They're covered by the second set of pads in the VRM heatsinks' two-part cooling pad design. They won't get as hot as the MOSFETs, but the chokes are still an integral part of the 12+2-phase twinned design that supplies the 5600X with 600A of power. The combination of over-engineered heat management and more than enough current makes this one of the coolest-running B550 mobos in existence.
Keeping the temps low on this board isn't a chore, thanks to intelligent design decisions like equipping both M.2 drives with sizeable heat pads. Eight PWM headers are there for effective fan and water cooling. The chipset is efficient enough not to require a dedicated fan.
Six SATA and two M.2 connections offer ample storage potential, while the two PCIe x16 slots allow you to run two AMD cards in CrossFire. RAM overclocking is another tempting possibility since you can push one stick to 5.100MHz. That takes care of the most important internals, except for the debugger, Japanese audio capacitors, and a smattering of USB headers which includes USB-C for your case.
Users with lots of peripherals and external disks might find the I/O somewhat lacking since it has a meager six USB inputs. At least one of them happens to be USB-C. Replacing the PS/2 port with more USB options would have helped. The flashback button is indispensable for getting the board's firmware up to snuff before connecting the CPU. You gain online access through either 2.5GBps LAN or WiFi antennas and can use HDMI & DP if you ever exchange your 5600x for a processor with integrated graphics. Finally, the audio stack features six connections and runs on the Realtek ALC1200 codec.
Best Micro-ATX Motherboard for Ryzen 5 5600X: GIGABYTE B550M AORUS PRO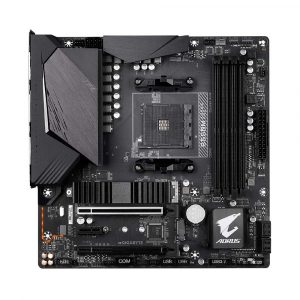 Our high-end pick has a capable younger brother you should add to your next mATX build. It's not as robust at overclocking as the full-sized version, but it can still handle much more demanding processors than the 5600x. Other than that, the board is surprisingly well equipped and doesn't cost much to boot.
We feel that Gigabyte's mATX offering is the best of the bunch, but there's also the MSI B550M Mortar WiFi and ASRock B550M Pro4 to consider.
You'll love this board's look if you're into stealthy builds that still have a premium feel. Brushed aluminum heatsinks enrich its dark color scheme, and the only lighting you'll find on it is a strip that separates a Realtek ALC1200 audio from the rest of the PCB. You can remedy that through two pairs of RGB headers.
The top PCIe x16 and M.2 slots are the most interesting since they both utilize PCIe 4.0. Your boot SSD will be both speedy and protected from the GPU's heat exhaust, thanks to a thick heat spreader. The GPU itself slides into a reinforced slot that accepts heavy cards without issue. Keep in mind that the GPU will obstruct the single PCIe x1 input if it takes up two slots. Your second NVMe drive won't be shielded, and there are only four SATA ports.
That brings us to the board's VRM, structured in 10+3 phases where the Vcore ones use doublers. The top and left MOSFETs are covered by sizeable heatsinks and convert enough power to keep your CPU chugging along nicely. Tests online pair the mobo with beefier processors, which results in stable results at the expense of significant VRM temps. However, your 5600X can be overclocked with only a fraction of the effort. Speaking of overclocking, the DIMM slots support a modest OC of 4.233MHz.
The B550M AORUS PRO is the cheapest board in the overview yet has a premounted I/O. USB ports are aplenty in true Gigabyte fashion since there are ten of them, complete with USB-C. A full-fledged audio stack and either HDMI or DP handle the audiovisual side, while a 2.5Gbps LAN input connects you to the world. Last but not least, the Qflash button helps with BIOS updates and CPU installation.
Best Mini-ITX Motherboard for Ryzen 5 5600X: ASUS ROG Strix B550-I Gaming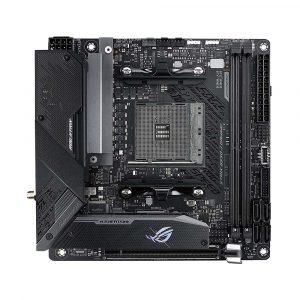 ROG has been conspicuously absent from our main suggestions so far, but this ITX board sets things straight. It goes toe to toe with most X570 rivals in the niche, is built to last, and uses the limited space at its disposal to the fullest.
Great alternatives include the budget-friendly ASRock B550M-ITX/AC and the B550I AORUS PRO AX from Gigabyte.
The board's small area is attractive since the black PCB is broken up by subtle abstract patterns and the pigeon-gray VRM heatsink. There's no hint of lighting unless you put a pair of RGB headers to use.
Thermal optimization was high on ASUS's priority list while designing the mobo. On the one hand, its eight-layer PCB acts as a radiator. On the other, the VRM heatsink comes equipped with a preconnected fan that blows cool air onto its surface. You won't witness it in action unless you overclock the 5600X considerably, and even then, the fan is virtually silent. The VRM consists of twinned phases laid out in an 8+2 spread. The topmost phases don't have a secondary heatsink.
Space-saving strategies are most notable in the ROG Strix B550-I Gaming's storage and audio layout. There are only four 6Gbps SATA connectors and the less important of your two M.2 disks slots into the board's back. The front drive has PCIe 4.0 support and a thick heatsink. It's also attached to a removable daughterboard that houses the audio. Speaking of which, your ears will be treated to premium-grade sound thanks to the SupremeFX 7.1 S1220A codec.
It's surprising that such a high-end mobo doesn't come with a preinstalled I/O plate. At least the selection is reasonable for its size if a bit light on USB choices. One of them is USB-C, while one of the USB 2.0 inputs assists the flashback button. The three audio jacks have LED illumination, which looks nice. That leaves the HDMI & DP for video along with WiFi and 2.5Gbps Ethernet.
Frequently Asked Questions
What motherboard is best for Ryzen 5 5600X?
AMD users are in luck this generation because most current motherboards that cost $100 or more are fully capable of running an overclocked 5600X without issues. That being said, pairing the processor with an X570 board is overkill since these boards are considerably more expensive than B550 models. Most have better VRMs and features like more M.2 or PCIe x16 slots, but the price difference isn't worth it. The 5600X has a much lower TDP than more advanced Ryzen CPUs and can be utilized to its fullest on the vast majority of B550 hardware.
Is Ryzen 5 5600X good for gaming?
The 5600X is one of the most versatile and best-performing processors in its class ever made. It stands neck and neck with the likes of previously indisputable gaming champs by Intel while having a much lower TDP and ample overclocking headroom. It's also cheaper, comes with a capable cooler, and overclocks just fine on less expensive motherboards.
Is B450M compatible with Ryzen 5 5600X?
B450 motherboards are compatible with the 5600X, as are their X470 cousins. You may need to have an older Ryzen processor to update a B450 mobo's firmware before it recognizes the CPU if it doesn't let you do so without one.
Pairing the 5600X with a B450 board makes sense if you already have one, but B550 is the better option if you're building a system from scratch. B550 boards come with PCIe 4.0 and have more usable lanes. They also allow for better wired and wireless internet connectivity.