6 Best Motherboards for i9-12900K in 2023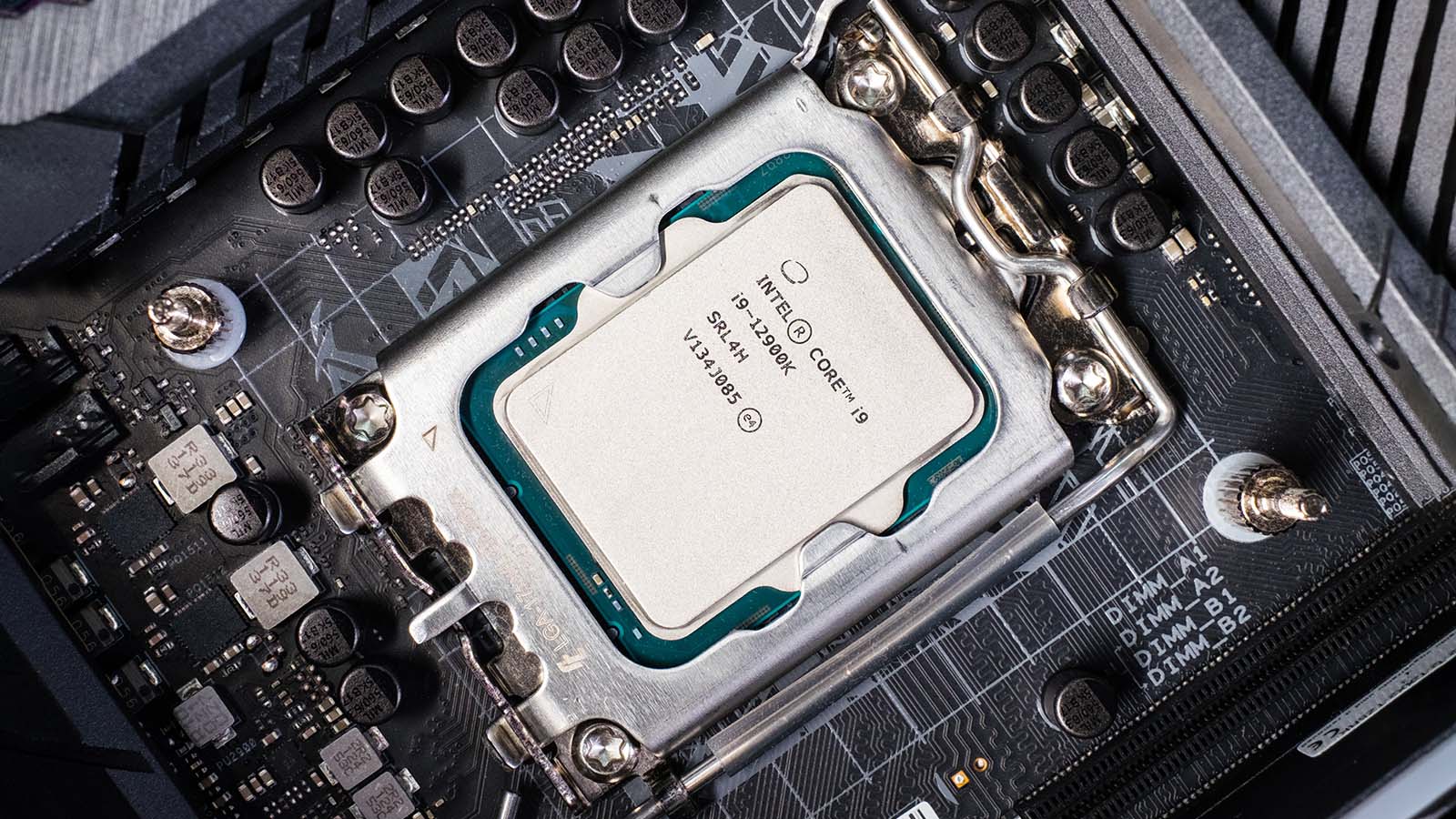 Rocket Lake was a lackluster generation that exposed Intel's complacency and forced the company to take a new approach to CPU design. We're glad Team Red shook things up, as that forced Intel to produce one of the most meaningful CPU generations in recent memory. Alder Lake in general and the 12900K, in particular, are a return to greatness. It pushes boundaries whichever metric you consider, including thermal output and power consumption. The new top dog needs a worthy home, and you'll find it among our picks for the best motherboard for i9-12900K.
Best High-end Motherboard for i9-12900K: ASUS ROG Maximus Z690 Hero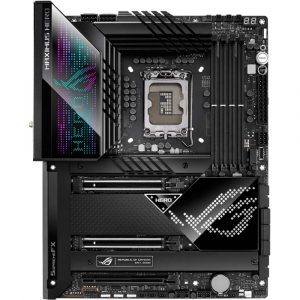 The newest Hero board dispenses with the roman numerals in its name but continues the tradition of offering everything a serious user could ask for. It supports five M.2 disks, including PCIe 5.0 drives that have yet to be released. The board has monster VRM, a slew of connections, and it's among the most futureproof offerings the LGA 1700 platform is likely to produce.
You could go a step further and invest in the even more expensive Apex or go with ASRock's newest Taichi instead.
An almost wholly black PCB is a Z690 hallmark the Hero takes to the extreme. It's not dull, however, thanks to a pixelated ROG logo on the chipset heatsink and some colorful lighting on the massive I/O shield. You can enhance the lighting through four additional RGB headers.
Expanded M.2 support is another Z690 feature this board does in its own style. It supports three drives natively and two more if you connect the bundled M.2 expansion card. Three of them adhere to the new PCIe 4.0 standard, while the remaining two support PCIe 3.0 and 5.0, respectively. The top two GPU slots are reinforced and also PCIe 5.0 capable. The topmost one even has a new quick-release mechanism that makes removing graphics cards from cramped PC interiors much easier.
The Hero can easily handle any overclocking you plan to do to the 12900K. Its 20+1 phases use 90A each, delivering 1,800 of it through two 8-pin EPS power connectors to the CPU. Not even the Alder Lake flagship could use as much, which leads to VRMs that barely feel the pressure. They're cooled by a set of heatpipe-connected heatsinks that expel heat outwards in a flash, if any is present.
A multitude of internal headers and connections ensure excellent versatility. The board uses DDR5 RAM and can accommodate 128GB at 6400MHz. Eight headers adapt to your cooling setup and drive fans or water cooling components. There are enough USB headers of varying generations to enable any case's I/O fully, and a two-digit debugger makes troubleshooting easier.
Positive impressions continue to mount when examining the I/O. Eleven USB ports await your command. Two of them double as Thunderbolt 4, and a third is regular USB-C. The audio stack comes with optical S/PDIF out and uses ASUS' version of the premium Realtek ALC4082 codec. HDMI is there for even more video out options, while a WiFi adapter and 2.5G Ethernet are in charge of networking. Finally, you get BIOS flashback and clear CMOS buttons too.
Best Mid-range Motherboard for i9-12900K: MSI MPG Z690 Carbon WiFi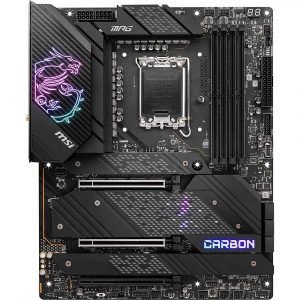 Are the Hero and Master boards a bit above your paygrade? Investing in MSI's mid-range mobo instead will lighten the load on your wallet without having to give up on most advanced features. The newest Carbon offers five M.2 slots, WiFi 6E, robust VRM & heatsinks, and lots of connection options.
Hats off to MSI's design team for managing to make the MPG Z690 Carbon WiFi look this good despite adhering to the generation's black theme. Pips and squares break up the otherwise bleak PCB and heat shields. The MSI dragon logo and CARBON printed on the chipset heatsink treat you to a colorful light show. Three more generic RGB and ARGB ports are there, as is one made specifically for Corsair lighting.
VRM strength is the major difference between this board and its more expensive rivals. The phases adopt an 18+1+1 configuration and put out "only" 75A each. That's enough to put almost all Z590 motherboards in the dust and more than you'll need to run the 12900K while achieving reasonable VRM temps. A heatpipe connects the multi-story heatsinks, and they cover the chokes almost entirely.
The Carbon is another mobo with access to five M.2 slots. Only one is limited to the PCIe 3.0 standard, so outfitting your system with a bevy of fast drives is a possibility. Need quantity over speed? Then take advantage of the six SATA ports on the side. Like the Hero's, the top two x16 slots use PCIe 5.0 and can be linked through AMD CrossFire. There are no x1 connections, though.
Even though it's not the most expensive, this is currently the best Z690 motherboard in terms of DDR5 frequency. It climbs to an ominous 6666MHz. Your case's I/O will benefit from the 10Gbps USB-C and 5Gbps USB-A headers present on the PCB. Six fan headers accompany them, as does one for Thunderbolt 3 add-in cards and a two-digit error code debugger.
The I/O's panel is already attached and home to ten USB plugs. It's a shame that four are USB 2.0, though. You may access the 12900K's onboard graphics chip through DisplayPort or HDMI. The 5+1 audio stack utilizes the ALC4080 codec. WiFi 6E & 2.5G LAN connects you to others, while a convenient button to the far left allows for BIOS flashing.
Best Budget Option for i9-12900K: GIGABYTE Z690 AORUS PRO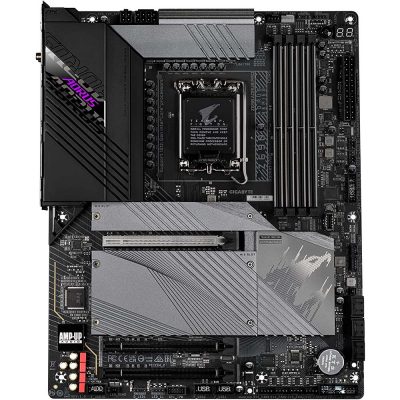 You can find Z690 boards that are $100 cheaper than our budget pick, but the AORUS Pro steals the show in terms of value. It's reasonably priced for a mobo you'll be pairing with the 12900K yet offers many of the high-end features seen on the Master. Expect excellent VRM, four M.2 slots, lots of internal connections, and more USB ports on the back than you'll know what to do with.
We'd also recommend the ASUS TUF Gaming Z690-Plus WiFi D4 if you're after a more affordable board and don't mind sticking with DDR4.
Finally, a mobo that partially departs from the black-on-black Z690 credo. The Pro does so through gray heatsinks on the top part of the VRM and the chipset area. A glitchy brushed AORUS logo adorns the bottom heatsink assembly, while diagonal grooves streak across several large spaces. There's no RGB on the board natively, which users fond of stealthy builds will love.
The AORUS Pro has four M.2 slots, which makes sense given the price. Three use PCIe 4.0, and one is compatible with SATA drives. Speaking of which, six SATA plugs offer room for more conventional storage expansion. Compared to the Master, the bottom heatsink is curtailed and exposes two PCIe 3.0 x16 lanes, not to mention the audio solution's beautiful WIMA capacitors. The top M.2 drive has thicker padding for extra protection.
Even mid-range Gigabyte boards get the royal treatment VRM-wise. Each phase supplies the 12900K with 90A of current, and they adopt a 16+1+2 setup. Some concessions needed to be made, but they're not significant. The VRM heatsinks have a conventional design rather than consisting of fins. You also get an optional 4-pin EPS power connector instead of the 8-pin kind.
The Z690 AORUS Pro offers heaps of beneficial internal connections. For example, you can connect two Thunderbolt 3 add-in cards for blazing fast file transfer. The standard USB header array for the front I/O ranges from USB 2.0 to 10Gbps USB-C. Gigabyte outfitted the board with six fan headers, two of which are of the hybrid variety. There's no error code readout, but the EZ debugger still helps narrow down issues.
USB ports as far as the eye can see are the I/O's most recognizable feature. Each generation comes in fours, with a 20Gbps USB-C plug bringing the total up to an impressive thirteen. On the other hand, the two audio jacks make for a sparse audio stack. You do get optical S/PDIF out and clear ALC 4080 sound, though. There's DisplayPort for video out, while the antenna connectors and Ethernet port supply online connectivity.
Best DDR4 Motherboard for i9-12900K: MSI MAG Z690 Tomahawk WiFi DDR4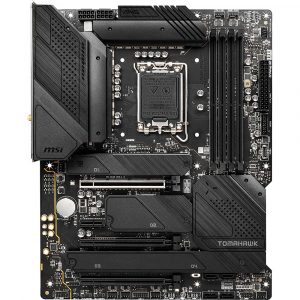 Apart from being more power efficient, DDR5 hasn't brought much in the way of improvement yet. Since this is a transitional generation, it's great that manufacturers are offering affordable yet effective DDR4 motherboards like the MAG Z690 Tomahawk WiFi DDR4. It might lack compatibility with the latest RAM, but every other innovation that Alder Lake brings is well represented.
The board's design manages to be busy despite the black & dark gray color scheme. The design tastefully incorporates dimples, brushed segments, and diagonal line arrays to make what would otherwise be an uninspired board more attractive. You'll get no RGB here apart from what the four associated headers provide.
It's great to finally see four M.2 slots on a sub-$300 motherboard. They fit snugly under three heatsinks, the long bottom one having room for two speedy drives. Smaller heatsink real estate allows for an x1 PCIe 3.0 lane perfect for capture or expansion cards. Three more x16 lanes are there for GPUs or bifurcation. The top one's PCIe 5.0 capabilities ensure GPU futureproofing won't be an issue.
The Tomahawk's VRM solution is modest compared to other ATX boards on the list. Still, 16+1+2 70A phases deliver enough power to overclock a 12900K. Two heatsinks handle thermals competently, so your AIO is more likely to become a bottleneck than the motherboard itself. In fact, both VRM temperatures and power consumption establish the Tomahawk as a competitive choice.
The four DDR4 DIMM slots offer room for 128GB of RAM at 5200MHz. Other interesting internal components include a set of front panel and I/O connections we've mentioned on other boards, as well as Thunderbolt 3 add-in options. The board also has six SATA plugs arranged so you can reach two of them from the bottom of the board and four more through an opening in the chipset heatsink.
If there's anything MSI has skimped on, it's the I/O. Specifically, you get only eight USB ports. One is a 20Gbps USB-C plug, but two are USB 2.0. The audio stack is a complete 5+1 array, and you can connect the iGPU to either HDMI or DisplayPort. WiFi 6 antennas and 2.5G Ethernet are competent online connection methods, leaving the small BIOS flash button for last.
Best i9-12900K Motherboard for Overclocking: GIGABYTE Z690 AORUS Master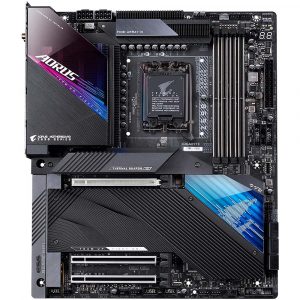 There's a price to the 12900K's overall excellence – an exceedingly high thermal output. While many Z690 boards have beefed their VRM up to try & tackle it, there's only one Master to turn to for record-breaking overclocking. Gigabyte's second most advanced board in the Z690 lineup brings exceptional cooling to the CPU's surroundings and high-speed storage alike. It's hefty, well-equipped, and ready to handle any torture tests you have in store for the CPU.
Take care when removing the Z690 AORUS Master from its chic box, as it's the heaviest board on our list. The solid metal backplate takes most of the credit, but armoring all along the front doesn't lighten the load either. There's not much room in the Master's design for subtlety – the board prefers its massive heatsinks to do the talking. This philosophy extends to the RGB since a single patch on the I/O shroud is all you get without investing in strips.
PC builders turn to Master boards for superior VRM design, and the Z690 board sets a new benchmark. Its power stages are beefy even for Alder Lake standards. Moreover, there are 22 of them in a 19+1+2 layout. The majority responsible for the CPU puts out 105A per stage, providing close to 2,000A to the CPU. That's total overkill even for the 12900K but ensures an even load spread & outstanding thermals.
The VRM heatsinks deserve a special mention since their design isn't standard. Gigabyte used dense arrays of thin sheets rather than solid metal chunks, resulting in a massive surface area increase. The fins take heat on and release it quicker, improving thermal efficiency significantly. The M.2 heatsinks are equally imposing and come with ample padding.
Making room for massive media collections won't be a problem with this motherboard as your starting point. On the one hand, there's support for five thermally isolated M.2 drives. All but one can be of the speedier PCIe 4.0 variety. On the other, six SATA plugs are also there if you want to use older storage devices. All three GPU slots have steel plating, and so do the DDR5 DIMMs. Rather than being a gimmick in the case of the X16 slots, the reinforcements help prevent sag and EM interference.
The internal header selection thoroughly covers everything from cooling to connectivity. There are eight cooling-related headers apart from the pump and system fan ones. Four of these headers work with either custom water cooling or pumps. You can control these based on rotation speed or even noise levels if you use the appropriate header. It's possible to add two Thunderbolt 3 cards like on the Pro as well.
Eleven USB ports on the I/O should satisfy most users' needs, especially since two are USB-C. The others are notable in that there's no USB 2.0 among them. Ethernet is another noteworthy plug since it's a 10Gbps Aquantia special. WiFi 6E provides up-to-date wireless networking, and DisplayPort is there should you need it. The audio stack is gold-plated and contains optical S/PDIF out. Lastly, overclockers can't go without the clear CMOS and BIOS flash buttons on the far left.
Best Mini-ITX Motherboard for i9-12900K: ASUS ROG Strix Z690-I Gaming WiFi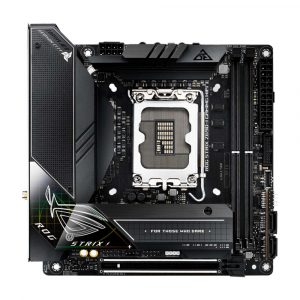 Can a 12900K successfully work inside an SFF build? Yes, if you don't mind spending a pretty penny on the generation's premiere mITX board from ASUS. It's about the best example of efficient use of space we've seen in the motherboard world. The board might be a tyke, but its feature set, design, and ingenuity rival many larger competitors.
Gigabyte also offers an m-ITX board worth checking out, the Z690I AORUS Ultra. It's more reasonably priced and accepts DDR4 instead of DDR5.
The Strix Z690-I Gaming WiFi is a closed-off yet attractive board that offers a peek at its PCB only around the right edge and the CPU socket. The rest is covered in heatsinks for the VRM and two supported M.2 drives. Most of its surface area is matte black, but the bottom left corner is livelier with its glossy finish and LEDs that light up the ROG eye and the audio stack.
ASUS needed to reduce the VRM's size, so they went with killer specs to mitigate this. The Z590 version had 8+1 power stages; its successor bumps the count to 10+1 and each stage's output to 105V! Enough for a stable PC with a 12900K at its core? Absolutely! The VRM temps do get a bit higher than on regular motherboards, but we're still highly impressed.
The board employs many clever tricks to maximize space efficiency. For example, you'll likely note two unusual USB-C plugs on the bottom right. These power an included daughterboard that adds front panel audio, an ARGB header, and four SATA plugs. Next to it is a multi-layer mezzanine that holds two M.2 drives and thick pads between them for excellent thermal protection. It's also where the audio capacitors and jacks reside.
Some features were cut due to size constraints, so don't expect to fit more than 64GB of DDR5 RAM or a single GPU onto it. Still, you get two RGB headers, three fan headers, and enough USB connections to utilize any case completely.
The I/O is a masterclass in balancing layout with design. We're not sure how, but ASUS fit nine USB plugs onto it, two of which are Thunderbolt 4 USB-C! There's still room for WiFi 6E & 2.5Gbit LAN, an HDMI port, and a 3+1 audio stack. Oh, and there's a vent for a tiny VRM heatsink-mounted fan as well.
Frequently Asked Questions
Which motherboard is best for i9 processor?
A wide range of Z690 motherboards can accommodate the 12900K. That being said, your mileage will vary depending on your use case. Enthusiasts who chase the highest frequencies and would give almost anything for a couple more frames per second will want a high-end board that can keep up. Similarly, stressing the CPU a lot is also cause to invest in a mobo with better heat mitigation. On the other hand, you can get away with a mid-range model if you don't plan on overclocking.
Is 12900 overkill for gaming?
Currently yes, with the caveat that several factors determine its usefulness. For example, you'll feel the impact it has more while playing in 1080p due to a lesser reliance on the GPU. Even then, it's only several percentage points better than the cheaper and more thermally efficient 12600K. The Alder Lake flagship is a record-breaking CPU, but getting it solely for gaming is more about bragging rights and prestige than actual necessity.
How hot can a 12900K get?
Very. It's the first desktop CPU with which the Noctua NH-D15 can't come to grips. You'll need an efficient and relatively large AIO with a new mounting bracket to keep it from throttling while performing intensive tasks.