6 Best Motherboards for i7-12700K in 2023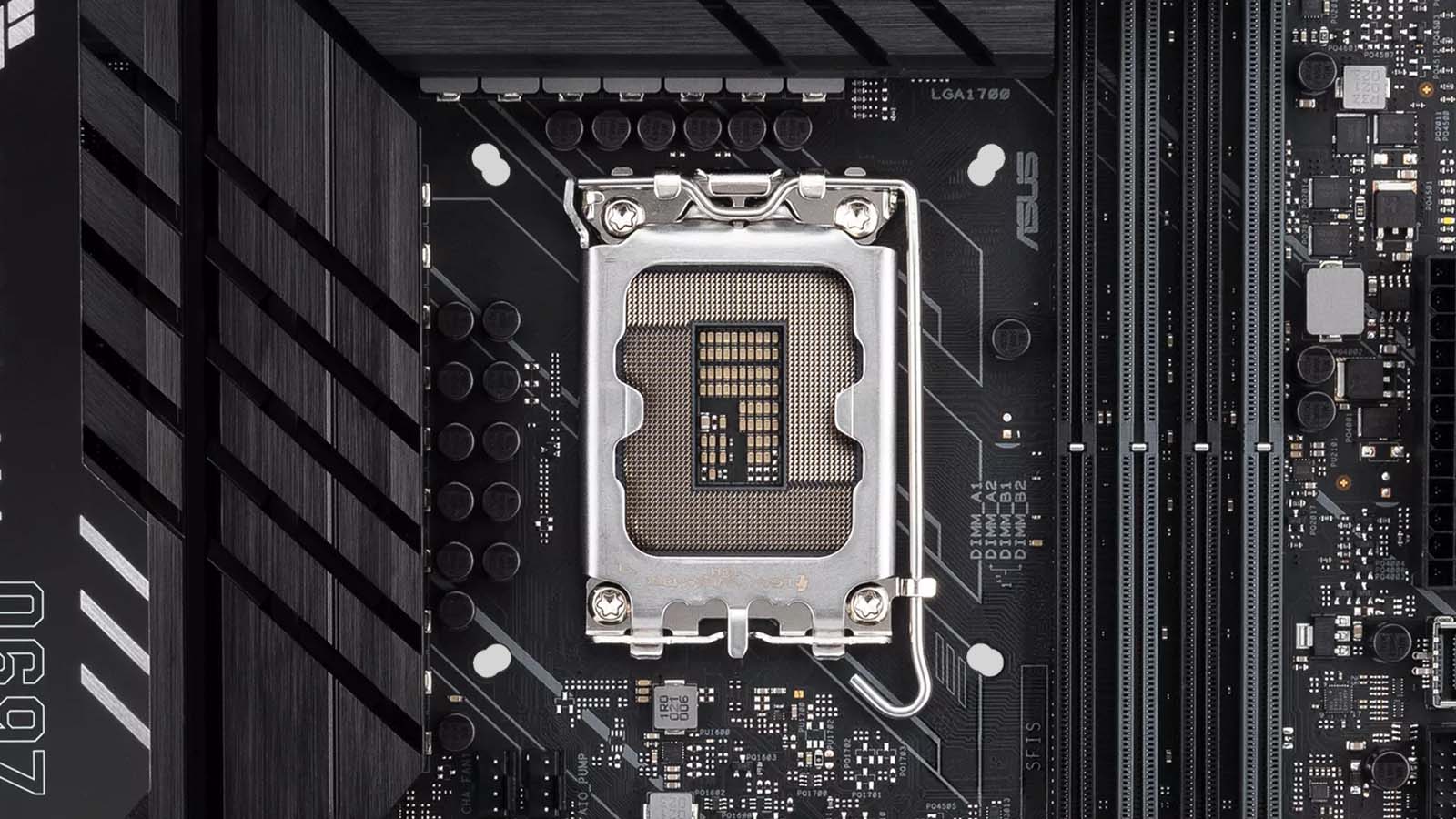 Every CPU in the initial Alder Lake lineup is a success in its own right. The middle one is competitively priced and surges ahead of the competition. The 12700K ups the ante in single- and multithreaded applications yet again. It's also as power-hungry and thermally troublesome as previous i9 chips. You'll need a mobo that can handle all of that, and you'll find it among our picks for the best motherboard for i7-12700K that are out now.
Best High-end Motherboard for i7-12700K: GIGABYTE Z690 AORUS Master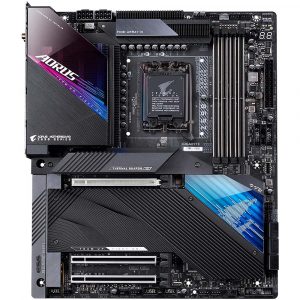 Do you plan on getting every last computation out of your 12700K? You'll want to overclock it for that, and there's no better board than Gigabyte's newest Master to support it. The board is filled to the brim with features, whether you're looking for overkill VRM, heaps of storage, or unmatched connectivity. It isn't cheap, but it's also a solid investment for current & future use.
For equally beefy VRMs, you might want to take a look at the ASRock Z690 Taichi or the more expensive ROG Maximus Z690 Hero.
Gigabyte's telltale armor meets the predominantly black Z690 aesthetic on a board that's as beautiful as it is chunky. The backplate adds a lot of heft, and the heatsinks are enormous. On top of that, the abundance of diagonal lines and a glitched-out AORUS logo add interest to what could have been a stale board. There's not much RGB natively, but four headers offer expansion opportunities.
Overclocking while maintaining impressively low temps is the Z690 AORUS Master's trademark feature, which makes it one of the best high-end motherboards for i7-12700K. All Z-series Alder Lake boards have considerably more powerful VRM solutions than their Z590 counterparts. The Master takes that to another level by introducing 19+1+2 stages, with the CPU ones providing 105A of juice each! Moreover, the heatsink employs a fin design with a considerable volume increase that helps dissipate heat before it has time to build up.
Thanks to the board's ample storage slots, there's also the potential to fit your entire Steam backlog onto your PC. It has a whopping five M.2 drive slots. Four work with speedy PCIe 4.0 disks. You can also fall back on six SATA plugs if you have older drives. Futureproofing continues with the GPU slot as it is PCIe 5.0 compliant.
We were equally impressed with the remaining internal connections. Ten headers ensure support for the most elaborate cooling you can think of, doubly so since four are hybrids. You can easily connect USB 3.2 Type-A and C ports from the case I/O or base the fan speed off noise sensors.
The I/O continues the top-notch trend, offering twelve USB ports with two USB-C plugs among them. Networking is among the best out there with WiFi 6E and 10Gbps Aquantia LAN. Clear CMOS and BIOS flash buttons help with overclocking & firmware updates, while DisplayPort gives access to the iGPU. The 5+1 audio stack uses the ALC1220 codec, an aging but still high-end solution.
Best Mid-range Motherboard for i7-12700K: MSI MPG Z690 Carbon WiFi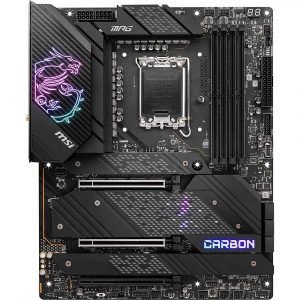 You don't need to pull out all the stops to make full use of the 12700K. MSI took that to heart when designing the Z690 Carbon WiFi, a balanced board that offers much of what the Master does but at a more attractive price. It has lots of storage room, decent VRM for light overclocking, and a healthy offering of diverse internal & I/O connections.
Gigabyte's Z690 AORUS PRO is a compelling alternative.
MSI's take on the Z690 blackness is to break it up with diagonal arrays of squares and an elaborate dragon logo. The latter and the word Carbon on the chipset heatsink glow in millions of colors when the motherboard has power.
The VRM implementation is far less over-engineered than the Master's. On the one hand, each of its 18+1 power stages has a 75A output. On the other, there's no twinning or doubling due to an advanced PWM controller. Couple that with two 8-pin EPS connectors, and you have rock-solid power delivery. The VRM heatsinks are prominent and tall enough to dissipate heat efficiently.
Much of the MPG Z690 Carbon WiFi's bottom portion is covered in a set of three heatsinks that insulate the five M.2 drive slots and chipset. Installing the M.2 drives is more accessible than before since most slots have a screwless design. Four of the five drives can be PCIe 4.0, and utilizing every slot disables just one of the six SATA ports. MSI looks to the future with its dual reinforced PCIe 5.0 x16 lanes, but it's a shame that no x1 slots are present.
The internal connection selection is similar to the Master's, fan header availability being the only significant difference. You'll find eight of them along with headers for case power & USB. A Thunderbolt 3 header for add-in cards is present, as are EZ debugging lights and connectors for front panel audio.
The I/O's layout firmly places the board in the mid-range. Ten USB ports are more than acceptable, especially since one is 20Gbps USB-C. Four are USB 2.0, though. You get both HDMI & DisplayPort for monitor connection, and the audio stack comes with optical S/PDIF out. WiFi 6E and a 2.5Gbps Ethernet port handle online connectivity. You'll have to clear the CMOS by using jumpers on the PCB, but BIOS flashback is accessible from the I/O.
Best Budget Motherboard for i7-12700K: ASUS TUF Gaming Z690-Plus WiFi D4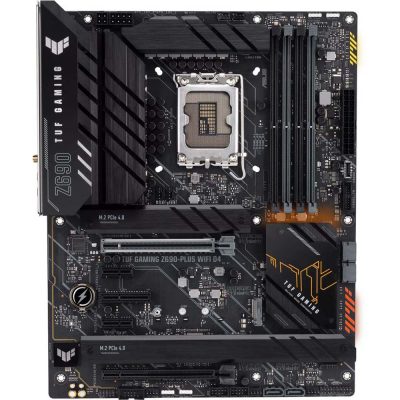 Both of our previous picks adopt DDR5. The new memory is unproven and is still scarce, so why not stick to tried & true DDR4? That's the idea behind one of ASUS's most accessible Z690 boards. The TUF Gaming blends the best of both worlds, letting you transfer memory from your old system while reaping the benefits of PCIe 4.0 and 5.0 elsewhere. It's also reasonably priced and has good VRM.
ASUS already did much to subdue the previously garish TUF look in this board's Z590 iteration. The aesthetic differences are minimal, with the newer board adopting the same black PCB with a smattering of grey areas and a few leftover yellow accents. We like the RGB implementation since the subtle lighting is concentrated around the chipset heatsink and the PCB's side.
Given its price, we're pleasantly surprised that the TUF Gaming Z690-Plus WiFi D4 gives you access to four M.2 PCIe 4.0 drives. They have three thickly padded heatsinks since two drives share a long one. ASUS used the same screwless retention design as on the previous board, and we're thrilled. You may connect four more SATA disks via 90-degree angled plugs without worrying about conflicts.
The top x16 slot takes advantage of PCIe 5.0, while the two bottom ones are PCIe 3.0. The same applies to the small x1 slots you can populate with expansion or capture cards. Memory maxes out at 128GB DDR4, with a single DIMM being able to reach 5333MHz. The internal I/O selection is similar to Carbon's, three addressable RGB & seven fan headers being the major differences.
It's nice to see you get a preinstalled I/O cover, and the port selection isn't shabby either. The eight USB plugs are USB 3.2 Gen 1 or newer, and two are USB-C. You get WiFi 6 via two antenna connectors, while a 2.5G LAN port handles wired networking. The DisplayPort & HDMI outs are helpful if you don't plan on getting a GPU just yet. That leaves the 5+1 audio stack since the I/O is devoid of buttons.
Best i7-12700K Motherboard for Content Creation: GIGABYTE Z690 AERO G DDR4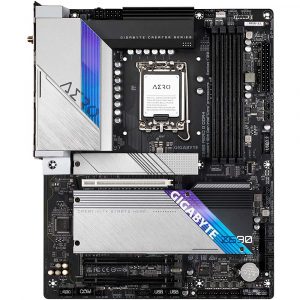 Alder Lake continues to deliver multithreaded performance gains we've seen with 11th-gen Core CPUs. This will make the 12700K appealing to content creators, and the Z690 AERO G is the perfect motherboard to pair one with to that end. It has a bevy of connections, keeps the CPU cool under stress, and doesn't cost much to boot.
The Z690 AERO G is a continuation of Gigabyte's Vision series known for its bright aesthetic. It's undoubtedly among the more minimalist and attractive boards of the generation. The stark contrast of silver & black adds visual appeal without being garish, and adding more color through RGB is always a possibility.
While not as large as on the Master, the armor on the heatsink and M.2 drives still plays a vital role in thermal mitigation. The top M.2 slot has a separate, thicker heatsink due to its proximity to the GPU. All four are PCIe 4.0 enabled and supplemented by is SATA ports for legacy drives. The topmost x16 lane is white and reinforced. It supports PCIe 5.0, unlike the other two that are limited to PCIe 3.0.
The board isn't necessarily designed for overclocking, but that doesn't mean it can't take the heat. The VRM is configured in a 16+1+2 layout and receives adequate cooling from two tiered heatsinks. It's next to four DIMM slots that take DDR4 memory and max out at 5333MHz if you use only one stick.
Two features hint at the board's focus on dealing with different media. On the one hand, the I/O contains a separate DisplayPort input that delivers your GPU's signal through Thunderbolt. On the other, the PCB is home to several premium gold-plated Japanese capacitors that use the newest ALC4080 codec to deliver pristine audio. You'll find the same on some high-end boards, but not even the Master has it.
Other connections on the I/O are more or less standard. There's HDMI for any lingering video out needs, and you may connect either through 2.5Gbps Ethernet or WiFi 6. The USB layout is decent; ten ports, among which you'll find two of the USB-C variant. We're disappointed that the audio stack just has line-in & mic jacks. At least you do get optical S/PDIF out.
Best Value DDR4 Gaming Motherboard: MSI MAG Z690 Tomahawk WiFi DDR4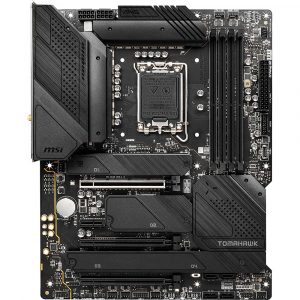 DDR5 is in its infancy, so motherboard manufacturers wisely came up with DDR4 alternatives as well. The generation's Tomahawk board from MSI is among the best since it combines affordability with great performance. It has decent cooling, can handle an overclocked 12700K, and provides all the connections you'll need for carefree gaming, work, or browsing.
Kudos to MSI for making an all-black motherboard look this good. It sports several areas with diagonal lines, sport, and brushed parts that prevent things from becoming stale. The MAG Z690 Tomahawk WiFi DDR4 is a stealthy board as no RGB is present. Four headers associated with lighting leave whether it will remain this way up to you.
The VRM isn't as overbuilt as on more expensive boards. Its layout is 16+1+1 doubled power stages with an output of 70A each. They're fed via two 8-pin EPS connectors, a luxury given the price. This leads to more than 1,100A of clean current for the 12700K, an amount the CPU won't come close to needing even when overclocked. The numerous stages and capable heatsinks surrounding them ensure your CPU cooler will become inadequate long before VRM temps do.
Speaking of heatsinks, the M.2 ones all have screws and are clearly separated from one another and the chipset. Like other boards in this range, you get three PCIe 4.0 slots and one that takes older drives. Four more SATA plugs reside in the bottom connections row, while two take cover under the chipset heatsink.
Six fan headers are there besides the standard CPU and water pump ones. The board can power four USB 2.0 ports for the case I/O along with two USB 3.2 Gen 1 and one 10Gbps USB-C port. Thunderbolt 3 gets support through add-in cards.
The I/O is telling of the board's price. It comes with a preinstalled back panel, which we appreciate. HDMI & DisplayPort are there, as is the standard Ethernet & WiFi 6 networking combo. You get eight USB plugs, 20Gbps USB-C being the highlight. That leaves a BIOS flash button and the audio stack, which uses Realtek's ALC4080 codec and comes with optical S/PDIF out.
Best Mini-ITX Motherboard for i7-12700K: ASUS ROG Strix Z690-I Gaming WiFi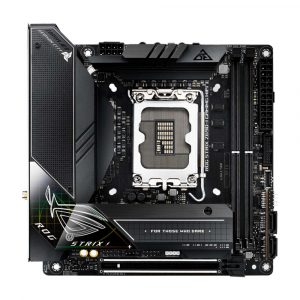 Increased power consumption and thermals compared to Rocket Lake present a challenge for lovers of small form factor builds. Luckily, ASUS is up to it with the best Mini-ITX board of the generation. It looks terrific and packs more features than you'd think would fit. It could also give previous-gen ATX boards a run for their money VRM-wise. The price might be a tough pill to swallow for some, but the board backs it up with overall excellence.
Don't want to spend as much on a board this small? Then consider Gigabyte's Z690I AORUS Ultra instead.
Size was no obstacle in getting the board up to snuff visually. It's predominantly black, but the dots, grid, and white accents strewn about it make things far from boring. Need more? How about RGB built into the logo that also shines through the audio jacks!
Hot and cramped SFF case confines are no problem for the Z690-I Gaming WiFi. It has a proportionally massive main VRM heatsink connected to the other one through a copper heatpipe. The board is also home to three fan headers. On the other hand, the VRM is overkill and ensures the CPU area won't get too hot regardless of other conditions. It's divided into 10+1 phases and supplies 105A per phase!
The board is stacked in terms of storage, literally and figuratively. It has a mezzanine that houses the audio hardware and two M.2 PCIe 4.0 drives with thick padding between them for better thermals. There are two USB headers to the right of it you can attach a daughterboard to that ships with the mobo. It adds an additional four SATA ports, an ARGB header, and front panel audio.
This is among the best I/Os we've seen on any mITX mobo to date despite having to make room for the VRM fan's vents. You get two Thunderbolt 4 USB-C ports among a total of eight. WiFi 6E and 2.5G Ethernet are there, as is HDMI out. There's even room for the BIOS flashback & clear CMOS buttons! The audio stack is limited to three 3.5mm jacks, but optical S/PDIF out is there as well.
Frequently Asked Questions
Which motherboard is best for i7 12th-gen?
The 12700K is the middle of the three Alder Lake processors released so far. However, its performance is more in line with the 12900K. To that end, the CPU benefits from mid-range and high-end boards to maintain stable temperatures and work to the best of its ability. There's no need to go crazy and get something like the upcoming Godlike board, but spending a bit more will generally yield better results.
What chipset is i7-12700K?
The 12700K is an Alder Lake chip and requires the new Z690 chipset to function. Z690 is a marked step up from the previous generation. It brings access to DDR5 memory, the first proper implementation of PCIe 4.0 on the Intel platform, and even PCIe 5.0 for long-term future GPU compatibility.
Does motherboard matter for gaming?
Yes, but indirectly. The motherboard has little bearing on GPU or CPU performance. That's why you'll often see minimal gains between motherboards with a price difference of several hundred dollars. That being said, a more expensive motherboard can offer tangible benefits.
Better RAM support means you can get more memory with higher base and XMP clocks, which can contribute to a modest FPS increase. Lots of fan headers, good VRM, and thick heatsinks prevent temperatures from climbing too high and throttling the CPU & GPU. Finally, adequate networking and port selection let you experience lag-free online gaming and allow you to hook a multitude of peripherals up to the PC.