6 Best Aura Sync Compatible PC Cases in 2022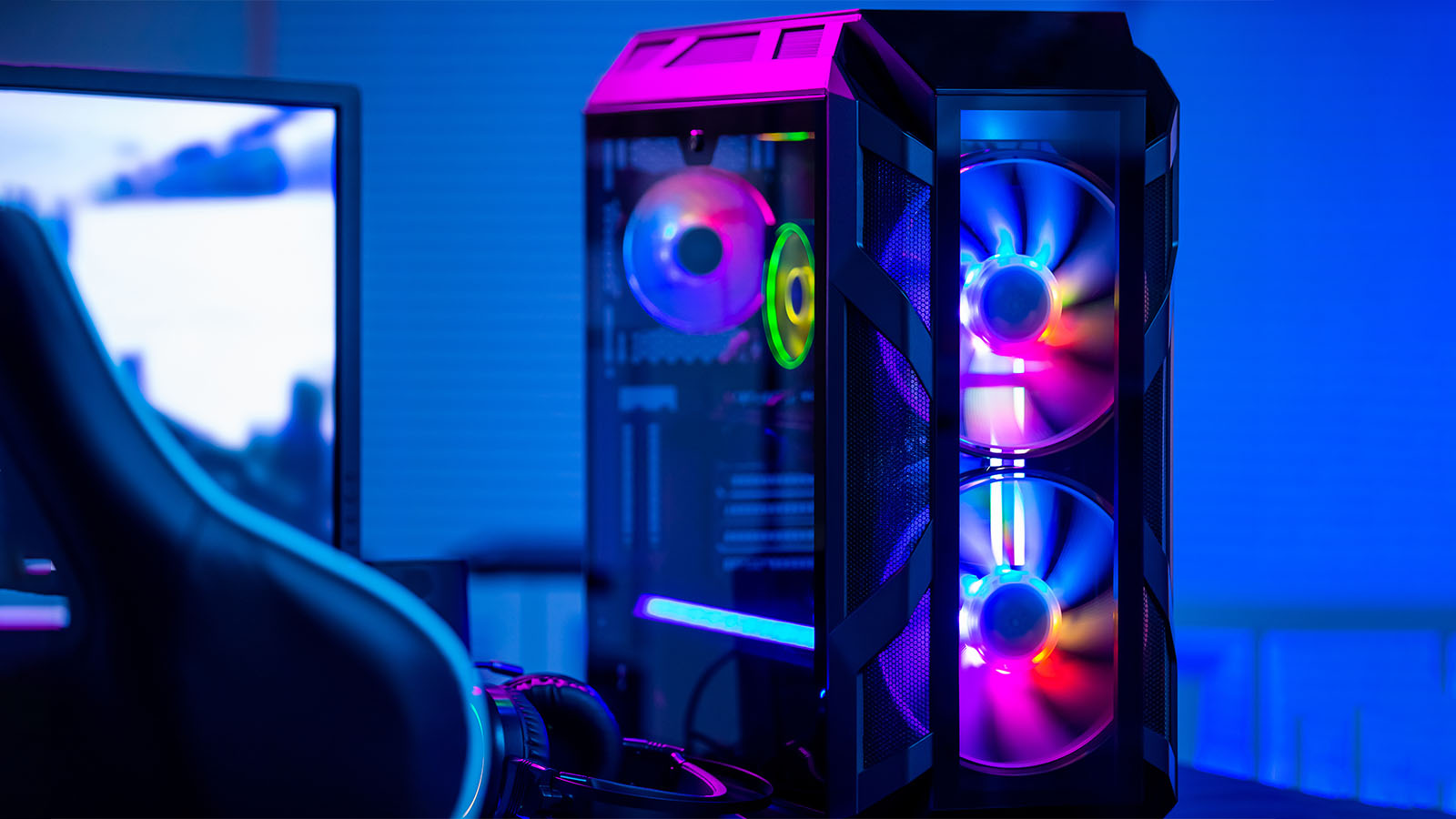 Modern PC cases do not only have to protect your components – they need to look good while doing it. In a dark room, nothing helps more with that than a well-thought-out RGB scheme that shows your parts off in a bevy of colors. Aura Sync makes this easier than ever, letting you orchestrate a perfectly synchronized light show with a few clicks.
These are the best Aura Sync compatible PC cases you can get today. There aren't many of them, but the ones we chose represent an excellent cross-section of everything from expensive & roomy to affordable but attractive. See which one works best for you and give your build the illuminated home it deserves.
Best High-end Aura Sync Compatible Case: Lian Li O11 Dynamic XL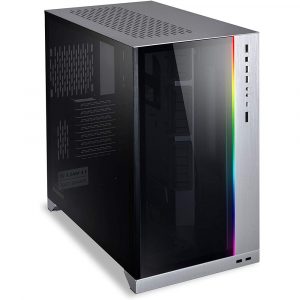 Are you building a top-of-the-line system with an ASUS E-ATX motherboard at its core? You'll need a case that can fit an elaborate cooling system then, and Lian Li's best has got you covered. The improved version of the 011 Dynamic boasts loads of space for custom water cooling and different storage drives. It has an excellent I/O, clever PSU placement, and the potential to let your Aura Sync fans shine.
If you want more prominent RGB out of the box, you might also want to look at the ROG Strix Helios.
Spacious is the first thing that comes to mind when examining the O11 Dynamic XL. Its best demonstration is the large vent on the bottom that supports 36mm radiators but covers only two-thirds of the width. You can place one more on top and one in the front for formidable heat management, or you can use ten 120mm fans instead.
The front panel is available in tempered glass and mesh variants & houses the two-part I/O. Its main controls are located at the top right and include two USB 3.2 Gen 1 & one USB-C port. You'll also find the on/off button with built-in disk monitoring functionality and a control that adjusts the colors & effects of the RGB strip. There are two more USB 3.2 Gen 1 ports on the bottom of this panel.
The right panel has two large vents, while the left is made from slightly tinted tempered glass. The top panel has a large dust filter and needs to be removed before doing the same with the side and front panels. The rear is interesting in that there's a normal-looking area for the motherboard I/O, but a separate PSU cutout is to its right.
That cutout is designed to fit PSUs vertically, and they're secluded from the main internal chamber. Two drive caddies fit above the PSU, with room for four 2.5" or as many 3.5" drives. A vertical bar is next. It brings structural stability and space for three more SSDs. Finally, you can place three more in the area towards the front for a total of ten drives.
Building inside the O11 Dynamic XL is a pleasure since it's exceptionally roomy and offers easy access once all the panels are removed. Even elaborate custom cooling setups leave plenty of space for other components, and you can easily customize the interior with additional RGB to make it unique.
Best Mid-range Aura Sync Compatible Case: ASUS TUF Gaming GT501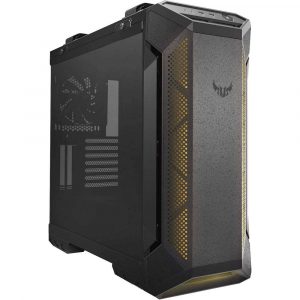 ASUS makes only a handful of cases with Aura Sync support, and the GT501 offers the most bang for how much you'll spend on it. The case is very well constructed and lets you effectively cool components with either plenty of fans or custom water cooling. It fits E-ATX boards and comes with a whopping four pre-installed fans. Add its transportation-friendly design, and you've got a versatile home for your PC that's ready for anything.
Also, check out Cooler Master's MasterBox MB530P if you don't want to spend more than $150.
TUF is both an aesthetic and a design philosophy, as evidenced by the case's rugged appearance and sturdy construction. You'll encounter many prominent geometric patterns and a visually appealing blend of black and dark gray segments. Looking closer at the latter reveals a black spatter pattern that makes the case look even more extraordinary.
The three fans in front are 120mm and support Aura Sync. The one in the back doesn't, but it's a 140mm unit for better airflow. Alternatively, you can replace the front fans with two 140mm upgrades or slot a 360mm radiator there. One more fits on top, and there's enough clearance for a 140mm radiator in the back. The PSU shroud is plastic and extends throughout the interior's bottom. A large cutout in it lets you secure a water reservoir, or you can place two drives there instead.
Speaking of drives, you may mount a total of seven. Two more 2.5" or 3.5" drives fit behind the mobo tray towards the back, and there are dedicated slots for three 2.5" SSDs above the PSU shroud. A look behind the right panel reveals tidy case cabling as well as several grommeted & plain cutouts for more organized wire routing.
The side panels are easy to remove since only two thumbscrews each keep them in place. Their bottoms slot into hinges, so the panels don't just drop once the screws are loose. The tempered glass panel has a noticeable tint, but your RGB components will still shine through. The top is home to an extended magnetic dust filter and a set of removable Velcro handles that let you move the GT501 around & make it great for LAN parties.
Guru3D offers a pair of terse graphs that showcase noise and thermal performance. Having some competition to compare it against would have been better, but even these numbers suggest that cooling and noise levels both when idle or under load are adequate.
Best Budget Aura Sync Compatible Case: Enermax Starryfort SF30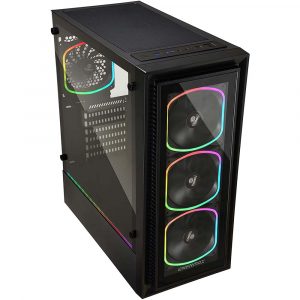 Enermax makes our cheapest and one of the most versatile recommendations. It's a case with uniquely designed fans that put on quite the RGB show. It features excellent airflow, has enough drive mounting locations for most users, and caters to air or water cooling equally well.
Black is the predominant case color nowadays, but the Starryfort SF30 pulls it off with distinction. The finish has a slight texture, and the design is geometric without being boring. We were particularly intrigued by the front panel, which has a tempered glass center surrounded by a square air intake that gets wider as you move downward.
The left panel has the same clear glass and is easy to remove once you take care of four thumbscrews. There's nothing of note on the right, not even vents. A sizeable magnetic mesh cover is on top to compensate, and the bottom features one for the PSU. The back is standard, but you have some room to adjust the fan's position.
The fans deserve a special mention since their beauty matches their performance. Dubbed SquA, they're 120mm models with distinct rounded square LED strips that give off a uniform and vivid glow. They're also capable of maintaining good airflow & high static pressure. You get three in front and one in the back and can add a 280 or 240mm radiator on top. A removable drive caddy in front also gets out of the way if you want to place a thick 360mm radiator there.
Other storage mounting options include two SSD locations in front and one behind the motherboard tray. The PSU goes underneath, and there are seven PCIe slots above it. You may also unscrew a slot beside them if you want to mount your GPU vertically. Several cutouts in the back allow for clean cable routing. A fan control hub lets you cycle through fifteen effects if you don't want to take advantage of Aura Sync.
Best Airflow Aura Sync Compatible Case: be quiet! Pure Base 500DX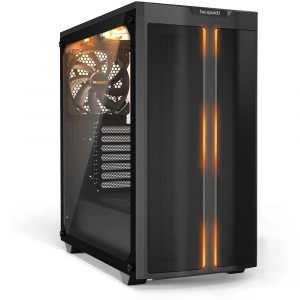 What's the point of a flashy-looking PC case if it's as hot as an oven? You'll never experience such heat with the Pure Base 500DX since it has excellent airflow even though you wouldn't assume so, judging by its lack of vents. The case is attractive, straightforward, and has an understated look that appeals to different users.
Simple & tasteful are the hallmarks of this case's design. The front is its most prominent part, with two angled halves protruding forward. A pair of LED strips between them emits an appealing glow and can display several patterns even without Aura Sync. The I/O is a separate angled surface and standard, consisting of one USB 3.2 Gen 1 & USB-C port, audio and mic inputs, and the power button.
The right side is sealed off completely and has padded insides for better acoustics. The left is a tempered glass panel held together with four screws that are straightforward to remove. A nesh filter resides on the bottom, and there's room for two 140mm fans on top. Speaking of fans, you get three Pure Wings 2 fans with low RPM. A 360mm radiator fits in the front. Sadly, there's not enough clearance for a 280mm unit on top.
The 500DX's insides hold no surprises, just a well-organized layout with no wasted space. The PSU shroud is vented, and you mount the power supply by bolting a bracket onto it and then sliding it in through the rear. Two 3.5″ disks fit alongside it in drive cages, with one of the slots also accommodating a smaller drive. Two more pairs of 2.5″ SSDs fit inside the front of the case and behind the motherboard tray, respectively.
Despite the company's name and reputation, this is not a quiet case. The padding helps, but it isn't enough to drown out the noise of CPU & GPU fans on full blast. Conversely, the thermal efficiency and airflow are excellent. Tests show that placing the top & front fans in different configurations does little to improve the already balmy temperatures in the interior.
Best White Aura Sync Compatible Case: Thermaltake View 51 Snow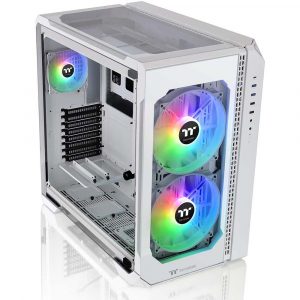 A stylish white case can show off your Aura Sync skills uniquely, and none is as impressive as the Snow version of Thermaltake's View 51. It rivals our high-end winner in capacity and price while bringing several unique elements to the table. The case can be opened wide for easy interior access. It has a rich I/O, and water cooling enthusiasts will have a field day due to its extensive support.
The View 51 Snow is aptly named since its entire chassis is an enticing white with virtually no black contrasting parts. It's also more inviting than most as there are clear glass panels on the top, front, and left. The I/O caught our eye immediately since it's placed well and has five USB ports – pairs of 2.0 & 3.2 Gen 1 along with a single USB-C connection.
This is the perfect case for showing off different RGB profiles. You're off to an excellent start with two 200mm fans in the front and a 120mm model in the back, all with excellent addressable lighting. You may augment or replace these with radiators, with a maximum of four 360mm units mountable throughout the case. Like the 011 Dynamic XL, this case has a dedicated reservoir mounting bracket in its bottom.
We've mentioned several unique design elements, and you'll find them at the back. For starters, the PSU goes in sideways and gets reinforced by a movable bracket that accommodates various lengths. You mount 3.5″ drives similarly into a frame above the PSU that can hold two of them. The back supports eight PCIe slots, which you can mount either horizontally or vertically.
The main interior is breezy and holds E-ATX motherboards with ease. You can remove the top and left panels, so accessing different components or swapping them out is a cinch. Two small drive trays on the bottom are meant for SSDs. There's plenty of space behind the motherboard tray to fit the PSU and HDDs, so tucking a mass of cables behind there goes a long way to making the case tidy.
Techpowerup tested the case for thermals & noise generation. Both tests conclude it is adequate and does especially well when your components are pushed via programs like Aida64.
Best mini-ITX Aura Sync Compatible Case: InWin A1 Plus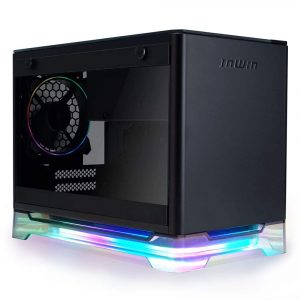 Most cases we've discussed are big enough for the largest motherboards, but what if you need just enough room for a compact mITX build? Enter the Plus version of InWin's acclaimed A1. It has an eye-catching base with a host of ARGB LEDs, comes with a pre-installed power supply, and will accept reasonably long graphics cards to boot.
Minimalism is the name of the game since the A1 Plus looks like a rather plain cube from the outside when the lights are off. You can break some of the monotony up by getting the white or pink version. Its front is solid and mostly featureless since there are no fans that need an exhaust there. The top is more interesting since it's home to a wireless charger and the I/O. The right side has an attractive honeycomb pattern that provides air for a side-mounted 120mm fan.
Examining the bottom reveals a plastic base that elevates the case, allowing air to reach two 120mm fan mounting locations. You'll want to invest in a pair of fans to populate them as that will help with thermals. The final fan is a 120mm model in the back, next to the small motherboard I/O cutout and two PCIe slots.
The case comes with an 80+ certified 650W power supply and plenty of cables to hook up all of your components. The lack of 3.5″ options is understandable given the size constraints. Still, you can mount two SSDs on the back of the motherboard tray, bringing the total to three if you install an M.2 drive on the motherboard itself.
You'll have to remove the back fan to install the motherboard, but building inside the case is otherwise straightforward. It will accommodate 160mm coolers and 360mm GPUs despite there being little room for anything else. You may still work towards a tidy build since most of the wiring can be hidden in the back.
Frequently Asked Questions
What products are compatible with aura sync?
The list of compatible products is extensive. Most ASUS products throughout the ROG and TUF lines are naturally compatible, but there's a
growing list of third-party tech
ranging from fans through peripherals to monitors that works just as well.
Can I use Asus Aura sync on any motherboard?
Unfortunately, you can't. Each major motherboard manufacturer has its own proprietary syncing software, and it's in their best interest for users to buy products that support it. ASUS's catalog of supported motherboards is extensive, so finding one to fit your CPU type and other needs shouldn't be a problem.
Does aura sync work with Lian Li?
Yes. The 011 Dynamic XL is currently the only case Lian Li makes that's compatible with Aura Sync. However, the company also produces several fans, strips, and accessories that integrate their products into ASUS's lighting ecosystem.