5 Best Dual CPU Motherboards in 2022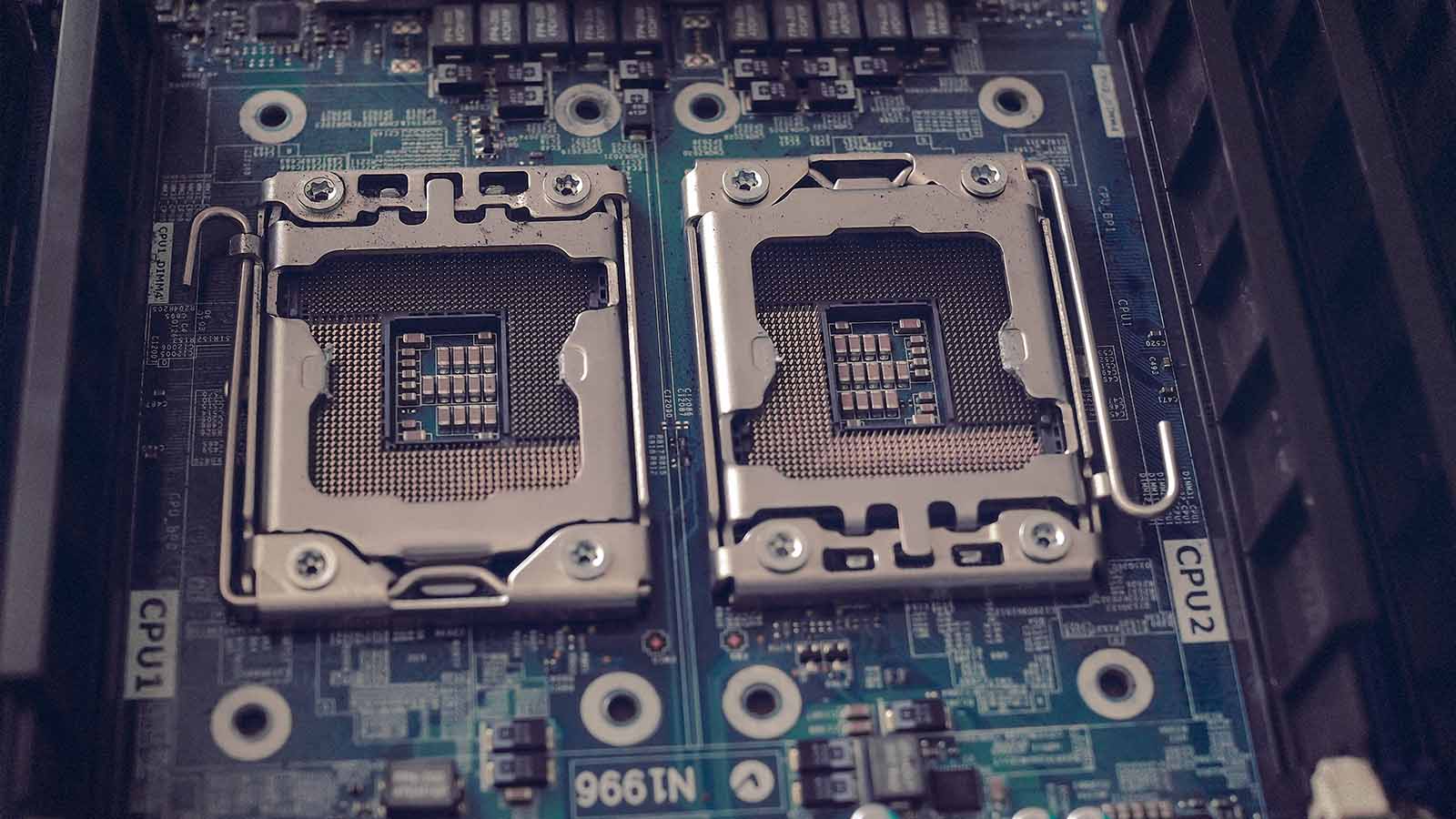 Whether it's gigabytes or teraflops, we take it for granted that more equals better in the computing world. Want more space? Get new storage drives! Want more memory? Double the RAM! Things aren't as straightforward when it comes to your computer's CPU count, though.
This article will help you determine whether you'd benefit from multiple CPUs and showcases the best dual CPU motherboards to help you get there. Find out more about them and start building an impeccable server or workstation.
What Are The Advantages of Using a Dual CPU Motherboard?
The rise and acceptance of multithreaded processors have led to a decreased interest in dual CPU boards. However, they still have their place as parts of workstations or professional and home servers.
Size is a dual CPU motherboard's main advantage. Being able to fit two processors on the surface of one E-ATX mobo increases the efficiency with which you can build a server tower. It allows more of them to occupy limited space without taking a large toll on heat efficiency.
The power such motherboards bring is not to be underestimated either. The numerous extra PCIe lanes allow for much larger throughput than on conventional PCs. More lanes let the CPUs communicate with more components, which is especially useful for graphics cards and high-speed storage devices. With two CPUs comes support for increased amounts of RAM, so it isn't uncommon to see a workstation with 1TB or more. Even the most advanced high-end desktop PCs can't go over 128GB today, which puts things into perspective.
All of this extra computing power can be put to good use, usually in a professional environment. The added storage potential is great for file servers, while multi-GPU support allows for faster 3D rendering or the creation of intricate real-time models that can help scientists make new discoveries.
Home users don't get as many benefits since today's desktop CPUs can handle most tasks such users will encounter. That being said, a home server built with two older, once extremely expensive CPUs, can successfully run virtual machines or be utilized for heavy multitasking & extensive data storage.
You'd be forgiven to think that putting two processors inside your gaming rig would yield significant improvements. Sadly, that's not the case. Using two CPUs has no discernible impact on framerates, and you won't be able to run a more demanding game with two low-end chips if one of them isn't enough in the first place. A single mid-range CPU coupled with a good graphics card is everything you need for seamless gaming nowadays.
Best Intel Xeon Dual CPU Motherboard - ASUS WS C621E Sage
ASUS take their time with new workstation motherboards but deliver exceptional results each time. The latest model combines a high PCIe lane count and ample memory support with features you'd expect from a mainstream motherboard like audio and the ability to overclock your CPUs. Add lots of fast storage and extensive GPU pairing options, and this becomes a monster of a board for any demanding task.
There's barely any room left on the board's uniquely black PCB; there's not even a break between the sets of three DIMM slots closest to the middle. A total of twelve support 768GB RAM at 2,666MHz. They flank two LGA3647 sockets that take CPUs with a max TDP of 205W. Keep in mind that their ILMs are square and buy heatsinks accordingly.
Workstation motherboards usually don't let you overclock the CPU, but they don't have heatsinks as prominent as these either. You're understandably limited to overclocking the QPI, which in itself can be unstable if you push it too far. However, even running the system without crashing on the first of three OC tiers can yield noticeable improvements.
The WS C621E Sage's lower half is busy with connections. Ten SATA ports take care of hard drive storage, while a 110mm M key M.2 drive ensures fast boot up. You may also hook four more 2.5-inch NVMe SSDs through high-speed U.2 connections.
The board is designed to make the most of multiple GPUs. It has seven PCIe 3.0 x16 lanes with only two running natively in x8 mode. The best thing about this setup is its support for four NVIDIA or AMD graphics cards in four-way SLI or CrossFire.
We commend ASUS for the GUI you get when you access the board from a browser. It has an intuitive dashboard that directs your attention to events and critical issues. The tabs on the left bring you to different areas where you can control the board remotely, view logs, or administrate users & connected networks.
Even the I/O is much more substantial than on similar boards. There's VGA, two Gigabit LAN ports, a full 5+1 audio stack with optical S/PDIF out, and PS/2 for older mice or keyboards. Most impressive are the USB ports, though. Four are USB 3.2 Gen 1, and the other two are USB 3.2 Gen 2 A & C.
Best EPYC Dual CPU Motherboard - Gigabyte MZ72-HB0
Professional server motherboards often adopt a custom form factor to accommodate many PCIe lanes and DIMMS, losing out on adaptability in turn. Gigabyte made a dual CPU board for AMD processors that conforms to E-ATX without sacrificing much functionality. It comes with a slew of PCIe 4.0 inputs and has an advanced web interface that makes administration more intuitive.
You can't currently get this motherboard from online retailers but may contact Gigabyte for a quote.
The Gigabyte MZ72-HB0 is compact as server mobos go yet manages to fit eight DIMM slots per CPU that latch to one side. Each takes modules of up to 128GB with clock speeds of 3,200MHz or lower. While newer Epyc processors could handle twice as much memory, the board's size constraints don't allow for it.
You may need an assortment of extension cables due to the board's layout. Specifically, the 24-pin E-ATX power connector is located on the top-left edge, while the two 8-pin CPU power connectors are to its right. Two of the six PWM fan headers are close to the CPUs, but four are at the board's bottom instead of its right edge.
There are plenty of options when it comes to both traditional and advanced storage. Four SATA 3 slots are to the right, and the board has a single dedicated PCIe 4.0 M.2 slot. An additional three SlimSAS ports let you connect either older SATA drives or PCIe 4.0 NVMe SSDs. Finally, you can connect two more drives through SlimSAS headers located close to the board's five PCIe x16 slots.
Gigabyte enhanced the board with a new HTML5- based GUI that puts most frequently-used actions within easy reach. You can monitor the server and update the IPMI or BIOS remotely. You also get an iKVM client for remote management free of charge.
The board's I/O is sparse but functional. You get two USB 3.0 ports and OOBM for remote access or reboot. The two RJ45 connectors both support 10 Gbps Ethernet. COM & VGA inputs are the outermost connections and useful for working with legacy hardware.
Best Dual CPU Motherboard with Sound - Tyan Tempest HX S7100
Workstations are used for everything from complex calculations to cutting-edge research, so they need to be more versatile than dedicated server boards. For example, this board from Tyan comes with an optional audio solution you connect internally. This makes sense for a mobo you won't access remotely but will use for heavy-duty work.
The Tempest HX S7100 supports two Intel Xeon 3647 processors, each flanked by six DIMM slots that recognize a maximum of 1.5TB of DDR4 memory clocked at 2,666MHz. You'll want to make sure your power cables are long enough since each 8-pin connector is on the side of the board closest to the CPU.
You can buy the board with an included audio bracket that connects to it via an internal header. Doing so will enable 7.1-channel audio on the board and let you hook up stereo speakers to it. The bracket uses Realtek's ALC892-GR codec. While this setup isn't as capable as what you'd get on mainstream motherboards, it's more than enough for workstation purposes.
Storage space on the board abounds, starting with room for two 80mm M.2 SSDs. These screw onto the PCB, which you should do before attaching other components. There are only two visible SATA DOM ports. But don't despair – the board has three mini-SAS headers with four lanes each, bringing the maximum amount of SATA drives up to a respectable twelve.
Seven PCIe slots offer ample expansion leeway. They alternate between four x16 and three x8 units. There's room for adequate cooling, too, thanks to five fan headers. Four are clustered around the CPU sockets, so consider what size coolers you'll be using since the awkward fan header placement might pose a problem for ones with large heatsinks.
The I/O is standard fare for workstation motherboards, with the exception of an optical S/PDIF out that becomes active once you install the add-on module. Four USB 3.0 ports complete the I/O's modern side since it continues with two Gigabit LAN ports and a VGA input.
Best Value EPYC Dual CPU Motherboard - Supermicro H11DSi-NT
Supermicro offered a comprehensive dual solution for the then fresh EPYC line of CPUs two years before Gigabyte, and the board remains viable to this day. It has 10GbE for high-speed online connection, lots of SATA ports, and a straightforward web-based interface that simplifies monitoring or updates.
This is another board that fits within E-ATX standards and is busy as such. The two CPU sockets take center stage and take up a large part of the board in combination with their connected 16 DIMM slots. Depending on the board's revision, the DIMMs can take a total of either 2 or 4TB ECC RAM at 2,666MHz. Five PCIe 3.0 slots below the first CPU are intended for expansion cards, three being x8 and the other two x16.
There are many more SATA headers on the H11DSi-NT than on Gigabyte's board. Ten of them are scattered along the right and bottom sides, so you won't need longer extension cables for most. Two are a bright yellow color signifying they can provide power to SATA DOM drives. You may add faster storage either through a dedicated PCIe 3.0 M.2 slot or two Oculink headers.
The board battles excessive heat on several fronts. It has a five-phase VRM that handles supplies both CPUs with a steady current. Eight PWM fan headers allow for strong air cooling implementation, and the Ethernet controller has its own heatsink due to high TDP.
It's worth pointing out that the board's architecture makes it essential to use two CPUs to achieve full functionality. You'll lose out on an x8 slot, four SATA ports, and the Oculink headers if you leave the second CPU slot empty.
Depending on the revision, there are two USB 3.0 and either two or four USB 2.0 ports on the back I/O. You also get two 10GbE connections handled by the Intel X550-AT2 controller. One RJ-45 LAN port is dedicated to IPMI, while VGA and COM have your legacy needs covered.
Users familiar with Supermicro's IPMI for Intel boards should feel right at home since it's structured similarly here. Access to Serial-over-LAN and iKVM are added free bonuses you wouldn't get for free when dealing with other vendors. You do have to pay for remote BIOS updates but can take care of that with a one-time license.
Best Value Intel Xeon Dual CPU Motherboard - Supermicro X11DPi-N
Mass storage is one area where dual CPU motherboards have a clear advantage over ordinary ones. You'll want to turn to Supermicro if you need a fairly-priced mobo for a storage server, like this one with room for no less than fourteen SATA drives.
You might also want to consider the Supermicro X11DPi-NT. It's a little more expensive but comes with two 10 Gbps LAN ports.
The massive LGA3647 sockets and accompanying DIMM slots take up more than half of the board's E-ATX optimized area. You could only use the twelve blue DIMMs when the board released since the four black ones were intended for future NVDIMM support. Now you may populate all of them with a whopping 4TB of ECC RAM.
You'll want to buy this board because of its assortment of storage possibilities. A connection for a 110mm M.2 drive is at the heart of it that works best as your system disk. Two SATA DOM-capable connectors stand to the right of the chipset heatsink. There are three more SFF-8087 connectors close to the bottom edge, each offering lanes for four SATA disks. That brings their total to fourteen.
Not enough space for you? Then feel free to expand to even more drives through some of the six PCIe 3.0 lanes. Four are x16, and two are x8, which should be plenty not just for more storage space but for improved networking or graphics cards as well.
Not much has changed in the GUI's overall presentation since this board's last generation. The addition of iKVM is a welcome one since you won't have to deal with clunky Java remote interfaces if you don't explicitly want to. There's also the benefit of being able to enlarge the screen, so you don't have to squint when using high-res displays.
There's not much to say about the I/O other than it offers basic functionality. It starts with a COM port followed by two USB 3.0 and a remote management port. Next are two more USB 2.0 inputs and as many Gigabit LAN connections. Finally, there's a VGA input for hooking old monitors up to the integrated graphics chip.
Frequently Asked Questions
Can a dual CPU motherboard run on one CPU?
Each dual CPU motherboard is designed to run on a single chip without issue. You will lose out on some connections assigned to the second chip, so it's a good idea to study a motherboard's diagram and see which inputs and outputs you can do without before making a decision.
Do dual CPUs have to be the same?
Most boards won't force you to use the exact same CPU in both slots. As long as they're compatible with the motherboard's chipset, you can use any two processors together. That being said, some motherboards are known to throttle the more powerful of the two to match the weaker chip's frequency.
Why do computers not have multiple CPUs?
In short, diminishing returns. Two physically separate CPUs experience latency when communicating. This isn't a problem for simple tasks necessary to operate something like a web server. Still, it does create issues when you're encoding video, rendering 3D, or doing other strenuous multithreaded work. CPU manufacturers are focused on increasing the transistor count, increasing clocks, and improving single chips' caches instead, with considerably better results.