6 Best CPU Coolers for i9-12900K in 2023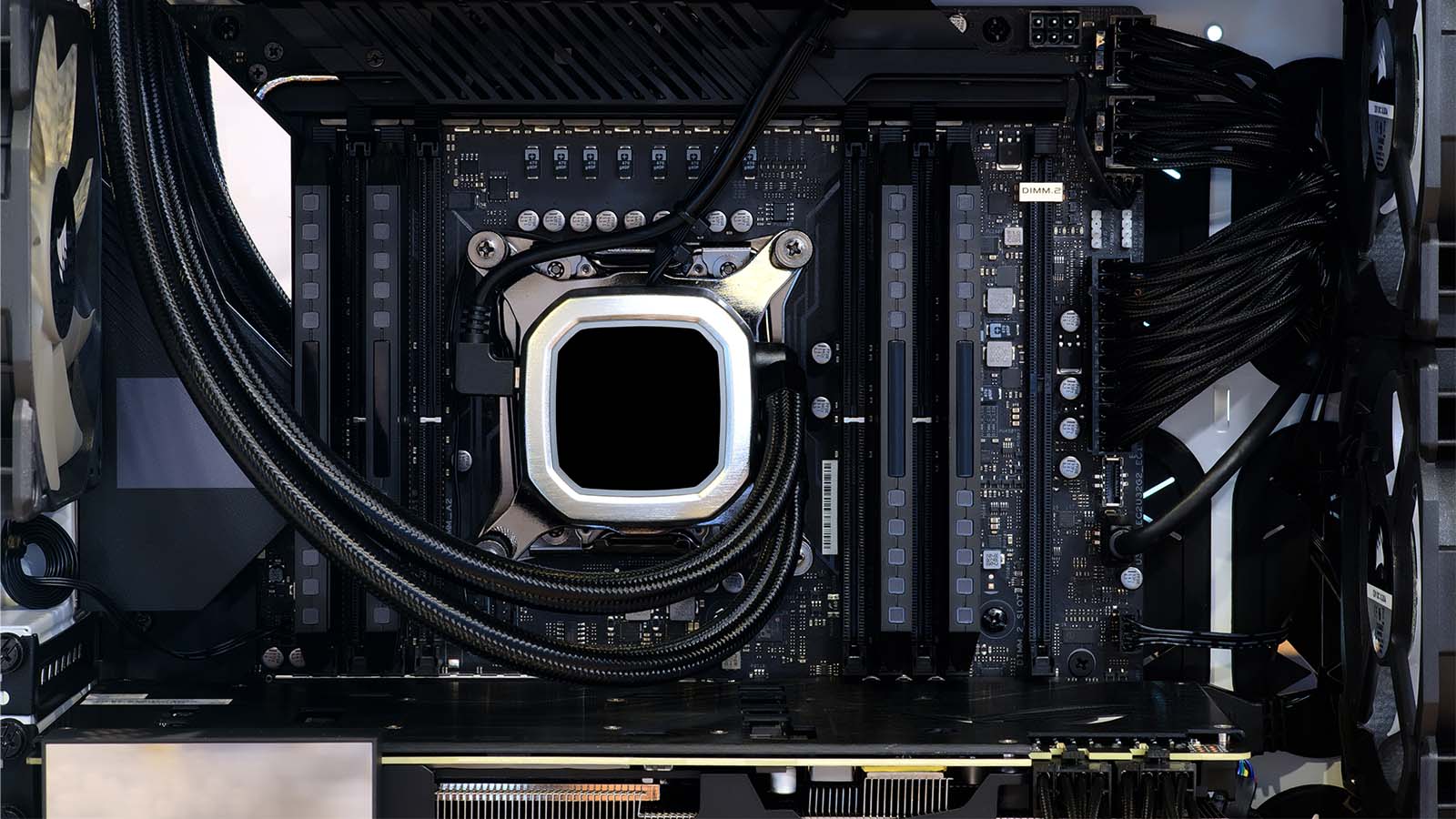 The 12900K is Alder Lake's pinnacle and the newest champion in the struggle for ultimate gaming performance. If you want the best gaming chip in the world, this is it! That's just one aspect of the new CPU, though. It's seen a massive boost in both lightly threaded and multithreaded applications, not to mention how it heralds the introduction of PCIe 5.0 and DDR5.
Unfortunately for your wallet and air conditioning bill, the 12900K is also the most power-hungry and hottest desktop processor Intel has released to date. Air cooling won't do anymore, which is why our list of best CPU coolers for i9-12900K contains only AIOs. Luckily, they're capable of taming this monster processor. The variety is such that finding a winner isn't hard regardless of your budget and other needs.
Best High-end Cooler for i9-12900K: Corsair iCUE H150i Elite Capellix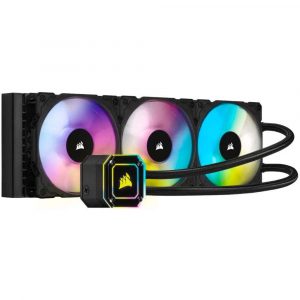 The last iteration of Corsair's Hydro series AIOs was already a cooling success. Now that the H150i has unique lighting, it covers AIO excellence on all fronts, from cooling to aesthetics. It's the most versatile and adaptive cooler on the list. This is the model to spend your money on if you need to jump from whisper-quiet operation to effortlessly cooling an overclocked 12900K in an instant.
Not a fan of the RGB but still want comparable performance? Then NZXT's Kraken X73 is the cooler for you.
An unusually high CPU block is the first thing you'll notice about the AIO. It houses the pump and several connections in the bottom two-thirds, while the top is reserved for 33 LEDs. So many fit in there since they're Capellix, Corsair's take on smaller and more efficient lighting. A cap with Corsair's logo completes the ensemble. You may exchange it for a clear one if you want the LEDs to be even more prominent.
The radiator is standard as 360mm units go, but the fans are a cut above the competition. They're the RGB version of ML120, with black casings and white blades that diffuse light pleasantly. More importantly, each fan pumps 75 cubic feet of air per minute out of the case at a static pressure of 4.2mmH2O. That means their performance won't be impeded by poor airflow or obstacles.
The installation is easier than most, thanks to the Commander Core that accompanies the H150i. It's a hub that connects to the pump head via a 22-pin cable and provides RGB & PWM power to six Corsair fans. It's independent of software like Aura Sync, but the degree to which iCUE lets you customize all 57 lights is impressive.
We were even more impressed with the built-in presets and their impact on performance. They range from quiet to extreme. The former is intriguing since it cuts the fans altogether when there's no need to cool the CPU. The latter makes this the best-performing 360mm AIO today, albeit at the cost of high noise. Balanced gives you the best of both worlds while still keeping the 12900K in check.
Best Mid-range Cooler for i9-12900K: ARCTIC Liquid Freezer II 360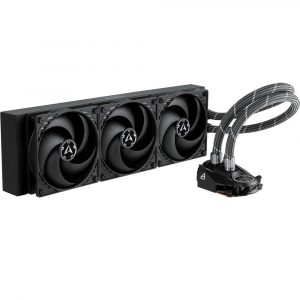 While many manufacturers try their hand at AIOs, their variety is more limited than this would have you believe. Most source critical components from one or two dominant providers, which results in similar pump designs & behavior. Arctic decided to forego this trend in favor of an in-house design that wins accolades at every turn. Their AIO is innovative, quiet, and among the most effective at cooling even the beastly 12900K. Best of all, it barely costs more than $100.
Almost every part of the Liquid Freezer II 360 is unique. Take the radiator, for example. It's 11mm thicker than standard, with a corresponding increase in area. Arctic uses its acclaimed P12 fans to deal with the heat, which they do successfully and quietly even though their CFM is nothing to brag about.
You'll find the greatest deal of innovation concentrated on the CPU block, though. It has an unusual shape and takes up more space around the processor than most, so mind that there's enough of it on your mobo. Why is this? Because of an additional 40mm fan responsible for cooling the VRMs. The air is ejected through three sides, so the GPU or RAM benefit from a cooldown as well.
There's not much to setting an AIO up, but the Liquid Freezer range simplifies the process even further. You don't need to fuss with PWM fan wires since they already connect to the head unit. A single cable connects to the motherboard from there and governs the speed for all four fans. These also come preinstalled, saving you additional time.
How do all of these unique takes on AIO design stack up? Guru3D tested the cooler's A-RGB version, which incorporates fans with a slightly lower CFM. The results put it in the top quarter both for handling an overclocked CPU and in terms of low noise levels. The ordinary version is a notch or two better.
Best Budget Cooler for i9-12900K: MSI MAG CORELIQUID 360R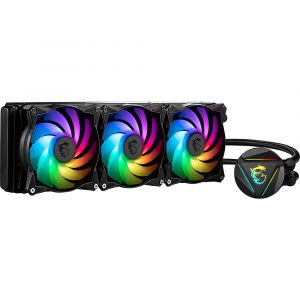 Arctic isn't the only company experimenting with different AIO layouts. MSI's newest cooler takes things in another direction with a pump that's integrated into the radiator. That makes for a more compact head unit without much compromise in performance. The AIO is attractive, reasonably effective, and can be yours for a song.
Cooler Master's MasterLiquid ML360 Mirror ARGB is a similarly-priced alternative with comparable cooling chops.
MSI's changes to the MAG CORELIQUID 360R aren't as extensive as Arctic's, but they're worth noting. The low-profile pump head is sleek and easy to position. Its top is home to MSI's dragon logo infused with RGB lighting. You can turn it 270 degrees, so the logo is always positioned appropriately. Two swivel fittings ensure the tubing can move more freely during installation. The cold plate is circular and made from milled copper. You get thermal paste with the cooler but have to apply it yourself.
At first glance, there's nothing extraordinary about the 27mm thick radiator. However, it has two key differences. One is what looks like a coolant access port. It's not clear whether you're supposed to access it after a while to refill the coolant, but it is a possibility. The pump's location is the second. It is nestled inside the radiator instead of the CPU block. Speaking of blocking, it doesn't obstruct airflow due to much of its location overlapping with the center of one of the fans.
All of this has minimal impact on installation, which is as straightforward as with most AIOs. You get a splitter cable for the ARGB and can power all of the fans' lighting from a single connector. It naturally works best with Mystic Light, but lighting coordination software made by other board manufacturers gets the job done too.
The 360R can't compete with the best models on the list, but it's good enough to run the 12900K at stock speeds without overheating. Tests place it in the middle, with some 360 and 280nn AIOs performing better in terms of cooling. Noise results are similar at a rather loud 45dB. Still, other components in your build may overpower the sound.
Best RGB Cooler for i9-12900K: Lian Li Galahad AIO360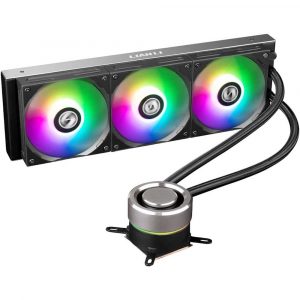 Want an AIO that rivals the H150i in performance and beauty? Then only one model comes to mind, Lian Li's Galahad! The case manufacturer doesn't have a long liquid cooler track record, but the Galahad is proof that you don't need one to get things right. It looks beautiful both on and off, cools exceptionally well, and you can set it up in minutes.
More extravagant alternatives include the Kraken Z73 and ROG Ryujin 360. These are much more expensive but demand attention with their unique CPU block screens.
Most manufacturers don't put a lot of thought into their AIO aesthetic. Not so with Lian Li, unsurprising given their long case design track record. The Galahad is a sight for sore eyes in silver & black. Its radiator has a beautiful aluminum casing, and the pump goes from brushed to mirror-finished to accentuate its top.
Things improve further as you light your case up with the cooler's many LEDs. The ones in the pump head reside behind a mesh-like cover that creates a mesmerizing dot pattern. You can close them off with a solid aluminum cap or let the Lian Li logo in the middle shine brightly. On the other hand, the fans are a combination of black & white that softly diffuses the glow.
This is another AIO whose RGB you can adjust either with software or through a provided controller. The latter combines the fans' RGB connectors and has several presets that control speed or the desired effect. You'll have to mount the fans and exchange the attached bracket for the LGA1700 alternative, but at least the thermal paste comes pre-applied.
We've hardly touched on the cooler's real-world results and are happy to report these are excellent. It trounces air coolers along with most other 360 and 280mm AIOs at keeping thermally demanding processors stable under high load. The Galahad is also among the most silent models when idling and doesn't get much louder than the Liquid Freezer or Pure Loop when pushed.
Best Silent Cooler for i9-12900K: be quiet! Pure Loop 360mm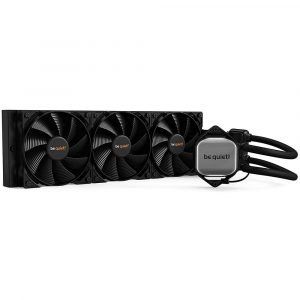 It's challenging to strike a balance between effectively cooling the 12900K and doing so silently. The Pure Loop 360 from be quiet! certainly qualifies. It's our third non-standard recommendation, yet that doesn't stop the cooler from achieving noteworthy results. It's affordable, refillable, and keen on being among the most silent components in your build.
Like Arctic's model, the Pure Loop 360 is a liquid cooling solution with many unorthodox tweaks. For instance, there's nothing to distinguish the radiator from other 360mm units at first glance. Closer inspection reveals a fill cap without the customary warnings. In fact, you're supposed to unscrew it a couple of years into the cooler's runtime to top off the evaporated coolant. Be quiet! graciously provides a bottle that should last for multiple refills.
You'll come across the second innovation as you descend down the braided tubing. It's the pump, located away from both the radiator and CPU block! The pump's position ensures even less noise generation and improves cable management.
The CPU block is the most aesthetically pleasing part of this AIO. It's small due to the lack of a pump and decorated with a square top that tastefully lights up with a white LED border. A further degree of refinement is present in the cold plate too. Rather than being pure copper, it is nickel-plated for better longevity.
The fans that arrive with the Pure Loop 360 aren't the most powerful the company offers. Still, Pure wings 2 are distinguished for combining decent throughput with minimal noise generation. They don't come with vibration-reducing rubber corners, but their mounting procedure is easy. That's the word we'd use to summarize the entire installation, even if you're not experienced in PC building.
Kit Guru tested the AIO with an i9 9900K, a CPU that gets almost as hot as its Alder Lake successor. It did well, effortlessly keeping the chip in the low to mid-60s while running at the highest stock clock. Some air coolers and AIOs with smaller radiators were a bit quieter. Still, the Pure Loop is a winner when compared with equally-sized models.
Best 280mm Cooler for i9-12900K: NZXT Kraken X63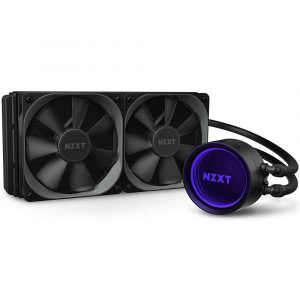 We've only been focusing on 360mm AIOs so far as these provide optimum cooling for the 12900K. However, a competent 280mm AIO can be up for the task if your case doesn't have 360mm radiator mounting positions. We went with the Kraken X63 since it's efficient, not overly expensive, and has excellent companion software.
You could just as well go with the H115i Elite Capellix or the 280mm version of the Liquid Freezer II.
You'll love NZXT's cooler if you're into stealthy builds due to its all-black aesthetic. Everything about it blends into the shadows, and even the glow can look subtle if you tweak it. Not that you'd want to keep the infinity mirror hidden away as it's among the most stunning effects around. NZXT is well aware of this, which is why the third Kraken iterations all have a 10-percent larger pump head that displays the effect better.
There's not much to report on the radiator, but the fan specs hint at the Kraken X63's potential. Having a 280mm radiator means the fans need to be 140mm in diameter. Two such Aer-P 140mm fans give three-fan setups a run for their money with a CFM of 98 each. Couple that with a static pressure of 2.7mmH2O, and you've got a set of fans that will keep your system cool even under challenging conditions.
Installation is the only aspect of this cooler that might prove troublesome. Most of it boils down to choosing the appropriate bracket, locking the pump head down, and mounting the fans. Problems arise when dealing with the multitude of cables that control fan & pump power, lighting, and adjustments through software. The CAM program lets you adjust the lighting and track a comprehensive system overview. On the other hand, you can't use it to create fan curves without an additional pricy controller.
One look at Guru3D's test battery establishes the AIO as a worthy rival to 360mm models. It's among the best when tackling a high-TDP overclocked Intel CPU and has low idle temps. Noise testing places it in the top third, which makes sense due to the fans' larger area and slower rotation speed.
Frequently Asked Questions
Does i9-12900K need liquid cooling? Can you air cool an i9?
Top-tier air coolers have been enough for Intel's mightiest desktop chips. Until now. The 12900K puts out too much heat for the NH-D15 to handle, unless you want temperatures to shoot up into the 90s when stressing the CPU. So, a large, competent AIO or even a custom water loop are the optimum cooling solutions for it.
What is the best water cooler for the i9-12900K?
Several coolers rightfully claim this title. We chose the H150i since it combines effectiveness and aesthetics with an easy install that makes the cooler accessible to many. Arctic's model provides exceptional value, while the Pure Loop 360 emphasizes quiet yet efficient cooling.
You could also consider two other options. The first is going with an even larger radiator. There are only three 420mm AIOs available at the time of writing, though. Finding a case that fits their radiators is challenging, and the benefit they currently bring over 360mm variants is negligible. The second is to consider investing in a custom water loop. This requires more hands-on experience and isn't for people who are looking for ready-made solutions.
Is 240mm AIO enough for 12900K?
No. Such a small radiator wouldn't have the required surface area and fan power to transfer the 12900K's heat output into the surroundings fast enough. The best 240mm AIOs are on par with or slightly better than the NH-D15, meaning you'd still experience high running temps and possibly even throttling.