6 Best RAM for Ryzen 9 5900X in 2023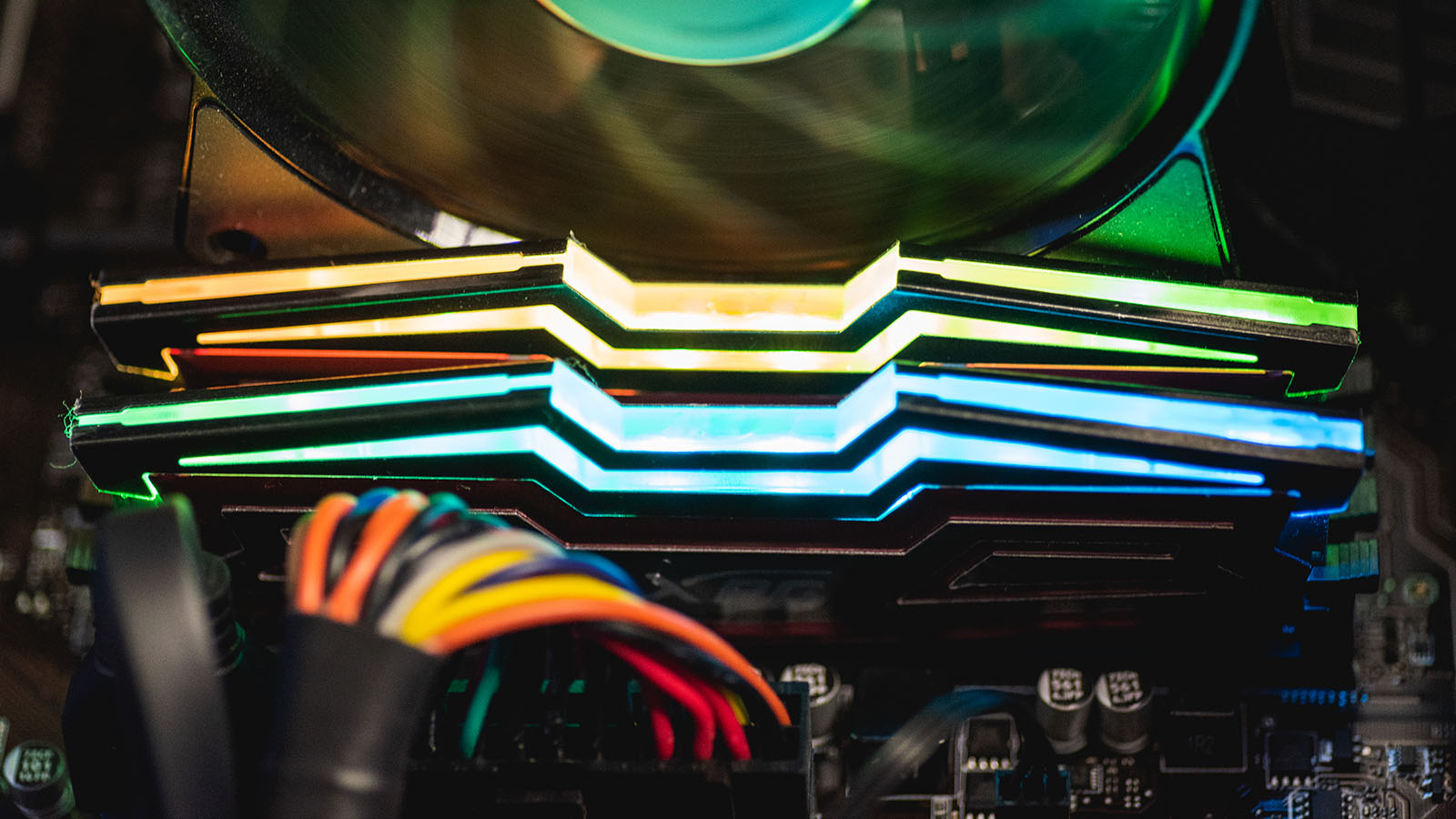 The first Ryzen chips might have put AMD back on the map, but it's with Zen3 that Team Red managed to assert its dominance in every field. The 5900X is the company's shining example, delivering substantial performance gains from the previous generation and successfully trading blows with Intel in the long-uncontested gaming arena.
The days of high memory clock dependency are long gone for AMD, but investing in the best RAM for Ryzen 9 5900X doesn't mean you won't feel the difference. This article draws attention to six distinguished kits ideally suited for different use cases and budgets. Check out what each offers and augment your fantastic new CPU with memory that fits the part.
Note: Most kits featured in the review are 32GB since we're going with the assumption that someone who's buying the 5900X will need as much memory. Their 16GB versions are cheaper and just as effective, so get those instead if gaming is your top priority and you want to save some money.
Best High-end RAM for Ryzen 9 5900X: TEAMGROUP T-Force Xtreem ARGB 3600MHz 2x16GB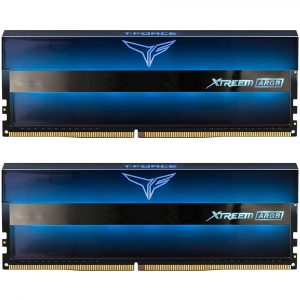 RAM with a frequency of 3600MHz is the current sweet spot for Ryzen processors, and the Xtreem kits made by Teamgroup are undisputedly the best. Their B-die ICs, tight timings, and great overclocking potential cover the hardware side. On the other hand, the infinity mirror design makes for a unique presentation everyone can appreciate, even people who aren't ordinarily RGB fans.
You wouldn't peg the T-Force Xtreem for RGB RAM at first glance due to the unusual shape of its heat spreader. It's plastic and dark blue, with an aluminum strip that houses 15 LEDs in the middle instead of on top. The plastic catches the light in a pleasing way when the LEDs are off. Turning them on reveals an infinity mirror configuration that mesmerizes onlookers without being too flashy. Teamgroup supports all the major motherboard lighting software, having dropped support for their own.
The thermal efficiency of such a spreader is debatable, but it looks amazing. Out-of-the-box XMP stats are another amazing aspect of this RAM. It runs at 3600MHz with CAS timings of 14-15-15-35 at 1.45V. Test systems are exceptionally stable at these settings. In fact, you can overclock the RAM to more than 4000MHz while keeping similar timings with a modest 0.05V increase. This won't translate to better performance on the 5900X, but it does mean you can get another kit for an Intel-based system and get even more out of it.
Overclockers conducted a comprehensive testing session that involved several of the kits mentioned below and other well-known models. Teamgroup's RAM is the clear winner since it scored substantially better than the competition in almost every benchmark they threw at it. No games were tested, but there's little reason to doubt that it would have been high on the charts there as well.
Best Mid-range RAM for Ryzen 9 5900X: G.Skill Trident Z Neo 3600MHz 2x16GB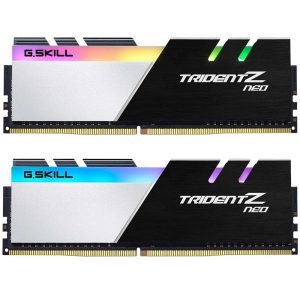 Do you want memory with specs that rival the Xtreem but at a more reasonable price? G.Skill has just what you need in their newest Trident Z kits. They're a sleek upgrade over the original, featuring a subtle redesign, fantastic conventional LED lighting, and excellent timings.
G.Skill sells other kits that are both flashier and more affordable. The Trident Z Royal edition comes to mind first, with highly-polished heat spreaders and signature ice-shaped light diffusers for a sublime appearance.
Kudos to G.Skill for managing to stick with much of the original Trident Z aesthetic while making their new memory even more eye-catching. The two-toned heat spreader takes most of the credit since its silver & black tones look great whether you're aiming for a white or black build.
Eight addressable LEDs offer smooth color transitions and can be configured through companion software. You may also use motherboard features like Mystic Light or Aura Sync to align the lighting with other components.
The Trident Z Neo is a Ryzen-optimized powerhouse, with a frequency of 3600MHz and CAS timings of 14-15-15-35 accessible through its default XMP profile. The RAM uses 1.45V of power at these settings, which is a bit more than optimal. You can always drop the latency to CL16 to achieve 1.35V, but that comes at a slight performance penalty.
Head-to-head testing against Xtreem and Spectrix kits reveals there's little tangible difference in their performances for most workflows. File compression is the only metric where this kit shows any signs of slowdown; it's more than adequate for a wide range of other tasks, though.
Best Budget RAM for Ryzen 9 5900X: HyperX FURY Black 3600MHz 2x16GB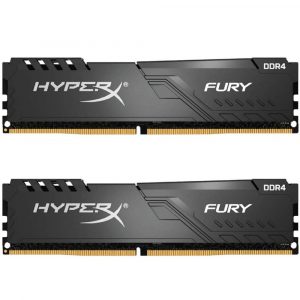 Kingston is a manufacturer you can turn to if you need dependable memory at low prices. The HyperX series is an excellent example since it eschews fancy lighting & outlandish design in favor of simplicity at competitive levels. The memory isn't as lightning-fast as more expensive offerings. Still, the differences in performance are much smaller than the double- or even triple-digit savings you're getting when compared to Teamgroup or G.Skill RAM.
Simple but elegant is an apt description of Kingston's value RAM. The sticks are slender and entirely clad in black. The aluminum heat spreader has stamped insets that give it a little more surface area. They make for attractive sticks coupled with the silver branding visible on each side. A Beast version of the memory exists that adds RGB and a diffuser without significantly impacting the price.
The HyperX FURY has the loosest timings on our list and runs at 1.35V. They're 18-22-22-39. Micron is Kingston's parent company, so finding their 2GB ICs spread around the eight-layer PCB is no surprise. These work adequately at factory settings, but you'd get little value out of overclocking the memory.
While not bad, Techpowerup's rigorous testing shows that the RAM's performance is erratic. The kit holds its own against tighter 3200MHz alternatives in memory read & write tests and excels in some games. It's not as good at rendering, though.
Best RGB RAM for Ryzen 9 5900X: XPG SPECTRIX D60G RGB 3600MHz 2x8GB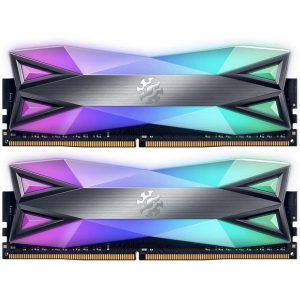 Not even RAM sticks can escape the RGB craze, and manufacturers are developing ever smarter ways of presenting their products in this light. You'd usually associate lots of lighting with worse performance, but this flashy kit from XPG demonstrates that's not always the case. Its raw specs let it go toe to toe with our top picks, while the extravagant light display speaks for itself.
Corsair went in a different direction with their Dominator Platinum kits. They're every bit as unique RGB-wise but have the company's bright Capellix LEDs in a much more subdued pattern.
One look at the SPECTRIX D60G is all the proof you need that RAM heat spreaders aren't really all that useful. Its heat spreaders are made from thick plastic and double as diffusers with a diamond-shaped light pattern that covers more area than pretty much any other RGB implementation on RAM sticks today. Fortunately, this has no impact on thermals.
The lighting is even and easy to control either through XPG's or your motherboard's proprietary syncing software. All of this bling doesn't impact the SPECTRIX D60G's cooler compatibility much since it's only 46mm tall. That ensures it will work even if you're using low-profile coolers in a smaller case.
The RAM trades blows with the Trident Z Neo from a technical side since its best default CAS settings and voltage are identical. You may enable a second XMP profile that reduces the frequency to 3200MHz and the latency to CL16 but shouldn't need to since the memory is exceptionally stable.
This kit is either on par with or performs slightly worse than our high-end and mid-range picks, depending on the specific test. That's excellent news as it means the excess of RGB and questionable thermal conductivity of the heat spreader have little bearing on actual results. It works best in games and multi-threaded applications, only falling behind when you're rendering with specific 3D engines or compressing files.
Best 64GB RAM Kit for Ryzen 9 5900X: Patriot Viper Steel 3600 MHz 2x32GB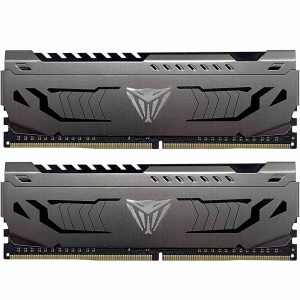 The 5900X is a powerful and versatile chip that excels at multitasking. It makes sense to pair it with a lot of RAM for intensive or several simultaneous tasks. Not even 32GB might be enough in that case, and you won't go wrong with the Viper if you want to be frugal about it without compromising on performance.
Alternatively, consider getting your hands on some Ballistix memory from Crucial. It's more expensive but has tighter timings for that extra bit of oomph.
While it's the least flashy kit in the guide, the Viper Steel is far from unattractive. Its black PCB pairs well with a dark-gray heatsink that will fit any modern build. There's not much in the way of branding except for a tasteful logo in the center. RGB is absent, but the clearance and thermal efficiency are both great.
The kit consists of two dual-rank sticks, each with a 32GB capacity and 3600MHz clocks. This is excellent news for SFF enthusiasts who need a compact yet powerful build. The timings are lower than others on the list at 18-20-20-40, but this is an understandable cost-saving measure when you're dealing with such a large capacity.
The loose timings mean you can expect slightly worse numbers from this kit than from others we've outlined above. However, it's still more than capable of tackling any high-intensity task you'd put such a well-endowed system through. Tests involving bandwidth, rendering, or photo retouching show there's little difference between this kit and Crucial's CL16 alternative.
Best 3200MHz RAM for Ryzen 9 5900X: G.SKILL Flare X 3200MHz 2x16GB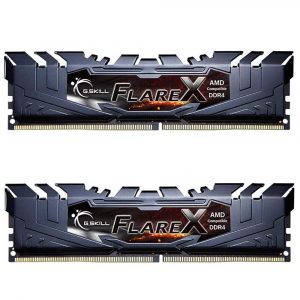 While 3600MHz RAM with the lowest CAS latency you can get is optimal for current Ryzen CPUs, there's still much to be said about a competent 3200MHz kit. Like the Flare X from G.Skill! Its low latency gives some kits with faster clock frequencies a run for their money, and you'll also pay comparatively less due to a lack of RGB.
That doesn't mean this kit isn't attractive. In fact, its 8-layer PCB is black and home to an elaborate heat spreader available in either red or black. The spreader features numerous cutouts and various nooks that increase its surface area and improve heat dissipation. A sticker in the middle identifies each stick as Flare X RAM and adds a nice touch.
The heat spreaders' height sits at a comfortable 40mm, preventing any CPU cooler compatibility issues. The kit consists of four 8GB sticks that take advantage of dual-channel configuration by populating each DIMM slot. Their CAS latency is a respectable 14-14-14-34 achieved at a mere 1.35V. Don't forget to tell your motherboard to enable these settings, or else the RAM will default to 2133MHz.
Vortez put the kit through rigorous testing when it came out, comparing it to similar performers from other manufacturers spanning a wide CL range. G.Skill's RAM did exceptionally well in most benchmarks, be they synthetic, productive, or gaming-related. That bodes well for users who want above-average performance from their rig for productivity as well as leisure.
Frequently Asked Questions
Is 3200MHz RAM good for Ryzen 5900X?
Absolutely! 3200MHz is the second most optimal frequency for today's Ryzen CPUs. It is only marginally slower than the 3600MHz equivalent, provided the timings are the same. Some high-end 3200MHz kits can even outperform higher frequency memory if their timings are better calibrated. These cost more, so any price advantage you'd achieve by going with a lower frequency is generally lost.
Zen3's architectural idiosyncrasies mean you're gaining little by going for RAM with absurdly high clock speeds. Sticking with 3200MHz is, therefore, a solid plan until we see what enhancements the 6000-series will bring.
Does CAS latency really matter? Is CL16 better than CL18?
Yes, CAS latency does play a part in the overall performance you can expect from your system. The lower the latency, the better the memory's response time, which translates to faster number crunching or higher framerates.
By that logic, CL16 is indeed better than CL18, assuming all other parameters are the same. Here's a YouTube video that showcases the difference. It's not a large one, though – around 3-5 FPS on average. Still, some improvement is definitely there.
For a processor like the 5900X, no. Even if you're only using it for gaming, investing in 32GB now means considerable futureproofing. If you don't plan on upgrading to a platform that uses DDR5 as soon as the new format becomes standard, that is.
Other uses will quickly take full advantage of 32GB and even demand more. Rendering complex scenes with high-res textures and millions of polygons requires a lot of memory, as does fast video encoding. The 5900X is powerful enough to handle streaming, gaming, and number crunching simultaneously, and having more memory to draw on helps with that.